Get connected with our daily update
Cutting back on drinking as a New Year's resolution is no easy task, especially in a city with an active nightlife. But one bar is taking the booze out of the bar.
---
Sans Bar, located at 1818 E. 12th St., looks and feels like a bar, holds live music like a bar and makes cocktails—with non-alcoholic spirits of course—like a bar. The bar has built a strong community of regulars, who say it's exactly the kind of place those wanting a sober kind of fun want to be. In fact, the bar says it sees an uptick in visitors from January-March.
Founded in 2017 by Chris Marshall, Sans Bar is a place for the sober curious, the sober sometimes, the sober serious and anyone in-between. It carries a whole menu of alcohol-free beers, wines and cocktails made with local spirits like Tenneyson and Spiritless. Marshall said the bar is the only one of its kind in Texas, and one of only a handful across the U.S.
"I just saw that there was a real need for a space that didn't include alcohol," Marshall said. "I really like to see anti-alcohol, pro-authentic connections and I just believe that the best version of ourselves is alcohol-free."
Alyssa Hart, an event coordinator living in Tarrytown, discovered the bar in 2019 during a "Sober by Southwest" event. She had been sober for a few years, was going through a hard breakup and was looking for a supportive community while she felt like she was starting over.
"It was like the crashing together of these two things—spending a lot of time, money and energy on drinking and also realizing that it had really never been a positive thing in my life," Hart said. "I feel like because it's so ingrained in our society, it becomes something that we are kind of asleep at the wheel about."
The bar was spurred in part by Marshall's own journey into sobriety; Marshall quit drinking in his early 20s and will hit 15 years of sobriety in February. If the idea of a sober bar is confusing, Marshall equates it to the rise of plant-based foods as it's a convenient and familiar way to abstain.
After working almost a decade as a licensed counselor Marshall just wants to see people examine their relationship with alcohol but said everyone on the spectrum from straight edge to drinkers on a night out stops in. He says about 75% of customers who come in identify themselves as just sober sometimes.
"We will never, ever, ever turn someone away who says that they're struggling because we want to be a space for people who are struggling," Marshall said. "We're not prohibitionists. We're not trying to tell people not to drink alcohol. We totally accept and respect whatever your relationship is with alcohol."
Likewise, Jon Flores has been sober for nearly four years, aside from the beer he allows himself every year on his birthday. Flores discovered Sans Bar through a targeted social media ad and now says he frequents the bar so much, he is often called the "Sansbassador."

"Sans Bar came into my life when I really needed it and I'm very grateful that it exists," Flores said. "Chris has really helped me—he just wants the best for everyone, even strangers on the street. He just wants the best for everybody and it's so refreshing to come across people like that."
Both Hart and Flores said they try to come in every Friday for a non-alcoholic "Gold Fashioned" or a Budweiser Zero. Both said they have become close friends with Marshall, and Hart said she has since become very active in the sober community, co-founding amplification platform Sober Voices.
The bar is only open on Friday nights from 7 p.m.-midnight for now, with possibly more hours in 2022, but patrons say it works for the bar and makes the time more "precious." Marshall encourages people to think of it as more of a community-oriented weekly social hour.
"A lot of people are excited about the prospect of drinking less and really taking a month off to examine their relationship with alcohol, so there's a lot of excitement around it, but there's also a lot of fear," Marshall said. "Austin is becoming the epicenter of the non-alcoholic movement. I think there's something really special that's happening here."

Capital Metro has been awarded $750,000 from the Federal Transit Administration to go toward Project Connect's Orange Line, documents show.
The FTA announced the funding round on Thursday, which dispersed $11 million across 12 states and 20 projects. The money is meant to connect communities to affordable transit and housing through the FTA Pilot Program for Transit-Oriented Development planning.
CapMetro said the funds will go toward projects at eight stations spanning 6.5 miles on the South end of the Orange Line, which has a total of 22 stations. The full project stretches across the 20 miles from Southpark Meadows to Tech Ridge.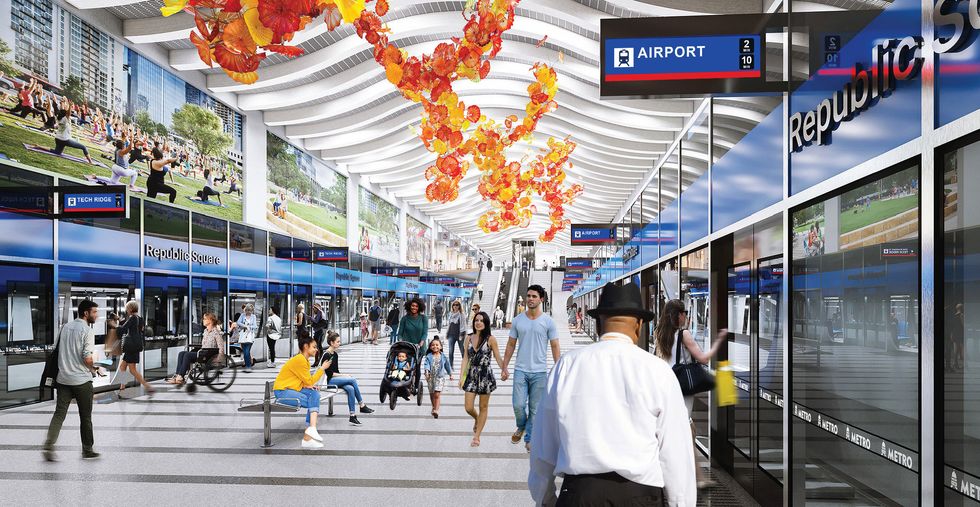 Republic Square station is along the Orange Line. (Project Connect rendering)
Once it's complete, which officials estimate will be in 2028, the Orange Line will reach the following stations:
Tech Ridge (Park & Ride)
North Lamar International District
Crestview
The Triangle
UT campus
Republic Square
Auditorium Shores
South Congress
Southpark Meadows (Park & Ride)
A $500 million mixed-use development spanning 1,400 acres is coming to Southeast Austin, near Tesla's headquarters at Giga Texas.
Plans for the development by Houston-based real estate firm Hines include 2,500 houses along with multi-family and townhomes, and commercial land. Hines is partnering with Trez Capital, Sumitomo Forestry and Texas-based Caravel Ventures.
The development, which is known as Mirador, will be located off the 130 Toll and Highway 71, which the developers say provides easy access to the Circuit of the Americas Formula 1 racetrack and other Austin attractions like restaurants, parks and live music venues.
Hines also boasts amenities like a 60-acre lake, over 600 acres of greenbelt, community parks, trails and a swimming pool.
"As Austin continues to grow into the tech epicenter of Texas, coupled with a supply-constrained market, the demand for new housing is at its highest," Dustin Davidson, managing director at Hines, said. "Mirador will be critical in providing more options for Austin's growing population and we are excited to work alongside our partners given they each provide a unique and valued perspective in single-family development."
The local housing market has been hot in recent years, with home sales accelerating earlier in the pandemic. In July 2021, the Austin metro area hit its pricing peak at $478,000. As Austonia previously reported, the area has been expected to see the Tesla effect, with the new workforce driving up demand for housing and other services.
The single-family houses are expected to be developed over the course of six years, in phases. Construction on the homes is expected to start this year and home sales will begin in 2023.