Get connected with our daily update
It's a recent Wednesday night and a crowd is queuing at the Museum of Ice Cream, an Instagram-friendly hotspot comprised of installations including a plastic-sprinkled-filled swimming pool and rideable pink animal crackers that recently took up residence at the Domain shopping and entertainment complex.
---
A little over a mile away, fans pack into Q2 Stadium, Austin's first professional sports stadium and home to the Austin FC professional soccer club, which is midway through its first season.
As the world tiptoes back to normalcy despite a continuing pandemic, North Austin continues to court new businesses that are making a major impact on both the city's economy and the local landscape. But with all of this change and development, how do longtime residents and business owners feel about North Austin's sustained growth?
After all, North Austin has changed significantly over the years. After some started calling the city "Silicon Hills" in the 1980s due to the influx of tech companies to the area, many of those companies settled in North Austin, with some of them opting to office at the Domain—a retail, entertainment, office and residential complex that quickly became a second city-center after it opened in 2007. Even Apple, which already has a significant presence in town, plans to mark the 30th anniversary of its first Austin office with the debut of a $1 billion campus in Northwest Austin in 2022.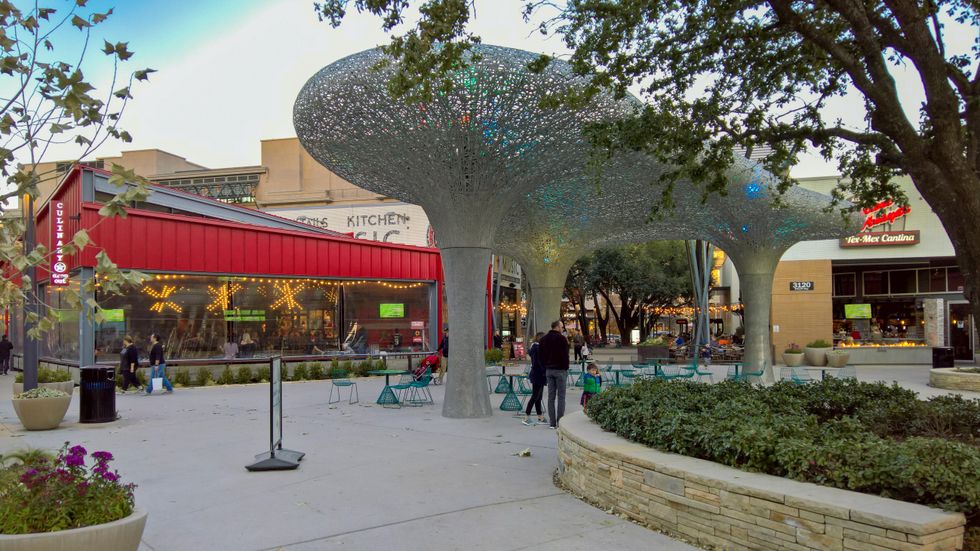 (Shutterstock)
Mike Lavigne has lived in North Austin for more than 20 years and has been a resident of the Crestview neighborhood since 2002.

"We have a 12-year-old daughter and I can't think of a better place on earth to raise a child," Lavigne said. "(The neighborhood) is mixed in terms of age and economic status. It still has diversity and, most importantly, it has families."
Lavigne said that as a whole he appreciates the role that places like the Domain serve in Austin.
"We need those multiple city centers. The Domain and Mueller are the few places that have been able to take some of the stress off single-family neighborhoods," he said. "I like that there's a place for apartments and retail and all of those things that don't need to be everywhere but do better when they're together. I think that's necessary and it's a smart way to grow."
That doesn't mean, however, that Lavigne isn't concerned about the impact that the influx of chain shops, restaurants and bars in the area are having on small business owners and the "old Austin" vibe in general. As a partner in Violet Crown Clubhouse, a neighborhood hangout for Crestview and Brentwood residents that features an arcade and an ice cream shop, and as an investor in the oddly wonderful holiday-themed dive bar LaLa's Little Nugget, Lavigne can attest firsthand that the pandemic has been "a kick in the pants" for local businesses.
"There's definitely a lot of places that were epicenters for communities that are just gone and they're not going to come back. It's up to us to create new places and keep things odd and unpredictable. That's on us to do as natives," he said. "(When it comes to progress) there's no turning back now. Whether it's good or bad remains to be seen."
Austin is currently ranked nationally as the second most overvalued market in the nation, and finding homes in the North Austin area can be next to impossible. Jen Sparks, broker and owner of Kifer Sparks Agency, said that currently there are only seven homes on the market and 38 homes with pending contracts in the Domain area between Mopac and I-35 and 183 and Walnut Creek.
"The consistent growth in the Domain area by top-tier employers continues to attract highly skilled tech talent, which is in turn driving competition in the real estate market. With a large number of restaurants and nightlife options and the new Q2 Stadium, the demand for single-family homes continues to break records," Sparks said. "Although the market historically slows in the fall, I anticipate the inventory in this area will continue to remain low, which will in turn cause prices to rise."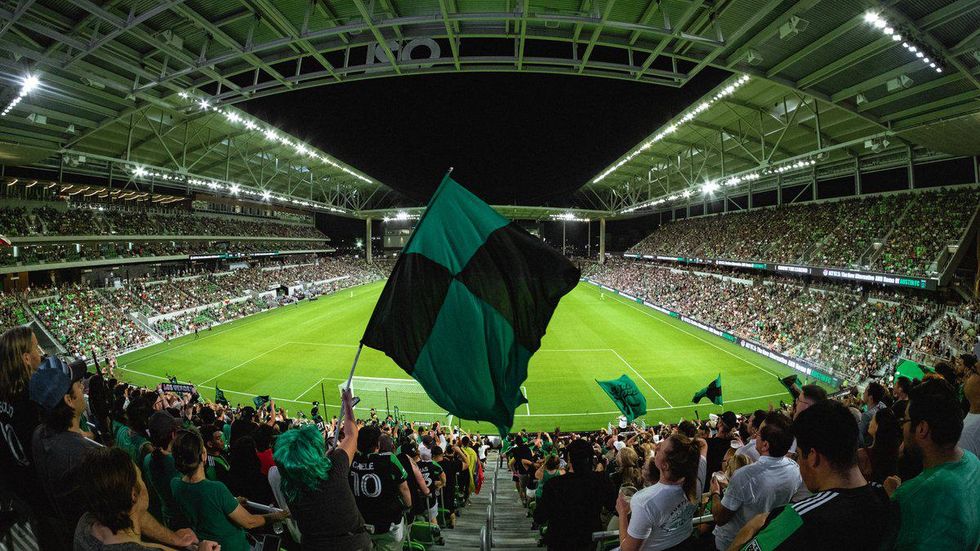 Jenni Carter has run her vehicle inspection business, Sticker Stop, on Burnet Road for the past 15 years. She said it was "pure luck" that she found the property, which is now located less than a mile from Q2 Stadium.
"For us, the growth has been amazing. The more the area grows, the more the business grows. We have been very fortunate," she said. "When we first opened, the majority of our customers were commuters, they worked in this area. Now it seems we have a very even mix of customers that reside around the Burnet Road corridor and work here."
While Lavigne said he enjoys visiting the Domain and looks forward to attending some Austin FC games, he hopes Austinites will continue to buy local in an effort to help keep Austin, well, weird.
"I would say that if there is a cool place in your neighborhood and it's a small local business, make sure you're supporting them double," Lavigne said. "The Domain doesn't need your help, but we do. We don't get the same kind of subsidies that the big guys get. If you care and you want to keep a place, you've got to spend your money there."
Read more on the growing city: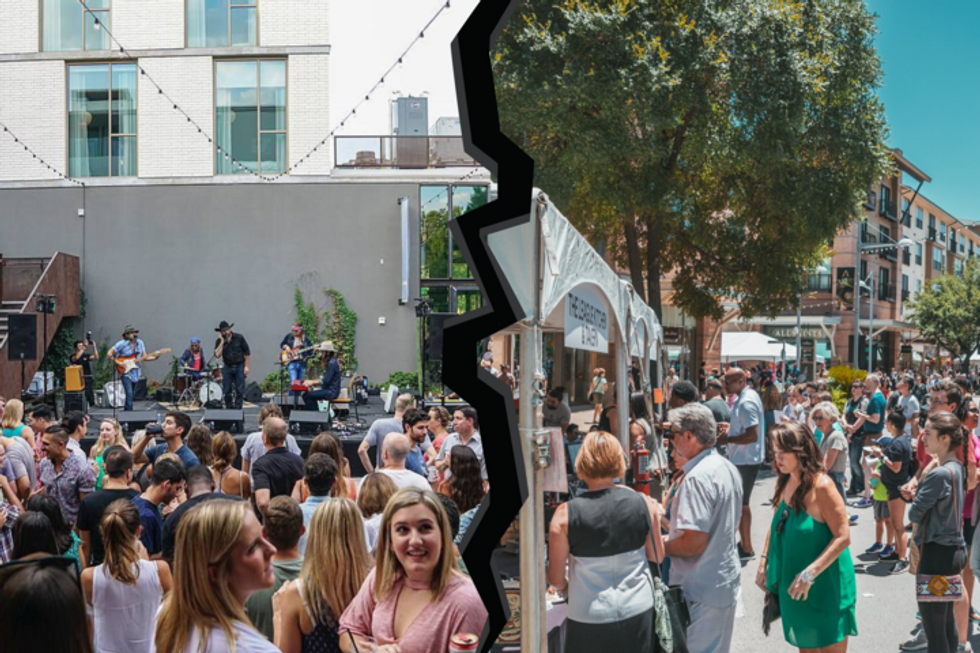 North vs. South: The 'Yuppies' and 'Bubbas' of Austin are divided by more than Lady Bird Lake
After months of speculation, a new report says political personality Beto O'Rourke is mulling a run for Texas governor that he will announce later this year.
Sources tell Axios the former congressman is preparing his campaign for the 2022 election, where he will likely vie for the position against incumbent Gov. Greg Abbott. The only other candidate that has announced he will take on Abbott for governor is former Texas GOP Chairman Allen West—no Democrats have announced they are running as of yet.
"No decision has been made," Axios reports David Wysong, O'Rourke's former House chief of staff and a longtime adviser, said. "He has been making and receiving calls with people from all over the state."
A new poll from The Dallas Morning News and University of Texas at Tyler shows O'Rourke is narrowing the gap between himself and Abbott's prospects for governor. In the poll, 37% said they'd vote for O'Rourke over Abbott, while 42% said they'd vote for Abbott.
Abbott has been in the hot seat due to his handling of COVID-19 and the signing of landmark legislation into law, including new abortion and voting rights laws; 54% of poll respondents voted they think the state is headed in the "wrong direction." Still, Texas hasn't had a Democrat as governor since the 90s.
O'Rourke's people-focused approach to the 2018 Senator race, which he lost to Sen. Ted Cruz, gave him a widespread following and many hoped he'd throw his hat into the ring since he said he was considering it earlier this year.
"We hope that he's going to run," Gilberto Hinojosa, the state chair of the Democratic Party, told Axios. "We think he'll be our strongest candidate. We think he can beat Abbott because he's vulnerable."
Austin rapper Jordi Esparza may not have won the 2021 Red Bull Batalla, the world's largest Spanish freestyle rap competition, but for a spirited two rounds, the 22-year old Mexican native looked like he had every right to.
On Saturday evening in Los Angeles, the event itself looked like Cobra Kai meets Star Search with graphics adding a very Batman Beyond aesthetic. Over a dozen rappers hoping to represent the U.S. in the international round of the competition took to the stage with in-your-face jabs at accents, sexual orientation and odors, among other things.
This was Esparza's second rodeo; he had placed third at the 2020 National Finals, automatically securing him a spot this year.
However, things were different this year. He was not nervous about the contest. Unlike in 2020, when he made his Red Bull Batalla debut, the anxiety of the event led him to "feeling so bad."
Affecting a casual calm, the locally-based landscaper said he just felt "so relaxed, so happy" and primarily wanted to "enjoy everything."
Choosing his first-round opponent, Esparza, whose stage name is Jordi, elected to go against LA-based Boss.
Esparza freestyled an attack on his opponent's weight and cholo style of dress.
Boss—bracketing his Latin freestyle with English appeals to the crowd—mocked Jordi's lack of education, made fun of how clean Jordi's shoes looked and suggested that Jordi just came back from a Footlocker.
That first round went to Jordi.
But his next opponent Eckonn would prove to be his undoing.
Eckonn compared Jordi to Hannah Montana, while Jordi soulfully explained that he had learned from the best.
Esparza's verbal dexterity is matched by a rattling rhythm and a game face that is as mawkish as it is mockish. The overall effect is that of an underdog with bite.
Eckonn beat Esparza in that round with the overall championship going to Palm Beach-based rapper Reverse.
However, Esparza was just happy to be there. He recently told Austonia going to the finals again was a dream come true—a pinnacle that he said he won't know how to top.
With his nimble jabs and sneaky prowess, honed from pop culture and the swagger of a young working man hungry to be more, Jordi Esparza is just getting started.