Get connected with our daily update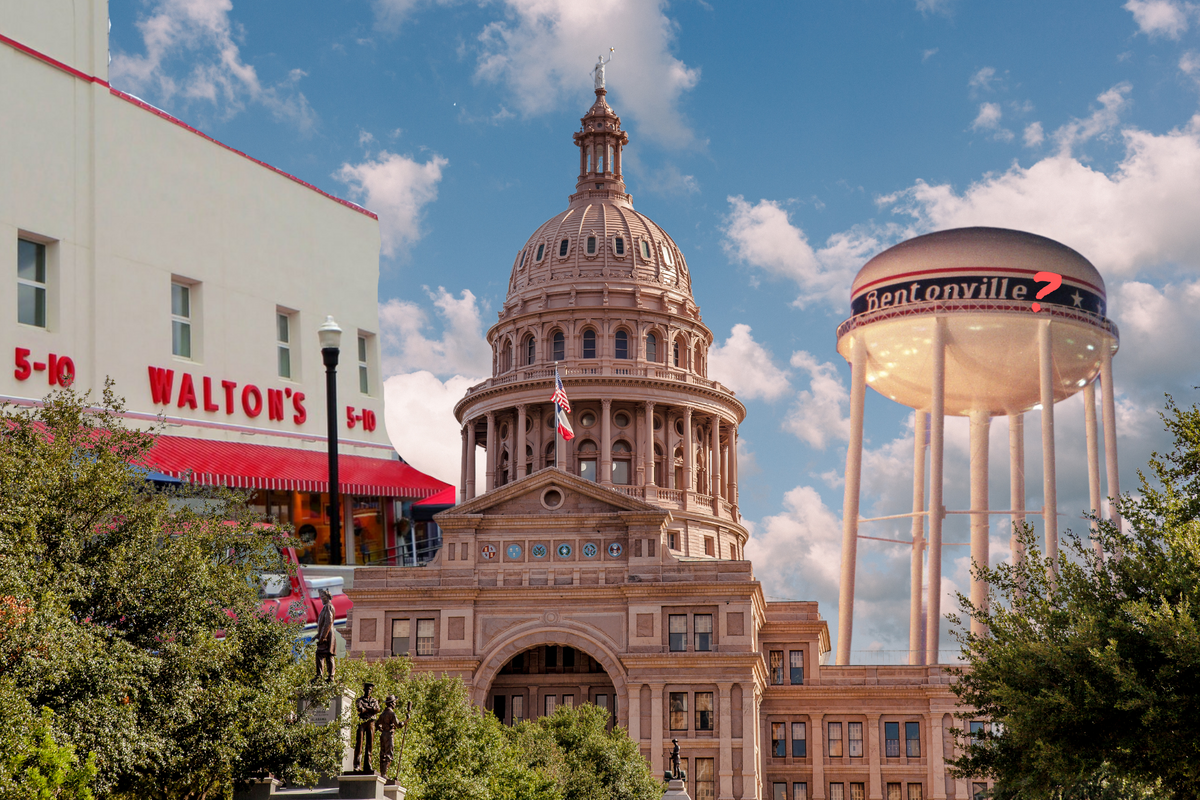 Ever wondered what it was like living in Austin a few decades ago? According to recent ads, that dream can become a reality in an unlikely locale—just an eight-hour drive away in Northwest Arkansas.
---
Recent Austin-centric ads by the Greater Bentonville Area Chamber of Commerce and the Northwest Arkansas Council are targeting Austinites to make the move to the four-county, 11-city region as it's in the midst of transforming from a rural corner of the state to a budding hub for tech, big-city migrants and a rich cultural scene.
Greater Bentonville's Andre Arceneaux created the "Bentonville City Limitless" ad ahead of their annual tech summit.
Look familiar? Greater Bentonville's "Bentonville City Limitless" ad targets Austinites as they advertise their annual tech summit.
As the area makes national headlines—Bentonville was the nation's fifth fastest-growing city in 2019 and has seen growth in tech as businesses flock to Walmart's HQ—Arceneaux said the council looked to residents from tech hubs like Austin and Denver to bring their talents to NW Arkansas.

"The plan was to focus on areas that are traditionally viewed as hubs for technology and industry and challenge what people have preconceived about Northwest Arkansas," Arceneaux said. "You hear 'Arkansas' and you get an image in your mind, when the truth is, Bentonville is as vibrant and diverse as towns three times its size. The imagery in the ads is meant to show people that Bentonville is just like the town you live in, so why not give us a chance?"
Toss in incentives like the Life Works Here initiative, which offers a $10,000 cash award to talented new move-ins, and the outreach appears to be working. Film producer Kristin Mann grew up in Little Rock, but it wasn't until she had settled down in Austin that she heard about what the northwest corner of her home state had to offer.
Like millions of others during the pandemic, Mann was forced to rethink her priorities as the pandemic changed her perspective on life. Pair Austin's ever-increasing cost of living with the Texas winter storm, and Mann knew it was time to make a change.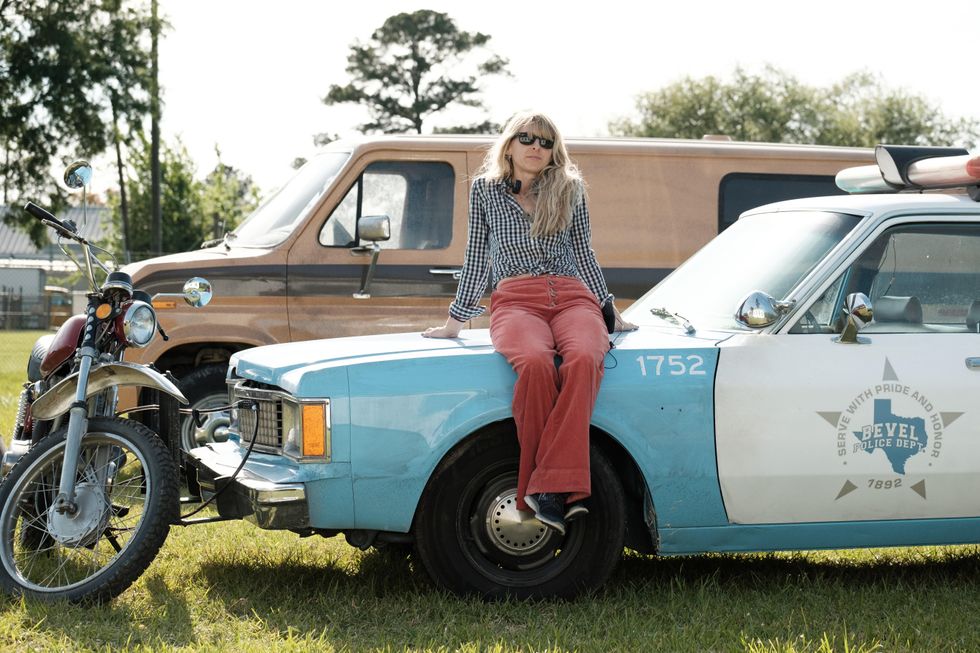 Former Austinite Kristin Mann, shown on the set of 2020 film The Quarry, is soaking up the slower-paced lifestyle in NW Arkansas. (Kristin Mann)
With a burgeoning live music scene, a variety of restaurants and an outdoorsy culture that resembles her former city, Mann said Bentonville was a relatively easy adjustment despite its population of around 50,000.
"The arts and culture scene is just not something I was aware existed in the state of Arkansas," Mann said. "It's really nice because it just feels like there's a level playing field."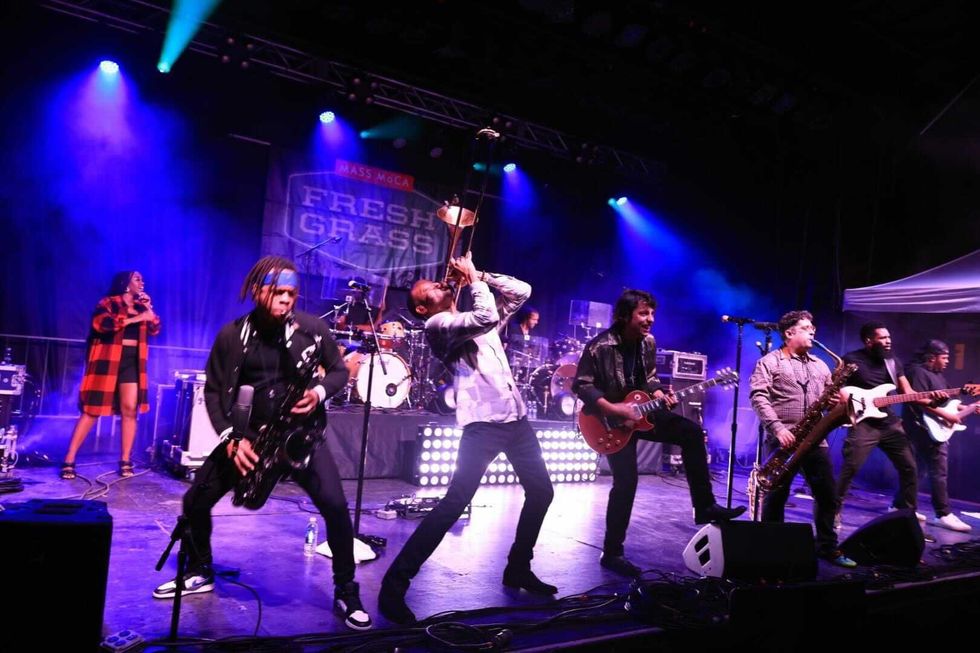 NW Arkansas' music scene includes FreshGrass Festival, an annual live music bluegrass fest. (FreshGrass Festival/Facebook)
Mann isn't alone—according to Greater Bentonville President Graham Cobb, he's heard plenty of stories of Austinites, Californians and other big-city dwellers that have uprooted their families and businesses in search of a better quality of life.
Cobb says he met one such transplant at a mountain bike race not long ago.
"I asked, 'What made you choose this?' and he said, 'I just wanted to know what everyone is talking about,'" Cobb said. "We know for years people have been leaving these major cities and moving to Bentonville for various reasons, the biggest one being that quality of life begins to decay as cost of living becomes increasingly prohibitive. But to hear that from some random person riding bikes is pretty amazing."
With a large university (the University of Arkansas), a growing entrepreneurial scene and Hill Country-esque views, looking at NW Arkansas may be like deja vu' for seasoned Austinites. But the region will need to be careful if they want to stay "Bentonville City Limitless."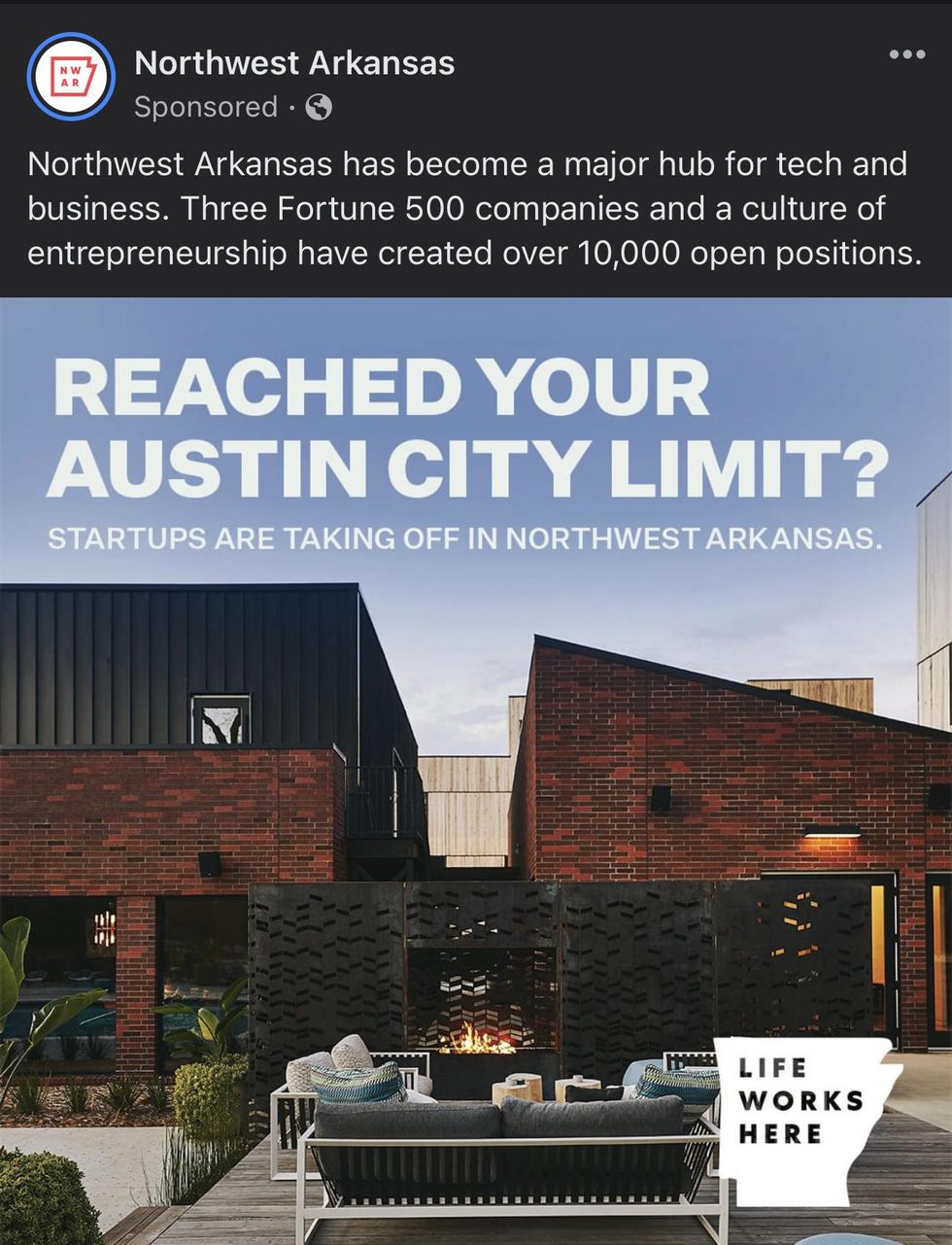 ​Northwest Arkansas hasn't been shy about their desire to bring in Austin's tech talent with Facebook ads.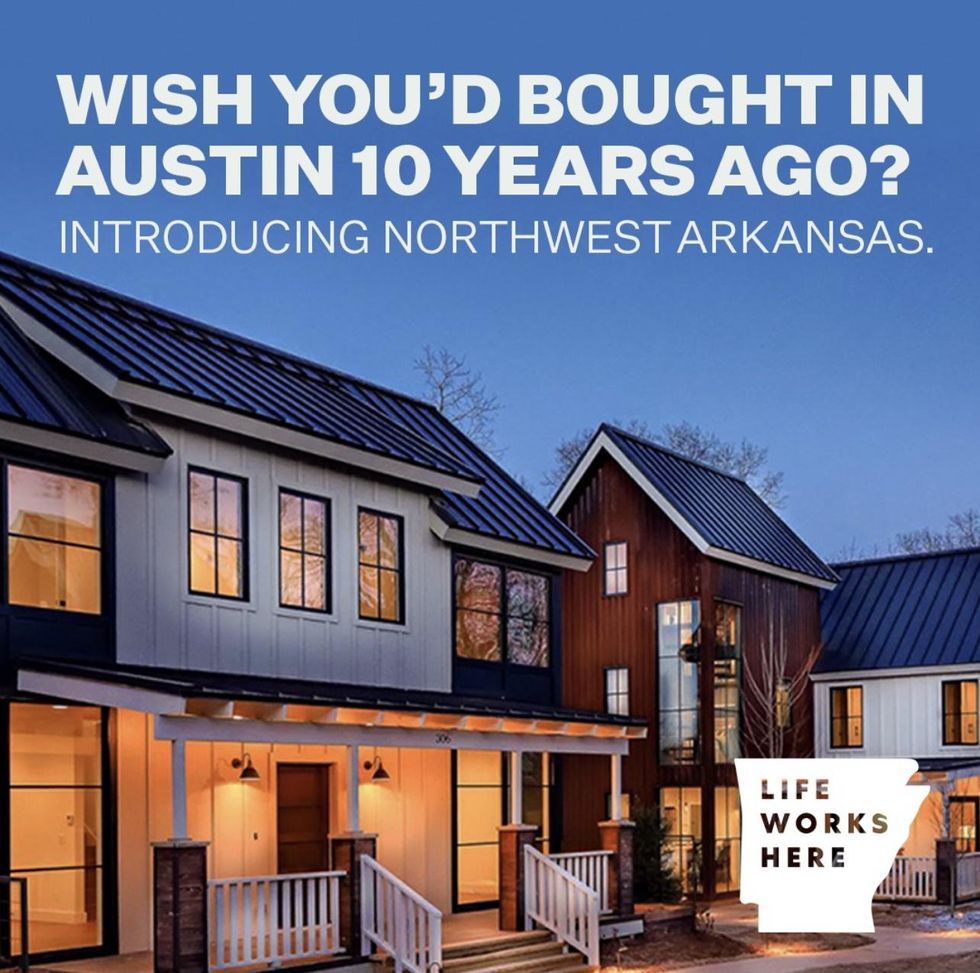 The Northwest Arkansas Council is working to bring disgruntled Austinites to the region with various ads.
According to Nelson Peacock, President of the Northwest Arkansas Council, city officials are working to make sure they don't repeat bigger cities' mistakes.
"We are trying to take some of the lessons learned from cities like Austin that grew really fast," Peacock said. "It's way easier said than done, (but) as we recruit people from these larger cities, we're trying to take the lessons from them and trying to build a future here that's better for the people that live here."
NW Arkansas is keen on taking Austin's top talents. Rex Nelson, who wrote in the Arkansas Democrat-Gazette about Bentonville's explosive growth earlier this month, said it's a compliment—they're reaching out to Austin because they want the best of the best.
"Northwest Arkansas needs tech talent, and the Austin area is the best place to go in this part of the country for tech talent," Nelson said.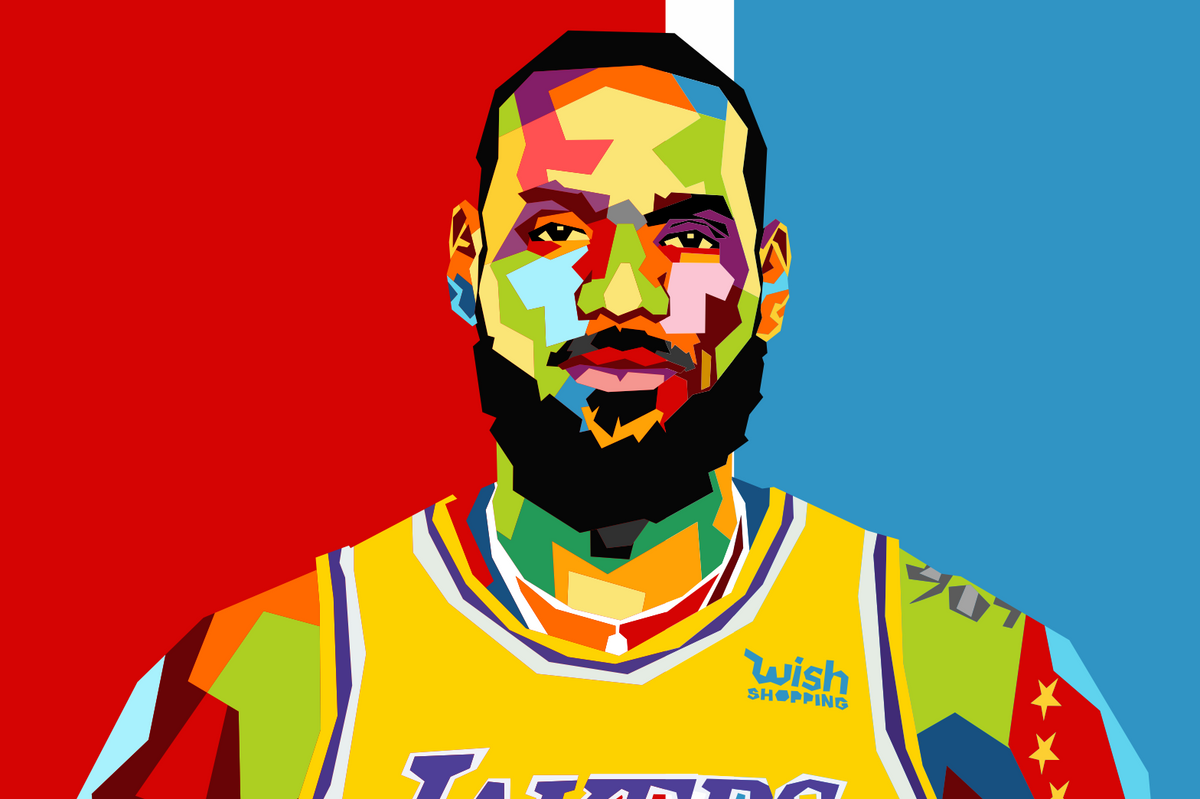 Shutterstock
It's not on the level of LeBron signing with the Spurs, but who knows, maybe you'll see him at Guero's one day, having a Rob's Especial marg and a No. 1 dinner?
LeBron James, Draymond Green, Kevin Love, LeBron's business partner Maverick Carter, and a bunch of other sports-related investors are buying a Major League Pickleball expansion franchise.
Oddly, MLP teams aren't associated with places, so at this point it's just "an expansion team."
But Major League Pickelball is based in Austin, created, according to the Austin Business Journal, by Dreamland and Richard's Rainwater owner Steve Kuhn.
League investors include familiar Austin names like C3 Presents founders Charles Attal and Charlie Walker, Parsley Energy founder and partial Austin FC owner Brian Sheffield, Silicon Labs Chairman Nav Sooch, and pickleball enthusiast Brené Brown.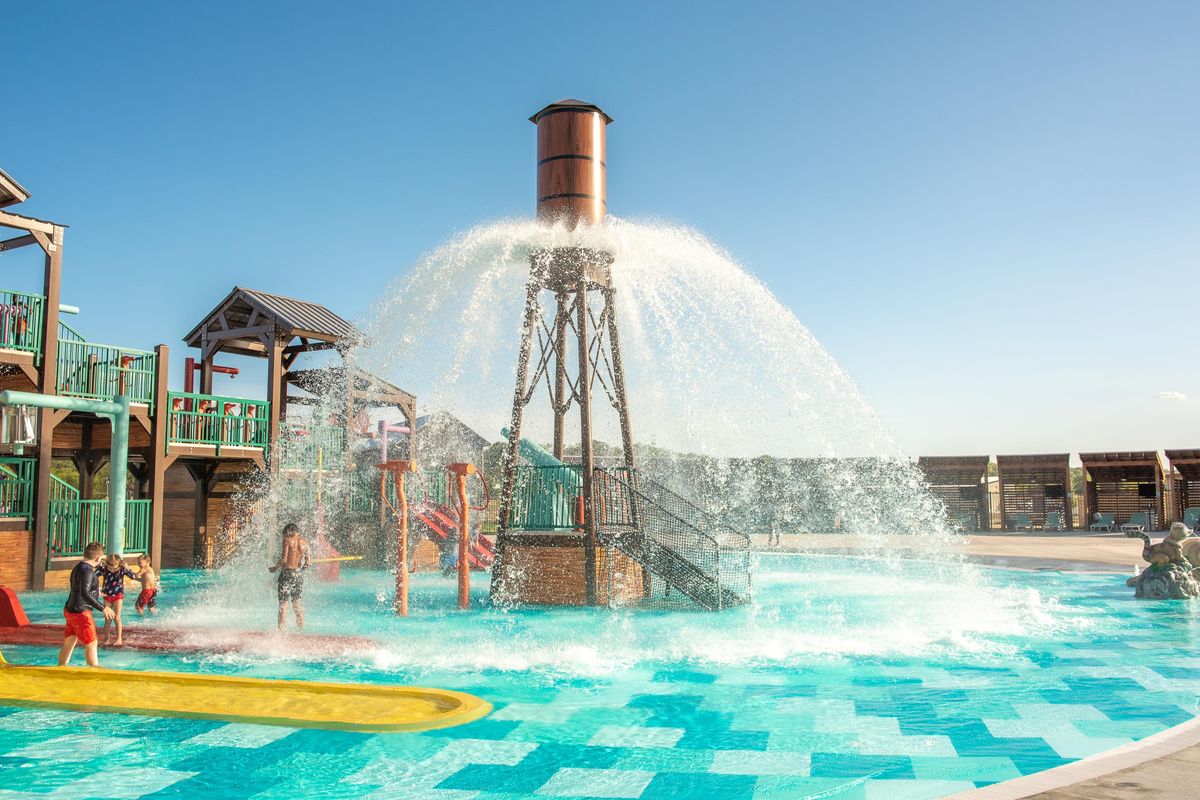 Camp Fimfo Waco
Camp Fimfo Waco, a brand new camping resort, is kicking off football and fall camping season in style! With top-notch amenities, premium accommodations, and 10 weekends of fall fun, there's no better place to have a fall camping getaway, especially if you're a Baylor football fan!
Fall promises to be a one-of-a-kind camping experience. From Sept. 16 to Nov. 24, weekends will be packed with fall-themed activities, including special Halloween weekends in October. Campers can enjoy activities like fall crafts, campground trick-or-treating, costume contests, site decorating, outdoor movie nights, and more!