Get connected with our daily update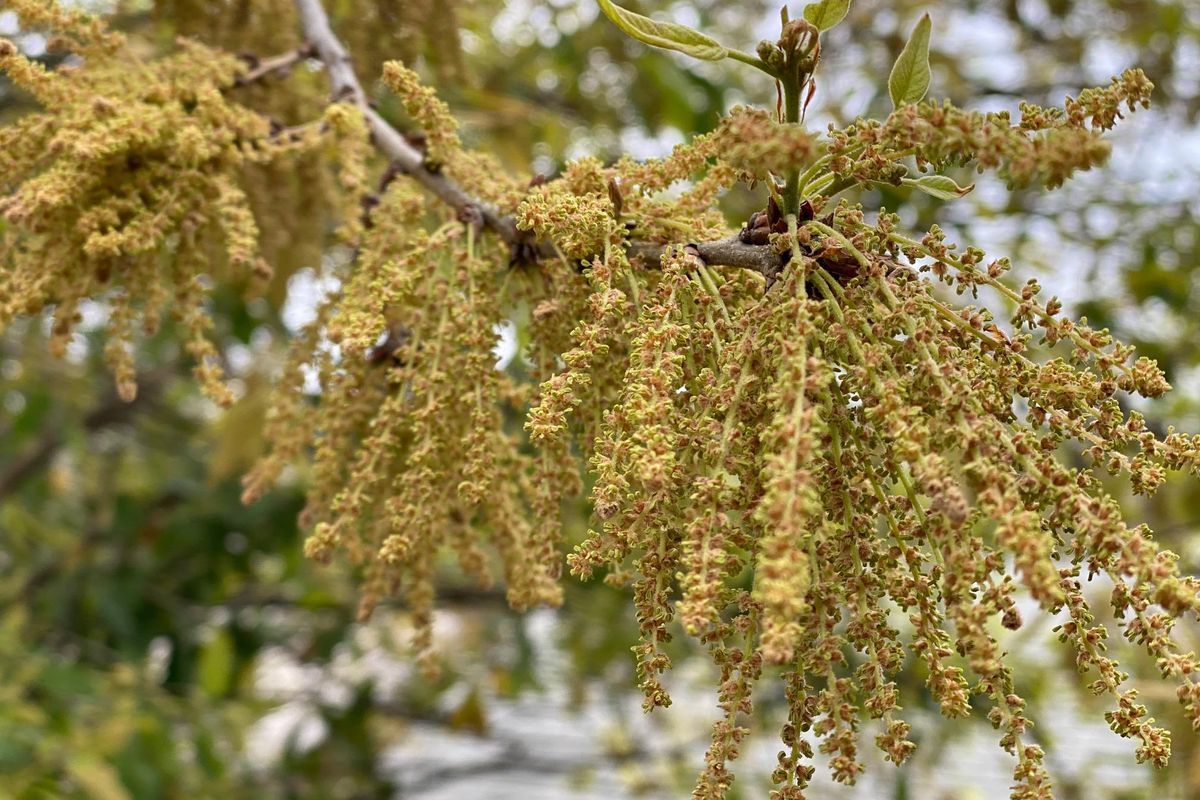 Currently reading this with itchy eyes or a runny nose? You're not alone—while Ausitnites are rarely given relief from yearlong allergies, the spring season brings on new concerns as pollen levels continue to rise.
---
According to The Weather Channel, tree and grass pollen in the air is reaching highs as spring goes into full bloom. But the same things that give plants green leaves and vibrant flowers could be causing a variety of allergy symptoms, especially to those irritated by oak pollen.
What allergens are out there?
While the dreaded "cedar fever" has tapered off, oak pollen counts reached a peak of 6,227 grams per meters cubed Sunday and remain at high levels alongside hackberry. Ash levels have fluctuated between medium and low levels in the last week.
Oak allergens typically peak as March transitions to April, while pecan pollen levels peak slightly later at the end of April. Elm and ash tend to taper off by the end of April, while grass allergens are expected to reach very high levels this week and remain high through early summer.
What symptoms do these cause?
Oak allergens affect around 30% of those with allergies and cause these symptoms:
stuffy or runny nose
sneezing
coughing
red, watery eyes
itchy eyes, nose and throat
fatigue
(less common) dark circles under the eyes
Other tree allergies produce similar symptoms, and some pollens, including grass allergens, can cause welts or hives and even wheezing and shortness of breath for those with asthma.
Keeping those sneezes at bay
So how do you survive the "Allergy Capital of the World"?
It could be a good idea to stock up on those allergy meds and take your daily dosage before the day begins.
But Dr. Tenesha Wards, a local functional medicine expert who is often asked about tips at this time of year, favors more holistic and natural remedies, including:
Taking antioxidants and vitamins A, C, E, D, and zinc for immune health
Calming the bowels by avoiding refined sugars, which can lower the immune system and introduce constipation, gas and bloating
Taking Vitamin D—whether from the sun or a bottle—to support the immune system, increase energy and boost mood
Some other
preventative steps
can be taken to keep that pesky pollen at bay, including changing and washing clothes after being outside, avoiding exercising outside in the morning, and keeping home and car windows shut.
It's also a good idea to keep your grass short, wear sunglasses and hats outside, wash your hair more often and keep your home, pets and bedding cleaner during this season if you're sensitive to tree and grass allergens.
If you're still feeling miserable, your family doctor and various allergy docs around Austin can help with other treatment options as well.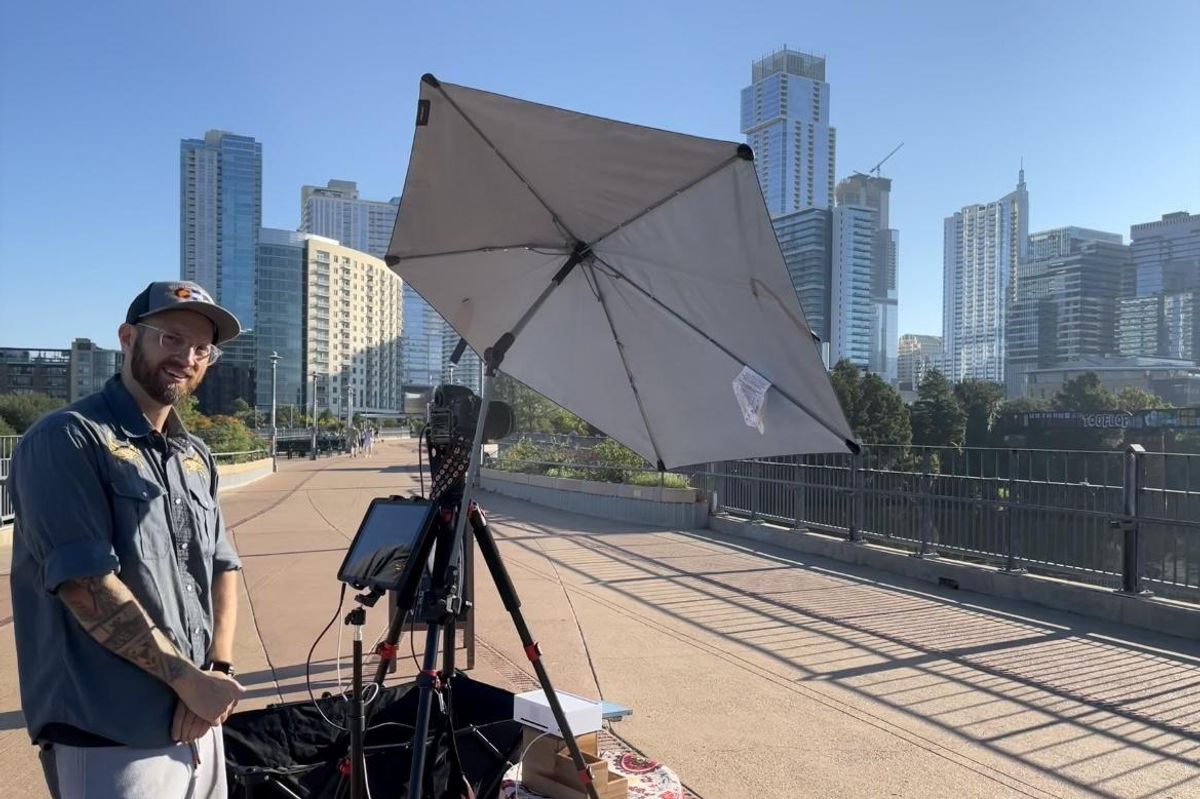 Nicklaus Pereksta says he loves photographing enthusiastic people, and it's why his latest gig offering pictures to people out on Lady Bird Lake's hike and bike trail is going smoothly. He sets up his gear on the Pfluger pedestrian bridge and puts out a sign: Photos, $10.
"Overwhelmingly, this has been a really positive experience," Pereksta said. "I get excited when I wake up in the morning and I can't wait to go to work."
Bikers and joggers are excited about it too. On the pedestrian bridge leading to downtown Thursday morning, a man on an e-bike rode up and posed, wanting more photos.
"I posted the last pictures on Instagram and people loved it. They asked, 'where is this guy?'" the biker told Pereksta. Bashfully, Pereksta, who also photographs landscapes and at weddings and other events, said he was happy to hear that.
Pereksta started these photos about a month ago, after the strenuous runs required in his valet job started causing pain in his legs. And though he has a passion for photography, he wasn't so sure when he started working independently if it would work out.
He felt uncertain about the demand for it and was also worried about having lots of expensive equipment out in the open.
"Then like the first day was nothing but high praise and people are like, this is so awesome. This is great. I've never seen anything like this before. I was like, Wow, this was really good, like positive turnout. So I got encouraged."
Now, he wants to expand and is thinking of contacting the Mueller Farmers Market about how to become a vendor. Still, he'll carry a connection to photographing on the bridge since the word bridge is related to his last name.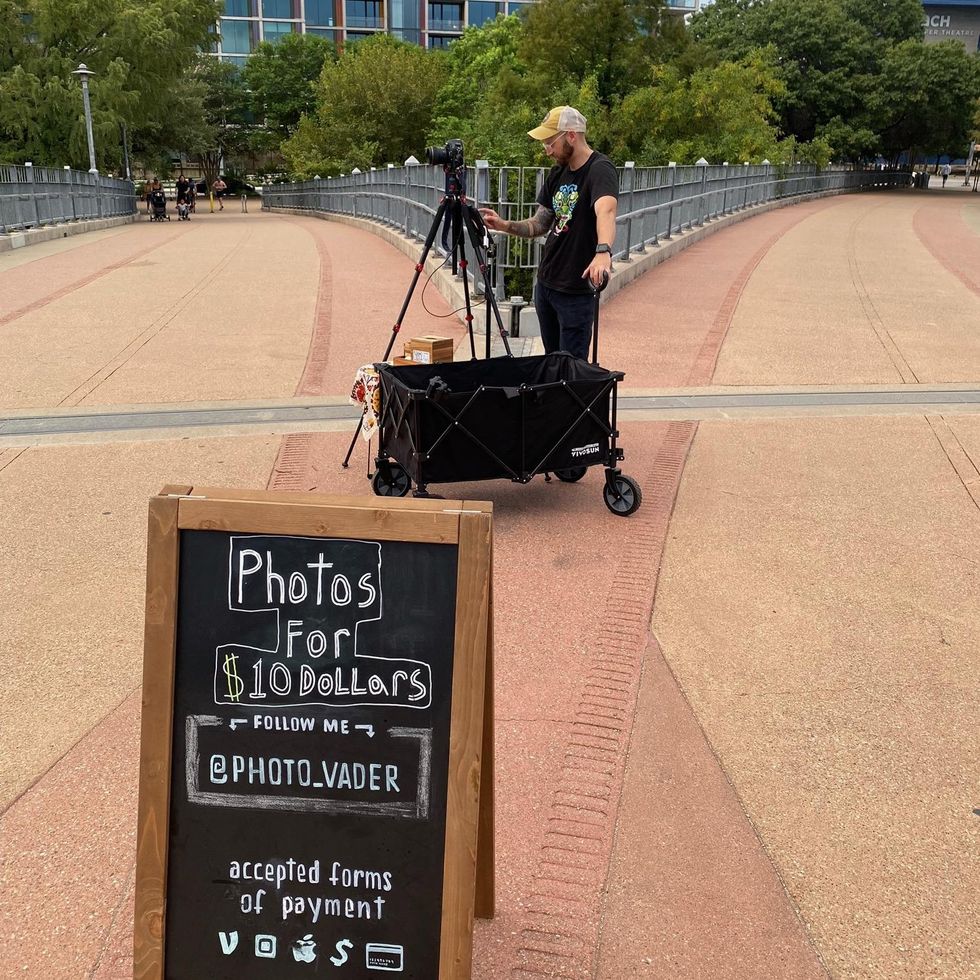 (Dewey C.)
"It's a name my great, great, great grandfather came up with when he was marrying somebody. It's actually quite a romantic name. It means a joining of two bridges," Pereksta said. "So, I thought it was ironic that I'm set up on a bridge. I'm kind of representing my last name right now."
Austonia talked to Pereksta about life in Austin, where he's lived for eight years after living in Boston doing band photography.
What was your first experience with Austin?
I came here to visit some friends and they took me to Barbarella. So we went to Barbarella and I was like, 'wow, this place is great.' And then the restaurants and the food and going to Barton Springs. I was like, 'this is amazing.' Because there's nothing like that in Boston. If you want to go to a natural spring, you got to go to New Hampshire. There's no pools in the city at all. So there's lots of swimming out here.
What do you like best about Austin?
You go to any little quiet bar and there's a band playing that should be like onstage for a sold out show. Yeah, they're playing to 10 people, right? Like, one of the best bands ever and they're playing for 10 people, right? And just little magic moments like that are pretty fun. You just run into little random weird things.
What do you think makes Austin different from other places?
There's no fall.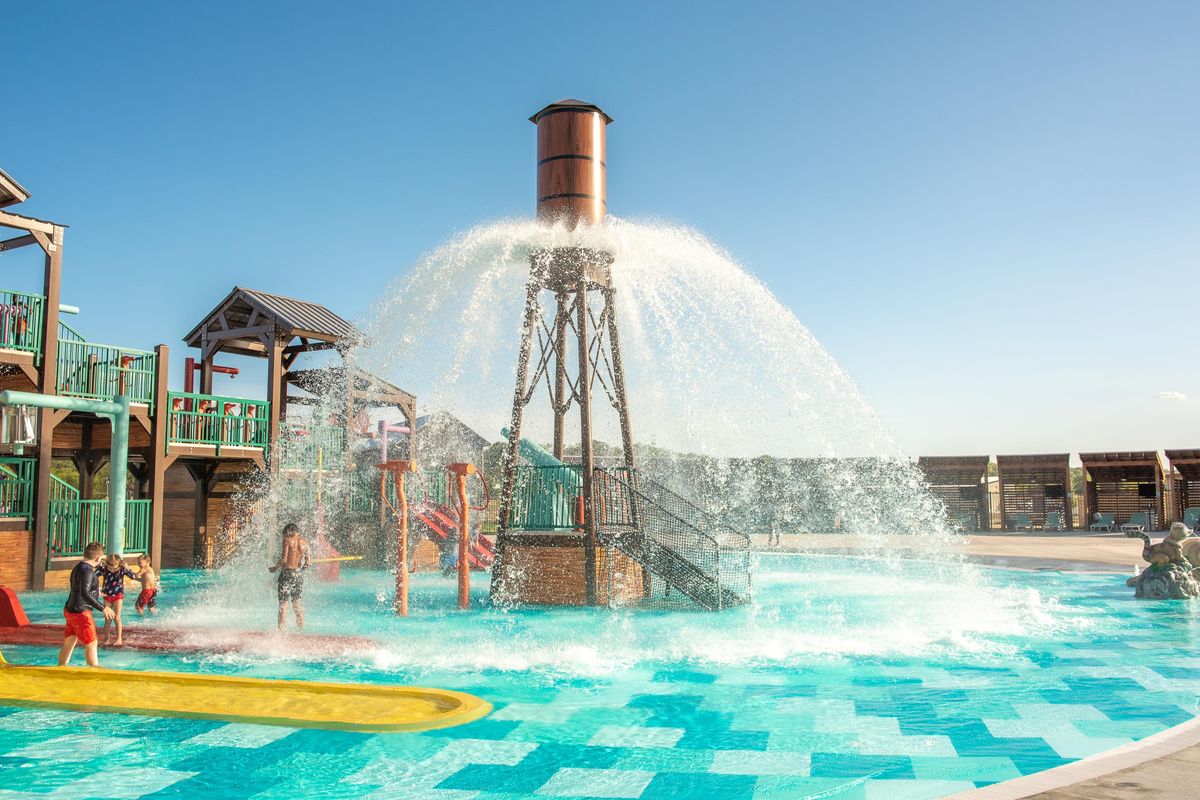 Camp Fimfo Waco
Camp Fimfo Waco, a brand new camping resort, is kicking off football and fall camping season in style! With top-notch amenities, premium accommodations, and 10 weekends of fall fun, there's no better place to have a fall camping getaway, especially if you're a Baylor football fan!
Fall promises to be a one-of-a-kind camping experience. From Sept. 16 to Nov. 24, weekends will be packed with fall-themed activities, including special Halloween weekends in October. Campers can enjoy activities like fall crafts, campground trick-or-treating, costume contests, site decorating, outdoor movie nights, and more!