Get connected with our daily update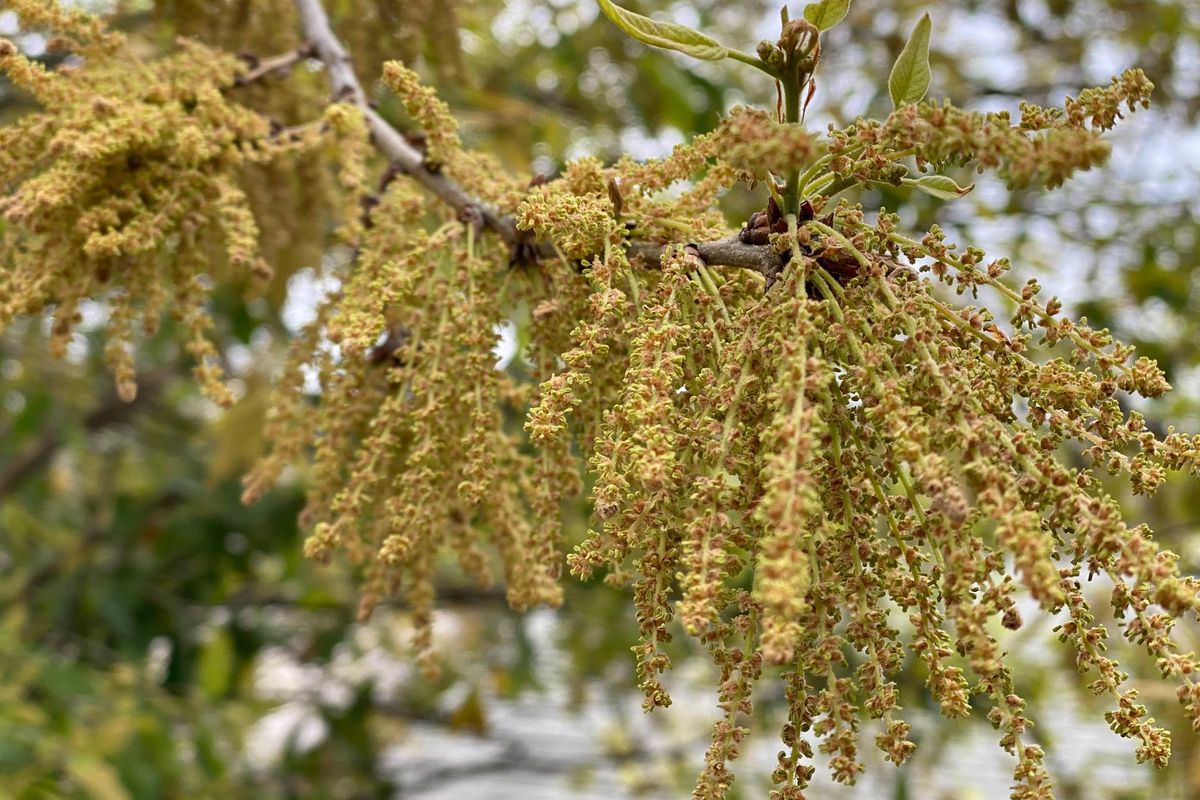 Currently reading this with itchy eyes or a runny nose? You're not alone—while Ausitnites are rarely given relief from yearlong allergies, the spring season brings on new concerns as pollen levels continue to rise.
---
According to The Weather Channel, tree and grass pollen in the air is reaching highs as spring goes into full bloom. But the same things that give plants green leaves and vibrant flowers could be causing a variety of allergy symptoms, especially to those irritated by oak pollen.
What allergens are out there?
While the dreaded "cedar fever" has tapered off, oak pollen counts reached a peak of 6,227 grams per meters cubed Sunday and remain at high levels alongside hackberry. Ash levels have fluctuated between medium and low levels in the last week.
Oak allergens typically peak as March transitions to April, while pecan pollen levels peak slightly later at the end of April. Elm and ash tend to taper off by the end of April, while grass allergens are expected to reach very high levels this week and remain high through early summer.
What symptoms do these cause?
Oak allergens affect around 30% of those with allergies and cause these symptoms:
stuffy or runny nose
sneezing
coughing
red, watery eyes
itchy eyes, nose and throat
fatigue
(less common) dark circles under the eyes
Other tree allergies produce similar symptoms, and some pollens, including grass allergens, can cause welts or hives and even wheezing and shortness of breath for those with asthma.
Keeping those sneezes at bay
So how do you survive the "Allergy Capital of the World"?
It could be a good idea to stock up on those allergy meds and take your daily dosage before the day begins.
But Dr. Tenesha Wards, a local functional medicine expert who is often asked about tips at this time of year, favors more holistic and natural remedies, including:
Taking antioxidants and vitamins A, C, E, D, and zinc for immune health
Calming the bowels by avoiding refined sugars, which can lower the immune system and introduce constipation, gas and bloating
Taking Vitamin D—whether from the sun or a bottle—to support the immune system, increase energy and boost mood
Some other
preventative steps
can be taken to keep that pesky pollen at bay, including changing and washing clothes after being outside, avoiding exercising outside in the morning, and keeping home and car windows shut.
It's also a good idea to keep your grass short, wear sunglasses and hats outside, wash your hair more often and keep your home, pets and bedding cleaner during this season if you're sensitive to tree and grass allergens.
If you're still feeling miserable, your family doctor and various allergy docs around Austin can help with other treatment options as well.
(Steven Joyner)
Now, after a surge in the Austin employee headcount, the acquisitions of Instagram and WhatsApp and a name change by its parent company to Meta, preparations are being made for its most striking local office yet.
A drone video taken by Austonia shows the building Meta will occupy, Sixth and Guadalupe, is well into the process of rising up to its full form as a contender for the tallest building in Austin if a 74-story project at 98 Red River St. doesn't beat them out. Once it's completed in 2023, it'll have 589,112 square feet of office space and nearly 350 units of residential space.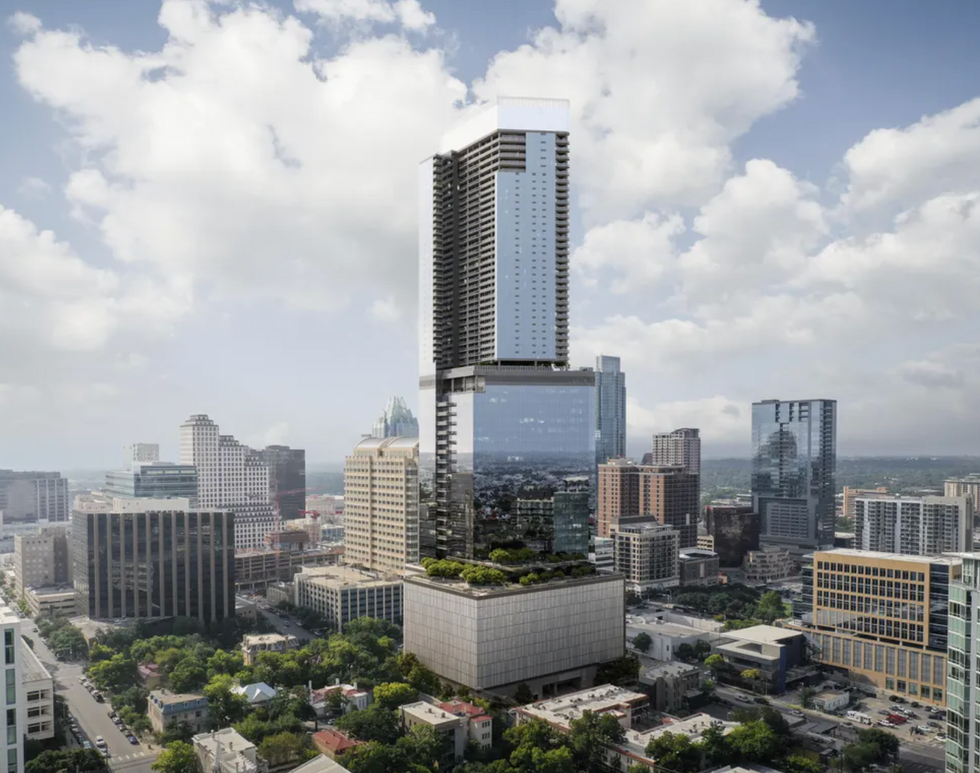 (Gensler)
Ed Muth, Gensler principal-in-charge of the project, says it's one of those buildings that only comes along every so often.
"However, it seems like in Austin, we have more and more of them that continue to happen," Muth said. "But this one is very special for us. It's a combination of three or four building types together with the parking garage, the office and the residential piece all with a ground-level that has retail in it and everything else that makes the building function."
All these pieces coming together are captured in real-time with a camera documenting the building's ascent.

A fan cam for the construction process is fitting for a tower poised to be 66 floors. But Sixth and Guadalupe is more than just its height.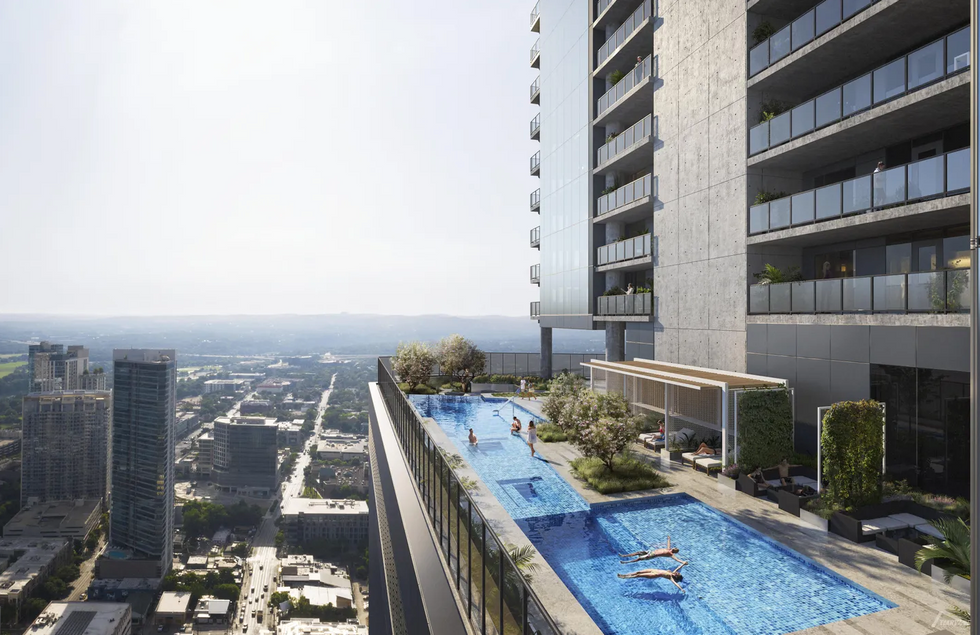 "At the end, you get great views out of the residences and the office space is just incredible because of the floor plate size and just the convenience in downtown," Muth said. "I don't know that there's anything like it or there will be like it for a while in the marketplace. This is gonna set the standard."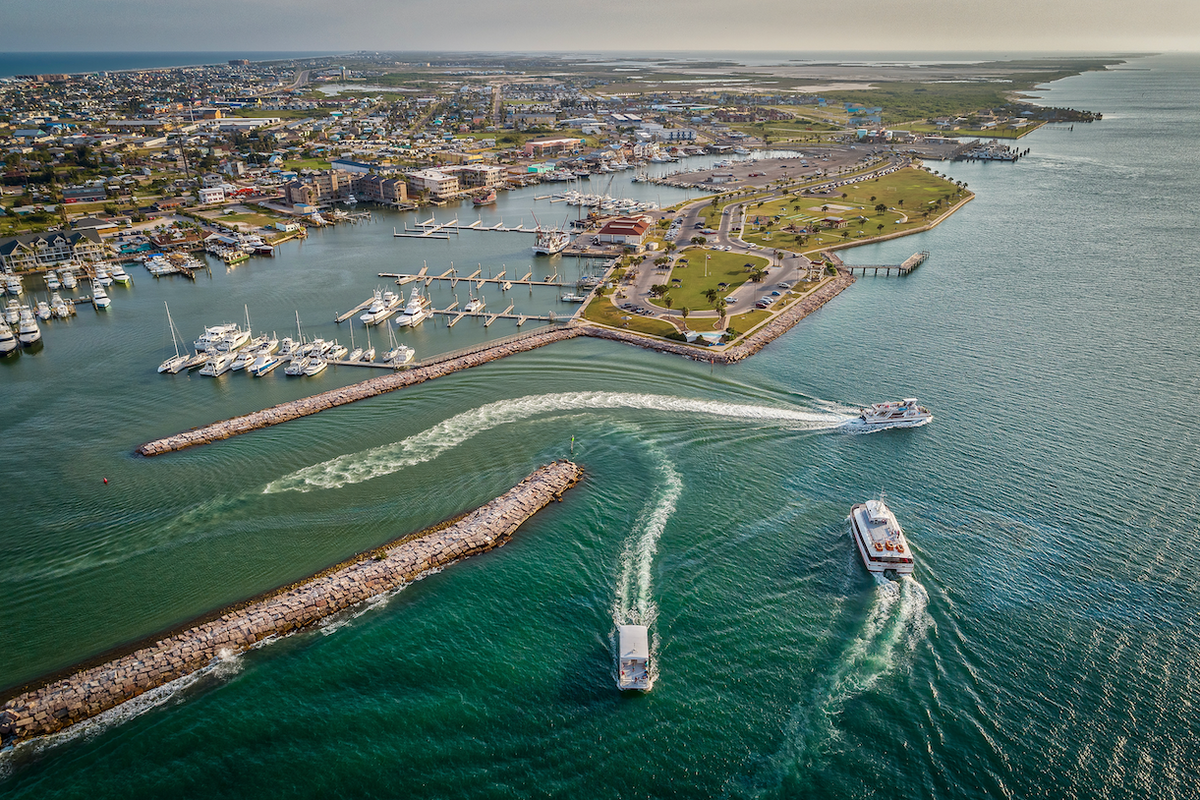 PORT ARANSAS–This is not Hilton Head or Palm Beach, with white tennis shorts and BMWs at the CVS. It's quintessentially Texas, a beach where F-350s line up at the town's three stop lights, and kids from Amarillo stare slack-jawed at "the ocean" for the first time.
Now Father's Day and the 4th of July approach, and a string of 100-degree days lurk ahead in Austin. Here's our survival guide to Port A.
Weather
The average July high in Austin is 95 and in Port Aransas 90.3.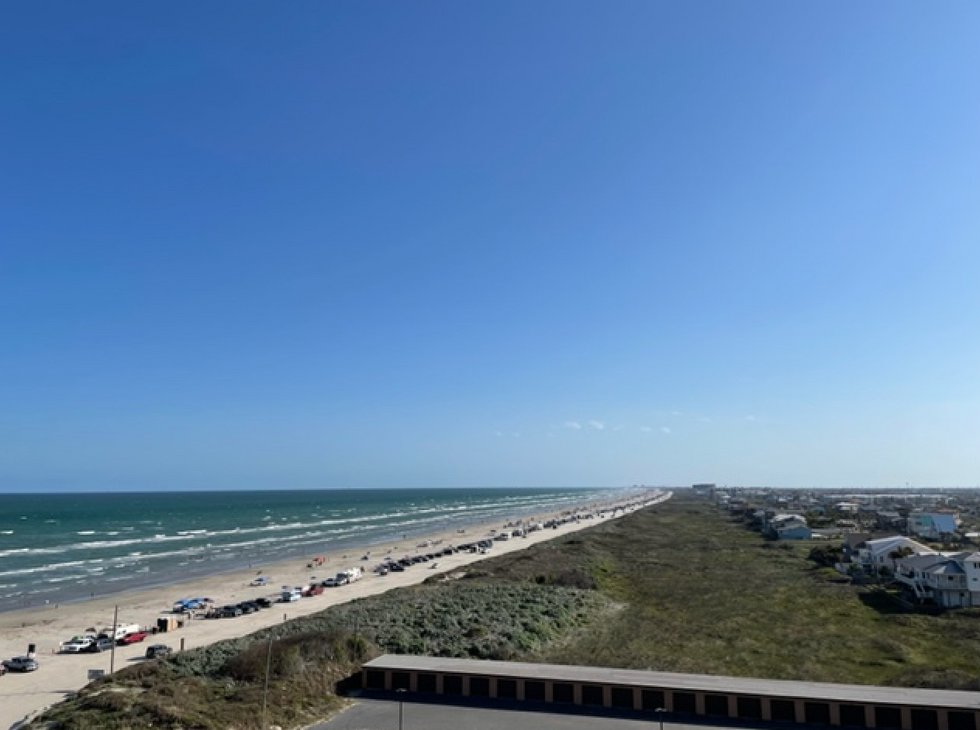 Cars lined up on the beach during Memorial Day weekend. (Rich Oppel)
Getting there
Driving from Austin, the trip is 200 miles or more. That can take four to five and a half hours, depending on time of day and route. Three strategies:

Our favorite: Take toll road SH 130 south to Lockhart and take U.S. 183 to Refugio, left on Texas 774 and follow your navigation to Aransas Pass, then left on Texas 361 to the ferry to Port A. Tips: Leave early. Avoid late Thursday or Fridays. Check the Texas DOT website for ferry wait times, which vary from 15 minutes to an hour.
Second strategy: If the ferry line is long, detour from Bayside south of Refugio to Corpus Christi and come up Mustang Island on highway 361. This adds about 30 miles.
A no-toll route: Southwest on I-35 to San Antonio, then south-southeast on I-37 into Corpus, north on 361. I-35 can be nerve-racking getting out of Austin and going through San Antonio. I-37 is blissfully boring. About 250 miles.
Money-saving tip
On the way in, refill your tank at the H-E-B in Aransas Pass, cheaper by a quarter a gallon than any fuel you'll find on Mustang Island.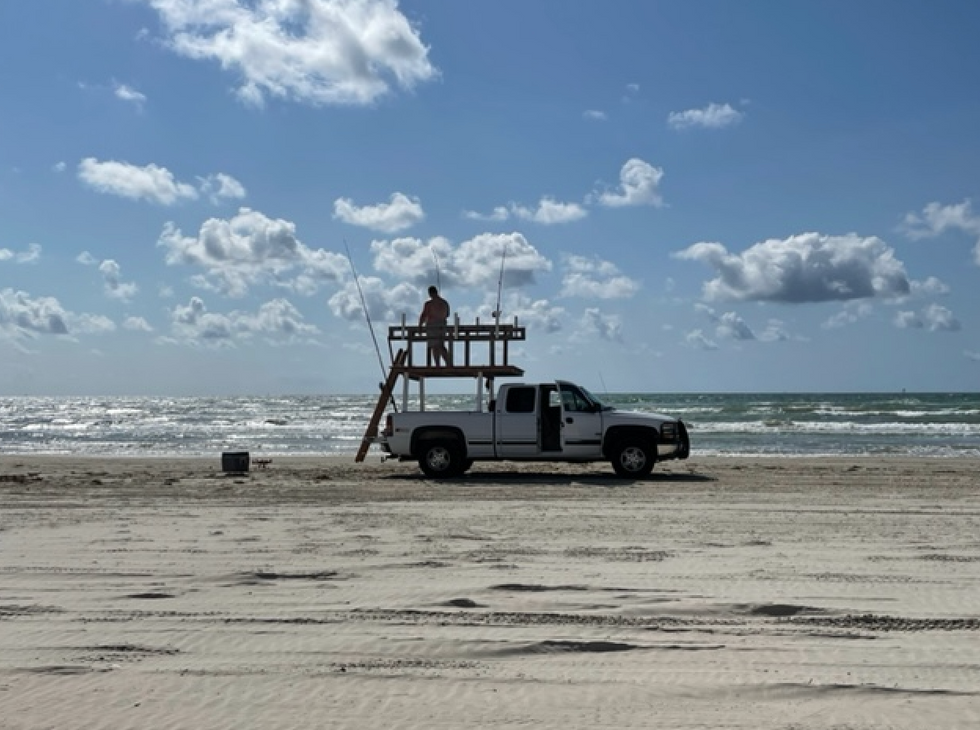 (Rich Oppel)
Sights and sounds
As you drive through South Texas you will see fields of pump jacks and wind turbines as well as fields of corn and soybean and red brangus ranches. Near the Port A ferry, huge turbine blades made in Europe are stacked high. This is a working port, but it is fast-changing.
Lodging
Check VRBO for a condo. The big condos lining the beach (Aransas Princess, The Dunes, Sandpiper, Sea Gull, Mayan Princess and more) have a few pricey rentals left, with a 2-bedroom typically going for $250 to $700 a night.
Camp on the beach. Buy a $12 annual permit at the IGA or any convenience store, and park between markers 0 and 62. Bring a sturdy tent; it can be windy. A trailer or RV are even better.
Rent a cottage off the beach. Scores of new stilt houses and multi-family dwellings were built after Hurricane Harvey laid waste to Port A in 2017. Factoid: The average elevation of Port A is 7 feet. Even cheaper than a Port A back-island rental: Find a place off-island in Rockport or Corpus Christi.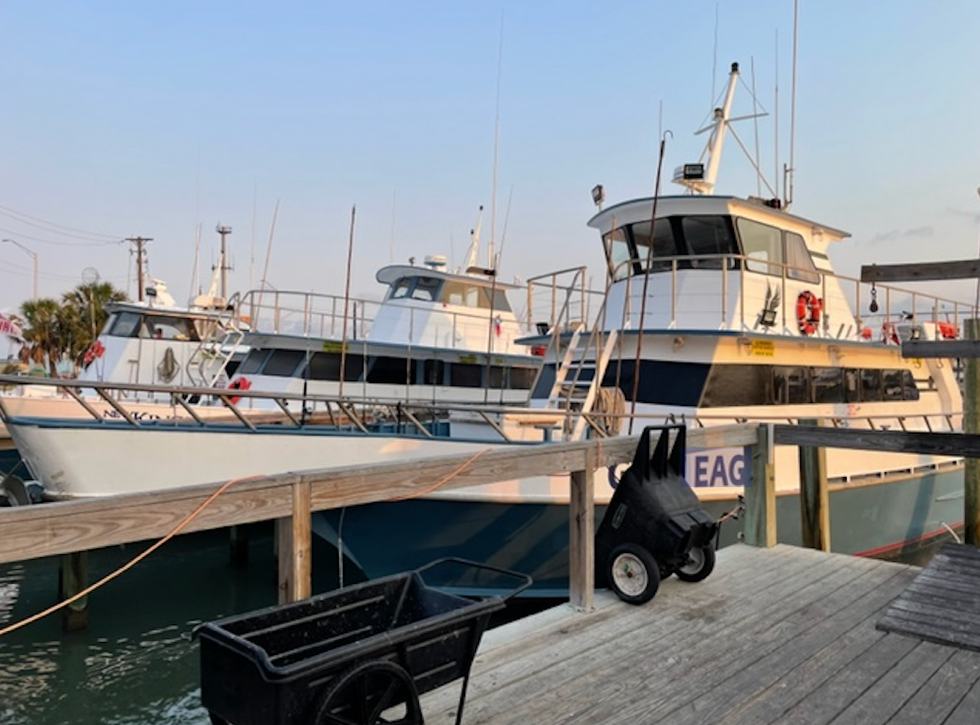 (Rich Oppel)
Food
Our favorites are the Venetian Hot Plate, Roosevelt's, Tortuga and Fins. For a cheeseburger, fries and a beer with a Gulf view, the Beach Lodge. There are 60 restaurants on Mustang Island, and the lines are long in the summer. Get there early or late, or order takeout–which is available at many places. Make reservations at the high-end places. Dress is casual. Anyone with shoelaces is way overdressed.
Fun things to do
Rent a beach cart. They'll run you up to $150 a day. Port A is one of the few places in Texas where they can be operated by unlicensed drivers 16 and older. Cart rental places outnumber seagulls.
Cast a fishing line off the South Jetty, and then watch petroleum tankers and cargo ships glide through Aransas Pass, coming from or going to Corpus Christi docks.
See hundreds of species of birds at the Turnbull Birding Center.
Eat seafood at Snoopy's Pier, overlooking Laguna Madre, on South Padre Island Drive 20 miles south of Port A. Afterward, take the kids to Scoopy's next door for ice cream.
Ride slowly along the beach and people-watch, or park and stroll or run along the wide strand. Watch the sunrise at Horace Caldwell Pier.
It's red snapper season. Take a head boat out of Deep Sea Headquarters for a $125, eight-hour trip 20 to 30 miles out. Limit out with two 16-inch or larger snapper. Great eating.
Hard truth
Port A has gotten expensive since huricane Harvey. Labor costs are skyrocketing because waiters, cleaning people and store attendants can't find affordable housing on the island. If you haven't been there in a few years, expect sticker shock.