Get connected with our daily update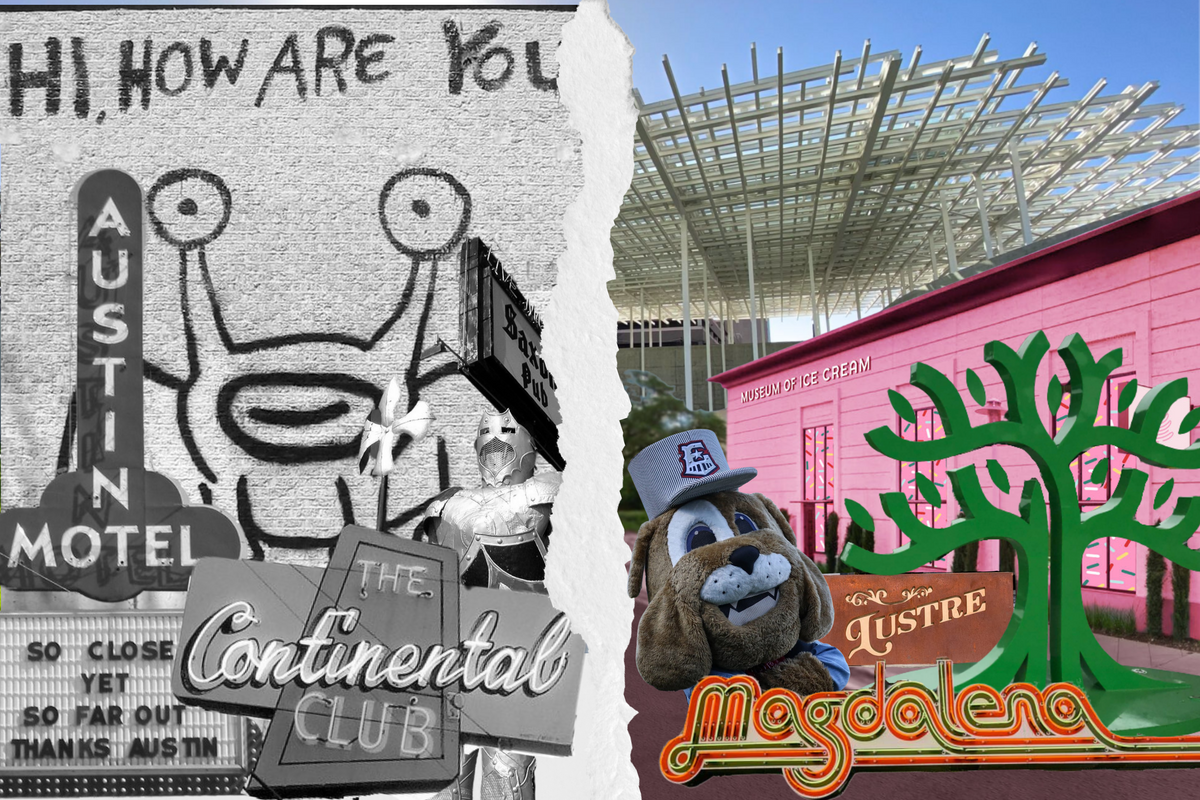 It's no secret that Austin's changing.
But as Austin changes, there can sometimes be two types of people: those who want a taste of what the city was like when it was all about "keeping it weird" in the '70s and '80s, and those who can't wait to try out the newest place on offer.
---
Either way, we've got you covered. If you've heard rumors about Austin's iconic spots but never experienced them, check out our guide to "Old Austin." Prefer the hottest new thing? Check out our "New Austin" itinerary.
Selfie spot:
Old Austin
If you want to snap a classic Austin shot that's instantly recognizable, don't miss a mural tour of downtown. From Daniel Johnston's iconic "Hi, How Are You" frog mural at 21st and Guadalupe streets to Federico Archuleta's colorful "Lover/Fighter" at 1209 E. Cesar Chavez St., there's something to fit every mood and situation. Want to dive even deeper into the mural scene? Check out the Dougherty Arts Center's driving tour.
New Austin
To experience Austin's latest "it" installation, book tickets to the Museum of Ice Cream, which scooped its way to the popular Domain entertainment district this summer. Expect to find a host of Instagram-worthy experiences, ranging from rideable animal crackers to banana-split swings to an epic sprinkle pool. Expect lots of free treats, including cotton candy and, yes, ice cream, as well as cocktails and mocktails. Tickets start at $39.
And if you still want more, the Domain also has the Selfie Galleries with tickets starting at $20.
Swim spot:
Old Austin
Austin has no shortage of places to swim, and if you're looking for an old-school alternative to Barton Springs, look no further than Deep Eddy Pool, the oldest swimming pool in Texas. This beloved pool started as a swimming hole in the Colorado River before transitioning into a resort in the 1920s. These days, it's operated by the City of Austin. Its location near the Ann and Roy Butler Hike-and-Bike Trail and Boardwalk makes it ideally situated for a post-splash workout.
New Austin
Clocking in as the country's largest indoor water park, Kalahari Resorts opened in Round Rock in November 2020 with 223,000 square feet of slides, pools and water features. The property also includes three acres of outdoor pools, 975 guest rooms and 20 on-site dining options. The Dell Diamond, home of the Round Rock Express Minor League Baseball Team, is located across the street, should you want to hit the ballpark before or after you take a dip.
Live music:
Old Austin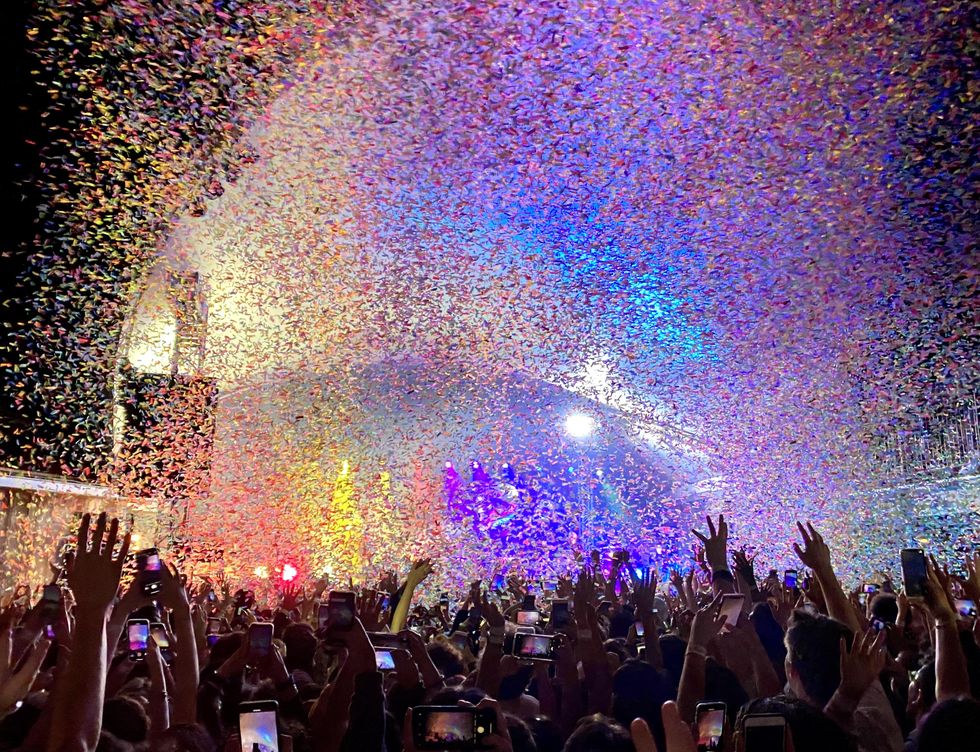 As the "live music capital of the world," it's no secret that Austin is home to copious concert venues. For example, Stubb's, which has been serving music since 1968 at its original location before moving to Red River Street in the 90s, some of the biggest and best bands in the world choose to take the stage. Upcoming acts include Machine Gun Kelly, Modest Mouse and Phoebe Bridgers. Can't make an evening show? Stop by for famous barbecue or snag a reservation for the venue's Gospel Brunch, held every Sunday from 11 a.m. to 2 p.m. Additional can't-miss Austin venues include the Continental Club on South Congress Avenue, the Saxon Pub and the Broken Spoke on South Lamar, and the Nutty Brown Amphitheatre, which will move from its current spot in far South Austin to Round Rock later this year.
New Austin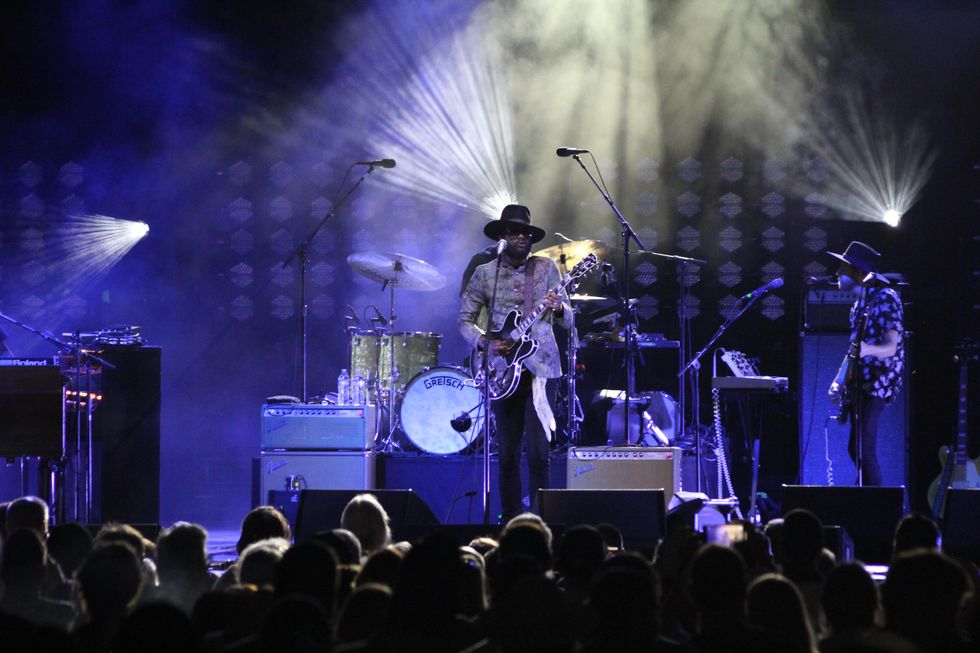 PHOTOS: Gary Clark Jr., Blackillac play Moody Amphitheater grand opening to sold-out crowd
Yes, we've got lots of classic venues, but we've got some new ones, too. For an expansive outdoor concert experience that features both assigned and lawn seating, consider the Moody Amphitheatre at Waterloo Park, which opened in August and has already hosted acts ranging from Gary Clark Jr. to Counting Crows to 311. Parking is ample at nearby garages. There's also a number of newer live music venues along Menchaca Road, such as Armadillo Den and Lustre Pearl South.
Hotel:
Old Austin
For a taste of Austin's laid-back yet quirky past, book a night or two at the Austin Motel, a former motor court where the motto is "so close, yet so far out." Expect fun wallpaper, upscale amenities and a sparkling, retro-themed pool that's ideal for taking a dip in on a 100-degree day. You can also just get a pool day pass. Because this property by Austin's Bunkhouse Group is in the heart of South Congress, it's also an excellent home base for shopping and sightseeing.
New Austin
And nearby on South Congress, you can check out Hotel Magdelena. This stunning hotel, also by Austin's Bunkhouse Group, opened in 2020 and was inspired by the city's lake house culture, incorporating color themes of green, blue, red and yellow across the property. It also houses its own restaurant, Summer House on Music Lane, which was inspired by "the casual sophistication that defines a lake house weekend." The property is surrounded by a new shopping and entertainment district, Music Lane, that includes Lululemon and Madewell storefronts.
Sports:
Old Austin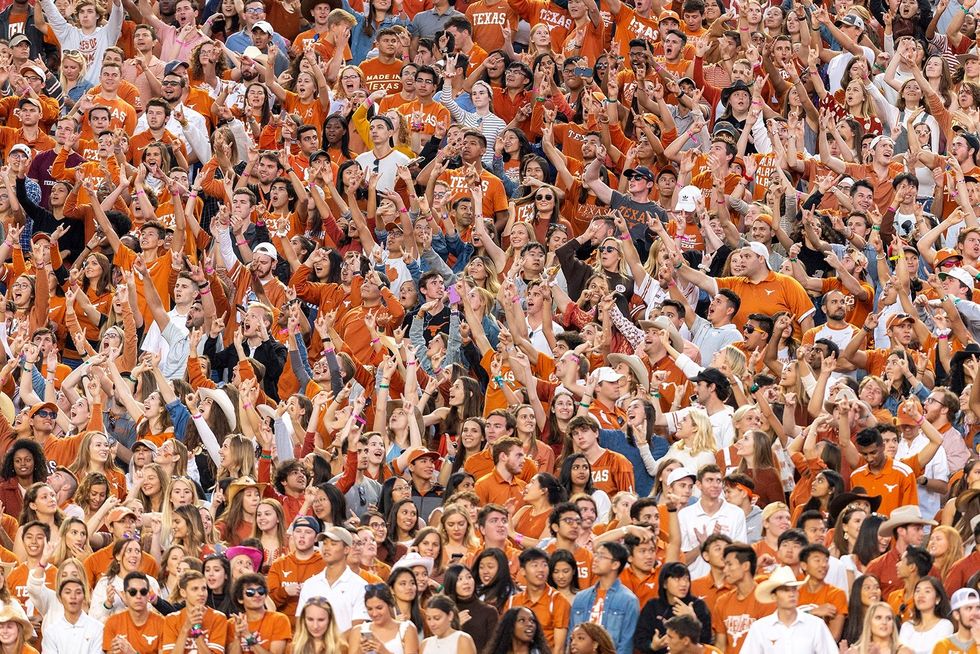 Longhorns plan for 100% stadium capacity in 2021 season
Before Verde and Black were a thing in Austin, the whole town bled burnt orange, especially because it felt like most of the town were University of Texas alumni. But even with a new team in town, the Longhorns haven't gone anywhere. Head to Darrell K Royal-Texas Memorial Stadium on most Saturdays this season for the full Texas football experience.
New Austin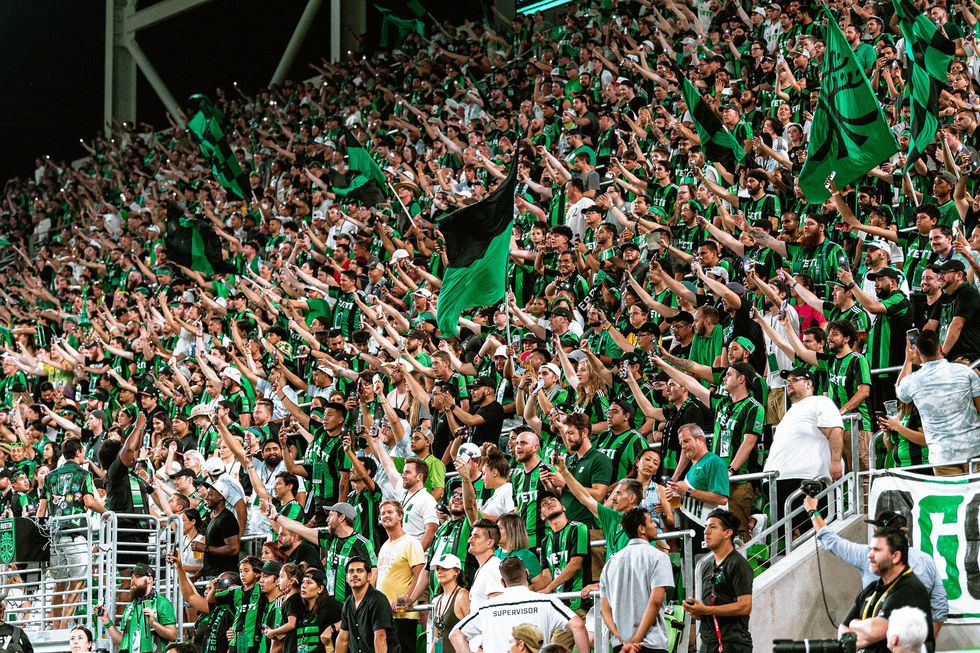 Austin FC fans chanted with members of Black Pumas as Austin FC took on the Seattle Sounders. (Austin FC/Twitter)
Austin FC is all the craze this year as it kicked off its inaugural season as the first major league team in town. While it's not exactly a standout team yet, you can catch the Q2 Stadium at full capacity every game with people cheering and lots of local eats to choose from. You don't need to know the game of soccer to have a good time with the fan band and nonstop action.
For more on Austin changing: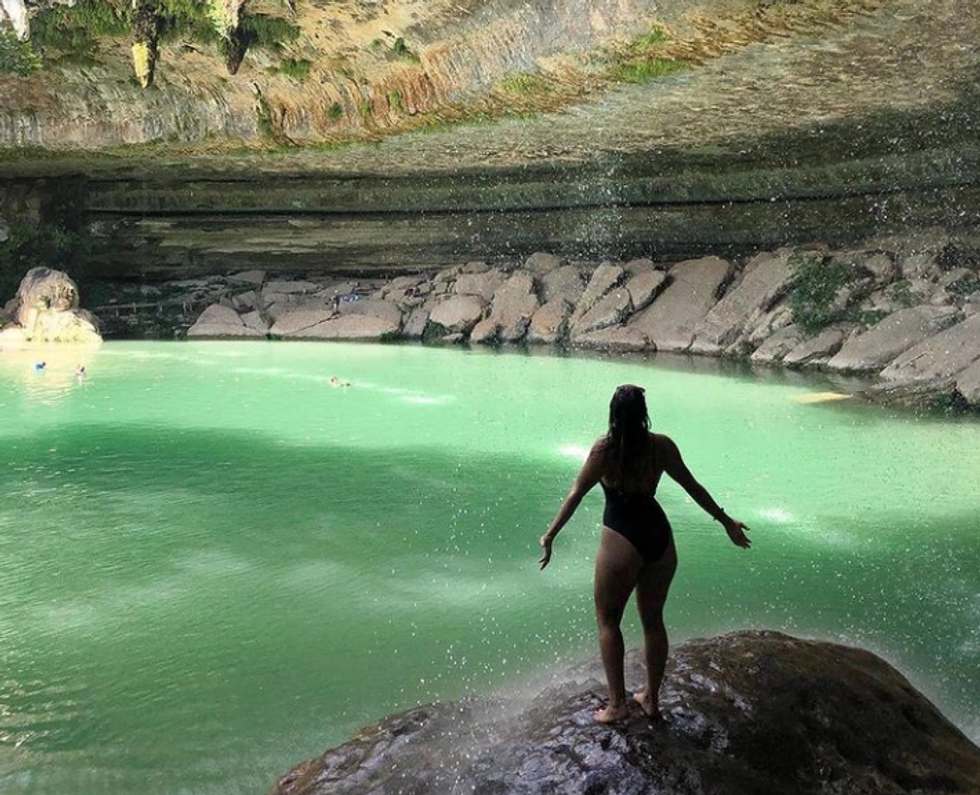 5 small towns to get a taste of old Austin life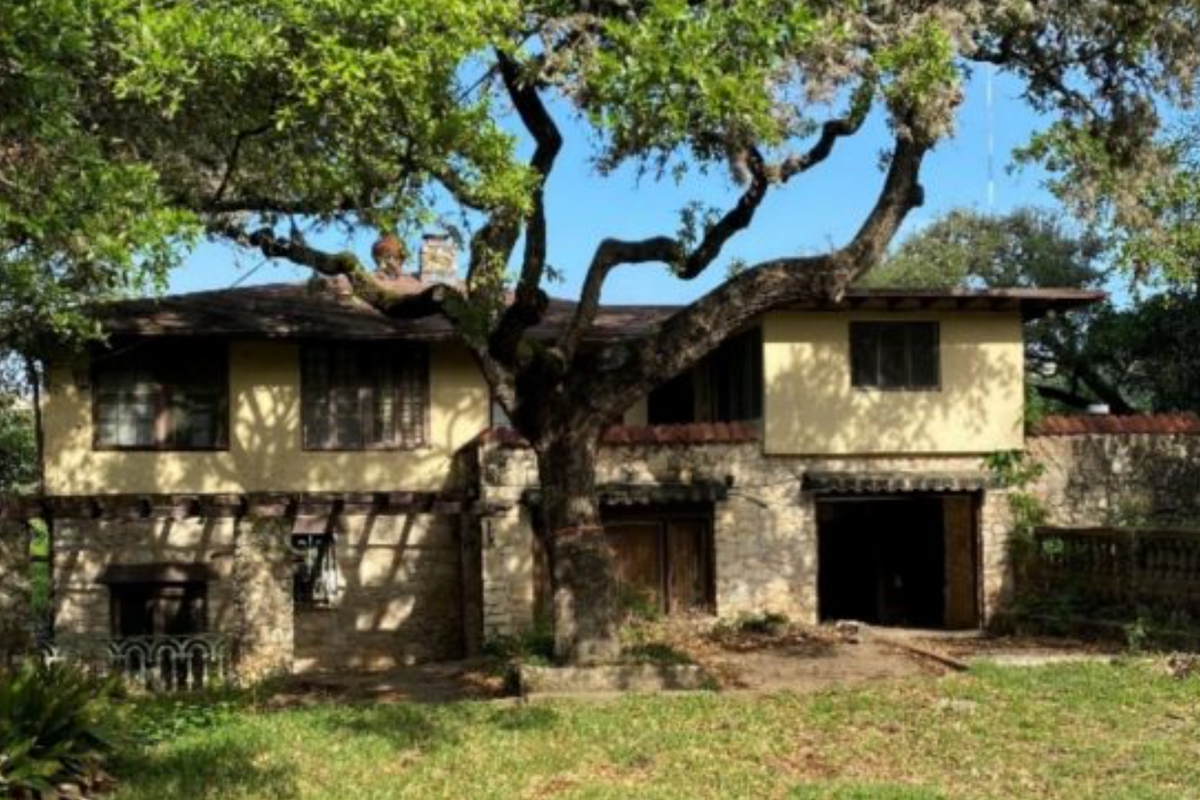 Austin Monitor
By Jonathan Lee
The Planning Commission was split Tuesday on whether to help save an eclectic lakefront estate from demolition by zoning it historic amid concerns over tax breaks and the likelihood that a previous owner participated in segregation as a business owner.
The property in question, known as the Delisle House, is located at 2002 Scenic Drive in Tarrytown. The main house, with Spanish and Modern influences, was built in 1923 by Raymond Delisle, an optician. A Gothic Revival accessory apartment was built in 1946. The current owner applied to demolish the structures in order to build a new home.'
Historic preservationists, for their part, overwhelmingly support historic zoning, which would preserve the buildings in perpetuity. The Historic Landmark Commission unanimously voted to initiate historic zoning in July, citing architectural significance, landscape features and association to historic figures. City staffers recommend historic zoning, calling both structures one-of-a-kind examples of vernacular architecture.
Tarrytown neighbors have also banded together to stop the demolition. Many have written letters, and a few spoke at the meeting. "How could anyone buy this property with the intent of destroying it?" Ila Falvey said. "I think it's an architectural treasure."
Michael Whellan, an attorney representing the property owner, said that the claims made by preservationists are shaky. The buildings are run down, he said, and have had substantial renovations. A structural engineer hired by the owner said any attempt at preservation would involve tearing down and rebuilding – an undertaking Whellan said would likely cost millions.
Whellan also argued that any historical significance derived from the property's association with Delisle and longtime owner C.H. Slator is dubious. "These men are not noted for any civic, philanthropic or historic impact," he said.
What's more, according to Whellan, Slator likely participated in segregation as the owner of the Tavern on North Lamar Boulevard between 1953 and 1960.
A city staffer, however, said she found no evidence to support the claim. "We would never landmark a property where a segregationist lived, or there was a racist person," Kimberly Collins with the Historic Preservation Office said.
Commissioner Awais Azhar couldn't support historic zoning in part due to lingering uncertainty about Slator. "Focusing on that factor is not here to disparage an individual or family. It is not about playing the race card. This is an important assertion for us to consider as Planning commissioners," Azhar said.
Commissioner Carmen Llanes Pulido said that allegations of racism should come as no surprise. "We're talking about white male property owners in the 1950s, in Austin, on the west side – and of course they were racist," she said. But she argued that allowing the house to be demolished based on these grounds does nothing to help people of color who have been harmed by racism and segregation.
The question of tax breaks was also controversial. Michael Gaudini, representing the property owner, said that the tax breaks associated with historic zoning would exacerbate inequality by shifting property tax burdens to less affluent communities. City staffers estimate that the property, appraised at $3.5 million, would get either a $8,500 or $16,107 property tax break annually, depending on whether a homestead exemption is applied.
Commissioner Grayson Cox preferred the commission focus not on tax breaks but on whether the structures merit preservation. "To me, nothing in the historic preservation criteria lists, is this person deserving of a tax break or not?"
Azhar, on the other hand, said he plans to propose a code amendment getting rid of city property tax breaks for historic properties.
The commission fell one vote short of recommending historic zoning, with six commissioners in support and three opposed. Azhar and commissioners Claire Hempel and Greg Anderson voted against.
The odds of City Council zoning over an owner's wishes are slim. Nine out of 11 members must vote in favor, and there have only been a handful of such cases over the past several decades.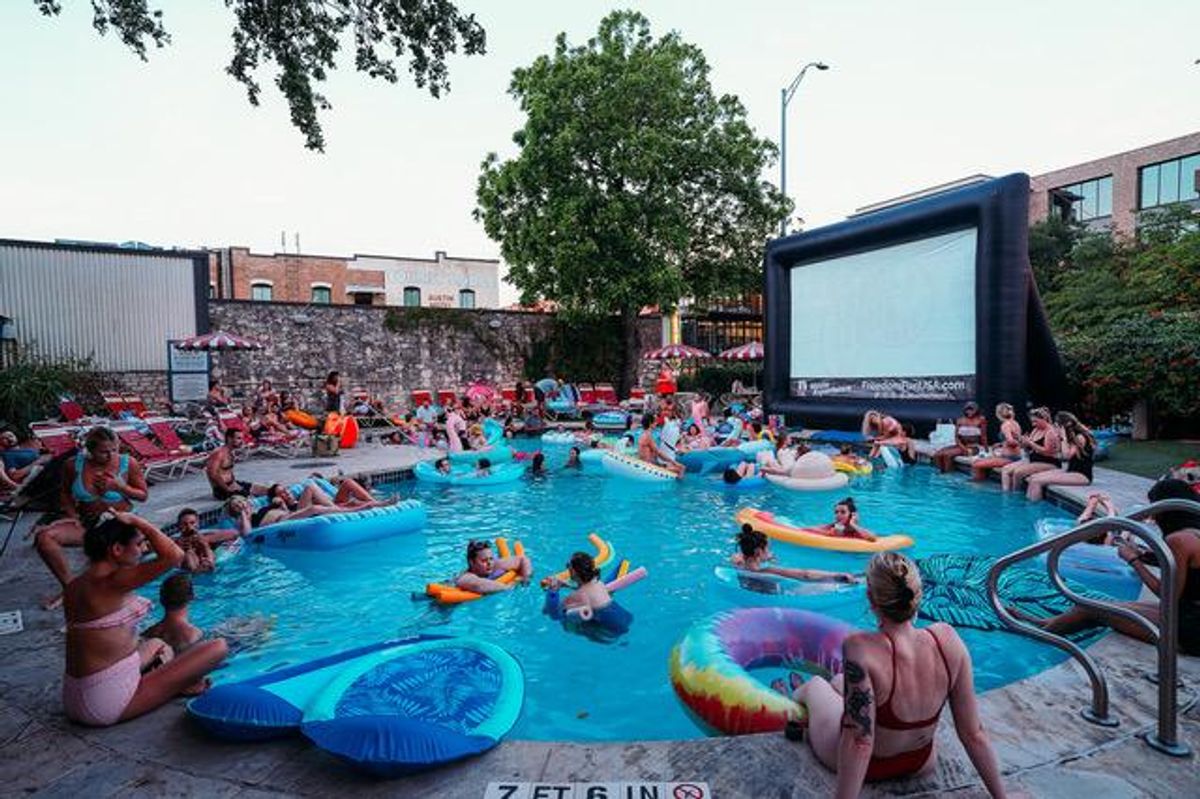 Austin Motel
What's new in Austin food & drink this week:
Nau's Enfield Drug closing after losing their lease. Did McGuire Moorman Lambert buy the building, with its vintage soda fountain?
Nixta Taqueria Chef Edgar Rico named to Time Magazine's Time 100 Next influencer list, after winning a James Beard Award earlier this year.
Question: From what BBQ joint did pescatarian Harry Styles order food this week?
Austin Motel is opening the pool and pool bar Wednesday nights in October for Freaky Floats.
Vincent's on the Lake closing due to "economic conditions and low water levels [at Lake Travis]."
Cenote has closed its Windsor Park location. The East Cesar Chavez location remains open.
The Steeping Room on N. Lamar has closed.
Local startup It's Skinnyscored new financing for its gluten-free pasta business.
P. Terry's opened a new location in Kyle, at 18940 IH-35.