Get connected with our daily update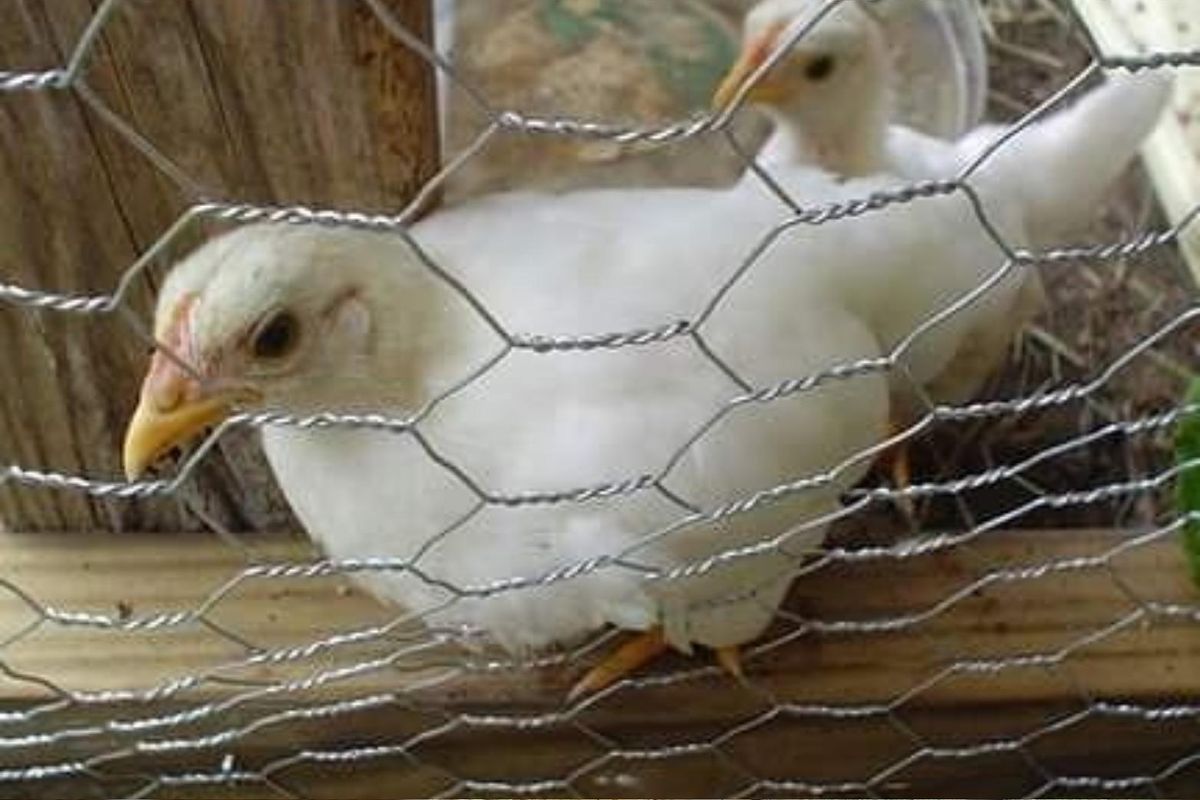 Austin is quickly becoming the land of influencers—including those of the feathered variety.
Esperanza, a 12-year-old chicken from Austin's Highland neighborhood, has a reputation that precedes her. According to her owner, Edward Gottschalk, there's a solid chance she's the oldest chicken in Austin.
---
While it may seem a bold claim to make, Gottschalk has done his research. He said he found an old clip of a late-night television show (he's thinking David Letterman) that featured an ancient chicken from Austin that was 13 or 14 years old, and Esperanza isn't far off. He's asked around Reddit to see if any other geriatric chickens are still around, and no one fought for the esteemed title.
While "Austin's oldest chicken" may have an endearing ring to it, she's fought hard for her fame. Esperanza's backstory includes old-lady crankiness, family feuds and even chicken-on-chicken murder.
"She's not that nice, you really shouldn't like her that much," Gottschalk told Austonia. "She's an old lady, she's stubborn."
Gottschalk and his wife, Liath Appleton, got Esperanza from a friend in 2009, about a year after they moved to Austin.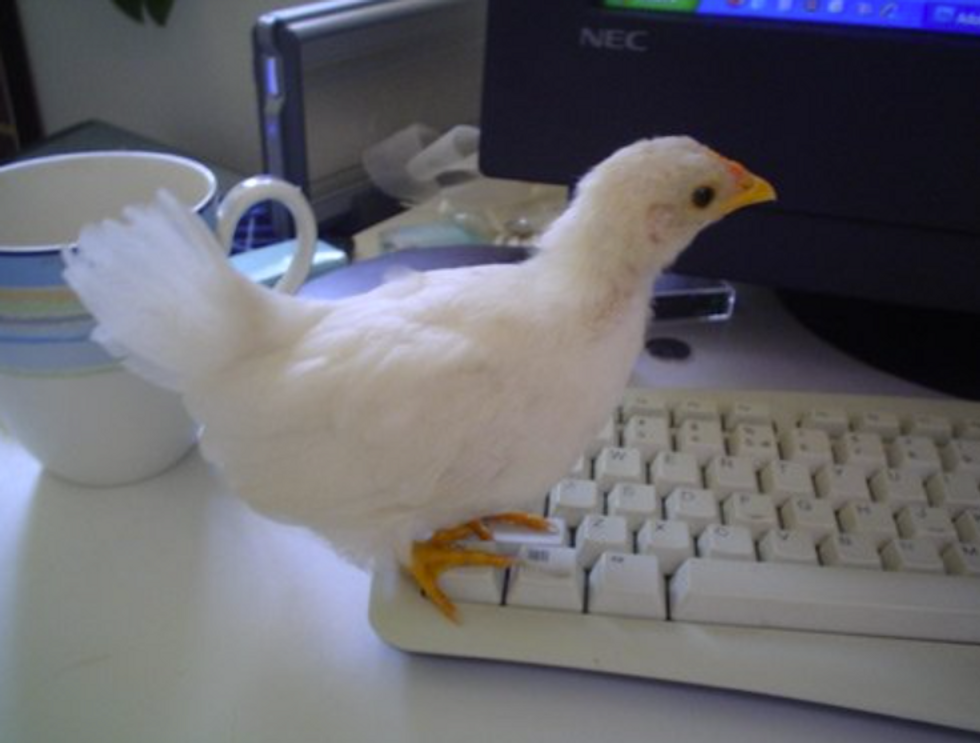 Esperanza as a young hen in 2009. (Edward Gottschalk)
She's had companion chickens, some of which have flown away or died of natural causes. In the chicken world, however, weakness is never tolerated. The couple had to separate any sick chickens for fear of the other hens killing their weakest link, but some, unfortunately, fell through the cracks.
"Those chickens usually don't even last a week because they would kill that chicken," Gottschalk said. "Esperanza personally has probably killed a chicken or two."
Esperanza isn't the only family member who has fought for her spot at the top. Gottschalk's brother, Mark, is a champion pumpkin grower who has produced competition winners that are several hundred pounds. In true brotherly competition, Gottschalk decided he would make sure Esperanza was well-known as the oldest chicken in the Texas capital.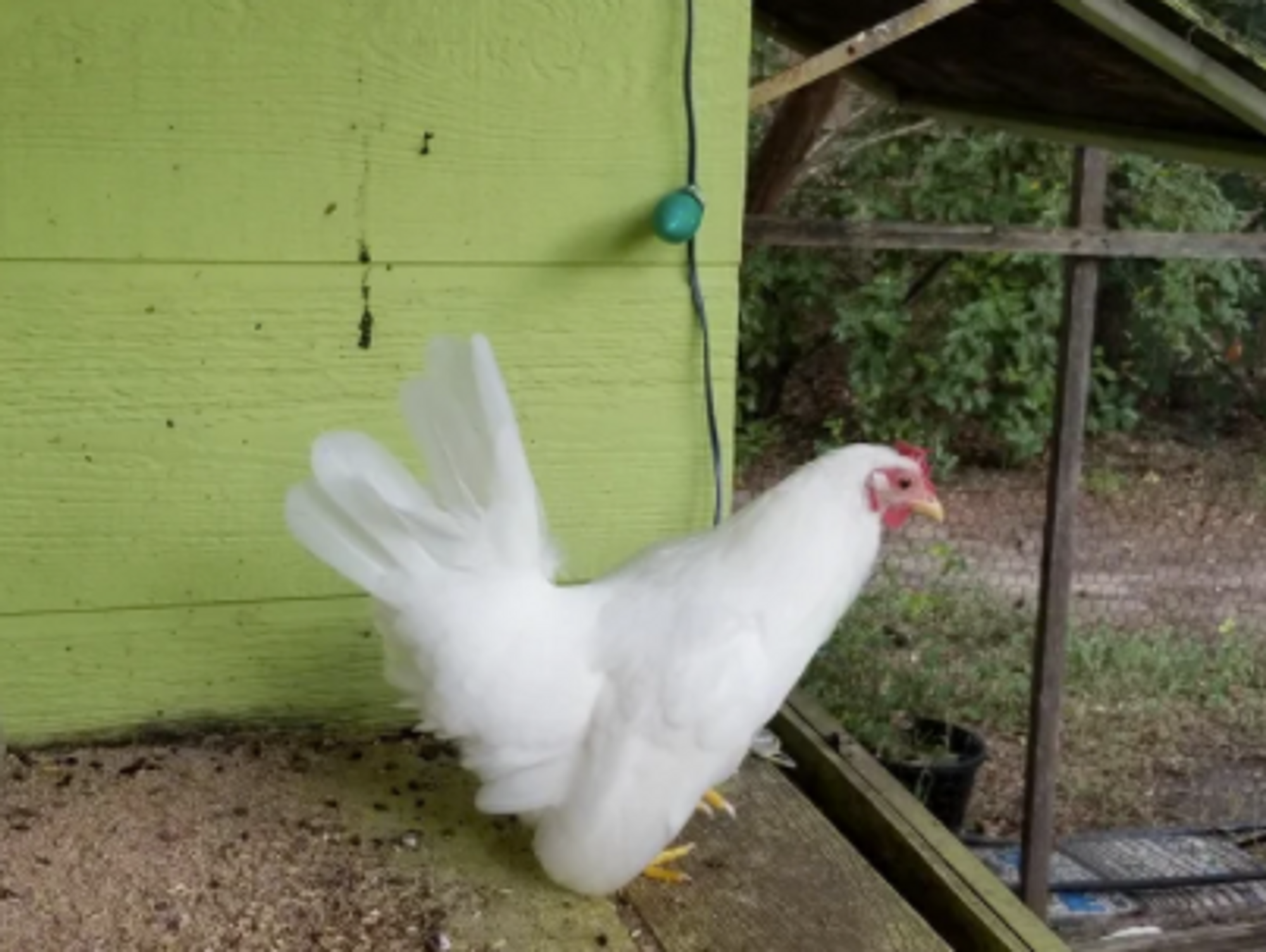 Esperanza has been with the couple since 2009. (Edward Gottschalk)
Gottschalk essentially boiled it down to an in-family Hatfield vs. McCoys dispute.
"I was like, 'let's not talk about my brother,'" Gottschalk said. "'Why are we talking about pumpkins? (Esperanza's) a celebrity.'"
Despite all of his talk, Gottschalk and Appleton have lots of love for their eldest (and now only) feathered friend. In bad weather, Appleton brings Esperanza inside the house for a few days, watches TV with her and even puts her on her lap. The coop, which is fully enclosed to prevent any attacks from predators, sits just outside a bedroom window so the two can give her treats and feed when needed.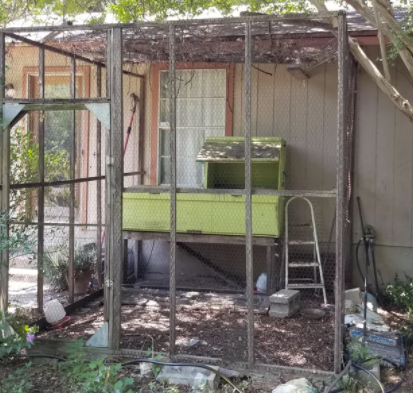 Esperanza's coop is attached to a nearby bedroom window for easier access. (Edward Gottschalk)
Aside from bouts of ringworm and scuffles with former companions, Austin's oldest chicken could get even older. Some of her feathers have bent or fallen out, but she's otherwise perfectly healthy.
All jokes aside, Gottschalk said he's grown to love his grouchiest family member.
"She's pretty sweet with age," Gottschalk said. "It's been nice to have her. I will definitely miss her when she's gone."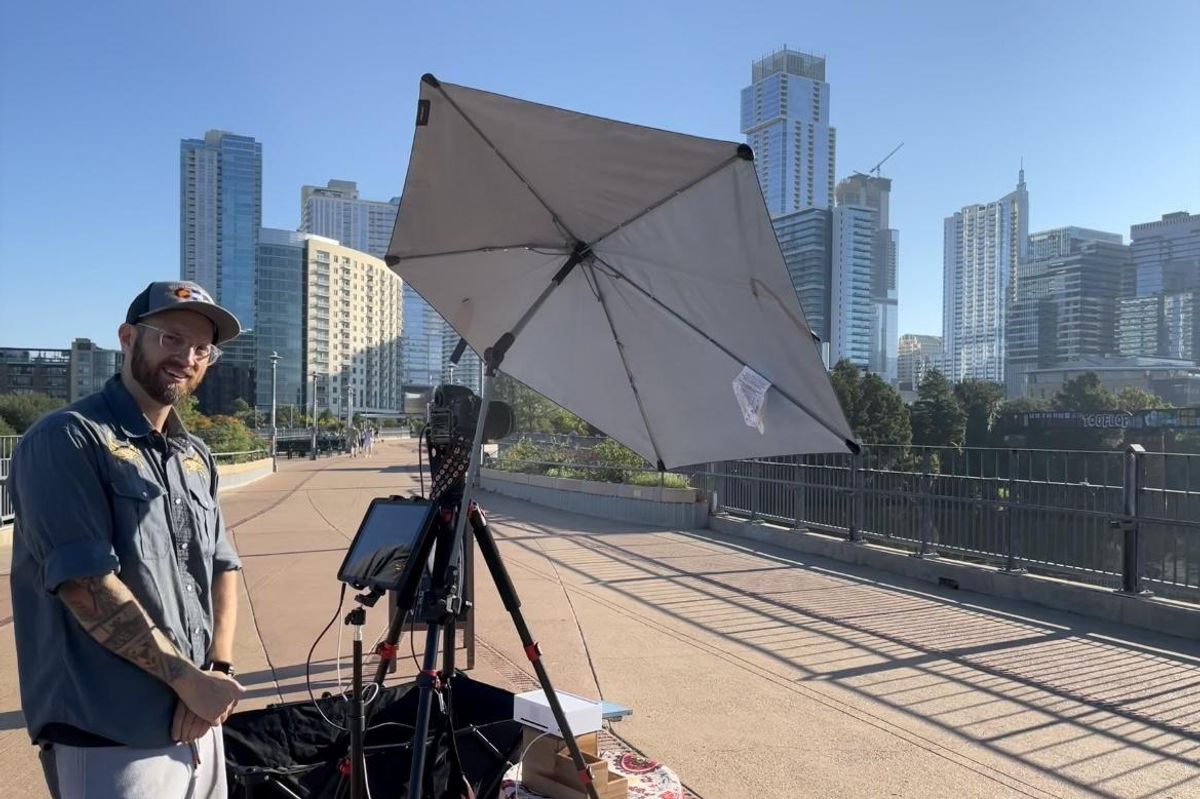 Nicklaus Pereksta says he loves photographing enthusiastic people, and it's why his latest gig offering pictures to people out on Lady Bird Lake's hike and bike trail is going smoothly. He sets up his gear on the Pfluger pedestrian bridge and puts out a sign: Photos, $10.
"Overwhelmingly, this has been a really positive experience," Pereksta said. "I get excited when I wake up in the morning and I can't wait to go to work."
Bikers and joggers are excited about it too. On the pedestrian bridge leading to downtown Thursday morning, a man on an e-bike rode up and posed, wanting more photos.
"I posted the last pictures on Instagram and people loved it. They asked, 'where is this guy?'" the biker told Pereksta. Bashfully, Pereksta, who also photographs landscapes and at weddings and other events, said he was happy to hear that.
Pereksta started these photos about a month ago, after the strenuous runs required in his valet job started causing pain in his legs. And though he has a passion for photography, he wasn't so sure when he started working independently if it would work out.
He felt uncertain about the demand for it and was also worried about having lots of expensive equipment out in the open.
"Then like the first day was nothing but high praise and people are like, this is so awesome. This is great. I've never seen anything like this before. I was like, Wow, this was really good, like positive turnout. So I got encouraged."
Now, he wants to expand and is thinking of contacting the Mueller Farmers Market about how to become a vendor. Still, he'll carry a connection to photographing on the bridge since the word bridge is related to his last name.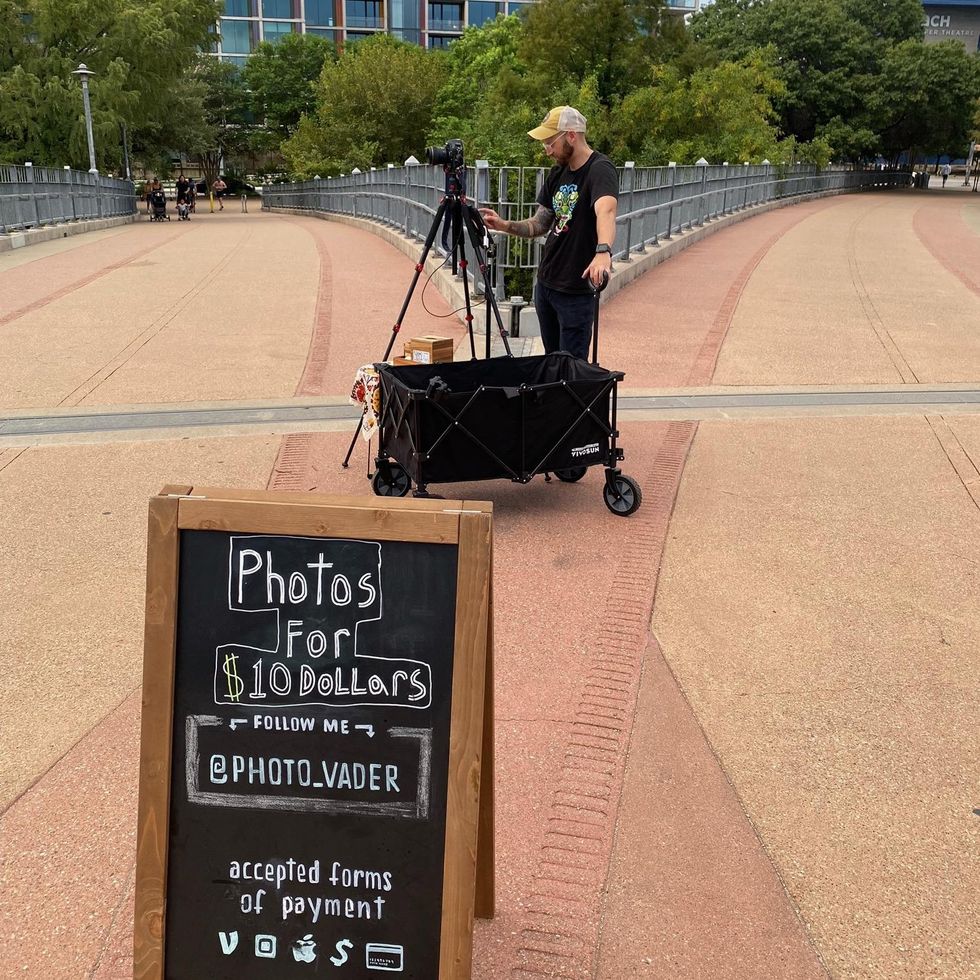 (Dewey C.)
"It's a name my great, great, great grandfather came up with when he was marrying somebody. It's actually quite a romantic name. It means a joining of two bridges," Pereksta said. "So, I thought it was ironic that I'm set up on a bridge. I'm kind of representing my last name right now."
Austonia talked to Pereksta about life in Austin, where he's lived for eight years after living in Boston doing band photography.
What was your first experience with Austin?
I came here to visit some friends and they took me to Barbarella. So we went to Barbarella and I was like, 'wow, this place is great.' And then the restaurants and the food and going to Barton Springs. I was like, 'this is amazing.' Because there's nothing like that in Boston. If you want to go to a natural spring, you got to go to New Hampshire. There's no pools in the city at all. So there's lots of swimming out here.
What do you like best about Austin?
You go to any little quiet bar and there's a band playing that should be like onstage for a sold out show. Yeah, they're playing to 10 people, right? Like, one of the best bands ever and they're playing for 10 people, right? And just little magic moments like that are pretty fun. You just run into little random weird things.
What do you think makes Austin different from other places?
There's no fall.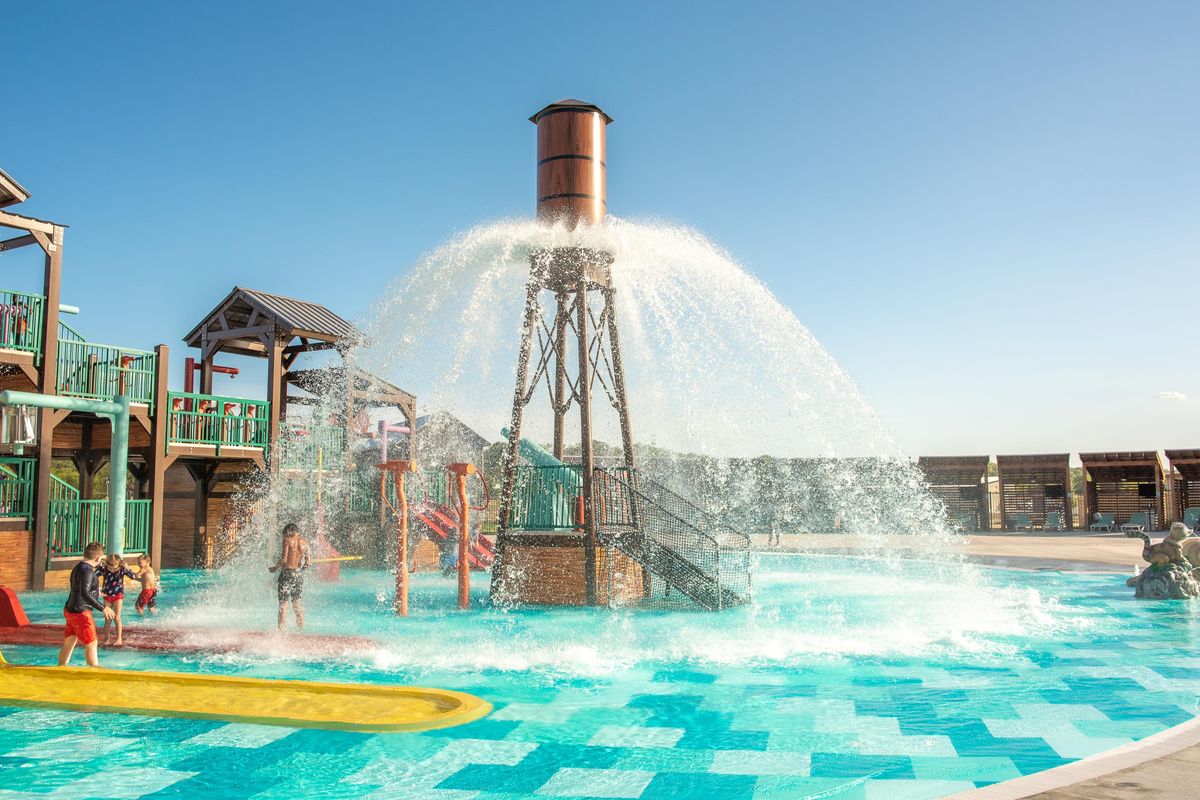 Camp Fimfo Waco
Camp Fimfo Waco, a brand new camping resort, is kicking off football and fall camping season in style! With top-notch amenities, premium accommodations, and 10 weekends of fall fun, there's no better place to have a fall camping getaway, especially if you're a Baylor football fan!
Fall promises to be a one-of-a-kind camping experience. From Sept. 16 to Nov. 24, weekends will be packed with fall-themed activities, including special Halloween weekends in October. Campers can enjoy activities like fall crafts, campground trick-or-treating, costume contests, site decorating, outdoor movie nights, and more!