Get connected with our daily update
Just before the yearlong torch was snuffed out in Tokyo, Team USA edged out China for the most Olympic gold medals to wrap up the Games, aided by three last-minute gold medals from athletes with Austin ties.
---
A Kevin Durant-led U.S. men's basketball team got redemption from their early loss to France as they beat the team 87-82 to nab the team's fifth straight gold medal on Saturday. Durant, a former Longhorn, scored two free throws with eight seconds left on the clock to seal the deal.
The women's basketball team, aided by University of Texas alum Ariel Adkins, followed soon after as they defeated Japan for their seventh-straight gold in the event. Finally, UT alum Chiaka Ogbogu joined her team in a tearful huddle as the women's indoor volleyball team clinched their first-ever Olympic gold and won the final medal for Team USA.
From medal-winning penalty kicks to shocking upsets, Austin athletes took home 10 medals—six gold and four silver—as the most-long awaited Games in history came to an end on Sunday.
Here's how Austin athletes fared in the Tokyo Olympics:
Basketball: two golds
KEVIN DURANT 🇺🇸@TeamUSA x #TokyoOlympics pic.twitter.com/0e8oCY8fmt

— #TokyoOlympics (@NBCOlympics) August 7, 2021
Kevin Durant-gold
Kevin Durant, who attended UT his freshman year before joining the NBA Draft, became U.S. men's basketball's all-time leading scorer as he surpassed Carmelo Anthony with 406 total points at the Games. With three gold medals, he also tied Anthony as the winningest player in team history. Durant led the team with 29 points as they beat France for the silver medal, landing the final two points of the match to earn the team's fourth straight gold.
When not in the red, white and blue, Durant plays for the Brooklyn Nets and recently extended his contract with the team for four more years. The 32-year-old NBA star, who is often considered one of the best current players in the league could have enough in the tank for one or two more Games before his decorated career is up.
An unforgettable first for Ariel Atkins! 🇺🇸🥇#TogetherDC x #USABWNT pic.twitter.com/A96C34x5Gc

— Washington Mystics (@WashMystics) August 8, 2021
Ariel Atkins-gold
Less than a day after men's basketball won gold, the U.S. women's team once again established their dominance in the sport as they toppled home team Japan in the final.
Ariel Atkins, a Team USA point guard and former Longhorn, played beside five-time Olympic gold medalists Sue Bird and Diane Taurasi as they each became the most decorated Olympians in the sport. The duo is passing the torch to the younger generation as they fight off quickly improving competition and search for their eighth consecutive gold medal. Atkins, a first-time Olympian who currently plays for the WNBA's Washington Mystics, is likely to be part of that crew.
Volleyball: one gold
Pile of emotions. #TokyoOlympics pic.twitter.com/wCbmqOc6uD

— Team USA (@TeamUSA) August 8, 2021
Chiaka Ogbogu
Prior to the Tokyo Games, the U.S. women's indoor volleyball team was the most medaled team in the sport to never win gold.
That all changed when the team swept Brazil to take their first gold in the Olympic final, aided by UT alum and middle blocker Chiaka Ogbogu.
"It doesn't even compare," Ogbogu said after the team advanced to the semifinals. "I feel like I have just had a lot of childlike joy for this... To know that we have made it to the semifinals in a year of losses and a year of waiting. We are finally here. It's amazing."
Swimming: one gold, two silver
If your friends don't hype you up like Lydia Jacoby's LEAVE THEM pic.twitter.com/nKw51B1nOe

— Coach Christi, DNP 👩🏾‍⚕️🥎 (@SnapMyAd) July 28, 2021
Lydia Jacoby- one gold, one silver
Lydia Jacoby has shocked the world as a dual Olympic medalist before she even starts her freshman year of college at the University of Texas. At 17, Jacoby became a fan favorite as she secured her first-ever gold with a surprise win in the women's 100-meter breastroke. The teenager went on to land a silver in the women's 4x100-meter medley relay as well.
Jacoby beat the odds to get on the podium—from a goggle mishap to training with "the whales and sea lions" as fellow residents in her hometown of Seward, Alaska like to joke. There is just one Olympic-sized pool in all of Alaska, and it's nearly 120 miles from where she grew up. Jacoby trained in a pool half that length as she became the first Olympic gold medalist from her home state.
OLYMPIC HISTORY IS MADE‼️@katieledecky wins the first-EVER Olympic gold medal in the women's 1500m free and teammate Erica Sullivan wins the silver.@TeamUSA x #TokyoOlympics #OlympicHERstory pic.twitter.com/fTLlcWFgEg

— #TokyoOlympics (@NBCOlympics) July 28, 2021
Erica Sullivan- silver
Longhorn Erica Sullivan finished just behind U.S. star Katie Ledecky as she won silver in the first-ever women's 1,500-meter freestyle Olympic race. At 20, Sullivan is already a two-time Olympian and fan favorite as she opens up about her adversity and unique experience as an Asian-American and queer woman in the sport.
"I'm multicultural. I'm queer. I'm a lot of minorities. That's what America is," Sullivan said at the press conference after her race. "To me, America is not about being a majority. It's about having your own start. The American dream is coming to a country to be able to establish what you want to do with your life."
Track and field: one gold, one silver
After winning his second consecutive gold in the shot put, Ryan Crouser had a message for his grandpa 🙏

Crouser bested his previous Olympic record FIVE TIMES in the finals. pic.twitter.com/gkKVt2wZv1

— ESPN (@espn) August 5, 2021
Ryan Crouser
Former Longhorn Ryan Crouser previously won gold at the 2016 Olympic Games, and he broke his own Olympic record immediately as he took his first throw in the men's shot put at the 2020 Games. Crouser bested the Olympic record five times before taking home his second gold medal and ended with a note to his grandpa.
"Grandpa, we did it, 2020 Olympic champion!" Crouser's note read as he tearfully celebrated his victory. Crouser's grandfather died shortly before the Olympic Games, and he dedicated the medal to him.
"A special moment for me," Crouser told NBC after the competition. "It's been a little bit of a rough couple of weeks. My grandpa passed away. He was the one that got me into throwing. This was my first meet without him. I wrote that note for him. It was special to throw one for him."
There goes Jamaica! 👋@TeamUSA grabs the SILVER in the women's 4x100 relay. #TokyoOlympics pic.twitter.com/s0zA28oxqc

— #TokyoOlympics (@NBCOlympics) August 6, 2021
Teahna Daniels
Former Longhorn Teahna Daniels broke her personal record as she was the only Team USA athlete to advance to the women's 100-meter finals alongside Jamaican greats Shelly-Ann Fraser-Pryce, Shericka Jackson and Elaine Thompson-Herah. It was the women's 4x100-meter race, however, that brought the first-time Olympian onto the podium as she helped the defending champs take home a silver medal in the race.
Falling only to Team Jamaica, who set a national record as they led the race by several steps, teammates Daniels, Javianne Oliver, Jenna Prandini and Gabby Thomas celebrated the second-place title after years of adversity.
Soccer: one gold
IT'S THAT TEXAS TOUCH FOR CANADA 🤘🏾@TexasSoccer's Julia Grosso gets the Olympic Gold. pic.twitter.com/0UvLPKa0HR

— Longhorn Network (@LonghornNetwork) August 6, 2021
Julia Grosso, gold, Team Canada
Current Longhorn Julia Grosso was part of the Canadian team that upset favorites Team USA in the semifinals of the women's soccer tournament, and it was Grosso herself who scored the penalty kick that clinched the gold medal for her team in the final.
Grosso's father Carlos and the rest of her family watched the nerve-wracking match at home in British Columbia as the UT midfielder won her first Olympic gold.
"We're so ecstatic," Carlos told CBC's The Early Edition just after the win. Carlos said Grosso, 20, expected "nothing less than gold" from her first-ever Olympics.
Grosso is Texas Soccer's first-ever Olympian.
Softball: one silver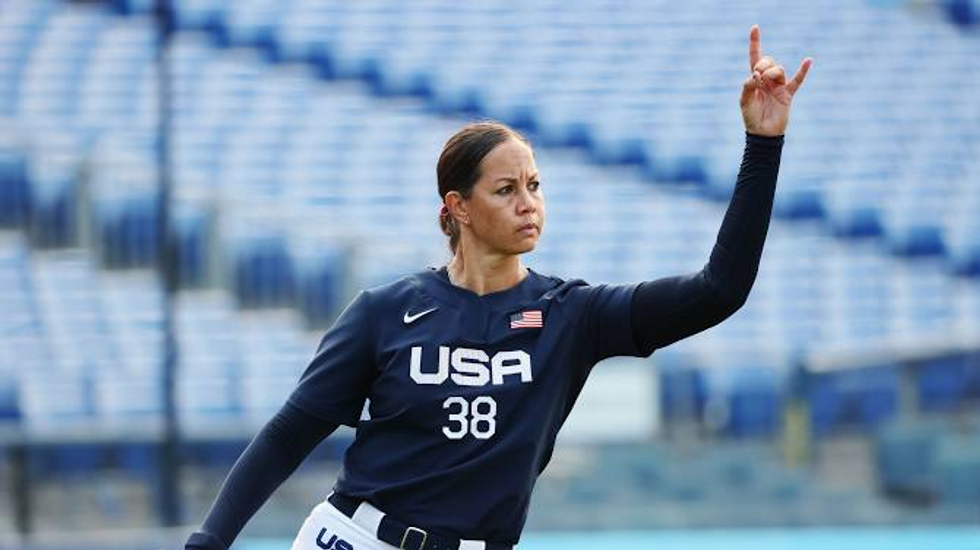 (Team USA Softball/Twitter)
Cat Osterman
Cat Osterman, the "Michael Jordan of softball," has officially retired after clinching a silver medal to end her nearly two-decade Olympic career.
While the team hoped to win gold as they fought for redemption against home team Japan, Team USA lost once again to the hosts after the sport's 12-year hiatus from the Games. Still, the Olympians celebrated their journey through adversity in the pandemic as they took home the silver in the Games.
"To be able to say you're a three-time Olympic medalist is a pretty special deal, right?" Osterman told Austonia. "I played for a long time. But those are the pinnacle, in my mind, and kind of what elicits the dream to keep playing."
Near-medalists and new Olympians
While some saw their dreams realized with Olympic medal success, others celebrated making the national team as they left without reaching the podium.
Seven Austin athletes left Tokyo in Week 1 after not placing in their competitions, while these others just missed medal status as the Olympics wrapped up:
After months of speculation, a new report says political personality Beto O'Rourke is mulling a run for Texas governor that he will announce later this year.
Sources tell Axios the former congressman is preparing his campaign for the 2022 election, where he will likely vie for the position against incumbent Gov. Greg Abbott. The only other candidate that has announced he will take on Abbott for governor is former Texas GOP Chairman Allen West—no Democrats have announced they are running as of yet.
"No decision has been made," Axios reports David Wysong, O'Rourke's former House chief of staff and a longtime adviser, said. "He has been making and receiving calls with people from all over the state."
A new poll from The Dallas Morning News and University of Texas at Tyler shows O'Rourke is narrowing the gap between himself and Abbott's prospects for governor. In the poll, 37% said they'd vote for O'Rourke over Abbott, while 42% said they'd vote for Abbott.
Abbott has been in the hot seat due to his handling of COVID-19 and the signing of landmark legislation into law, including new abortion and voting rights laws; 54% of poll respondents voted they think the state is headed in the "wrong direction." Still, Texas hasn't had a Democrat as governor since the 90s.
O'Rourke's people-focused approach to the 2018 Senator race, which he lost to Sen. Ted Cruz, gave him a widespread following and many hoped he'd throw his hat into the ring since he said he was considering it earlier this year.
"We hope that he's going to run," Gilberto Hinojosa, the state chair of the Democratic Party, told Axios. "We think he'll be our strongest candidate. We think he can beat Abbott because he's vulnerable."
Austin rapper Jordi Esparza may not have won the 2021 Red Bull Batalla, the world's largest Spanish freestyle rap competition, but for a spirited two rounds, the 22-year old Mexican native looked like he had every right to.
On Saturday evening in Los Angeles, the event itself looked like Cobra Kai meets Star Search with graphics adding a very Batman Beyond aesthetic. Over a dozen rappers hoping to represent the U.S. in the international round of the competition took to the stage with in-your-face jabs at accents, sexual orientation and odors, among other things.
This was Esparza's second rodeo; he had placed third at the 2020 National Finals, automatically securing him a spot this year.
However, things were different this year. He was not nervous about the contest. Unlike in 2020, when he made his Red Bull Batalla debut, the anxiety of the event led him to "feeling so bad."
Affecting a casual calm, the locally-based landscaper said he just felt "so relaxed, so happy" and primarily wanted to "enjoy everything."
Choosing his first-round opponent, Esparza, whose stage name is Jordi, elected to go against LA-based Boss.
Esparza freestyled an attack on his opponent's weight and cholo style of dress.
Boss—bracketing his Latin freestyle with English appeals to the crowd—mocked Jordi's lack of education, made fun of how clean Jordi's shoes looked and suggested that Jordi just came back from a Footlocker.
That first round went to Jordi.
But his next opponent Eckonn would prove to be his undoing.
Eckonn compared Jordi to Hannah Montana, while Jordi soulfully explained that he had learned from the best.
Esparza's verbal dexterity is matched by a rattling rhythm and a game face that is as mawkish as it is mockish. The overall effect is that of an underdog with bite.
Eckonn beat Esparza in that round with the overall championship going to Palm Beach-based rapper Reverse.
However, Esparza was just happy to be there. He recently told Austonia going to the finals again was a dream come true—a pinnacle that he said he won't know how to top.
With his nimble jabs and sneaky prowess, honed from pop culture and the swagger of a young working man hungry to be more, Jordi Esparza is just getting started.