Get connected with our daily update
Austin Public Health officials are once again asking residents to vaccinate, booster and mask in public as the city faces its biggest COVID surge to date.
---
Austin-Travis County Health Authority Dr. Desmar Walkes said in a Monday morning press conference that the Omicron variant replicates 70 times faster than previous variants, leading to the "dramatically" increasing surge.
"Whenever you talk, cough, sneeze, sing, shout and you're not masked, you're able to spread this virus much more quickly to others, which is why masking is such an important part of what we've used in the previous surges," Walkes said.
APH said the surge is resulting from the holiday season. The city is now reporting new hospitalizations are at a seven-day moving average of 113.9 cases with the community transmission rate at a high of 1,299 per 100,000 people as of Thursday. This time last year, Austin's seven-day moving average was 93.7 cases.
According to APH Chief Epidemiologist Janet Pichette, the number of positive cases is likely much higher since they are only able to see the number of confirmed cases. Additionally, Pichette said testing sites are struggling to keep up with data entry as they process "thousands and thousands" of tests, of which 36% are coming back positive—the highest ever.
"Basically anyone you may encounter may have COVID and while they may have mild symptoms, they are still extremely infectious," Pichette said. "You need to be very, very careful about who you encounter and make sure that you do everything to protect yourself and your family at this point."
Due to the "unprecedented" surge, resources like isolation facilities are near exhaustion again as hospital systems are seeing record numbers of COVID cases. Staffing shortages continue to be an issue, resulting in lower care capacity, and existing staff members coming down with the virus lowers resources that much more.
In the meantime, APH officials are urging everyone over the age of 5 years old to get vaccinated, get a booster if it's been five months since your second dose and mask in all public spaces. Walkes said that even a 10% increase in mask usage would significantly reduce transmission in the community.
On Thursday, local officials announced new orders for businesses to follow that would encourage mask-wearing.
"We are seeing a trend of increased masking in our community," Walkes said. "If that continues, if people continue to stay home when they're ill so they're not spreading the illness, we could possibly see this turn around in the near future, but it really depends on us."
Capital Metro has been awarded $750,000 from the Federal Transit Administration to go toward Project Connect's Orange Line, documents show.
The FTA announced the funding round on Thursday, which dispersed $11 million across 12 states and 20 projects. The money is meant to connect communities to affordable transit and housing through the FTA Pilot Program for Transit-Oriented Development planning.
CapMetro said the funds will go toward projects at eight stations spanning 6.5 miles on the South end of the Orange Line, which has a total of 22 stations. The full project stretches across the 20 miles from Southpark Meadows to Tech Ridge.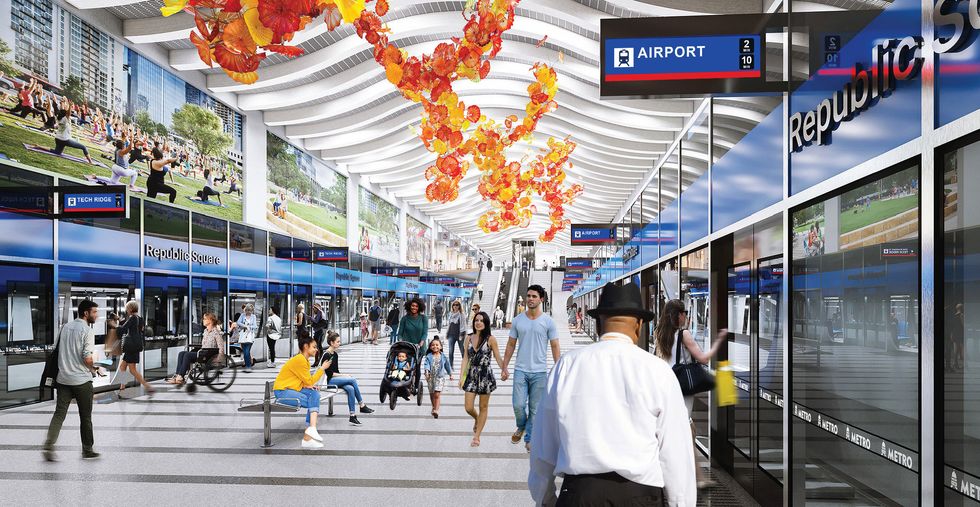 Republic Square station is along the Orange Line. (Project Connect rendering)
Once it's complete, which officials estimate will be in 2028, the Orange Line will reach the following stations:
Tech Ridge (Park & Ride)
North Lamar International District
Crestview
The Triangle
UT campus
Republic Square
Auditorium Shores
South Congress
Southpark Meadows (Park & Ride)
A $500 million mixed-use development spanning 1,400 acres is coming to Southeast Austin, near Tesla's headquarters at Giga Texas.
Plans for the development by Houston-based real estate firm Hines include 2,500 houses along with multi-family and townhomes, and commercial land. Hines is partnering with Trez Capital, Sumitomo Forestry and Texas-based Caravel Ventures.
The development, which is known as Mirador, will be located off the 130 Toll and Highway 71, which the developers say provides easy access to the Circuit of the Americas Formula 1 racetrack and other Austin attractions like restaurants, parks and live music venues.
Hines also boasts amenities like a 60-acre lake, over 600 acres of greenbelt, community parks, trails and a swimming pool.
"As Austin continues to grow into the tech epicenter of Texas, coupled with a supply-constrained market, the demand for new housing is at its highest," Dustin Davidson, managing director at Hines, said. "Mirador will be critical in providing more options for Austin's growing population and we are excited to work alongside our partners given they each provide a unique and valued perspective in single-family development."
The local housing market has been hot in recent years, with home sales accelerating earlier in the pandemic. In July 2021, the Austin metro area hit its pricing peak at $478,000. As Austonia previously reported, the area has been expected to see the Tesla effect, with the new workforce driving up demand for housing and other services.
The single-family houses are expected to be developed over the course of six years, in phases. Construction on the homes is expected to start this year and home sales will begin in 2023.