Never miss a story
Sign up for our free daily morning email...
...and afternoon text update
Get connected with our daily update
(Travis County)
This story was updated on Sept. 16, 2020.
A former Austin wealth manager struck a deal on Tuesday with California prosecutors that will allow him to avoid felony convictions and jail time on sexual assault charges filed after a 2019 luxury golf trip in California with "two high-profile friends."
---
David Walter Osborne, accused of attacking a woman last year at The Lodge at Pebble Beach, pleaded "no contest" to misdemeanor charges in exchange for a deal that included lifetime registration as a sex offender, five years probation, and a 364-day sentence he can serve in his Travis County home, according to the plea agreement described in a California court.
If he violates probation, he could be sentenced to up to two years in prison.
His sentence was formalized at a Sept. 15 sentencing hearing. He begins his sentence on Oct. 9.
Osborne pleaded "no contest" to the misdemeanor charges of sexual battery/unlawful restraint and false imprisonment.
Three felony charges—attempted forcible rape, assault with attempt to commit a felony, and sexual penetration by a foreign object—will be dropped at the formal sentencing before Monterey County Superior Court Judge Rafael Vazquez.
The plea deal means that neither of Osborne's golfing buddies, who flew with him on a private plane to Pebble Beach Resorts before the alleged attack, nor anyone else, including Osborne, will have to testify on the details of the allegations in open court.

The friends have never been identified by Monterey County authorities, who said they all shared rooms at the lodge during the trips, in a news release last year.
Osborne originally pleaded not guilty to all the charges.
He was in court on Tuesday but did not make a statement beyond answering "yes" and "no" to procedural questions by the judge. Defense attorney Lyn Agre of San Francisco did not make any arguments in court nor did she respond to requests for comment.
The victim will be allowed to give a remote video impact statement during the sentencing, prosecutors said.
Monterey County Assistant District Attorney Lana Nassoura said in court Tuesday that the victim, who does not live in California, had been monitoring the case both through the prosecutors' office and through remote access to hearings, and had agreed to the terms of the plea agreement.
She declined to discuss the case further after the hearing but implied during court that the victim was ready to testify against him if the case moved forward.
Nassoura also said the sentence "holds the defendant accountable for his actions" and "most importantly, guarantees solace to Jane Doe."
The terms of the deal also include the following:
Osborne may not appeal the ruling;
he may not own a firearm;
he must attend sex-offender psychological treatment twice a month for a year;
he waives client-doctor confidentiality at those treatment sessions;
he must adhere to a restraining order and not contact the victim for ten years;
he is subject to drug and alcohol testing and spontaneous search of his home, person or vehicle for five years;
and he cannot use alcohol or a controlled substance for five years.
It's matchday! Austin FC—Austin's first major league sport team—kicks off its debut season in Los Angeles today after years in the making. We know how much this means to our beloved city and are taking you along with us as we journey to LA!
Austin FC writer Claire Partain and I are excited to bring you game-day coverage straight from the City of Angels. Check back here for updates, and visit our socials: @austonianews for the latest.
8:20 a.m: LA bound
Like many of you, we've been looking forward to this moment for, let's just say, a very long time. Today, we woke up bright and early, headed to Austin-Bergstrom International Airport and hopped on a flight to LA.
A gloomy day in Austin with a very quiet airport, we're headed to sunny skies in California.
As we wait for the game to start at 4:30 p.m., check out Claire's preview of the game with a predicted lineup and timeline of the long journey to get here.
Years before the city of Austin went Verde, thousands of the city's soccer fans formed a supporters' group—MLS in Austin—for a team that didn't even exist yet.
Now, as the team's catchphrase suggests, those same fans are #LISTOS as they prepare to see their team on national television at Austin FC's debut on Saturday.
What to expect
The team will face a significant opponent in LAFC, who is projected at No. 2 in the league's power rankings. Austin FC currently sits at No. 21.

"LAFC has one of the best attacking teams in the league," Head Coach Josh Wolff said. "They will punish you. They've never been shy of putting up goals, and again, I expect them to be one of the best teams in the league this year."
The club has lived up to Wolff's words: in just their second season of existence, LAFC took first in the Western Conference and were Supporters' Shield winners in 2019.
Austin FC will need to hold off LAFC captain Carlos Vela, a versatile winger/attacking midfielder who won the Most Valuable Player title in 2019, as well as high-scoring forward Diego Rossi.
Austin FC starting lineup vs. LAFC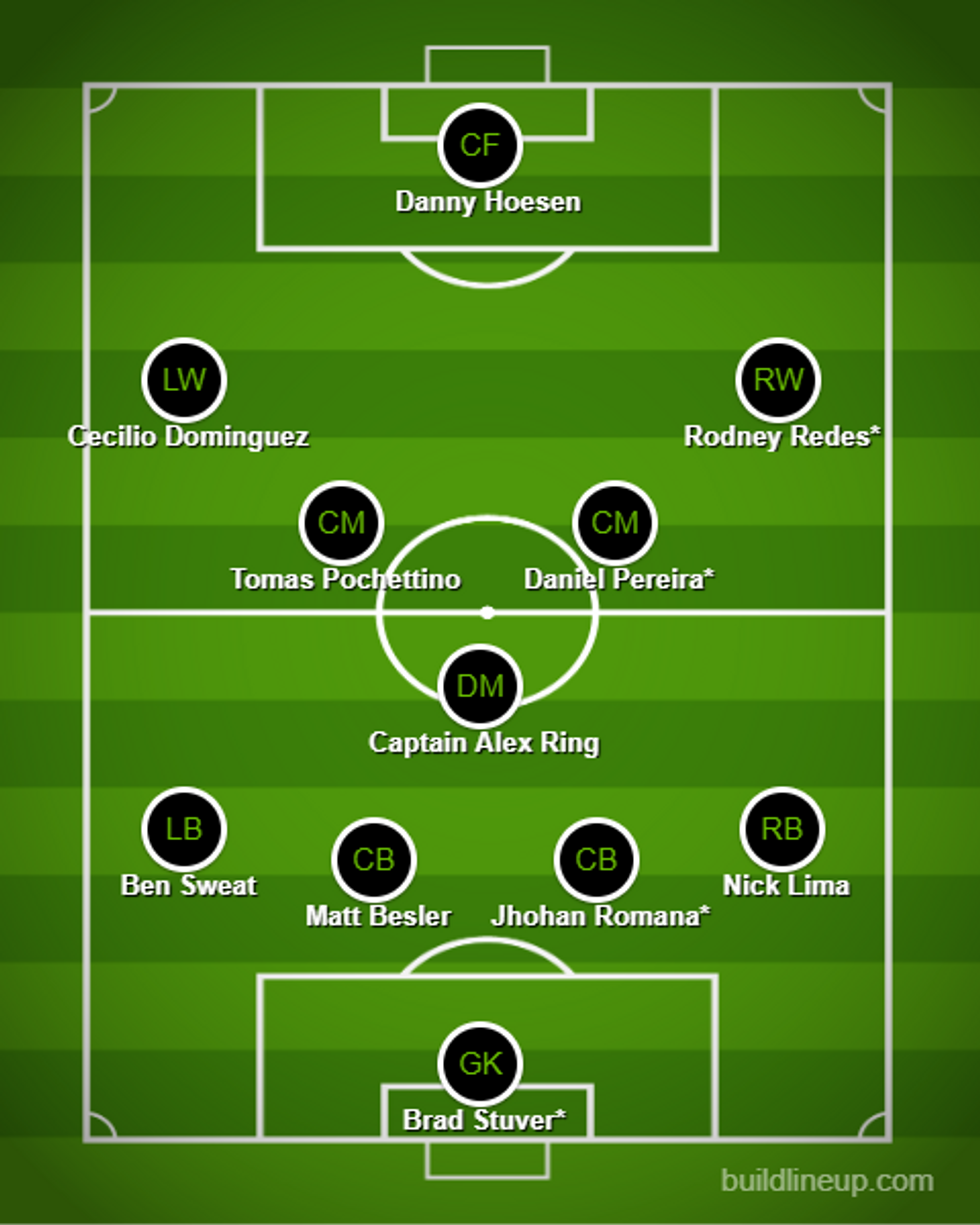 (Claire Partain/Austonia)
Meanwhile, LAFC will face challenges in DP Cecilio Dominguez and midfielder Alex Ring, the former NYCFC "ringleader" who wears the captain's armband for his new team. We still don't have any updates for starting forward Rodney Redes, who may or not be playing Saturday due to a "ding" on his knee.
If Redes is fine, we think he'll stay at forward, where he's been excelling throughout preseason. If not, a more experienced Kekuta Manneh might take to the pitch in his stead. Midfielder Jared Stroud is also in the running after he went in for an injured Redes against San Antonio FC on April 10.
While Captain Alex Ring and DPs Tomas Pochettino and Dominguez are shoe-ins for the starting lineup, some other positions are up in the air.
Twenty-year-old Daniel Pereira, Austin FC's No. 1 SuperDraft pick, has done even better than expected in preliminary scrimmages. He's still young, however, and Austin FC recruited him more for his depth than immediate starting appeal. If Pereira doesn't start, it's likely to be Diego Fagundez who takes the starting spot.
Another young potential starter comes in 22-year-old Jhohan Romana, a sturdy defender who has shown inconsistency in preseason. The backline is a clear weak spot for the team so far, and while Romana shows promise, Wolff may look for experience in Julio Cascante for their first starting lineup.
Finally, goalies Brad Stuver and Andrew Tarbell are neck-and-neck in the race for a starting spot. We put Stuver on here for his preseason performance, but neither would be a surprise as starting goalkeepers.
How we got here
It's hard to put into words how monumental it is for these supporters to see their own team one day away from its historic opening match, but the excitement can be felt across the city.
To put things in perspective, here's a timeline of events that brought us here, from "MLS in Austin" all the way up to Saturday's opener.
Where to watch
While Austin FC's first season will officially be underway, their inaugural match will be nearly 1,500 miles away from their home city.
That's no problem for some fans, including those in Austin FC fan group Los Verdes. A group of dedicated supporters are going to the West Coast to welcome their team into the stadium. While LAFC isn't officially allowing Austin fans in due to COVID protocol, some are still searching for a way to watch their beloved team take the pitch for the first time.
Meanwhile, thousands of dedicated fans are also staying home to support their club. Austin FC's first official watch party is sold out with over 1,000 RSVPs, and Austin Anthem is holding a 1000 plus-person watch party as well. For a full list of Austin FC watch parties and participating pubs, click here.
For those staying home, the match will be broadcast nationally on FOX and FOX Deportes at 5 p.m. on Saturday.
Don't miss out on the game!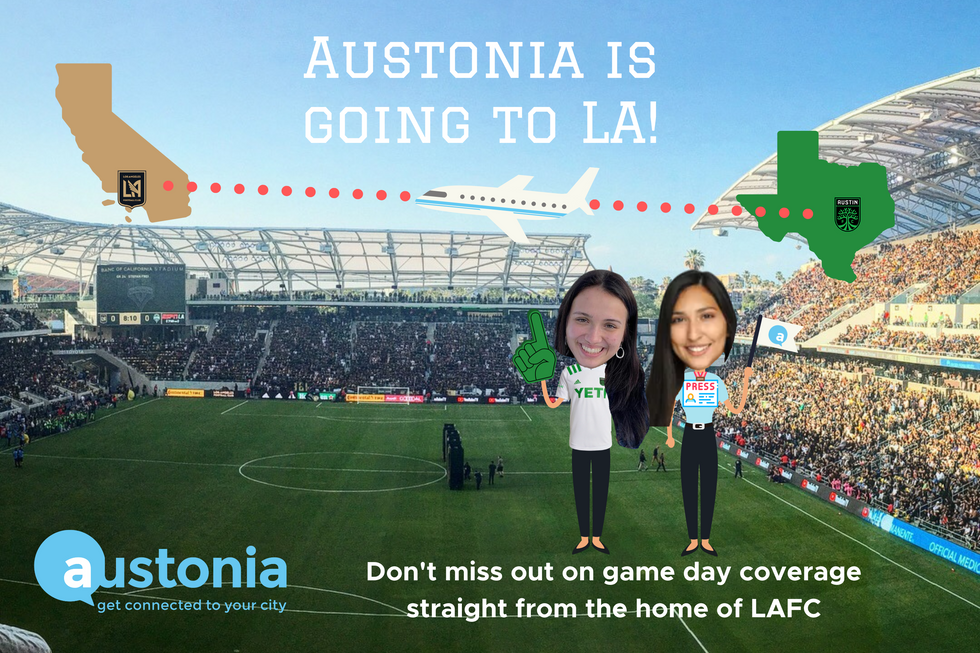 (Laura Figi/Austonia)