Austonia AM
100% Austin news, info, and entertainment, straight to your inbox at 6 a.m. every morning.
In five minutes, you're fully informed and ready to start another great day in our city.
Get connected with our daily update
Expect the slight drizzle you may have seen Tuesday morning to continue until midday with temperatures reaching the warmest of the week.
---
Tuesday will see a high near 84 degrees and a low of 61, according to the National Weather Service.
A warming trend is expected by Tue. A cold front will move through early Wed and breezy to windy conditions along with below normal temps are expected in the wake of the cold front on Wed, with below normal temps continuing into Fri. A slight warm up is expected Sat. #txwx pic.twitter.com/6jL1aytG3l
— NWS Austin/San Antonio (@NWSSanAntonio) March 29, 2021
A small cold front is expected to sweep over Central Texas on Wednesday, as cloudy skies stay throughout the week.
The sun will come out and, with it, warmer temperatures into Easter weekend.
The Moody Center, a $338 million, 530,000-square-foot multipurpose arena at the University of Texas at Austin, celebrated its topping out on Tuesday.
With the final beam placed, the arena's steel-frame structural phase—which involved more than 5.3 million pounds of steel—is complete.

"This past year has been full of unprecedented events, not to mention weather challenges, and yet the women and men working on this project continue to deliver," Moody Center General Manager and Senior Vice President Jeff Nickler said in a press release.
To celebrate the topping out Oak View Group, the development and investment firm behind the Moody Center will affix a tree to the final beam in keeping with the time-honored tradition.

The practice dates back to ancient Scandinavian religious rites, which involved placing a tree atop new buildings to appease tree-dwelling spirits displaced during the construction process, according to the International Association of Bridge, Structural and Ornamental Ironworkers in Washington D.C.
After the steel-frame structure phase, the development will move on to enclosing and finishing the interior of the Moody Center.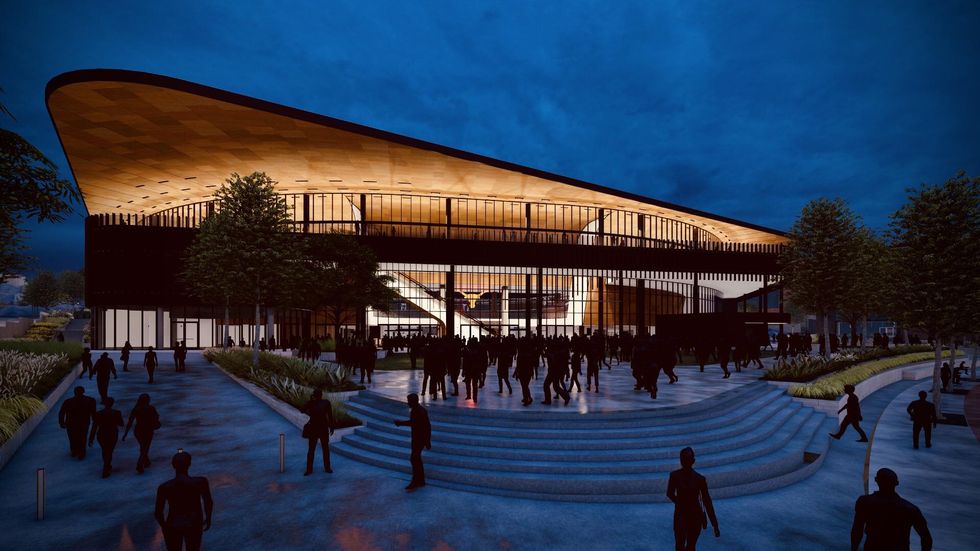 Rendering of the Moody Center. (Moody Center)
The arena is set to open next April and already has some major acts scheduled for its inaugural year, including The Weeknd, Justin Bieber, John Mayer and The Killers. It will replace the 43-year-old Frank C. Erwin Jr. Center and serve as the home of UT's men's and women's basketball games, among other sports and community events.
Editor's Note: This is a column by an active dater in Austin, who asked that her name not be used to tell this story.
I can't take the credit for coining the term "vaxxed and waxed" but I don't think there's a more appropriate theme for summer 2021. Let's talk about it.
But first, I'll rewind for a hot second back to March 2020. Fresh out of a five-year relationship, recently moved back to Austin and thrown full force into a global pandemic. I couldn't think of a more disastrous combo for a newly single gal looking for a harmless rebound make-out session. A girl can dream, right?
And while there was absolutely zero chance of meeting someone in person, unless of course, we're talking about love at first sight in the Purell aisle at H-E-B, the apps seemed like my only option. Oh boy, was it dismal. While there were a few dates sprinkled throughout the last year and a half, I wasn't into "FaceTime dating" phenomenon that seemingly took the digital dating scene by storm.
After a few cringy interactions, I decided to retire the apps to focus on more fruitful pandemic efforts like sourdough starters, tie-dying every last article of clothing I own, and rewatching all 136 episodes of Gilmore Girls.
Fast forward to now, as we have slowly but surely started to creep our way back to some semblance of normalcy, I knew it was time for vaxxed and waxed hot girl summer. I could just feel it. It was time to dust off those apps. It was time to get laid.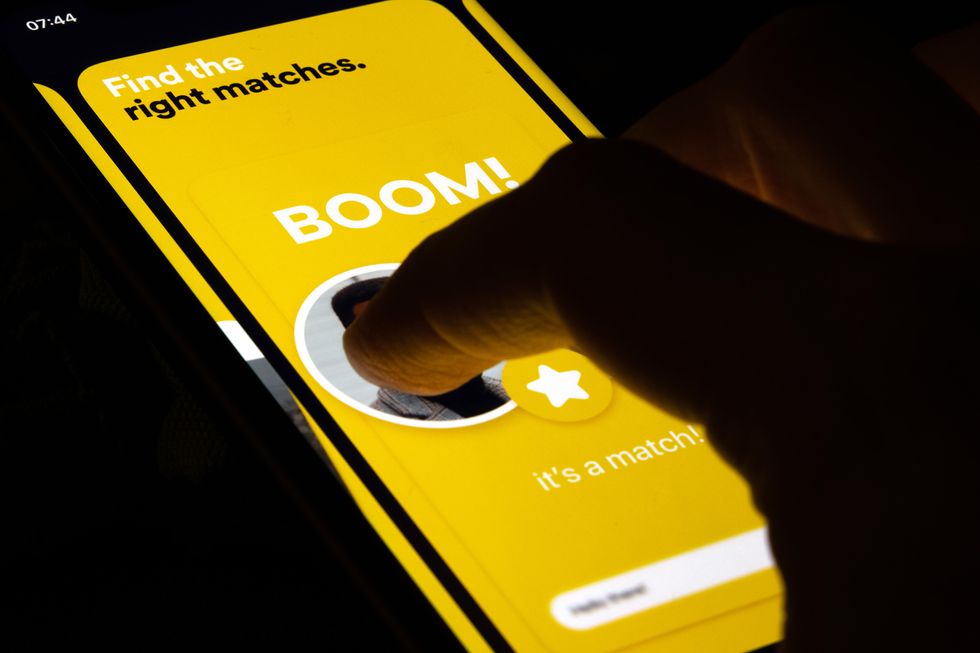 (Shutterstock)
So, who is one of the first people I matched with on Bumble? My high school ex-boyfriend. I can't make this shit up. I swear.
We all know the age-old joke of the hot high school boyfriend, captain of the football team, peaks at age 18, and then is bald and fully embracing the dad bod by the age of 30. I'm not going to lie, that does good things for the ego. And of course, that would happen to anyone but me.
This said high school ex-boyfriend, as Bumble so kindly revealed, has somehow seemed to escape the whole concept of aging, and looks the same, if not better, than he did at 18. Dammit.
Our DMs back and forth quickly picked up, so we decided to meet for a sushi date in the park. We picked up takeout from Uchi and took it to Republic Square Park for a cute little picnic on the hill.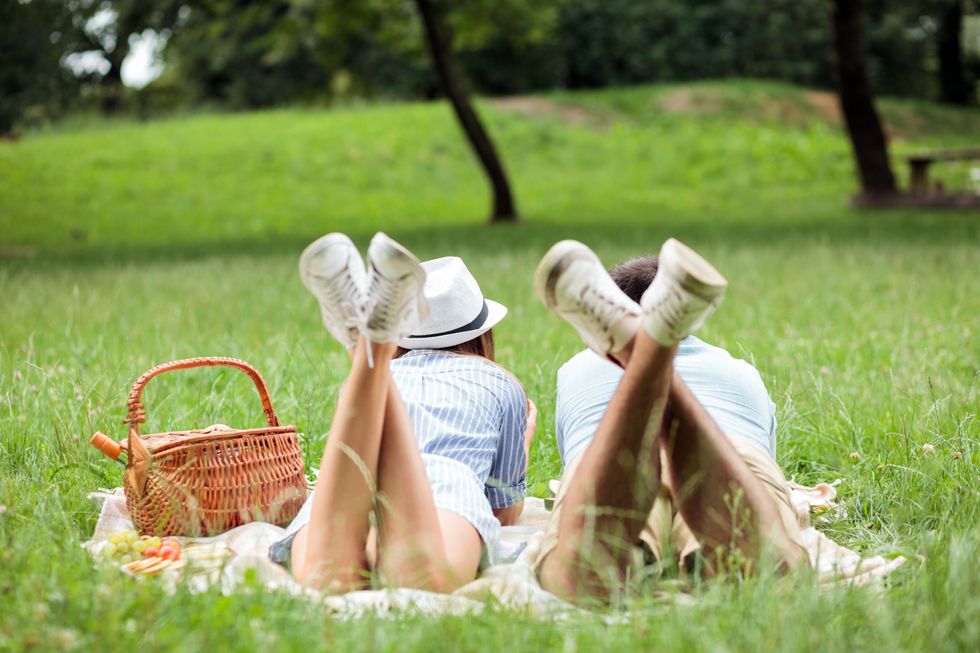 (Shutterstock)
Next thing you know, I'm not even eating my $100 takeout meal, debatably from my favorite restaurant in Austin, but rather making out with this for lack of a better word, stranger, I haven't seen in 10 years.

But you know what, sometimes you find yourself fresh out of lockdown at the age of 30, making out in a public park with your ex-boyfriend from high school that you matched with on Bumble, getting the most action you've had in over a year.
So, cheers to a vaxxed and waxed hot girl summer. If this is just the beginning, I'm here for it.
The University of Texas and Oklahoma have submitted formal requests to switch from the Big 12 Conference to the Southeastern Conference, the SEC reported Tuesday morning.
The two Big 12 powerhouses officially requested to join the conference on July 1, 2025, but are likely to negotiate an earlier start date. If the move is approved, the Big 12 conference will likely be dissolved.
The news comes after the Houston Chronicle reported that both teams were seeking to leave the conference and join the SEC, effectively creating the first NCAA superconference. Both universities announced on Monday they are not renewing their Big 12 media rights after they expire in 2025.
SEC Commissioner Greg Sankey wrote in a statement that the two teams would only join if conference leadership agreed that the two teams are a good fit to join.
"While the SEC has not proactively sought new members, we will pursue significant change when there is a clear consensus among our members that such actions will further enrich the experiences of our student-athletes and lead to greater academic and athletic achievement across our campuses," Sankey wrote.
SEC team Texas A&M, the counterpart to a storied rivalry with Texas that ended in 2009, initially appeared to be blindsided by the news but have changed their outlook on the move. A&M Athletic Director Ross Bjork, who first said that the university was happy to be the only Texas club in the conference, has since turned around. "We're ready," Bjork said.
If approved, the burnt orange and maroon will meet for a rivalry game for the first time since 2011.
Texas and Oklahoma will need to be approved by three-fourths of SEC's 14 members in order to receive an invitation. Leaders in the SEC will meet to discuss the news on Thursday.