Get connected with our daily update
If Texas Gov. Greg Abbott signs a bill allowing permitless carry on Monday, as he has promised to do, Texas will join 19 states that don't require a permit to carry holstered handguns.
The bill has been celebrated by "constitutional carry" proponents, but some law enforcement agencies and other public officials worry about the risks to public safety amid already-increasing violent crime across the state.
Here are answers to five questions about what will change once permitless carry is enacted.
---
Why are people for it and why are others against? 
Supporters of permitless carry, including state Sen. Charles Schewertner, R-Georgetown, who sponsored the bill, and state Republican leadership, say permitless carry is a constitutional issue. "I think it is a bill that is the strongest bill I've seen in my legislative career regarding the rights of our Second Amendment," Schwertner said on the Senate floor Monday.

A diverse coalition of groups oppose permitless carry, including the Texas Police Chiefs Association, Austin City Council and Moms Demand Action. Their members cite myriad reasons, including recent mass shootings in Austin and across Texas, increased danger to law enforcement officers and suicide prevention.
Nearly 60% of Texas voters also oppose permitless carry, according to
a recent University of Texas / Texas Tribune poll
. Melanie Greene, lead volunteer for the Moms Demand Action Austin group,
told Austonia
state lawmakers are likely motivated to pursue such legislation because of
a small, vocal minority of gun rights activists
and the threat of drawing even more conservative opponents in primary elections.
How will this look in practice?
With the law in place, anyone 21 and older without a previous felony conviction or other legal restrictions will be able to carry a handgun.
The bill doesn't bar certain federal protocols already in place, including background checks on certain gun sales. It also won't change much on the private gun sales front since Texas doesn't require background checks on private purchases.
The bill will increase penalties for felons caught carrying guns, but it could also make it harder to track felons buying guns in the first place.
How common is this law across the country?
You will find more infographics at
Statista
If Texas passes the law, it will join 19 other states that don't require permits to carry guns in the U.S. These "constitutional carry" laws are all the rage right now; just this year, four other states enacted permitless carry.
The idea first emerged in Vermont, which is why the law is sometimes called "Vermont carry." Wyoming joined Vermont in 2011, and other states have followed in quick succession.
On the other end of the spectrum, five states do not allow open carry in any circumstance. Texas is currently one of 10 states that require permits for open and concealed carry, although this is likely to change Monday.
Is there more gun-related crime in those states? 
Permitless carry supporters advocate for "good guys with guns," but studies show right-to-carry policies correspond with increasing rates of violent crime. A 2017 analysis by the National Bureau of Economic Research found that such laws are associated with violent crime rates that are up to 15% higher 10 years after adoption.
Everytown for Gun Safety found early signs from states that have recently passed permitless carry laws are not good, according to a 2020 fact sheet. The national nonprofit points to Alaska, which enacted such a law in 2003 and has seen a 65% increase in the average rate of aggravated assaults with a gun per year. Arizona, which passed a permitless carry law in 2010, has since seen an 8% average annual increase.
What does gun-violence look like locally? 
Stephen Broderick, a former Travis County sheriff's deputy, shot and killed three people—his ex-wife Amanda, her 17-year-old daughter Alyssa and Alyssa's 18-year-old boyfriend Willie Simmons III—in North Austin last month, prompting Austin City Council to direct the city manager to accelerate local efforts to combat gun violence.
"Words cannot describe the frustration we feel to have lost three of our community members to gun violence—while the Texas Legislature doubles down on policies that will cause more loss of life with permitless gun carry bills," Council Member Leslie Pool said in an April 22 statement.
These homicides are among the 33 that have occurred in Austin so far this year, more than double the number that had occurred this time last year and closer to triple the number in 2019. Homicides are up nationally, which experts say could be due to myriad reasons, including last summer's protests, increasing gun purchases and the economic recession caused by the pandemic.
In light of rising violent crime rates, the Austin Police Department launched a gun crime prevention program in partnership with the Travis County District Attorney's Office last month. Although not all violent crime involves guns, gun violence is increasing and may involve stolen guns or illegally manufactured "ghost" guns. "I'm just very concerned about the number of illegally possessed firearms and how we can curb that," Interim Police Chief Joe Chacon said during an April 15 press conference.
Officials are asking certain residents in Bastrop State Park to evacuate as crews work to put out a "very active fire" that is currently 0% contained.
The Texas A&M Forest Service has responded to help local fire departments with the Rolling Pines Fire at 100 Park Road 1A, which is consuming 300 acres. Residents of Pine Hill Drive, Pine Tree Loop, Linda Lane and Lisa Lane are being asked to evacuate.
Aviation resources have been called to assist.

According to the Bastrop County Office of Emergency Management, the wildfire sparked during a prescribed burn that took place today, despite wildfire warnings. Park Road 1C from Harmon Road to Park Road 1A had been closed for the prescribed burn.
The blaze is in the same location as the Bastrop Complex Fire of 2011, which burned for 55 days, killing two people, destroying 34,000 acres and around 1,700 homes and buildings. The fire, which started in 2011, became the most destructive wildfire in Texas at the time.
A hotbed for fires, the Hidden Pines Fire started at the same location in 2015, destroying 4,600 acres and 64 structures.
Some road closures have been put in place at State Highway 21 South Shore Lake Bastrop and East State Highway 21.
This is a developing story and will be updated as information becomes available.
After months of record-setting periods for Austin real estate, the Austin Board of Realtors announced Tuesday that the metro's housing market accounted for over $23 billion of economic activity in 2021, making it the biggest year yet for both home sales and median home prices in the metro.
The Austin-Round Rock MSA saw 41,316 homes sold in 2021, 2.5% more than a record-setting 2020. Median home prices skyrocketed as well, rising 30.8% from 2020 to $450,000. The housing market also saw unprecedented impact on Austin's economy, with sales dollar volume jumping to over $23.38 billion, and more homes hit the market in 2021 than any previous year, increasing by 5.9% to 46,449 total homes listed.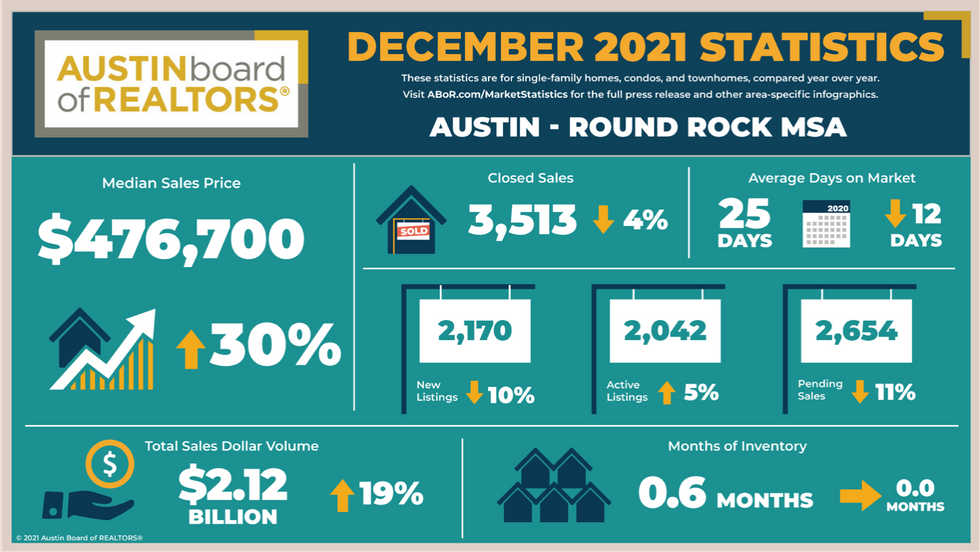 (Austin Board of Realtors)
As many recent Austin homebuyers have experienced firsthand, Austin Board of Realtors 2022 President Cord Shiflet said 2021 was the most "exciting, complicated, fast-paced and record-setting housing market" in Austin's history.
Shiflet dubbed the market as "complicated" for a reason—Austin became a case study on supply and demand in 2021, with demand far outpacing the number of active listings, which dropped by 48.2% to 2,348 homes in 2021.
The metro ended the year with 0.6 months of inventory, a far cry from a "healthy" six-month supply, and houses were snatched at breakneck speeds, spending 25 fewer days on the market when compared to 2020. The average home was on the market for 20 days.
But low inventory is more due to high demand than a stagnant homebuilding market, Mark Sprague, Independence Title's state director of information capital, said in the report.
"In 2021, the record number of homes sold were demand-driven transactions and that demand was influenced greatly by companies continuing to target the region for job creation and expansion," Sprague said. "Even though more homes are being built, listed and sold than ever before, our region is still nowhere close to having a comfortable amount of supply to meet the demand, which is why home prices continue to rise steadily."
Over 23,000 jobs have been promised by companies across the metro as of December 2021, breaking the 2020 record, according to Opportunity Austin, the economic development arm of the Greater Austin Chamber of Commerce. With an influx of major factories and offices, including Tesla's Giga Texas, Samsung's Taylor plant and a planned 33-floor Facebook office, Sprague said the region's booming market paired with a struggling inventory and supply chain issues could be a double-edged sword in 2022.
"In short, 2022 will see a robust market for home sales and property values, but the region must do more to address inventory, " Sprague said.
Shiflet recommended that potential homebuyers make a decision ahead of predicted increases in interest rates and home prices and said that he hopes local politicians will continue to prioritize affordable housing in the election year.
Still, Shiflet said a record-breaking housing market reflects Austin's growing reputation as a hub for talent, tech jobs and a good quality of life.
"With all the new jobs across the region from exciting companies like Tesla and Samsung, Austin was put on the world's stage and captured the hearts and attention of so many," Shiflet said. "We are lucky to call Austin our home when it has so much to offer from a great quality of life to a wonderful destination for innovation and opportunity."