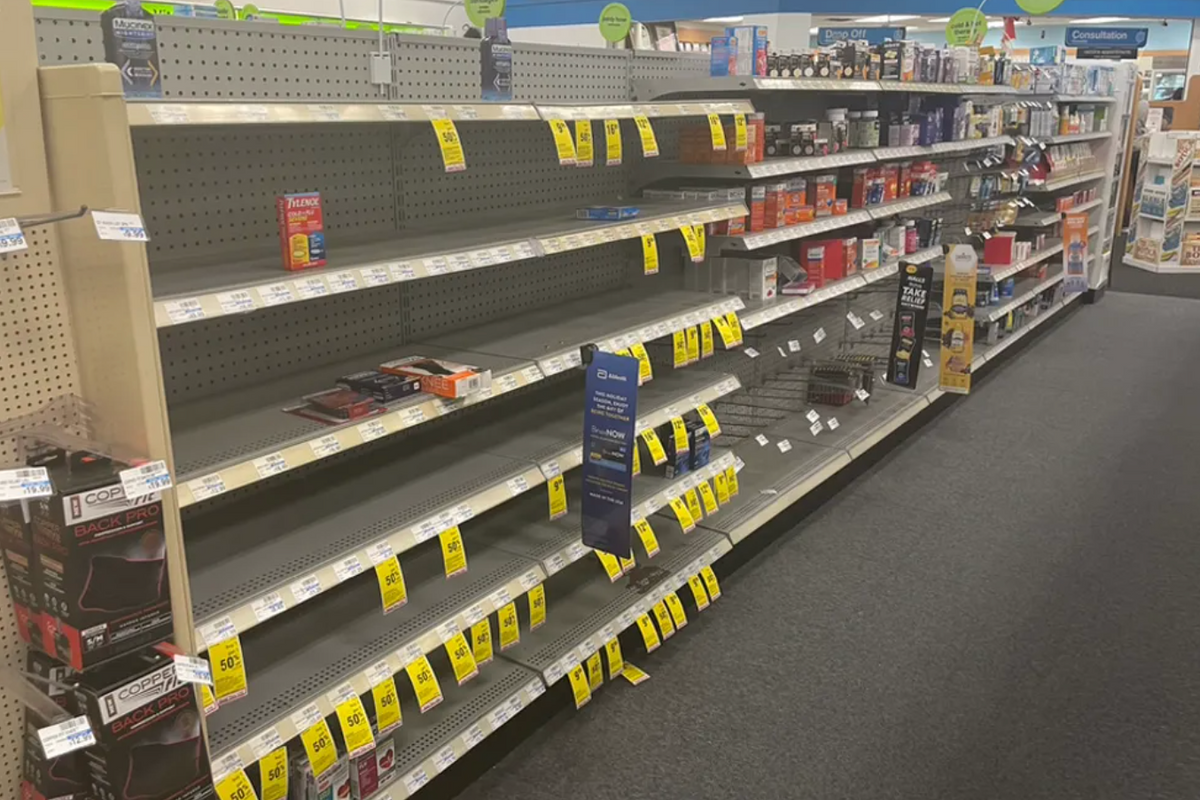 With empty toilet paper isles and big "No Tests Available" signs posted on front doors, some Austin pharmacies and grocery stores resemble a haunting scene from spring 2020.
---
Austin reached its highest COVID positivity to date last week as the omicron surge saw one in three tested Austinites test positive for COVID. With a higher new case rate than ever before, already-strained pharmacies have struggled to keep their at-home tests stocked—especially as many of their employees contracted COVID themselves.
Both the CVS and Walgreens pharmacies on East Riverside Drive had large signs posted to let customers know they were out of tests. A Walgreens employee told Austonia at-home COVID tests have been out of stock for two weeks at every Walgreens in a 10-mile radius.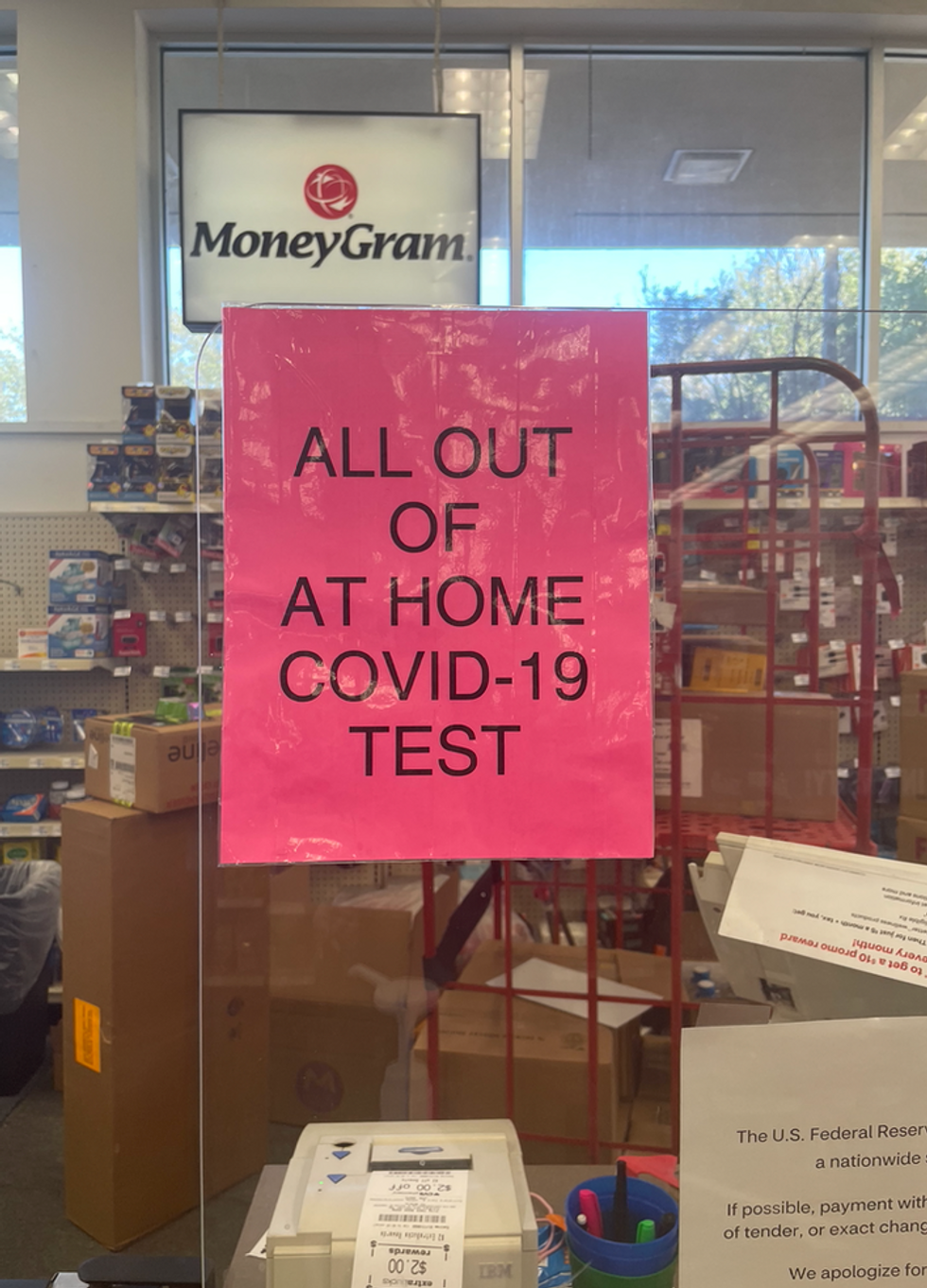 Customers were met with similar signs at CVS cash registers at 4405 E Riverside Drive. (Claire Partain/Austonia)
But some local pharmacies are having a slightly rosier outlook during the omicron surge.
At-home rapid tests were stacked high at Lamar Plaza Drug Store on 1509 S. Lamar Blvd., a small pharmacy that proudly displays its COVID testing and vaccine availability.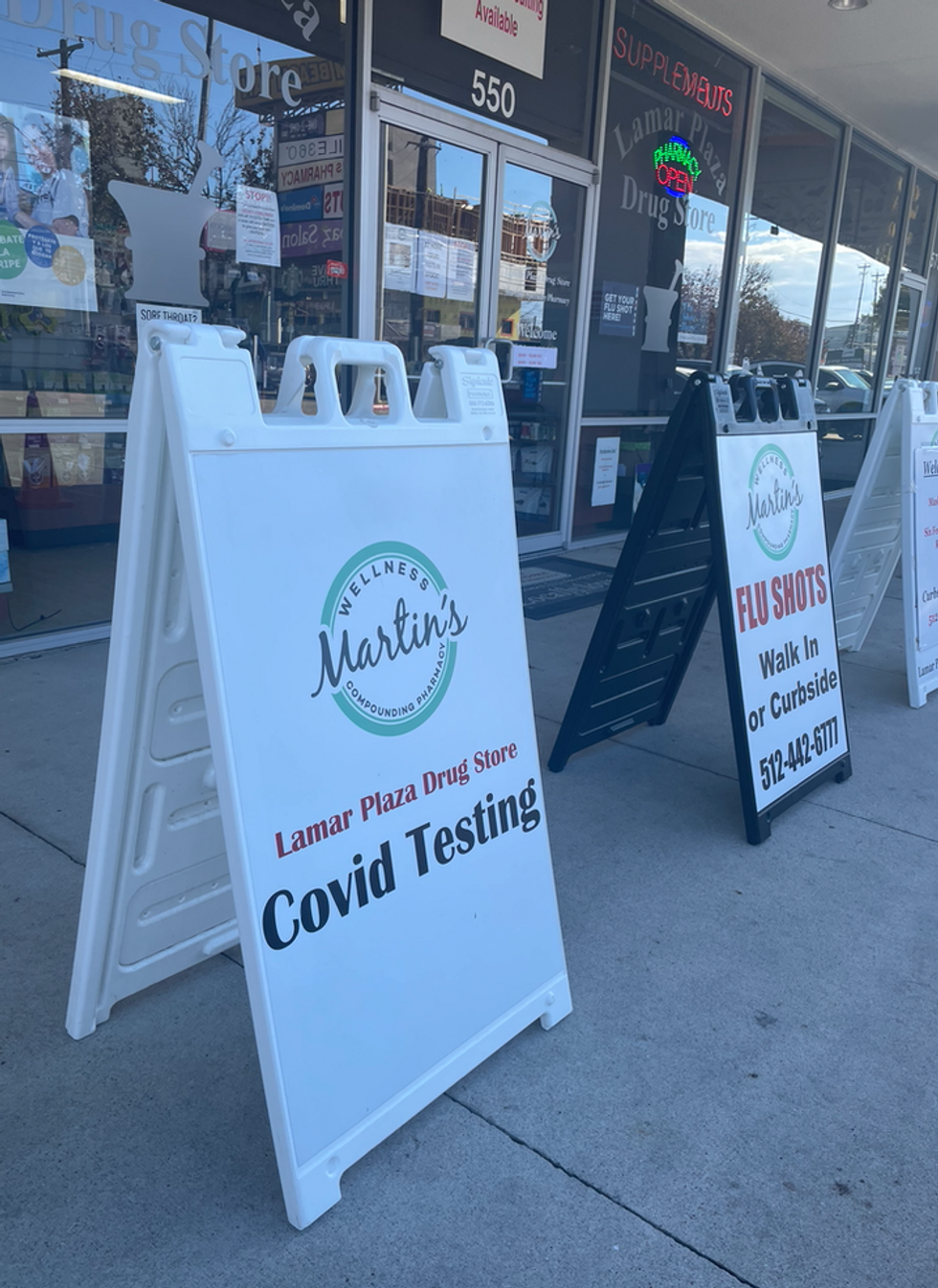 The Lamar Plaza Drug Store advertised its abundance of COVID tests, from at-home to PCR, on Monday. (Claire Partain/Austonia)
The drugstore limits 10 at-home COVID tests per customer but otherwise hasn't seen a shortage thanks to clinical pharmacist Lynh Warnken, who said she had called around 10 suppliers Monday morning alone to purchase tests.
"It's been hard to keep up with the demand of it, but it's just about trying to stay best in touch with our suppliers and making sure we don't overstock versus having enough inventory in our store," Warnken said. "We've kind of been in the trenches of this for about two years so it's kind of become the new normal for us."
Warnken said the store adjusted its hours from 8:30 a.m.-6 p.m. to 9 a.m.-6 p.m. Monday-Saturday at the beginning of the year after experiencing a staffing shortage.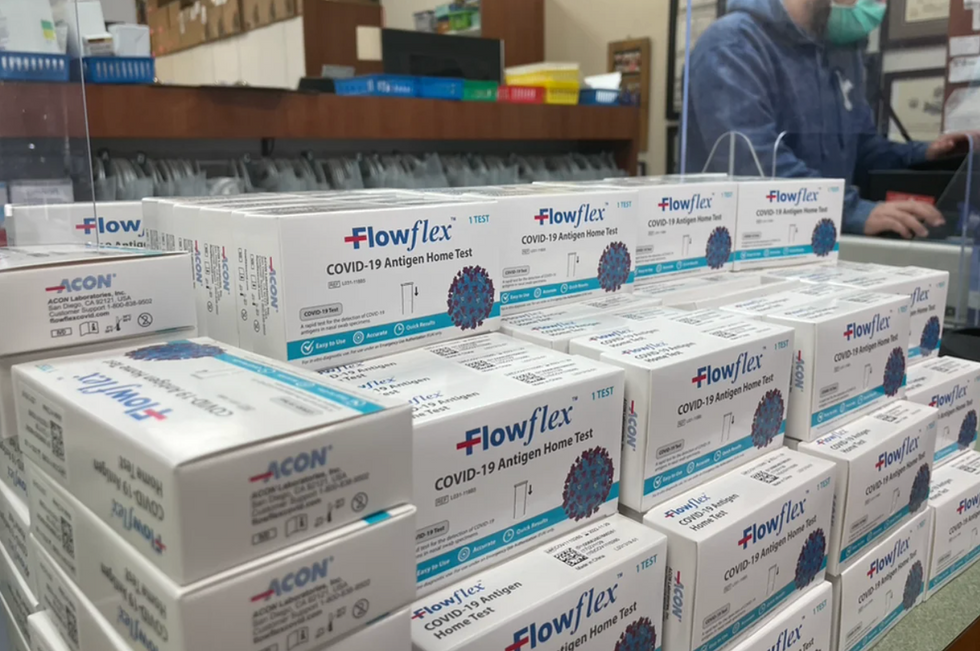 At-home COVID tests, not found at CVS or Walgreens, are stacked high at the front counter of the South Lamar Drug Store on Monday. (Claire Partain/Austonia)
While local pharmacy Tarrytown Pharmacy isn't stockpiled with at-home tests like North Lamar, the drugstore received 10% of its bulk order Tuesday and has already begun to sell them, according to pharmacist in charge Rannon Ching.
"These things are hard to find," Ching said. "I think we might have bought the last three pallets of this specific brand in the whole country, and then prices are going all wacky too... but I was able to procure quite a few tests and so once we get them in stock we'll start selling those and trying to help as many folks as we can."
A hiring spree just before the surge and extra COVID precautions, like recommending N95 masks for their employees, has prevented pharmacy struggles even as many employees get sick. While some contracted COVID, Ching said the coinciding cold, flu and cedar fever seasons kept some employees at home as well.
"It's challenging, but our team's doing a great job of making sure that we're keeping the ship moving," Ching said. "We're a little bit more prepared because we had already staffed up made sure we hired people for vaccines and testing, so that's been going well."
Ching said the pharmacy has started selling at home tests and will post on Facebook when the bulk of its order is delivered. Check the Walgreens and CVS websites to see if the pharmacy near you is in stock.