Get connected with our daily update
When professional poker player Doug Polk set his sights on Austin eight months ago, he joked that he moved from Las Vegas "to get away from poker."
---
But he didn't get his wish. Since then, Polk and other prominent poker stars teamed up to buy majority rights of The Lodge, the Austin area's biggest poker house, as more and more poker players look to hit the jackpot in Austin.
Lone Star residents no longer have to trek to Vegas for their fix of Texas Hold 'Em thanks to a loophole in Texas' gambling ban that allows poker games to be played in private residences. Instead of taking a cut from the pot, private poker houses don't make money from the results of a game; instead, they get their revenue from membership and hourly fees.
The result has been a poker boom that saw as many as a hundred poker houses operating in the state in 2021. Polk, who made a name for himself as a world leader in live streaming poker on YouTube and started Upswing Poker, one of the world's most popular poker training sites, shifted out of semi-retirement to check out the craze in Austin after he happened upon a poker house near a local coffee shop.
"It wasn't like some grand master plan that was coming to fruition," Polk told Austonia. "It was more just like stumbling my way into it and then realizing that I kind of wanted to be involved in it."
Since then, Polk's been seen at live streams for the highest-stakes tables in the city at popular venues Texas Card House and The Lodge. He's usually found placing big bets across from fellow stars like Brad Owen and Andrew Neeme, who joined Polk in buying majority ownership of The Lodge in January.
The co-owners were originally looking to build a card house of their own but quickly set their sites on The Lodge. Easily the biggest poker hub in Austin, the 24/7, 60-table Round Rock venue already had the perfect foundation to build their brand on.
"We took all of our marketing, audiences and online skillset and paired that with the brick and mortar business they had already built," Polk said. "It's the biggest room before we even funnel everything that we can to promote and market and build, (so) you can only imagine how big that we can take it once we have everything in full swing."
Pairing the trio's celebrity savvy with Texas' more laid-back style of play has already been a success. For their first monthly tournament from Jan. 24-30, The Lodge saw its guaranteed $500,000 prize pool break $1 million. The tournament, dubbed the Monthly Monster, is the largest live streamed monthly tournament in the world.
Distant clouds have recently emerged in Texas' poker scene, however. In late January, the city of Dallas revoked the city's Texas Card House location permit after a change in the city gambling policy, and a Houston poker house has recently switched ownership and rebranded after allegations of financial mismanagement.
But Polk said The Lodge hasn't yet caught wind of legal battles in Austin and said the team is focused on building a reputable brand that could eventually expand to new locations nationwide.
"Our vision is a brand that you can trust around the country as a good place to play poker," Polk said. "I feel like poker players a lot of times don't get treated well by establishments, so we want to be player-focused to be a great place to play and develop to grow the brand nationally."
Until The Lodge becomes a household name, catch Polk calling bluffs at the venue twice a week or watch the crew plan more of the highest-stakes hands in Texas history at Monthly Monster sessions or even bigger Mayhem series each spring and fall.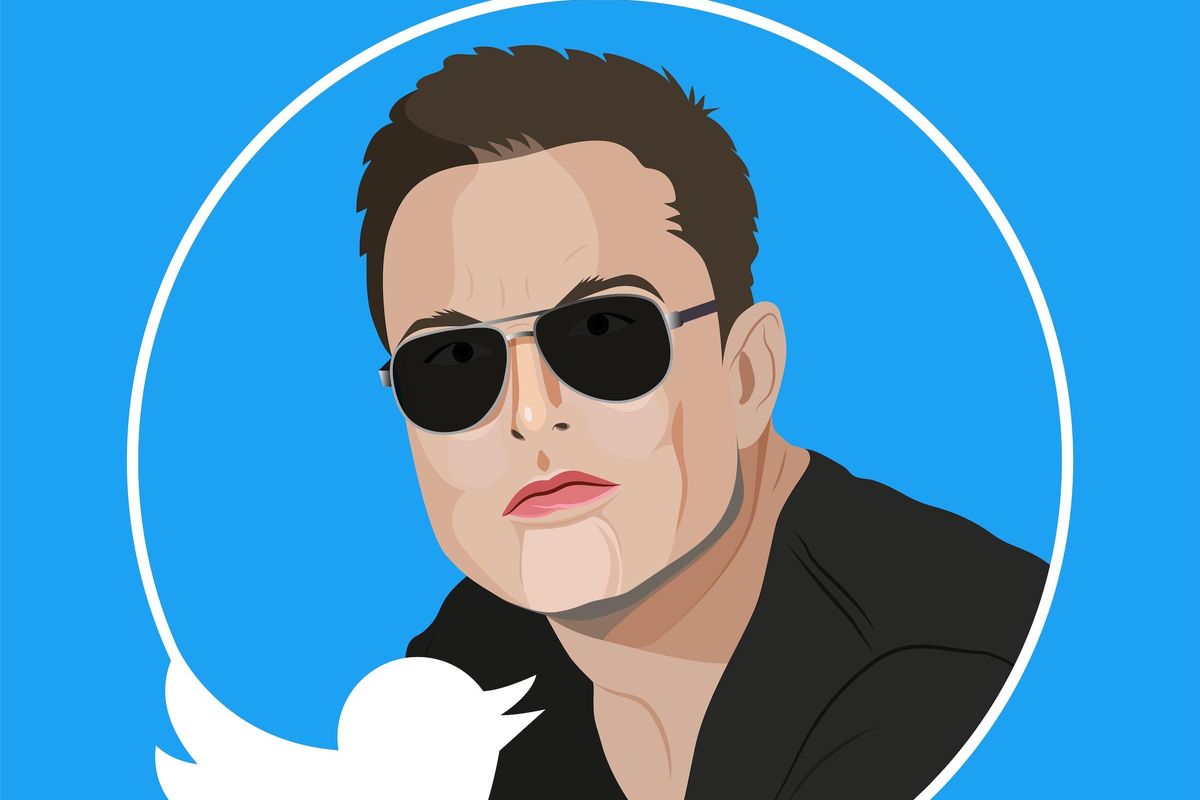 Shutterstock
Elon Musk has proposed once again to buy Twitter for $54.20 a share.
The news that Musk is offering to carry on with the $44 billion buyout was first reported by Bloomberg. Now, a filing with the Securities and Exchange Commission shows Musk made the proposal in a letter to the tech giant on Monday.
The New York Stock Exchange temporarily halted trading in Twitter stock twice Tuesday, first because of a big price move and the second time for a news event, presumably the announcement of Musk's renewed offer.
While the per share offer price on this latest proposal remains the same as the original offer, it's unclear if Musk has made other term changes or if Twitter would reject it. According to other reports, a deal could be reached this week.
The stock closed at $52.00/share Tuesday, indicating market uncertainty around the $54.20 offer.
After Musk informed Twitter of plans to terminate the original agreement in July, Twitter sued. A trial has been expected in Delaware Chancery Court on Oct. 17.
With the proposition of a buyout on the table again, it revives the question of whether Musk might move Twitter from San Francisco to Central Texas.
He's done so with some of his other companies. Tesla's headquarters in southeast Travis County had its grand opening earlier this year and tunneling business The Boring Company moved to Pflugerville. At least two other Musk companies, SpaceX and Neuralink, have a Central Texas presence without being headquartered here.
Technology journalist Nilay Patel this afternoon voiced concerns that owning Twitter and Tesla together could be problematic for Musk, as his Tesla manufacturing facilities in Germany and China are both in countries that have disputes with Twitter over content moderation and censorship.
Telsa shares fell after the Twitter news became public, before rallying to close up, at $249.44.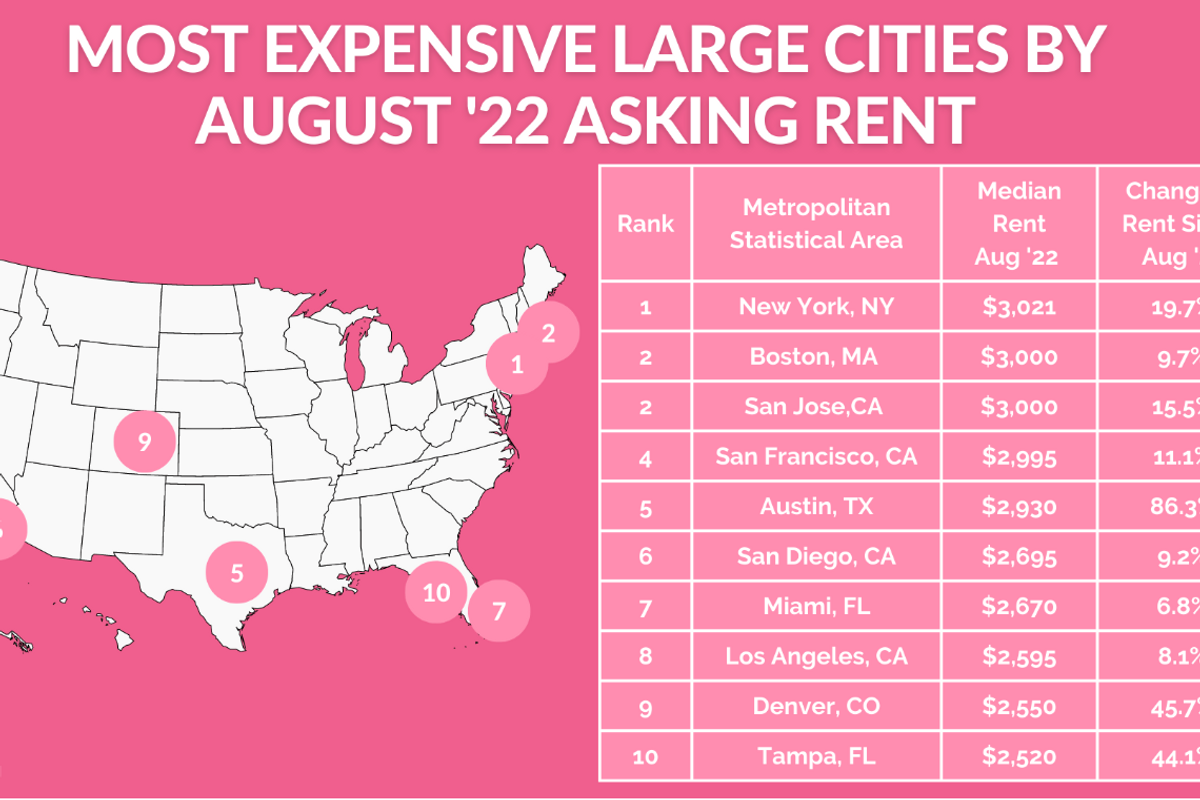 Dwellsy
While searching for a place to live, Austin renters will face monthly rates of nearly $3,000, a recent guide from rental marketplace Dwellsy shows.
The median rent in August this year was $2,930, a more than 86% increase since August 2021. That's $820 more than the nationwide median asking rent in August and puts Austin just below the Bay Area, Boston and New York for large cities with the most expensive asking rent.
"Within this group, Austin, TX stands out for the highest increases in asking rent, which has nearly doubled since this time last year," the study notes.
Outside of those large cities, however, others are seeing even higher rent spikes. Metro areas that ranked above Austin in one-year increases include those like Kansas City, MO with a 112% change in rent since last August and Tucson, AZ with a 124% change.
The data reflects large apartment communities, single-family homes and 2-6 unit buildings.