Never miss a story
Sign up for our free daily morning email...
...and afternoon text update
Get connected with our daily update
Austin Police Chief Brian Manley will step down next month after more than 30 years with the department and nearly three as its highest-ranking member. His departure comes amid an ongoing national debate over policing and after mass protests against police violence and racial injustice in Austin last summer.
---
Manley acknowledged that his decision to retire was a difficult one during a press conference on Friday. "I have many different emotions running through me right now," he said. "I am at peace with my decision."
City Manager Spencer Cronk announced Manley's retirement in a memo to City Council earlier in the day. "I want to thank Chief Manley for his leadership and service to the City of Austin," Cronk wrote, adding that he will immediately begin a national search for—and concurrent community engagement process regarding—the city's next police chief.
Manley has faced sustained criticism from local elected officials, criminal justice reform advocates and residents after APD officers seriously injured protestors over the summer. Four council members asked him to resign; Cronk faced pressure to demote him and the council voted unanimously to cut the police department's budget. Last August, the Austin Justice Coalition debuted a jingle, "No Confidence in You," as part of its campaign to get Manley to resign
The department has also come under fire in recent years for multiple officer-involved shootings, allegations of racism among its top ranks and reports of hazing at its training academy.
Manley said this criticism did not contribute to his decision to retire. "Anyone who steps into the role of police chief, you know there's going to be criticism," he explained.
But Manley also acknowledged that his department is at a crossroads and that its relationship with racial justice advocates is strained. "I know the policing profession is under scrutiny, under reimagining and redesign," he said, adding that he believes APD will emerge "a strong agency" under his successor.
Manley was appointed to police chief in 2018, after serving as interim chief for two years and leading the investigation of the Austin Serial Bombings. For his work, he was ranked 49th on Fortune's sixth annual World's Greatest Leaders list in 2019. An Austin native, he has spent his entire 30-year law enforcement career with APD.
Manley is most proud of his work as a member of APD's child abuse unit and his efforts to improve officer health and wellness. "What we expose our men and women to, day in and day out, takes a toll," he said.
Local elected officials and advocates responded to the news, with some applauding Manley's leadership and others looking ahead to his replacement.
"As chief, Brian Manley championed efforts to expand community policing and confronted the public safety challenges of a growing city," Greater Austin Crime Commission President Corby Jastrow said in a statement.
Travis County GOP Chairperson Matt Mackowiak attributed Manley's decision to "the unconscionable war on Austin police conceived of" by local criminal justice reform advocates "and executed by" Austin Mayor Steve Adler and "comrade" Council Member Greg Casar in a tweet.
Casar also weighed in on Twitter, saying that he hopes the "future path of our police department" both protects public safety and civil rights "for all neighborhoods and for people of all backgrounds."
This story has been updated to include the latest information on Manley's departure.

Former Minneapolis police officer Derek Chauvin was found guilty on three charges—second- and third-degree murder as well as manslaughter—in the killing of George Floyd, an unarmed Black man whose final moments were recorded by onlookers, sparking a global protest movement over police violence and racial injustice. He faces up to 40 years in prison.
Jurors deliberated for 10 hours over two days after an intense, three-week trial before reaching a verdict Tuesday afternoon, four days shy of the first anniversary of the Austin police killing of Mike Ramos, an unarmed, 42-year-old Black and Hispanic man whose name became a rallying cry—along with Floyd's—for Austin protestors, who marched en masse last summer, prompting some police reforms.
Austin Police Department Officer Christopher Taylor was charged with first-degree murder—an unprecedented charge in Travis County—in the case of Ramos' death on March 10. But Warren Burkley, community outreach director for the Austin Justice Coalition, was measured in his response to the Chauvin verdict. "It's highly visible accountability, so it will give people hope in the system," he told Austonia. "But it's just one innocent life taken. And even in this city, this happens regularly, and it doesn't make national news."
Local elected officials, community leaders and residents also responded to the news as APD officers spent their second day on tactical alert, prepared to respond to any protests or demonstrations, and City Council heard recommendations from a task force on how to reimagine public safety.
Californians love Texas, and Austin—with its liberal politics, relatively affordable housing and job opportunities—is particularly adored. In fact, the Lone Star State was the main recipient of departing Californians in 2019, according to the latest available U.S. Census Bureau data.

But other states, including Florida, are seeing increased interest. Miami Mayor Francis Suarez has made a name for himself on Twitter recruiting techies and hyping up his city, which has a lot in common with Austin—with the added benefit of a beach and sans the "Don't California my Texas" attitude.
California expats and industry experts say Austin remains the bigger draw for Californians, especially those in the tech sector, but warn that this advantage could shift to Miami if the city doesn't address the policy challenges that prompted the migration in the first place: housing affordability.
"If Austin doesn't accommodate this influx, I think all the talent will come to Miami," said Peter Yared, a tech entrepreneur who moved to Miami from San Francisco in September. "I think Miami's going to be the one that sucks it all up."
Push factors
Both Texas and Florida promise business-friendly state tax policies, and their governors tout the relocations of companies such as Tesla and Oracle from California. But Darien Shanske, a law professor at the University of California Davis whose specialties include taxation, said this is a red herring because corporate taxes are based on where sales occur rather than headquarter locations.
This is not to say other state policies are irrelevant. "The area in which California regulatory policy has been, in my opinion, not a complete failure but problematic … is housing policy," Shanske said. Austin and Miami can offer "not cheap, just cheaper" housing than what is available in Silicon Valley. Plus, both cities are developing a critical mass of talent, which further draws Californians in. "If you're a software engineer, you want to live near other software engineers," he added.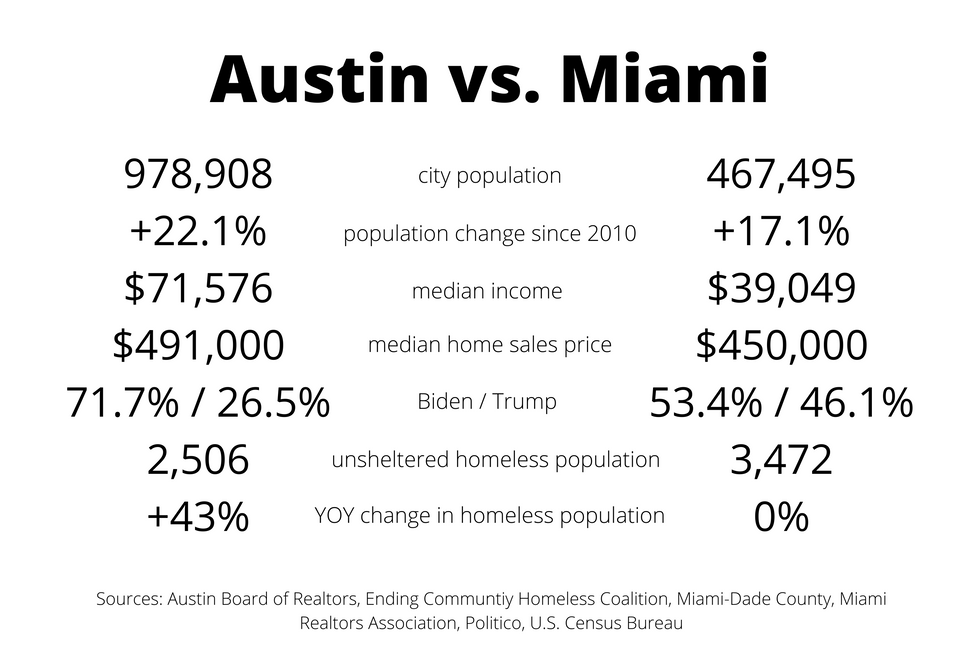 But not every Californian is motivated to move. "San Francisco is a fantastic place to live if you can afford it," said Brandy Aven, a professor of entrepreneurship at Carnegie Mellon University's Tepper School of Business. As a result, it's more common for what she called the labor—engineers, programmers and even company founders—to relocate to cities such as Austin and Miami than the monied venture capitalists. Burgeoning tech cities may find that they need to develop homegrown investor networks to support local ventures in the absence of Californian transplants, but she believes this is doable.
Pull factors

Paul O'Brien, CEO of the Austin-based MediaTech Ventures and a startup veteran, moved to Austin from California in 2009, during the Great Recession. "I'm a firm believer that the world has been seeking an alternative to Silicon Valley for a long time," he said, pointing to Austin as the natural heir for myriad reasons.
Austin has regional appeal as the epicenter of three of the country's largest cities—Houston, Dallas and San Antonio—and their respective industry niches. Tech entrepreneurs could cater to the local consumer goods industry or Houston's oil and gas sector. Plus the city has cultural appeal, thanks to the Red River District and South by Southwest, which made it attractive to job seekers. "The whole reason everyone moved to Silicon Valley is opportunity," O'Brien said. "The whole reason people are now looking beyond Silicon Valley to somewhere else is opportunity."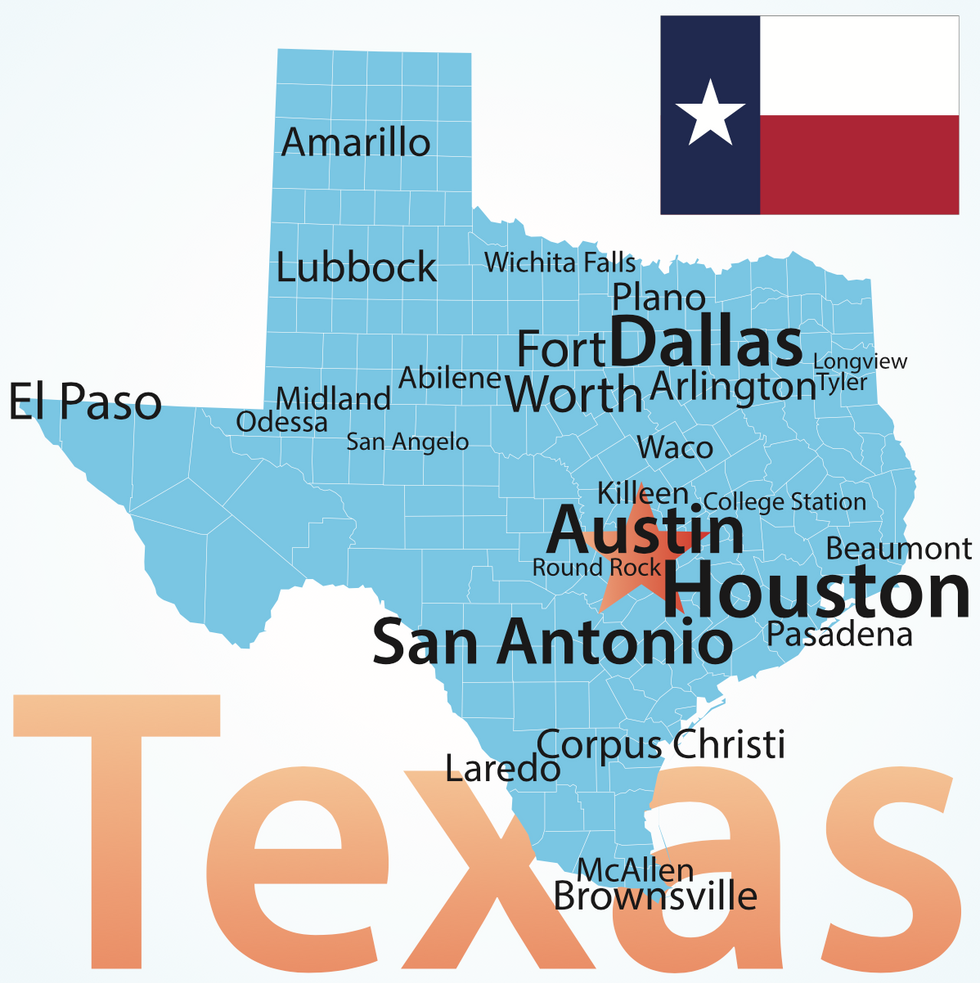 It's less clear what Miami's key industries are, O'Brien said, but the city offers other selling points, including the mayor's buy-in and "a tremendous depth of wealth" to support a technology and startup ecosystem.

Although Yared didn't consider moving to Austin, he is aware of its appeal to engineers, especially now that their hero, Elon Musk, has moved there, shunning California. "Austin has a lock on tech," he said, but Miami draws a different crowd, including financiers from New York. This parallel migration, coupled with the city's more outwardly pro-growth building policies, gives him hope that Miami could supplant Austin in the coming years. "In the end, communities get to choose what they want," he said.
In the days after Austin FC's inaugural match against LAFC on Saturday, Head Coach Josh Wolff says he's watched the game "a number of times, to say the least."
In the match, Wolff and over 500,000 other viewers looked on as Austin FC took to the pitch for the first time, held their own in the first half against LAFC and eventually fell 2-0 to a team that's sometimes regarded as the best in the league.
Austin FC had the largest television audience of any soccer match in the U.S. over the weekend, surpassing even the USWNT. In a showcase of the club's dedicated fan base, dozens of Los Verdes fans were spotted in green and black around the stadium—even with the match limited to 20% capacity.
While the team lost their first-ever match, they didn't make it as easy as some expected.

Wolff said that the team did relatively well offensively, holding possession for 48% of the match and keeping a solid passing game. Once they got to the box, however, Wolff said they could use some work on creating scoring opportunities.
"We saw a lot of good connections, good spacing (and) good speed of passing," Wolff said. "I think we can obviously have more presence centrally to have more numbers in between lines. I just want us to create more chances. There's a lot on both sides of the ball that we still need to work on."
LA pulled some dramatics and slowly gained more possession throughout the half, but ATXFC's defense wasn't initially as shaky as it seemed in preseason. Later on, however, the team gave up some goals and seemed to struggle with endurance. Wolff said the backline did "okay" and that the club, including young center back Jhohan Romana, are still getting conditioned to play a full match.
"It's a lot of information for a young player," Wolff said. "I think as he fatigues then the decision making, as with most players, becomes a little bit more cloudy and then thus the execution becomes cloudy."
Goalkeeper Brad Stuver had his work cut out for him, fending off 24 shot attempts, 11 of which were on goal.

Going into the match, Stuver and fellow goalkeeper Andrew Tarbell were neck-and-neck, with both labeled potential starters. However, it was Stuver, who many thought signed as a backup, that wore the goalkeeper's jersey on the field for the first time.
"I think both Andrew and Brad did relatively well in preseason, but we decided with Brad just based on how we felt preseason went," Wolff said. "I thought he performed pretty well to be honest. I think he and Andrew are similar in some aspects... it's being mindful of where their strengths and weaknesses are."
Five starters made their MLS debut in the match, including midfielder Daniel Pereira and forward Rodney Redes. While Wolff said Pereira held his own in the match, he saw a weak spot in the team's right side, making it difficult for Redes to make offensive plays.
"For Pereira, I think it was a solid day for a young kid coming in his first MLS game against that opponent," Wolff said. "Obviously there's there's a different physicality to MLS and I think those are things that all these guys are going to acclimatize to.
Now, the club looks to put the ball in the back of the net for the first time as they head to Colorado. Austin FC will face the Colorado Rapids at 8 p.m.on Saturday. The match will stream on the Austin FC app and be broadcast on the CW Austin. Austonia will keep an eye out for potential weekend watch parties.