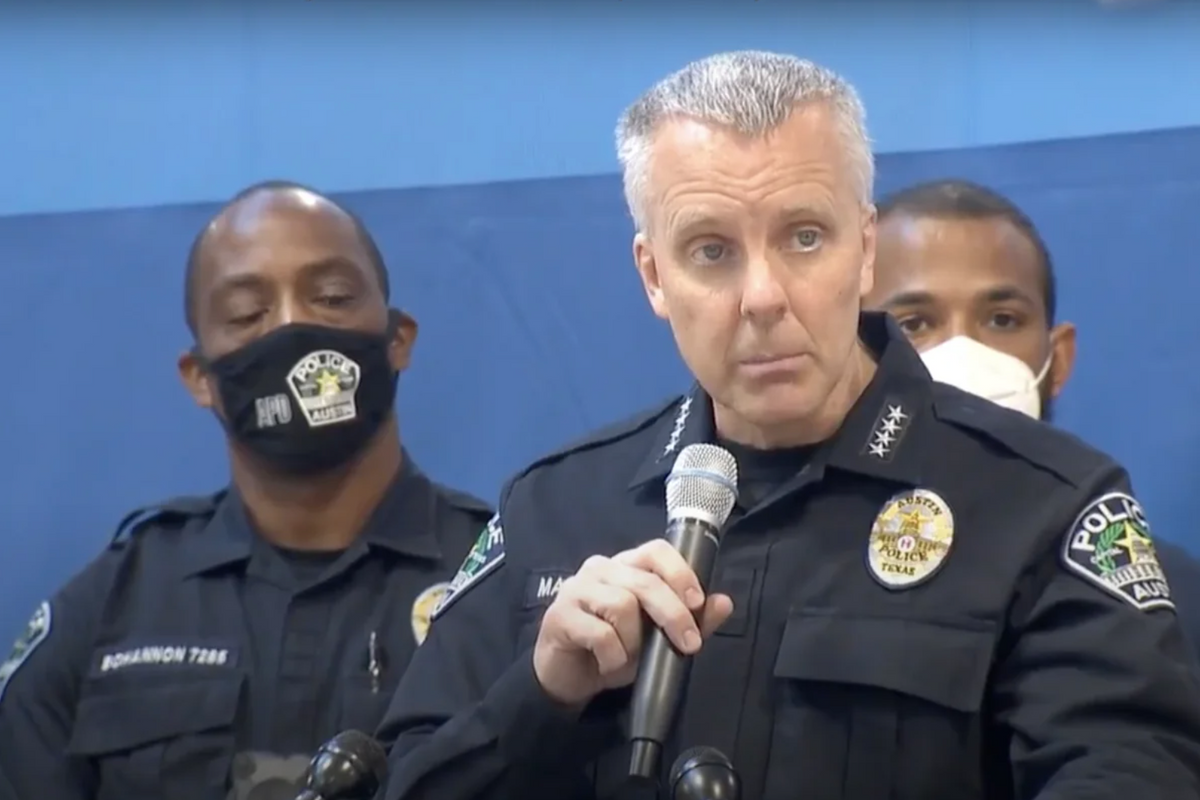 Austin Police Chief Brian Manley will step down next month after more than 30 years with the department and nearly three as its highest-ranking member. His departure comes amid an ongoing national debate over policing and after mass protests against police violence and racial injustice in Austin last summer.
---
Manley acknowledged that his decision to retire was a difficult one during a press conference on Friday. "I have many different emotions running through me right now," he said. "I am at peace with my decision."
City Manager Spencer Cronk announced Manley's retirement in a memo to City Council earlier in the day. "I want to thank Chief Manley for his leadership and service to the City of Austin," Cronk wrote, adding that he will immediately begin a national search for—and concurrent community engagement process regarding—the city's next police chief.
Manley has faced sustained criticism from local elected officials, criminal justice reform advocates and residents after APD officers seriously injured protestors over the summer. Four council members asked him to resign; Cronk faced pressure to demote him and the council voted unanimously to cut the police department's budget. Last August, the Austin Justice Coalition debuted a jingle, "No Confidence in You," as part of its campaign to get Manley to resign
The department has also come under fire in recent years for multiple officer-involved shootings, allegations of racism among its top ranks and reports of hazing at its training academy.
Manley said this criticism did not contribute to his decision to retire. "Anyone who steps into the role of police chief, you know there's going to be criticism," he explained.
But Manley also acknowledged that his department is at a crossroads and that its relationship with racial justice advocates is strained. "I know the policing profession is under scrutiny, under reimagining and redesign," he said, adding that he believes APD will emerge "a strong agency" under his successor.
Manley was appointed to police chief in 2018, after serving as interim chief for two years and leading the investigation of the Austin Serial Bombings. For his work, he was ranked 49th on Fortune's sixth annual World's Greatest Leaders list in 2019. An Austin native, he has spent his entire 30-year law enforcement career with APD.
Manley is most proud of his work as a member of APD's child abuse unit and his efforts to improve officer health and wellness. "What we expose our men and women to, day in and day out, takes a toll," he said.
Local elected officials and advocates responded to the news, with some applauding Manley's leadership and others looking ahead to his replacement.
"As chief, Brian Manley championed efforts to expand community policing and confronted the public safety challenges of a growing city," Greater Austin Crime Commission President Corby Jastrow said in a statement.
Travis County GOP Chairperson Matt Mackowiak attributed Manley's decision to "the unconscionable war on Austin police conceived of" by local criminal justice reform advocates "and executed by" Austin Mayor Steve Adler and "comrade" Council Member Greg Casar in a tweet.
Casar also weighed in on Twitter, saying that he hopes the "future path of our police department" both protects public safety and civil rights "for all neighborhoods and for people of all backgrounds."
This story has been updated to include the latest information on Manley's departure.