Never miss a story
Sign up for our free daily morning email...
...and afternoon text update
Get connected with our daily update
(Bob Daemmrich)
Austin voters will determine the fates of eight propositions during the upcoming May 1 election. Each proposes to amend the city charter in ways big and small. Two in particular have garnered attention and controversy.
If passed, Proposition B would reinstate a ban on public camping that Austin City Council lifted in 2019 and Proposition F would shift the city government from a strong-manager system to a strong-mayor one. The other six propositions also have far-reaching implications for how the city is run, from police oversight to campaign finance reform.
Early voting begins next week and runs through Tuesday, April 27. The last day to apply for a mail-in ballot is Tuesday, April 20. Election Day is on Saturday, May 1.
Races to watch
Proposition A: Charter amendment regarding binding arbitration in firefighters' labor contract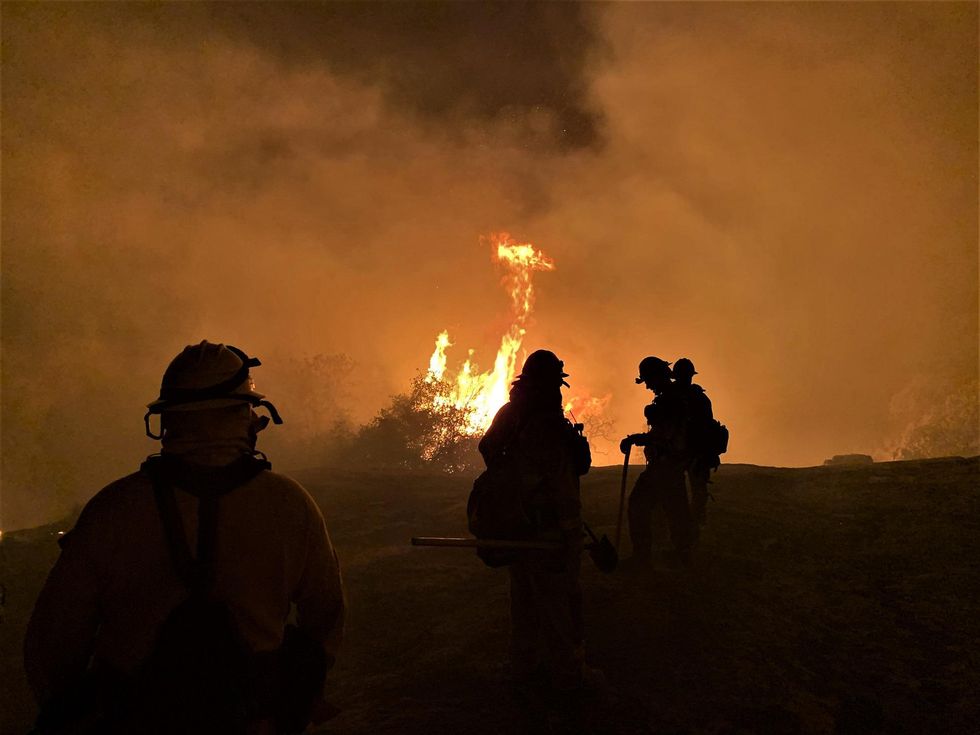 (Austin Fire Department/Twitter)
If passed, this proposition would require an arbitrator to intervene in cases where the city and the Austin Firefighters Association, a union representing Austin Fire Department employees, reach a stalemate during labor contract negotiations. The arbitrator would hear presentations from both parties and make a binding ruling, like a judge.
AFA President Bob Nicks led a petition process to get this proposition on the ballot and argues that it would help avoid future prolonged arguments, which have occurred in three of the union's last six bargaining cycles—at significant cost. "Rather than getting to impasse at the table, you're more likely to look at each other's interests and come to an agreement at the table if you know that—if you don't—it'll go to an arbitrator," he told Austonia.
Proposition B: City Code amendment to reinstate restrictions on public camping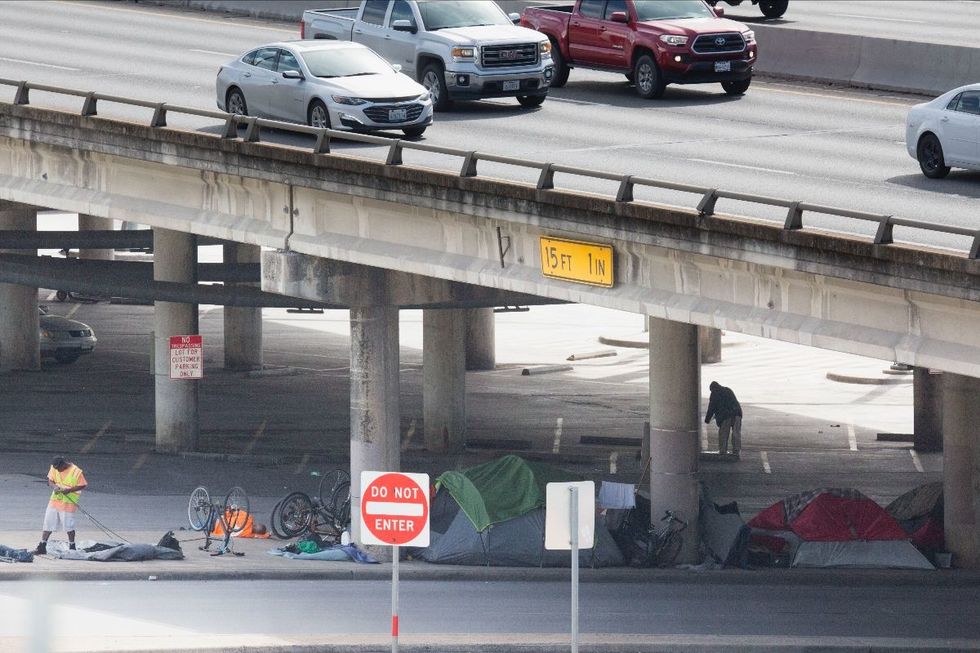 (Charlie L. Harper III)
This proposition resulted from a successful petition effort by the local political action committee Save Austin Now, which is campaigning to reinstate the city's ban on public camping—along with other activities, such as sitting or lying down on a public sidewalk or aggressive panhandling, in certain areas—after council overturned in 2019.
SAN argues that the decision to repeal the ban has adversely impacted public safety, residents and businesses and left homeless people to live in unsafe conditions. Although the group's opponents generally agree that the city's homeless situation is untenable, they argue that reinstating the ban will do nothing to address the root causes of homelessness and instead lead to citations and tickets that make it harder for homeless people to access housing, work and other resources.
Proposition C: Charter amendment regarding office of police oversight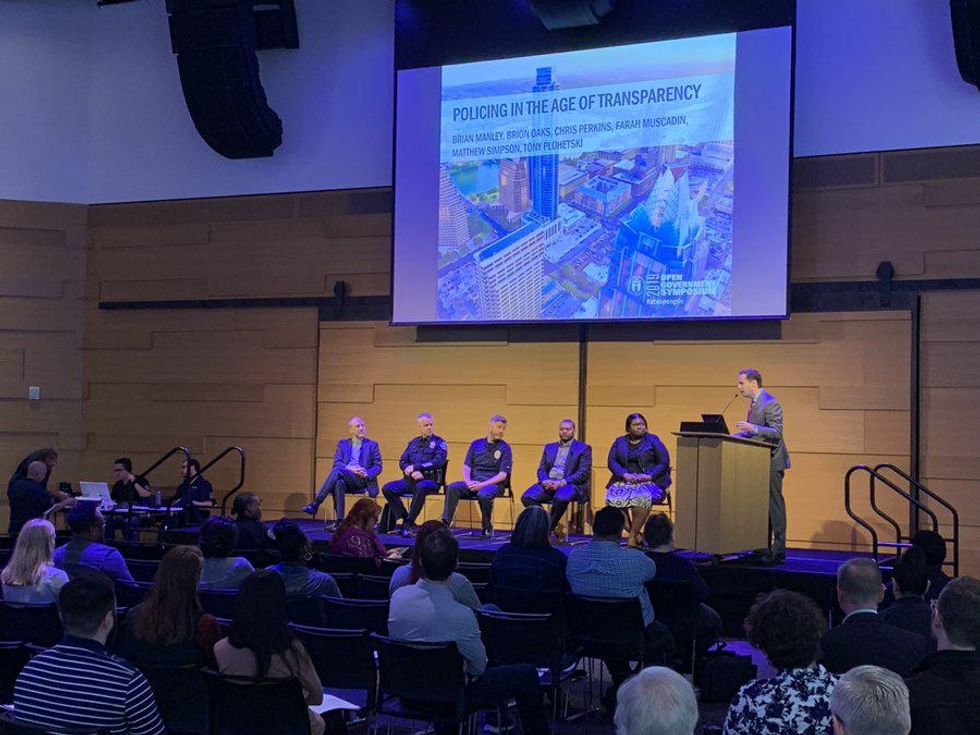 Office of Police Oversight Director Farah Muscadin, second from right, at a local policing symposium in 2019. (Office of Police Oversight/Twitter)
This proposition stems from an ordinance put forward by Council Member Greg Casar. If approved, it would move the city's office of police oversight from the control of the city manager's office to that of council. City Manager Spencer Cronk faced criticism from council members and residents for his handling of the Black Lives Matter protests last summer.
Margo Fraiser, vice president of the National Association for Civilian Oversight of Law Enforcement and former Travis County Sheriff and city of Austin police monitor, said such a shift is only half of the battle as an independent oversight office is only as strong as its ability to access and report on data from the police department. "It's hard to predict whether (this proposition alone) would improve civilian oversight or not," she said.
Proposition D: Charter amendment to move mayoral elections to presidential years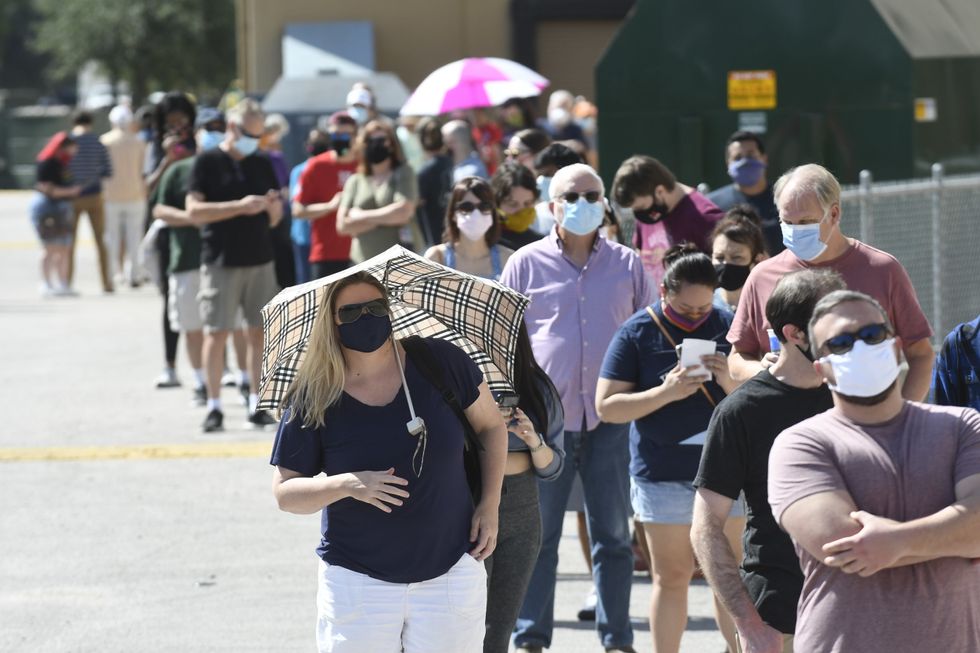 Travis County saw record turnout during the Nov. 3 general election. (Bob Daemmrich)
Local political action committee Austinites for Progressive Reform successfully submitted a petition in January that proposed a series of amendments to the city charter in an effort to increase voter turnout. Propositions D through H stem from this initiative.
This proposition would move mayoral elections from gubernatorial election years to presidential election years in an effort to ensure higher voter turnout. The mayor elected in 2022 will serve a two-year term, and the next election will take place during the general election in November 2024.
Proposition E: Charter amendment to create ranked choice voting for city elections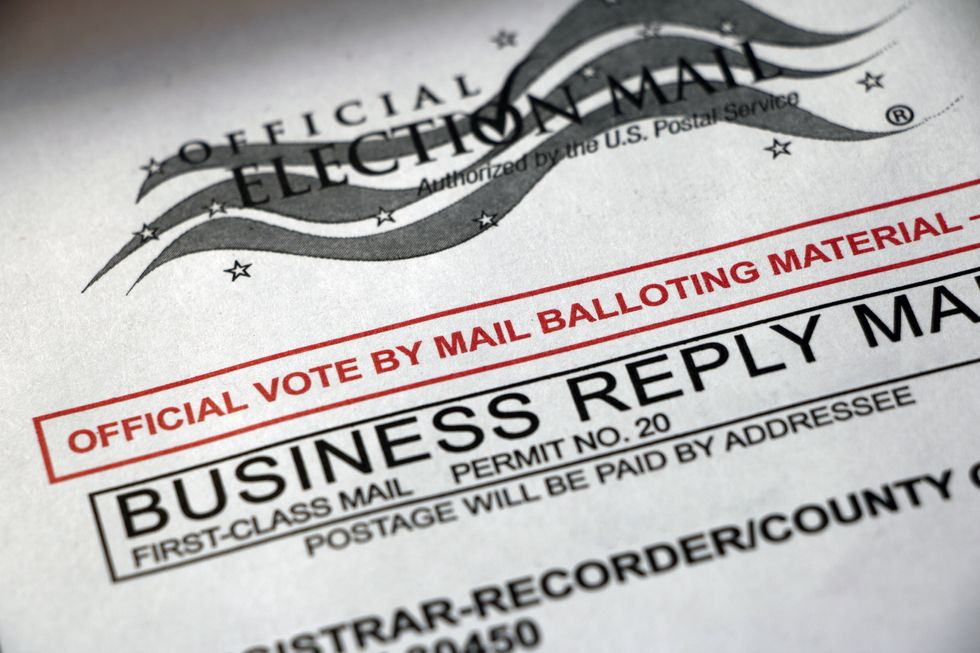 (Pexels)
Also stemming from the citizen-led petition organized by APR, this proposition would amend the city charter to provide for ranked choice voting in city elections if permitted by state law. The intention of this proposition is to eliminate runoffs, which typically have much lower turnout than general elections and participating voters tend to skew older and more conservative.
Ranked-choice voting, however, is certainly prohibited under state law. A city charter amendment, even if passed, would not be implemented unless state lawmakers make the same change.
Proposition F: Charter amendment to change to a strong mayor form of government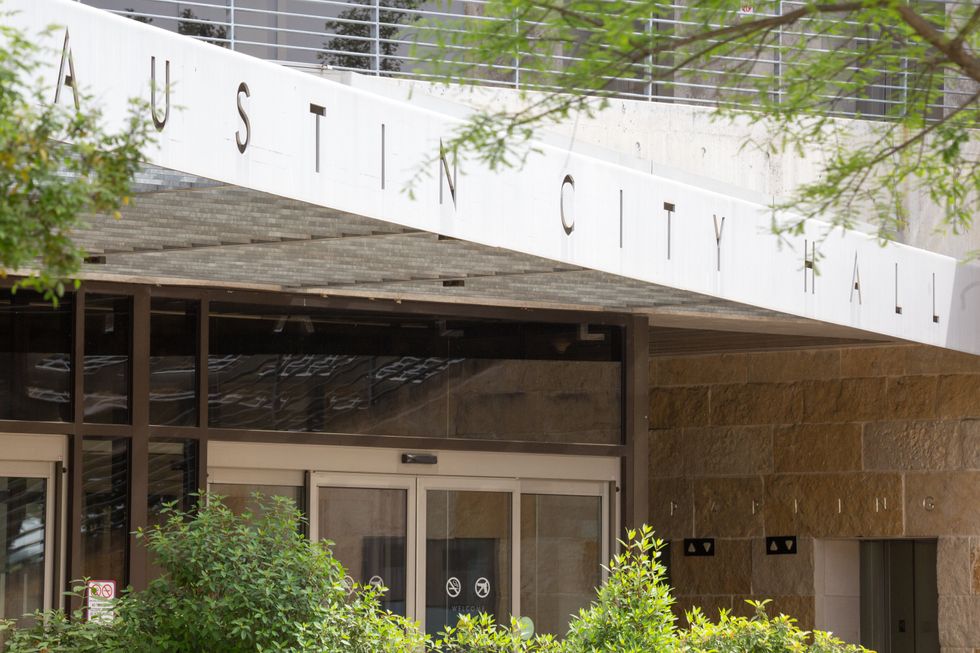 (Charlie L. Harper III)
The most controversial of APR's proposed amendments, this proposition would fundamentally change how the city government operates, shifting it from a strong-manager form to a strong-mayor form. Under the latter form, the city manager position would be eliminated and replaced by the mayor, who would not vote on items brought to council but could veto legislation approved by its members.
Proponents say it will give voters more control over the person who actually runs the city—an elected mayor rather than an appointed city manager—and point to the Jim Crow-era origins of Austin's current strong-manager system. A broad coalition of opponents, which includes local unions, most council members and business leaders, say it will consolidate power in one office and undermine the gains of the 10-1 council system enacted in 2014.
Proposition G: Charter amendment to add an 11th council district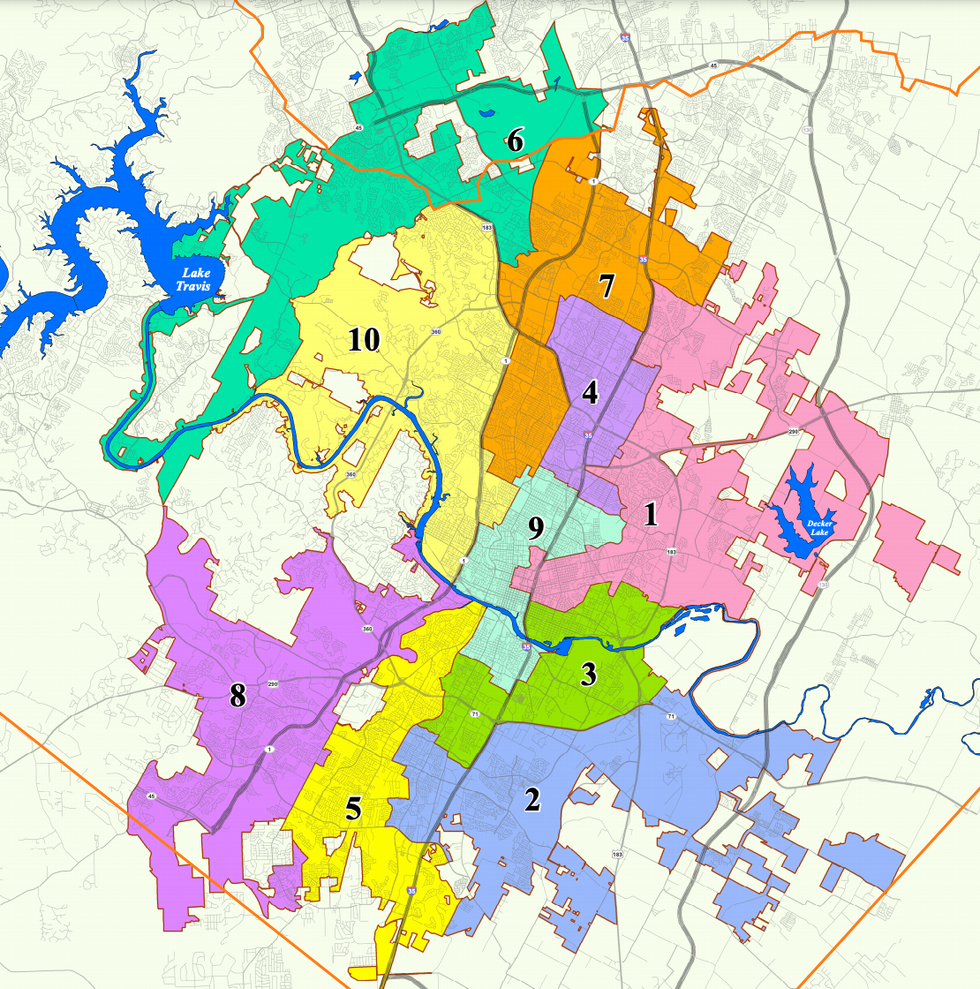 Because Proposition F entails the mayor no longer serving as a council member, APR proposed creating an 11th council district to prevent tie votes and expand district representation in keeping with the city's population growth.
Council decided to separate the initiatives on the ballot, creating the possibility that one will be approved and not the other, leaving council with an even number of voting members—and a higher chance of tie votes and legislative gridlock.
Proposition H: Charter amendment to adopt a public campaign finance program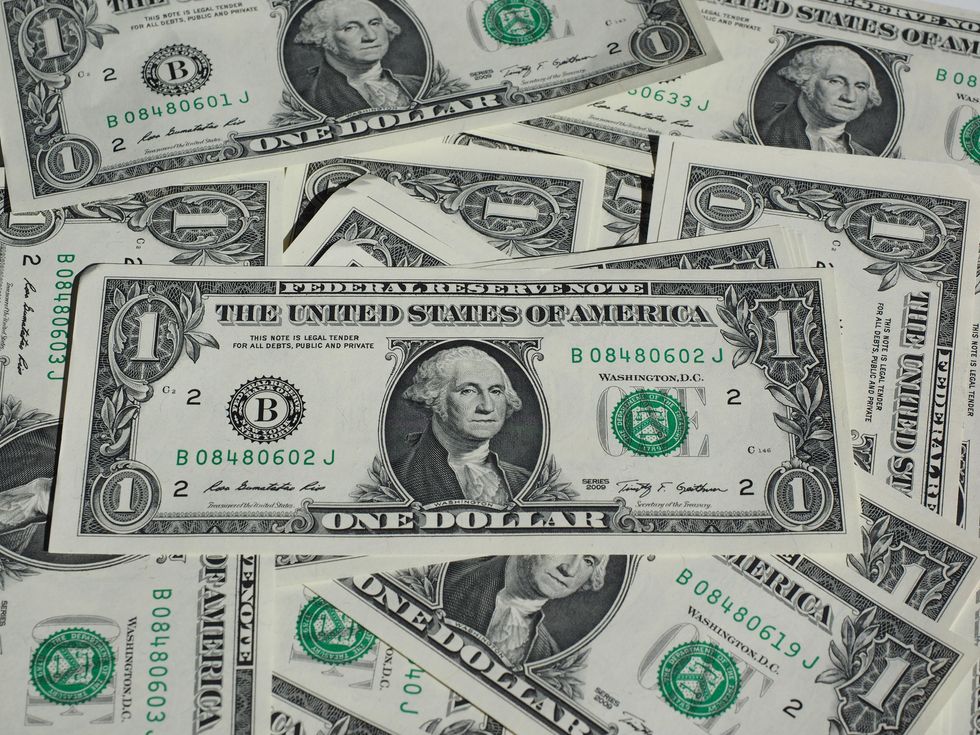 (Pexels)
This proposition would implement a public campaign funding program, called Democracy Dollars, to give voters $25 vouchers to support the local council candidate—and, in presidential election years, mayoral candidate—of their choice in an attempt to offset the influence of wealthy donors.
Such a program is already in place in Seattle, where it has driven turnout and increased donor diversity. APR has faced criticism locally for deviating from Seattle's model; as proposed, its Democracy Dollars program would exclude those unable to vote due to immigration status or criminal history.
Dates to know
Early voting begins next Monday and runs through Tuesday, April 27. Early voting polling locations will be open from 7 a.m. to 7 p.m. on Monday through Saturday and from noon to 6 p.m. on Sunday.
The last day to apply for a mail-in ballot is Tuesday, April 20. Note that applications must be received by this date, not just postmarked.

The application form, which can be found here, must be mailed to following address:
Dana DeBeauvoir
Travis County Clerk- Elections Divisions
P.O. Box 149325
Austin, TX 78714
In Texas, only certain voters are eligible to vote by mail. They include:
People who are 65 and older
Out of the country during the entire election period
Sick or disables
In jail
Election Day is on Saturday, May 1. Polling locations will be open from 7 a.m. to 7 p.m.
The registration deadline has passed. Residents can find out if they are already registered here.

President Joe Biden is cracking down on gun control laws and as expected, Texas Gov. Greg Abbott is unhappy about it.
On Thursday, the president publicly addressed his plans to cease gun violence at the national level, including enforcing tighter restrictions on "ghost guns," or self-assembled firearms that are put together without a serial number or background check. "Gun violence in this country is an epidemic, and it's an international embarrassment," Biden said during remarks at the White House.
Following through with Biden's election campaign promise to tackle gun control, the Justice Department is also publishing "red flag" legislation that will allow for people to petition a court to temporarily remove guns from people who may be a danger and dedicating $1 billion in funding to community intervention and prevention from gun violence.
Shortly after the president spoke, the Texas governor tweeted that "Biden is threatening our 2nd Amendment rights." Abbott is pushing for legislation that would make the state a "Second Amendment sanctuary state," in which Texas would not enforce federal gun laws that undermine state laws.
Biden is threatening our 2nd Amendment rights.

He just announced a new liberal power grab to take away our guns.

We will NOT allow this in TX.

It's time to get legislation making TX a 2nd Amendment Sanctuary State passed and to my desk for signing. https://t.co/d4EydwmQnf
— Greg Abbott (@GregAbbott_TX) April 8, 2021
The bill was filed by Texas House Rep. Justin Holland last month. It would restrict federal laws from infringing on gun rights in Texas.
While gun control has been an issue Biden has pledged to address, especially after the latest Colorado shooting, Abbott has vowed to uphold the Second Amendment even after close to home shootings like in El Paso where 23 were killed.
With a Democratic president and a Republican governor, the two have an ongoing chess match where they are disagreeing on most policy from issues on the border to COVID-19 precautions.
Willie Nelson is celebrating his 88th birthday in signature style. The Austin country music star announced he'll spend his birthday with marijuana-loving fans everywhere with a three-day virtual cannabis convention.
Alongside his brand Luck Presents, Nelson will work to destigmatize marijuana use with his fest, called Luck Presents: Planting the Seed, on April 26-29.
Singer Nathaniel Rateliff will host the convention, which will feature "musical collaborations, comedy sketches, cooking demonstrations, health-focused activities and more." The fest will also hold speakers and panel discussions about misconceptions of the plant, the history of marijuana and its pervasiveness in today's culture.
The convention will also raise funds for Headcount's Cannabis Voter Project, an organization that works to get cannabis-friendly voters registered. Those interested in joining the summit will need to make a $10 minimum donation to get the golden ticket into the fest.
"The Cannabis Voter Project believes it's important for the cannabis community to be an active and informed voting bloc," the organization's website reads.
In a statement, Nelson said he hopes to educate people on marijuana misconceptions with his latest foray into cannabis culture.
"I think people need to be educated to the fact that marijuana is not a drug," Nelson said. "Marijuana is an herb and a flower. God put it here. If He put it here and He wants it to grow, what gives the government the right to say that God is wrong?"
Nelson has dipped his toes into the weed landscape before—an outspoken weed enthusiast, Nelson started his own brand of recreational marijuana in 2015, followed by CBD brand Willie's Remedy, which focuses more on health and wellness.
Most recently, Nelson opened up about the pandemic, smoking weed and living a more sustainable life for his SXSW debut in March.
(Greg Abbott/Twitter)
As more Texans get vaccinated, Gov. Greg Abbott signed an executive order that bans government-mandated "vaccine passports" in the state.

The "passports" could be required as a form of ID to prove full vaccination in certain states or when traveling. The order ensures that no body of government can require COVID vaccinations or proof of vaccinations. No entity that receives government funds can require vaccination information either, according to the document.
While Abbott is set on "opening Texas 100%" and often takes to Twitter to applaud the state's vaccine rollouts, he believes that choosing to get or not get a COVID vaccine is a personal choice for Texans.
"Texans shouldn't be required to show proof of vaccination & reveal private health information just to go about their daily lives," Abbott said in a tweet. "Don't tread on our personal freedoms."
Abbott's latest order was given mixed reviews.
Some immunization cards are already required for certain types of international travel, and immigrants looking to live in America must disclose certain immunization records. All states currently require vaccinations of diseases like measles before children can attend public grade school, and most public colleges require documentation of the meningitis shot.
Some, including Attorney General Ken Paxton, believe that banning a vaccine passport is essential to keeping medical information private.
Others who support current vaccination laws say that a vaccine passport would be no different from laws that are already in effect.
Some are fine with giving up vaccine records in order to prevent new surges as the nation opens back up.
Abbott's order follows a less lenient order from Florida. While businesses can still require a vaccine passport in Texas, Florida Gov. Ron DeSantis issued an order that also prevents vaccine passports from being required at private entities.
Some think that Abbott has not taken enough action to ensure privacy about vaccine information.
Both orders appear to be premature, however. Although there is some speculation that the CDC will issue government-mandated vaccine passports, no such passports exist.

Some businesses, such as the New York Rangers and Brooklyn Nets, have launched voluntary passports to get into their businesses. The two teams released a digital health passport called the Excelsior Pass to ensure the health of those who attend games and up capacity at their respective stadiums.
While it's possible that interstate travel and private entities could implement a vaccine passport, Dr. Anthony Fauci, director of the National Institute of Allergy and Infectious Diseases, told Politico a government-issued policy is unlikely.
"I'm not saying that they should or that they would, but I'm saying you could foresee how an independent entity might say, 'Well, we can't be dealing with you unless we know you're vaccinated,'" Fauci said. "But it's not going to be mandated from the federal government."