Get connected with our daily update
A member of the Independent Citizens Redistricting Commission (ICRC) contacted council members asking for their home addresses despite a charter provision prohibiting the ICRC from considering such information in its mapping process, according to emails obtained by the Bulldog through a public information request.
Four council members or their staffers replied providing home addresses: Alison Alter, Paige Ellis, Mackenzie Kelly, and Leslie Pool, according to the emails dated August 9th to Aug. 17.
On Wednesday morning, State Rep. Celia Israel (D-Austin) announced that she would not seek reelection and would be forming an exploratory committee toward running for mayor.
In the announcement, Israel said she was "ready for a new challenge" in which "carpenters are welcome, where science and facts drive decision-making, and where compassion and respect for ordinary Texans is the norm, not the exception."

Israel has been a member of the Texas House of Representatives for four terms and has been representing District 50 since 2014. The representative has served on the Environmental Board, the Police Monitor Board, a Bond Advisory Committee, and the Robert Mueller Redevelopment Advisory in her time and is a founder of the Texas House LGBTQ Caucus.
A Democrat who participated in walkouts of Gov. Greg Abbott's special legislative sessions due to his controversial voter reform bill, Israel hinted at the state's recent legislative changes as part of her motive to run for Austin mayor.
"From the pandemic to the legislative attacks on women, communities of color, and trans kids, I know I'm not the only one who has reflected on how we can best use our talents to meet the demands of these challenging times," Israel said in the statement. "And in an increasingly urbanized Texas, local government may seem messy and unglamorous, but it's where neighbors are actively coming together to solve problems."
She cited issues "from homelessness to the affordability crisis" as her first talking point in her possible run. She has appointed 20 members to her exploratory committee.
"Austin has long sold itself on 'lifestyle,' but at times, I fear, at the expense of our sense of community: the spirit of what binds us together, of belonging, and being part of something greater than one's self," Israel said. "My optimism for our city's future is based on my faith that when we elevate our sense of community, there is no challenge we can't overcome."
Other Austin candidates for the 2022 mayoral election include conservative Jennifer Virden, who was the first to announce a run for the position in June, and Erica Nix, a "body positivity ambassador" and workout coach. Former State Senator Kirk Watson, a Democrat and former Austin mayor, is also considering a run, while current Mayor Steve Adler said he will not seek reelection.

Austin Public Health announced that Austin City Limits Festival's COVID-19 Health and Safety plan was approved, though final approval of the event is still up in the air.
APH announced the news via press release on Tuesday morning, saying the event's final approval is subject to "the ability to support the healthcare and safety system."
ACL, festival producer C3 Presents and the City of Austin have approved the following criteria for festival safety:
All attendees must show a negative COVID-19 test obtained within 72 hours of entering the festival.
Fully vaccinated attendees may show proof of vaccination instead of a negative test. Such patrons do not need to be tested to enter the festival.
ACL organizers must develop strategies for social distancing and include outdoor "mask zones" where distancing is not possible, including on festival shuttle buses, entrance lines, areas closest to the stages and the on-site merch store. Free masks will be available upon entry.
On ACL's end, organizers are asking patrons compley with "fan health pledge," asking fans don't attend if:
You have tested positive for or been exposed to COVID-19 in the past 14 days
You experience symptoms of the virus (a fever of 100.4F or higher, cough, shortness of breath or difficulty breathing, chills, repeated shaking muscle pain/achiness, headache, sore throat, loss of taste or smell, nasal congestion, runny nose, vomiting, diarrhea, fatigue, or any other symptoms associated with COVID-19 identified by the Centers for Disease Control and Prevention) within 48 hours of the festival.
You traveled internationally or to an area subject to quarantine within two weeks of the festival
Approving the Health and Safety plan is just one step of the special events application process—events became required to submit a plan as of April 2021.
Six days a week, thousands of onlookers tune in to live streams to watch the pros rake it all in at high-stakes poker tournaments. The big-name poker players aren't in Las Vegas or even Oklahoma's finest casinos—instead, they're where Texas Hold 'Em gets its name.

Gambling may be illegal in Texas, but over a hundred poker houses are using a loophole to open up shop across the state, especially in Austin and Dallas.
The classic poker game is finally getting played for real cash around the Lone Star State thanks to an exception in Texas' gambling ban that allows poker games to be played in private residences. Instead of taking a cut from the pot like traditional gambling ventures, private poker houses don't make money from the results of a game; instead, they get their revenue from membership and hourly fees.
It's a business strategy that's gone (mostly) unchallenged by Texas politicians, especially as the industry begins to heat up.
Austin may now have around 20 poker houses around town, but it wasn't long ago that one stood alone like a small town saloon. The city's premiere poker house, Texas Card House, was founded in 2015 and has since grown to include a YouTube channel with over 30,000 subscribers, a wide range of gameplay and regular visits from big-name poker gurus like Brad Owen and Doug Pope.
David Lagana, a content creator who has worked in college sports and Hollywood, was brought into the scene in May as the house's live streams began to blow up. He said the live streaming battleground is only beginning.
"The space is ever-growing," Lagana said. "It's been interesting to try and find a lane that everybody can succeed. It's all about finding something that people want to watch on a nightly basis."
Carolyn Hapgood, who has worked for Texas Card House for three years, has made a name for herself as a live stream producer, dealer and player herself with the company. She's seen Texas Card House grow from a two-room card house to the most well-known poker venue in Austin with another branch in Dallas.
"It was a teeny tiny little house with five tables, and that was the first legal card house in the state," Hapgood said. "And since then it's blown up."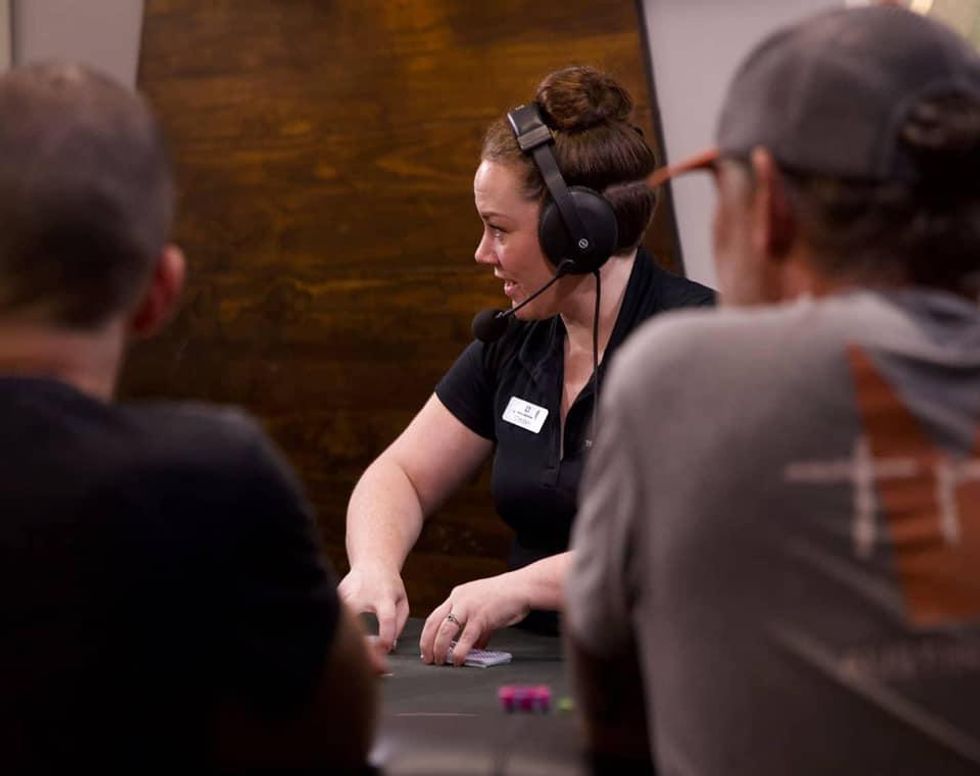 Texas Card House dealer Carolyn Hapgood has been working with Austin's premier poker house since 2018. (Texas Poker House Austin/Facebook)
From $100 pots to buy-ins of $15,000 or more, Texas Card House has it all, especially as in-state players learn more about the game. Hapgood said there isn't really a typical poker player at the house—instead, the poker table forms an "interesting little ecosystem" that includes college students, a 93-year old Vietnam War veteran, online gamblers, old-school players and everyone in between. The diversity at the table has been enhanced even further by COVID as people clamor to return to in-person events.
But Texas Card House no longer holds a "royal flush" in Austin's poker culture. The Lodge, based in Round Rock, is now expanding to over 60 tables, the largest in Texas, while Palms Social Club, owned by Texas Card Houses' original owner Sam Von Kennel, brought service staff and a refined atmosphere to the Austin scene.
Hapgood said the base of poker players is very large and continues to grow, forming a community as players form friendships on and off the table.
"My favorite part of the poker community is how much fun we have," Hapgood said. "You sit at a table with eight of your friends, everyone's kind of just having a good time. There's a lot of players who will, you know, call or text each other after they're done playing, and they end up inviting each other barbecues, and going out to dinner with their families and stuff like that... those are my favorite people to hang out with."
Getting involved in the poker scene is as easy as tuning into a live stream, and Lagana hopes to see more outsiders like himself get inspired by poker in the future.
"It's kind of like life," Lagana said. "Life isn't just one hand to play... you're only in control of sort of what's in your hand (and) you can't play the card that you weren't dealt with. So it's really been a fascinating life lesson for me."