Get connected with our daily update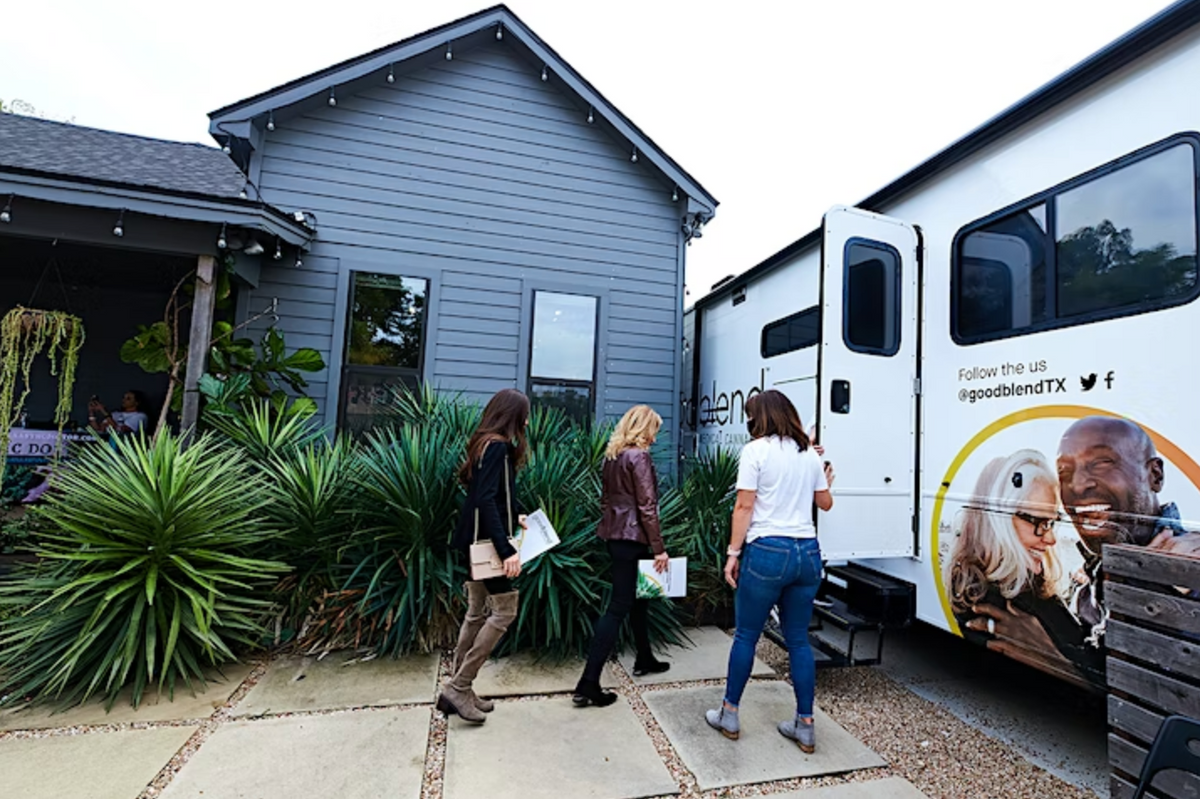 A dispensary on wheels is trekking around Texas to educate residents about the state's medical marijuana program.
Austin-based goodblend has kicked off its Ride For Your Rights tour that will be traveling on a "CannaBus." The 36-foot bus has been retrofitted with a private consultation room and medical cannabis product displays.
As a subsidiary of parent company Parallel and one of just three licensed medical cannabis operators in Texas, goodblend is promoting the tour as a way to destigmatize cannabis, energize advocates and connect with legislators.
"The medical cannabis program will never change unless Texans stand up and make it change," Parallel CEO Reece Fulgham said in a press release. "The 'Ride For Your Rights' CannaBus Tour was designed to educate and galvanize support for expanding access to Texans in need. We hope the support rallied will convince Texas policymakers that there's strong public demand for real, lasting change."
While the CannaBus appears at the University of Texas at Austin tailgates, the tour aims to grow support for expanding Texas' medical marijuana program ahead of the Nov. 8 elections. It will include stops in San Angelo, Abilene, Dallas, Houston and elsewhere and end Oct. 20 in Killeen.
This tour comes after the passage of House Bill 1535 in 2021, which added post-traumatic stress disorder and all forms of cancer to the list of conditions that qualify people for the Texas Compassionate Use Program. Fewer than 30,000 patients are currently registered in it, and goodblend says many are unaware of the benefits it can have to address pain, inflammation, muscle spasms, stress and anxiety and sleeplessness.
"We want to listen, educate, and hopefully change minds about the power of this plant," goodblend said in an Instagram post.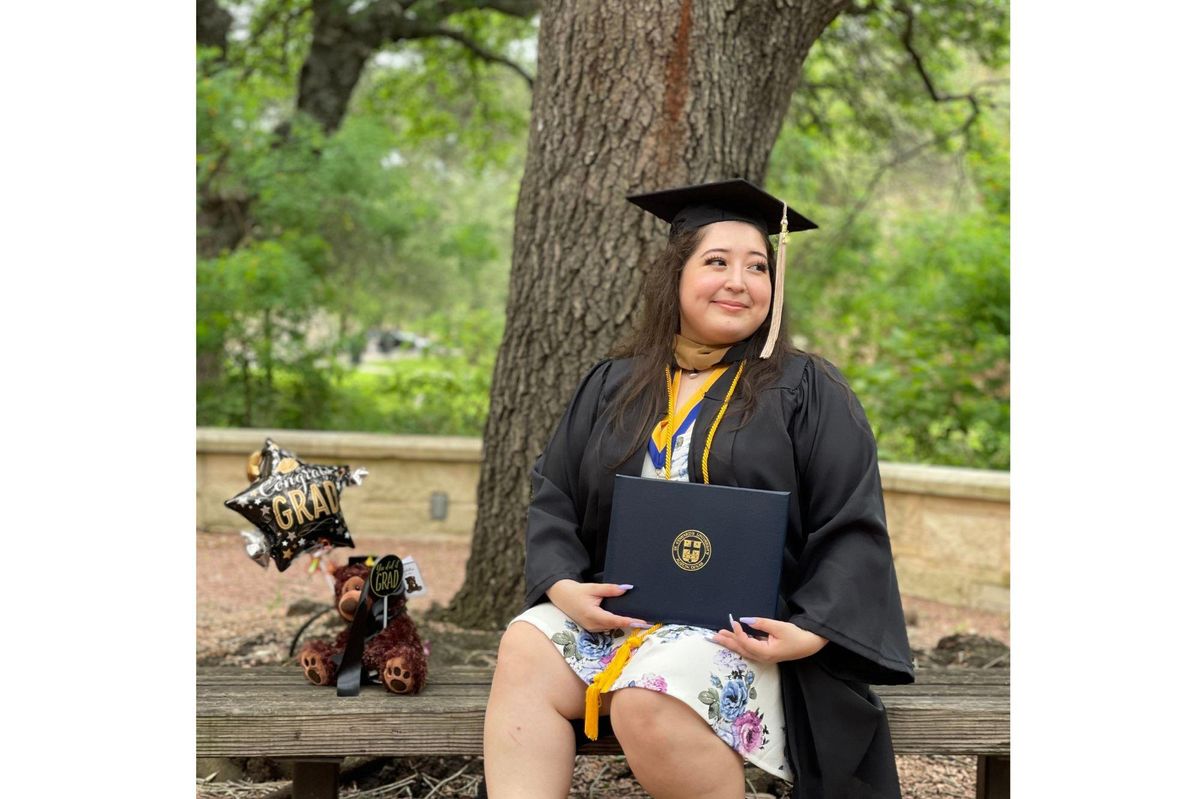 When Caitlin Villalobos learned about the White House's loan forgiveness plan on Wednesday, she said she felt overwhelmed.
"It's not going to be all of it, but it's going to be the majority of it," Villalobos said.
Villalobos was one of the millions of borrowers impacted by the student loan relief plan President Joe Biden announced this week. As a recipient of Pell Grants, which are given to students with exceptional financial need, Villalobos will have $20,000 of debt canceled. Non-Pell Grant borrowers will have $10,000 of their debt forgiven.
She graduated from St. Edward's University in December 2020 with a degree in marketing.
But even with a job, she needed more financial aid to get through college. And going to college was a must, as she was raised by immigrant parents and saw it as the sure path to a successful career.
"The only thing that I knew was, you should go to college right after high school, pursue your four-year degree in order to get a more fulfilling life than the ones that came before you," Villalobos said.
This reasoning has drawn people to college even as housing and tuition costs have soared for students across the country, including those in Austin.
Texas State Rep. Jon Rosenthal, who attended the University of Texas at Austin in the 80s, took to Twitter on Thursday to note today's cost of attendance.
For a full-time undergraduate student, it ranges from $29,406 to $32,346 for the fall and spring semesters. At the same time, the federal minimum wage remains unchanged from its last increase in 2009 to $7.25 an hour, Rosenthal noted.
\u201cEasing the burden of predatory student loans is important, but we MUST address the root causes of the issue if we really want to solve the problem: sky high tuitions for public colleges and universities and interest on student loans!\u201d

— Jon Rosenthal (@Jon Rosenthal) 1661434022
Enticed by the chance for upward mobility, the federal student loan debt has reached $1.6 trillion for more than 45 million borrowers. The forgiveness plan is targeted at low and middle-income borrowers, Biden says. Borrowers are eligible for relief if their income is less than $125,000 and nearly 90% of the relief dollars are expected to go to those earning less than $75,000 a year.
Of those borrowers, the forgiveness plan is poised to especially offer relief for women, who hold two-thirds of student loan debt, and women of color who have higher balances than white women.
But the move hasn't been without controversy. Sen. John Cornyn told graduates to "keep your commitments," mentioning the life lesson that is paying back your loan. Others cited worries of inflation.
Still, roughly 20 million people will have the remaining balance down to zero. And for Texans who won't have their balance entirely slashed, people in the state owe less per borrower compared to other parts of the country, owing $32,920 on average.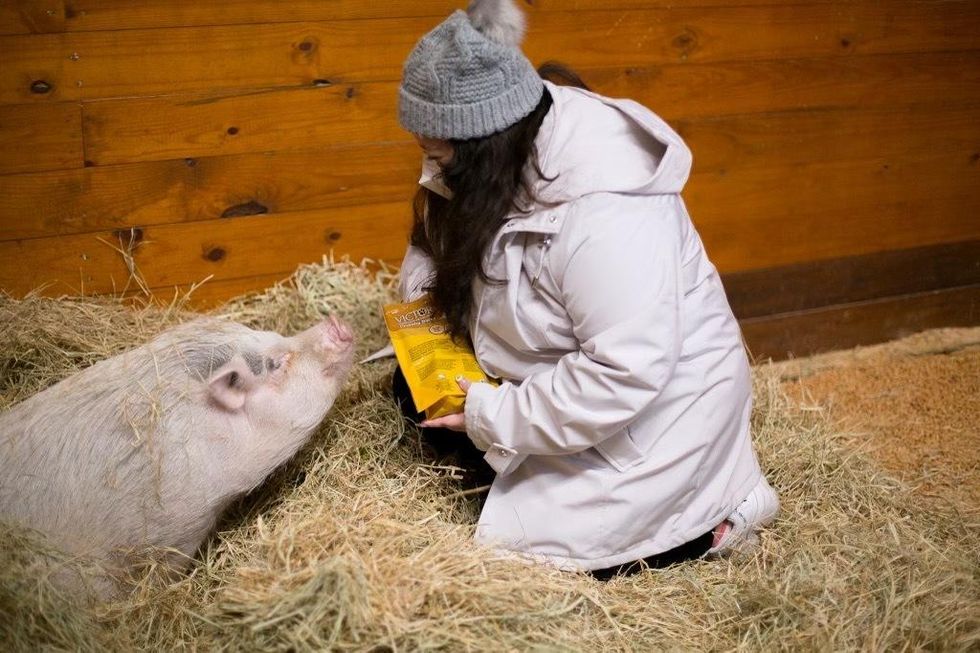 So borrowers like Villalobos are making plans for the future. She says the debt relief could allow her to pay off the rest of her balance soon.
Currently, her work involves capturing moments with dogs, cats and other animals for the Houston SPCA.
"Now I work in the field that I studied in and it's fun, and I like it," Villalobos said. "I mean, just today, I was taking photos and videos of puppies."
It's a job she ultimately got the opportunity to do because of her degree, she says.
Austin Mayor Steve Adler was full of thanks and pride on Thursday during the State of the City address, in which he boasted Austin's growth and success.
Recognizing this was his final State of the City, Adler took a look back at the last eight years he's been in office. He acknowledged much has still to be realized of the work done in his term, but there is still more to come. "The state of our city is one we should be proud of," Adler said.
Here are a few of the highlights he mentioned:
Mobility: The city is moving forward with its public transit overhaul Project Connect, in which a third of the cost has been raised, he said. Austin-Bergstrom International Airport has a plan to double, in which $400 million is already being used. I-35 is undergoing a makeover to sink and cap the main lanes. By 2025, Austin will have completed one of the biggest bicycle networks in the nation, he said.
Commitment to social equity and justice: $300 million has been committed to mitigating displacement in the Project Connect plan. The city's investment in public health has been doubled, he said. The city is piloting guaranteed income to keep families in their home. Marijuana has been decriminalized. Police training has been improved to include training around anti-racism and mental health. Austin has also committed to decriminalizing abortion within city limits.
Homelessness and housing: The continuing HEAL initiative has moved hundreds off the streets. 80% of the $515 million needed to fund the finding home ATX project has been raised. The commitment to affordable housing has quadrupled since 2014, he said. And Austin built more housing than any other city in the country last year.
Adler served as mayor for two terms. The mayoral election is in November. He did not file a petition for a third term. His successor will take office in January.

"While there's more work that I still need to get done, in January, I will leave this office with a glad heart," Adler said. "I believe that today's Austin is a little more just and a little bit more prepared."