Get connected with our daily update
People living in counties that voted heavily for Donald Trump in the last election have been more likely to die from COVID-19 in recent months than those in counties that voted in favor of President Biden, according to a new NPR analysis. In Travis County, where just 27% voted for Trump, the death rate has been 36 deaths per 100,000 since the spring.
Looking at roughly 3,000 counties across the country since May—when vaccines became widely available—the analysis found that those in counties where 60% or higher voted for Trump in 2020 had 2.7 times the death rates as those that went for Biden.
The data shows that counties with a higher vote share for Trump see lower vaccination rates. In Travis County, 75% of the population 18 and older is vaccinated. South of Austin, in nearby Caldwell County, the death rate is 126 per 100,000—54% of voters in that county went for Trump and 58% of their adult population is vaccinated.
Public health and government officials have been stressing the importance of vaccinations and booster shots ahead of the winter season when more gather indoors, a factor that increases the risk of infection. Officials are also talking about how crucial vaccines are in light of the omicron variant being detected in at least 12 states.
Your daily reminder to get your booster if your last shot was at least six months ago. Booster shots are recommended for everyone 18 years and older. We can stay a step ahead of the variants.https://twitter.com/CDCgov/status/1466120455643877385\u00a0\u2026

— Mayor Adler | Get vaccinated! (@Mayor Adler | Get vaccinated!) 1638386848
As concerns over the vaccine's safety and efficiency were seen in certain demographics—Black Americans, younger Americans and people in rural areas—early on in the pandemic, that has since shifted. These groups have seen rates rise.
Among Republicans, polling shows there's high exposure to misinformation on COVID-19 and vaccines. This now makes it the largest group of unvaccinated individuals in the U.S., more than any other single demographic group. Republican vaccination against COVID-19 sits at 59% compared to 91% of Democrats.
Liz Hamel, vice president of public opinion and survey research at the Kaiser Family Foundation, told NPR belief in multiple false statements highly correlates with vaccination status and that political affiliation is now the strongest indicator of whether someone is vaccinated.
"If I wanted to guess if somebody was vaccinated or not and I could only know one thing about them, I would probably ask what their party affiliation is," Hamel said.

Several hundred Austinites gathered in Republic Square Park on Saturday evening as gubernatorial candidate Beto O'Rourke stopped in Austin on his campaign trail.
The popular Democrat announced a run for governor on Nov. 15 and has since visited San Antonio, the Rio Grande Valley and other Texas cities before stopping in what could be his future home if he wins the November 2022 election.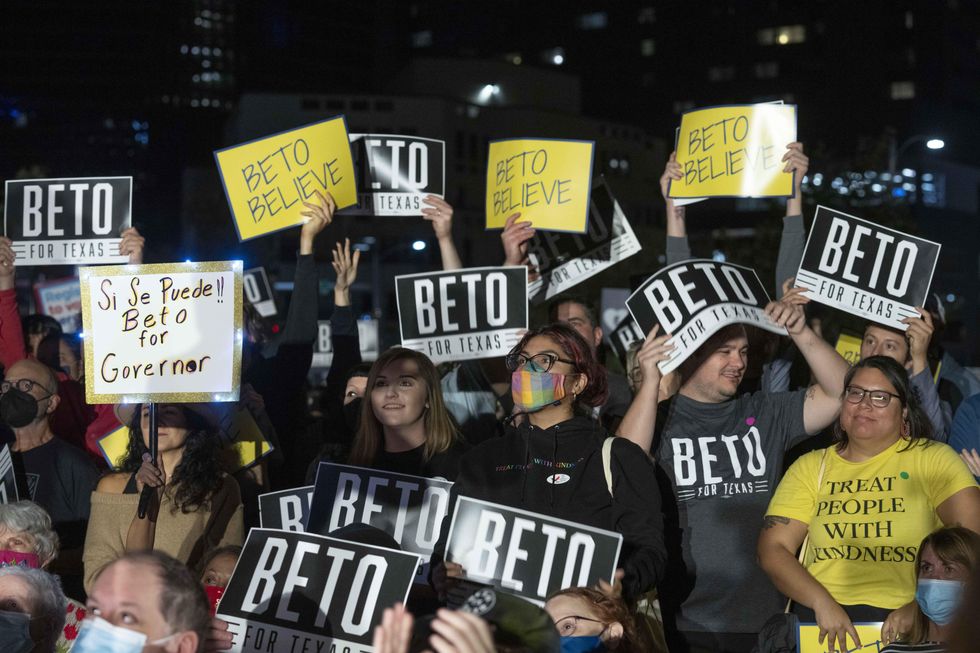 As a blue city, Austinites showed great support for O'Rourke as he said he would repeal the most recent conservative laws, including abortion restrictions and permitless carry. He also took a jab at Abbott's handling of last February's freeze that affected thousands of Texans.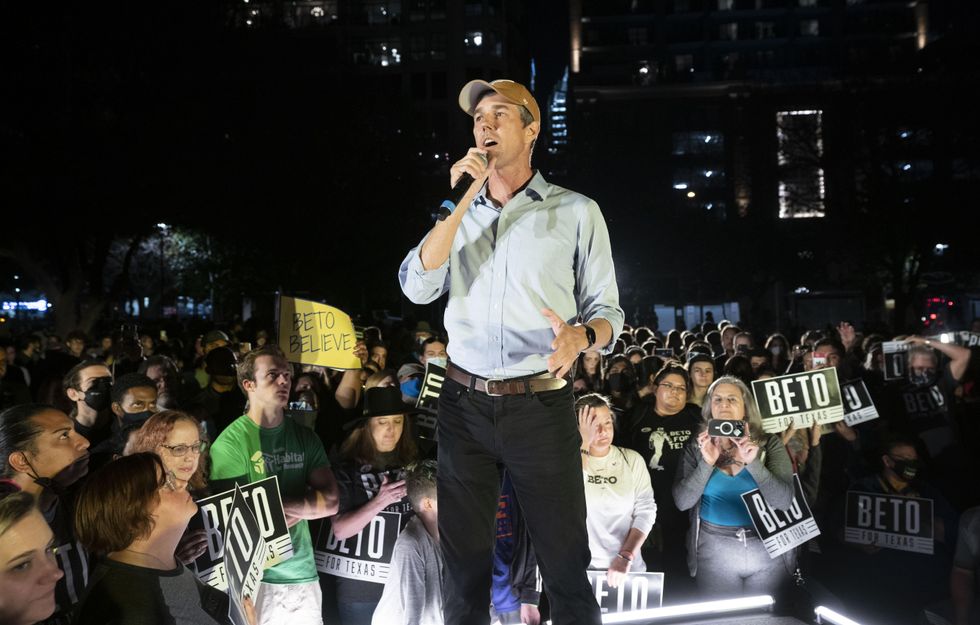 O'Rourke, a former three-term Democratic congressman from El Paso, gained steam as a political figure back in 2018 when he narrowly lost a race for U.S. Senate against Sen. Ted Cruz; he also ran in the 2020 Democratic presidential nomination before pulling out.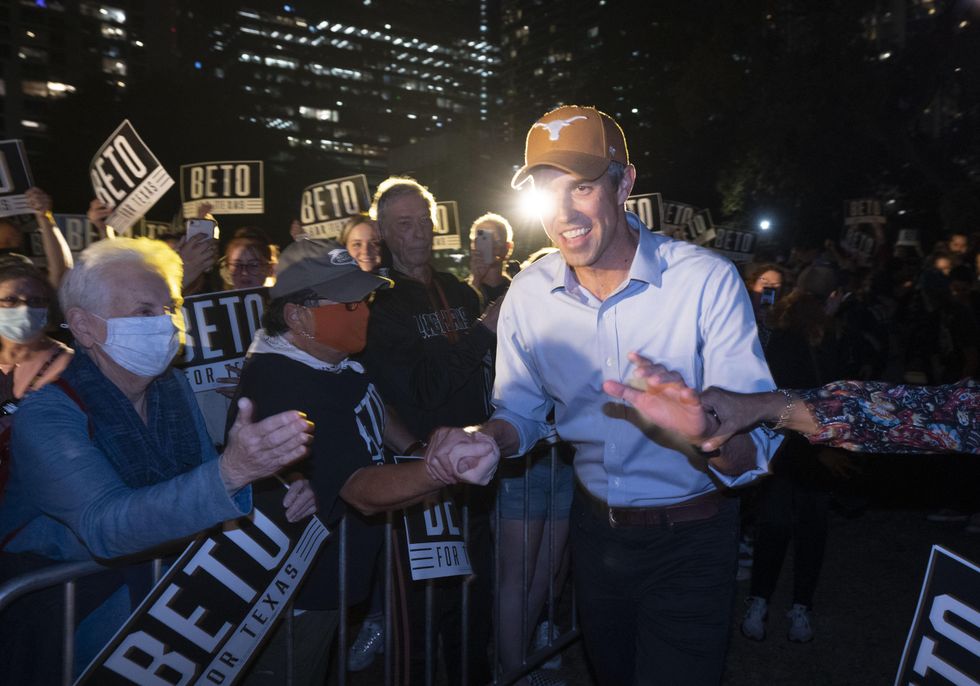 The candidate mentioned how when he ran for Senate, Texas saw the highest voter turnout in a midterm election and encouraged the crowd to get people to vote in the upcoming elections.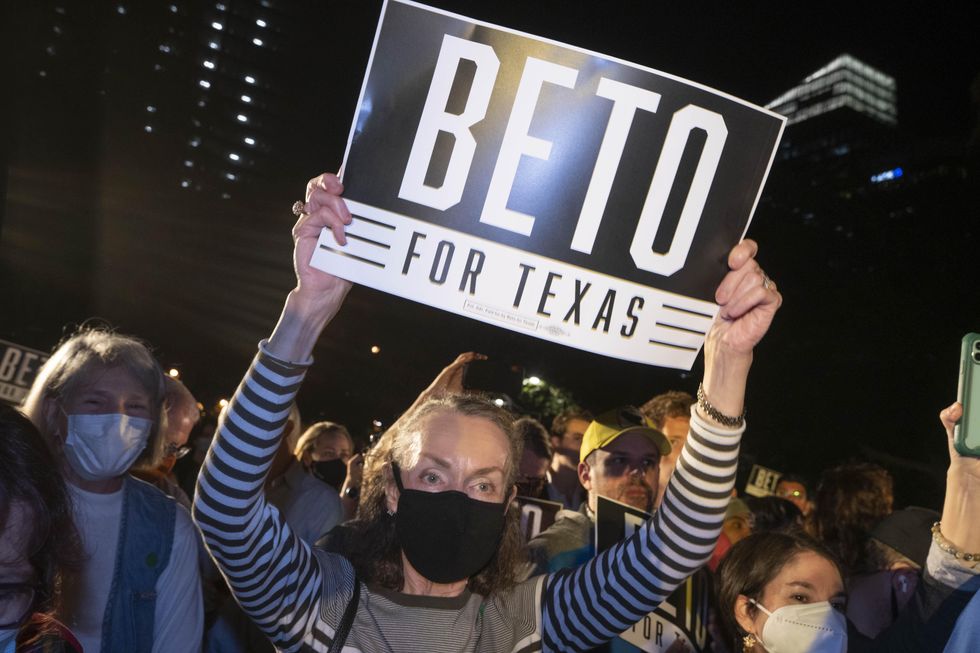 A supporter holds a sign in the front row at the rally.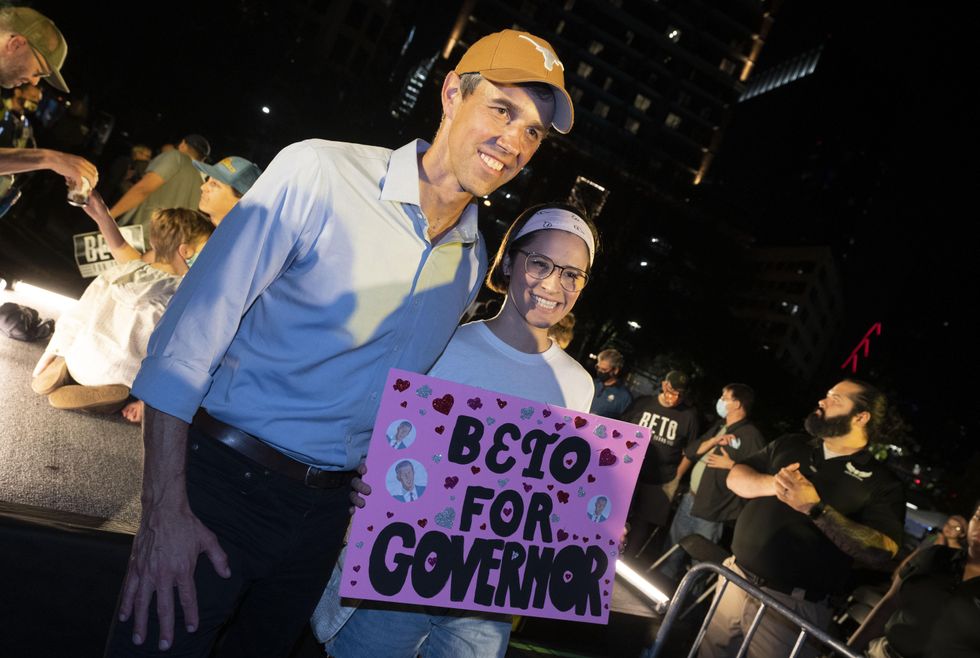 O'Rourke poses with a young fan as many take pictures with him.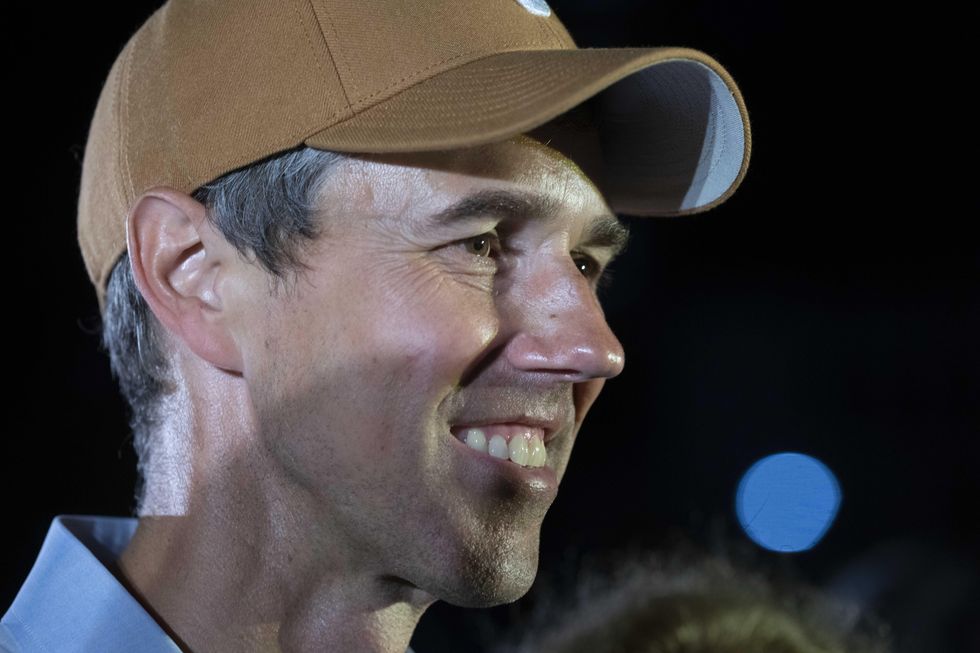 O'Rourke is up against Democrats Deirdre Gilbert and Michael Cooper in the primaries in March 2022 and if he wins, he could go up against Abbott in November; other Republicans running include Allen West, Don Huffines and Chad Prather.
In the latest University of Texas and Texas Tribune poll, 37% of respondents said they would vote for O'Rourke and 46% said they would vote for Abbott.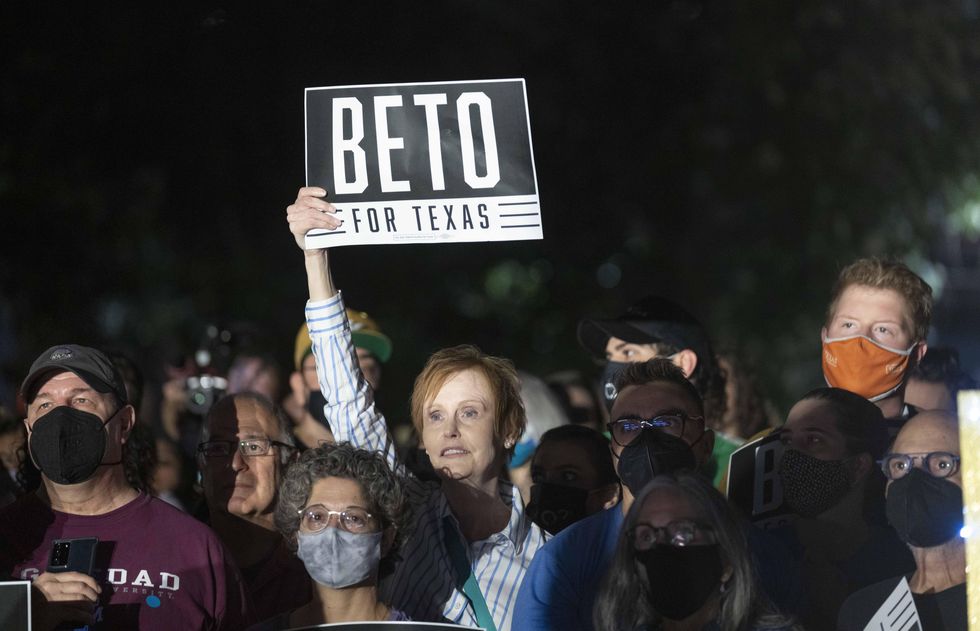 Next on his campaign trail, O'Rourke will stop in Sugar Land, Galveston, and Beaumont.
Several new laws from the Texas Legislature's second special session will take effect Thursday, spanning controversial topics like voting rights, critical race theory and continued abortion restriction.
Though they take effect today, many of the bills have uncertain futures as they face opposition in the courts. Here are the seven bills to know about.
Voting restrictions: The highly-contested Senate Bill 1 will ban 24-hour voting, drive-thru voting, mail-in ballot ID requirements, protections for poll watchers and limits on polling places for the disabled or non-English speakers. The bill has been hit with six lawsuits—five from more than 20 civil rights organizations and one from the U.S. Department of Justice. Since law will stand trial in July, March 1 primaries will definitely be affected by SB 1.
Social site suits: House Bill 20 would allow social media users and the state attorney general to sue Twitter, Facebook or Youtube if their opinions are blocked or removed. The bill comes after complaints that conservative viewpoints were being censored surfaced around the Jan. 6 U.S. Capitol riot. Though it was set to go into effect today, the bill was blocked by federal Judge Robert Pitman on Wednesday because it "prohibits virtually all content moderation," according to the filing. Companies contesting the bill, NetChoice and the Computer and Communications Industry Association, said they were not surprised about the outcome because the government "can't force a citizen or company to be associated with a viewpoint they disapprove of."
Critical race theory: Controversial SB 3 will bar teaching critical race theory, which teaches how racism shaped America through history, and mandate that racial topics be "free from political bias" in all grades. Though the theory is not part of official public school curricula, proponents argued that teaching the theory would foster a racial divide and alienate white students while opponents argued the law will whitewash history.
Abortion pills pulled: SB 4 limits the availability of abortion pills from under 10 weeks pregnant to seven weeks and prohibits that the medication be sent via mail or delivery. Once the law goes into effect, it will be a state felony for a doctor to prescribe the drug without an in-person exam prior.
Can't do the time? Don't do the crime: SB 6 prohibits judges from allowing violent offenders and felons to have no-cash bail. Certain sections of the bill, including limits on charity organizations that post bail and a newly-created system to report a defendant's criminal history, won't go into effect until January.
Violence safety training in schools: SB 9 requires that schools teach trainings on child abuse, family violence, dating violence and sex trafficking at least once in middle school and once in high school. The law requires that children receive parental permission to attend.
An unnecessary precaution:
SB 13 would have delayed the Texas primaries in the event that more time was needed for redistricting for 2020 census changes. The maps were approved in the third special session, so primaries will remain on March 1.
It's official, jack-of-all-trades Matthew McConaughey is staying out of politics and not running for Texas governor.
In a video posted to social media on Sunday, the Academy award-winning actor set the record straight that he would not be running for governor after greatly considering so by listening and learning about Texas and U.S. politics.
"As a simple kid born in Uvalde, Texas, it never occurred to me that I would one day be considered for political leadership. It's an inspiring and humbling path to ponder," McConaughey said. "It is also a path I am choosing not to take at this moment."
Instead, McConaughey says he will continue to invest in entrepreneurs, businesses and foundations he believes are supporting people in different ways.
The announcement puts an end to the months of speculation that he could announce a bid for governor. While he's previously called politics a "bag of rats" and little indicated he was mulling a run as the Dec. 13 deadline to file was approaching, he still fared well among some voters.
The latest poll by the University of Texas and Dallas Morning News showed he would beat Gov. Greg Abbott by eight percentage points in a head-to-head matchup and would fare even better alone against former congressman Beto O'Rourke, with nearly 50% of respondents choosing McConaughey.
The primaries for the election will take place in March before the November 2022 election for governor. So far, O'Rourke is running as a Democrat against Michael Cooper, president of the Beaumont NAACP, and Deirdre Gilbert, an educator from the Houston area. On the other side, Gov. Greg Abbott is up against conservative commentator Chad Prather and former Texas GOP Chairman Allen West.