Get connected with our daily update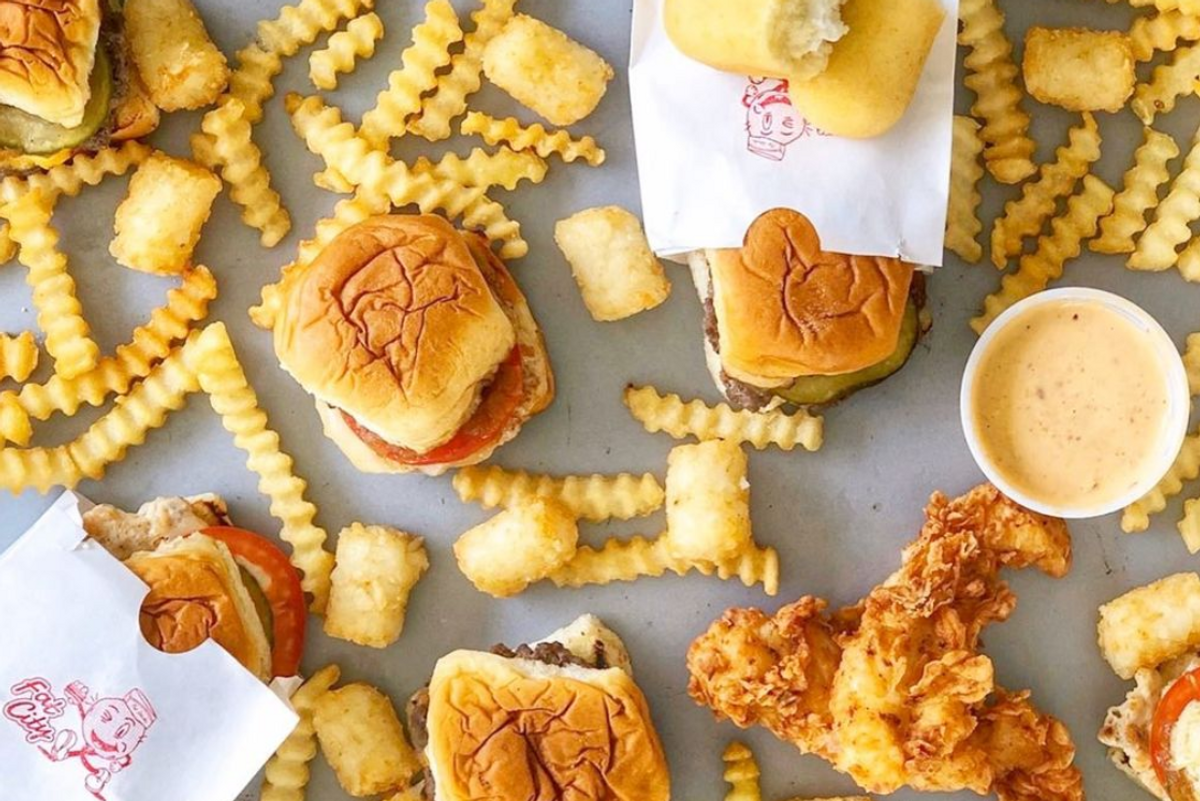 Austin's food scene is like a phoenix rising from the ashes as restaurants expand and grow after a grueling year in the service industry.
From pop-ups going permanent to local expansions, here are some developments in Austin food.
---
Fat City Stacks opening permanently at Yard Bar
Born from the need to adapt to the hardship COVID-19 imposed on the restaurant industry, Fat City Stacks comes from the same minds behind Asian-Southern fusion restaurants the Peached Tortilla and Bar Peached. Originally a pop-up restaurant, Fat City Stacks is putting down permanent roots at Yard Bar, a dog-loving cocktail bar, selling chicken and beef sliders or "stacks," plus golden crinkle-cut fries and tater tots that pair with the restaurant's numerous craft sauces. The move is mutually beneficial—Fat City is currently in the process of renovating Yard Bar's patio, located at 6700 Burnett Road, adding a play area for kids and revamping the putt-putt holes. According to its website, Fat City will open in person around "June...ish" but presently offers delivery.
Tso Chinese Delivery x Bom Bakeshop
In honor of Asian American and Pacific Islander Heritage Month, ghost kitchen Tso Chinese Delivery, which has made a name for itself by offering no-tip free delivery service, is pairing up with local bakery pop-up Bom Bakeshop to celebrate Asian cuisine. The bakeshop, known for bringing Austin its first mochi donuts, created a new Mandarin Orange donut flavor that will only be available for the rest of the month and will raise money for #tsogiving, Tso's charity to help end hunger in the city. The fruity donut comes in a two-pack, along with a chocolate sprinkle mochi donut, for $9 with $2 donated for every order.
Mooby's pop-up
Though it's only available for a very limited time, Mooby's, the fake fast-food chain featured in Kevin Smith movies like "Dogma" and "Clerks II," has transcended the silver screen and can be enjoyed at 3TEN ACL Live, located at 310 Willie Nelson Blvd, through Saturday. With the signature golden calf mascot watching over you, you'll find classic and vegan fast-food items like the "Cow Tipper" burger, "Cock Smoker Chicken Sandwich," "Hater Tots," and "Onion Rings to Rule Them All." You'll also get to enjoy an immersive, retro-themed environment to chow down in and relive the classic 1990's movies. You can make reservations here.
Simply Pho House relocation
Moving from its former Bee Cave location to the Hill Country Galleria at 12913 Galleria Circle, Simply Pho House is relocating and making room for a menu upgrade that will include a weekend Dim Sum brunch. The Vietnamese, Chinese and Thai fusion restaurant has been serving Austinites since 2014 and will take over the former spot of Pei Wei. If you're not hungry for some Pho or Pad Thai, the restaurant also has an extensive boba tea menu!
New Valentina's Tex Mex BBQ brick-and-mortar
Moving a little outside Austin, official Austin FC vendor and Austin's beloved blend of Tex Mex barbecue, Valentina's Tex Mex BBQ, is gearing up to head south and set up a brick-and-mortar location in Buda. Currently operating as a food truck on 11500 Menchaca Road, the restaurant is moving to the Buda Mill & Grain Co. shopping center at 306 S. Main Street "within the next year or so," so there's still plenty of time to enjoy the truck. Valentina's will only be a 15-minute drive South, so they aren't going far, and you'll still be able to get your fix at Q2 Stadium!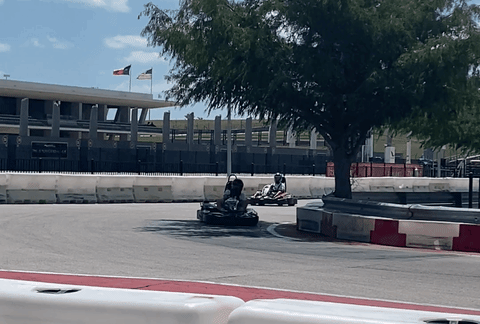 Few of us will ever feel the thrill of whipping through Circuit of the America's 23-turn track at the 220+ mile per hour speeds of Formula 1 racers. But thrill-seekers still rev their engines at COTA thanks to its go-kart track and ziplining service.
Here's what to expect when go-karting at COTA firsthand from Austonia's Claire Partain.
1. Go for the package deal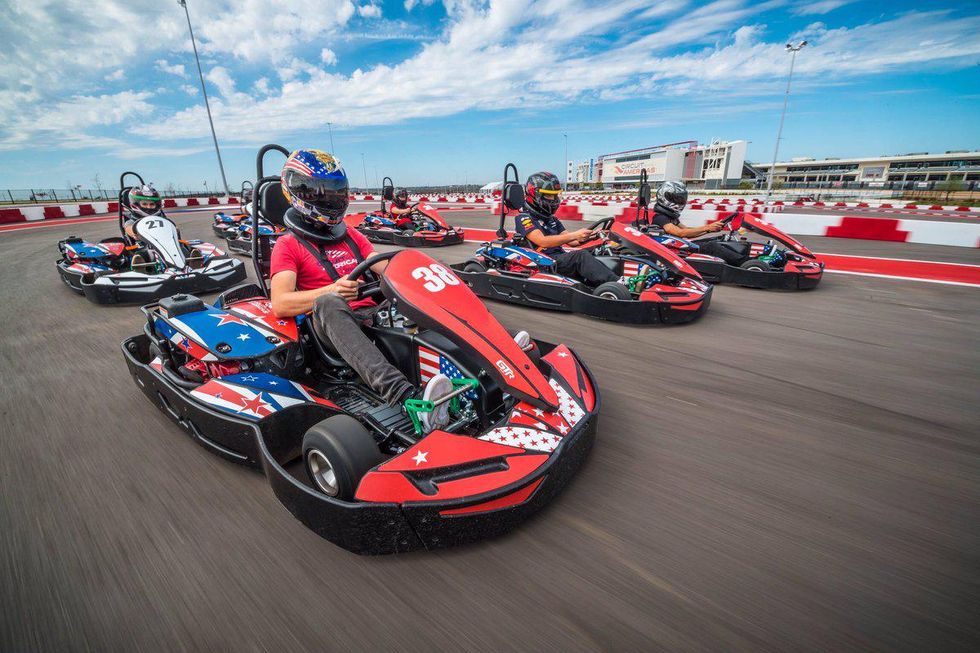 (COTA Karting/Twitter)
Schedule ahead of time online. A 10-minute race at COTA's karting track is $35, and tacking on a ride on the zipline is just $5 more. Go big or go home.
2. Get your gear on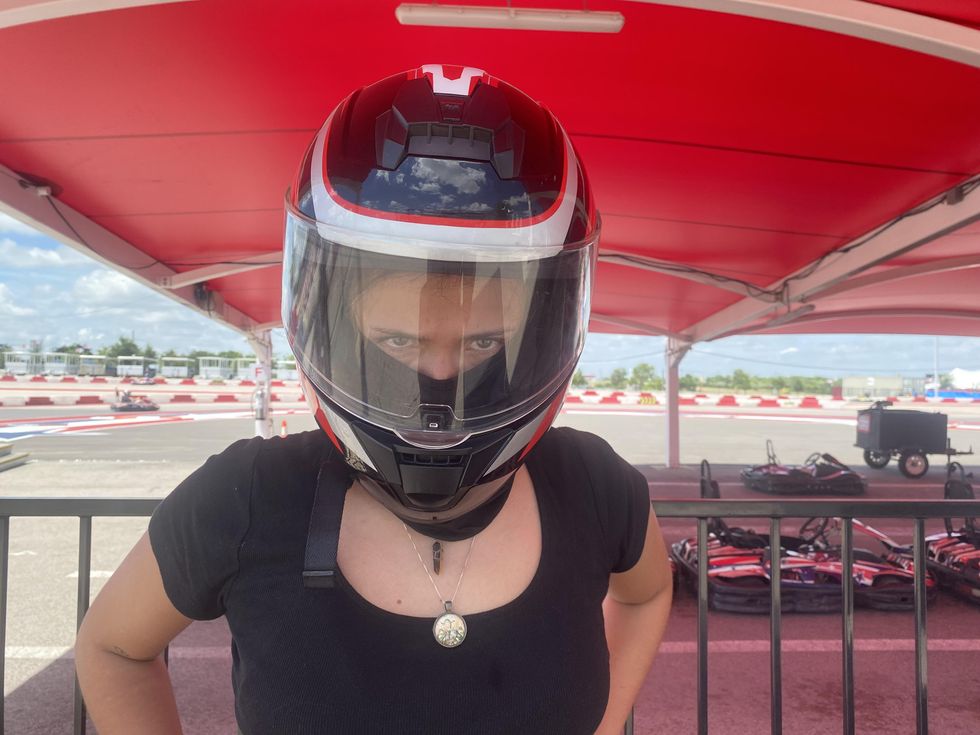 Go-karting gear includes a head sock and helmet. (Laura Figi/Austonia)
The track is located just off the COTA Boulevard entrance near the main course. Get to the track before your race is scheduled to start so you can watch the training video and try on a helmet and a head sock, which functions like a ski mask and goes on under your helmet. It's somehow even less cool-looking than it sounds.
3. To the track
Head to the track! Attendees will pick out a kart for you and make sure you're all strapped in. The first round is a slower round, but people start slamming on the gas pretty much immediately.
4. On the track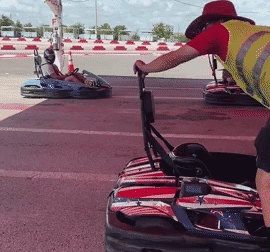 Track time! (Laura Figi/Austonia)
These go-karts go up to 55 mph, and some turns (including the traffic-inducing second-to-last curve) were kind of tough to navigate. Other than avoiding barriers, the most unexpected obstacle I had was avoiding other go-karters who had crashed. Passing people is exhilarating, but don't be the annoying driver who passes people on a hairpin curve either.
When crashes happen, all of the karts are programmed to sputter and slow down, so don't panic like I did and ask why your kart has stopped going fast. Move to the side and wave your hand to get help if your go-kart malfunctions otherwise.
5. Revel in your victory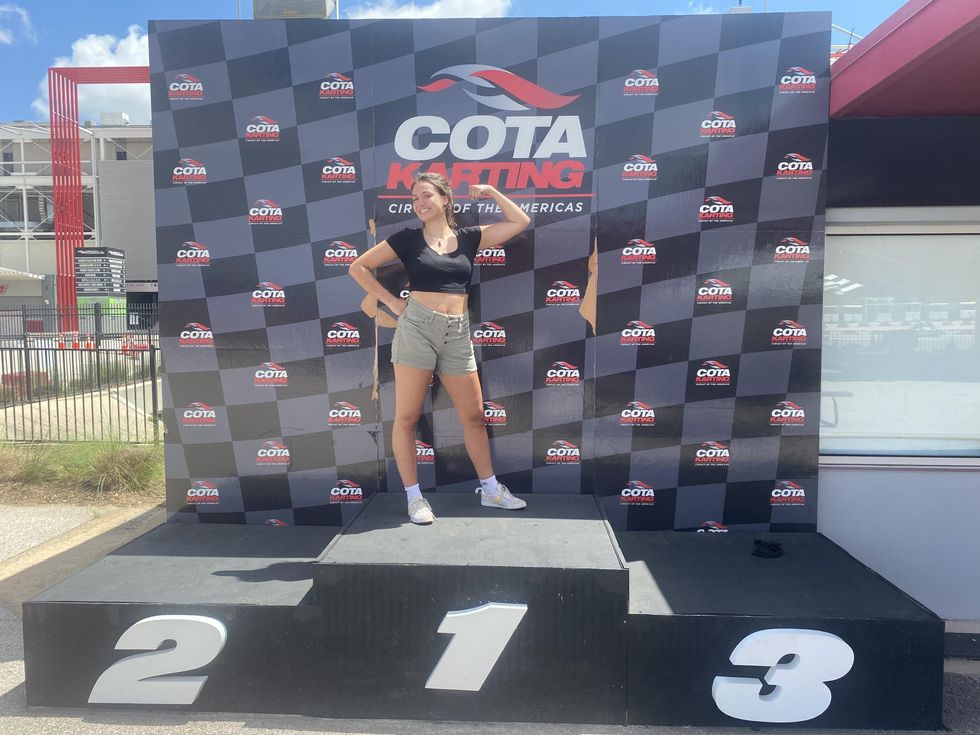 (Laura Figi/Austonia)
Karting is a great way to find out who's the Lewis Hamilton of the family. At the end of the race, COTA will email you your results and give a breakdown of your fastest lap times. There's also a podium for those of us who win the race (I got sixth).
5. The zipline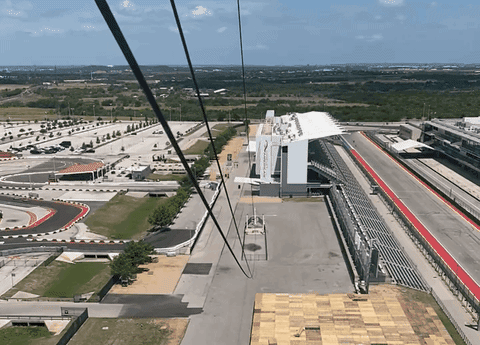 The zipline takes you up above both the COTA and karting track. (Laura Figi/Austonia)
After you've had your taste of adrenaline, get some more at the nearby zipline ride. Unlike traditional ziplines, this route has two seats that take you up and backward before bringing you back down. Grab some quick views of the entire track and hold tightly onto your phone while up top. Other than that, it's a pretty smooth ride.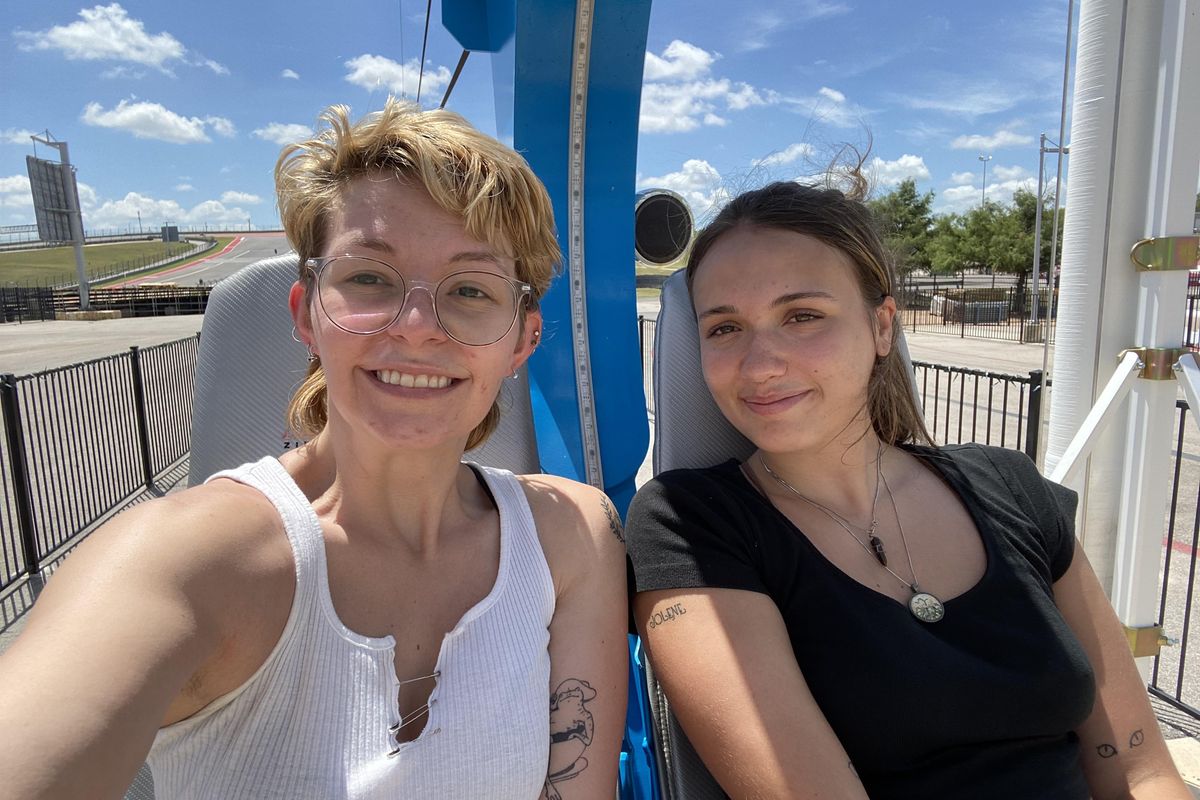 (Laura Figi/Austonia)
Happy karting!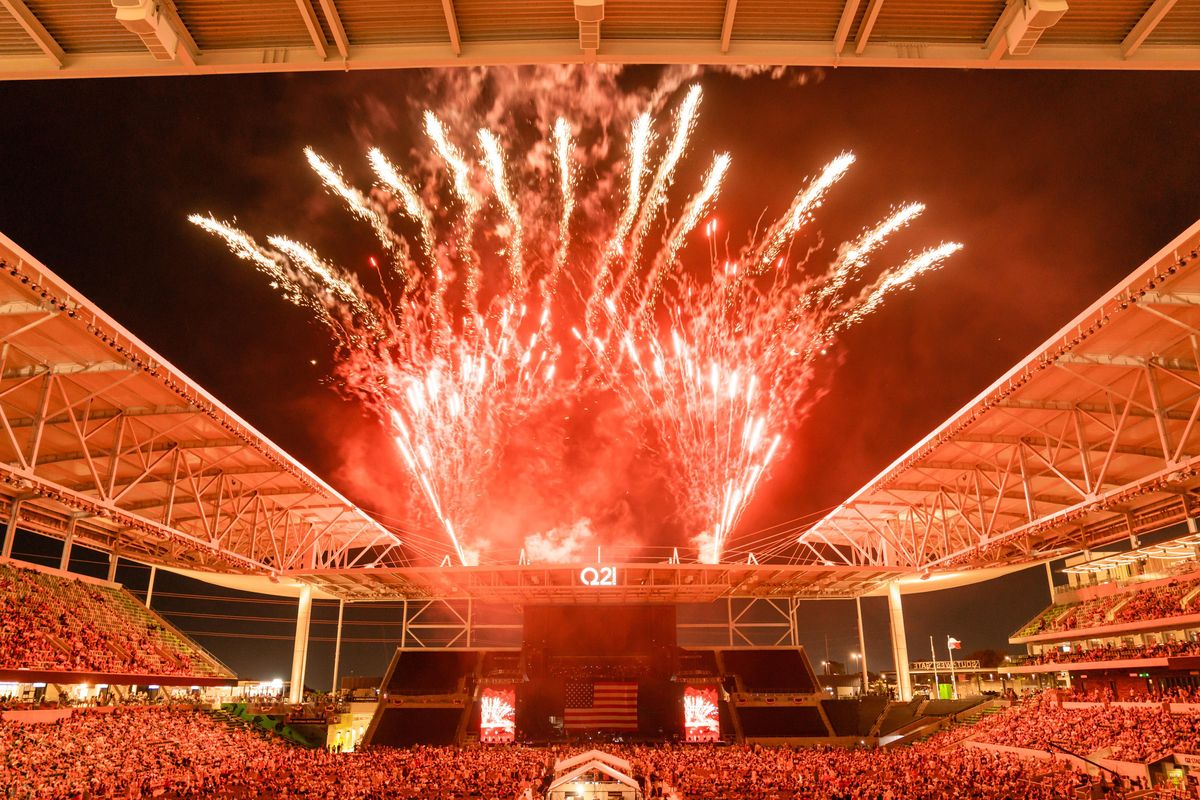 Q2 Stadium swapped its Verde for red, white and blue as country music legend Willie Nelson returned for his first in-person Fourth of July Picnic since 2019 on Monday.
The music fest included fireworks, fun merch and acts from country greats including Charley Crockett, Midland, Brothers Osborne, Allison Russell, Tyler Childers, Jason Isbell and Austin's own Asleep at the Wheel. And while Q2 will have some kinks to straighten before it becomes a concert-hosting regular, Nelson's unifying spirit kept things cool during the 12-hour outdoor event.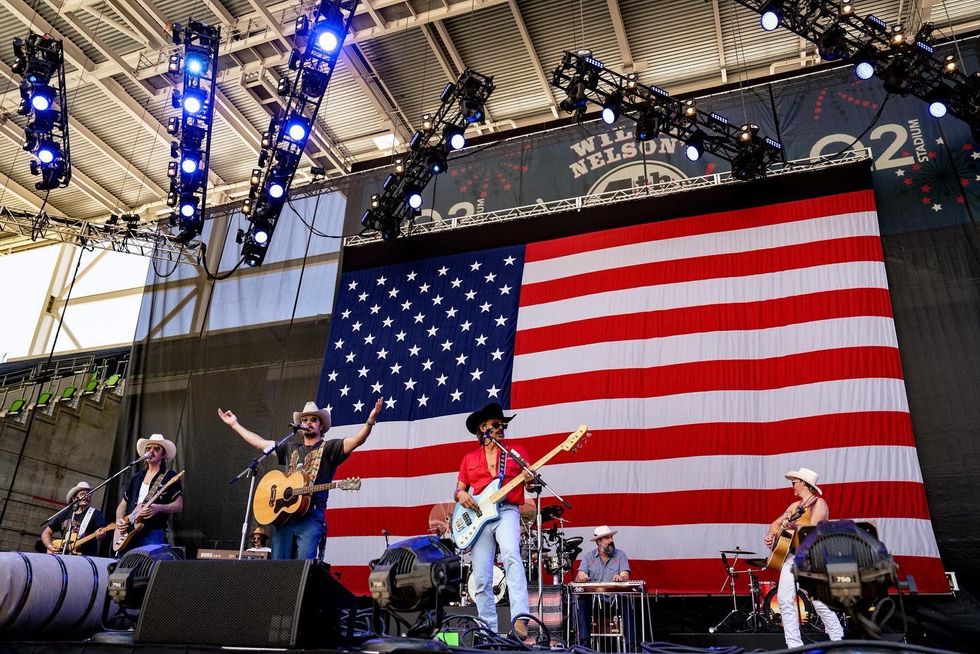 Midland performed at Willie Nelson's Fourth of July Picnic. (Q2 Stadium/Twitter)
Doors opened at 11 a.m., and Asleep at the Wheel was on the stage by 12 p.m.—though as one Reddit post pointed out, there weren't many people there to see them play.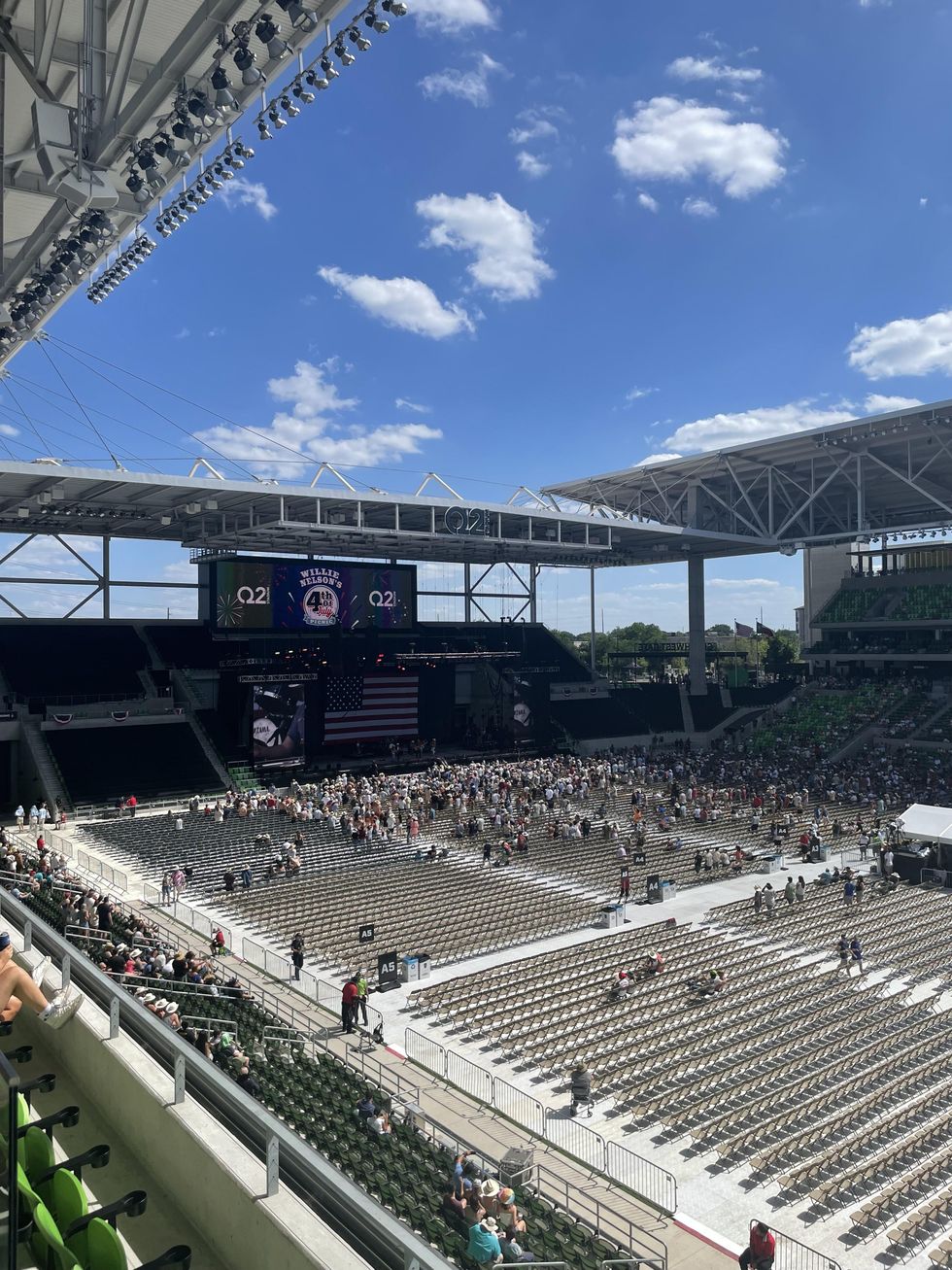 Q2 Stadium stayed sparsely populated for the first half of the day. (Claire Partain/Austonia)
Per Q2 Stadium policy, attendees weren't allowed to re-enter the venue after leaving, so anyone who wanted to watch both an afternoon and Nelson's big performance were stuck at the venue for hours straight. That opened up the perfect opportunity for customers to snatch up snacks, water and beers, which emptied wallets even faster than at Austin FC games. Nothing says "the end is nigh" like $15 beers.
An open-air, 20,500 seat venue, Q2 Stadium sometimes struggled to carry sound clearly, and between-song banter was often limited to an incomprehensible garble. Still, Tyler Childers' commanding growls came through, Alison Russells' multi-instrument ensemble shone and Nelson's strums on his trusty guitar, Trigger, were front and center by the end of the night.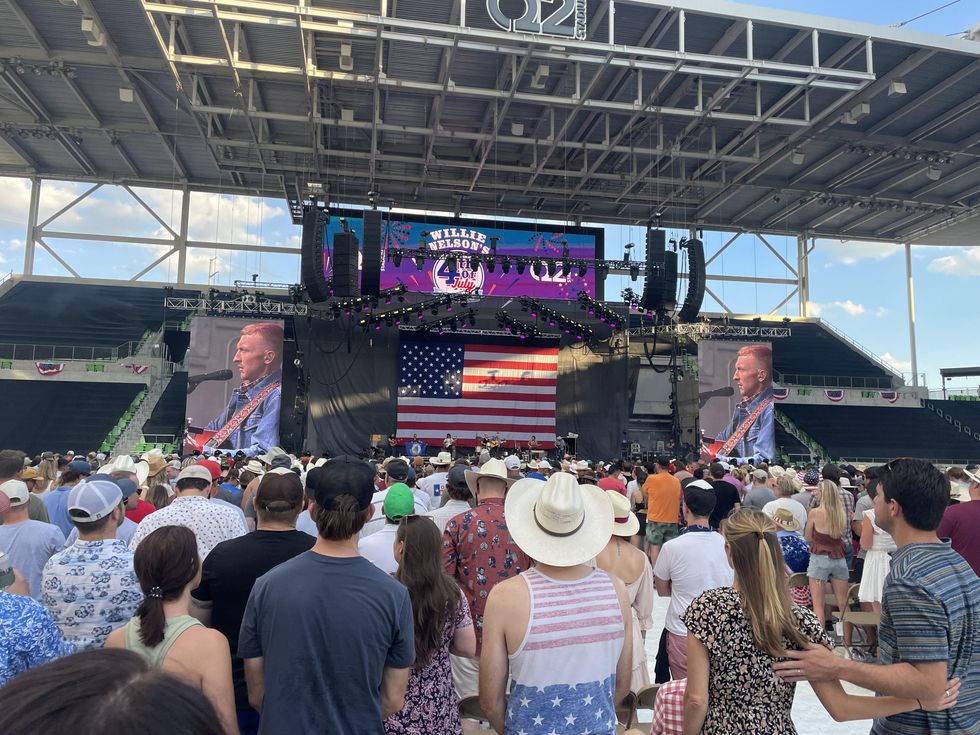 Fans found it hard to look away from Tyler Childers' enrapturing performance. (Jakob Rodriguez)
The July 4th picnic, which was most recently held at Circuit of the Americas from 2015-2019, benefitted from Q2's more central location, and the large venue offered plenty of room for attendees to mull about.
As the sun mercifully dipped below the horizon, the music paused for a 15-minute fireworks show.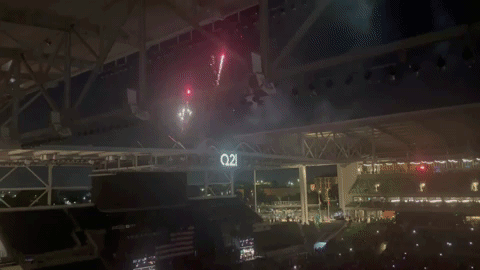 But the July 4th staples weren't the main event. At 89, Nelson didn't disappoint, sitting calmly as he performed alongside his family members and even gubernatorial candidate Beto O'Rourke, who made a surprise appearance midway through the show.
At times wistful, joyful or both, Nelson took the crowd through hits from "On the Road Again" to "Always on My Mind."
And as each favorite was played, all of the heat and stress of the day were encompassed by Nelson's voice, his storytelling and more as Austinites new and old gathered for the decades-old tradition.