Get connected with our daily update
(Christa McWhirter)
Austin is facing not only a second night of widespread power outages but also the prospect of a "total system blackout," city officials said Tuesday.
Electricity generators, frozen or otherwise impacted by the winter storm, are unable to meet the current demand, despite extensive blackouts intended to ease pressure. In an effort to prevent demand from exceeding the available supply, local providers, such as Austin Energy, may need to cut power to additional circuits, including those that carry "critical loads," such as hospitals, fire stations and call centers. So far, those circuits have been spared in Austin.
"I cannot guarantee that we won't get to that stage," Austin Energy General Manager Jackie Sargent said during a late afternoon Tuesday press conference. "I am hoping that won't happen, but I don't want to create a false sense of security because there is a potential that the entire grid will go down."
---
The reason for shutting down power to critical loads would be to avoid overwhelming the state electric grid. "If the grid were to collapse … that would not take days to restore power but even weeks," Sargent said.
Local officials answered other pressing questions, including how long this situation might last, whether the water supply will be impacted and what residents can do to help.
What caused this situation?
The short answer is a historic winter storm that has lingered across Texas and will likely be followed up by a second storm in Central Texas that is forecasted to last until early Thursday morning.
Such extreme cold weather affected the power supply, with the primary impact being to the state's natural gas providers, according to officials at the Electric Reliability Council of Texas, which manages around 90% of the state's electric grid. At the same time, demand for electricity spiked as customers sought to heat their homes and businesses. You can read more about the reasons for the power shortage here.
When this happens, it risks compromising the entire grid. ERCOT directed local providers to cut power to a certain number of customers to prevent the grid from collapsing. Austin Energy intended for these outages to be temporary and short-lived but quickly exhausted its supply of non-critical circuits. As a result, the local utility couldn't rotate the outages without shutting down circuits that included customers such as hospitals and fire stations. This has left nearly 200,000 customers without power for going on two days.
The longer answer has to do with why Texas has its own electric grid (basically, to avoid federal regulations, according to the Texas Tribune). Gov. Greg Abbott announced Tuesday that ERCOT reform will be an emergency item this legislative session.
How long are these outages expected to last?
Austin Energy announced around midday Tuesday that impacted customers should be prepared not to have power through Tuesday night and possibly longer. "Until the weather improves, there will not be enough capacity to meet all customers' demand," Sargent said.
Although temperatures are forecasted to rise slightly—up to the high 30s—over the next two days, there is also a second winter storm warning in effect. Sunshine and milder temperatures aren't expected until the weekend.
What is Austin Energy doing to try to remedy the situation?
Austin Energy crews are working during daylight hours to knock ice off of electric circuits and other devices in an effort to restore service to some customers. "We are so frustrated by this entire situation," Sargent said. "The team is working around the clock to meet the need."
But these interventions do not help customers whose power has been intentionally shut off to lessen pressure on the statewide electric grid.
The utility has also worked with large customers, such as factories, to switch over their operations to backup generators or otherwise curtain their energy use.
Will the city's water supply be affected?
There are no current plans to disrupt water service and no reports of broken system mains, City Manager Spencer Cronk said. But he added: "Our system is strained."
Austin Water says there is no boil-water notice in effect for its customers, although other parts of Texas may be facing such a situation due to the storm. Austin Energy is also working with the local water utility to ensure that its treatment plants remain energized, Sargent said.
Burst water pipes may cause individual customers to lose water access.
Will downtown be lit up again tonight?
We'll see.
Austinites took notice Monday night when many of downtown's skyscrapers were brightly lit, as hundreds of thousands of residents were stuck inside homes without power. Austin Energy issued a statement on Tuesday morning: "The downtown network is excluded for now from load shedding (power outages) during controlled outages mandated by ERCOT," it read in part. "This is a complicated, inter-connected network which includes critical buildings like the Dell Seton Medical Center, warming centers, the COVID-19 Alternate Care Site, Capitol Complex and Austin City Hall, as well as other critical infrastructure and government buildings."
The utility is working with the Downtown Austin Alliance, the Building Operators & Managers Association and other local organizations to encourage their members to conserve energy.
Travis County Judge Andy Brown also issued an order Tuesday requiring manufacturing, industrial and commercial businesses to minimize non-essential operations "to the greatest extent possible" and athletic facilities, stadiums and other businesses not to use exterior lighting "until it is necessary."
What is being done to make the roads less dangerous?
City crews are working "nonstop" to lay down sand on Austin roads, Cronk said. But they likely won't be clear until the weekend, when the cold temperatures subside.
"It is going to get worse tonight," he said, due to a winter storm forecast that includes freezing rain. "Even the work that we've done to date and prepping for this event tonight, it will be really slick in the morning."
Where can people without power go? And how can they get there?
Since Monday morning, the city of Austin has opened up multiple warming centers and expanded their cold-weather shelters, which serve homeless residents, to operate 24 hours a day. Four warming centers are currently open, along with others that have not been named because they are at capacity.
Palmer Events Center, 900 Barton Springs Rd., Austin
Mendez Middle School, 5106 Village Square Dr., Austin
Northeast Early College High School, 7104 Berkman Dr., Austin
Del Valle High School, 5201 Ross Rd., Del Valle
Local officials stressed that the warming centers are intended for the city's most vulnerable residents, such as those who rely on electric medical equipment, because of limited supply. "If you can hunker down in your house, do so and do so safely," Cronk said.
The Austin Police Department and Capital Metro have partnered up to provide rides to the city's warming shelters. Residents in need of transportation should call 3-1-1 for more information. The Austin Disaster Relief Network is also providing rides and can be reached at 512-825-8211.
What about people with medical needs?
Austin Energy has reached out to all of its customers who have registered with the utility as medically vulnerable, Sargent said. "We know where those customers are," she said. "We know if they've been impacted by these outages."
There is a concern about customers who are medically vulnerable but who have not registered as such or who are facing a short-term medical crisis, such as a case of COVID-19. Residents facing a medical emergency should call 911.
I still have power. What can I do to help?
Conserve energy. "If you have power, please try to live almost like you don't," Austin Mayor Steve Adler said. Specifically, residents with power are asked to:
Set the thermostat to 68 degrees or lower
Turn off unneeded lights
Unplug items not in use
Keep blinds open during daylight hours and closed at nighttime
As Austin Energy works to restore circuits, customers can help prevent additional outages by taking such measures. "If all of these energy-consuming devices are plugged in and we energize the circuit, there's a surge," Sargent said. "And that creates problems for us."
This story has been updated to clarify that natural gas providers have been most impacted by the storm.

The Texas French Bread Bakery, located on 2900 Rio Grande Street, has been completely destroyed after a fire erupted on Monday night.
The Austin Fire Department responded to the fire just before 11 p.m., where they arrived to see flames coming from the roof of the bakery. Firefighters fought the fire for about an hour before the roof collapsed.
While no one was injured in the fire, firefighters say the historic building was completely totaled.
AFD determined that the fire was accidental and caused by mechanical failure. AFD said the damages amounted to $1.6 million total: $1.1 million in structural damage and $500,000 in damage to the contents of the bakery.

This year, Texas French Bread will celebrate 40 years of business. Before the bakery occupied the building, it was the Rome Inn, a music venue that hosted 1970s artists like Stevie Ray Vaughan.
Austin's first major league team is ready to extend its reach with a new collaborative sports complex The Pitch, an Austin FC destination packed with local food, beverages and Verde fervor is set to open in Northeast Austin in February.
The Pitch, a collaboration between Austin FC and Karlin Real Estate, among other entities, will be located in the 50-acre Parmer Pond District, which already hosts the club's practice facility St. David's Performance Center.
Dubbed a "true destination" for both soccer fans and the community, The Pitch will consist of multilevel shipping containers designed by Mark Odom Studio that will carve out into a 1,200-seat stadium complete with a soccer pitch made of turf, food and beverage options and a five-acre "Parmer Pond" featuring jogging trails.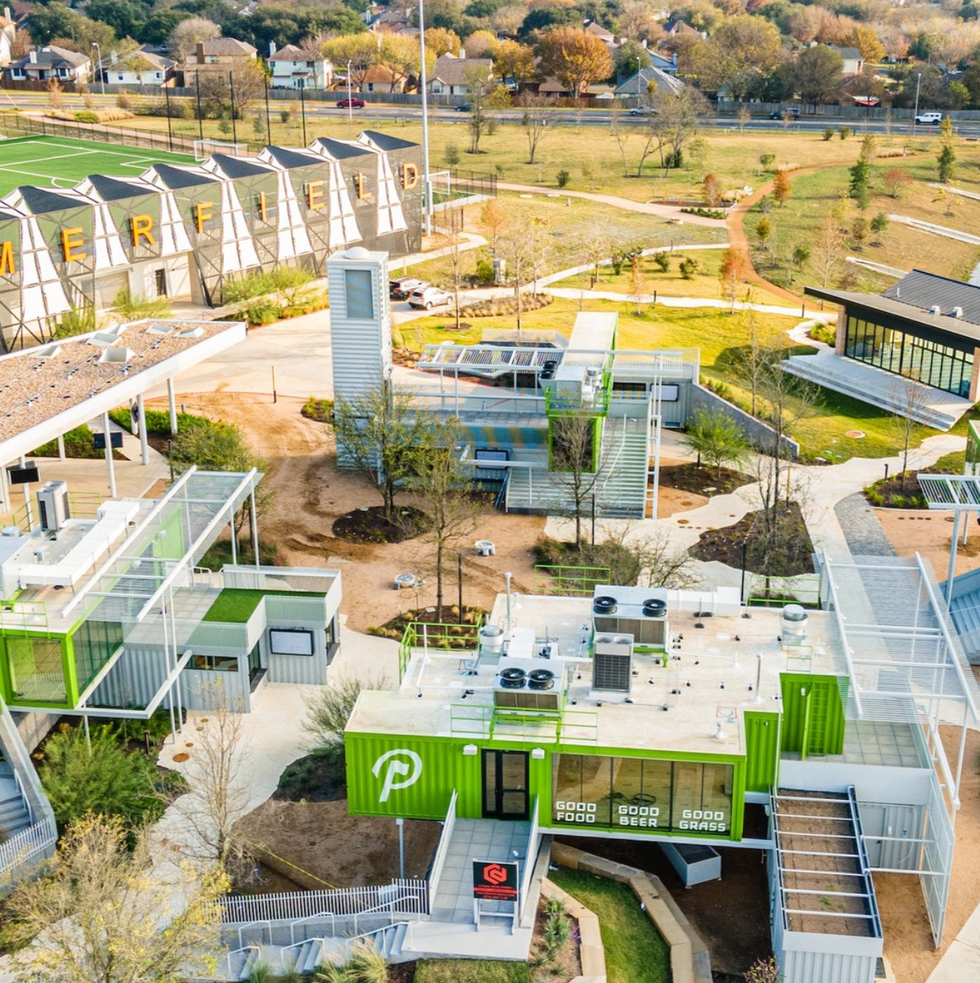 Made from multilevel shipping containers, The Pitch will include food and a 1,200-seat soccer pitch made from artificial turf. (The Pitch)
"The launch of Karlin's new food and entertainment experience will greatly enhance the Parmer development while perfectly complimenting St. David's Performance Center," Austin FC founder Anthony Precourt said. "The Pitch... will offer a strong variety of food options and gathering spaces for guests who will utilize St. David's Performance Center and Parmer Field for a variety of events."
The Pitch project lead Dave Greeley, who helped come up with the concept, is a former president of Austin FC parent company, Two Oak Ventures.
"The vision behind The Pitch at the Parmer Pond District is to be a first-of-its-kind sports, dining and entertainment destination," said Dave Greeley, The Pitch project lead and Team Orbis president. "This will be an unmatched experience for Parmer Austin tenants, Austin FC and club supporters, and the community."
With its proximity to the practice center, the venture hopes to contribute to the growing "soccer city" of Austin during Austin FC matches and youth games with the Austin FC Academy hosted at the St. David's Performance Center.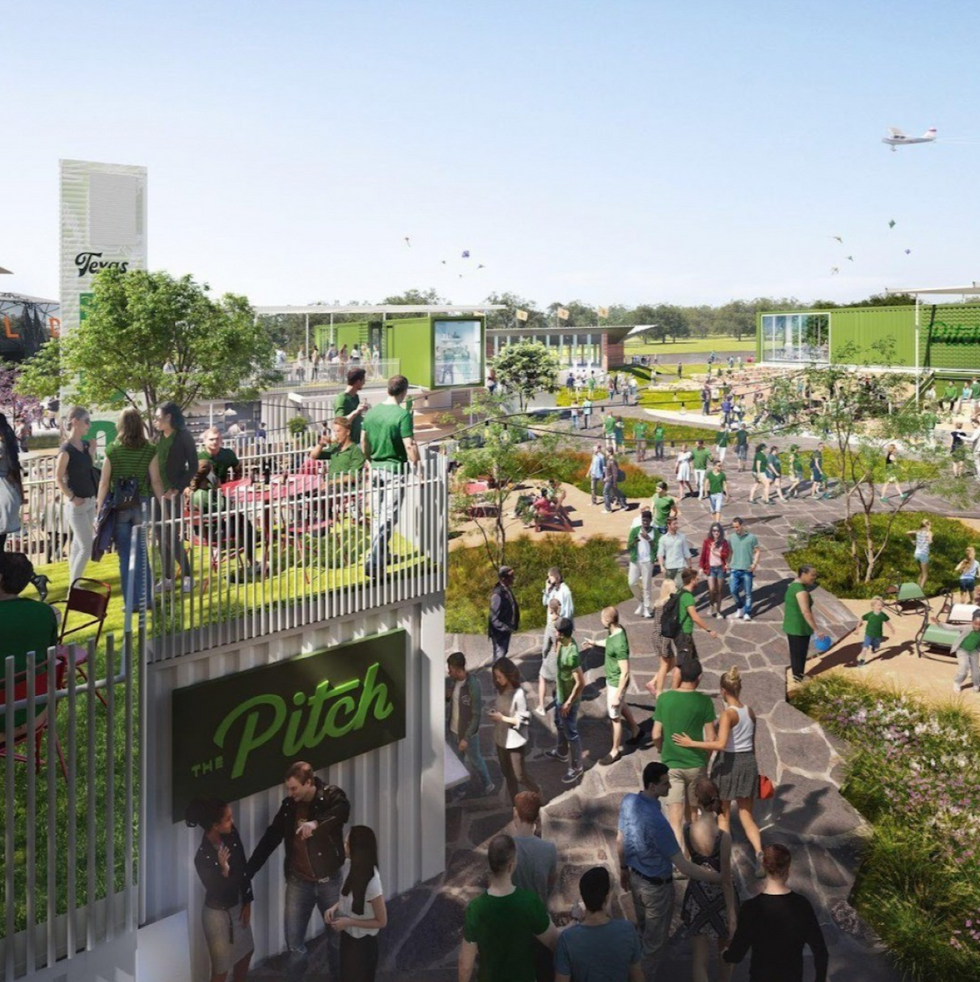 The Pitch hopes to converge both community and club interests with Austin FC. (The Pitch)
In addition to the soccer pitch, stadium and pond, The Pitch will provide a foody experience made by the creative team behind Austin staples like Fareground and Easy Tiger. The complex will offer local bites including:
Ranger Burger, which offers beers and burgers made from highly-coveted Wagyu beef direct from Ranger Cattle in East Austin
Ga Roti, which merges flavors from Northern Vietnam with the culinary techniques of France to create a unique rotisserie chicken joint
Taco Flats, a local taco chain serving Mexico City-style tacos, micheladas and more
Sand Bar, which fulfills its namesake with beauty cocktails, local beers and a sand volleyball court
Coffee Club, a coffee shop and bakery
Corner Kick Bar, the soccer-focused main bar of The Pitch complete with "tunes, TVs and (a) beer garden"
The Pitch will squeeze between St. David's Performance Center and Parmer Pond alongside the southern edge of Parmer Austin, a Karlin Real Estate venture that will eventually include multifamily housing, corporate office space and an aerospace and defense center.