Austonia AM
100% Austin news, info, and entertainment, straight to your inbox at 6 a.m. every morning.
In five minutes, you're fully informed and ready to start another great day in our city.
Get connected with our daily update
After two straight losses, Austin FC is set to take on one of three still-undefeated MLS clubs this weekend. It's not all doom and gloom, however—Nashville SC may be unbeaten, but they've logged just one win and four draws this season.
---
Austin FC will also have their "ringleader" Alex Ring back in patching up a hole in midfield that gave LA Galaxy the leg up in last week's match.
Hector Jimenez's injury that saw him leave the match in a stretcher has been determined as an MCL tear in one of the latest defender injuries. A few weeks ago, left back Ben Sweat suffered an ACL injury that left Zan Kolmanic in his stead, and defender Freddy Kleemann has been put on loan to USL side Memphis 901 FC. It goes without saying that defensive depth is stretched thin.
The club will play fellow expansion club Nashville SC for their sixth-straight road match at 8 p.m. on Sunday.
What to expect
If you thought the scenes were wild at 40% capacity...https://t.co/IMPnjp3AQq pic.twitter.com/DnxAsKH7FJ

— Nashville SC (@NashvilleSC) May 19, 2021
Nashville SC is the most recent expansion club in MLS aside from Austin, and despite a rocky start, the club managed to play 23 matches in the fall of 2020, finishing 7th in the Eastern Conference to earn a playoff berth.
A strong defense and 4-4-2 formation led the team to a scoreless draw against Real Salt Lake City last weekend, and the club has had two of the past three matches end in goose eggs (0-0).
Nashville's defensive cornerstone is Walker Zimmerman, a 27-year-old center back who scored the first goal in the expansion team's history and was named to the 2020 MLS Best XI last season. Alongside keeper Joe Willis, Nashville has proven it has few holes on its back end.
The club has dominated offensively in several matches this season as well. Nashville is likely to go back to their traditional 4-3-2-1 formation this week with Designated Player Hany Muktar back on the pitch, and the club has outshot its past opponents 34-12 this season.
Another formidable threat comes from off the pitch. Nashville knows how to dominate in its home stadium, and Austin FC is at a significant exhaustion disadvantage as it heads into its sixth straight road match. The Yellow-and-Blue is sure to clash with Verde, however, as hundreds of members of Austin FC's fan club take to the stadium for their #NashVERDE event.
On Austin FC's side, keeper Brad Stuver has kept the club in many matches with his spectacular saves, and he'll be a threat if Nashville continues to struggle in the final third.
Projected starting lineup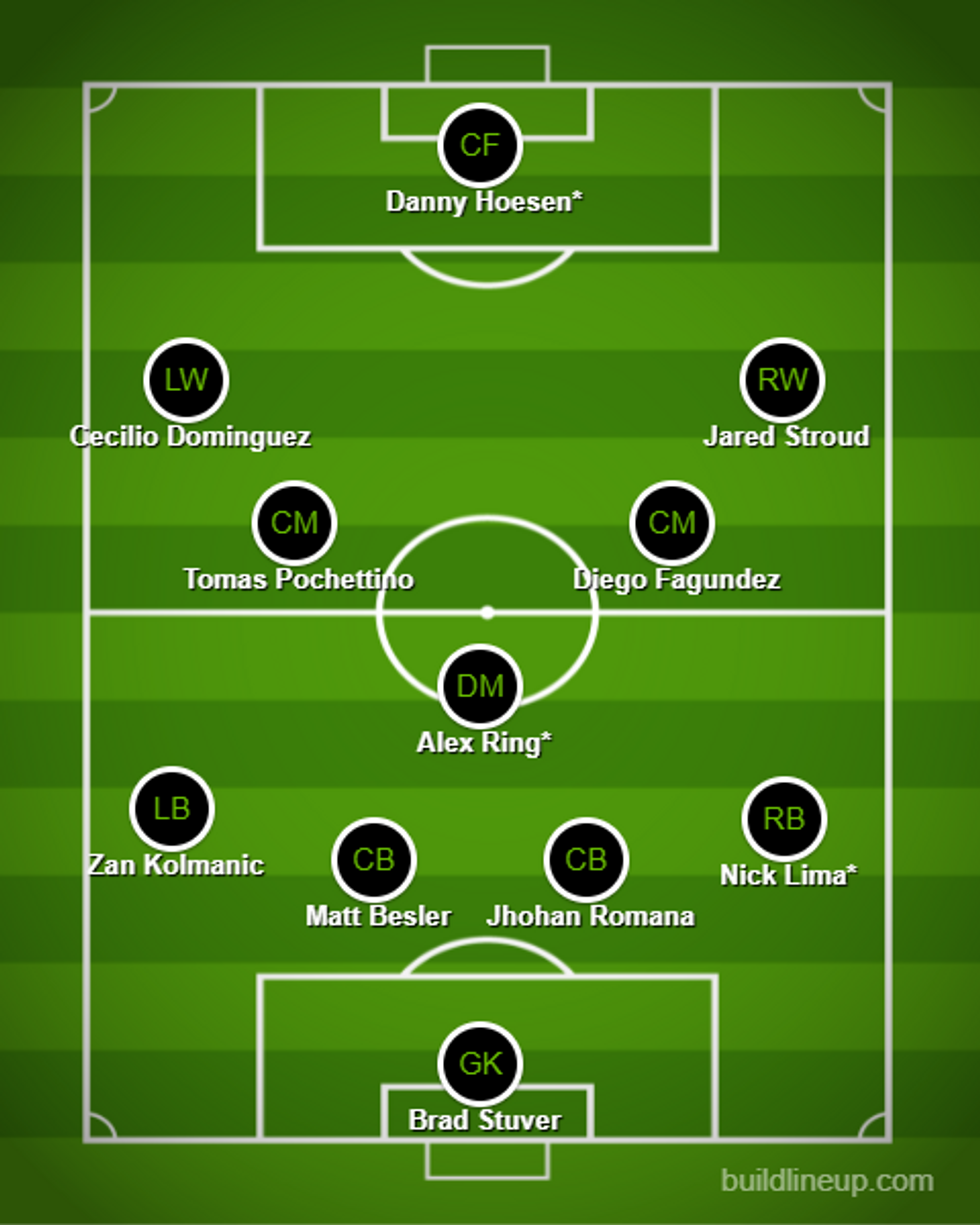 Ring is back! The captain's absence against LA Galaxy due to two yellow cards was certainly felt last weekend, and the defensive midfielder is certain to be back on the pitch to secure the midfield.
Danny Hoesen graced the crown off the pitch once again last week after Jon Gallagher stayed home on injury. However, Head Coach Josh Wolff said they're "hopeful" that Gallagher will get back into training this week. It's still unclear who will take the striker spot: neither have quite gotten their groove as a top scorer.
Sub Kekuta Manneh was a surprise threat against the Galaxy, making three threatening shots against the club in just ten minutes. While it's unlikely he'll start, he earned a double take from many who may have discounted him in the past, and Wolff was impressed with his performance.
"He's got good individual quality and his ability to combine and go 1-v-1 is nice," Wolff said. "I think he's certainly created some chances."
Nick Lima is almost certain to be at right back once again after Jimenez's injury, and the back line will need to hold on tightly to this formation as both Jimenez and Sweat heal.
Injuries and exhaustion are key threats to Austin FC's growth, but Wolff said that the club is still able to refresh as they continue to build on their identity.
"We're always going to be aware of our freshness," Wolff said. "These teams are amped up, they're at home, and they're all good opponents. So we've got to be at our very best, and we're still learning what that looks like. That's part of the challenge each week."
Austin FC's loss in Minnesota was a far cry from their joyous first match at Q2 Stadium.
The club was looking for a 2-0 record at the Loon's stadium after beating Minnesota 1-0 earlier in the year. Instead, they were bogged down with even more injuries and a roster that never clicked as they took a 2-0 loss at Allianz Field.
Even with the loss, thousands of fans kept chanting their club's name even after the match ended at watch parties around the city.
Members of the supporters' groups Los Verdes and Austin Anthem scattered around town to watch the match, even making it as far south as Sean Patrick's in San Marcos. They were all hoping for the same thing— a goal and a win after a series of scoreless draws.
Unfortunately, Austin FC was hit with a spell of bad luck as the match began.
Captain Alex Ring, out. Nick Lima, out. The club already had just 17 healthy players on the roster prior to the match, and no Ring usually means no dice for the club. Wolff paired some tough decisions with some questionable ones. Sebastian Berhalter, Manny Perez and Aedan Stanley saw their first starts for the club, while center back Jhohan Romana subbed in for veteran Matt Besler and Rodney Redes was once again placed back in the starting 11.
Minnesota used Austin's uncertainty from the jump. Energized by newcomer Franco Fragapane, who had already tallied a goal in his first match with the club, the Loons struck first as Fragapane in the 11th minute.
The Loons managed two goals in ten minutes after Fragapane was once again put in a threatening position, sailing a set piece over the Austin FC defense that was expertly headed in by Adrien Hunou.
Eighteen minutes in, Austin FC's backs were already against the wall.
Still, Austin had more shots on goal than Minnesota for most of the game. Tomas Pochettino, who is eagerly awaiting his first MLS goal, made more threats than usual in the final third. Fagundez hustled in his usual fashion and nearly scored for his second straight appearance at Allianz Field.
By the half, however, it was clear that Austin's rotating door of substitutions weren't clicking on the pitch. Austin FC fans were heating up on Twitter, and fans Zach Gonzalez, Adrian Martinez and Cade Summers. Supporters everywhere were in rare agreement about the club's performance.
Almost as the second half whistle blew, Wolff seemed to put up the white flag as he subbed out star striker Cecilio Dominguez. Twenty minutes later, Fagundez was swapped out as well. At one point, five of the 11 players on the pitch were under 22 years old.
Wolff said the moves were made both to bring energy onto the pitch and plan for their next match. Some positions have no depth left— for example, Wolff said Hector Jimenez is the club's only remaining right back.
"In the second half, there was injection of some energy...we're also trying to be just responsible with with our players," Wolff said. "Health becomes an issue real quick."
As players came on and off the field, the captain's armband was passed around, eventually landing on the well-deserving Brad Stuver, who quickly proved his worth with a showstopping save that impressed even Minnesota's Twitter account.
Still, the save wasn't enough for the series of mishaps that led Austin to their first loss in St Paul.
The club has no time to wallow, however. On Sunday, the club will play their third match in eight days as they take on the Columbus Crew in a much-awaited match at home.
Defender Julio Cascante said he loves the quick turnaround of the sport and can't wait to get back to Q2.
"I think that's the the beautiful thing about this game. We play today and right away we have to change our mentality to play the next game," Cascante said. "I think we have to show our fans what they are they are expecting from us...we have to stand up and keep working on the season."
Austin FC will take on Columbus- the club that won the MLS Cup last year and is the former home of Austin FC owner Anthony Precourt and other club players- at Q2 Stadium on Sunday, June 27.
Austin ISD secondary students failed courses at much higher rates in the second semester of the 2020-21 school year compared to the 2019-20 school year, even as campuses reopened to students, according to new data released to Austonia.
Around a third of high school students failed at least one course in both semesters of the most recent school year, with a slight increase in the second semester—34.8% compared to 32.7%. During the 2019-20 spring semester, around 15% of high school students failed at least one course.
A similar trend occurred at the middle school level, where around 30% of students failed at least one course in both semesters of the 2020-21 school year. This is nearly double the rate of student failures in the first semester of the 2019-20 school year and more than triple the rate in the second semester.
This updated data shows that student failures continued to be an issue at AISD even as campuses reopened. District officials have attributed the higher failure rates to the challenges of hybrid learning.

AISD resumed in-person classes after winter break as the local COVID-19 risk level improved but continued to offer remote learning through the spring semester—an option that most middle and high school students favored. During the final weeks of classes, which ended June 3, about one-third of middle school students and fewer than 10% of high school students were learning on campus, according to the district.
This trend is not limited to AISD. Similar failure rate increases occurred across the 10 largest Houston-area school districts, according to a recent KHOU report. And nearly 30% of high school students in the 15 largest Central Texas school districts were failing at least one class midway through the 2020-21 school year, according to a KVUE Defenders report published in February.
Rising failure rates are also not completely a consequence of the pandemic, during which time public school districts, including AISD, faced falling enrollment, funding challenges and a widening digital divide.
Other issues
Students were facing myriad challenges during this last school year in addition to the pandemic. Texas Appleseed, an Austin-based nonprofit, published a statewide report on K-12 students during the pandemic in March, which found an increasing number of students faced food and housing insecurity while dealing with the pandemic, virtual learning and the nationwide reckoning with police violence.
Andrew Hairston, co-author of the report and director of Texas Appleseed's Education Justice Project, said rising school failure rates "provide a microcosmic view of what has been a year of tremendous suffering for your people and their parents and their families" in an interview last month.
Moving forward
AISD announced last week that it plans to return all students to on-campus learning in the 2021-22 school year, as local COVID case rates remain low and after state lawmakers failed to pass a bill that would have allowed for some virtual learning options. "We know and realize this will be a big shift for our students, so we're committed to doing everything possible to help them in that regard," Chief of Schools Anthony Mays said in a statement.
The Texas Appleseed report included a series of recommendations for school districts to alleviate student suffering, including issuing bans on suspensions and expulsions, considering offering a pass/fail grading system for the 2021-22 school year, cutting school police budgets and reinvesting the money into full-time mental health care providers and support services.
"There's just going to be such resounding ripple effects from this pandemic in so many different ways," Hairston said. "It's going to be catastrophic if districts don't take prophylactic measures now."
Flights may be in high demand, but just as many people are taking to the road as they look for their first post-COVID vacation this summer.
For those in Texas, road-tripping may be easier than you'd think: the state was ranked second-best for road-tripping this summer in a WalletHub study. According to the personal finance site, over two-thirds of people in the U.S. are taking a vacation this summer, and 59% of people said they'd rather drive than fly.
Based on 33 key metrics, Texas was just behind New York as the best state to road trip through.
With the fourth-most attractions, third-lowest gas prices and ninth-lowest cost, Texas's sprawling countryside provides more bang-for-your-buck journeying through the Lone Star State. It was also found to have the most restaurants per capita of any other state in a previous WalletHub study.
With the fourth-most attractions, road trippers are bound to find something to see from West Texas' desert beauty to South Padre Island's esteemed beaches. Just make sure to bring a friend: the state ranked 34th in overall safety.
From camping to city hopping, Texas is packed with natural wonders and modern fun sure to entertain any vacation planners as the summer heats up.