Get connected with our daily update
After two straight losses, Austin FC is set to take on one of three still-undefeated MLS clubs this weekend. It's not all doom and gloom, however—Nashville SC may be unbeaten, but they've logged just one win and four draws this season.
---
Austin FC will also have their "ringleader" Alex Ring back in patching up a hole in midfield that gave LA Galaxy the leg up in last week's match.
Hector Jimenez's injury that saw him leave the match in a stretcher has been determined as an MCL tear in one of the latest defender injuries. A few weeks ago, left back Ben Sweat suffered an ACL injury that left Zan Kolmanic in his stead, and defender Freddy Kleemann has been put on loan to USL side Memphis 901 FC. It goes without saying that defensive depth is stretched thin.
The club will play fellow expansion club Nashville SC for their sixth-straight road match at 8 p.m. on Sunday.
What to expect
If you thought the scenes were wild at 40% capacity...https://t.co/IMPnjp3AQqpic.twitter.com/DnxAsKH7FJ

— Nashville SC (@NashvilleSC) May 19, 2021
Nashville SC is the most recent expansion club in MLS aside from Austin, and despite a rocky start, the club managed to play 23 matches in the fall of 2020, finishing 7th in the Eastern Conference to earn a playoff berth.
A strong defense and 4-4-2 formation led the team to a scoreless draw against Real Salt Lake City last weekend, and the club has had two of the past three matches end in goose eggs (0-0).
Nashville's defensive cornerstone is Walker Zimmerman, a 27-year-old center back who scored the first goal in the expansion team's history and was named to the 2020 MLS Best XI last season. Alongside keeper Joe Willis, Nashville has proven it has few holes on its back end.
The club has dominated offensively in several matches this season as well. Nashville is likely to go back to their traditional 4-3-2-1 formation this week with Designated Player Hany Muktar back on the pitch, and the club has outshot its past opponents 34-12 this season.
Another formidable threat comes from off the pitch. Nashville knows how to dominate in its home stadium, and Austin FC is at a significant exhaustion disadvantage as it heads into its sixth straight road match. The Yellow-and-Blue is sure to clash with Verde, however, as hundreds of members of Austin FC's fan club take to the stadium for their #NashVERDE event.
On Austin FC's side, keeper Brad Stuver has kept the club in many matches with his spectacular saves, and he'll be a threat if Nashville continues to struggle in the final third.
Projected starting lineup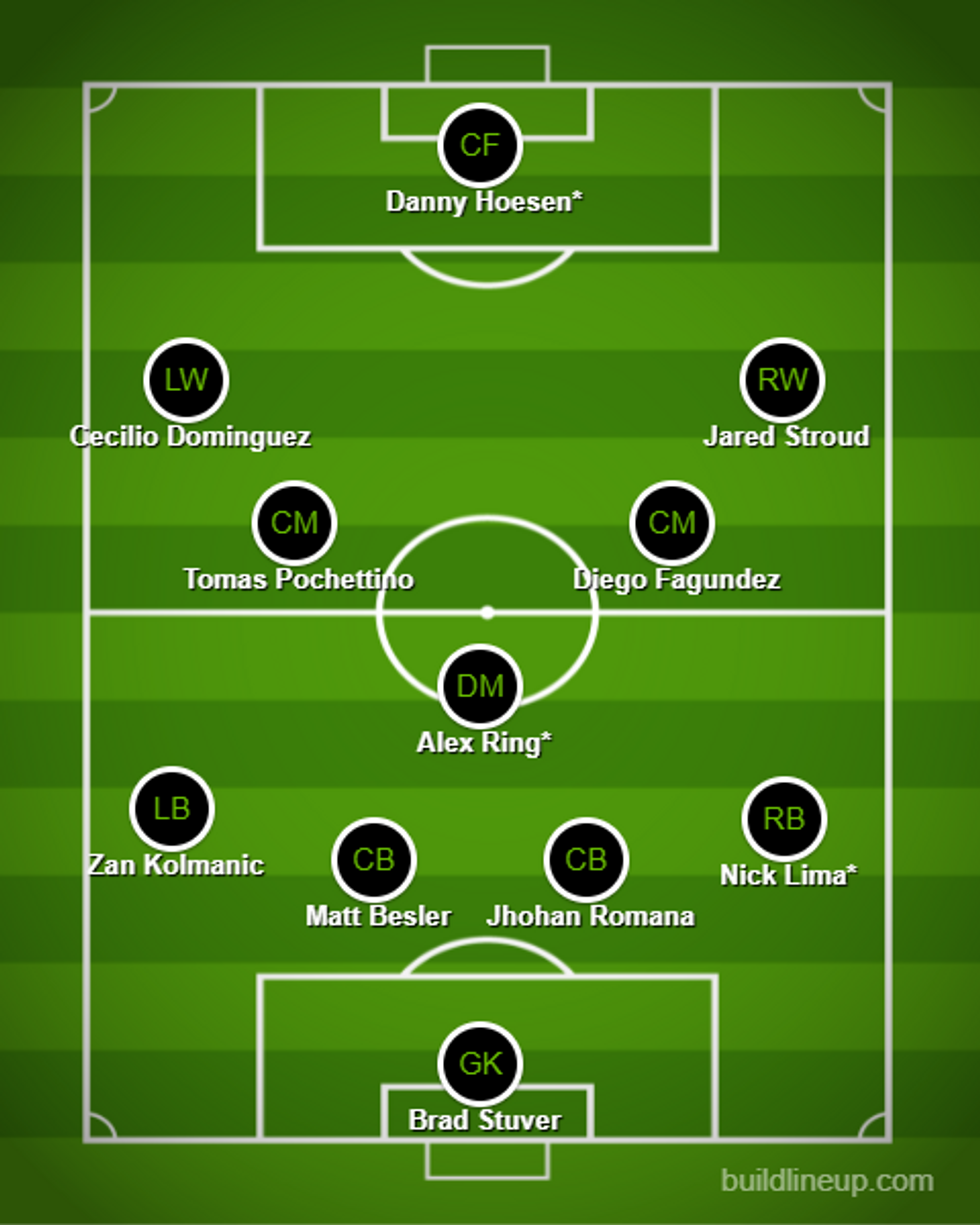 Ring is back! The captain's absence against LA Galaxy due to two yellow cards was certainly felt last weekend, and the defensive midfielder is certain to be back on the pitch to secure the midfield.
Danny Hoesen graced the crown off the pitch once again last week after Jon Gallagher stayed home on injury. However, Head Coach Josh Wolff said they're "hopeful" that Gallagher will get back into training this week. It's still unclear who will take the striker spot: neither have quite gotten their groove as a top scorer.
Sub Kekuta Manneh was a surprise threat against the Galaxy, making three threatening shots against the club in just ten minutes. While it's unlikely he'll start, he earned a double take from many who may have discounted him in the past, and Wolff was impressed with his performance.
"He's got good individual quality and his ability to combine and go 1-v-1 is nice," Wolff said. "I think he's certainly created some chances."
Nick Lima is almost certain to be at right back once again after Jimenez's injury, and the back line will need to hold on tightly to this formation as both Jimenez and Sweat heal.
Injuries and exhaustion are key threats to Austin FC's growth, but Wolff said that the club is still able to refresh as they continue to build on their identity.
"We're always going to be aware of our freshness," Wolff said. "These teams are amped up, they're at home, and they're all good opponents. So we've got to be at our very best, and we're still learning what that looks like. That's part of the challenge each week."
Getting around downtown and Lady Bird Lake will eventually be a rapid trip, but is it a trek that will involve more buses?
Two design proposals are being eyed for a light rail bridge crossing Lady Bird Lake as part of the blue line, a portion of the transit system expansion voters approved in November 2020.
For a design option without a guideway for buses, the light rail would simply travel through downtown and then cross the blue line bridge at Lady Bird Lake. There would also be a shared-use path for pedestrians and bicyclists. Although costs aren't finalized, the preliminary estimates put this version at $150 million.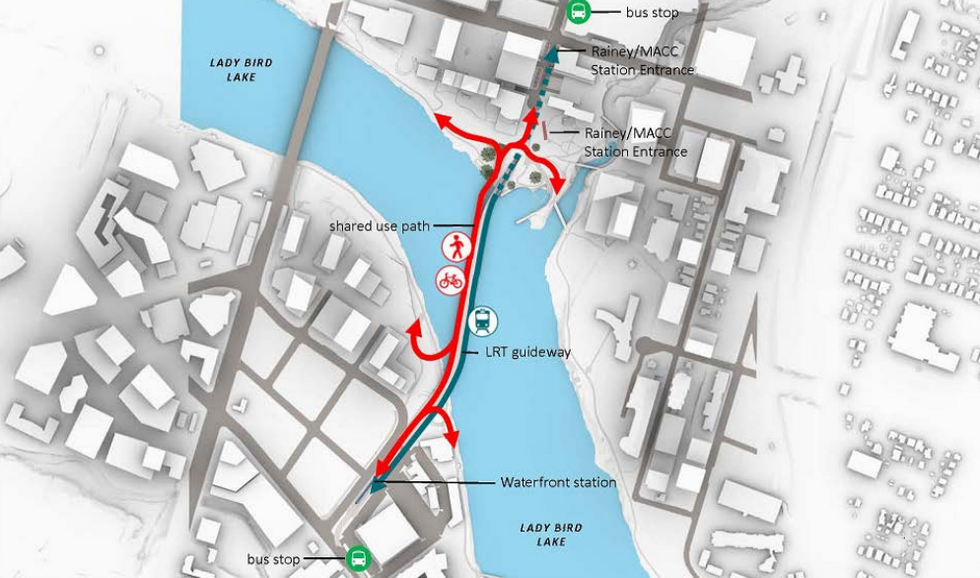 Then there's the option with a steeper estimated bill of $210 million. Under this design, there would be a guided pathway running above the bridge for bus services. In practice, it'd allow buses to travel along Trinity Street and cross Lady Bird Lake on a guideway. Then, there'd be a separate corridor for the light rail. Like the other design, this one also includes a shared-use path for pedestrians and bicyclists.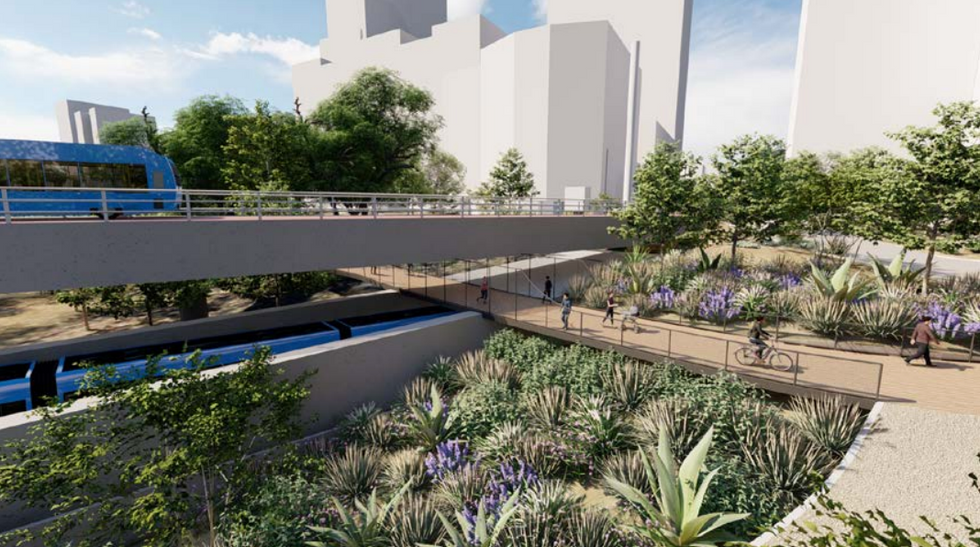 In total, the blue line is just over 8 miles and will run from the Austin-Bergstrom International Airport to Republic Square in downtown. From there, services connect to the orange line.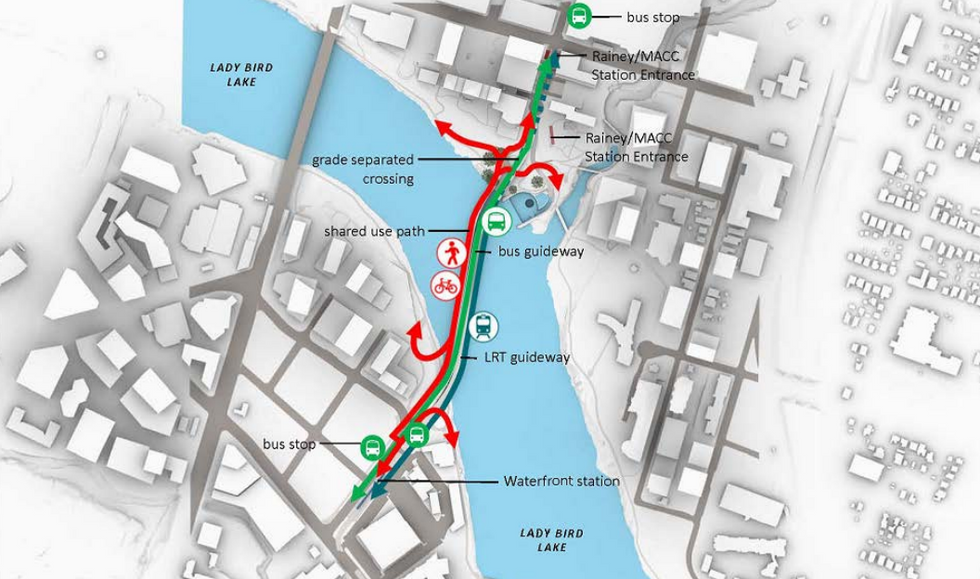 Under the pressures of inflation and supply chain constraints, cost estimates for Project Connect have soared from $5.8 billion to $10.3 billion for the two light rail lines and underground tunnel.
In a memo earlier this month, David Couch, Project Connect's program officer said the program is "not immune to the global and national economic pressures that everyone is feeling."
"Transit, airport, highway, utility, housing, and commercial projects are all seeing cost increases," Couch wrote. "As you all know, Austin is experiencing these impacts at an even higher level than the national average due to the unprecedented growth we are experiencing."
The home, aptly named "Villa Del Lago," offers a 15,400-square foot main house nestled on the hilly south shore of Lake Travis.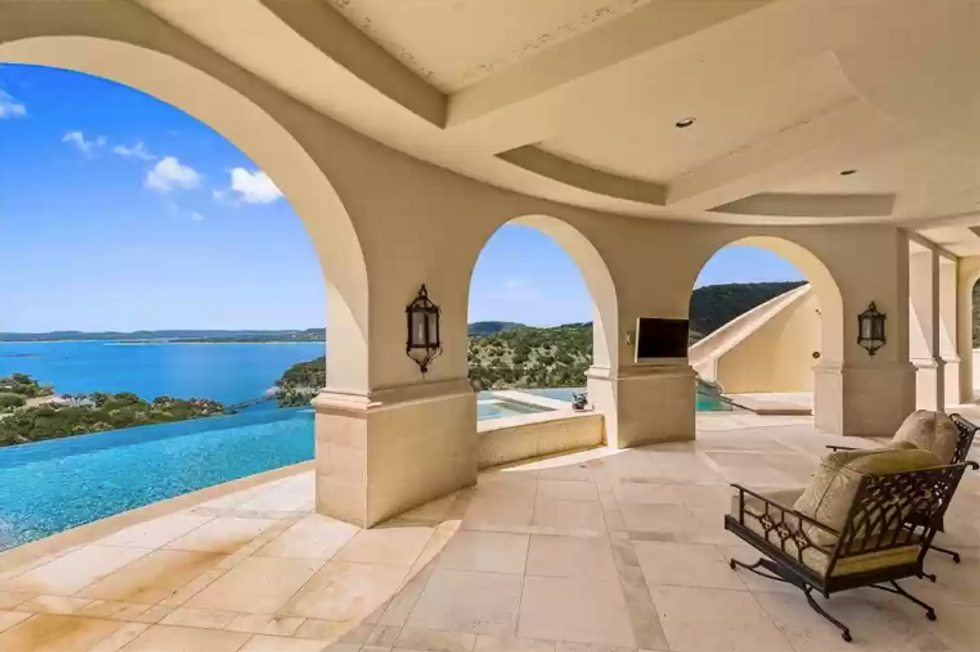 The home includes outdoor space and a pool that overlooks the south shore of Lake Austin. (Realtor.com)
Those who dare to make a bid won't be short on amenities—the home comes with seven bedrooms, 10 baths, five fireplaces and other rooms including a media room, theater, library, game room, gym and bar.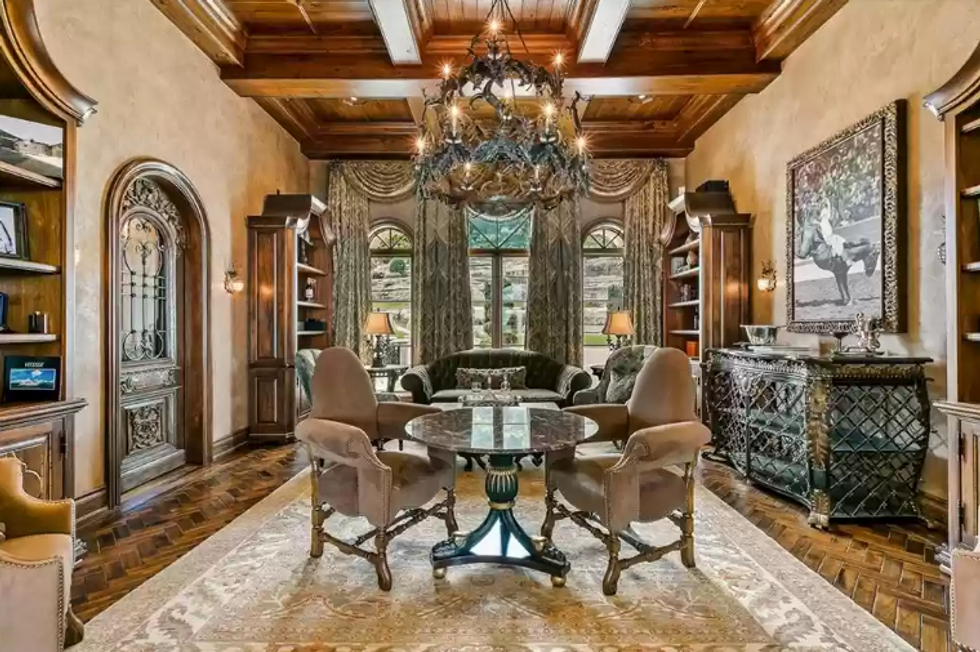 The home was built in 2004 and comes with a library, gym, theater and more. (Realtor.com)
Once outside, homeowners are met with immaculate native Texan landscaping, including cascading hillside waterfalls, a summer kitchen and a fish pond.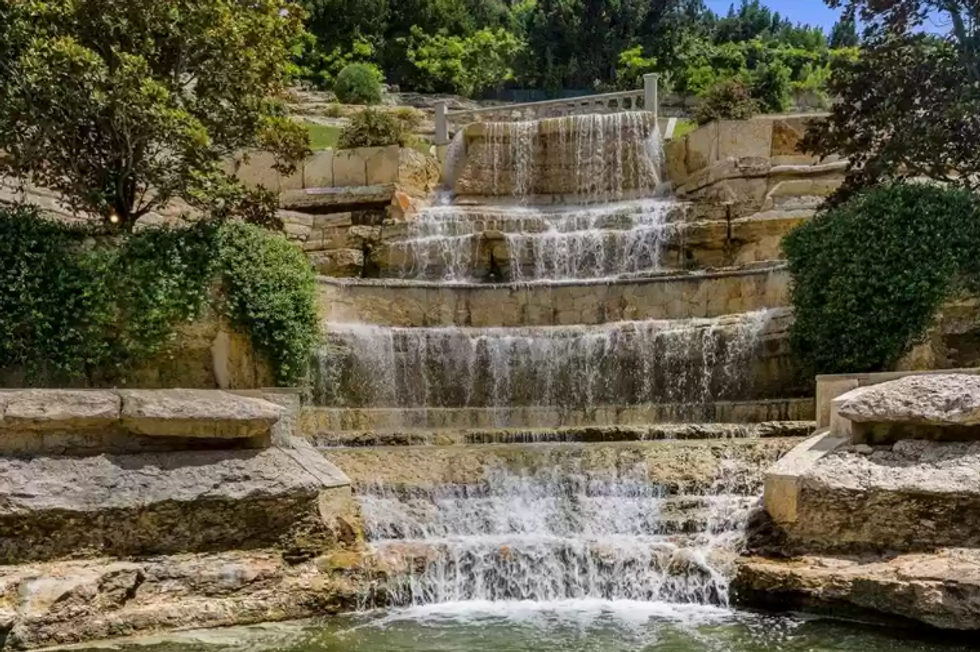 The 25-acre property also hosts multiple waterfalls. (Realtor.com)
Stone staircases and bridges lead to a gated two-story "entertainment pavilion" with a commercial catering kitchen and valet area.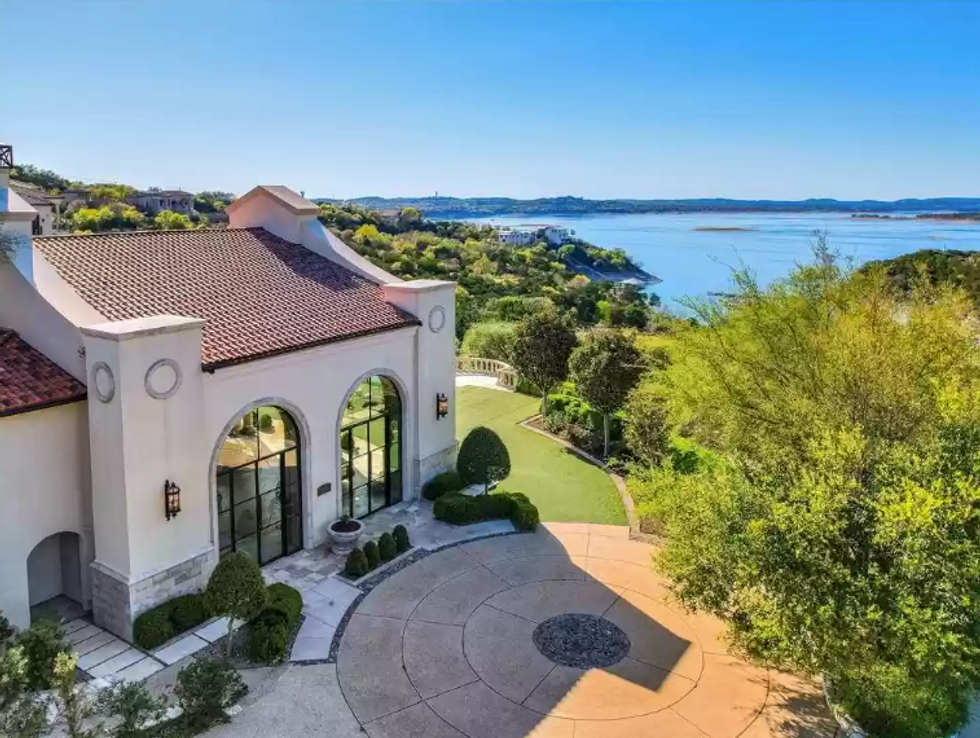 The private entertainment pavilion has hosted weddings and other events in the past. (Realtor.com)
The home draws on Classical architecture but was built in the early aughts with a modern lifestyle in mind. Extra perks include three ovens, an elevator, a secret stairwell and safe room, a half basketball court and a massage room.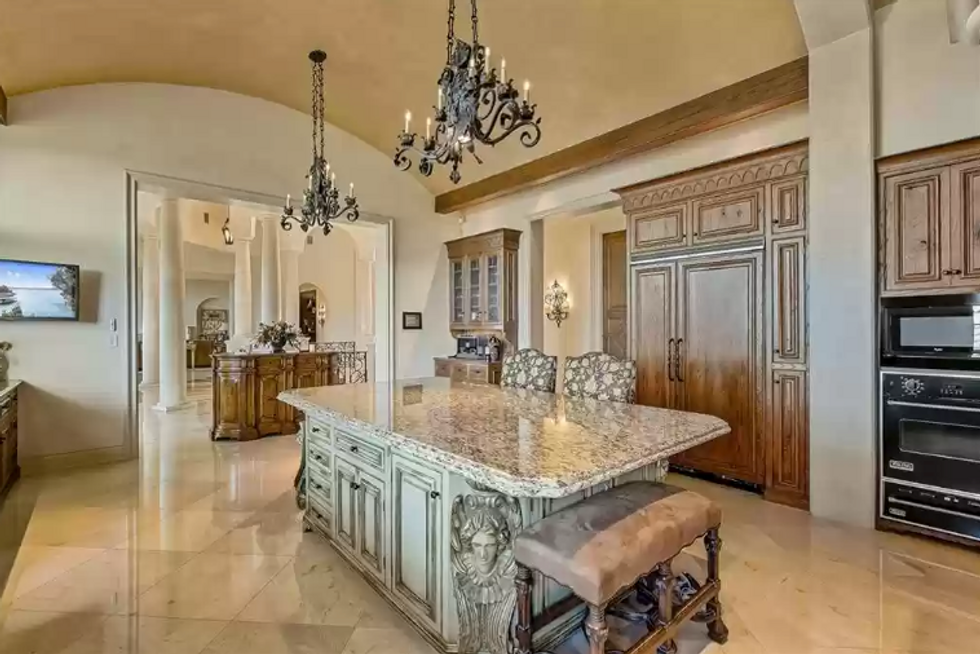 The home's luxe kitchen comes with three ovens and ornate cabinetry. (Realtor.com)
Looking for your next dream home? Villa Del Lago is within your reach—if you can shoulder around $236,700 each year for the next 30 years (plus a $10.8 million down payment).
Those enchanted with the property may still be able to catch a glimpse of luxury Lake Austin life, however. The entertainment pavilion is closed for now, but former property owners rented the European-inspired villa for weddings and other events with packages starting at around $7,500.