Get connected with our daily update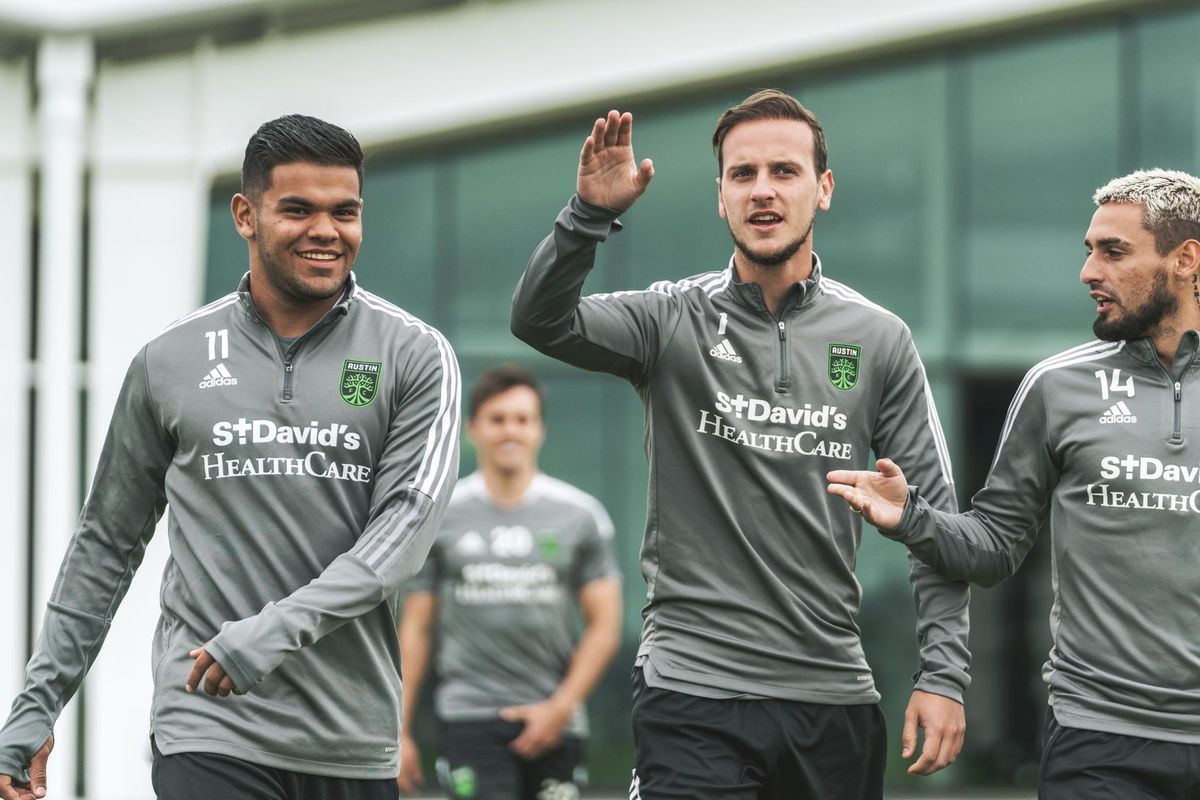 With Jhohan Romana and Daniel Pereira's injuries against Nashville SC on Sunday, Austin FC has now tallied seven injuries (two recoveries) in its six-week existence.
The club is also losing confidence as it hits the road—for the seventh week in a row—to play West Conference giants Seattle Sounders on Sunday.
But it's not time to throw in the towel.
---
Austin FC is currently seven weeks in to the hardest stretch of matches they'll see this season. The club hasn't had a weekend at home since preseason play in early April and has played No. 2 (West) Kansas City, No. 3 (West) LA Galaxy and No 4. (East) Nashville. Austin even scraped up a win against Minnesota and No. 5 (West) Colorado Rapids as they await their first-ever home match on June 19.
Here's some insight into the underdog fight at Seattle this weekend.
What to expect
• João Paulo, T-1st in MLS in assists (4)
• @RaulRuidiazM, 2nd in MLS in goals (6)

This connection is special 💯 pic.twitter.com/faLYMXKXIL

— Seattle Sounders FC (@SoundersFC) May 24, 2021
There's no beating around the bush: Seattle is good. The Sounders are one of three undefeated clubs in MLS this season (another one being the Nashville club Austin FC faced last weekend) and they have the best record in the league. They're hot off the best start in club history and the 11th-best start since MLS began.
The club has steamrolled competition by trailblazing a 3-5-2 lineup and utilizing a Roldan-to-Ruidiaz pipeline to get the ball in goal, though they've got plenty of other attacking options. Christian Roldan is key to the middle: though he hasn't got the stats, he's ranked at fourth on the MLS' MVP Power Rankings for a reason. Roldan and his brother, right back Alex Roldan, account for three assists for the club as they bring the ball up to Seattle's No. 1 goalscorer, Raul Ruidiaz.
Ruidiaz is only behind Chicharito in goals scored this season, with six goals so far and 12 shots on target. Meanwhile, Nouhou Tolo heads the back of a Sounders defense that is just as strong as the front.
The team has had some of the same injury problems as Austin FC—namely, the injury of Designated Player Nicolas Lodeiro—but Christian Roldan told Sounders Weekly podcast host Jackson Felts that the transition has gone well.
"We're a hard team to score on, and that will always keep you in games," Roldan said. "Not conceding any careless goals and on top of that having a forward that's in form right now....It's really been seamless," Roldan said.
Roldan said that it will be difficult to face an Austin FC side that has an "organized defense" and is "well-coached," but Austin will be threatened on multiple fronts this weekend. Seattle has outscored its competition 10 to 2 and scored four goals off of crowd-raising headers in the past four matches. They've already beaten rivals in the LA Galaxy and Portland Timbers, and they'll be looking to keep their undefeated streak as they head into the weekend.
Austin FC head coach Josh Wolff said it will come down to sticking to the process but creating more dangerous chances in goal as they continue their hardest stretch of the season.
"We all want to win, and we set ourselves up and we compete in a way that we hopefully will go out there and win," Wolff said. "But I don't need to create any undue pressure on anybody based on what media is saying. So my version of it is we have to keep getting better."
Projected starting lineup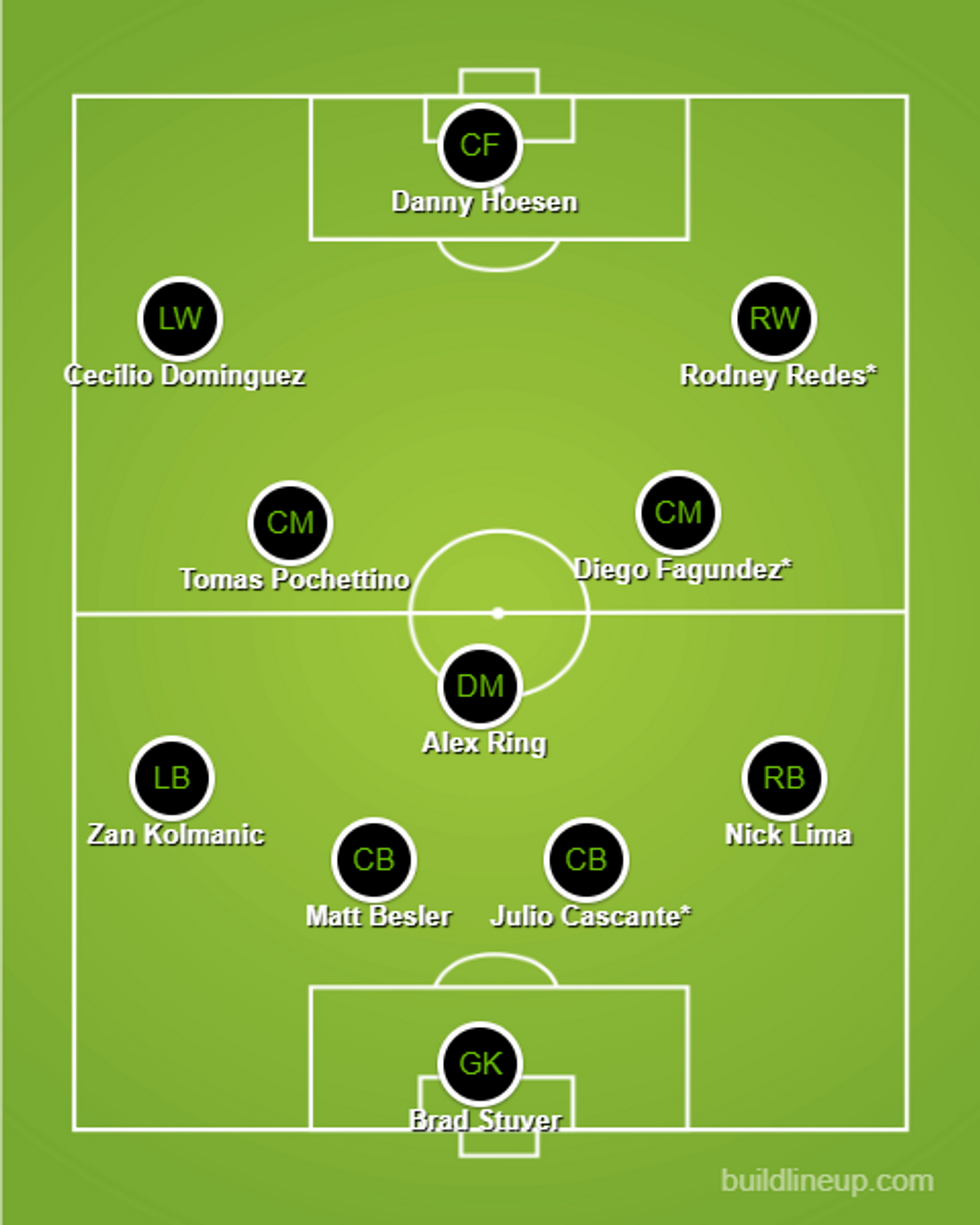 Austin FC saw yet another defender injury after center back Romana left the match early last week. The back line giant will likely not face the Giants of the MLS.
Romana's absence is the latest in a string of injuries that have weighed down an ever-changing back line, and Wolff said both he and midfielder Pereira are "certainly injured" heading into the match.
"It's going to take a little time," Wolff said. "It affects how we can train and certainly what our starters will look like, but it's part of the game. Certainly not afraid of what we have that can come in and play."
Wolff vaguely implied that fans shouldn't count on Romana or Pereira next week. Instead, Julio Cascante, who has started for Matt Besler in the past, will likely get a crack at the Starting XI this weekend. Meanwhile, Diego Fagundez, the man behind Austin FC's first goal who has scored twice this season, is likely to start in Pereira's stead in the middle. Roldan said that Fagundez is a player who has "been thriving" in Austin.
In the highly-contested right wing position, I expect Rodney Redes to take the pitch once again. Redes has slowly become more dangerous after suffering a "ding" to the knee at the end of preseason, but he's got competition in Jared Stroud. Stroud would have been looking at the first goal with the club in Nashville after he snuck one in goal, but the ball was called offsides. Still, the winger has added two key assists to the program and always provides much-needed energy when he hits the pitch.
Wolff was noncommittal on whether he'd start Stroud or Redes in right wing, so it could still go either way.
Luckily in the front, striker Jon Gallagher is back from injury to sit atop the pitch with Danny Hoesen. Because Wolff said he had one of the best chances of the game last match, Hoesen is likely to still start as both lack the punch to get many in goal.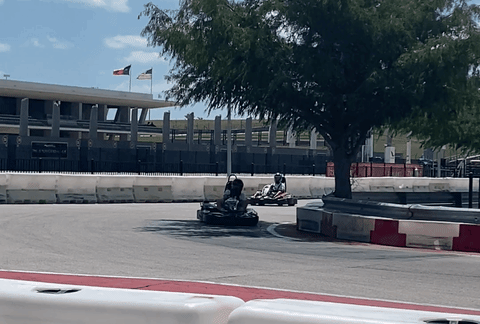 Few of us will ever feel the thrill of whipping through Circuit of the America's 23-turn track at the 220+ mile per hour speeds of Formula 1 racers. But thrill-seekers still rev their engines at COTA thanks to its go-kart track and ziplining service.
Here's what to expect when go-karting at COTA firsthand from Austonia's Claire Partain.
1. Go for the package deal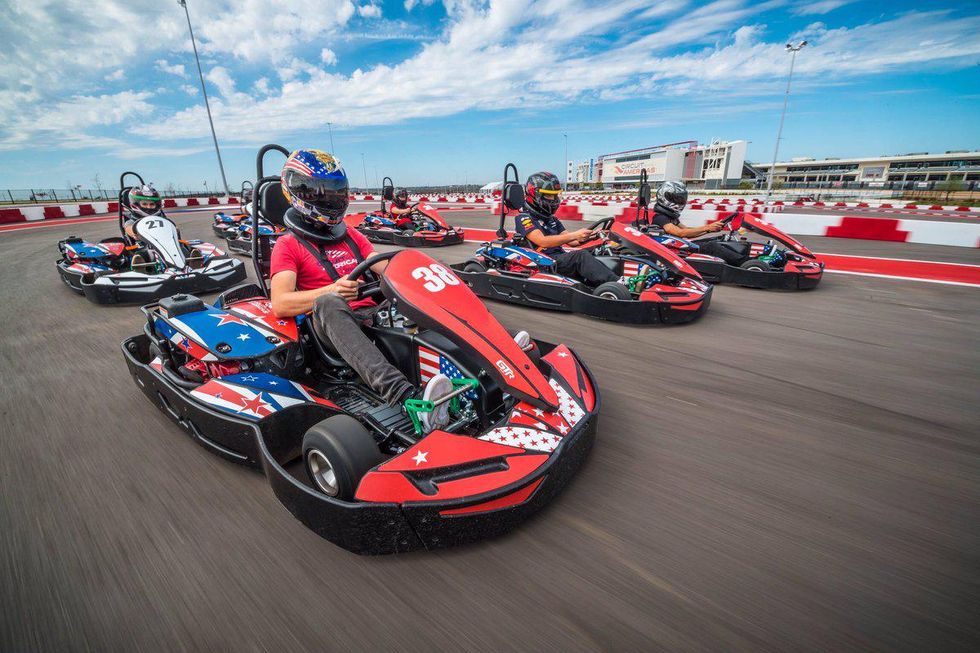 (COTA Karting/Twitter)
Schedule ahead of time online. A 10-minute race at COTA's karting track is $35, and tacking on a ride on the zipline is just $5 more. Go big or go home.
2. Get your gear on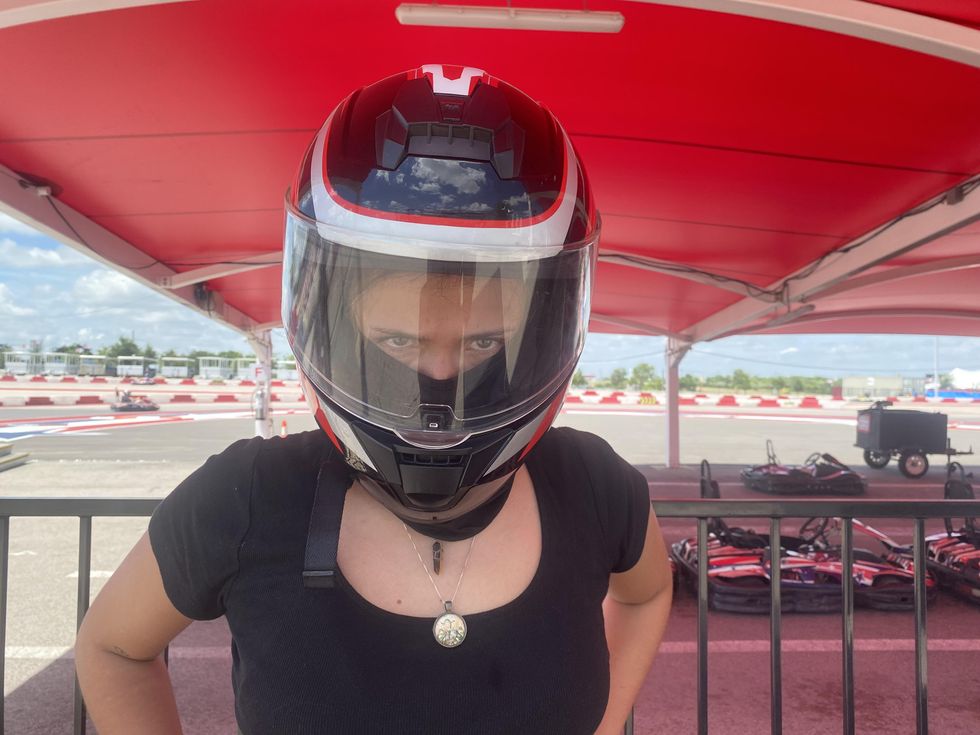 Go-karting gear includes a head sock and helmet. (Laura Figi/Austonia)
The track is located just off the COTA Boulevard entrance near the main course. Get to the track before your race is scheduled to start so you can watch the training video and try on a helmet and a head sock, which functions like a ski mask and goes on under your helmet. It's somehow even less cool-looking than it sounds.
3. To the track
Head to the track! Attendees will pick out a kart for you and make sure you're all strapped in. The first round is a slower round, but people start slamming on the gas pretty much immediately.
4. On the track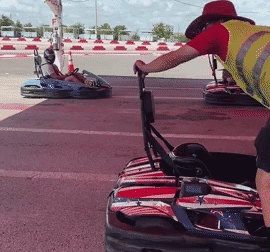 Track time! (Laura Figi/Austonia)
These go-karts go up to 55 mph, and some turns (including the traffic-inducing second-to-last curve) were kind of tough to navigate. Other than avoiding barriers, the most unexpected obstacle I had was avoiding other go-karters who had crashed. Passing people is exhilarating, but don't be the annoying driver who passes people on a hairpin curve either.
When crashes happen, all of the karts are programmed to sputter and slow down, so don't panic like I did and ask why your kart has stopped going fast. Move to the side and wave your hand to get help if your go-kart malfunctions otherwise.
5. Revel in your victory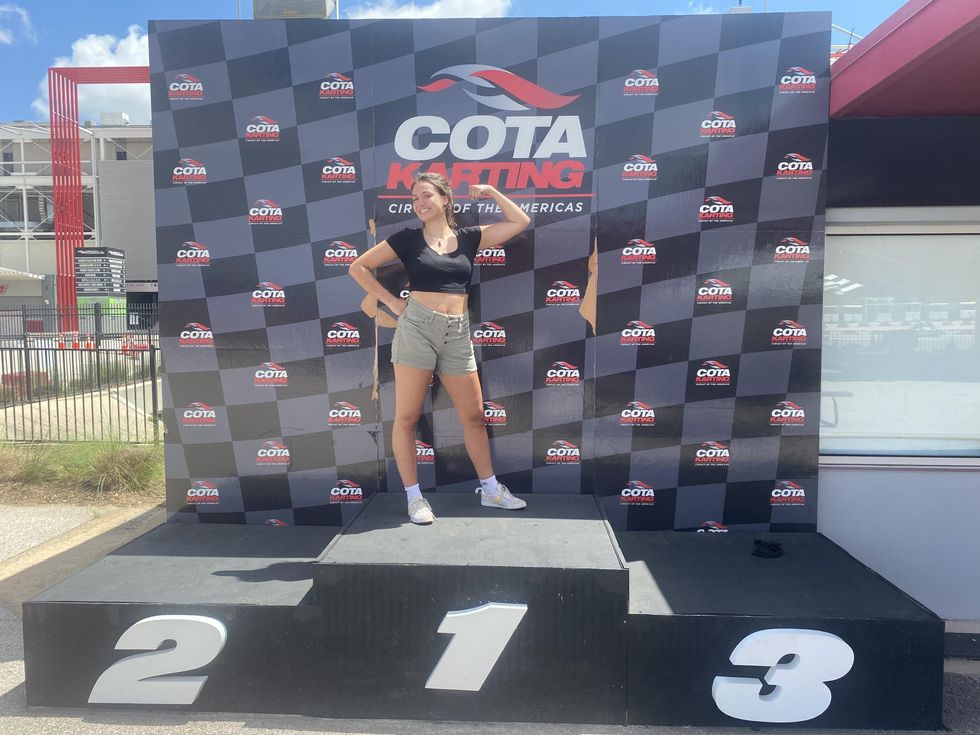 (Laura Figi/Austonia)
Karting is a great way to find out who's the Lewis Hamilton of the family. At the end of the race, COTA will email you your results and give a breakdown of your fastest lap times. There's also a podium for those of us who win the race (I got sixth).
5. The zipline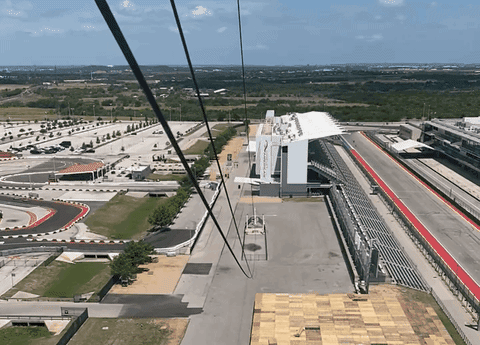 The zipline takes you up above both the COTA and karting track. (Laura Figi/Austonia)
After you've had your taste of adrenaline, get some more at the nearby zipline ride. Unlike traditional ziplines, this route has two seats that take you up and backward before bringing you back down. Grab some quick views of the entire track and hold tightly onto your phone while up top. Other than that, it's a pretty smooth ride.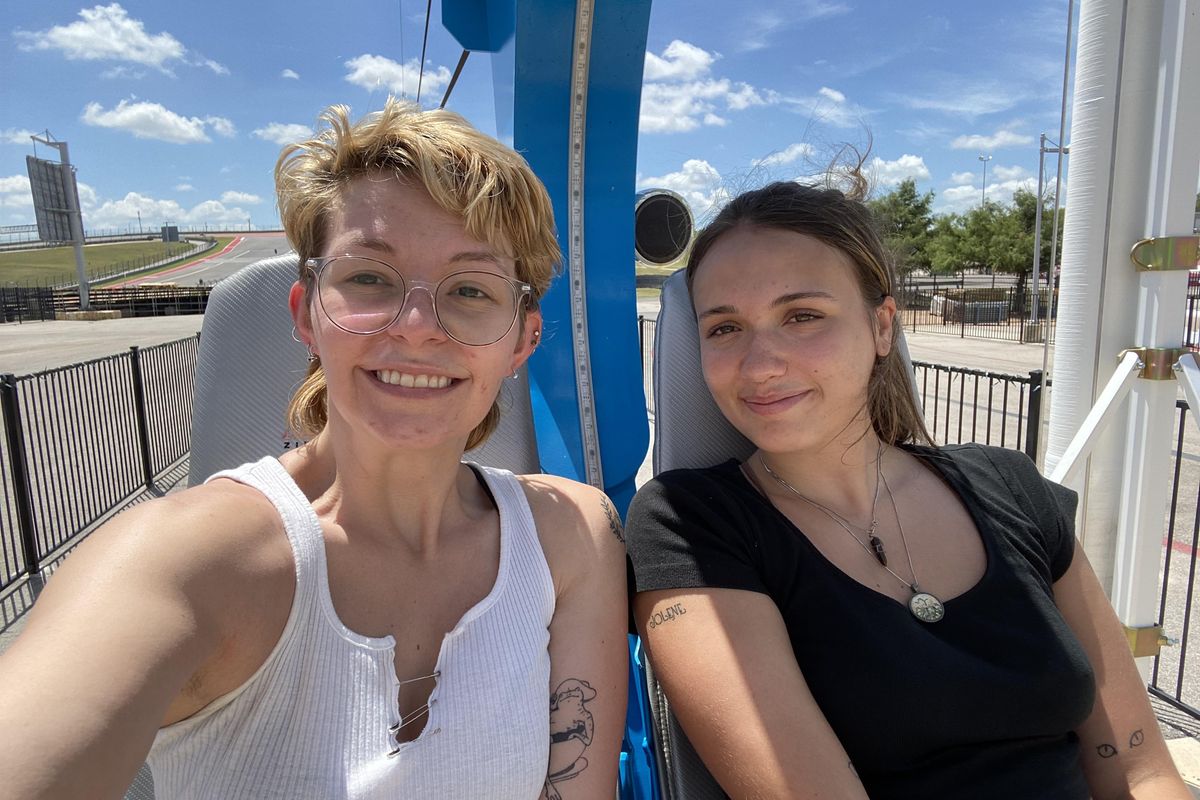 (Laura Figi/Austonia)
Happy karting!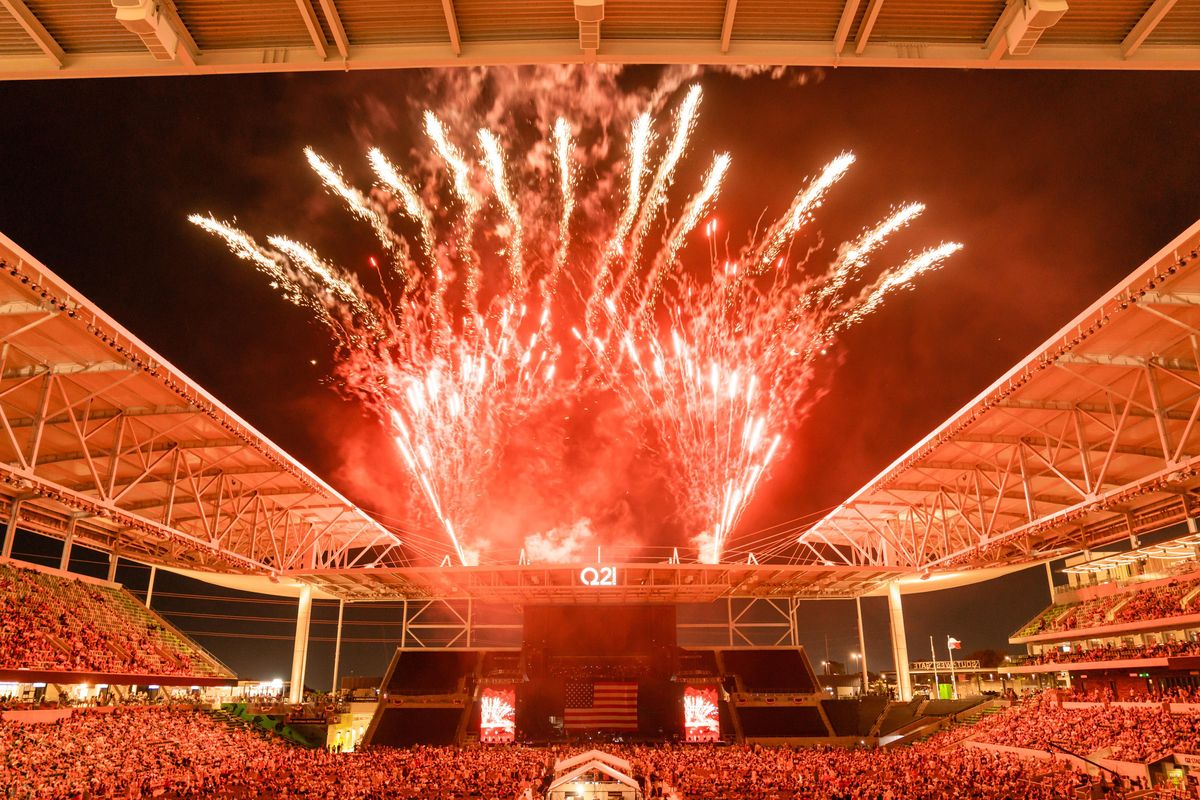 Q2 Stadium swapped its Verde for red, white and blue as country music legend Willie Nelson returned for his first in-person Fourth of July Picnic since 2019 on Monday.
The music fest included fireworks, fun merch and acts from country greats including Charley Crockett, Midland, Brothers Osborne, Allison Russell, Tyler Childers, Jason Isbell and Austin's own Asleep at the Wheel. And while Q2 will have some kinks to straighten before it becomes a concert-hosting regular, Nelson's unifying spirit kept things cool during the 12-hour outdoor event.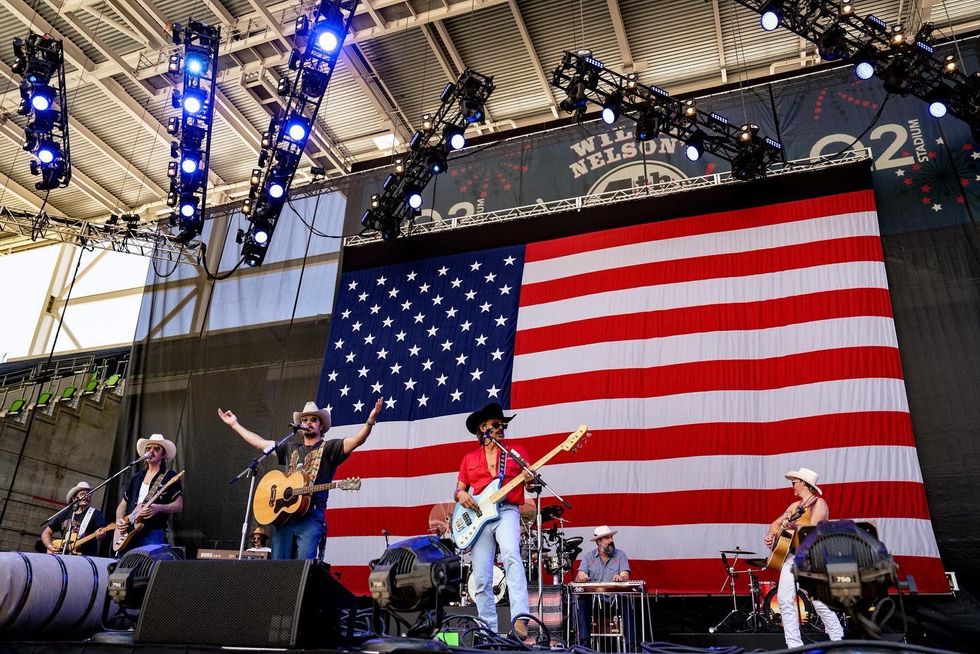 Midland performed at Willie Nelson's Fourth of July Picnic. (Q2 Stadium/Twitter)
Doors opened at 11 a.m., and Asleep at the Wheel was on the stage by 12 p.m.—though as one Reddit post pointed out, there weren't many people there to see them play.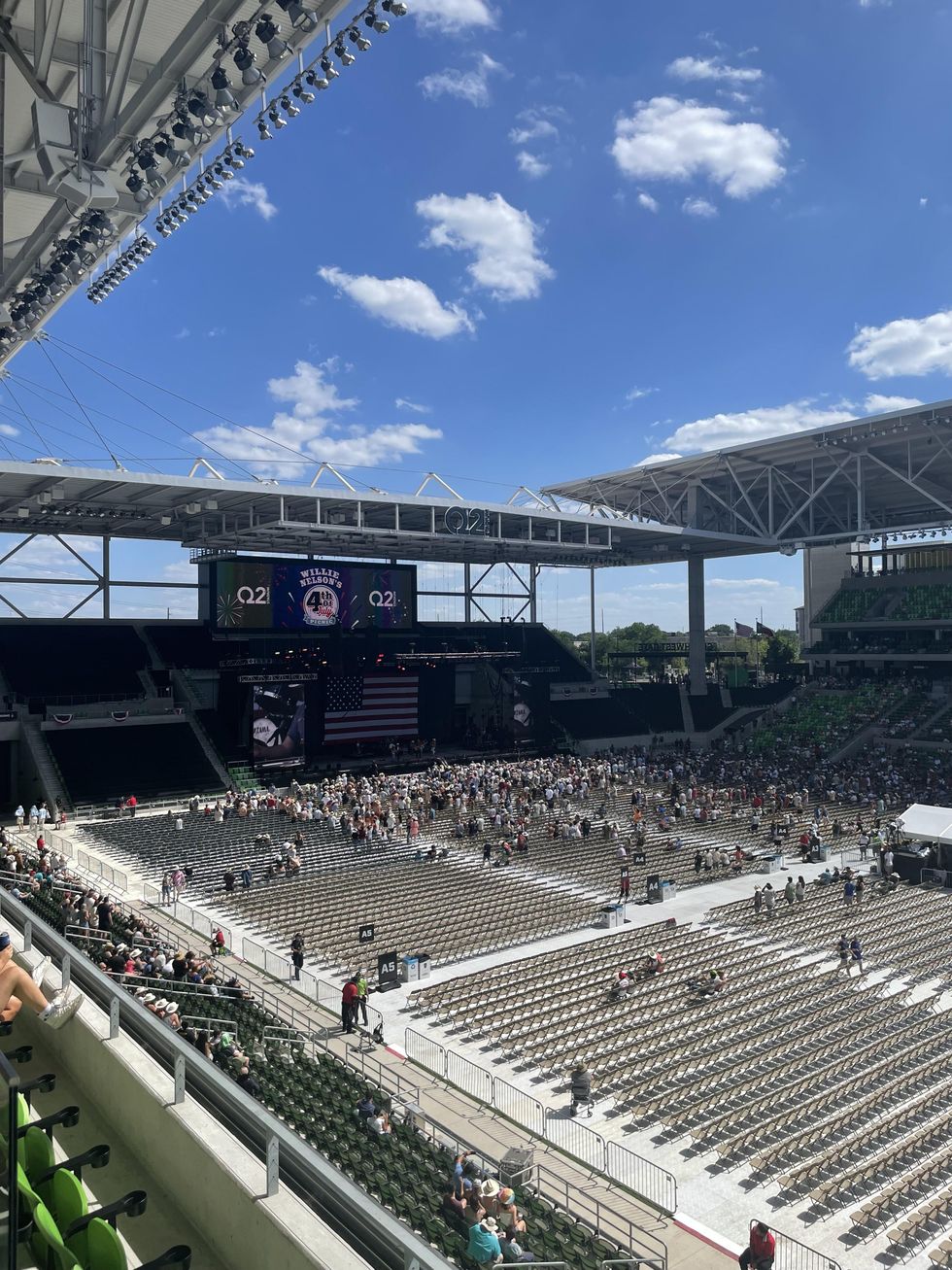 Q2 Stadium stayed sparsely populated for the first half of the day. (Claire Partain/Austonia)
Per Q2 Stadium policy, attendees weren't allowed to re-enter the venue after leaving, so anyone who wanted to watch both an afternoon and Nelson's big performance were stuck at the venue for hours straight. That opened up the perfect opportunity for customers to snatch up snacks, water and beers, which emptied wallets even faster than at Austin FC games. Nothing says "the end is nigh" like $15 beers.
An open-air, 20,500 seat venue, Q2 Stadium sometimes struggled to carry sound clearly, and between-song banter was often limited to an incomprehensible garble. Still, Tyler Childers' commanding growls came through, Alison Russells' multi-instrument ensemble shone and Nelson's strums on his trusty guitar, Trigger, were front and center by the end of the night.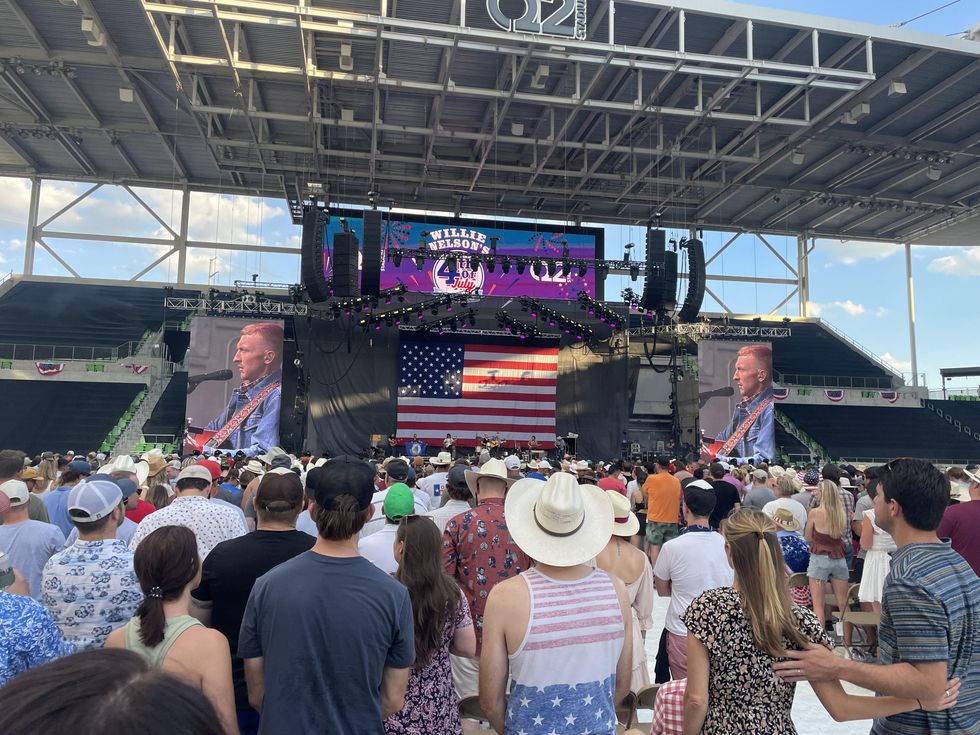 Fans found it hard to look away from Tyler Childers' enrapturing performance. (Jakob Rodriguez)
The July 4th picnic, which was most recently held at Circuit of the Americas from 2015-2019, benefitted from Q2's more central location, and the large venue offered plenty of room for attendees to mull about.
As the sun mercifully dipped below the horizon, the music paused for a 15-minute fireworks show.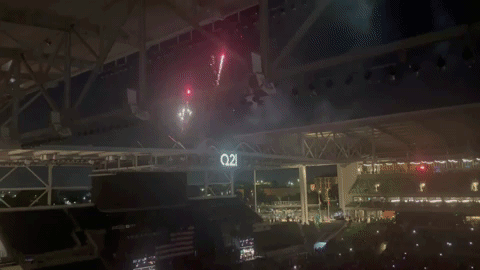 But the July 4th staples weren't the main event. At 89, Nelson didn't disappoint, sitting calmly as he performed alongside his family members and even gubernatorial candidate Beto O'Rourke, who made a surprise appearance midway through the show.
At times wistful, joyful or both, Nelson took the crowd through hits from "On the Road Again" to "Always on My Mind."
And as each favorite was played, all of the heat and stress of the day were encompassed by Nelson's voice, his storytelling and more as Austinites new and old gathered for the decades-old tradition.