Get connected with our daily update
With Jhohan Romana and Daniel Pereira's injuries against Nashville SC on Sunday, Austin FC has now tallied seven injuries (two recoveries) in its six-week existence.
The club is also losing confidence as it hits the road—for the seventh week in a row—to play West Conference giants Seattle Sounders on Sunday.
But it's not time to throw in the towel.
---
Austin FC is currently seven weeks in to the hardest stretch of matches they'll see this season. The club hasn't had a weekend at home since preseason play in early April and has played No. 2 (West) Kansas City, No. 3 (West) LA Galaxy and No 4. (East) Nashville. Austin even scraped up a win against Minnesota and No. 5 (West) Colorado Rapids as they await their first-ever home match on June 19.
Here's some insight into the underdog fight at Seattle this weekend.
What to expect
• João Paulo, T-1st in MLS in assists (4)
• @RaulRuidiazM, 2nd in MLS in goals (6)

This connection is special 💯 pic.twitter.com/faLYMXKXIL

— Seattle Sounders FC (@SoundersFC) May 24, 2021
There's no beating around the bush: Seattle is good. The Sounders are one of three undefeated clubs in MLS this season (another one being the Nashville club Austin FC faced last weekend) and they have the best record in the league. They're hot off the best start in club history and the 11th-best start since MLS began.
The club has steamrolled competition by trailblazing a 3-5-2 lineup and utilizing a Roldan-to-Ruidiaz pipeline to get the ball in goal, though they've got plenty of other attacking options. Christian Roldan is key to the middle: though he hasn't got the stats, he's ranked at fourth on the MLS' MVP Power Rankings for a reason. Roldan and his brother, right back Alex Roldan, account for three assists for the club as they bring the ball up to Seattle's No. 1 goalscorer, Raul Ruidiaz.
Ruidiaz is only behind Chicharito in goals scored this season, with six goals so far and 12 shots on target. Meanwhile, Nouhou Tolo heads the back of a Sounders defense that is just as strong as the front.
The team has had some of the same injury problems as Austin FC—namely, the injury of Designated Player Nicolas Lodeiro—but Christian Roldan told Sounders Weekly podcast host Jackson Felts that the transition has gone well.
"We're a hard team to score on, and that will always keep you in games," Roldan said. "Not conceding any careless goals and on top of that having a forward that's in form right now....It's really been seamless," Roldan said.
Roldan said that it will be difficult to face an Austin FC side that has an "organized defense" and is "well-coached," but Austin will be threatened on multiple fronts this weekend. Seattle has outscored its competition 10 to 2 and scored four goals off of crowd-raising headers in the past four matches. They've already beaten rivals in the LA Galaxy and Portland Timbers, and they'll be looking to keep their undefeated streak as they head into the weekend.
Austin FC head coach Josh Wolff said it will come down to sticking to the process but creating more dangerous chances in goal as they continue their hardest stretch of the season.
"We all want to win, and we set ourselves up and we compete in a way that we hopefully will go out there and win," Wolff said. "But I don't need to create any undue pressure on anybody based on what media is saying. So my version of it is we have to keep getting better."
Projected starting lineup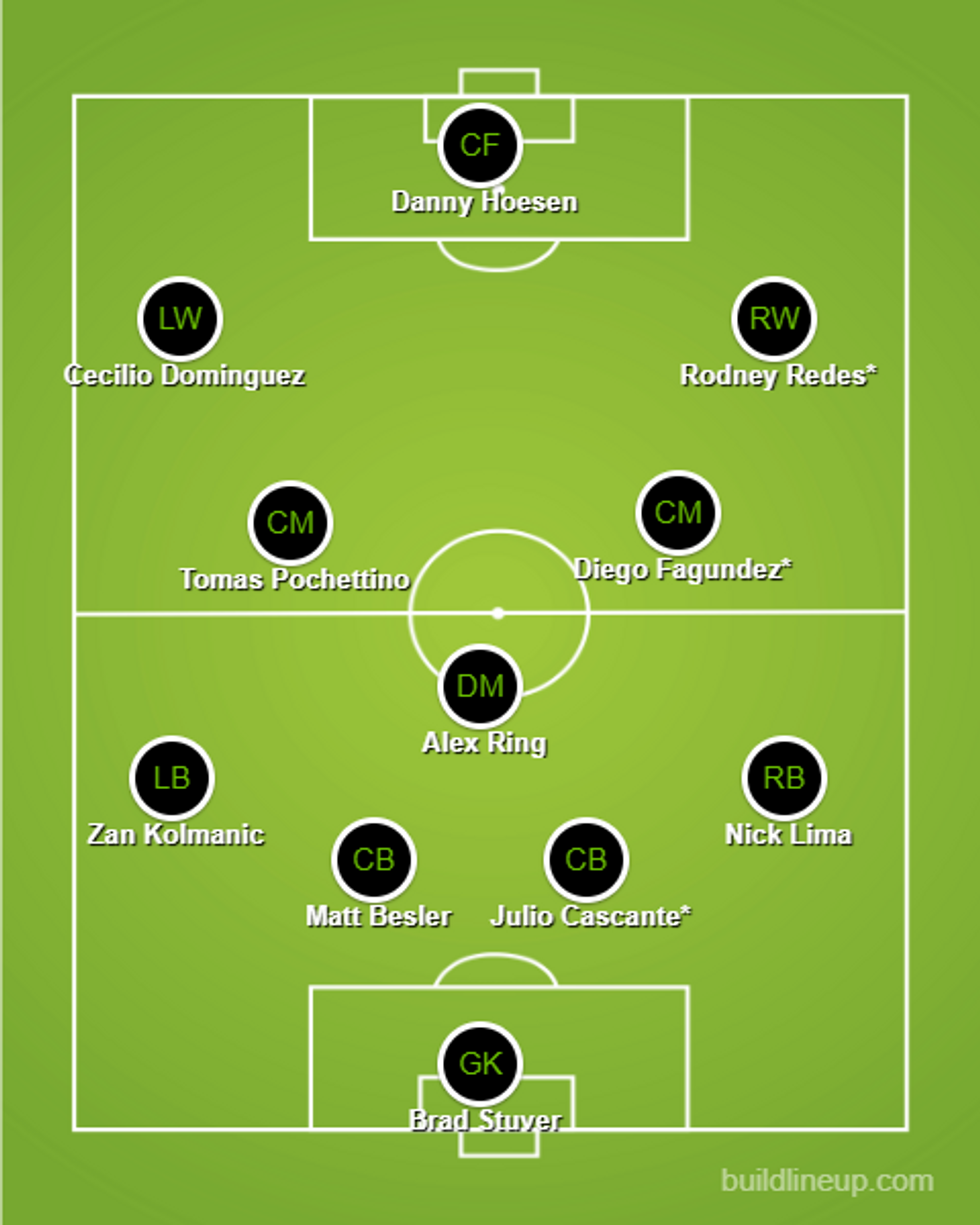 Austin FC saw yet another defender injury after center back Romana left the match early last week. The back line giant will likely not face the Giants of the MLS.
Romana's absence is the latest in a string of injuries that have weighed down an ever-changing back line, and Wolff said both he and midfielder Pereira are "certainly injured" heading into the match.
"It's going to take a little time," Wolff said. "It affects how we can train and certainly what our starters will look like, but it's part of the game. Certainly not afraid of what we have that can come in and play."
Wolff vaguely implied that fans shouldn't count on Romana or Pereira next week. Instead, Julio Cascante, who has started for Matt Besler in the past, will likely get a crack at the Starting XI this weekend. Meanwhile, Diego Fagundez, the man behind Austin FC's first goal who has scored twice this season, is likely to start in Pereira's stead in the middle. Roldan said that Fagundez is a player who has "been thriving" in Austin.
In the highly-contested right wing position, I expect Rodney Redes to take the pitch once again. Redes has slowly become more dangerous after suffering a "ding" to the knee at the end of preseason, but he's got competition in Jared Stroud. Stroud would have been looking at the first goal with the club in Nashville after he snuck one in goal, but the ball was called offsides. Still, the winger has added two key assists to the program and always provides much-needed energy when he hits the pitch.
Wolff was noncommittal on whether he'd start Stroud or Redes in right wing, so it could still go either way.
Luckily in the front, striker Jon Gallagher is back from injury to sit atop the pitch with Danny Hoesen. Because Wolff said he had one of the best chances of the game last match, Hoesen is likely to still start as both lack the punch to get many in goal.
Officials are asking certain residents in Bastrop State Park to evacuate as crews work to put out a "very active fire" that is currently 0% contained.
The Texas A&M Forest Service has responded to help local fire departments with the Rolling Pines Fire at 100 Park Road 1A, which is consuming 300 acres. Residents of Pine Hill Drive, Pine Tree Loop, Linda Lane and Lisa Lane are being asked to evacuate.
Aviation resources have been called to assist.

According to the Bastrop County Office of Emergency Management, the wildfire sparked during a prescribed burn that took place today, despite wildfire warnings. Park Road 1C from Harmon Road to Park Road 1A had been closed for the prescribed burn.
The blaze is in the same location as the Bastrop Complex Fire of 2011, which burned for 55 days, killing two people, destroying 34,000 acres and around 1,700 homes and buildings. The fire, which started in 2011, became the most destructive wildfire in Texas at the time.
A hotbed for fires, the Hidden Pines Fire started at the same location in 2015, destroying 4,600 acres and 64 structures.
Some road closures have been put in place at State Highway 21 South Shore Lake Bastrop and East State Highway 21.
This is a developing story and will be updated as information becomes available.
After months of record-setting periods for Austin real estate, the Austin Board of Realtors announced Tuesday that the metro's housing market accounted for over $23 billion of economic activity in 2021, making it the biggest year yet for both home sales and median home prices in the metro.
The Austin-Round Rock MSA saw 41,316 homes sold in 2021, 2.5% more than a record-setting 2020. Median home prices skyrocketed as well, rising 30.8% from 2020 to $450,000. The housing market also saw unprecedented impact on Austin's economy, with sales dollar volume jumping to over $23.38 billion, and more homes hit the market in 2021 than any previous year, increasing by 5.9% to 46,449 total homes listed.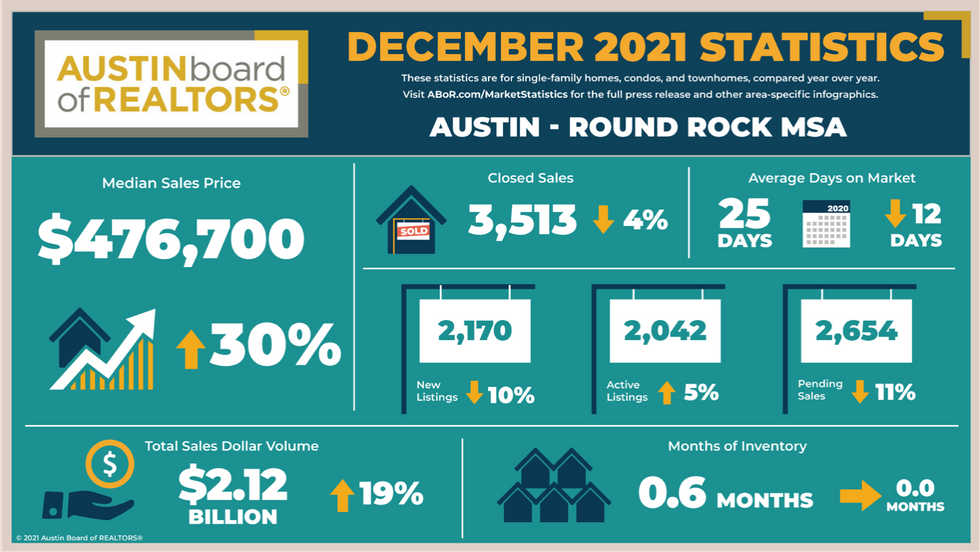 (Austin Board of Realtors)
As many recent Austin homebuyers have experienced firsthand, Austin Board of Realtors 2022 President Cord Shiflet said 2021 was the most "exciting, complicated, fast-paced and record-setting housing market" in Austin's history.
Shiflet dubbed the market as "complicated" for a reason—Austin became a case study on supply and demand in 2021, with demand far outpacing the number of active listings, which dropped by 48.2% to 2,348 homes in 2021.
The metro ended the year with 0.6 months of inventory, a far cry from a "healthy" six-month supply, and houses were snatched at breakneck speeds, spending 25 fewer days on the market when compared to 2020. The average home was on the market for 20 days.
But low inventory is more due to high demand than a stagnant homebuilding market, Mark Sprague, Independence Title's state director of information capital, said in the report.
"In 2021, the record number of homes sold were demand-driven transactions and that demand was influenced greatly by companies continuing to target the region for job creation and expansion," Sprague said. "Even though more homes are being built, listed and sold than ever before, our region is still nowhere close to having a comfortable amount of supply to meet the demand, which is why home prices continue to rise steadily."
Over 23,000 jobs have been promised by companies across the metro as of December 2021, breaking the 2020 record, according to Opportunity Austin, the economic development arm of the Greater Austin Chamber of Commerce. With an influx of major factories and offices, including Tesla's Giga Texas, Samsung's Taylor plant and a planned 33-floor Facebook office, Sprague said the region's booming market paired with a struggling inventory and supply chain issues could be a double-edged sword in 2022.
"In short, 2022 will see a robust market for home sales and property values, but the region must do more to address inventory, " Sprague said.
Shiflet recommended that potential homebuyers make a decision ahead of predicted increases in interest rates and home prices and said that he hopes local politicians will continue to prioritize affordable housing in the election year.
Still, Shiflet said a record-breaking housing market reflects Austin's growing reputation as a hub for talent, tech jobs and a good quality of life.
"With all the new jobs across the region from exciting companies like Tesla and Samsung, Austin was put on the world's stage and captured the hearts and attention of so many," Shiflet said. "We are lucky to call Austin our home when it has so much to offer from a great quality of life to a wonderful destination for innovation and opportunity."