Get connected with our daily update
(Planet Futbol/Twitter)
Kekuta Manneh

Jersey Number: 23
Hometown: Bakau, Gambia
Position: Forward
Age: 26
Former club: New England Revolution
---
Background
HT: It's a 1-0 lead for the visitors thanks to a Kekuta Manneh strike.#NEvCIN pic.twitter.com/wlvQPmzQuR

— Major League Soccer (@MLS) March 24, 2019
It seems only fitting that the Austin FC player who has played in the most far-reaching corners of the globe finally gets to come home. Manneh, who signed to ATXFC as a free agent in January, is originally from Bakau, Gambia but grew up just a few miles from his new team's home.
"Once I signed with Austin, all my friends texted me, 'I can't believe you're back home,'" Manneh said. "So I'm really excited to play in front of them."
Manneh had attracted the attention of American scouts while growing up in Gambia and became part of a growing soccer pipeline from the up-and-coming soccer nation to the U.S. Manneh hadn't ever seen America as a soccer hub, but he soon found success with the prestigious Lone Star Academy and later became a standout scorer for the now-defunct Austin Aztex. While many of his peers were still attending Lake Travis High School, 18-year-old Manneh, now a Generation Adidas signee, was about to be selected as the fourth overall pick for the Vancouver Whitecaps.

He made a name for himself in his four seasons with the Whitecaps. Manneh racked up 22 goals and played in over 100 games in Vancouver, helping the team to the Amway Canadian Championships and ranking second on the MLS's 12 under 24 list along the way.

By 2017, Manneh signed with Columbus Crew SC. Injuries had begun to mar Manneh's meteoric rise, but he still got valuable leadership under coach Gregg Berhalter, who now coaches the U.S. Men's National Team.
Manneh spent a season with the Crew, scoring four goals in 19 games played. Unfortunately, he was unable to keep his contract for the following season and began hopping around the map, playing six matches in two very different climates for FC St. Gallen in Switzerland and CF Pachuca in Liga MX.
Travel-weary and beleaguered, Manneh returned to the MLS in 2019 with FC Cincinnati, scoring four goals in 29 games played before switching over to the New England Revolution for the COVID-ridden 2020 season.
Manneh said he's changed on and off the pitch since his time as a teenager with the Whitecaps.
At 26, Manneh has repped six different professional jerseys in three different nations. Now with his hometown Verde jersey, it only feels right that he can play for a team close to home.
"I've always thought, 'if there's a city in the country that deserves a team, it's Austin,'" Manneh said. "Growing up here... you know how much people love the game."
With Austin FC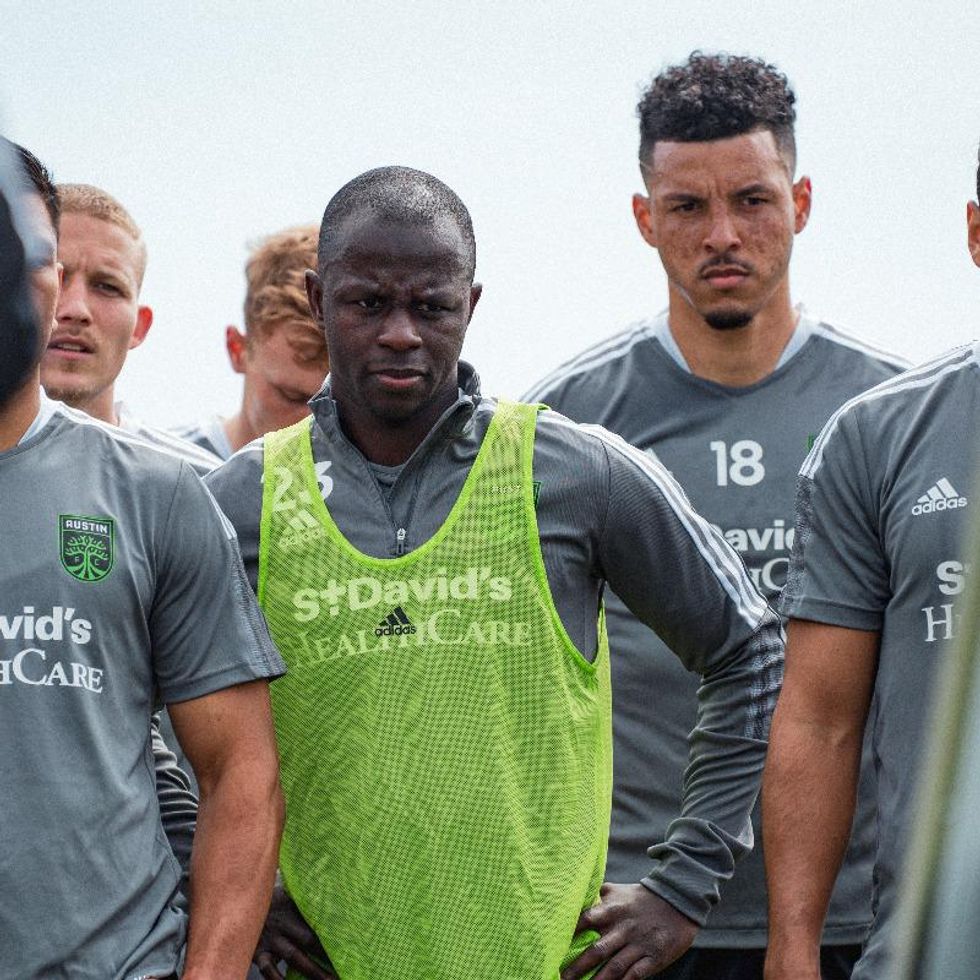 (Austin FC/Twitter)
The only player with Austin roots is also the team's top scorer.
At Austin FC's first-ever scrimmage, Manneh scored two goals against USL team OKC Energy, earning him praise from Head Coach Josh Wolff.
"Kekuta has a number of places that he could play for us," Wolff said. "I've been happy with Kekuta's progress and more just his personality and his character. What he brings each day, it's been great."
A winger who was the youngest player in MLS history to do a hat trick, Manneh brings skill and experience beyond his years to Austin FC. Manneh could see starting time alongside Designated Player Cecilio Dominguez and Danny Hoesen, although he could potentially compete for a spot with young forward Rodney Redes,.
Regardless, Manneh's preseason goals are sure to get him noticed as he adjusts to his hometown team.
When asked about whether he feels pressured by Dominguez, Redes or other potential starters, Manneh said he doesn't really think about it. All he knows is he's going to "fight every day."
Off the pitch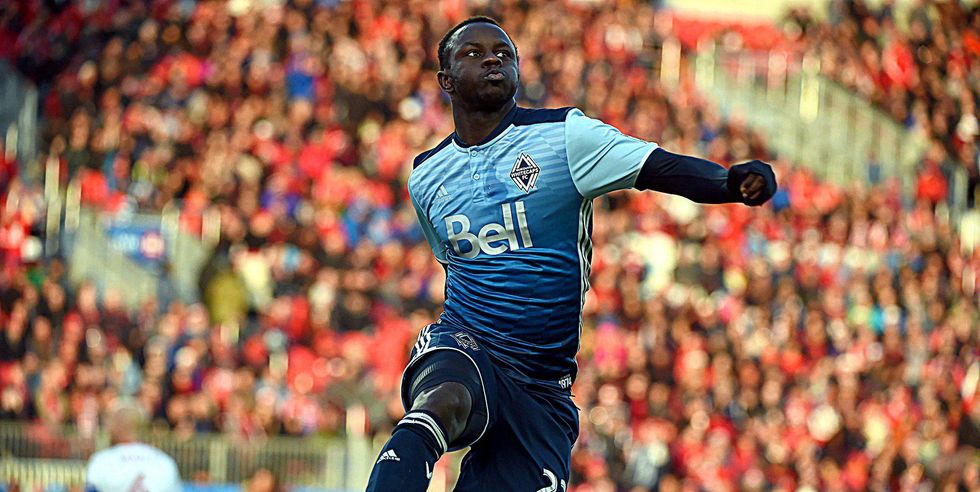 (MLS/Twitter)
Manneh left Gambia a few years after his mother passed at age 10. Shortly after her death, Manneh began dedicating himself to the art of soccer, playing against a wall or with friends before he got the opportunity to go abroad.
Once in America, Manneh found a new family in the Niccums, a host family who took him in as he became accustomed to Austin and the U.S. A Black Muslim, Manneh and the White Christian Niccum family had some cultural hiccups at first but eventually grew an undeniable bond.
After Manneh left Austin for the Whitecaps, the Niccums were a part of his citizenship ceremony in 2016, and the Austin family is more than happy to watch Manneh rep their city once again for Austin FC.
An Austin-based firm that's established itself as one of the top Bitcoin miners in North America is set to go public.
On Thursday, the company, known as Core Scientific Inc., announced it's now trading on Nasdaq as $CORZ. The stock opened at $9.74 per share then peaked at $10.48. The company was assigned a $414 million market cap.
"As one of the largest publicly-traded blockchain infrastructure providers and digital asset miners in North America, we are focused on growing our capacity, defending and securing the blockchain ecosystem and building long-term shareholder value," CEO Mike Levitt said.
As reported by Yahoo News, investors approved a plan for a public debut through a $4.3 billion merger with special purpose acquisition company Power & Digital Infrastructure Acquisition Corp. The deal arrives as Austin sees its crypto scene soar, with increased activity in the NFT economy and groups pooling their money together through DAOs.
Core Scientific was established in 2017 and relocated its headquarters from Seattle to Austin last year. It has a site in Downtown Austin on 106 E. 6th St. and data centers in Georgia, Kentucky, North Carolina and North Dakota. More than 100 full-time employees are in the U.S., but it's unclear how many are in Austin.
Now, they say they are the biggest Bitcoin miners based on processing power, with claims that the combined mining capacity on the Bitcoin network exceeds that of competitors. And SEC filings from earlier this month show it's in the process of acquiring Blockcap, Inc., which moved to Austin last year.
The company describes itself as a leader in high-performance, carbon-neutral blockchain infrastructure in an industry that catches flak for its energy use.
Aside from mining, the company provides internet hosting services for other large-scale miners. In fact, it derives about half its revenue by helping big customers mine, a quality seen in what's often referred to as an "institutional-grade" miner.
Looking ahead, Core Scientific seems optimistic about the year ahead even as Bitcoin falls from its all-time high.
"We've worked hard to lay the groundwork that will enable us to achieve our 2022 projections," Levitt told Yahoo News. "Our objective is to be the best. Being the best means doing all that we can for our business, the industry in which we participate and for the Bitcoin network."
Watch some Cricket
When: 5:30-10 p.m. Saturday and Sunday
Where: The Crossover, 1717 Scottsdale Drive
What: Looking for a new sport to obsess over? Attend one of Sports Movement's indoor cricket matches.
Le Garage Sale
When: 11 a.m. Saturday and Sunday
Where: Palmer Events Center, 900 Barton Springs Rd.
What: Find over 100+ boutiques, brands and designers at Le Garage sale. Shop leisurewear, accessories, menswear, children's apparel, home decor and more. Tickets start at $10.
See a movie at the drive-in
When: 6:25-8:45 p.m., 9:15-10:50 p.m. Saturday
Where: The Globe Drive-In Theater, 8017 Cele Rd.
What: This weekend you can see Harry Potter and the Prisoner of Azkaban at 6:25 p.m. or you can see The Cabin in the Woods at 9:15 p.m. at the drive-in. Tickets cost $16 per car.
Museum of Ice Cream
When: 11:30 a.m Saturday and Sunday
Where: Museum of Ice Cream, 11410 Century Oaks Ter.
What: The Museum of Ice Cream is featuring 12 never-before-seen instillations celebrating the enjoyment of ice cream. View tickets here.
The Austin Flea
When: 12 p.m. Sunday
Where: Meanwhile Brewing, 3901 Promontory Point Dr.
What: Find handmade items, vintage wares, food and drink and more at The Austin Flea at Meanwhile Brewing. Vendors are handpicked for each show to guarantee a great selection of items to shop for.