Get connected with our daily update
There's a reason Austin is known as that "blueberry floating in a bowl of tomato soup," even if the phrase was not meant to be taken as a compliment. "The People's Republic of Austin" has a history of doing things differently than the rest of the state sometimes.
Whether being thrown around by Texas' longstanding Republicans, like when Gov. Greg Abbott celebrated "getting out of the People's Republic of Austin," or embraced by Austin's leftward-leaning, the phrase was coined for Austin's stark departure from the values of the rest of the state.
---
But what actually sets Austin apart from the rest of Texas? Here's how Austin has been more progressive than the red state it's in.
1. The local mask mandate is still in effect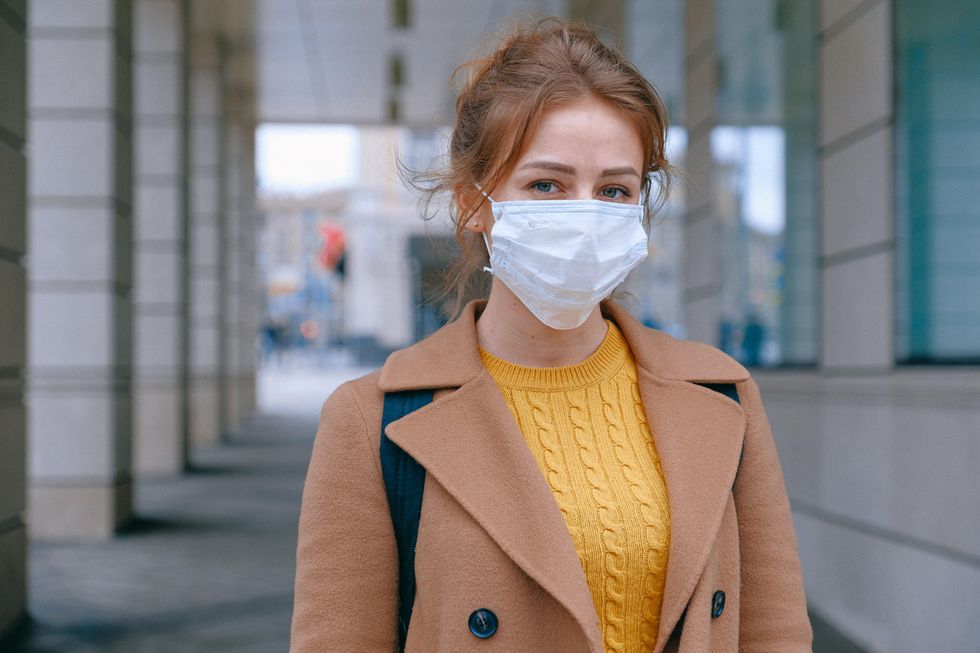 Masks are still required in Austin. (Pexels)
Despite Gov. Greg Abbott's executive order that 100% reopened Texas last month, the city of Austin fought to continue to mask use through a loophole allowing the city health authority to make COVID ordinances. Though Texas Attorney General Ken Paxton filed a lawsuit against the city, Austin stood its ground and won when Texas Judge Lora Livingston ruled the city could keep its mandate.
2. Project Connect passed, despite big tax increase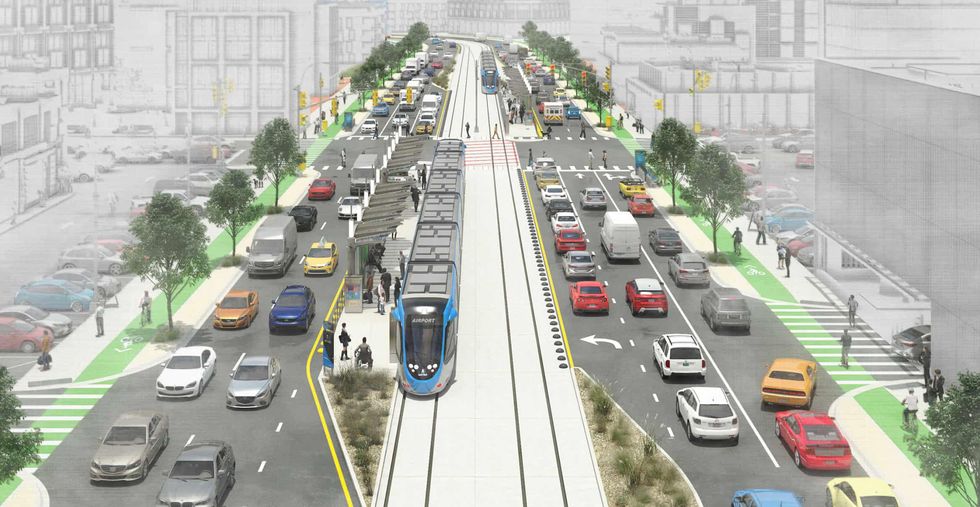 A rendering of what Project Connect will bring to Austin. (Capital Metro)
Despite the $7.1 billion price tag and a 20% increase to the city's property tax rate, Austinites passed Prop A in November, a.k.a Project Connect, with flying colors. A long time coming, voters rejected two other light rail proposals in 2014 and 2000. Project Connect is expected to be partially complete by 2030, a long investment, but is expected to reduce Austin's worsening traffic, provide transit equity and reduce the city's carbon footprint.
3. Cannabis has been decriminalized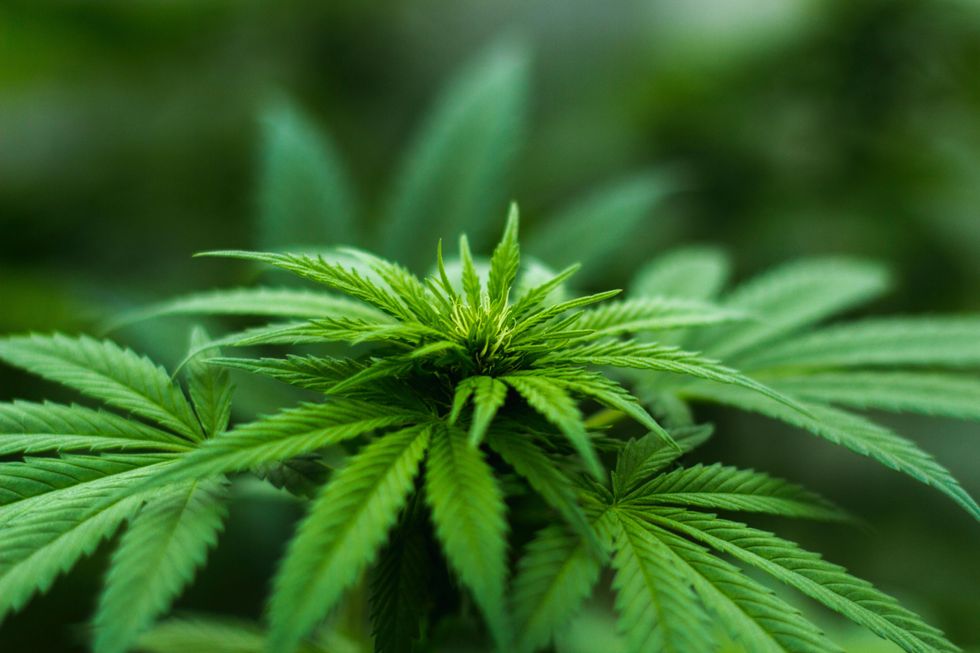 Austin does not make arrests for low-level marijuana offenses. (Pexels)
Former police chief Brian Manley announced that APD officers would no longer make arrests or write tickets for low-level, non-violent possession of marijuana offenses on July 2, 2020, six months after Austin City Council ordered APD to do so. After Manley argued against the order, saying it was still illegal on the federal level, Austin City Council voted to no longer pay for marijuana testing, which severely impacted the chances of achieving conviction. Of course, Austin stoner Willie Nelson rejoiced, announcing a cannabis line and convention earlier this year.
4. "Black Austin Matters" mural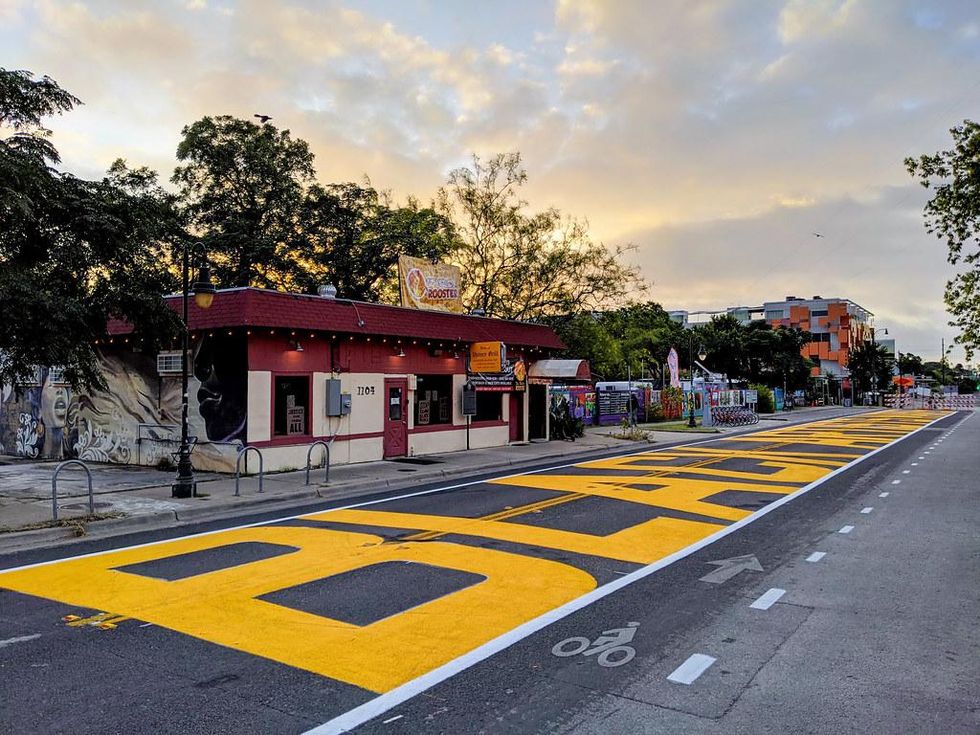 Black Artists Matter is painted on East 11th Street in Austin. (Lars Plougmann/CC)
Setting the city apart from other big metro areas like San Francisco, New York and the rest of Texas, The Austin Justice Coalition and Capitol View Arts decided to keep focus local when they painted "Black Austin Matters" instead of "Black Lives Matter" on Congress Avenue, leading up to the Texas Capitol, on June 16, 2020. While Dallas was the only city in Texas that beat Austin to the punch, painting the resonant phrase "Black Lives Matter" in front of Dallas City Hall, Austin's was the first city-sanctioned mural and the only city with two declarations; on East 11th, the same organizations painted "Black Artists Matter" in support of not only Black Austinites, but Black Artists who have been keeping the arts alive in Austin for decades.
5. Austin embraced the Green New Deal and is working toward greener energy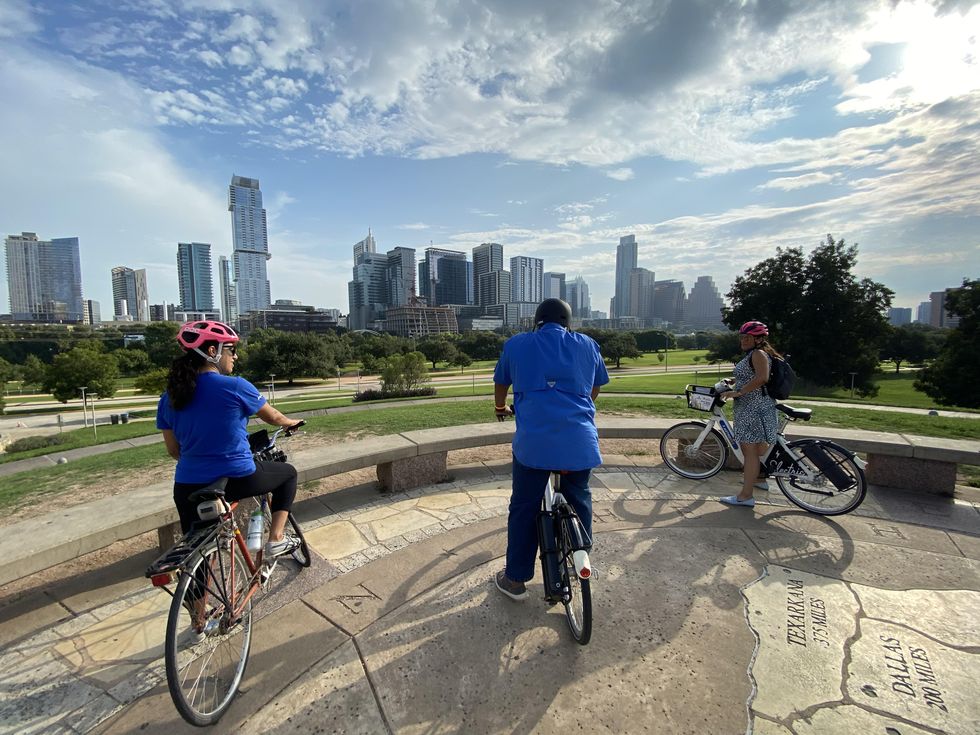 Austin has been forthcoming with plans to be a greener city. (Capital Metro)
The highly-contested Green New Deal, brought forth by U.S. Rep. Alexandra Ocasio-Cortez to try and curb greenhouse gas emissions, was formally backed by Austin City Council in May 2019. Though the deal did not pass, some council members called the resolution "a win/win for everybody," as it addresses issues Austin currently deals with: natural disasters and carbon-based transit. Known as Flash Flood Alley, Central Texas is no stranger to inclement weather and one resolution in the Green New Deal called for cities to hire a "resilience officer" to guide Austin through future environmental challenges. Austin still has yet to hire said officer but City Council has recommended it on more than one occasion. The second resolution called for cities to lower the carbon footprint through greener transit options. As part of Project Connect, Austin has committed to purchase only zero-emission electric buses by 2022 (and they even have USB ports). The City also plans to integrate 125 new electric bikes in addition to the 200 already on the streets.
Additionally, Austin Energy has made a commitment to shift to more use of renewable energy with a solar, wind and biomass plant.
6. Austin is a "Freedom City"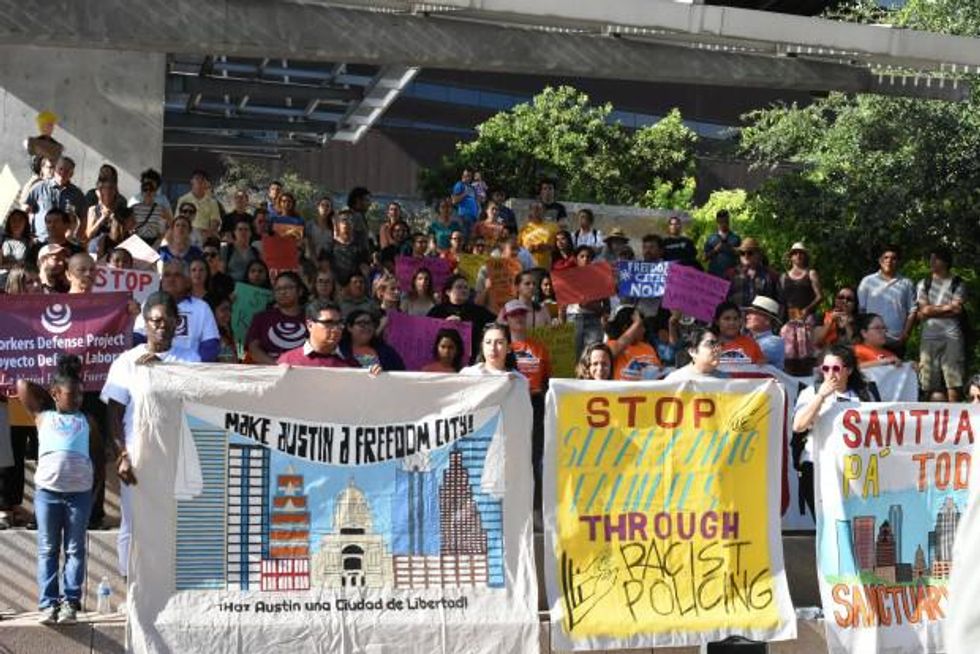 (Grassroots Leadership)
In an ongoing battle to address immigration and racial disparities in the city, Austin City Council voted in favor of "Freedom City" policies in June 2018. In two resolutions, the City committed to the reduction of arrests for low-level charges, as they contribute to racial disparities in the Travis County Jail system and deportation. The City also vowed to create policies to protect immigrants, such as informing them of their right not to answer when asked of immigration status and document the circumstances that led to the question being asked. The policy is the first of its kind in the U.S.
7. Austin's total reverence for Leslie Cochran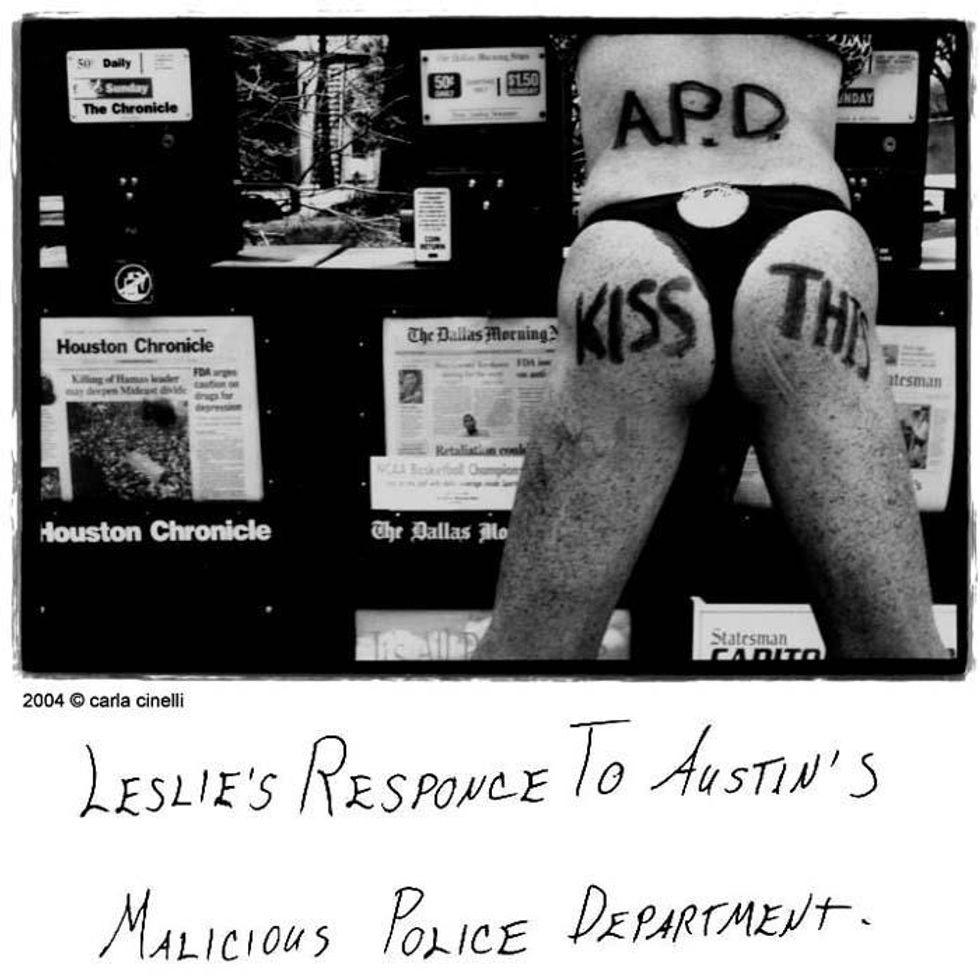 (Carla Cinelli)
Colloquially known as "Leslie the homeless man," Cochran was ahead of his time. A cross-dresser, though he would likely be known as a "queen" in today's terms, Cochran became famous for strutting around the streets of Austin in a leopard-print thong and platform heels. Cochran became the epitome of weird in Austin, running for mayor three times, appearing on The Tonight Show with Jay Leno and was an outspoken advocate for homeless rights and justice against police brutality. The city was completely devoted to Leslie; he died on March 8, 2012, after a head injury in 2009 left him in declining health. The date was declared "Leslie Day" by former mayor Lee Leffingwell. Hundreds gathered at Cochran's memorials, a "Love for Leslie" parade and he is still known for being a symbol of tolerance.
8. "Keep Austin Weird" was popularized by a desire to keep businesses local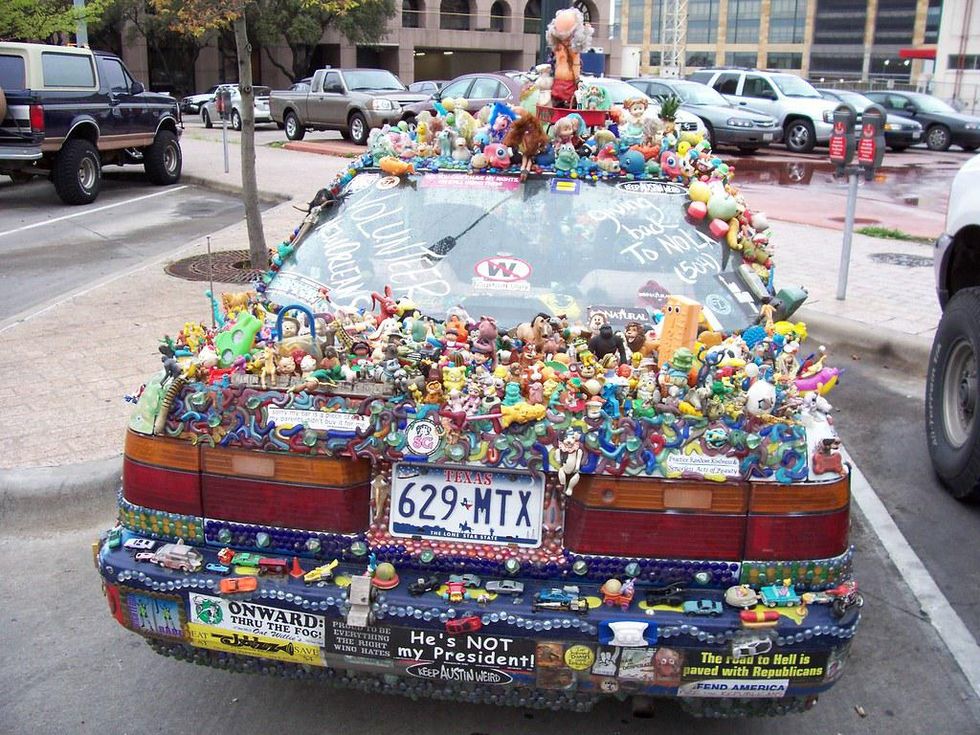 Keep Austin Weird can still be found on bumpers around town. (Al Mendelsohn/cc)
Local Austin Community College librarian Red Wassenich called his local radio station to make his annual donation in 2000. Asked by the host why he was donating, Wassennich said it "helps keep Austin weird," and a local brand campaign was born. The slogan was written on bumper stickers by Wassenich and his wife and popularized as a movement. Quickly picked up by Waterloo Records and Book People, which sold bumper stickers as well, the phrase became synonymous with local businesses. When chain bookstore Borders tried to move in, on 6th Street and Lamar in downtown Austin, across the street from the original Book People and Waterloo, it was heavily opposed by the community and local nonprofit, Liveable City. In the end, Borders pulled out of the development and small businesses won. Austin stayed weird.
9. Austin is the only "topless tested" city in Texas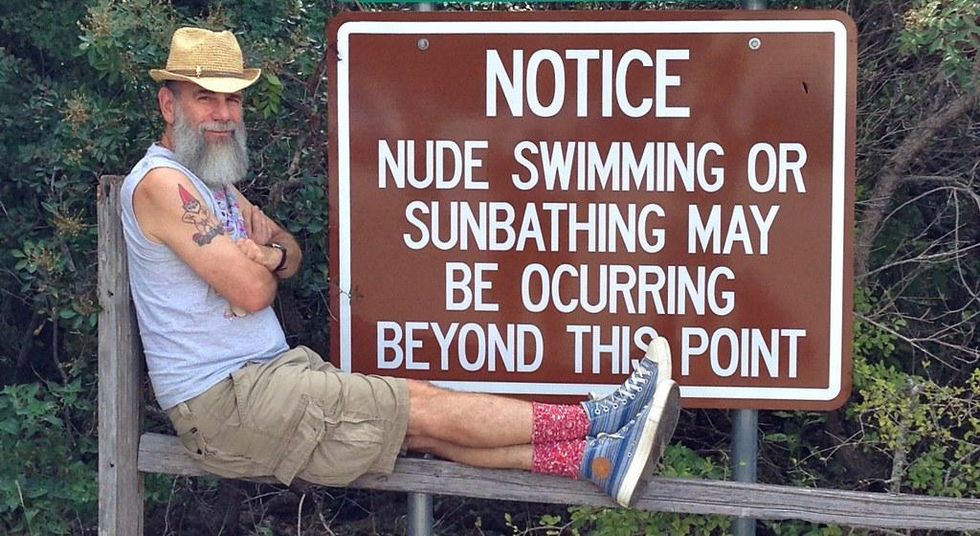 A nude notice sign sits outside Hippie Hollow at 7000 Comanche Trail. (CC)
Technically women can go topless anywhere in Texas, according to advocacy group GoTopless, which cites that the Lone Star State is one of "top freedom" among a majority of other U.S. states. However, Austin is the only "topless tested" city in Texas, and one of only 15 cities total, meaning our local women are more likely to free the nipple. Austin doesn't have any local public nudity laws but that doesn't mean you can't be arrested for disorderly conduct or lewd behavior. If you want to don your birthday suit, you might be better off heading to Hippie Hollow, Texas' only nude park.
Akins Early College High School, 10701 S. 1st St., is on lockdown as district police investigate a report of an "armed subject," Austin ISD Police Chief Ashley Gonzalez tweeted at 10:11 a.m. Wednesday.
As of 11:56 a.m., the involved parties have been identified and located. Students and staff are safe, Gonzalez tweeted, and no shots have been fired as of 11:09 a.m.
Parents are asked to refrain from going to campus.
This post will be updated as more information becomes available.
The Taylor Police Department is investigating an apparent murder-suicide that left four people dead on Tuesday.
Officers responded to a call at around 1 p.m. for a welfare check at 616 Symes St. in Taylor, Texas, where the Taylor Fire Department helped force entry into the home since it was locked, police said. Once inside, officers found four dead bodies. The names of the victims have not been released as police continue to contact relatives, but officers revealed they consisted of a 45-year-old woman, a 20-year-old woman, an 18-year-old man and a 57-year-old man.
Police believe the deaths to be a murder-suicide and are investigating with the help of the Williamson County Sheriff's Office and the Texas Rangers.
Later that day, another murder was reported in Taylor, which police say is unrelated.
Police responded to a shooting at 2100 Whistling Way around 4 p.m. Tuesday. They said a family member found 33-year-old Jonathan Hitch with a gunshot wound to his head. It is being investigated as a suspicious death.
No matter how long you've been in Austin, Samuel Grey Horse has probably been here longer than you and the spirit of his indigenous ancestors walked the land far before anyone living did. Born and raised in the capital city in 1961, the city has grown and changed all around him.
You've probably seen or heard of Grey Horse before—he's been called the "Sixth Street Cowboy" due to his penchant for riding his horses through the city streets, dressing up as Santa Claus during the holidays and making national news back in 2011 when he received a DUI while riding his mule down Sixth Street.
"I remember when I could see the capital from anywhere," Grey Horse told Austonia during a visit to his East Austin ranch. "I never thought or imagined that I would see Austin like this."
Now, living with his three horses, mule and dogs in East Austin on "the road that time forgot," Grey Horse lives the "Native" lifestyle; he cares for his horses, tends to his garden, holds sacred prayer ceremonies, writes music, sings with legendary musicians and occasionally films with Richard Linklater, director of "Dazed and Confused."
Just as Austin changed over the years, so too did Grey Horse. On June 26, 2010, he was in an accident that he credits for changing his life. While riding a racing horse, Grey Horse's saddle came loose and dragged him underneath for 150 yards. By the time they had stopped, Grey Horse had 12 broken ribs, collapsed lungs, a broken neck, broken clavicle, cracked skull, broken wrist and went into a coma.
"I had all the things done to me but that's how the universe teaches you," Grey Horse said. "They said I would never ride a horse again or walk correctly, but no, I don't live in that world, because where I went to with my coma. I was living in another world, in the other world's illusion."
His road to recovery was long, arduous, miraculous and aided by his horses: Big Tex, Big Red and mule Mula, who have all been in his care for well over a decade. Grey Horse said they took care of his "energy" when he needed them most. Despite the pain that ensued from horses, his accident drew the cross-species family together.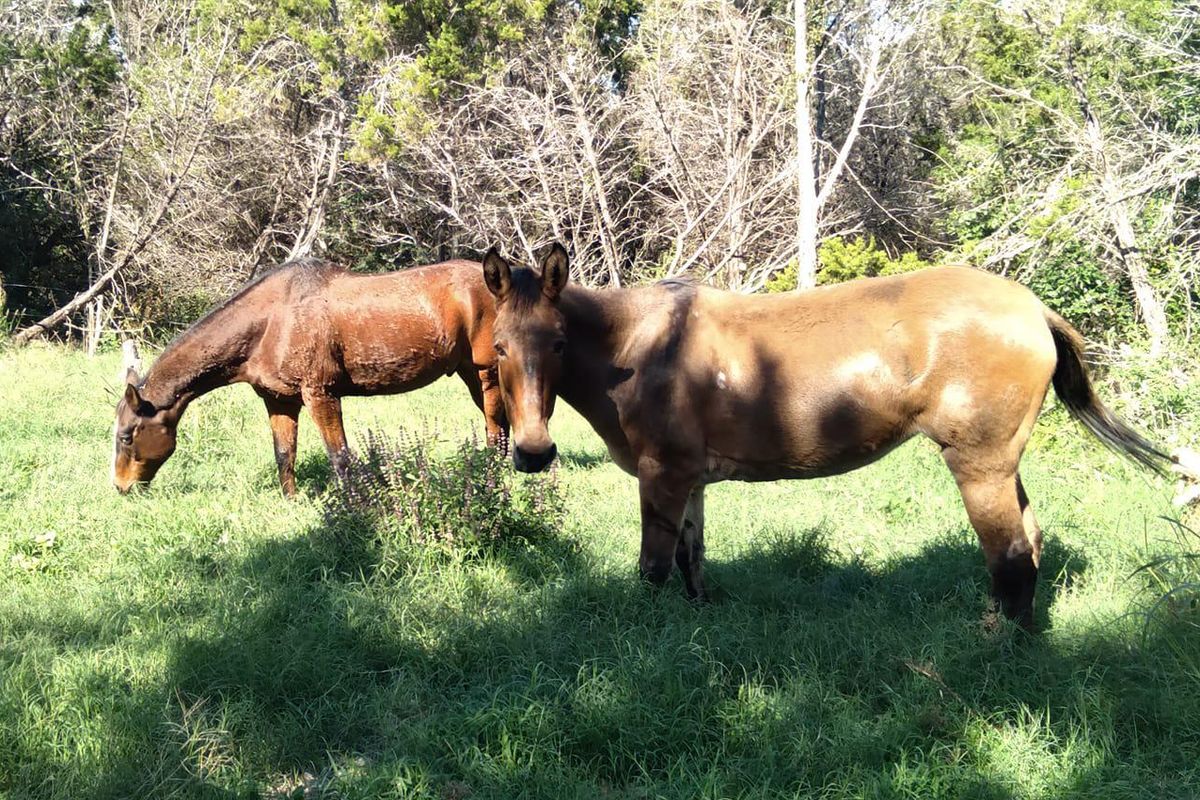 Big Red and Mula have been living with Grey Horse for 16 and 14 years, respectively. (Sam Grey Horse/Instagram)
"I ride them around town and share them with everybody because everything has a purpose," Grey Horse said. "You don't throw something away just because it's a little beat up. I was all beat up."
The winters are still painful for his joints but he powers through so he can bring joy to the people of Downtown Austin in his Santa Claus costume every year.

"I can't hurt because I'm Santa Claus, and I got to be Santa for the kids and everybody. I give them inspiration and energy, I make millions happy downtown," Grey Horse said. "I sing often with a cordless mic, my horses dance and they're happy. If I can make one person happy that makes a difference."
Though it was never his intention, a career in music found Grey Horse and it felt right due to his mother telling him as a child he would be a singer one day. Grey Horse recently returned from his tour with The Greyhounds and Sir Woman across Texas, Arkansas and Oklahoma.
(Laura Figi/Austonia)
His original song, "Crow Dog," is a tribute to his life and the people who have passed along their loving energy in it.

Show biz can't get enough of Grey Horse, who also models for Patagonia and Levi's; he taught Joe Jonas how to ride a horse for a video shoot. He is now working with a British filmmaker on a documentary, and was featured on episode 10 of Linklater's "That Animal Rescue Show."
"I sing with Grammy winners, which is very special to me, and I write songs about my life. Very magical stuff," Grey Horse said. "(The tour) was one of the best runs we've done for now—people are out and want to get out and the energy the guys bring is amazing."

You're certain to see Grey Horse around town if you spend some time near The Continental Club on South Congress or the Texas Capitol into the night. Until then, tok sha.
"There are no words for goodbye in my language, it's 'tok sha,'" Grey Horse said. "It means I'll see you again. I'll see you soon. I'll see you in the next life."