Austonia AM
100% Austin news, info, and entertainment, straight to your inbox at 6 a.m. every morning.
In five minutes, you're fully informed and ready to start another great day in our city.
Get connected with our daily update
There's a reason Austin is known as that "blueberry floating in a bowl of tomato soup," even if the phrase was not meant to be taken as a compliment. "The People's Republic of Austin" has a history of doing things differently than the rest of the state sometimes.
Whether being thrown around by Texas' longstanding Republicans, like when Gov. Greg Abbott celebrated "getting out of the People's Republic of Austin," or embraced by Austin's leftward-leaning, the phrase was coined for Austin's stark departure from the values of the rest of the state.
---
But what actually sets Austin apart from the rest of Texas? Here's how Austin has been more progressive than the red state it's in.
1. The local mask mandate is still in effect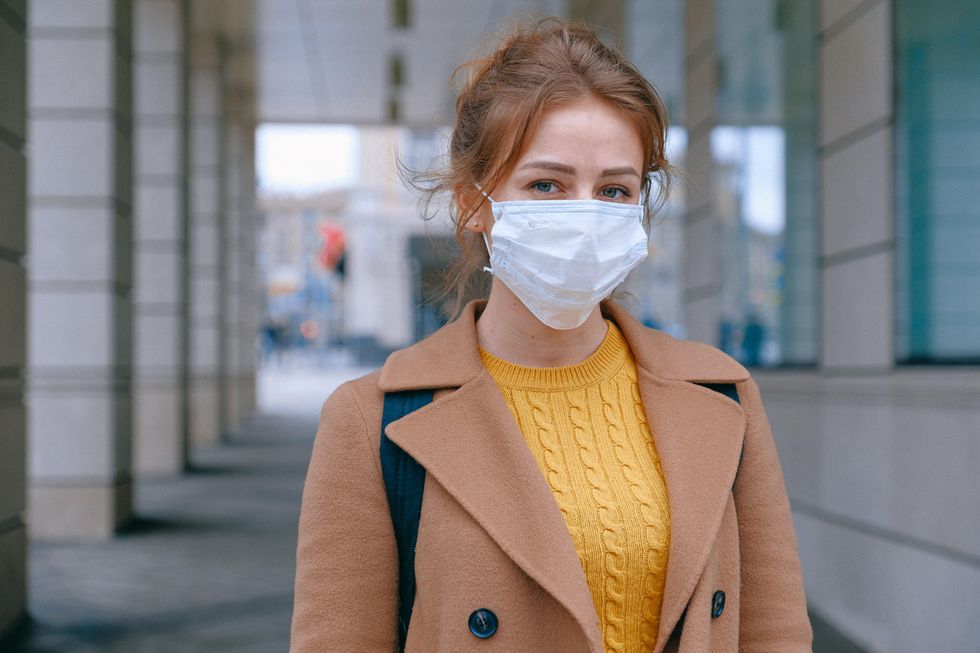 Masks are still required in Austin. (Pexels)
Despite Gov. Greg Abbott's executive order that 100% reopened Texas last month, the city of Austin fought to continue to mask use through a loophole allowing the city health authority to make COVID ordinances. Though Texas Attorney General Ken Paxton filed a lawsuit against the city, Austin stood its ground and won when Texas Judge Lora Livingston ruled the city could keep its mandate.
2. Project Connect passed, despite big tax increase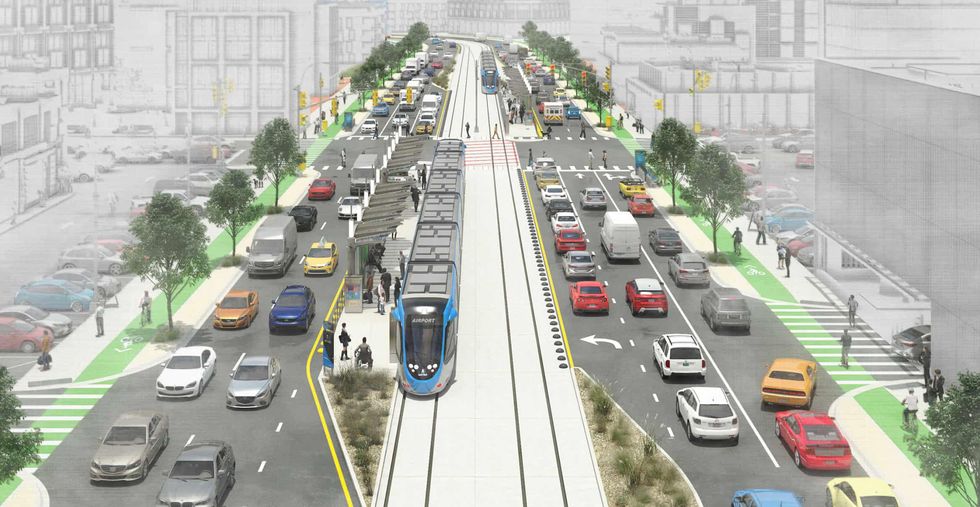 A rendering of what Project Connect will bring to Austin. (Capital Metro)
Despite the $7.1 billion price tag and a 20% increase to the city's property tax rate, Austinites passed Prop A in November, a.k.a Project Connect, with flying colors. A long time coming, voters rejected two other light rail proposals in 2014 and 2000. Project Connect is expected to be partially complete by 2030, a long investment, but is expected to reduce Austin's worsening traffic, provide transit equity and reduce the city's carbon footprint.
3. Cannabis has been decriminalized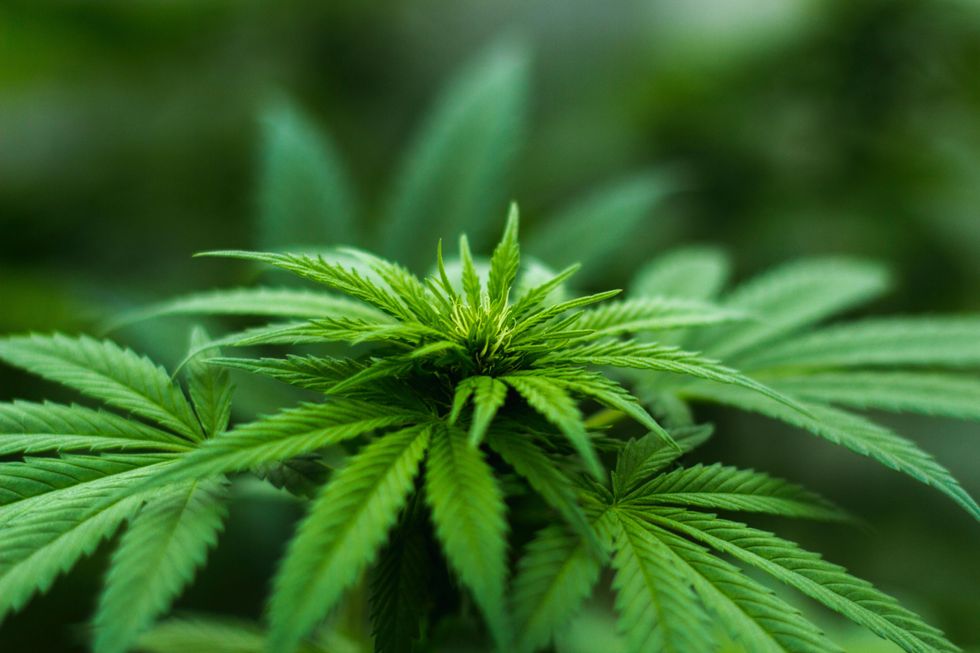 Austin does not make arrests for low-level marijuana offenses. (Pexels)
Former police chief Brian Manley announced that APD officers would no longer make arrests or write tickets for low-level, non-violent possession of marijuana offenses on July 2, 2020, six months after Austin City Council ordered APD to do so. After Manley argued against the order, saying it was still illegal on the federal level, Austin City Council voted to no longer pay for marijuana testing, which severely impacted the chances of achieving conviction. Of course, Austin stoner Willie Nelson rejoiced, announcing a cannabis line and convention earlier this year.
4. "Black Austin Matters" mural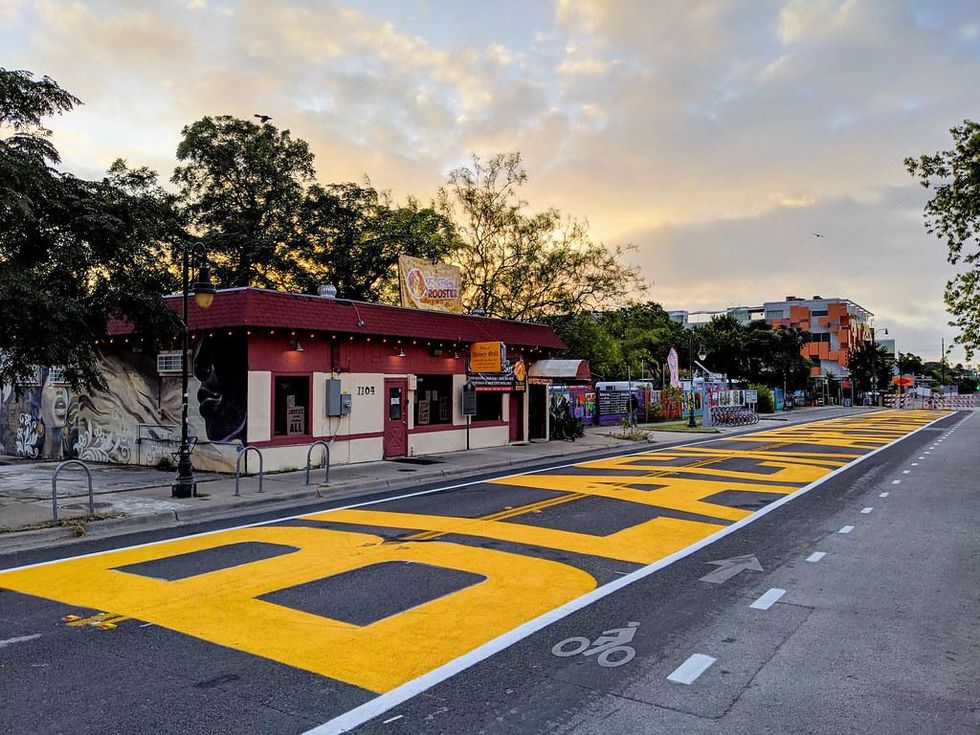 Black Artists Matter is painted on East 11th Street in Austin. (Lars Plougmann/CC)
Setting the city apart from other big metro areas like San Francisco, New York and the rest of Texas, The Austin Justice Coalition and Capitol View Arts decided to keep focus local when they painted "Black Austin Matters" instead of "Black Lives Matter" on Congress Avenue, leading up to the Texas Capitol, on June 16, 2020. While Dallas was the only city in Texas that beat Austin to the punch, painting the resonant phrase "Black Lives Matter" in front of Dallas City Hall, Austin's was the first city-sanctioned mural and the only city with two declarations; on East 11th, the same organizations painted "Black Artists Matter" in support of not only Black Austinites, but Black Artists who have been keeping the arts alive in Austin for decades.
5. Austin embraced the Green New Deal and is working toward greener energy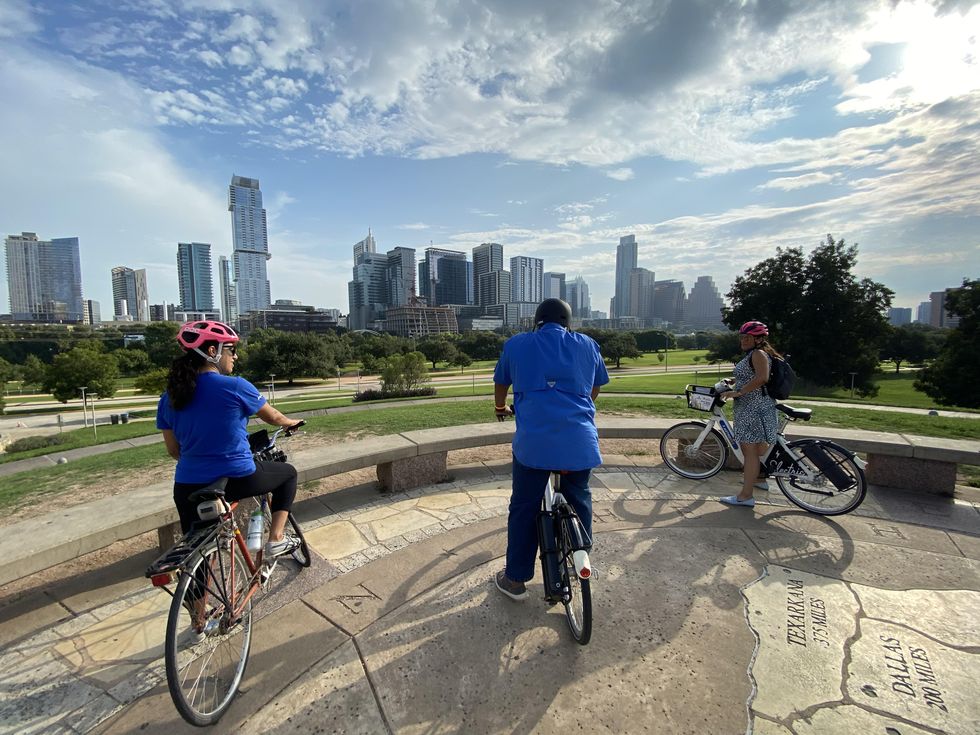 Austin has been forthcoming with plans to be a greener city. (Capital Metro)
The highly-contested Green New Deal, brought forth by U.S. Rep. Alexandra Ocasio-Cortez to try and curb greenhouse gas emissions, was formally backed by Austin City Council in May 2019. Though the deal did not pass, some council members called the resolution "a win/win for everybody," as it addresses issues Austin currently deals with: natural disasters and carbon-based transit. Known as Flash Flood Alley, Central Texas is no stranger to inclement weather and one resolution in the Green New Deal called for cities to hire a "resilience officer" to guide Austin through future environmental challenges. Austin still has yet to hire said officer but City Council has recommended it on more than one occasion. The second resolution called for cities to lower the carbon footprint through greener transit options. As part of Project Connect, Austin has committed to purchase only zero-emission electric buses by 2022 (and they even have USB ports). The City also plans to integrate 125 new electric bikes in addition to the 200 already on the streets.
Additionally, Austin Energy has made a commitment to shift to more use of renewable energy with a solar, wind and biomass plant.
6. Austin is a "Freedom City"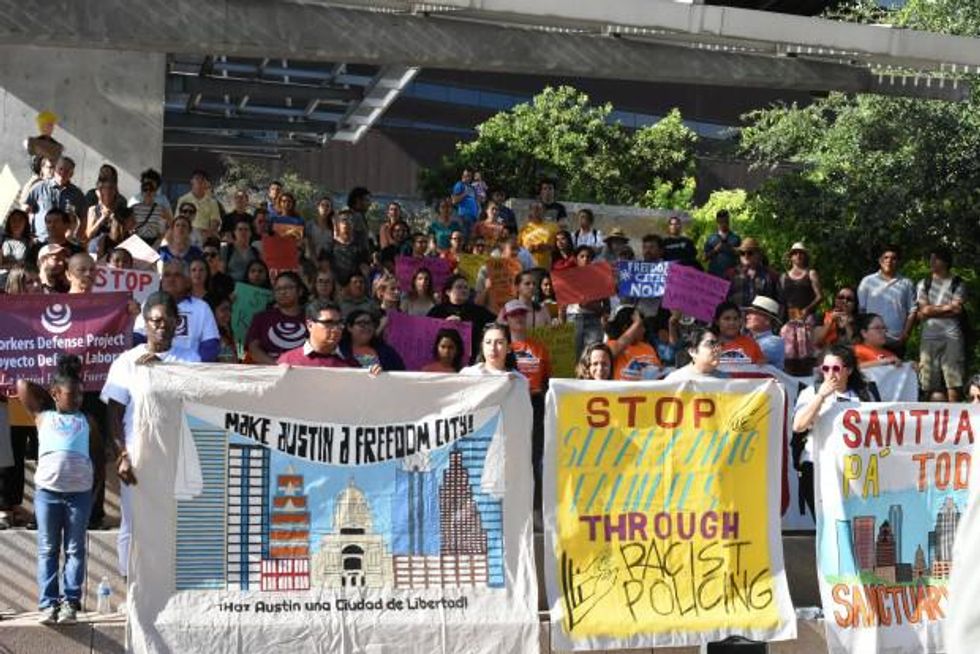 (Grassroots Leadership)
In an ongoing battle to address immigration and racial disparities in the city, Austin City Council voted in favor of "Freedom City" policies in June 2018. In two resolutions, the City committed to the reduction of arrests for low-level charges, as they contribute to racial disparities in the Travis County Jail system and deportation. The City also vowed to create policies to protect immigrants, such as informing them of their right not to answer when asked of immigration status and document the circumstances that led to the question being asked. The policy is the first of its kind in the U.S.
7. Austin's total reverence for Leslie Cochran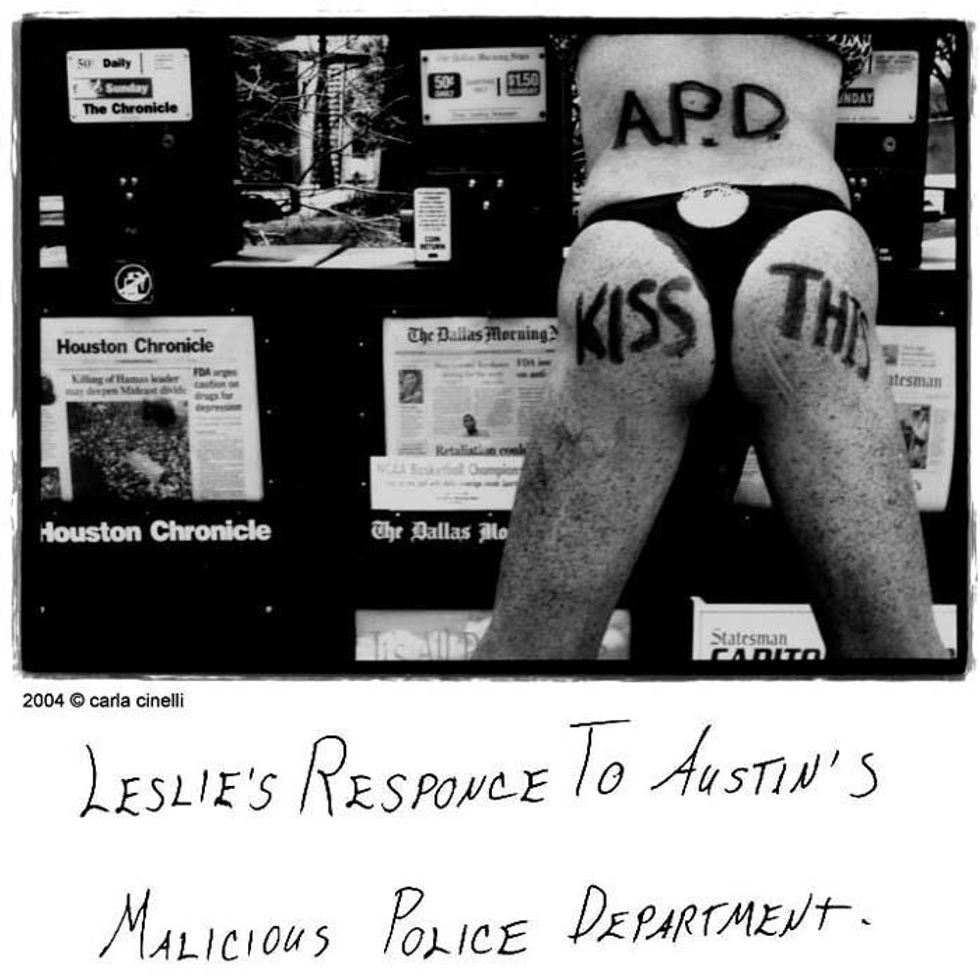 (Carla Cinelli)
Colloquially known as "Leslie the homeless man," Cochran was ahead of his time. A cross-dresser, though he would likely be known as a "queen" in today's terms, Cochran became famous for strutting around the streets of Austin in a leopard-print thong and platform heels. Cochran became the epitome of weird in Austin, running for mayor three times, appearing on The Tonight Show with Jay Leno and was an outspoken advocate for homeless rights and justice against police brutality. The city was completely devoted to Leslie; he died on March 8, 2012, after a head injury in 2009 left him in declining health. The date was declared "Leslie Day" by former mayor Lee Leffingwell. Hundreds gathered at Cochran's memorials, a "Love for Leslie" parade and he is still known for being a symbol of tolerance.
8. "Keep Austin Weird" was popularized by a desire to keep businesses local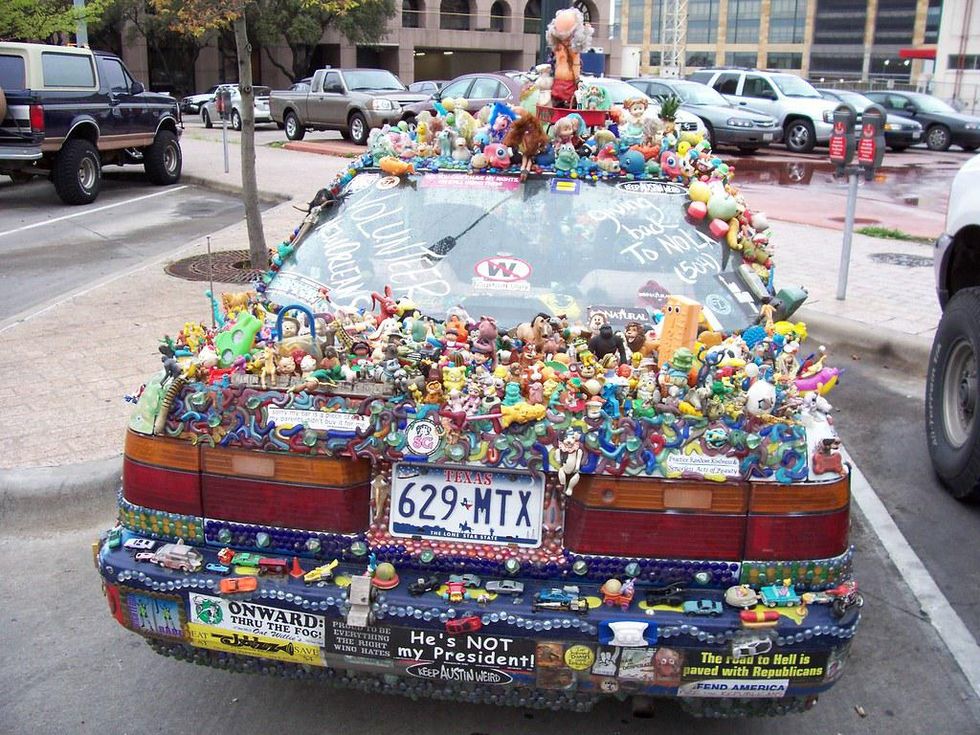 Keep Austin Weird can still be found on bumpers around town. (Al Mendelsohn/cc)
Local Austin Community College librarian Red Wassenich called his local radio station to make his annual donation in 2000. Asked by the host why he was donating, Wassennich said it "helps keep Austin weird," and a local brand campaign was born. The slogan was written on bumper stickers by Wassenich and his wife and popularized as a movement. Quickly picked up by Waterloo Records and Book People, which sold bumper stickers as well, the phrase became synonymous with local businesses. When chain bookstore Borders tried to move in, on 6th Street and Lamar in downtown Austin, across the street from the original Book People and Waterloo, it was heavily opposed by the community and local nonprofit, Liveable City. In the end, Borders pulled out of the development and small businesses won. Austin stayed weird.
9. Austin is the only "topless tested" city in Texas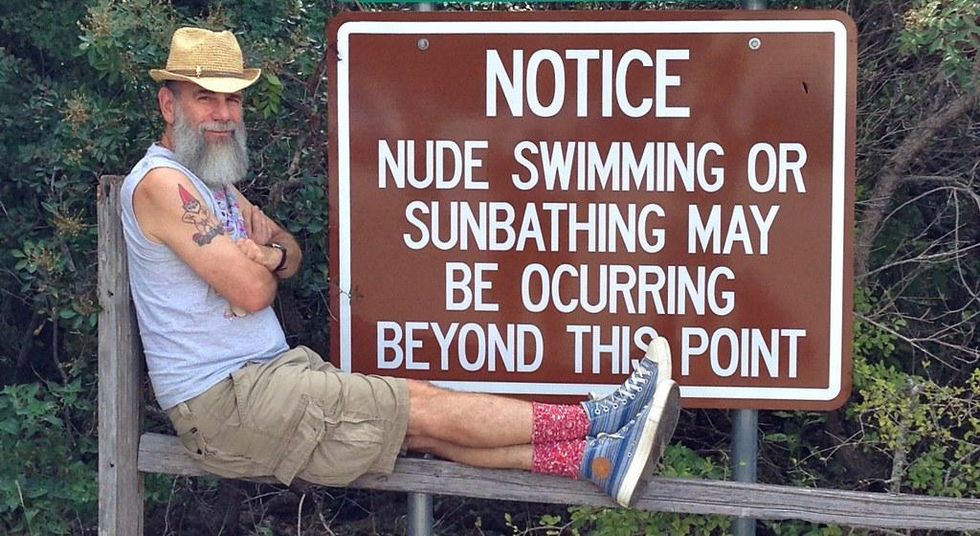 A nude notice sign sits outside Hippie Hollow at 7000 Comanche Trail. (CC)
Technically women can go topless anywhere in Texas, according to advocacy group GoTopless, which cites that the Lone Star State is one of "top freedom" among a majority of other U.S. states. However, Austin is the only "topless tested" city in Texas, and one of only 15 cities total, meaning our local women are more likely to free the nipple. Austin doesn't have any local public nudity laws but that doesn't mean you can't be arrested for disorderly conduct or lewd behavior. If you want to don your birthday suit, you might be better off heading to Hippie Hollow, Texas' only nude park.
A second person connected to Saturday morning's Sixth Street mass shooting has been arrested. The Austin Police Department confirmed they arrested a 17-year-old male suspect in Killeen on Monday.
The suspect has been identified as Jeremiah Roshaun Leland James Tabb, who will be charged as an adult with aggravated assault, officials confirmed. He was arrested without incident while enrolled in a summer school class.
Police arrested the first suspect, a 16-year-old male, on Saturday evening. It is still not known what charges the suspect will face and since he is a minor, court records and identity will likely remain confidential.
The shooting occurred in the early morning hours of Saturday, June 12, when two men fired shots into a large crowd on the 400 block of East Sixth Street and injured 13, killing one. Investigators believe there was "some type of disturbance" between the two parties.
A 25-year-old tourist visiting from New York, named Douglas John Kantor, succumbed to his injuries while in the hospital on Sunday afternoon. He leaves behind family and his high-school sweetheart.
The investigation is still ongoing and information can still be reported by calling 911 or the police tip line at 512-472-TIPS.
(Pexels)
With high temperatures looming over Austin for the next week, The Electric Reliability Council of Texas, which controls about 90% of the state's electricity flow, is asking residents to conserve energy usage through Friday, June 18.
ERCOT issued the conservation alert via Tweet on Monday afternoon, saying that a high number of "forced generation outages combined with potential record electric use" during June have created tight grid conditions. Austin Energy echoed the request.
🔊CONSERVATION URGED! @ERCOT_ISO is asking Texans to reduce electric use as much as possible today, 6/14 through Friday, 6/18, due to statewide grid conditions.
ERCOT says a significant number of power generators have forced outages for repairs. (1/2)
— Austin Energy (@austinenergy) June 14, 2021
ERCOT is attributing the "tight grid conditions" to more electric generators than usual being shut down for repairs.
June is going to be hot—temperatures are expected to peak around 96 degrees every day through Friday. It's just the start of the Texas summer season with high temperatures likely not dipping below 90 degrees for the rest of the month.
ERCOT data indicated that energy demand may exceed capacity during peak heat hours. According to ERCOT, approximately 11,000 MW of generation is on forced outages for repairs and today's peak load forecast may exceed 73,000 MW. The previous record for June was 69,100 megawatts in 2018.
One MW typically powers 200 homes on a summer day.
ERCOT shared voluntary guidelines to reduce energy usage:
Set your thermostat to 78 degrees or higher–every degree of cooling increases your energy use by 6-8%.
Turn off lights and pool pumps and avoid using large appliances like ovens, washing machines and dryers.
If you don't need something–turn it off and unplug it if possible.
ERCOT has been under scrutiny since the grid collapsed in February during Winter Storm Uri, leaving millions of Texans in the cold and dark for days. The mass outage prompted a series of changes, including resignations, termination of President and CEO Bill Magness and a state investigation.
ERCOT previously said in May that it expected a relatively mild summer for emergency conditions and said it expects a peak energy demand of 77,144 MW through September.
Family, friends and the community are remembering Douglas John Kantor, the 25-year-old who was killed on Sixth Street after a mass shooting that injured 13 others early Saturday morning.
Kantor, who was visiting from New York and lived in Michigan, died in a hospital just after noon on Sunday after being "shot in the abdomen, just below the rib cage," according to his brother Nick Kantor.
One other victim remains in critical condition. Two suspects have been arrested as police continue to investigate the incident.
"He suffered from the time of the injury until time of death, it was the most gruesome thing," Nick Kantor told KVUE. "It's painful to discuss, but I think the public deserves to know what my brother suffered."
Nick Kantor released a statement to KVUE following his sibling's death, calling the shooting a "senseless tragedy" that "put an end to all his dreams."
According to Nick, Douglas Kantor was "looking forward to marrying his high school sweetheart of 10 years and starting a family." He had recently bought a house after receiving his master's degree in business at Michigan State, where he also completed four years in computer engineering.
Kantor was employed with Ford Motor Company as a product manager and had also used his computer science skills to develop a website for his family's air conditioning and heating business. Nick Kantor said Douglas was "loved by his family, friends and everyone who met him."
City officials and community members joined Nick Kantor in remembering Douglas Kantor.
Mayor Steve Adler released the following statement regarding Kantor's death:
"The loss suffered by the Kantor family is unimaginable. Doug Kantor leaves behind family, friends, and the future he was building. His senseless death has filled us with enormous grief, and even more resolve to stop this from happening here and across the country. Our hearts go out to all of Doug Kantor's loved ones."
A new Facebook page labeled the Downtown Austin Mass Shooting Survivors has issued a survivors fund for the 13 other victims injured.