Get connected with our daily update
There's a reason Austin is known as that "blueberry floating in a bowl of tomato soup," even if the phrase was not meant to be taken as a compliment. "The People's Republic of Austin" has a history of doing things differently than the rest of the state sometimes.
Whether being thrown around by Texas' longstanding Republicans, like when Gov. Greg Abbott celebrated "getting out of the People's Republic of Austin," or embraced by Austin's leftward-leaning, the phrase was coined for Austin's stark departure from the values of the rest of the state.
---
But what actually sets Austin apart from the rest of Texas? Here's how Austin has been more progressive than the red state it's in.
1. The local mask mandate is still in effect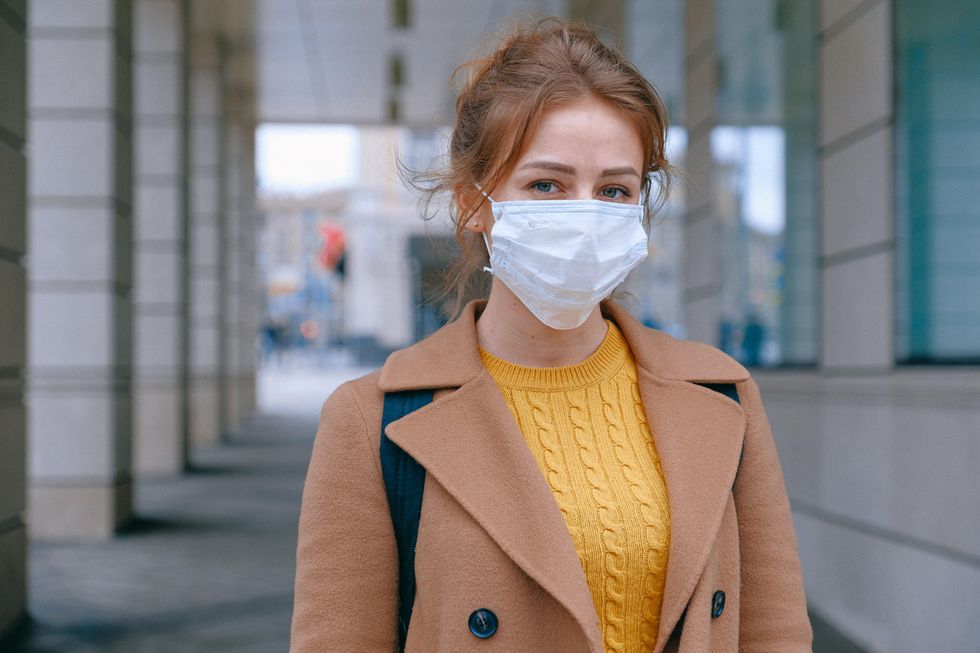 Masks are still required in Austin. (Pexels)
Despite Gov. Greg Abbott's executive order that 100% reopened Texas last month, the city of Austin fought to continue to mask use through a loophole allowing the city health authority to make COVID ordinances. Though Texas Attorney General Ken Paxton filed a lawsuit against the city, Austin stood its ground and won when Texas Judge Lora Livingston ruled the city could keep its mandate.
2. Project Connect passed, despite big tax increase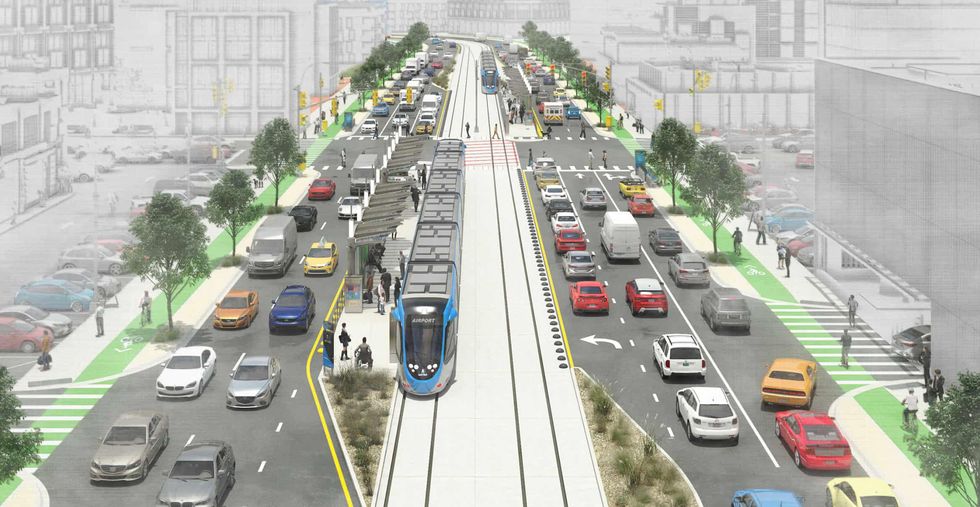 A rendering of what Project Connect will bring to Austin. (Capital Metro)
Despite the $7.1 billion price tag and a 20% increase to the city's property tax rate, Austinites passed Prop A in November, a.k.a Project Connect, with flying colors. A long time coming, voters rejected two other light rail proposals in 2014 and 2000. Project Connect is expected to be partially complete by 2030, a long investment, but is expected to reduce Austin's worsening traffic, provide transit equity and reduce the city's carbon footprint.
3. Cannabis has been decriminalized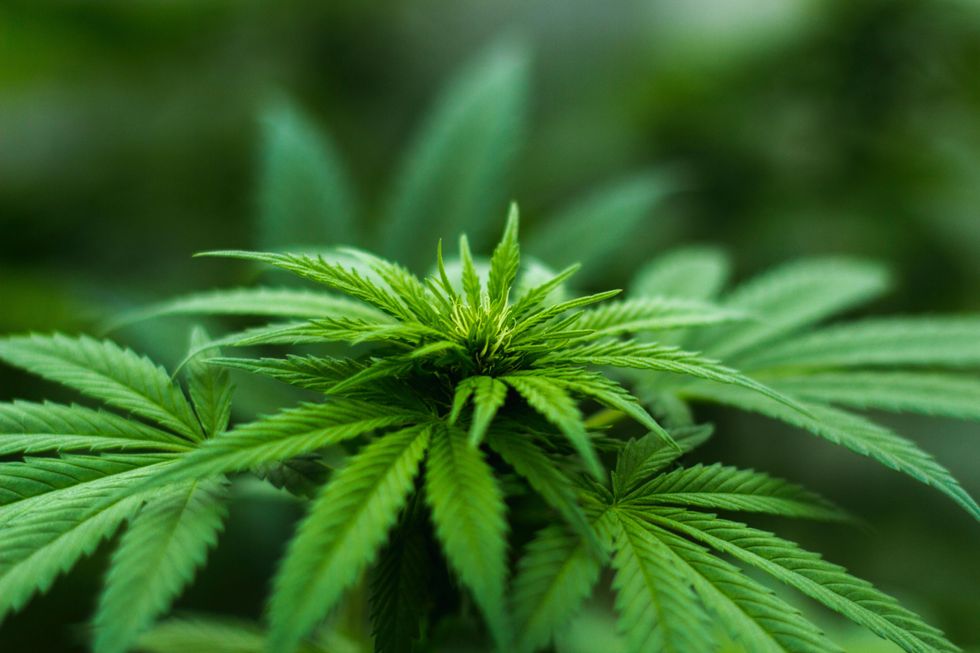 Austin does not make arrests for low-level marijuana offenses. (Pexels)
Former police chief Brian Manley announced that APD officers would no longer make arrests or write tickets for low-level, non-violent possession of marijuana offenses on July 2, 2020, six months after Austin City Council ordered APD to do so. After Manley argued against the order, saying it was still illegal on the federal level, Austin City Council voted to no longer pay for marijuana testing, which severely impacted the chances of achieving conviction. Of course, Austin stoner Willie Nelson rejoiced, announcing a cannabis line and convention earlier this year.
4. "Black Austin Matters" mural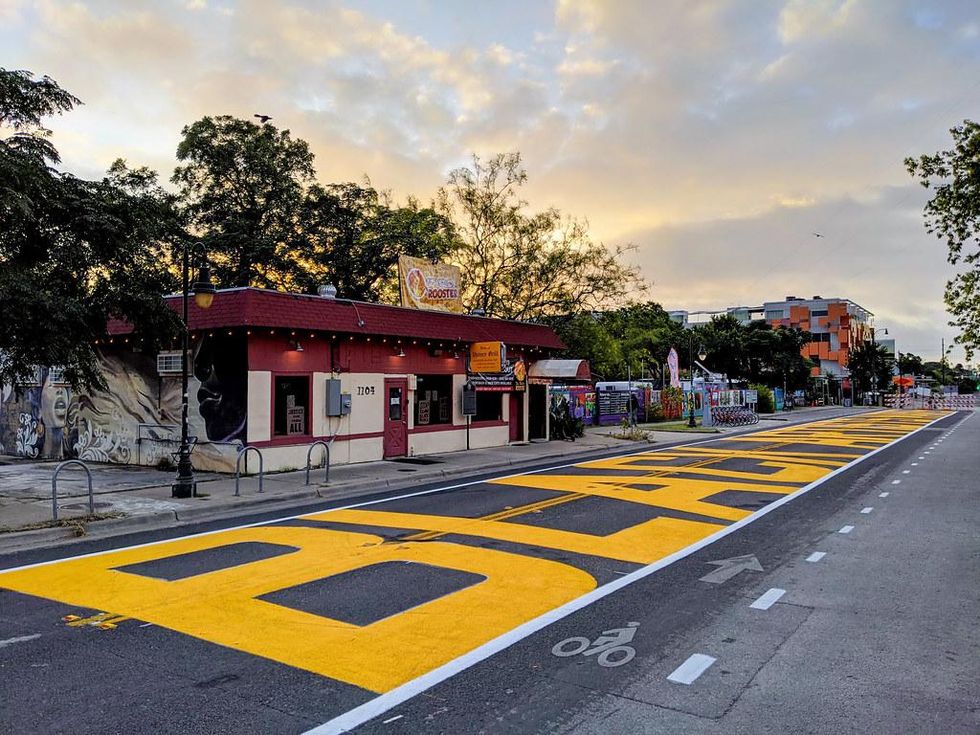 Black Artists Matter is painted on East 11th Street in Austin. (Lars Plougmann/CC)
Setting the city apart from other big metro areas like San Francisco, New York and the rest of Texas, The Austin Justice Coalition and Capitol View Arts decided to keep focus local when they painted "Black Austin Matters" instead of "Black Lives Matter" on Congress Avenue, leading up to the Texas Capitol, on June 16, 2020. While Dallas was the only city in Texas that beat Austin to the punch, painting the resonant phrase "Black Lives Matter" in front of Dallas City Hall, Austin's was the first city-sanctioned mural and the only city with two declarations; on East 11th, the same organizations painted "Black Artists Matter" in support of not only Black Austinites, but Black Artists who have been keeping the arts alive in Austin for decades.
5. Austin embraced the Green New Deal and is working toward greener energy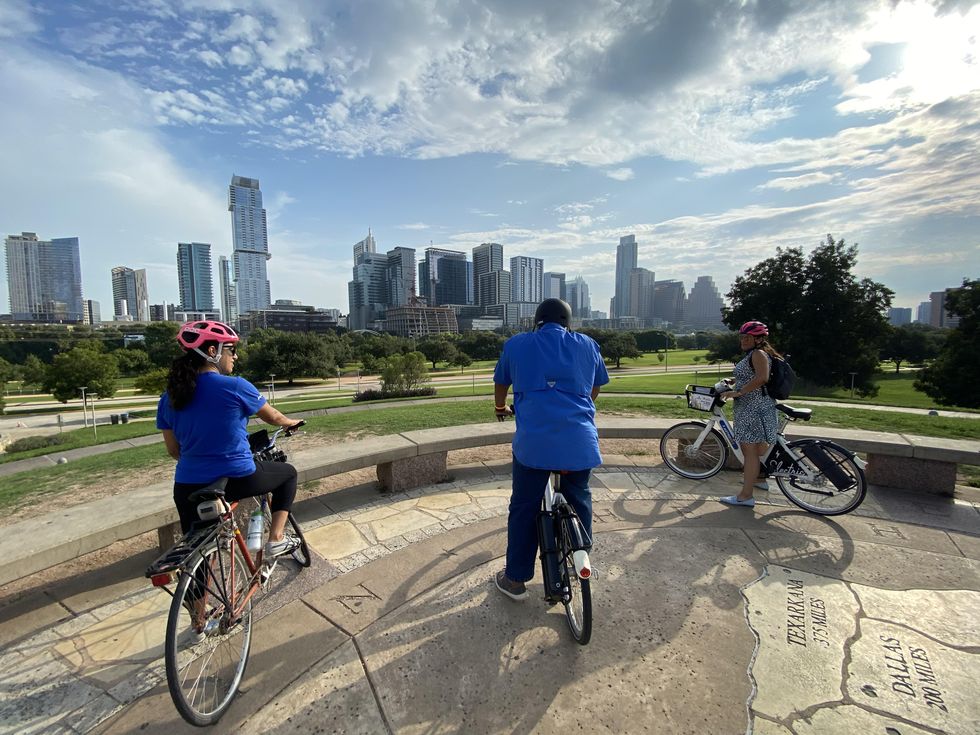 Austin has been forthcoming with plans to be a greener city. (Capital Metro)
The highly-contested Green New Deal, brought forth by U.S. Rep. Alexandra Ocasio-Cortez to try and curb greenhouse gas emissions, was formally backed by Austin City Council in May 2019. Though the deal did not pass, some council members called the resolution "a win/win for everybody," as it addresses issues Austin currently deals with: natural disasters and carbon-based transit. Known as Flash Flood Alley, Central Texas is no stranger to inclement weather and one resolution in the Green New Deal called for cities to hire a "resilience officer" to guide Austin through future environmental challenges. Austin still has yet to hire said officer but City Council has recommended it on more than one occasion. The second resolution called for cities to lower the carbon footprint through greener transit options. As part of Project Connect, Austin has committed to purchase only zero-emission electric buses by 2022 (and they even have USB ports). The City also plans to integrate 125 new electric bikes in addition to the 200 already on the streets.
Additionally, Austin Energy has made a commitment to shift to more use of renewable energy with a solar, wind and biomass plant.
6. Austin is a "Freedom City"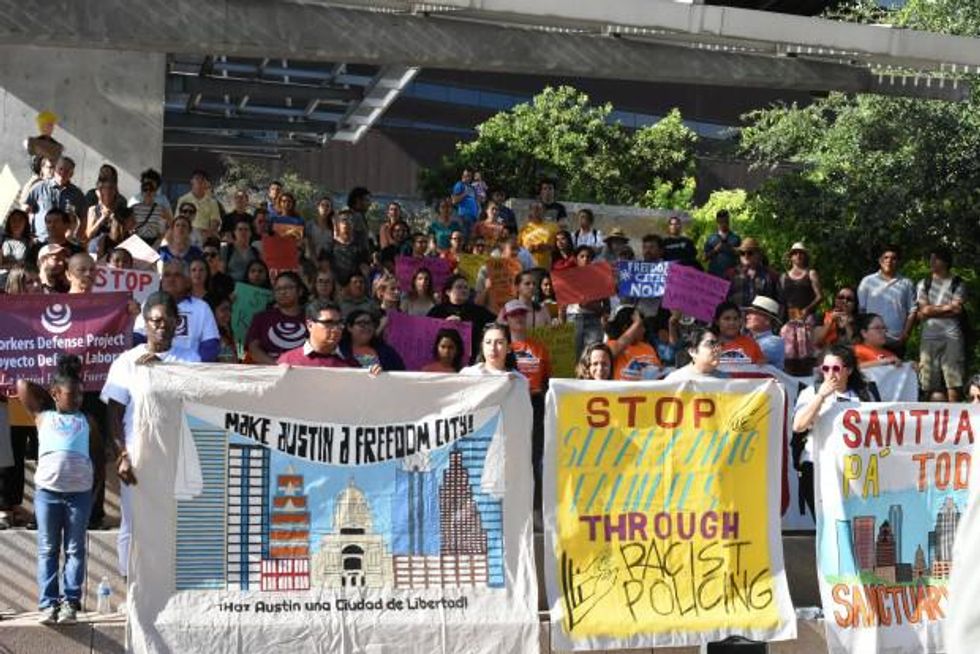 (Grassroots Leadership)
In an ongoing battle to address immigration and racial disparities in the city, Austin City Council voted in favor of "Freedom City" policies in June 2018. In two resolutions, the City committed to the reduction of arrests for low-level charges, as they contribute to racial disparities in the Travis County Jail system and deportation. The City also vowed to create policies to protect immigrants, such as informing them of their right not to answer when asked of immigration status and document the circumstances that led to the question being asked. The policy is the first of its kind in the U.S.
7. Austin's total reverence for Leslie Cochran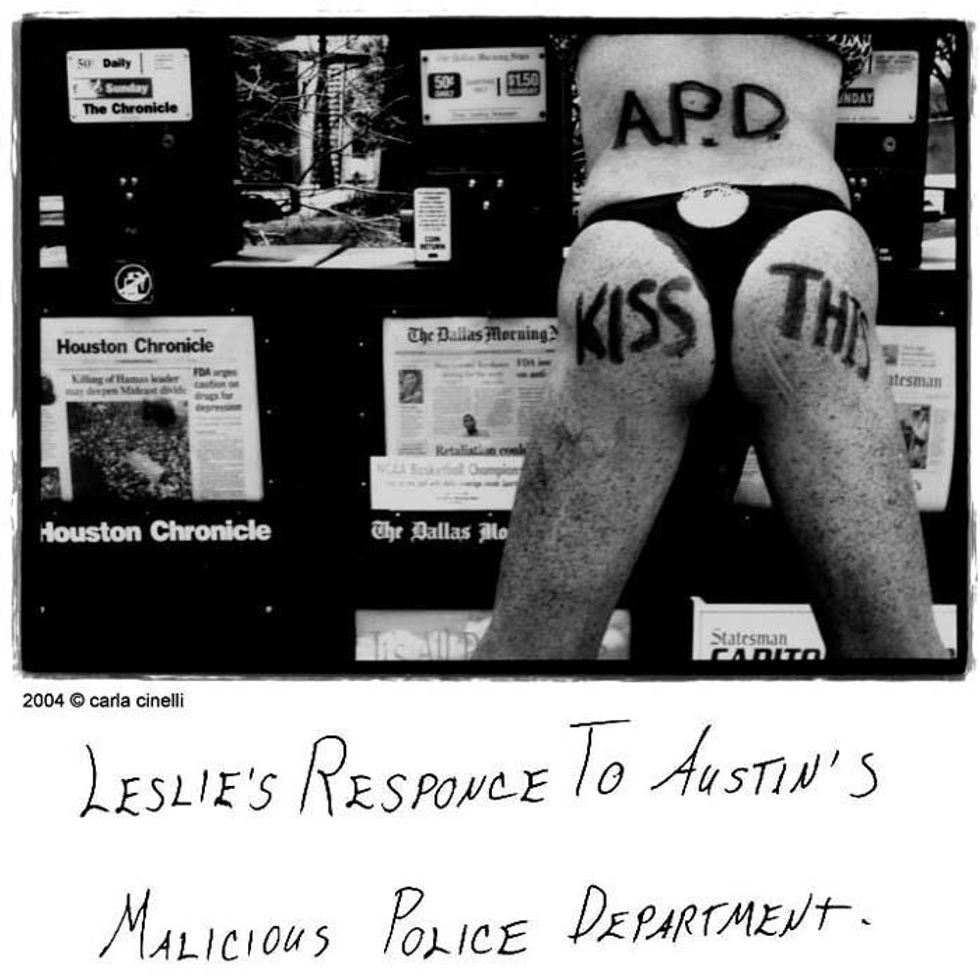 (Carla Cinelli)
Colloquially known as "Leslie the homeless man," Cochran was ahead of his time. A cross-dresser, though he would likely be known as a "queen" in today's terms, Cochran became famous for strutting around the streets of Austin in a leopard-print thong and platform heels. Cochran became the epitome of weird in Austin, running for mayor three times, appearing on The Tonight Show with Jay Leno and was an outspoken advocate for homeless rights and justice against police brutality. The city was completely devoted to Leslie; he died on March 8, 2012, after a head injury in 2009 left him in declining health. The date was declared "Leslie Day" by former mayor Lee Leffingwell. Hundreds gathered at Cochran's memorials, a "Love for Leslie" parade and he is still known for being a symbol of tolerance.
8. "Keep Austin Weird" was popularized by a desire to keep businesses local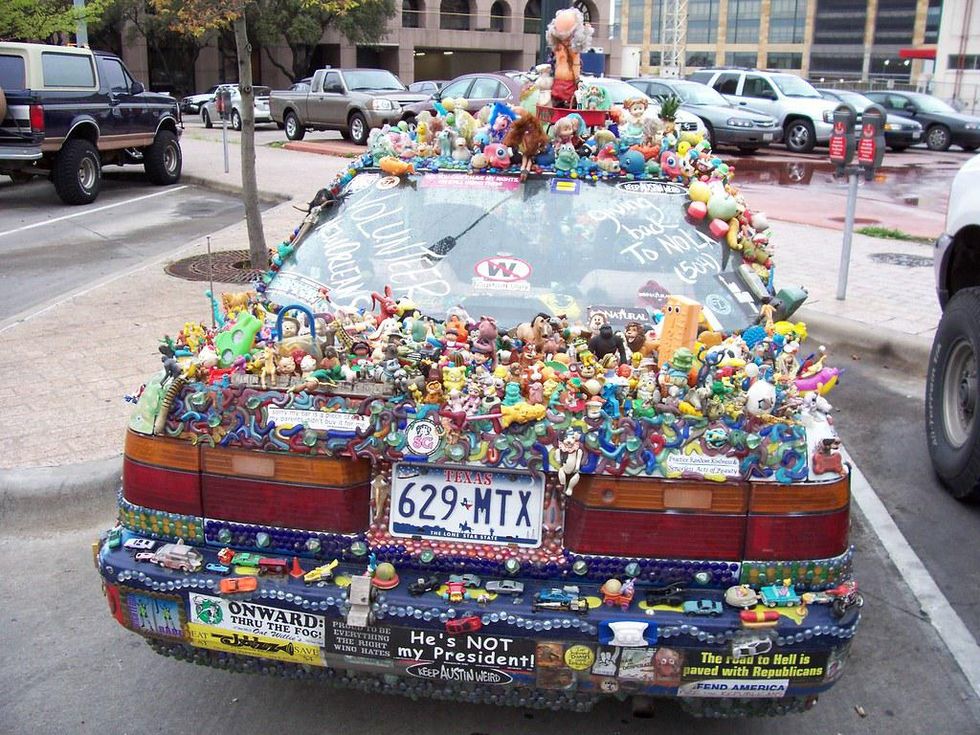 Keep Austin Weird can still be found on bumpers around town. (Al Mendelsohn/cc)
Local Austin Community College librarian Red Wassenich called his local radio station to make his annual donation in 2000. Asked by the host why he was donating, Wassennich said it "helps keep Austin weird," and a local brand campaign was born. The slogan was written on bumper stickers by Wassenich and his wife and popularized as a movement. Quickly picked up by Waterloo Records and Book People, which sold bumper stickers as well, the phrase became synonymous with local businesses. When chain bookstore Borders tried to move in, on 6th Street and Lamar in downtown Austin, across the street from the original Book People and Waterloo, it was heavily opposed by the community and local nonprofit, Liveable City. In the end, Borders pulled out of the development and small businesses won. Austin stayed weird.
9. Austin is the only "topless tested" city in Texas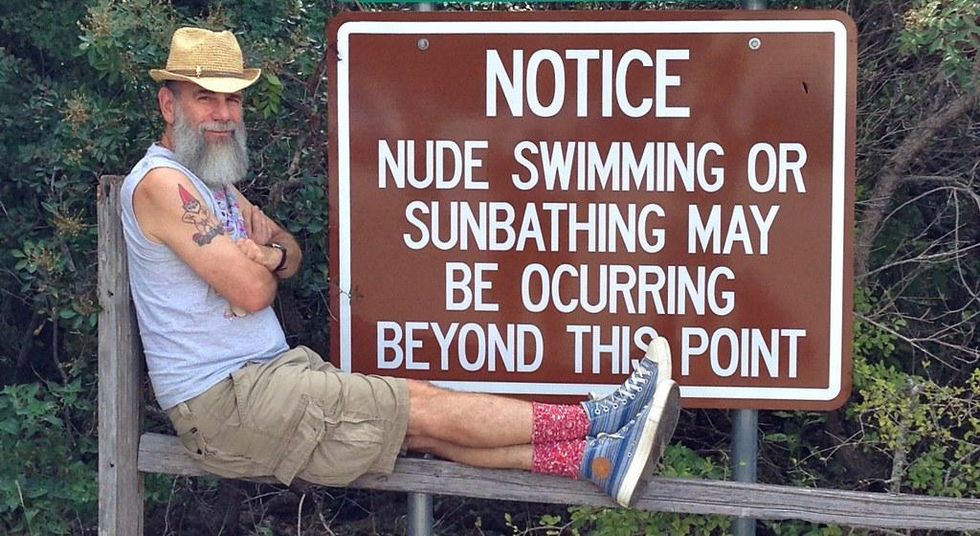 A nude notice sign sits outside Hippie Hollow at 7000 Comanche Trail. (CC)
Technically women can go topless anywhere in Texas, according to advocacy group GoTopless, which cites that the Lone Star State is one of "top freedom" among a majority of other U.S. states. However, Austin is the only "topless tested" city in Texas, and one of only 15 cities total, meaning our local women are more likely to free the nipple. Austin doesn't have any local public nudity laws but that doesn't mean you can't be arrested for disorderly conduct or lewd behavior. If you want to don your birthday suit, you might be better off heading to Hippie Hollow, Texas' only nude park.
For the first time since July 30, the seven-day moving average for COVID hospitalizations dropped below 50 on Tuesday, reaching the Stage 4 threshold.
At 49, the number is low enough to lower guidelines, but the city has not yet changed its Stage 5 status.
Austin has been in Stage 5, the highest level of Austin Public Health's COVID risk-based guidelines, for over a month as case rates and hospitalizations surpassed last summer's surge, the Delta variant targeted the unvaccinated and a younger demographic and ICUs surpassed capacity in the Austin metro. But with the seven-day moving average at 49 on Tuesday, it may be a sign that the third surge is beginning to end.
On Tuesday, 515 new cases were reported, down from a third-surge peak of 1,261 on Thursday, Sept. 7. Two days after the peak, Austin reported 1,000 COVID deaths and broke a daily death toll record with 23 deaths in a single day.
But while cases and hospitalizations are dipping, the city still has many factors to consider before dropping safety guidelines. Austin Public Health told KXAN Wednesday that key indicators including "positivity rate, the doubling time of new cases, and current ICU and ventilator patients" will need to be evaluated first.
The metro continues to have no ICU beds available as Austin-Travis County Health Authority Dr. Desmar Walkes says patients from other counties come into the area to seek care. Travis County saw 35 COVID deaths for the week of Sept. 17, slightly down from a peak of 36 for two weeks prior.
The lower hospitalization rate comes as Austin reaches a 70% vaccinated population, a number once thought to be needed to reach herd immunity. With the highly contagious Delta variant, however, many think that the new herd immunity rate is closer to 80%. But Austin officials have reported being "cautiously optimistic" as the moving average for hospital admissions slowly declined from their peak of 83.6 on Aug. 11.
"We're starting to see our case numbers decrease over time, and that is an exceptional thing to say at this point, but we're still cautiously optimistic," Walkes said.
Under Stage 4 guidelines with the Delta variant, APH continues to recommend limiting dining to takeout/curbside for unvaccinated or partially vaccinated individuals and slightly lifts shopping and travel guidelines to "only if essential." Stage 4 continues to recommend masks for vaccinated individuals in social and public settings but now includes high-risk vaccinated individuals that were recommended to stay home unless essential in Stage 5.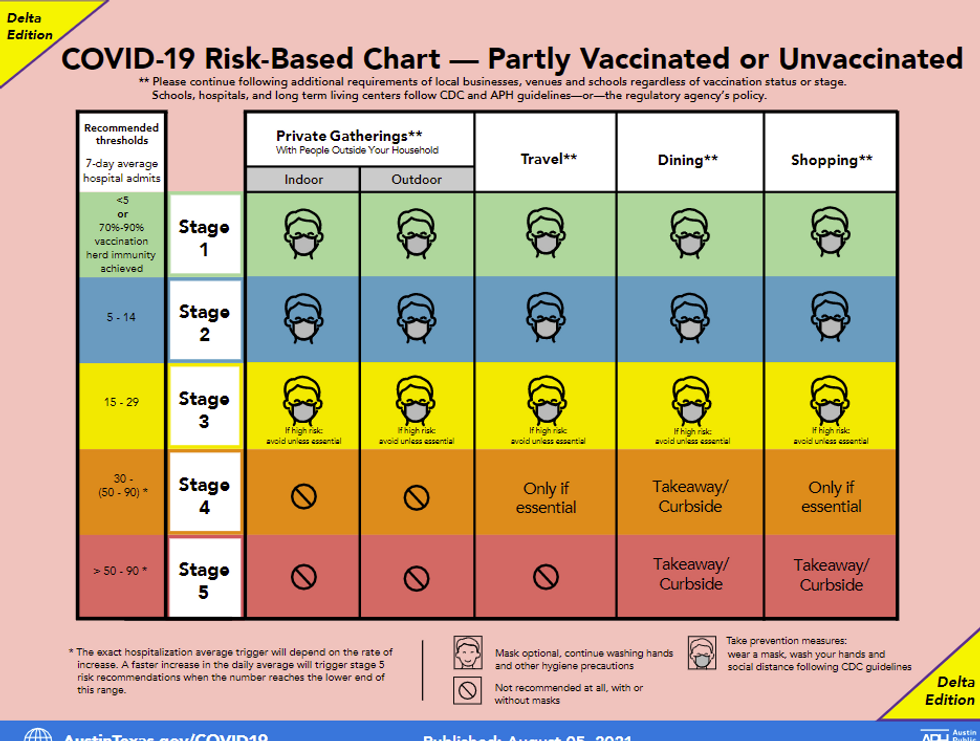 (Austin Public Health)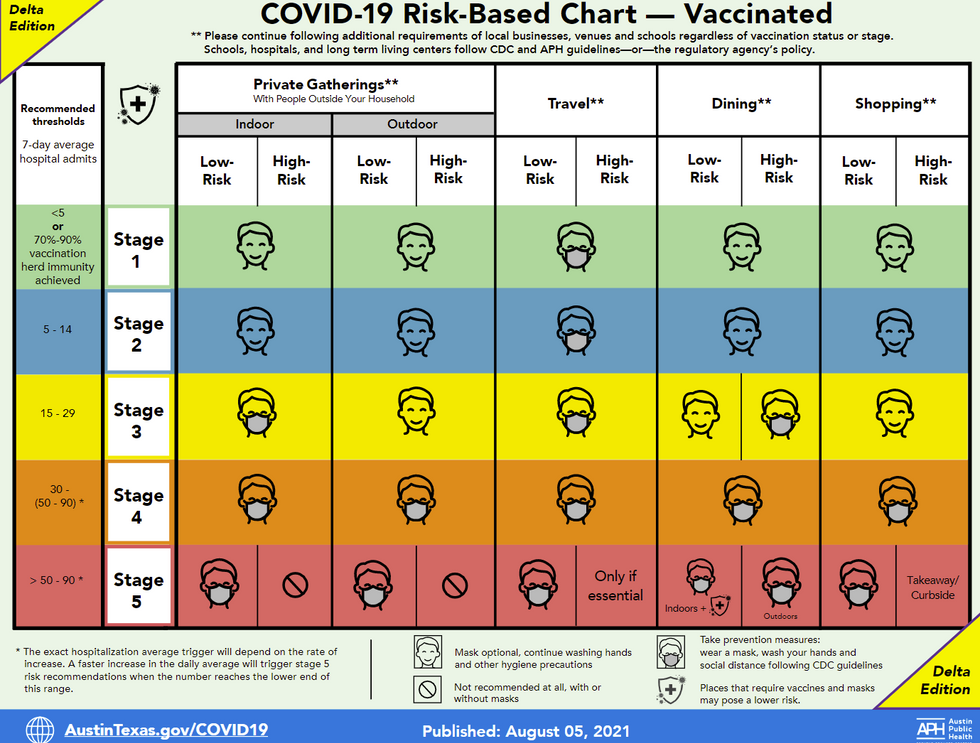 (Austin Public Health)
Austin's new police chief is former assistant chief Joseph Chacon, Austin City Manager Spencer Cronk announced Wednesday morning.

Narrowing a pool of 46 candidates down to seven, then three, Chacon beat out Avery L. Moore, assistant chief of the Dallas Police Department, and Emada E. Tingirides, deputy chief of the Los Angeles Police Department, for the position. Austin City Council will still need to confirm the appointment come Sept. 30.
"I'm confident Interim chief Joseph Chacon is the right person to lead our City's police department to achieve results, build trust and transparency, and accomplish equitable public safety outcomes for all Austin residents and visitors," Cronk said.
Chacon, who was the interim chief for the past six months, will assume the position after Brian Manley retired in March and the department underwent scrutiny with a rise of murders and crime in the city. The Austin Police Department is also undergoing reform as a result of last year's Black Lives Matter protests that ultimately resulted in city council cutting and reallocating millions of the police budget. The department has additionally faced a staffing shortage that predates the budget cuts and was exacerbated by the halting of police cadet classes—classes have since resumed with a new curriculum at the beginning of summer.
At a press conference on Wednesday afternoon, Cronk said the final decision was driven by input from the community. He said Chacon is committed to reshaping public safety and gaining the trust of the community—putting in the work to do so.
Chacon acknowledged APD is at a crossroads, saying its relationship with the community needs a reset and it the department will be committed to transparency. He cited a change he made as interim chief that releases video of officer-involved incidents in 10 days as opposed to 60, which he says is in line with such expectations of transparency.
When discussing the spike in homicides, he said the homicide unit has worked to solve most cases and hold those responsible accountable.
"We remain one of the safest big cities in the United States and this is in large part due to to the daily efforts of the men and women of this department who show up every day with courage, respect, professionalism, integrity and a heart for service," Chacon said. "They keep this city safe every day."
He also addressed the attrition rates at the department, citing that while officers are leaving at high numbers, people are also applying at record rates.
Like Manley, Chacon is an internal hire; Cronk said he did not anticipate making an internal hire initially.
Chacon has been in law enforcement for 28 years and was appointed assistant chief in Austin in 2016.
"I am extremely excited and humbled by this amazing opportunity," Chacon said. "Austin PD is at a critical juncture, and I am honored that the city manager is showing the trust in me to lead this amazing organization. I will be engaging our department employees and our community to make sure we are moving forward in the best way possible."
This story was updated after the 1:30 p.m. press conference.
What, you think the only thing there is to do at Austin City Limits is to watch your favorite artists? Must be your first time. ACL is more than just a dreamy three-day soundscape in the park—between sets, the festival has so much to offer that it's nearly impossible to get bored.
You're bound to have some downtime while attending ACL 2021, so when you do, make an effort to explore the booths, zones, markets and branded seatbelt forests—you'll be glad you did.
Ice for your Hydroflask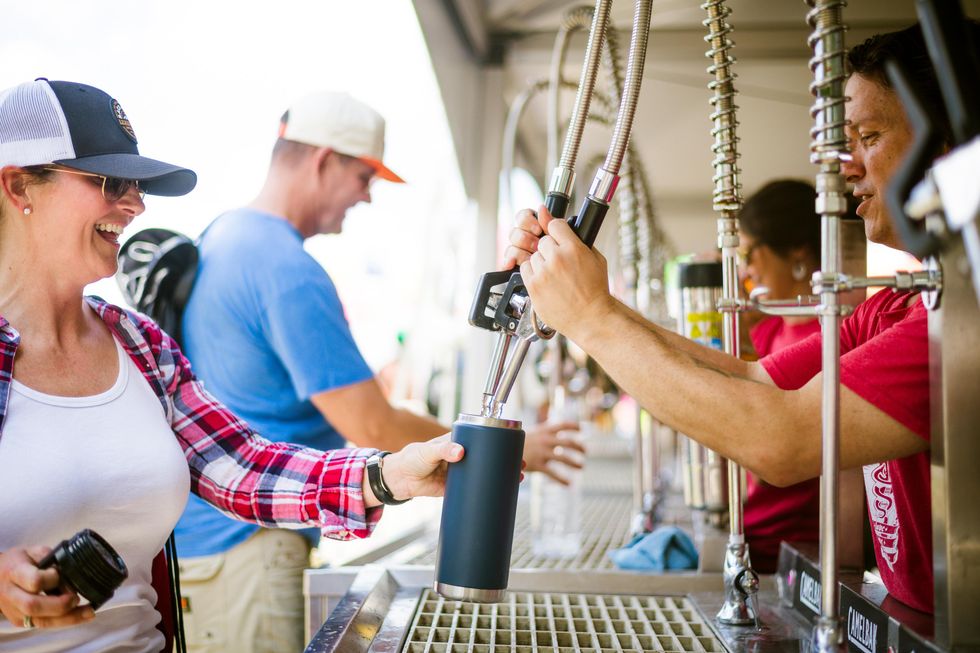 (Katrina Barber for ACL Fest)

Empty plastic or aluminum water bottles are welcomed inside the festival and ACL does a great job of keeping attendees hydrated, so there's no reason to buy water or waste plastic while attending. You have to bring the bottles in empty but there are several filling stations for water bottles located around the park. None of them offer ice, which can be essential during those 100-degree days. Head to any of the bars located in the park and ask for a cup of ice—bartenders are happy to part with it and you'll be cool as a cucumber!
Access to private lounges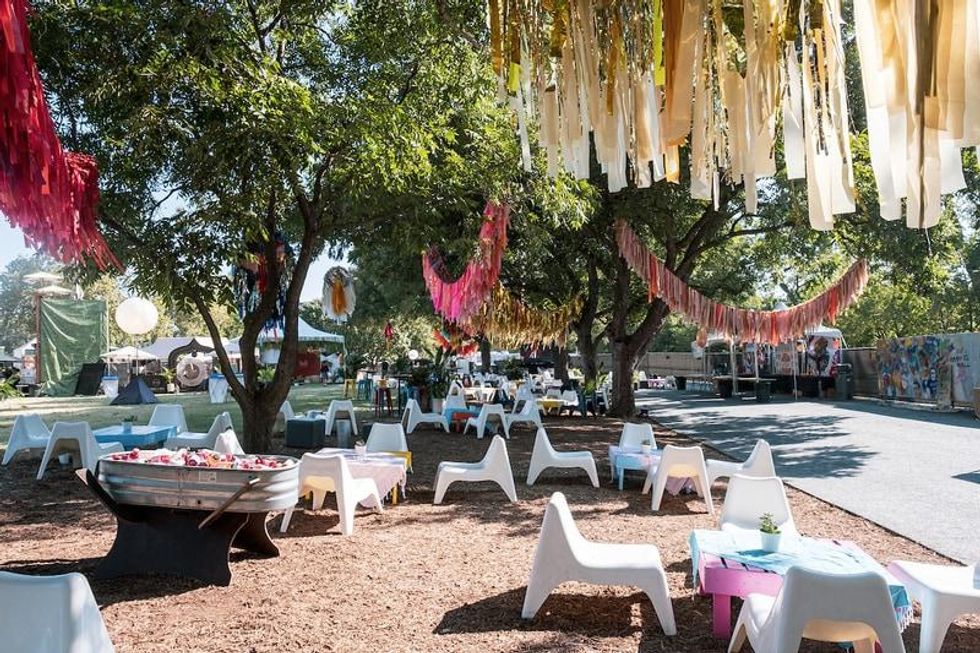 (ACL Fest)
Need a break from the never-ending sun? A snack that doesn't cost $30? There are private, shady lounges all over the park—some for exclusive ticket holders, some waiting to be discovered by even the one-day crowd. Take for instance the T-Mobile Lounge, located adjacent to the stage of the same name, offered patrons a wristband to access the lounge in exchange for a social media post back in 2019. If you're an American Express cardholder, the benefits are numerous: a lounge open only to cardholders and complimentary merch awaits those who don the card.
Free prizes, snacks and drinks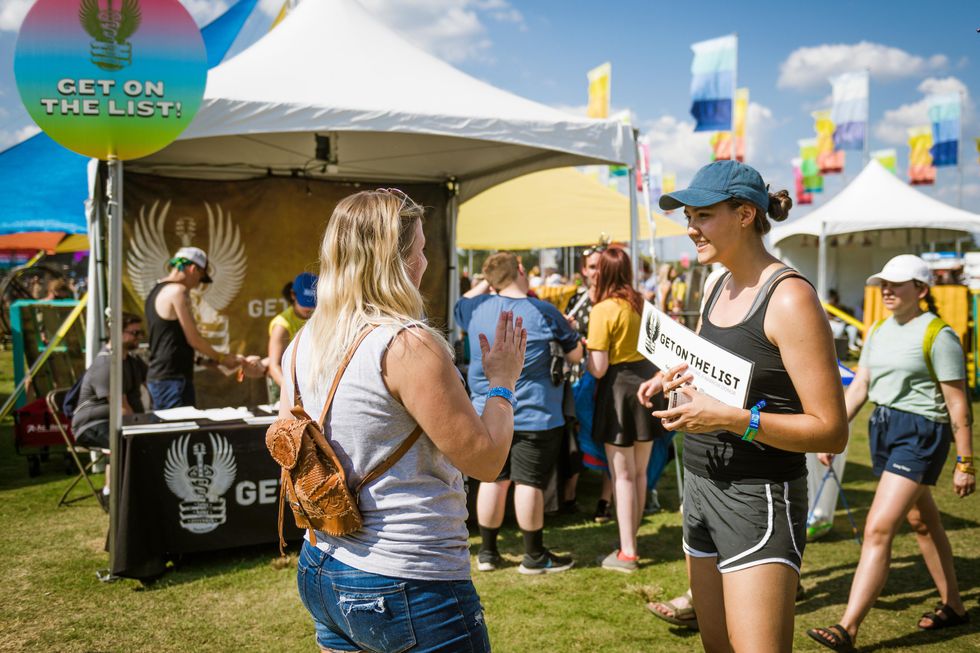 (Katrina Barber for ACL Fest)
With dozens of vendors on the grounds, swag is not hard to find. You might have to play a game, answer some trivia or post on social media to qualify but the free merch often comes in handy. Forgot a fan? A vendor has one. Need a bandana? Visit the Tito's stand. Lose your water bottle, sunscreen or earplugs? A vendor has you covered, so be generous with the Instagram tags.
The ACL Art Market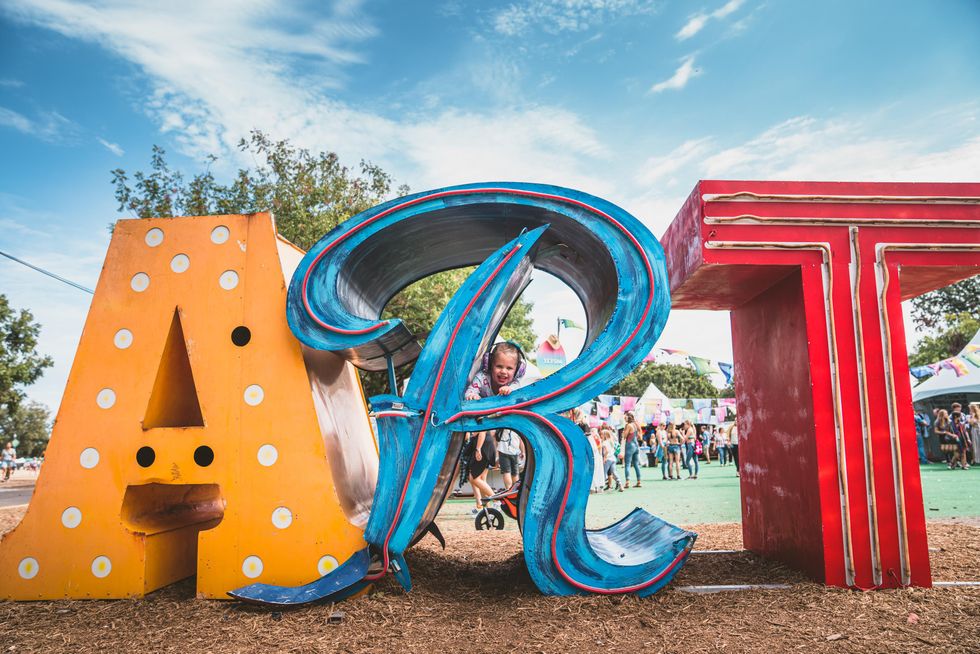 (Roger Ho for ACL)
Support local by visiting the artisans at the festival's art market, located in the center of the park. Artists from all walks of life and levels of success sell their artwork yearly at the festival, so you'll need space to store your new keepsake if you're planning to collect. Blue Lux, Austin Art Garage, Greg Davis and Futurgarb are a few previous attendees. You'll know you've made it when you stumble across the massive, colorful "ART" sign.
Clean up trash for free merch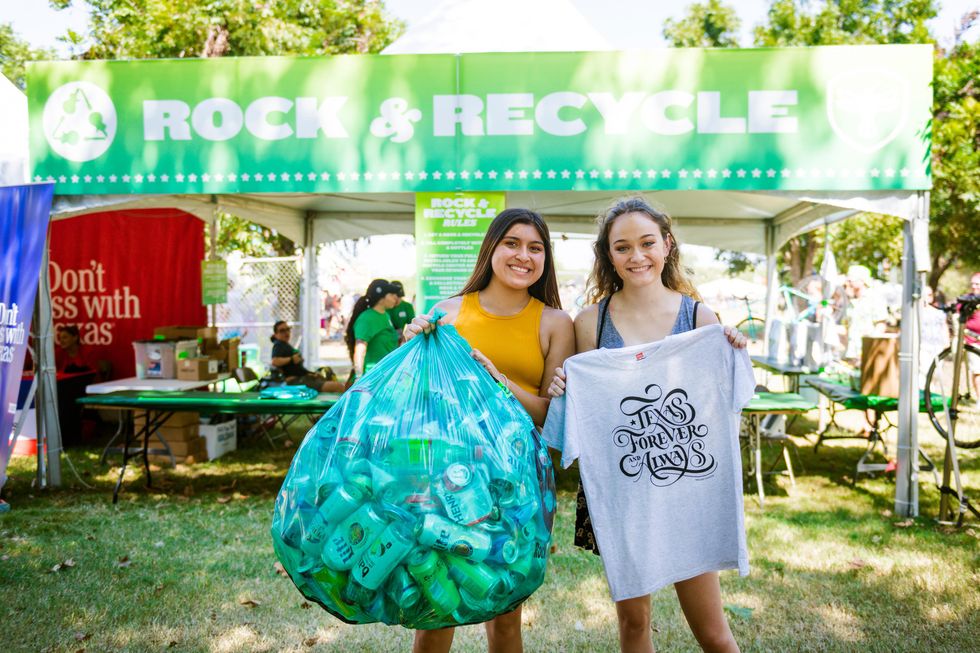 (Katrina Barber for ACL Fest)
Ensuring that Austin's beloved park stays clean throughout the festival, ACL partners with Austin Parks Foundation for its "Rock & Recycle" program that offers a little something for everyone. Stop by the Austin Parks Foundation booth when you have some free time to pick up a bag, fill it up with littered recyclable items and return the full bag for a free T-shirt—that's it. Plus, you can be entered to win other contests every time you help keep the park clean.
See some interactive art installations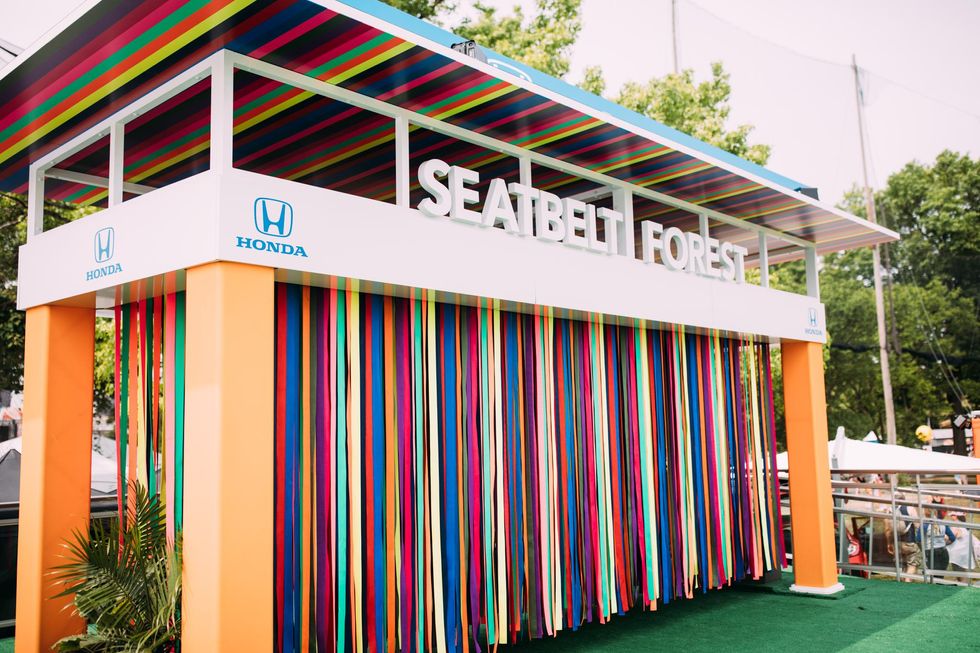 (Honda News)
Each partner at the festival has something up their sleeves, often worth exploring. As ACL partners change, you're likely to see some returns, like the Honda Seatbelt Forest or the Bumble BFF Find Your Bestie Booth. In 2019, Honda gave attendees a colorful backdrop to pose in front of and a break from the chaos, whereas Bumble promised to introduce you to a new friend and gave out merch to those who gave it a go!
Lend your ear (or your wallet) to a good cause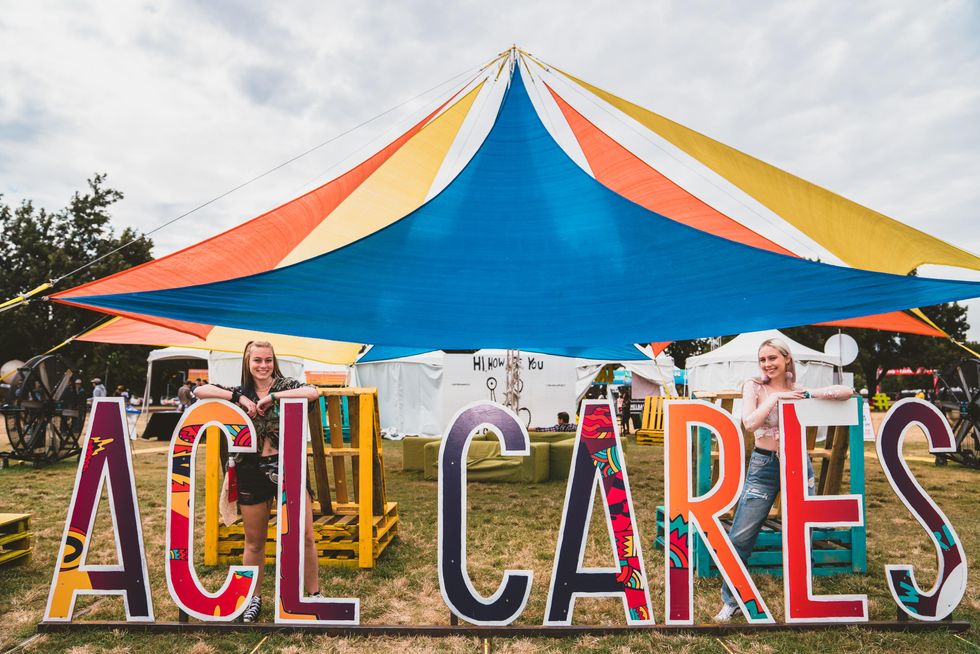 (Roger Ho for ACL Fest)
ACL is more than just a festival—it's a time to raise awareness for local organizations. Stop by the ACL Cares area, where nonprofits and organizations gather to spread the word, and you're likely to find organizations like Health Alliance for Austin Musicians, SIMS Foundation, Austin Music Foundation, Keep Austin Beautiful, The Nature Conservancy and the Love Hope Strength Foundation, where you can register to be a bone marrow donor at the festival.