Get connected with our daily update
There's a reason Austin is known as that "blueberry floating in a bowl of tomato soup," even if the phrase was not meant to be taken as a compliment. "The People's Republic of Austin" has a history of doing things differently than the rest of the state sometimes.
Whether being thrown around by Texas' longstanding Republicans, like when Gov. Greg Abbott celebrated "getting out of the People's Republic of Austin," or embraced by Austin's leftward-leaning, the phrase was coined for Austin's stark departure from the values of the rest of the state.
---
But what actually sets Austin apart from the rest of Texas? Here's how Austin has been more progressive than the red state it's in.
1. The local mask mandate is still in effect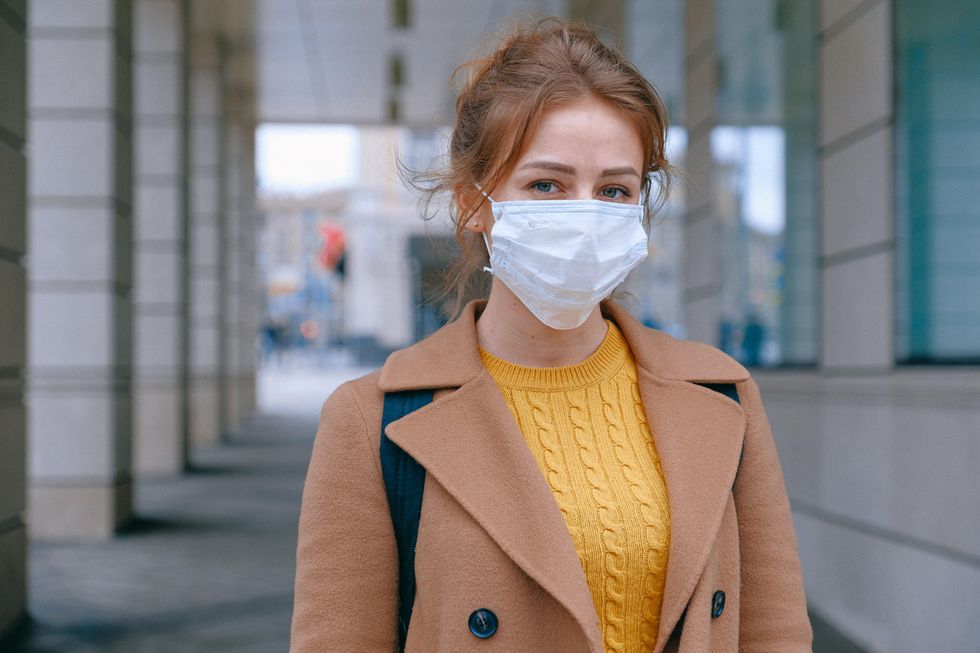 Masks are still required in Austin. (Pexels)
Despite Gov. Greg Abbott's executive order that 100% reopened Texas last month, the city of Austin fought to continue to mask use through a loophole allowing the city health authority to make COVID ordinances. Though Texas Attorney General Ken Paxton filed a lawsuit against the city, Austin stood its ground and won when Texas Judge Lora Livingston ruled the city could keep its mandate.
2. Project Connect passed, despite big tax increase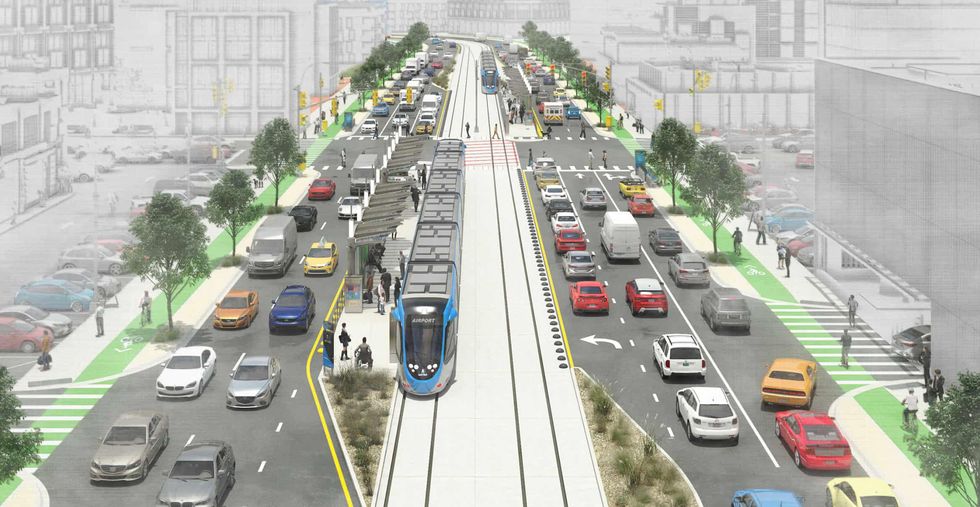 A rendering of what Project Connect will bring to Austin. (Capital Metro)
Despite the $7.1 billion price tag and a 20% increase to the city's property tax rate, Austinites passed Prop A in November, a.k.a Project Connect, with flying colors. A long time coming, voters rejected two other light rail proposals in 2014 and 2000. Project Connect is expected to be partially complete by 2030, a long investment, but is expected to reduce Austin's worsening traffic, provide transit equity and reduce the city's carbon footprint.
3. Cannabis has been decriminalized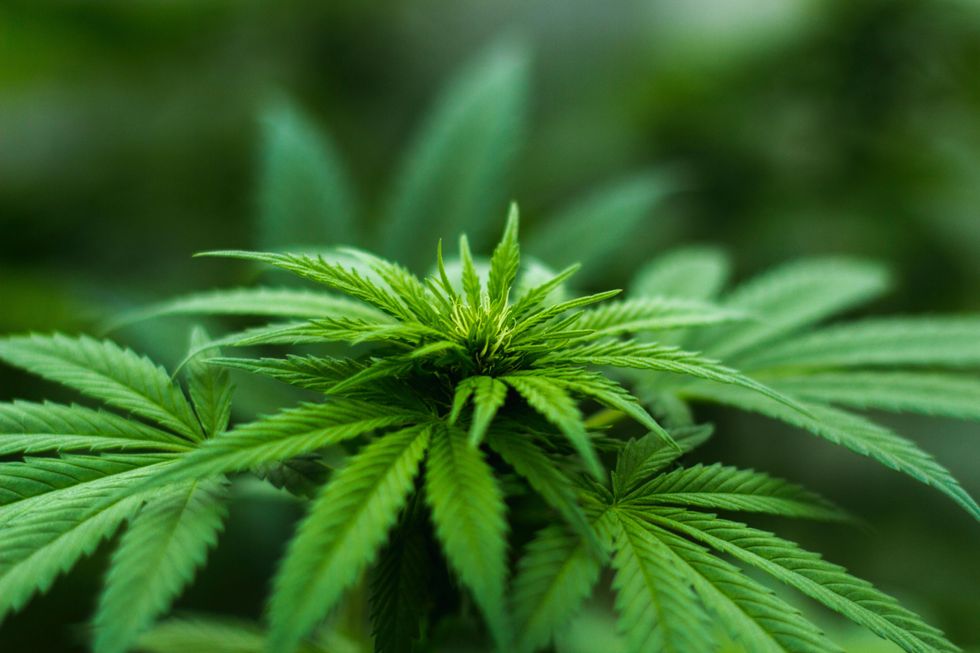 Austin does not make arrests for low-level marijuana offenses. (Pexels)
Former police chief Brian Manley announced that APD officers would no longer make arrests or write tickets for low-level, non-violent possession of marijuana offenses on July 2, 2020, six months after Austin City Council ordered APD to do so. After Manley argued against the order, saying it was still illegal on the federal level, Austin City Council voted to no longer pay for marijuana testing, which severely impacted the chances of achieving conviction. Of course, Austin stoner Willie Nelson rejoiced, announcing a cannabis line and convention earlier this year.
4. "Black Austin Matters" mural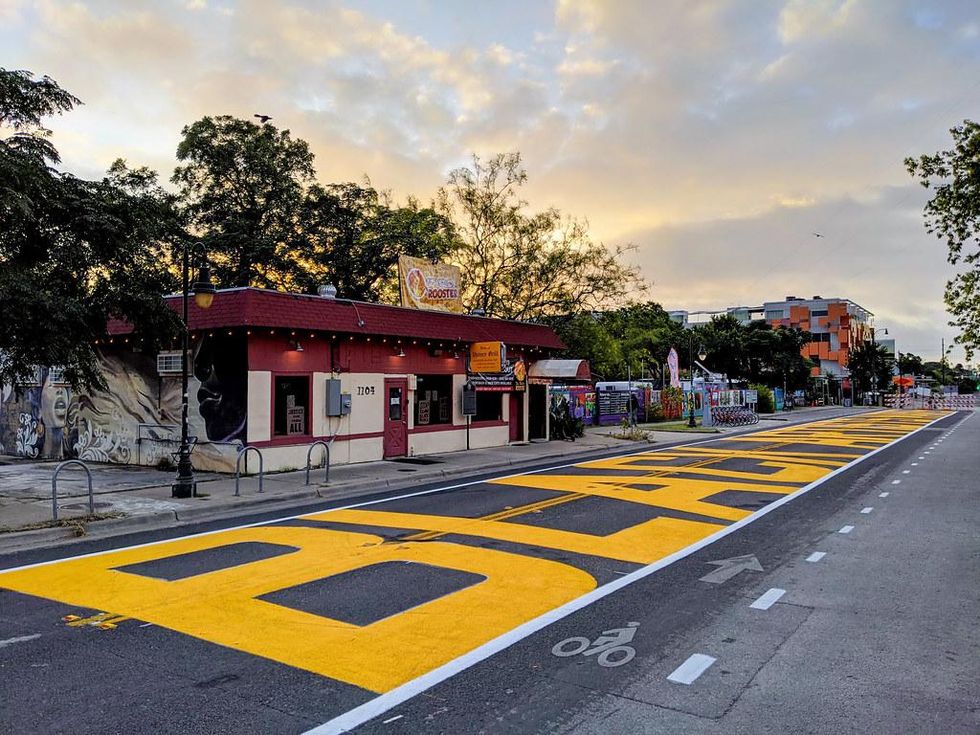 Black Artists Matter is painted on East 11th Street in Austin. (Lars Plougmann/CC)
Setting the city apart from other big metro areas like San Francisco, New York and the rest of Texas, The Austin Justice Coalition and Capitol View Arts decided to keep focus local when they painted "Black Austin Matters" instead of "Black Lives Matter" on Congress Avenue, leading up to the Texas Capitol, on June 16, 2020. While Dallas was the only city in Texas that beat Austin to the punch, painting the resonant phrase "Black Lives Matter" in front of Dallas City Hall, Austin's was the first city-sanctioned mural and the only city with two declarations; on East 11th, the same organizations painted "Black Artists Matter" in support of not only Black Austinites, but Black Artists who have been keeping the arts alive in Austin for decades.
5. Austin embraced the Green New Deal and is working toward greener energy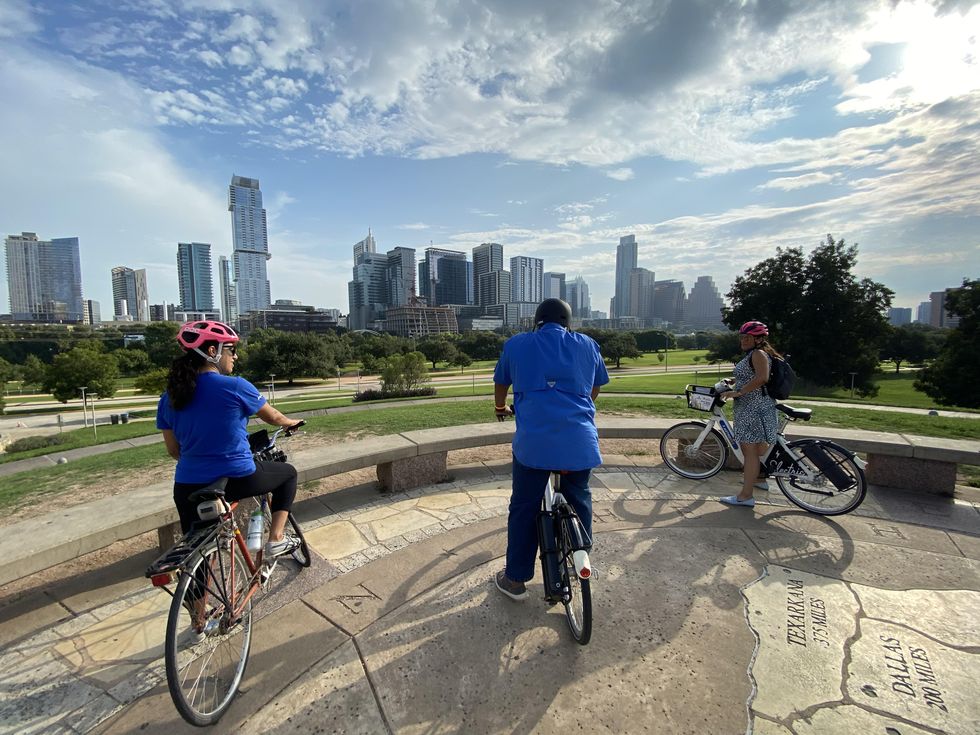 Austin has been forthcoming with plans to be a greener city. (Capital Metro)
The highly-contested Green New Deal, brought forth by U.S. Rep. Alexandra Ocasio-Cortez to try and curb greenhouse gas emissions, was formally backed by Austin City Council in May 2019. Though the deal did not pass, some council members called the resolution "a win/win for everybody," as it addresses issues Austin currently deals with: natural disasters and carbon-based transit. Known as Flash Flood Alley, Central Texas is no stranger to inclement weather and one resolution in the Green New Deal called for cities to hire a "resilience officer" to guide Austin through future environmental challenges. Austin still has yet to hire said officer but City Council has recommended it on more than one occasion. The second resolution called for cities to lower the carbon footprint through greener transit options. As part of Project Connect, Austin has committed to purchase only zero-emission electric buses by 2022 (and they even have USB ports). The City also plans to integrate 125 new electric bikes in addition to the 200 already on the streets.
Additionally, Austin Energy has made a commitment to shift to more use of renewable energy with a solar, wind and biomass plant.
6. Austin is a "Freedom City"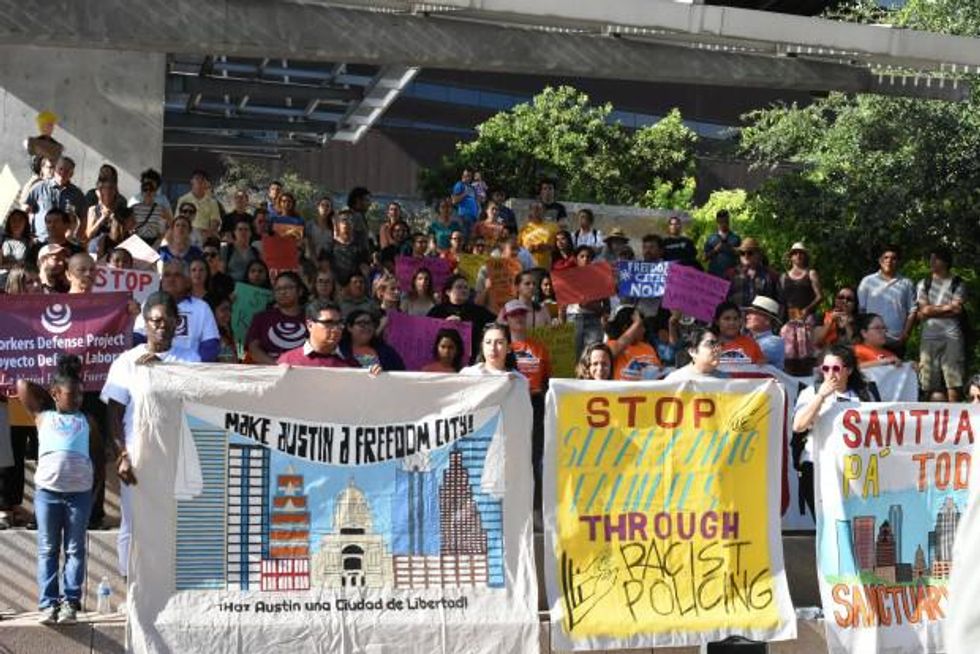 (Grassroots Leadership)
In an ongoing battle to address immigration and racial disparities in the city, Austin City Council voted in favor of "Freedom City" policies in June 2018. In two resolutions, the City committed to the reduction of arrests for low-level charges, as they contribute to racial disparities in the Travis County Jail system and deportation. The City also vowed to create policies to protect immigrants, such as informing them of their right not to answer when asked of immigration status and document the circumstances that led to the question being asked. The policy is the first of its kind in the U.S.
7. Austin's total reverence for Leslie Cochran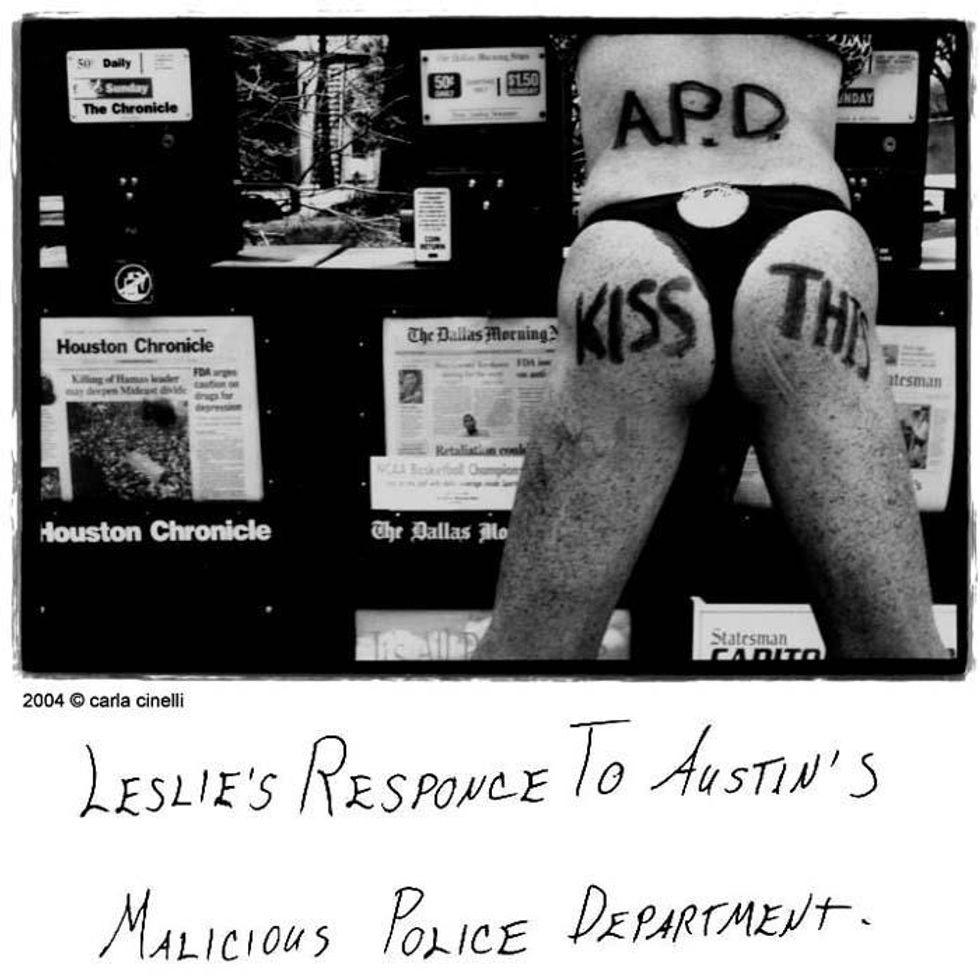 (Carla Cinelli)
Colloquially known as "Leslie the homeless man," Cochran was ahead of his time. A cross-dresser, though he would likely be known as a "queen" in today's terms, Cochran became famous for strutting around the streets of Austin in a leopard-print thong and platform heels. Cochran became the epitome of weird in Austin, running for mayor three times, appearing on The Tonight Show with Jay Leno and was an outspoken advocate for homeless rights and justice against police brutality. The city was completely devoted to Leslie; he died on March 8, 2012, after a head injury in 2009 left him in declining health. The date was declared "Leslie Day" by former mayor Lee Leffingwell. Hundreds gathered at Cochran's memorials, a "Love for Leslie" parade and he is still known for being a symbol of tolerance.
8. "Keep Austin Weird" was popularized by a desire to keep businesses local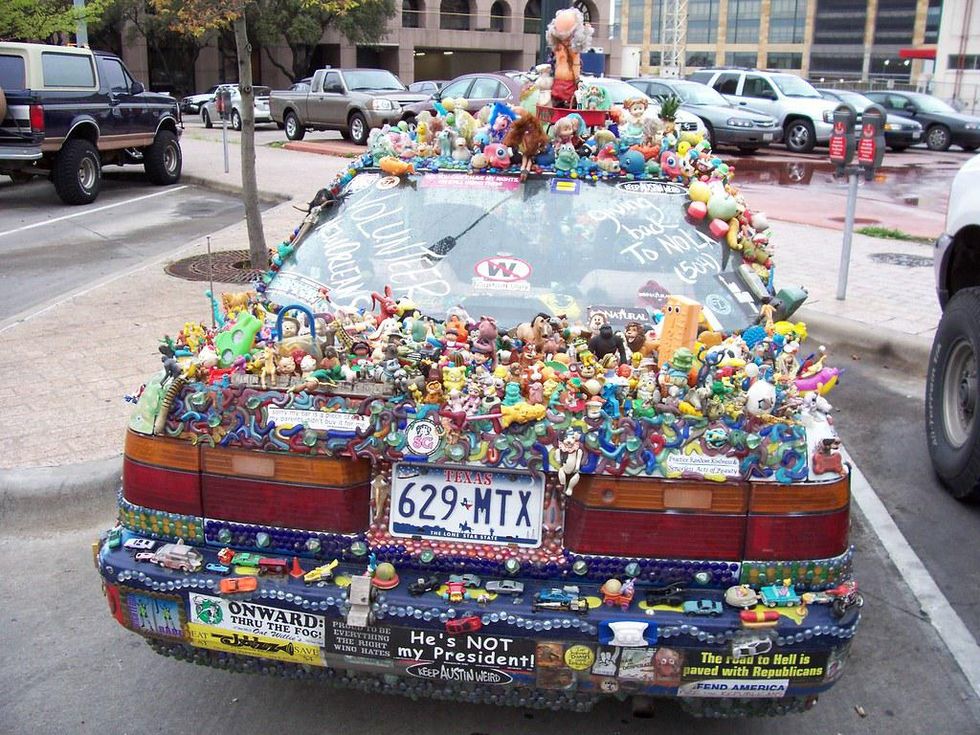 Keep Austin Weird can still be found on bumpers around town. (Al Mendelsohn/cc)
Local Austin Community College librarian Red Wassenich called his local radio station to make his annual donation in 2000. Asked by the host why he was donating, Wassennich said it "helps keep Austin weird," and a local brand campaign was born. The slogan was written on bumper stickers by Wassenich and his wife and popularized as a movement. Quickly picked up by Waterloo Records and Book People, which sold bumper stickers as well, the phrase became synonymous with local businesses. When chain bookstore Borders tried to move in, on 6th Street and Lamar in downtown Austin, across the street from the original Book People and Waterloo, it was heavily opposed by the community and local nonprofit, Liveable City. In the end, Borders pulled out of the development and small businesses won. Austin stayed weird.
9. Austin is the only "topless tested" city in Texas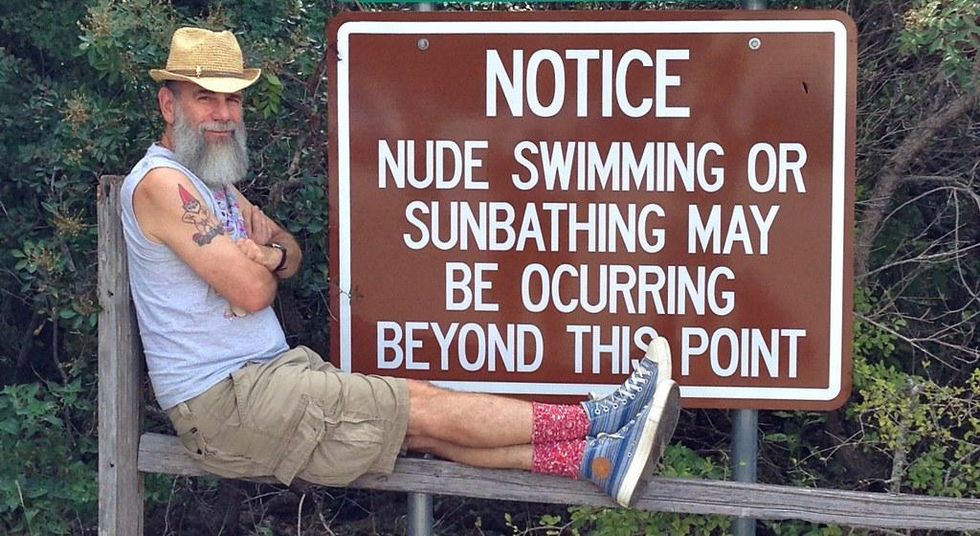 A nude notice sign sits outside Hippie Hollow at 7000 Comanche Trail. (CC)
Technically women can go topless anywhere in Texas, according to advocacy group GoTopless, which cites that the Lone Star State is one of "top freedom" among a majority of other U.S. states. However, Austin is the only "topless tested" city in Texas, and one of only 15 cities total, meaning our local women are more likely to free the nipple. Austin doesn't have any local public nudity laws but that doesn't mean you can't be arrested for disorderly conduct or lewd behavior. If you want to don your birthday suit, you might be better off heading to Hippie Hollow, Texas' only nude park.
A $500 million mixed-use development spanning 1,400 acres is coming to Southeast Austin, near Tesla's headquarters at Giga Texas.
Plans for the development by Houston-based real estate firm Hines include 2,500 houses along with multi-family and townhomes, and commercial land. Hines is partnering with Trez Capital, Sumitomo Forestry and Texas-based Caravel Ventures.
The development, which is known as Mirador, will be located off the 130 Toll and Highway 71, which the developers say provides easy access to the Circuit of the Americas Formula 1 racetrack and other Austin attractions like restaurants, parks and live music venues.
Hines also boasts amenities like a 60-acre lake, over 600 acres of greenbelt, community parks, trails and a swimming pool.
"As Austin continues to grow into the tech epicenter of Texas, coupled with a supply-constrained market, the demand for new housing is at its highest," Dustin Davidson, managing director at Hines, said. "Mirador will be critical in providing more options for Austin's growing population and we are excited to work alongside our partners given they each provide a unique and valued perspective in single-family development."
The local housing market has been hot in recent years, with home sales accelerating earlier in the pandemic. In July 2021, the Austin metro area hit its pricing peak at $478,000. As Austonia previously reported, the area has been expected to see the Tesla effect, with the new workforce driving up demand for housing and other services.
The single-family houses are expected to be developed over the course of six years, in phases. Construction on the homes is expected to start this year and home sales will begin in 2023.
Editor's note: This story summarizes Sports Illustrated's story detailing Michael Center's involvement in the Varsity Blues college admissions scandal, based on interviews with SI's Jon Wertheim. Additionally, Austonia received comments from Michael Center, included in this story.
Confined to his couch, former Longhorns tennis coach Michael Center praised his players via FaceTime after the program he built produced the Longhorns' first national championship in 2019—a bittersweet moment as Center faced federal charges as part of the Varsity Blues college admissions scandal.

His name dragged through the mud, Center was fired, arrested by the FBI and sentenced to six months in a Central Texas federal prison after pleading guilty to two charges related to mail fraud. And over a year after his release, Center told Sports Illustrated he doubts he was the only one in burnt orange involved.
When the Varsity Blues scandal broke out to the public in 2019, the investigation was a perfect storm for nationwide attention: Hollywood glamour, blue blood conspiracy and faith in the tried-and-true American education system came to a head as 33 movie stars and other elites were found guilty of paying more than $25 million to pave their children's way into eight colleges, including the University of Texas.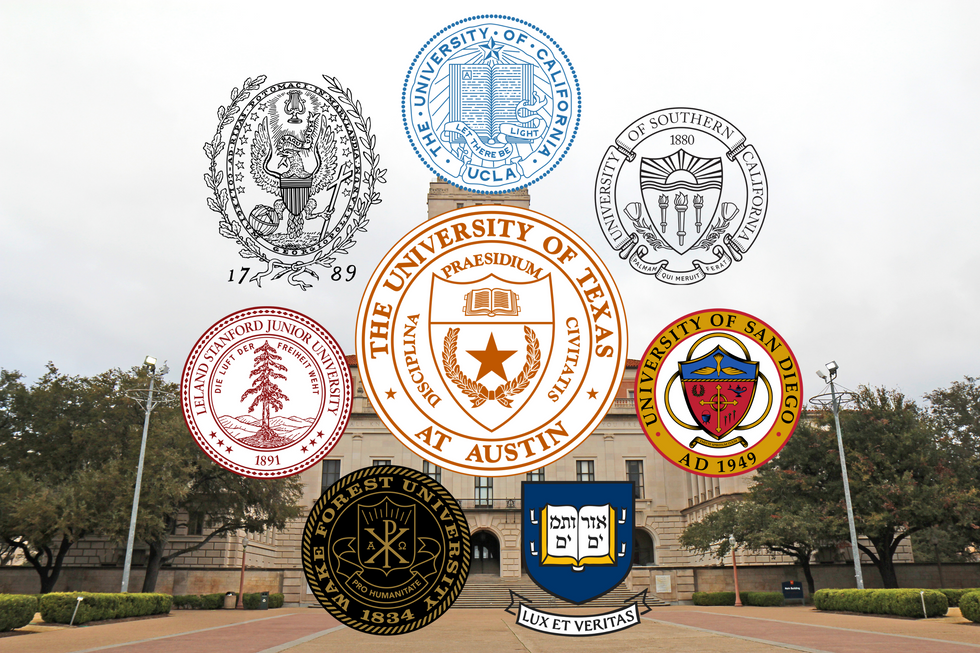 UT was one of eight schools caught in the college admissions scandal. (Laura Figi/Austonia)
The figure behind Varsity Blues, "college consultant" Rick Singer, would plead guilty to four felony counts for faking SAT scores and bribing coaches at prominent universities for his elite clients—but not before throwing Center under the bus.
Singer's client, private equity executive Chris Schaepe, was looking for a way to bend UT's tight admissions policies for his son, who was seeking a position oddly as a manager on UT's basketball team. Through a middleman, Singer contacted Center, who eventually agreed.
Schaepe's son hadn't played tennis since his freshman year of high school. It was a detail that Center says passed through plenty of hands before he was admitted, including "academic support staff, the compliance office, the sports supervisor and, ultimately, the athletic director," SI's Jon Wertheim writes.
No one in the entire athletic department, including seven "risk management and compliant services department" employees, was named, implicated or punished. After an internal investigation, Center was the only one named in the Varsity Blues "subterfuge" in a September 2019 UT news release signed by the university president.
He told Austonia he was never contacted by the university during the investigation, and when the NCAA interviewed him for its investigation, he says it cleared him of any violations.
"I almost fell out of my chair," Center said. "I literally couldn't breathe. There's no college coach in America—much less at a state school, much less a coach of a nonrevenue sport—who can admit an athlete without consulting other people in the athletic department. What they were asking people to believe, it's just impossible." SI said Center's assertion was backed by multiple UT coaches and administrators at other schools.
But why would the Forty Acres be complicit?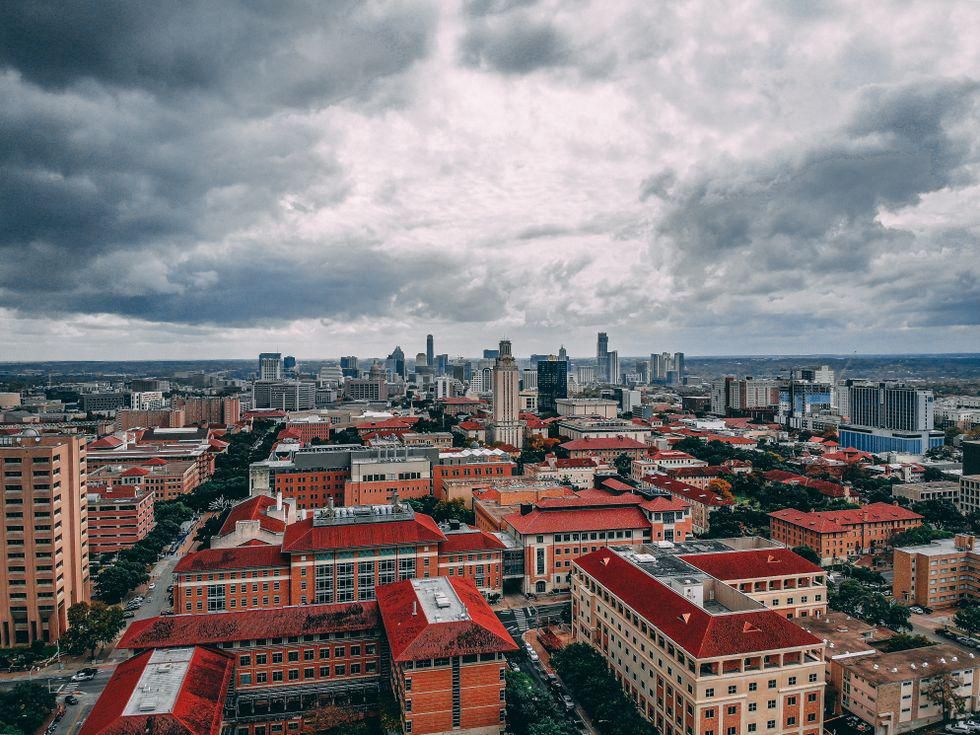 (Matthew/Adobe)
Center said UT's then newly named athletic director Steve Patterson made clear that Center suddenly was responsible for more than building a successful tennis program. He was to be a "fundraiser first and coach second" and he would need to find donors to fund a new tennis facility. Patterson admitted to SI that he wanted his coaches to find donors and said the department was "$15 million in the red" when he started in 2013, though he denies any knowledge of the false tennis recruitment.
Center said he knew he would be "considered a team player" if he let in the son of a Silicon Valley magnate. And sure enough, Schaepe immediately began pulling out his wallet, donating $100,000 to UT tennis and a six-figure check to the school's communication program.
"I never entered this as a way to profit. This was a fundraising mission where I made a terrible mistake at the end,"
Center said.
Months after Schaepe's son was admitted, Center agreed to meet Singer at the Austin airport and found himself accepting a backpack filled with $60,000 in cash meant for him, personally. He said he immediately knew he had made a mistake. He told SI "I put the money in my basement and gave most of it away."
"Why did I do it?" Center told Sports Illustrated. "I go to bed and wake up each day asking myself the same question. I had to convince myself that I somehow deserved the money."
Once in court, Center showed texts with UT's compliance official and mentioned Chris Plonsky, a department executive involved in "overseeing men's tennis, compliance, academic support (which generates letters of intent) and the Longhorn Foundation," according to SI.
"I knew I had to answer for my guilt," Center said. "But I was like, 'Man, schools are going to get hammered.'"'
INMATE 77806-112 but out on Sunday: Actor Felicity Huffman in prison uniform outside low-security Federal Correctional Institution in Dublin to visit actor husband William H. Macy & their daughter. Huffman admitted to paying $15K to have fixer boost daughter's SAT score. 📸: @TMZ pic.twitter.com/9jALmqnA0U
— Henry K. Lee (@henrykleeKTVU) October 21, 2019
But Center was the only Longhorn to go down for the crimes. "I was no rogue actor," Center said. "And this wasn't my word against their word. There were signatures that went along with it. That's the system... There wasn't one point in the process where I thought people wanted to learn the whole truth."
Back at home in Austin, Center watched as actress Felicity Huffman served just eleven days for her part in the scandal. Some served up to five months; others simply paid a fine, and others, like Singer, await sentencing.
And because the prosecution chose to blame individual coaches, framing schools as victims in the case, universities like UT have received less than a slap on the wrist for their possible involvement.
"I was always taught that actions have consequences," Center said. "What I've come to realize is that, yes, for some people actions absolutely do have consequences. Serious, heavy ones. For others, actions can have no consequences at all."