Get connected with our daily update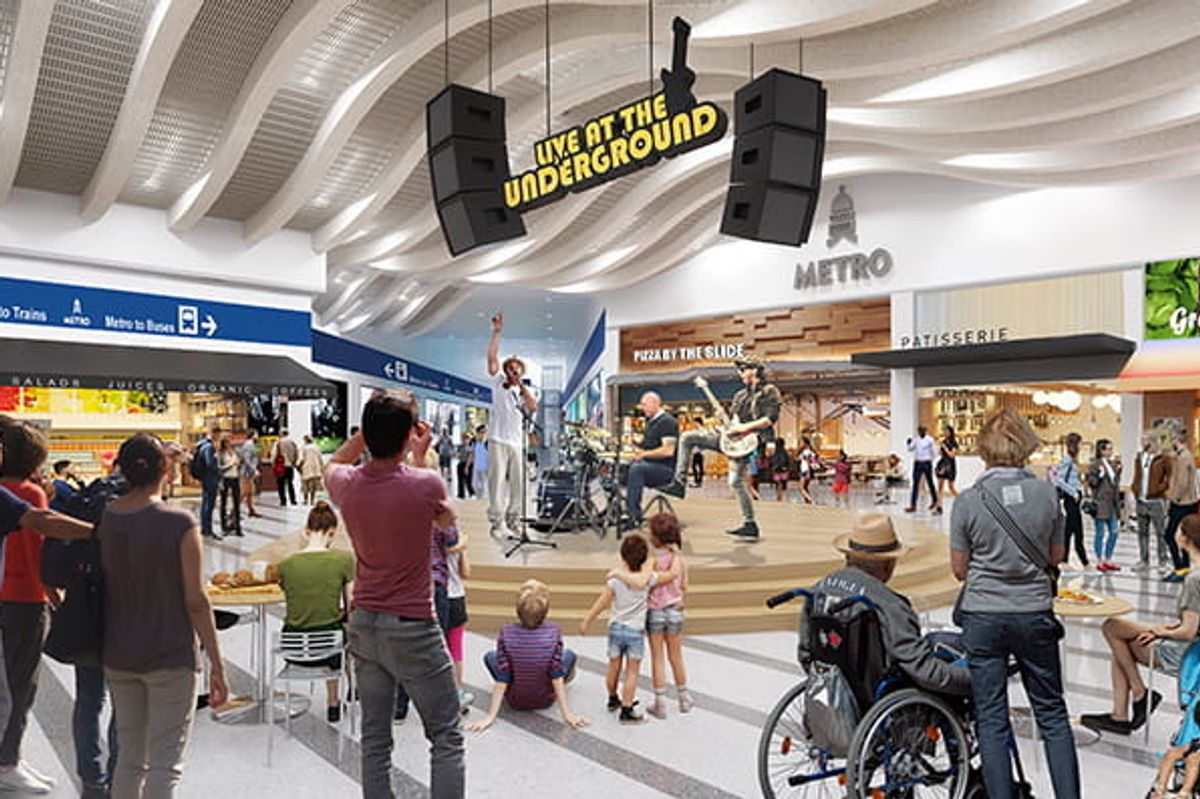 (Capital Metro)
On Nov. 3, Austin residents will choose whether to approve Proposition A, which would increase the city property tax by around 20% to help fund Project Connect, a 15-year, $7.1 billion overhaul of he city's transit system.
---
Although it has been in development since 2013, the plan is still opaque to some residents, who have questions about what it might mean for their neighborhoods—and their wallets.
This week, Austonia will be answering some questions, ranging from the cost of the plan to the projected ridership. Each day, we'll tackle a new one. So far, we've answered: How much will Proposition A raise my taxes if approved? and How feasible is Project Connect's $7.1 billion price tag? Now, for today's question, a two-parter:
How much has Capital Metro spent on advertising Project Connect? And who is funding the groups that oppose and support the plan?
Sponsored content, paid for by Capital Metro and providing a "quick snapshot" of Project Connect, has appeared on The Daily Texan, the Austin Business Journal, on radio stations and billboards—even in Instagram feeds.
Jenna Maxfield, a spokesperson for Capital Metro, wrote in an email to Austonia that the agency is required by the Federal Transit Administration to advertise public meetings and "create educational messages," which it does by paying for sponsored content on area news sites. In FY 2020, which ended Oct. 1, Capital Metro anticipates it spent $1.1 million on such messaging; the agency is still tallying its September expenses.
The sponsored content varies, but one thing is always missing: the cost of the project.
Jeffery Bowen has lived in Austin since 1989 and is a member of the Project Connect ambassador network, where he represents the Austin Neighborhood Council. The experience, he said, has left him concerned about transparency.
"There's a lot of confusion by the general voters," he told Austonia. "There's still some that think this is a bond. It's not."
Instead Proposition A would raise the city's property tax rate permanently, creating a revenue stream that would go toward the construction and maintenance of Project Connect.
A New Transit Plan for Austin | Project Connect by Capital Metrowww.youtube.com
These placements have fueled opposition groups, such as the political action committee Our Mobility Our Future and the recently formed nonprofit Voices of Austin, both of which have characterized Project Connect as something akin to smoke and mirrors.
Roger Falk, an Our Mobility Our Future analyst and Travis County Taxpayers Union volunteer, said Capital Metro would be better served spending that money on engineering studies. "They haven't done the planning," he said. "What they've done is spent all the money on marketing."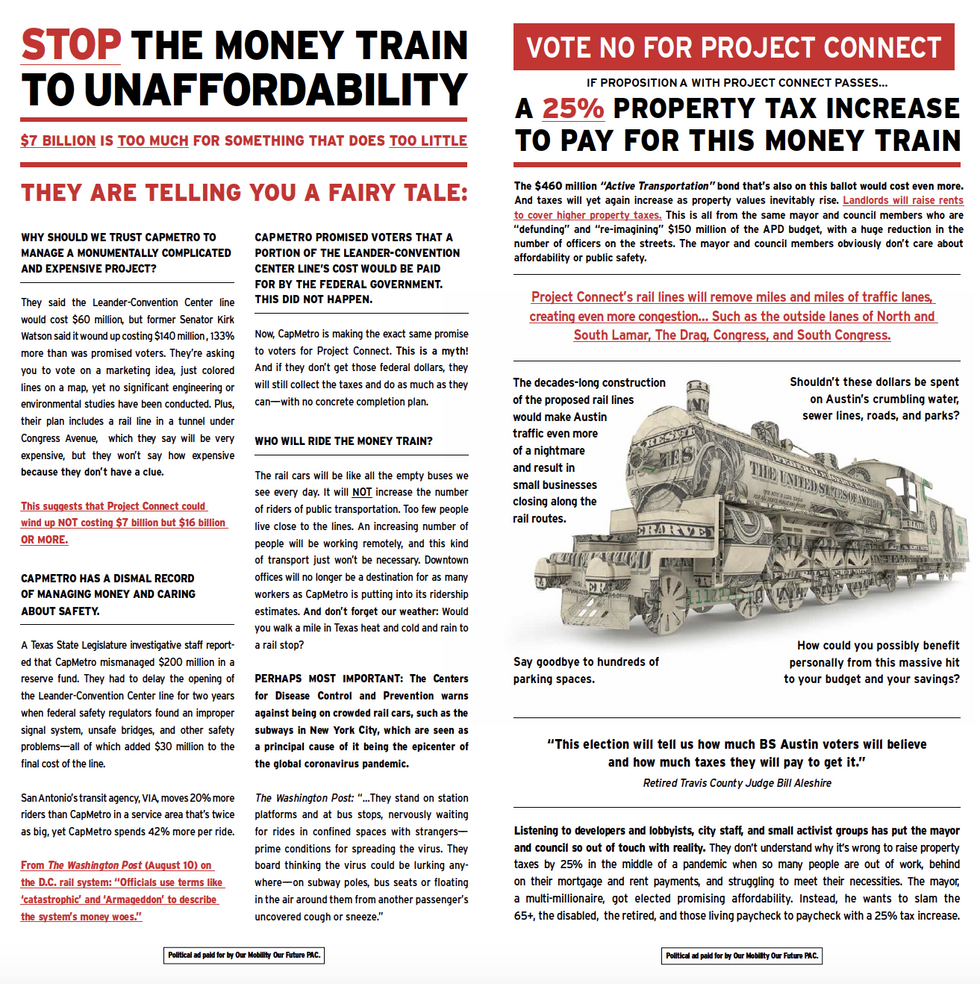 Our Mobility Our Future is a political action committee that is opposed to Project Connect.(Our Mobility Our Future)
On the other hand, some Austinites may have questions about the opposition groups.
Our Mobility Our Future is the latest iteration of a small group of motivated and monied conservatives who have bedeviled Capital Metro since the 1990s and helped defeat two previous light rail plans.
The political action committee has raised nearly $375,000, according to its July 15 and Oct. 5 campaign finance reports, with the majority coming from four donors: real estate investor John Lewis, Mercedes-Benz dealer Bryan Hardeman, Travis County Commissioner Gerald Daugherty and Aminez Therapeutics chairperson Jim Skaggs.
Voices of Austin is a 501(c)(4) organization, which means its financials are not public record. It describes itself as a bipartisan and diverse group with a goal "to change what is happening now at City Hall." It supports increasing police funding and a land use policy that continues to preserve neighborhoods.
Executive Director Peck Young said it is funded by locals and unaffiliated with police unions or Michael Levy, the founder and former publisher of Texas Monthly. "None of us know the surviving Koch brother either," he said, referring to the role of the billionaire Republican mega-donors in defeating a recent transit referendum in Nashville.
Mobility for All, a pro-Project Connect PAC, recently filed its first campaign finance report, which reports it has raised $969,941. Its biggest individual donor, Impossible Ventures CEO Jonathan Coon, gave $50,000. Other top contributors include Silicon Labs Chairman Nav Sooch and CEO Tyson Tuttle, Fairway Real Estate Management President Timothy Horan Jr. and Enoctech Engineering Consultants CEO Ali Khataw.
Organizations that contributed at least $100,000 include the transportation engineering firm HNTB, Major League Soccer club Austin FC and developers Brandywine Realty Trust and Endeavor Real Estate.
This story has been updated to include details from Oct. 5 campaign finance filings and an update from Capital Metro regarding its paid media costs.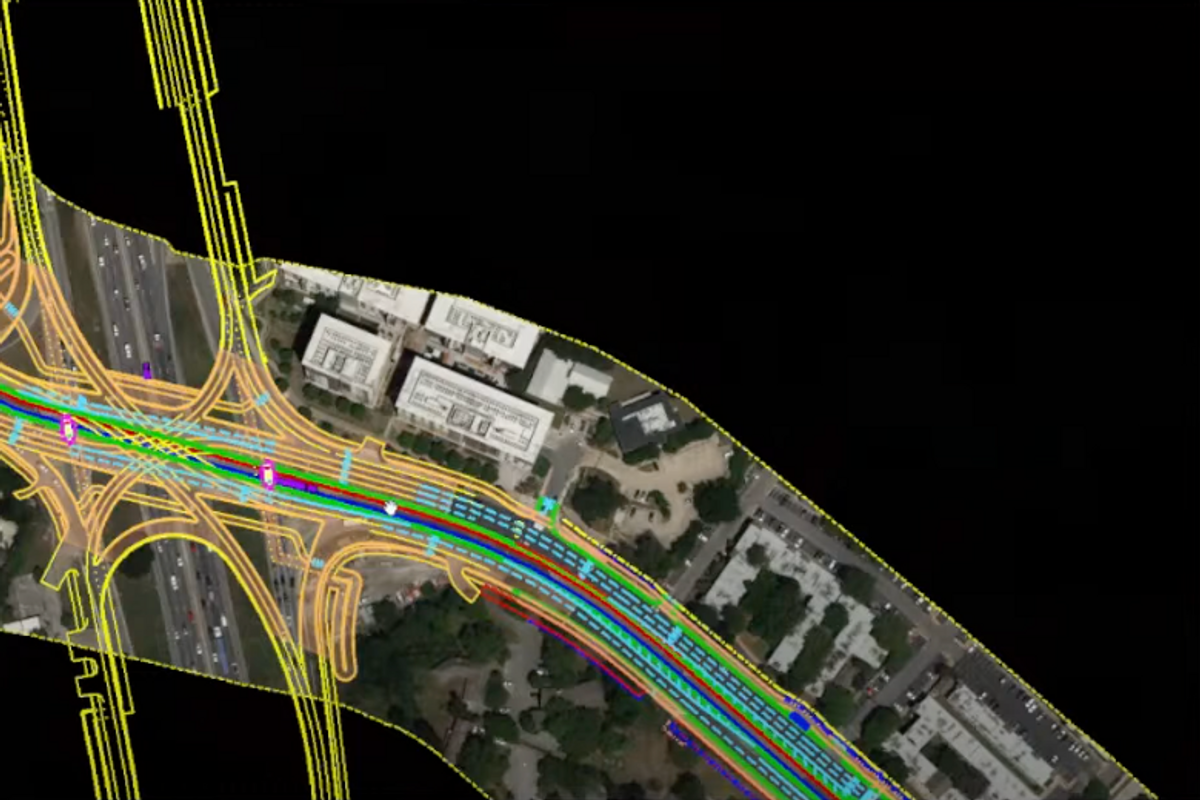 Designs for stations along Project Connect's Blue Line were presented this week, giving a detailed look at what part of the rail system extending from downtown to the airport could look like.
The planned stations that have gotten the latest focus include Waterfront, Travis Heights and Lakeshore stations past Lady Bird Lake.
At the Waterfront station, the preliminary design aims to prevent visual obstructions and save on costs. This is accomplished by a transit guideway that will lower from the bridge to a level station.
Heading onto East Riverside Drive, the light rail faces a curve requiring a slow down to about 10 miles per hour.
The Travis Heights station could involve relocating a pedestrian crosswalk zone at Alameda Drive to Blunn Creek. Since light rails can't effectively operate on a steep grade, this allows the transit guideway to avoid that.
From there, the rail will extend to the Norwood Park area, and though it will reach along the right-of-way zone, the park will be able to remain open.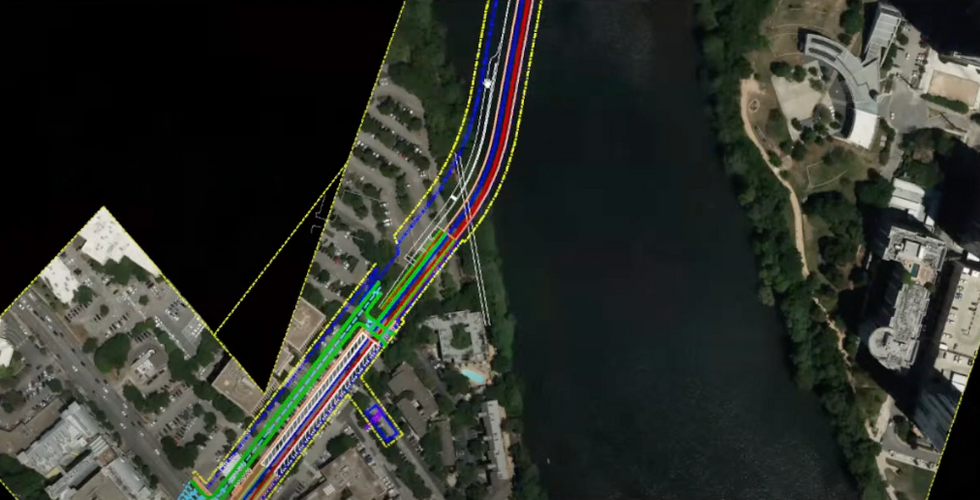 A view of the Blue Line by Lady Bird Lake. (Project Connect)
The line involves some coordination with the Texas Department of Transportation. That's because the department is working on an intersection that will have to be built before the phasing of the section of the Blue Line involving an I-35 crossing.
When it comes to the safety of cyclists and walkers, design ideas include a pedestrian hybrid beacon by East Bouldin Creek that would provide a protected signal to cross. And for the intersection TxDOT is carrying out, Project Connect is working with them on pedestrian access across the intersection. It could involve shared use paths along the street and crossings beneath it.
This summer, the public can expect 30% of design and cost estimates to be released. Though the project was $7.1 billion when voters approved it in November 2020, the latest estimates factoring in inflation and supply chain constraints show it could ultimately be upwards of $10 billion.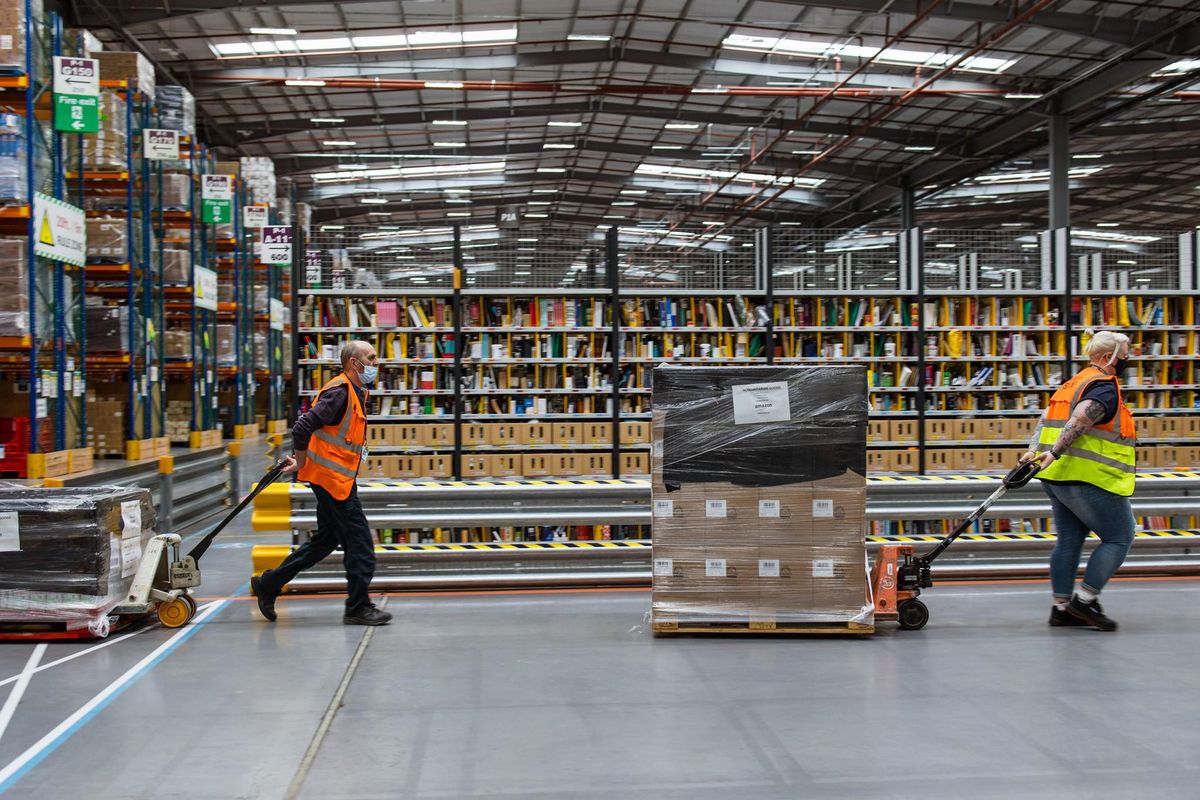 Plans for an Amazon warehouse in Round Rock—a $250 million project slated to be a large distribution center—are on hold.
This comes just after the tech giant had its worst financial quarter in seven years.
The details:
Late last year, it announced an expansion at the Domain adding 2,000 more corporate and tech jobs.
Amazon still owns the site in Round Rock. Plans for it are unclear.
Early this week, the Wall Street Journal reported that Amazon is aiming to scrap warehouse space as it faces a slowdown in its e-commerce operations.
Part of that effort involves exploring the possibility of ending or renegotiating leases with outside warehouse owners. Another aspect is a plan to sublease warehouse space.
"It allows us to relieve the financial obligations associated with an existing building that no longer meets our needs," an Amazon spokeswoman told the Wall Street Journal. "Subleasing is something many established corporations do to help manage their real estate portfolio."