Never miss a story
Sign up for our free daily morning email...
...and afternoon text update
Get connected with our daily update
(Capital Metro)
On Nov. 3, Austin residents will choose whether to approve Proposition A, which would increase the city property tax by around 20% to help fund Project Connect, a 15-year, $7.1 billion overhaul of he city's transit system.
---
Although it has been in development since 2013, the plan is still opaque to some residents, who have questions about what it might mean for their neighborhoods—and their wallets.
This week, Austonia will be answering some questions, ranging from the cost of the plan to the projected ridership. Each day, we'll tackle a new one. So far, we've answered: How much will Proposition A raise my taxes if approved? and How feasible is Project Connect's $7.1 billion price tag? Now, for today's question, a two-parter:
How much has Capital Metro spent on advertising Project Connect? And who is funding the groups that oppose and support the plan?
Sponsored content, paid for by Capital Metro and providing a "quick snapshot" of Project Connect, has appeared on The Daily Texan, the Austin Business Journal, on radio stations and billboards—even in Instagram feeds.
Jenna Maxfield, a spokesperson for Capital Metro, wrote in an email to Austonia that the agency is required by the Federal Transit Administration to advertise public meetings and "create educational messages," which it does by paying for sponsored content on area news sites. In FY 2020, which ended Oct. 1, Capital Metro anticipates it spent $1.1 million on such messaging; the agency is still tallying its September expenses.
The sponsored content varies, but one thing is always missing: the cost of the project.
Jeffery Bowen has lived in Austin since 1989 and is a member of the Project Connect ambassador network, where he represents the Austin Neighborhood Council. The experience, he said, has left him concerned about transparency.
"There's a lot of confusion by the general voters," he told Austonia. "There's still some that think this is a bond. It's not."
Instead Proposition A would raise the city's property tax rate permanently, creating a revenue stream that would go toward the construction and maintenance of Project Connect.
A New Transit Plan for Austin | Project Connect by Capital Metro www.youtube.com
These placements have fueled opposition groups, such as the political action committee Our Mobility Our Future and the recently formed nonprofit Voices of Austin, both of which have characterized Project Connect as something akin to smoke and mirrors.
Roger Falk, an Our Mobility Our Future analyst and Travis County Taxpayers Union volunteer, said Capital Metro would be better served spending that money on engineering studies. "They haven't done the planning," he said. "What they've done is spent all the money on marketing."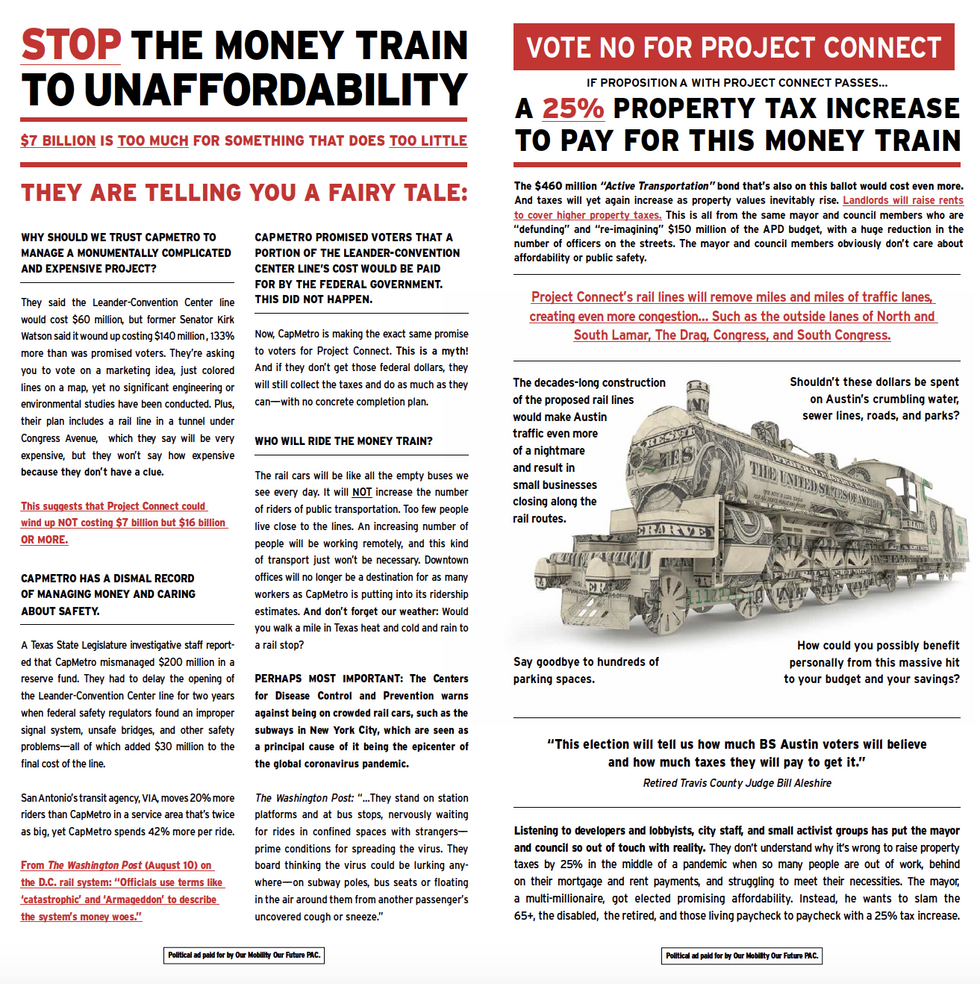 Our Mobility Our Future is a political action committee that is opposed to Project Connect.(Our Mobility Our Future)
On the other hand, some Austinites may have questions about the opposition groups.
Our Mobility Our Future is the latest iteration of a small group of motivated and monied conservatives who have bedeviled Capital Metro since the 1990s and helped defeat two previous light rail plans.
The political action committee has raised nearly $375,000, according to its July 15 and Oct. 5 campaign finance reports, with the majority coming from four donors: real estate investor John Lewis, Mercedes-Benz dealer Bryan Hardeman, Travis County Commissioner Gerald Daugherty and Aminez Therapeutics chairperson Jim Skaggs.
Voices of Austin is a 501(c)(4) organization, which means its financials are not public record. It describes itself as a bipartisan and diverse group with a goal "to change what is happening now at City Hall." It supports increasing police funding and a land use policy that continues to preserve neighborhoods.
Executive Director Peck Young said it is funded by locals and unaffiliated with police unions or Michael Levy, the founder and former publisher of Texas Monthly. "None of us know the surviving Koch brother either," he said, referring to the role of the billionaire Republican mega-donors in defeating a recent transit referendum in Nashville.
Mobility for All, a pro-Project Connect PAC, recently filed its first campaign finance report, which reports it has raised $969,941. Its biggest individual donor, Impossible Ventures CEO Jonathan Coon, gave $50,000. Other top contributors include Silicon Labs Chairman Nav Sooch and CEO Tyson Tuttle, Fairway Real Estate Management President Timothy Horan Jr. and Enoctech Engineering Consultants CEO Ali Khataw.
Organizations that contributed at least $100,000 include the transportation engineering firm HNTB, Major League Soccer club Austin FC and developers Brandywine Realty Trust and Endeavor Real Estate.
This story has been updated to include details from Oct. 5 campaign finance filings and an update from Capital Metro regarding its paid media costs.

First score made by LAFC. (Sonia Garcia/Austonia)
Austin FC couldn't find the stamina to fight off a 2-0 loss against LAFC for their inaugural match on Saturday.
The match, which saw No. 21 Austin FC go head-to-head with No. 2 LAFC in Los Angeles, was broadcast nationally on FOX and FOX Deportes.
Eleven players took the stage as Austin FC players for the first time, with five starters making their MLS debut. "Ringleader" Alex Ring took the captain's armband and wore it well. The defensive midfielder could be seen leading his teammates through their first ever match, but it wasn't enough to stage an Austin takeover in LA.
As Austin FC took the stage for their first-ever match, they appeared more experienced than their track record. The club held LAFC to a scoreless first half, keeping about equal possession of the ball.
In the signature style of Head Coach Josh Wolff, the team played with quickness and intensity, nearly connecting on several fast breaks.
The club was given some generous breaks from No. 2 LAFC, who had one or both of their star DPs out for the half. While forward Diego Rossi is out for the entire match due to a hamstring injury, Carlos Vela was accidentally pulled too soon on what turned out to be a miscommunication.
"He gave us the sign that he needed to come off," LAFC Head Coach Bob Bradley said on broadcast. "I can't say more than maybe it's my fault."
LA pulled some dramatics and slowly gained more possession throughout the half, but ATXFC's defense wasn't initially as shaky as it seemed in preseason. Jhohan Romana has pulled his weight in getting the ball out of goal, and a 34-year old Matt Besler held his own in center back.
As the second half commenced, however, it became clear that LAFC had the advantage over Austin's first major league team.
Goalkeeper Brad Stuver had his work cut out for him, fending off 24 shot attempts, 11 of which were on goal.
LAFC finally connected in the 61st minute of play as Corey Baird shot one into the bottom right corner. The team capitalized off their momentum and put one past Stuver a second time, drawing roars of approval from the LAFC crowd.
While some last-minute attempts from Jon Gallagher and others were made, Austin FC didn't have the endurance to bring a tie. After seven additional minutes of stoppage time, the club lost their first match 2-0.
It's matchday! Austin FC—Austin's first major league sport team—kicks off its debut season in Los Angeles today after years in the making. We know how much this means to our beloved city and are taking you along with us as we journey to LA!
Austin FC writer Claire Partain and I are excited to bring you game-day coverage straight from the City of Angels. Check back here for updates, and visit our socials: @austonianews for the latest.
5 p.m: Kickoff!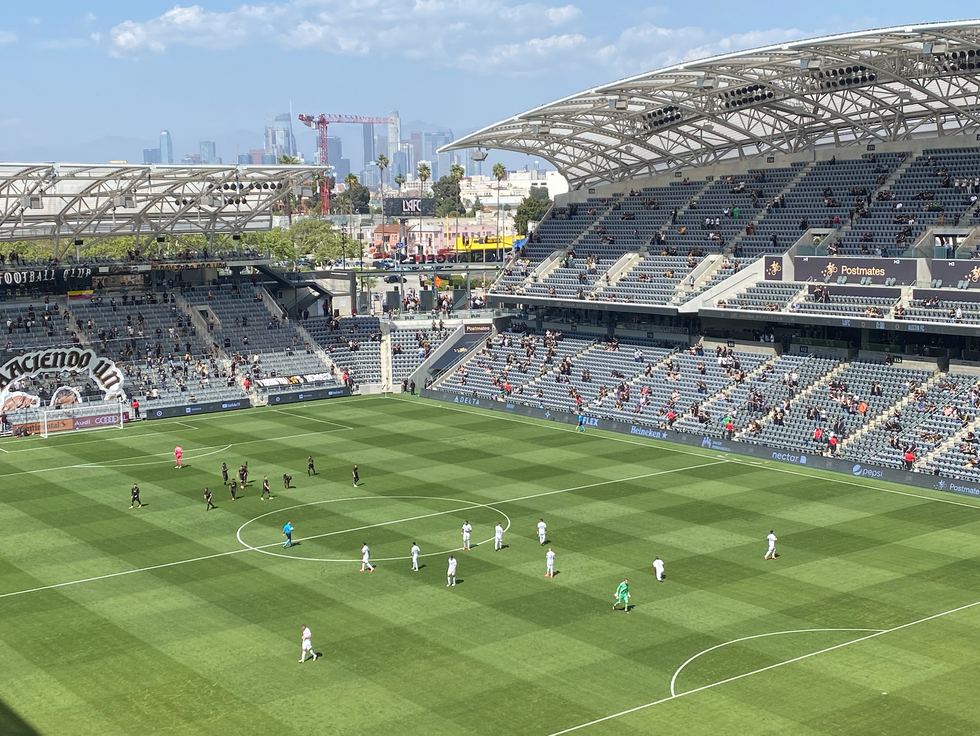 It's finally here! Claire will be updating Austonia's Twitter account live. And we'll post her game recap after the game. Best of luck Verdes!
4:40 p.m: Excitement radiates back home
Watch parties are in plenty supply back home. Austonia's Laura Figi visited Circle Brewing Co. and found a crowd of excited supporters.
4:20 p.m: Austin FC supporters are in the stadium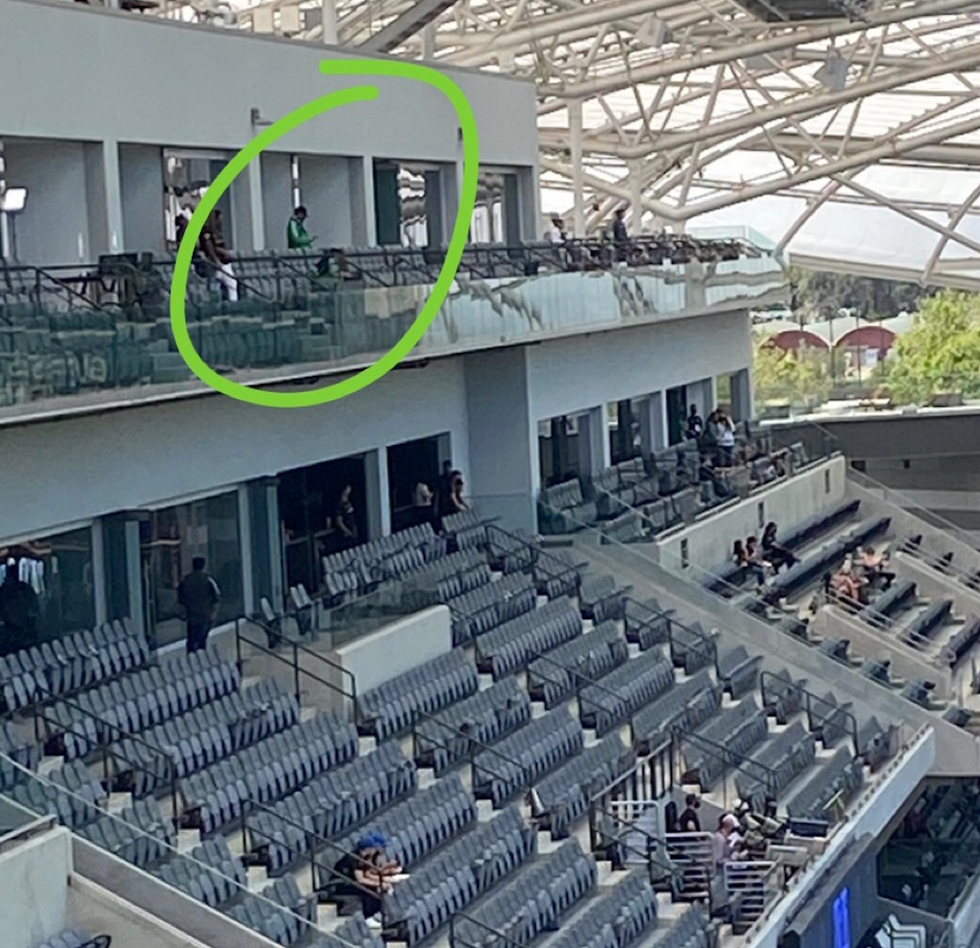 Although the Banc of California Stadium is hosting the match at limited capacity, we see some green in the stands ahead of kickoff. Just moments away from the Austin FC's debut!
~3:20 p.m: Austin FC's team bus enters the stadium grounds
With a warm welcome from Los Verdes, Austin FC players were welcomed into the Banc of California Stadium.
~1 p.m: Los Verdes in LA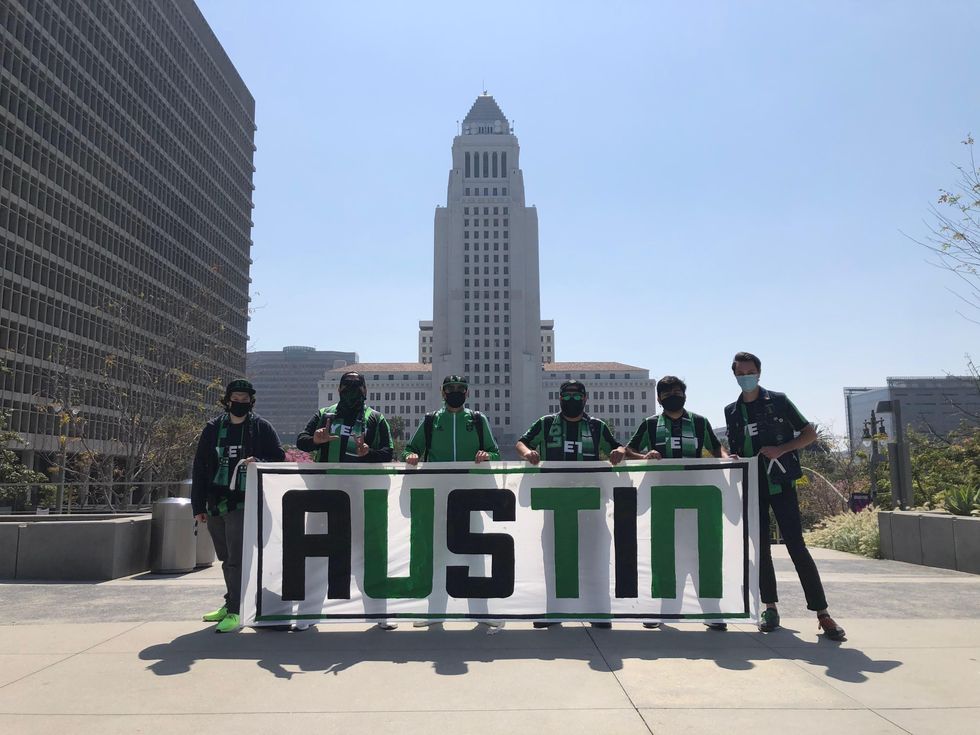 (Rigo Rodriguez/Los Verdes)
Austin FC supporters are making their presence known in LA, including the Los Verdes group.
Los Verdes members started having match-day fun around the area this morning with brunch. We'll be joining them about an hour before the game outside the stadium to share some of their excitement. We'll post immediately to Austonia's Instagram.
11:45 a.m: We landed!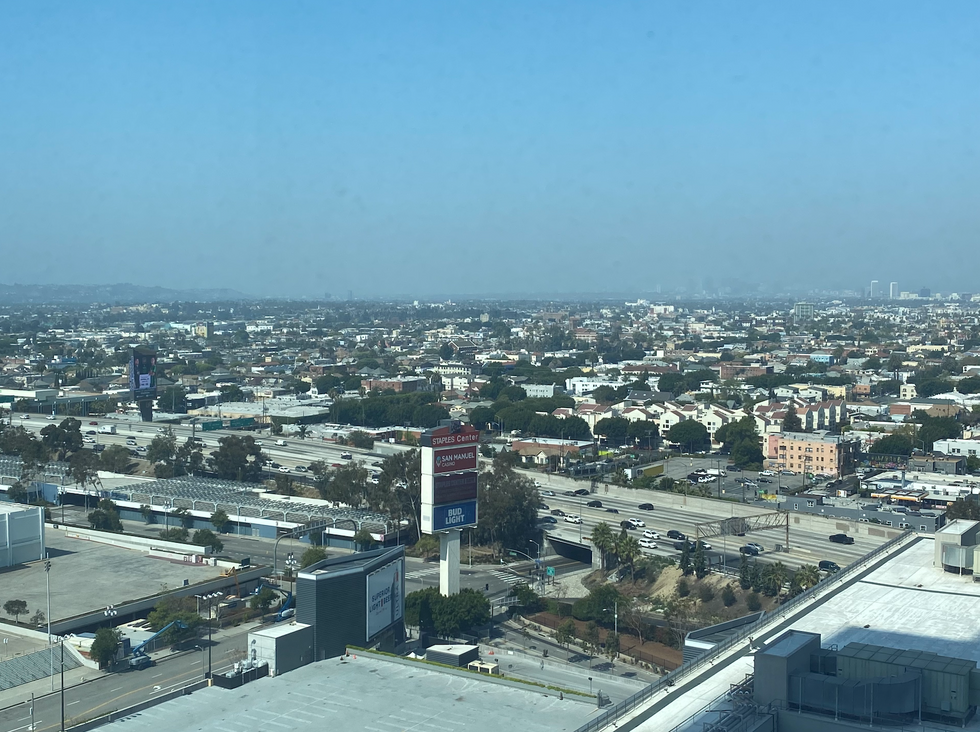 View from hotel room where we're staying; the stadium digital sign can be seen in the right corner. (Sonia Garcia/Austonia)
Switching over to pacific time, we're here and it's almost like no time went by. It's 9:45 a.m. here.
We've been in contact with Los Verdes, an Austin FC supporter group, who is also here in LA counting down to kickoff.
8:20 a.m: LA bound
Like many of you, we've been looking forward to this moment for, let's just say, a very long time. Today, we woke up bright and early, headed to Austin-Bergstrom International Airport and hopped on a flight to LA.
A gloomy day in Austin with a very quiet airport, we're headed to sunny skies in California.
As we wait for the game to start at 4:30 p.m., check out Claire's preview of the game with a predicted lineup and timeline of the long journey to get here.