Get connected with our daily update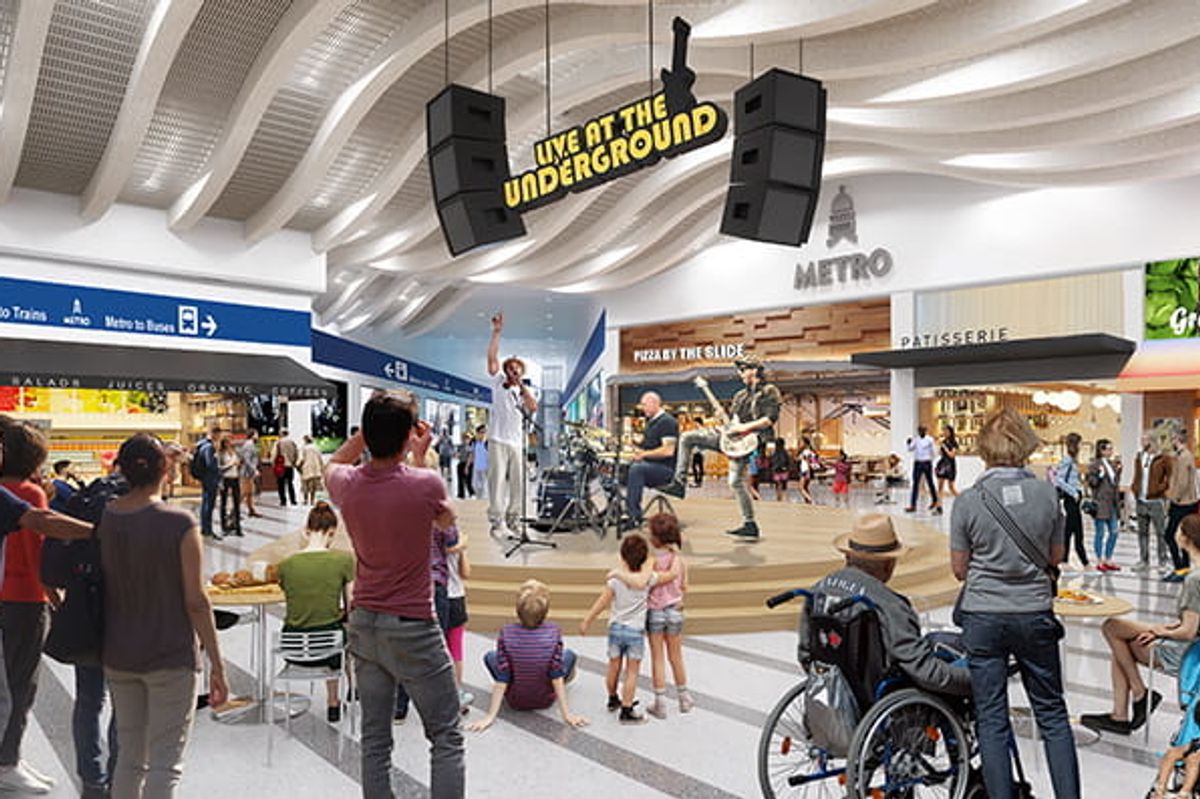 (Capital Metro)
On Nov. 3, Austin residents will choose whether to approve Proposition A, which would increase the city property tax by around 20% to help fund Project Connect, a 15-year, $7.1 billion overhaul of he city's transit system.
---
Although it has been in development since 2013, the plan is still opaque to some residents, who have questions about what it might mean for their neighborhoods—and their wallets.
This week, Austonia will be answering some questions, ranging from the cost of the plan to the projected ridership. Each day, we'll tackle a new one. So far, we've answered: How much will Proposition A raise my taxes if approved? and How feasible is Project Connect's $7.1 billion price tag? Now, for today's question, a two-parter:
How much has Capital Metro spent on advertising Project Connect? And who is funding the groups that oppose and support the plan?
Sponsored content, paid for by Capital Metro and providing a "quick snapshot" of Project Connect, has appeared on The Daily Texan, the Austin Business Journal, on radio stations and billboards—even in Instagram feeds.
Jenna Maxfield, a spokesperson for Capital Metro, wrote in an email to Austonia that the agency is required by the Federal Transit Administration to advertise public meetings and "create educational messages," which it does by paying for sponsored content on area news sites. In FY 2020, which ended Oct. 1, Capital Metro anticipates it spent $1.1 million on such messaging; the agency is still tallying its September expenses.
The sponsored content varies, but one thing is always missing: the cost of the project.
Jeffery Bowen has lived in Austin since 1989 and is a member of the Project Connect ambassador network, where he represents the Austin Neighborhood Council. The experience, he said, has left him concerned about transparency.
"There's a lot of confusion by the general voters," he told Austonia. "There's still some that think this is a bond. It's not."
Instead Proposition A would raise the city's property tax rate permanently, creating a revenue stream that would go toward the construction and maintenance of Project Connect.
A New Transit Plan for Austin | Project Connect by Capital Metro www.youtube.com
These placements have fueled opposition groups, such as the political action committee Our Mobility Our Future and the recently formed nonprofit Voices of Austin, both of which have characterized Project Connect as something akin to smoke and mirrors.
Roger Falk, an Our Mobility Our Future analyst and Travis County Taxpayers Union volunteer, said Capital Metro would be better served spending that money on engineering studies. "They haven't done the planning," he said. "What they've done is spent all the money on marketing."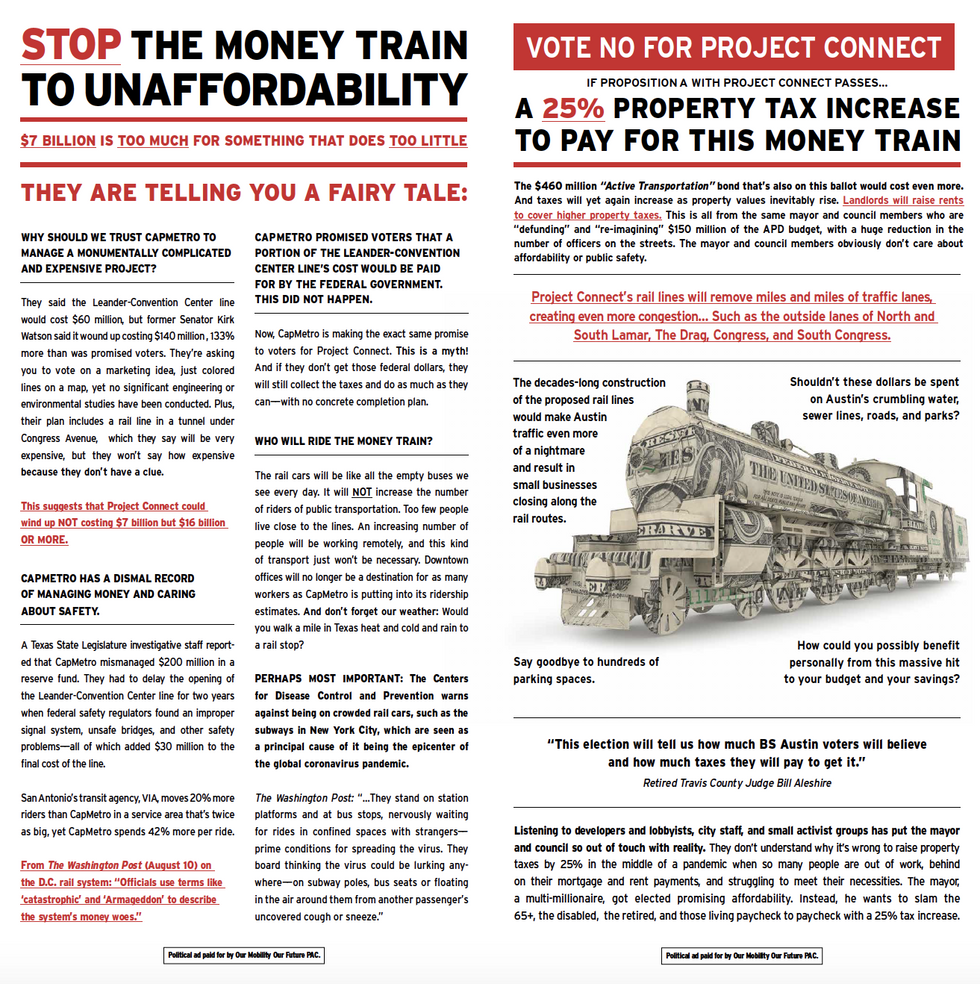 Our Mobility Our Future is a political action committee that is opposed to Project Connect.(Our Mobility Our Future)
On the other hand, some Austinites may have questions about the opposition groups.
Our Mobility Our Future is the latest iteration of a small group of motivated and monied conservatives who have bedeviled Capital Metro since the 1990s and helped defeat two previous light rail plans.
The political action committee has raised nearly $375,000, according to its July 15 and Oct. 5 campaign finance reports, with the majority coming from four donors: real estate investor John Lewis, Mercedes-Benz dealer Bryan Hardeman, Travis County Commissioner Gerald Daugherty and Aminez Therapeutics chairperson Jim Skaggs.
Voices of Austin is a 501(c)(4) organization, which means its financials are not public record. It describes itself as a bipartisan and diverse group with a goal "to change what is happening now at City Hall." It supports increasing police funding and a land use policy that continues to preserve neighborhoods.
Executive Director Peck Young said it is funded by locals and unaffiliated with police unions or Michael Levy, the founder and former publisher of Texas Monthly. "None of us know the surviving Koch brother either," he said, referring to the role of the billionaire Republican mega-donors in defeating a recent transit referendum in Nashville.
Mobility for All, a pro-Project Connect PAC, recently filed its first campaign finance report, which reports it has raised $969,941. Its biggest individual donor, Impossible Ventures CEO Jonathan Coon, gave $50,000. Other top contributors include Silicon Labs Chairman Nav Sooch and CEO Tyson Tuttle, Fairway Real Estate Management President Timothy Horan Jr. and Enoctech Engineering Consultants CEO Ali Khataw.
Organizations that contributed at least $100,000 include the transportation engineering firm HNTB, Major League Soccer club Austin FC and developers Brandywine Realty Trust and Endeavor Real Estate.
This story has been updated to include details from Oct. 5 campaign finance filings and an update from Capital Metro regarding its paid media costs.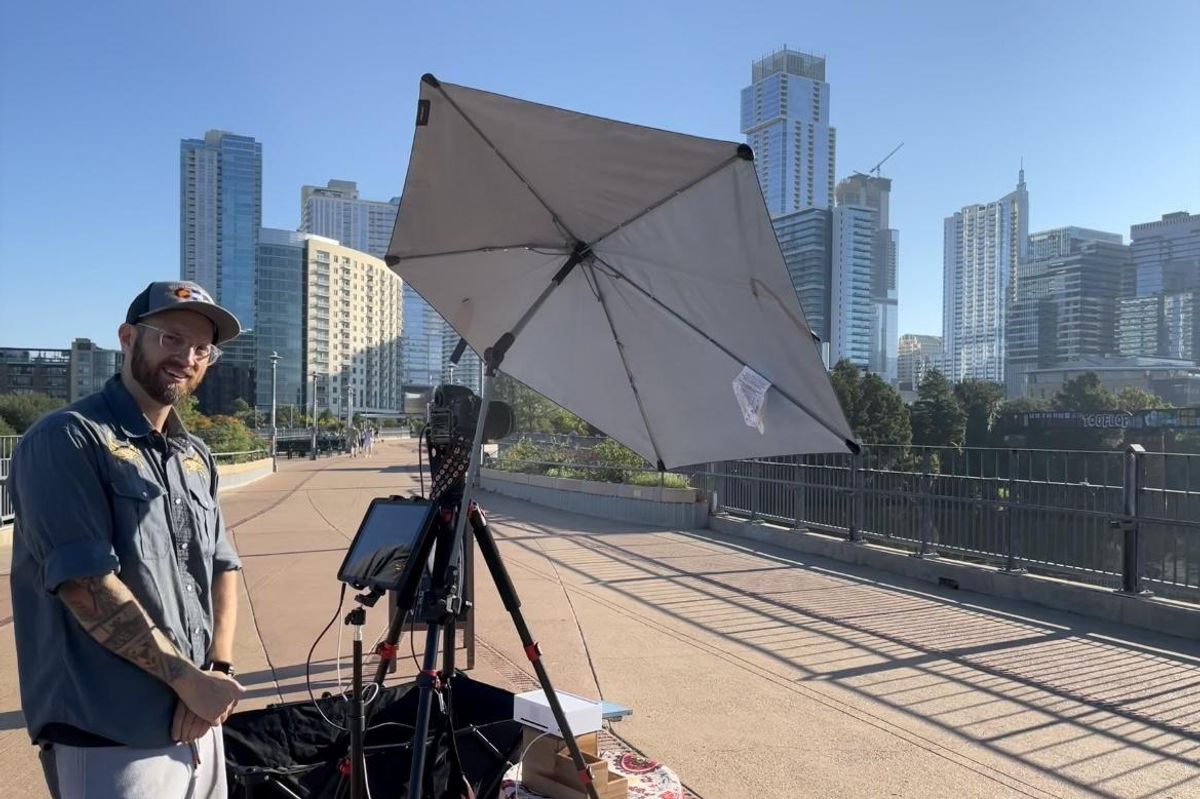 Nicklaus Pereksta says he loves photographing enthusiastic people, and it's why his latest gig offering pictures to people out on Lady Bird Lake's hike and bike trail is going smoothly. He sets up his gear on the Pfluger pedestrian bridge and puts out a sign: Photos, $10.
"Overwhelmingly, this has been a really positive experience," Pereksta said. "I get excited when I wake up in the morning and I can't wait to go to work."
Bikers and joggers are excited about it too. On the pedestrian bridge leading to downtown Thursday morning, a man on an e-bike rode up and posed, wanting more photos.
"I posted the last pictures on Instagram and people loved it. They asked, 'where is this guy?'" the biker told Pereksta. Bashfully, Pereksta, who also photographs landscapes and at weddings and other events, said he was happy to hear that.
Pereksta started these photos about a month ago, after the strenuous runs required in his valet job started causing pain in his legs. And though he has a passion for photography, he wasn't so sure when he started working independently if it would work out.
He felt uncertain about the demand for it and was also worried about having lots of expensive equipment out in the open.
"Then like the first day was nothing but high praise and people are like, this is so awesome. This is great. I've never seen anything like this before. I was like, Wow, this was really good, like positive turnout. So I got encouraged."
Now, he wants to expand and is thinking of contacting the Mueller Farmers Market about how to become a vendor. Still, he'll carry a connection to photographing on the bridge since the word bridge is related to his last name.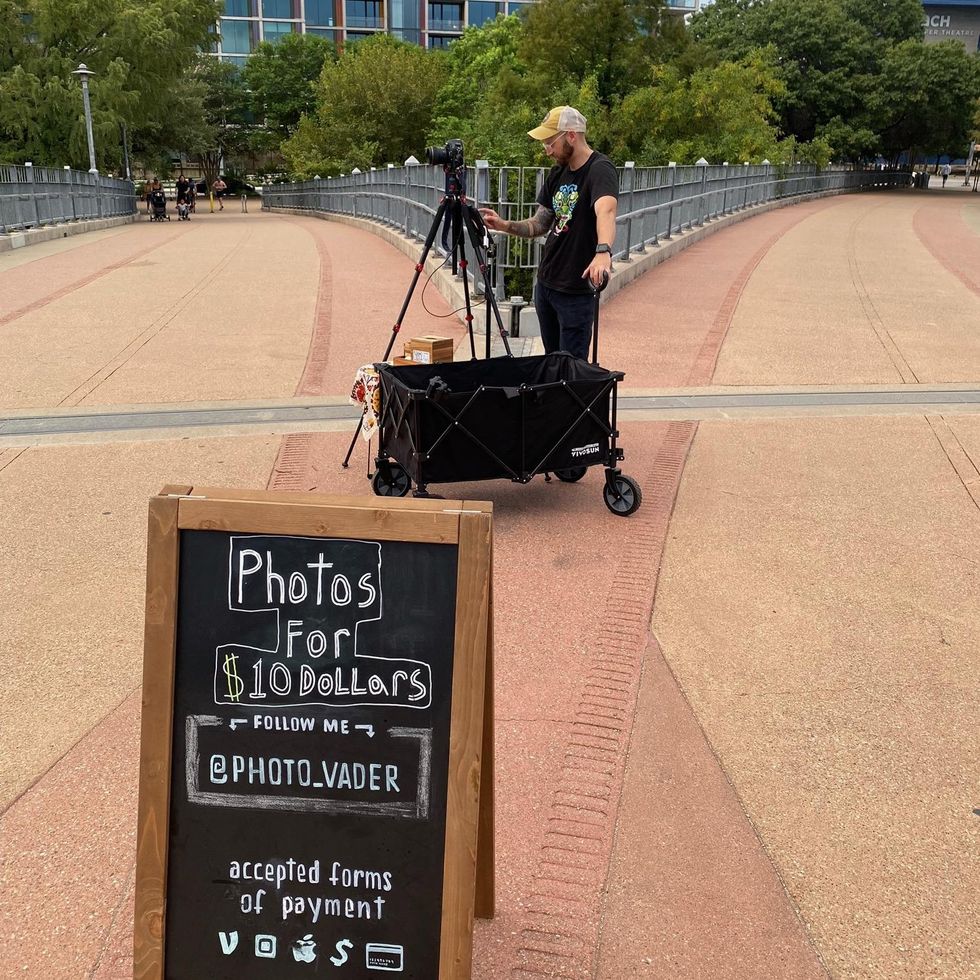 (Dewey C.)
"It's a name my great, great, great grandfather came up with when he was marrying somebody. It's actually quite a romantic name. It means a joining of two bridges," Pereksta said. "So, I thought it was ironic that I'm set up on a bridge. I'm kind of representing my last name right now."
Austonia talked to Pereksta about life in Austin, where he's lived for eight years after living in Boston doing band photography.
What was your first experience with Austin?
I came here to visit some friends and they took me to Barbarella. So we went to Barbarella and I was like, 'wow, this place is great.' And then the restaurants and the food and going to Barton Springs. I was like, 'this is amazing.' Because there's nothing like that in Boston. If you want to go to a natural spring, you got to go to New Hampshire. There's no pools in the city at all. So there's lots of swimming out here.
What do you like best about Austin?
You go to any little quiet bar and there's a band playing that should be like onstage for a sold out show. Yeah, they're playing to 10 people, right? Like, one of the best bands ever and they're playing for 10 people, right? And just little magic moments like that are pretty fun. You just run into little random weird things.
What do you think makes Austin different from other places?
There's no fall.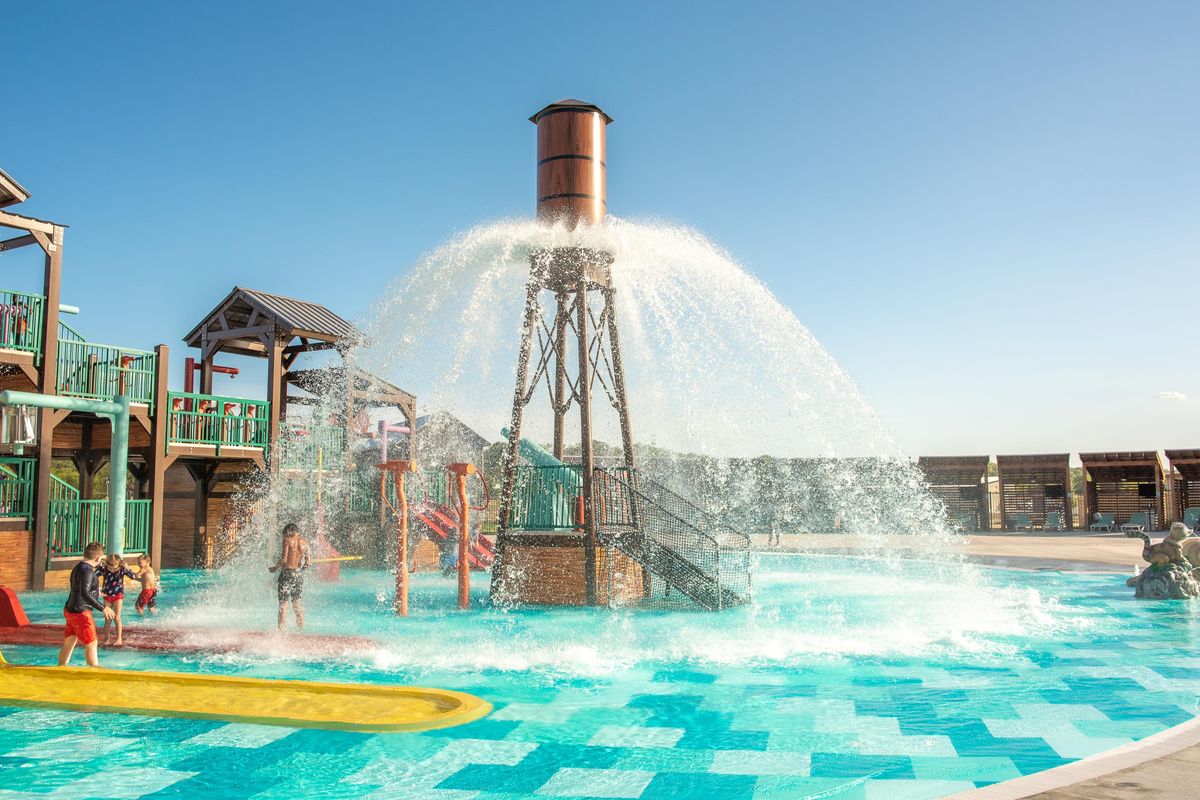 Camp Fimfo Waco
Camp Fimfo Waco, a brand new camping resort, is kicking off football and fall camping season in style! With top-notch amenities, premium accommodations, and 10 weekends of fall fun, there's no better place to have a fall camping getaway, especially if you're a Baylor football fan!
Fall promises to be a one-of-a-kind camping experience. From Sept. 16 to Nov. 24, weekends will be packed with fall-themed activities, including special Halloween weekends in October. Campers can enjoy activities like fall crafts, campground trick-or-treating, costume contests, site decorating, outdoor movie nights, and more!