Get connected with our daily update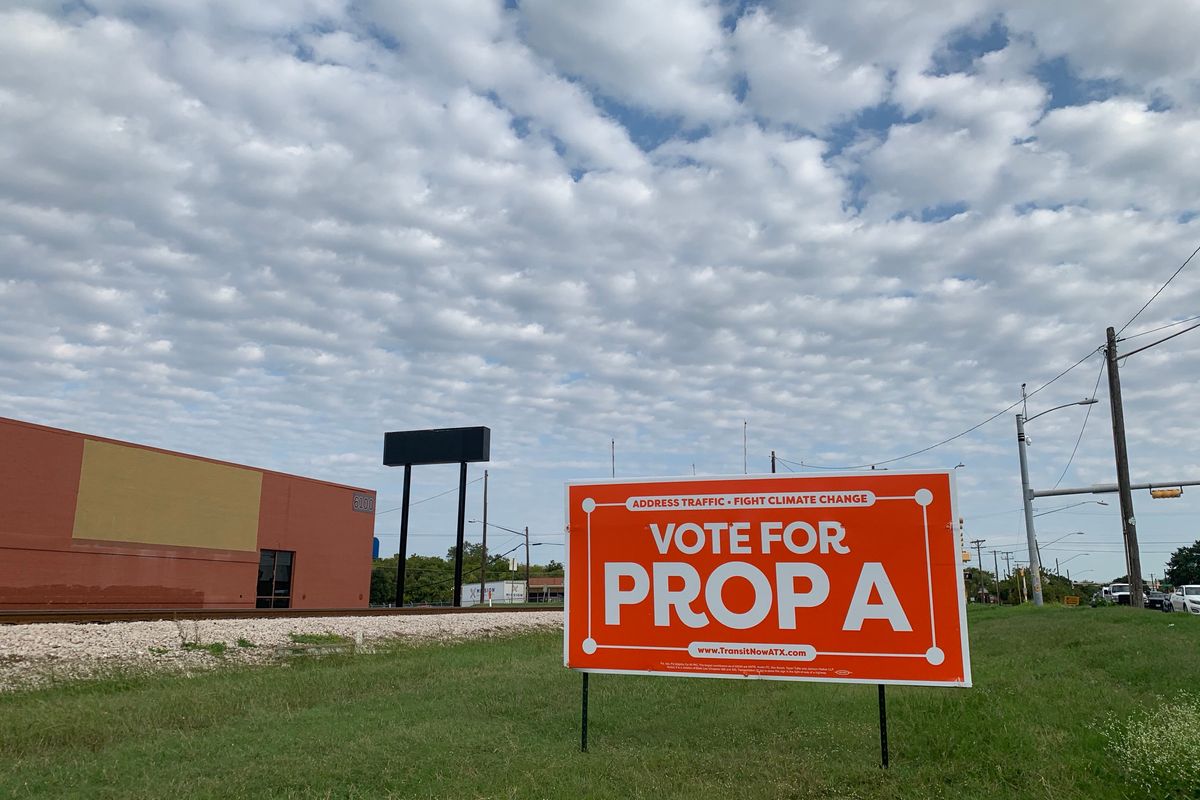 (Emma Freer)
Austin voters will decide Nov. 3 whether to back Proposition A, which would increase the city's property tax rate to fund and maintain a $7.1 billion, 15-year overhaul of the city's transit system.
If approved, Project Connect will expand Austin's rapid bus system and add two new light rail lines, which will be served by a multi-block underground downtown tunnel.
Here is a closer look at the light rail component of the plan:
---
Project Connect proposes two new light rail lines: the orange line, which will run approximately 21 miles from the North Lamar Transit Center at North Lamar Boulevard and Hwy. 183 to Stassney Lane; and the blue line, which will run approximately 15 miles from the North Lamar Transit Center through downtown and east to the Austin-Bergstrom International Airport.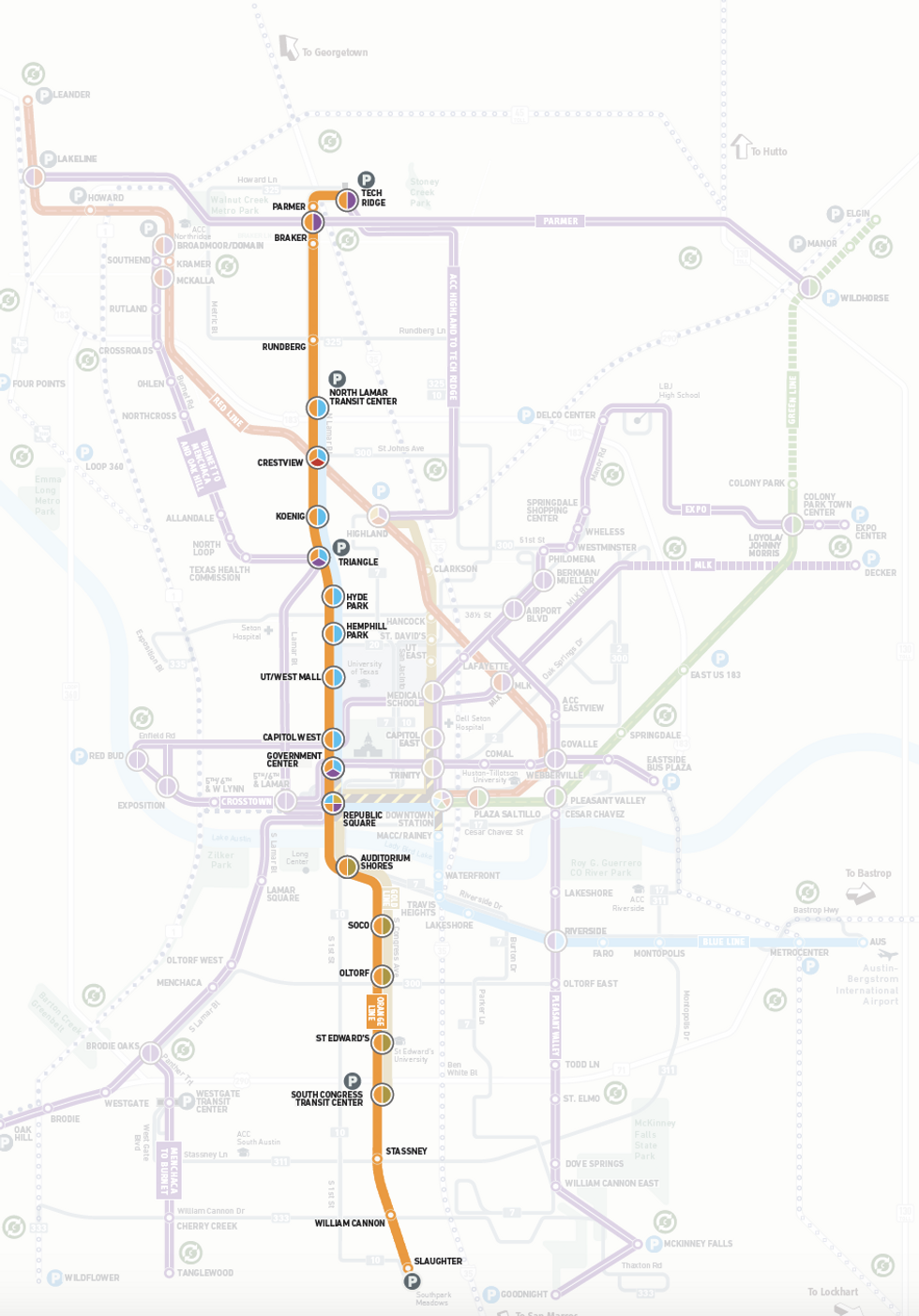 The orange line is one of two light rail lines proposed in the Project Connect transit plan.(Capital Metro)
Both lines will run along the same route from the North Lamar Transit Center to Republic Square, where they will diverge. The orange line will head south, while the blue line will head east to the Downtown Station before crossing Lady Bird Lake on its way to the airport.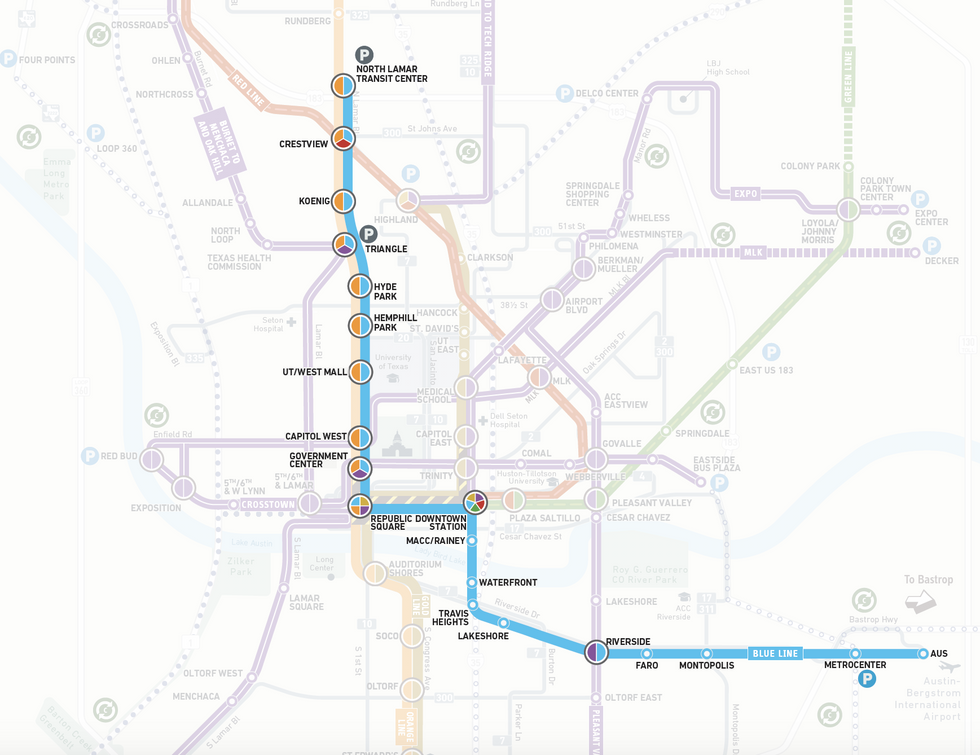 The blue line is the second light rail route. Austin voters will decide whether to approve Proposition A, a tax rate increase to fund Project Connect, this Nov. 3. (Capital Metro)
There is also a plan for an extension of the orange line, pending federal funding commitments, that would lengthen it north to Tech Ridge and south to Slaughter Lane. The extended portions will be serviced by the MetroRapid bus system unless voters approve the plan and federal funding is secured.
A third light rail line, called the Gold Line, was initially proposed but eventually switched to the MetroRapid bus service because of funding concerns due to the COVID-19 pandemic. It will run from Austin Community College's Highland campus to downtown.
If voters green light Project Connect, both light rail lines are expected to begin construction in 2024, which is expected to take around five years. The total cost for the two lines is estimated to be $3.8 billion, with an additional $2.5 billion earmarked for the downtown tunnel. As a result, the line rail component is by far Project Connect's largest expense—but it allows for a much higher ridership ceiling than a bus-only system would.
Project Connect massive underground rail tunnelwww.youtube.com
Multiple studies determined that bus rapid transit along the orange and blue lines would reach capacity during peak periods by 2040, a spokesperson for the city's transit agency, Capital Metro, said. After a two-year period of technical analysis and community engagement, a light rail was selected as "the locally preferred alternative" because of its increased ridership potential.
Capital Metro, which was founded in 1985, provided nearly 20 million rides between January and July of this year, according to the latest available data. This represents a 21.6% decline in ridership year-over-year, but until the pandemic first arrived in March, the agency had reported increased ridership for 17 consecutive months.
Different tracks
Despite the cost, Capital Metro told council members that community members overwhelmingly support the light rail component of Project Connect based on feedback collected during a three-week virtual open house in May. Of the 3,574 participants, 92% agreed with the orange line plan and 90% agreed with the blue line plan. Overall, 90% of participants agreed with the recommended system plan.
Capital Metro declined an interview for this story, citing election law. But in an interview with local safety advocacy group Farm & City last month, CEO Randy Clarke touted the plan's ability to ease traffic congestion, inequity and climate change.

We're proud to join with @texpirg @CleanWaterTx @PublicCitizenTX and many other environmental leaders in support of… https://t.co/ZaBw9gVOp5

— Environment Texas (@Environment Texas) 1600956629.0
"Generally speaking, unless you're completely anti-transit or … don't want to spend any money, most everyone is really positive about this plan," he said.
Clarke also emphasized that infrastructure spending is a long game.
"Project Connect is not about next year," he said. "Project Connect is five, 10, 15, 30 and 100 years. When we're all gone, what (the city will) look like will be massively determined by this November."
An earlier light rail proposal was rejected by city voters in 2014, including some transit advocates such as Urban Rail Action, who said it was limited in scope and included too much funding for highway expansion projects.
Timothy Bray, an AURA board member, said previous efforts didn't go where people actually live, but Project Connect "gets rail right" and will help make Austin a "more sustainable and equitable city."
The investment corresponds with the impact, Bray argued, and does a lot more toward making Austin a modern city than an $8 billion plan to widen I-35, which is also underway.
Project Connect retains vocal opponents, however.
Travis County Commissioner Gerald Daugherty is one of the top donors to Our Mobility Our Future, a political action committee that is against Project Connect, which he said is too expensive, outdated and limited in scope.
"The overwhelming majority of people do not take transit, nor will they ever take transit," he said.
Daugherty added that the cost of the plan will be carried by everyone who lives in the city—regardless of whether they're served by the new lines being added, own property or are facing financial hardships because of the pandemic.
"If you're a renter, get ready, because whoever owns your apartment complex, they're going to pass (the tax increase) along to you," he said.
As an alternative, OMOF advocates that the solution to traffic congestion is micromobility, like electric scooters, and the promise of autonomous vehicles and vehicle-to-everything, or V2X, technology, an argument that pro-transit advocates have characterized as specious.
"Bottom line on this, it is ridiculous for the city of Austin and Capital Metro to promote such large spending on something that is not cutting-edge technology," Daugherty said. "Light rail is not cutting-edge technology."
Voices of Austin, another relatively new group, has also come out against Project Connect, which its staff says is slick marketing with little actual planning behind it.
Is #ProjectConnect good for #ATX? Make sure you're registered to vote. #VoteATX https://t.co/gjrrrxP5nB https://t.co/49GSt2DcnM

— Voices of Austin (@Voices of Austin) 1600452906.0
Next stop
Ultimately, Austin voters will determine whether the light rail has a future in Austin when they vote on the Project Connect plan as Proposition A this November.
You can learn more about the local mobility propositions, including the ballot language, on the upcoming ballot here.
This story has been updated to clarify the orange line route.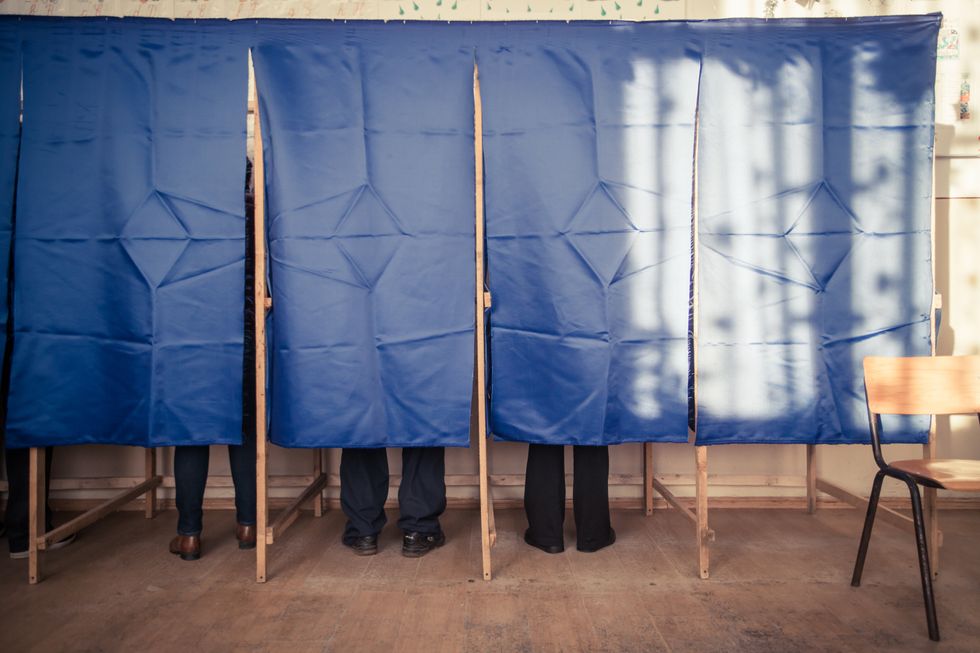 Voting guide: local mobility propositions on the November ballot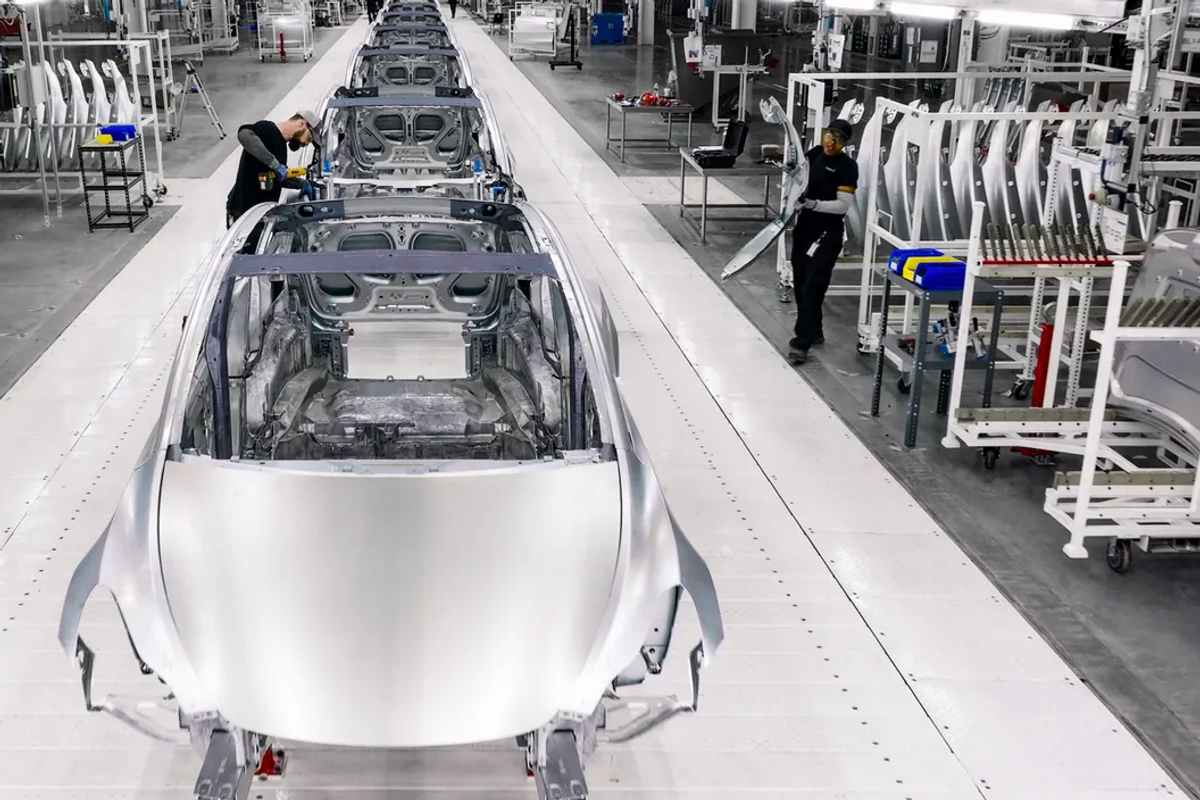 Giga Texas, the massive Tesla factory in southeast Travis County is getting even bigger.
The company filed with the city of Austin this week to expand its headquarters with a new 500,000-square-foot building. The permit application notes "GA 2 and 3 expansion," which indicates the company will make two general assembly lines in the building.
More details about the plans for the building are unclear. The gigafactory has been focused on Model Y production since it opened in April, but the company is also aiming for Cybertruck production to kick off in mid-2023.
While there is room for expansion on the 3.3 square miles of land Tesla has, this move comes after CEO Elon Musk's recent comments about the state of the economy and its impact on Tesla.
In a May interview with Tesla Owners Silicon Valley, Musk said the gigafactories in Berlin and Austin are "gigantic money furnaces" and said Giga Texas had manufactured only a small number of cars.
And in June, Musk sent a company wide email saying Tesla will be reducing salaried headcount by 10%, then later tweeted salaried headcount should be fairly flat.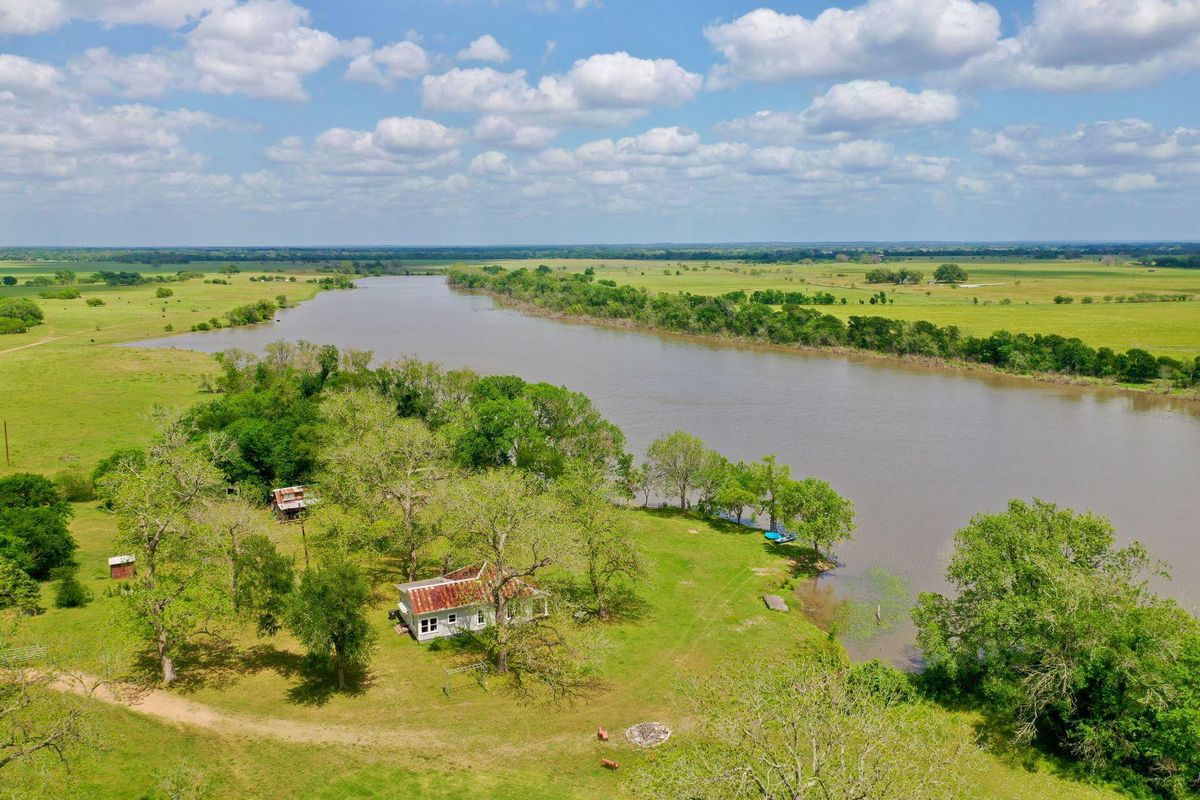 It's been a record-breaking hot summer already and Austin still has a few months of heat to weather. But the heat doesn't have to be so bad if you've got a swimming hole in your backyard, like these three ranches.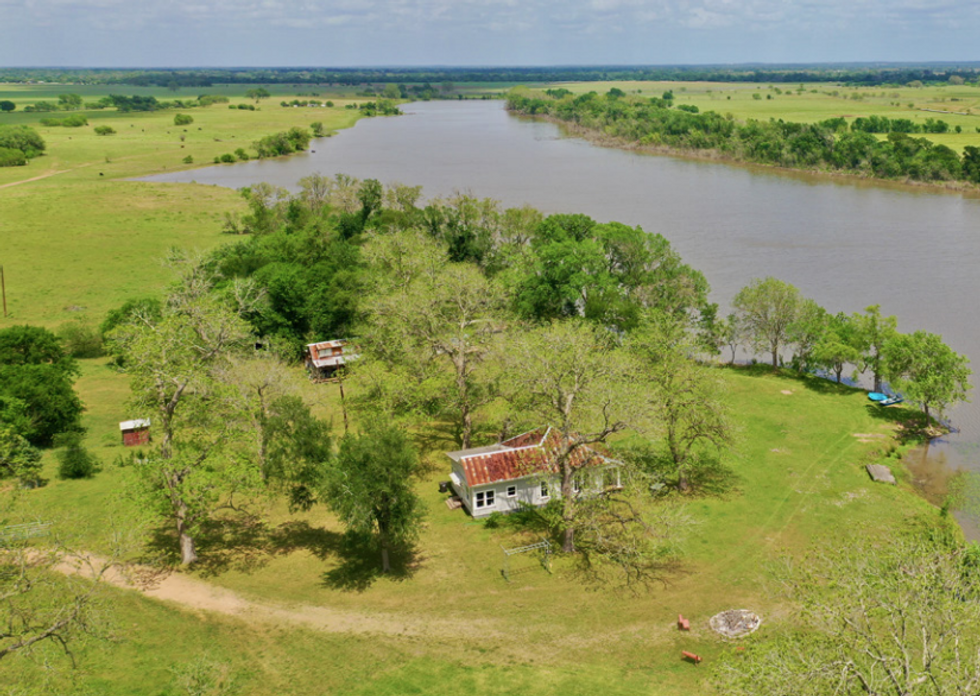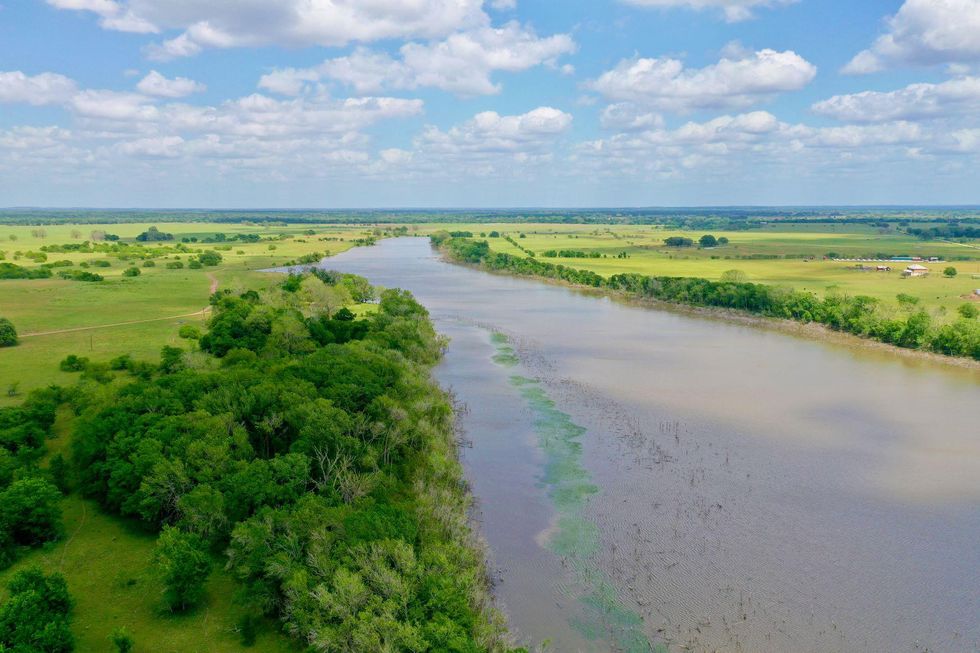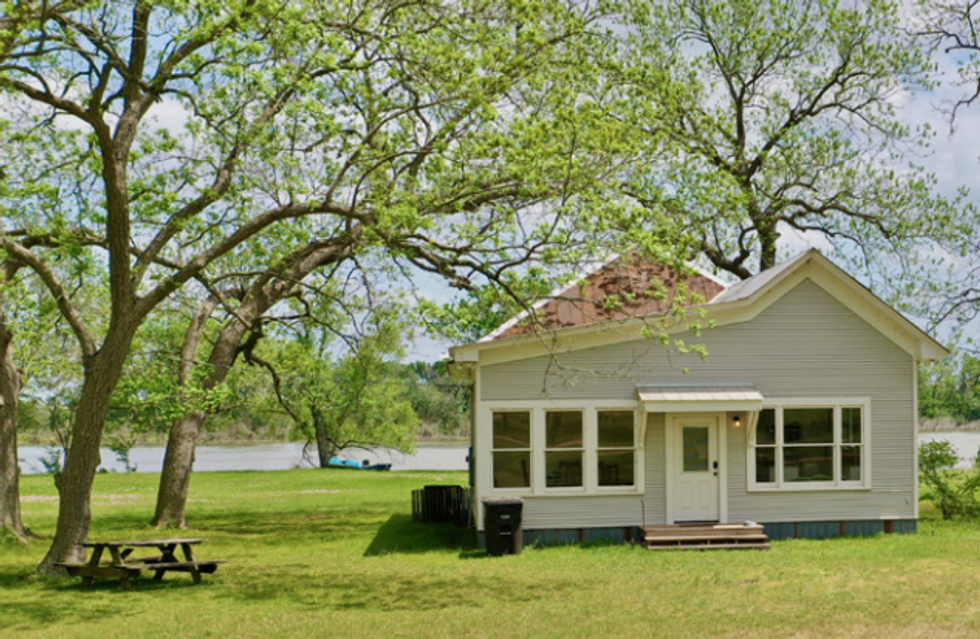 You'll have to leave city limits if you're looking for a proper ranch property like 417 Acres Shipp Lake Ranch, aptly named for its acreage. The property comes built out with three farmhouses, one of which has bedrooms and two bathrooms and two of which have two bedrooms and one bathroom. The nearly untouched property, which surrounds the 100-plus-acre Shipp Lake, has remained in the same family since the early 1900s and gives you picturesque views for the making of a dream home. In fact, the previous owners ran a water ski camp on the property.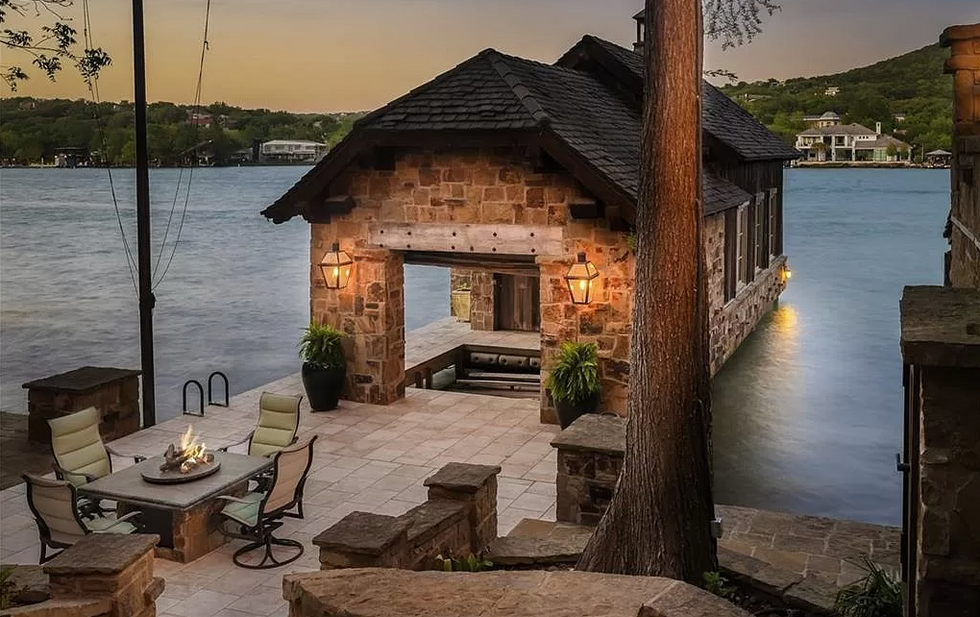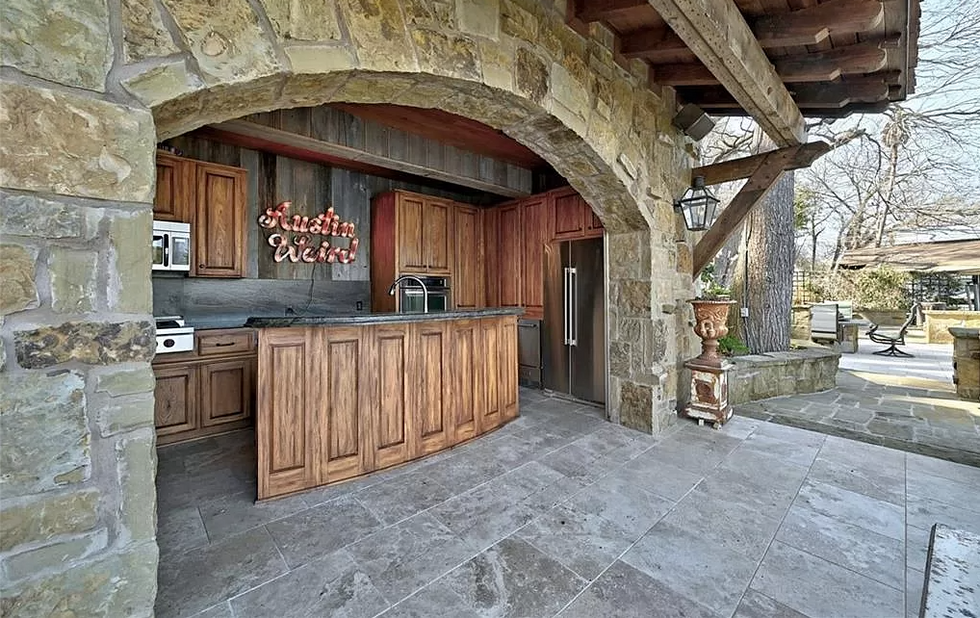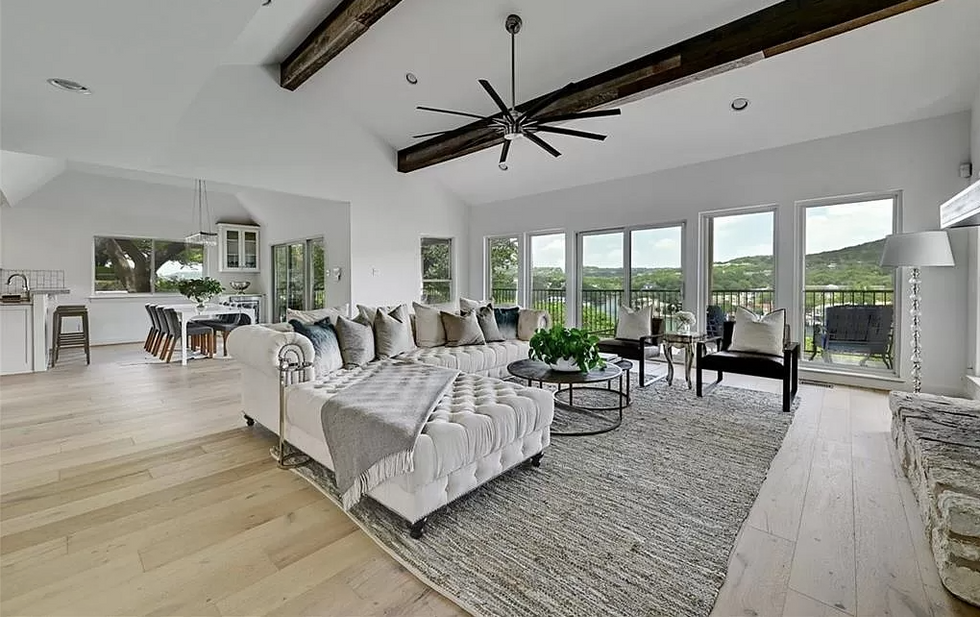 Sitting waterside on Lake Austin, this home gives you the unique opportunity to own a piece of the lush Hill Country with views of Mount Bonnell. The 2,750-square foot, three-bedroom, four-bathroom house allows you to integrate indoor and outdoor life with large windows opening to an outdoor living area. The crown jewel is the .76-acre parcel of land that tapers off to your own lakeside resort, featuring an covered outdoor kitchen, fire pit, stone boat house to store your water sports supplies and veranda sitting at the mouth of the water, perfect for an entertainer.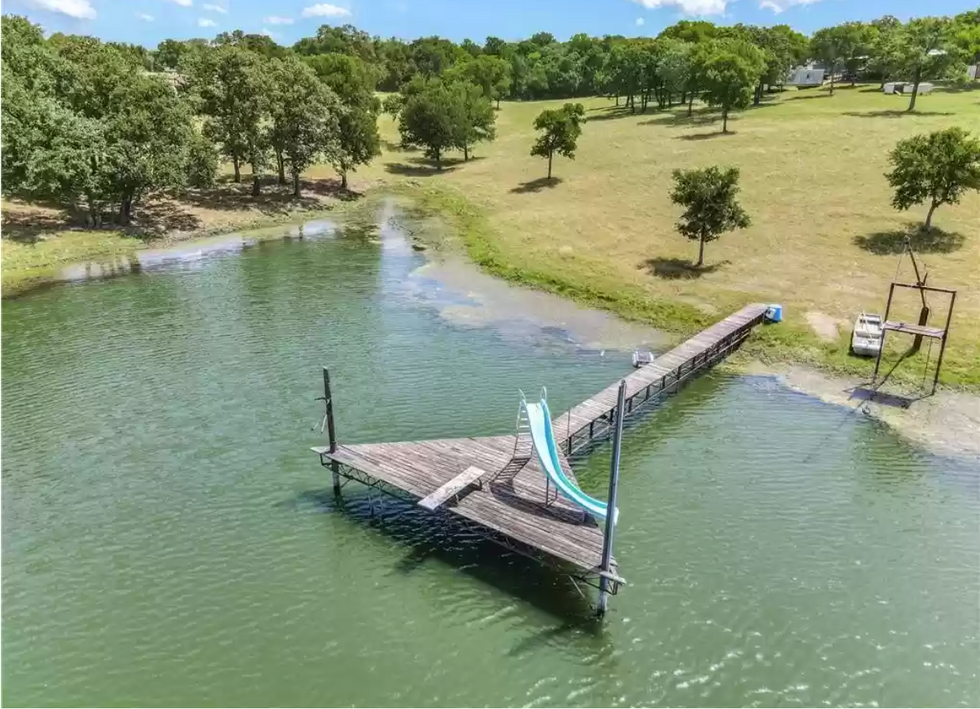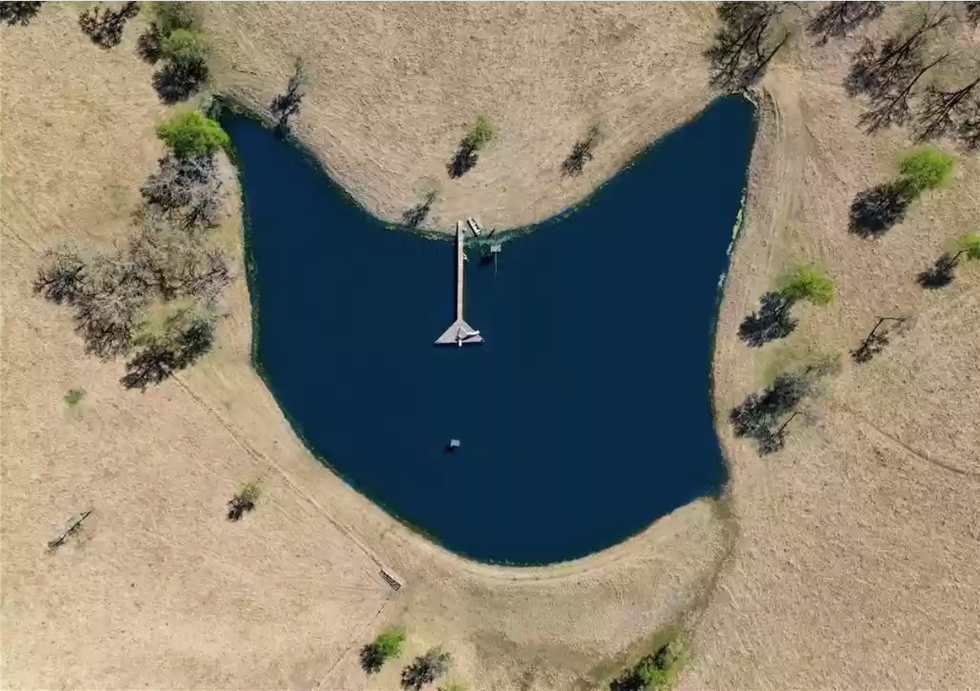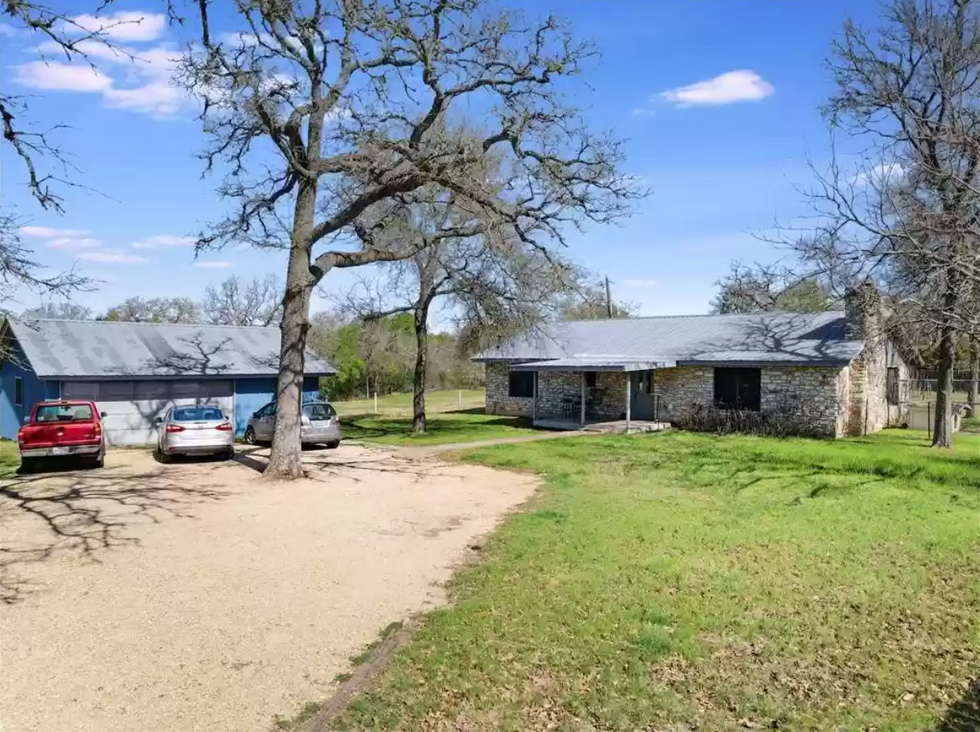 Got dreams of becoming a real Texas rancher? 7814 Brown Cemetery Rd. is the perfect place to start with 40 rolling acres of land and its very own swimming hole. Just east of Austin in Manor, the modest-on-the-outside home clocks at 4,412 square feet with five bedrooms and five-and-a-half bathrooms, but there are an additional two living structures on the property. The horseshoe-shaped pond sits in the heart of the property and comes equipped with a water slide, diving board and a fishing dock.