Get connected with our daily update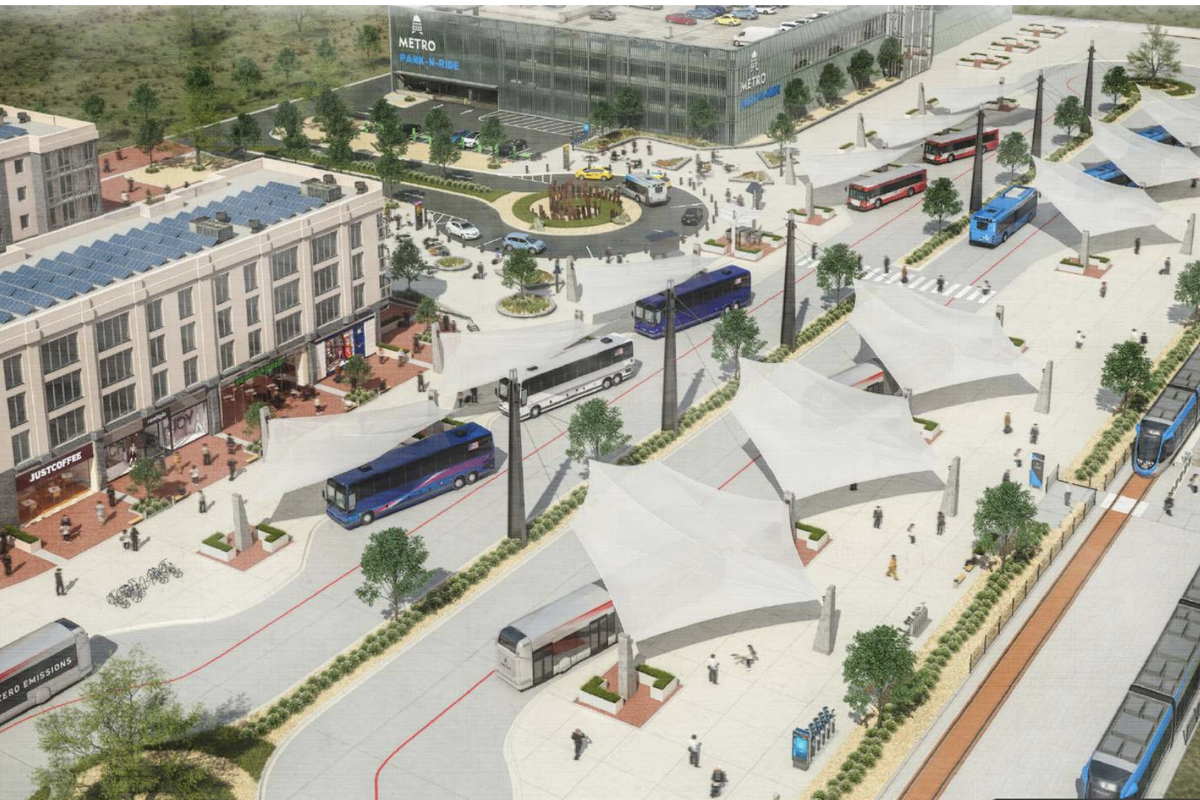 (Capital Metro)
Austin voters will decide Nov. 3 whether to increase their tax rate to pay for a $7.1 billion, 15-year overhaul of the city's transit system.
---
If approved, Project Connect will expand Austin's rapid bus line system, add two new light rail lines—from North to South Austin and to the airport—and lead to the construction of a multi-block underground tunnel downtown.
A New Transit Plan for Austin | Project Connect by Capital Metroyoutu.be
Austin City Council voted unanimously last month to add the measure to the upcoming ballot. Because of the coronavirus pandemic, the council scaled down an earlier version that would have cost $10 billion.
The new figure of $7.1 billion would come from two sources. The larger amount would come from a hike in property taxes. Additionally, Capital Metro, the city's transit agency, says it will ask the federal government for a grant of $3.25 billion.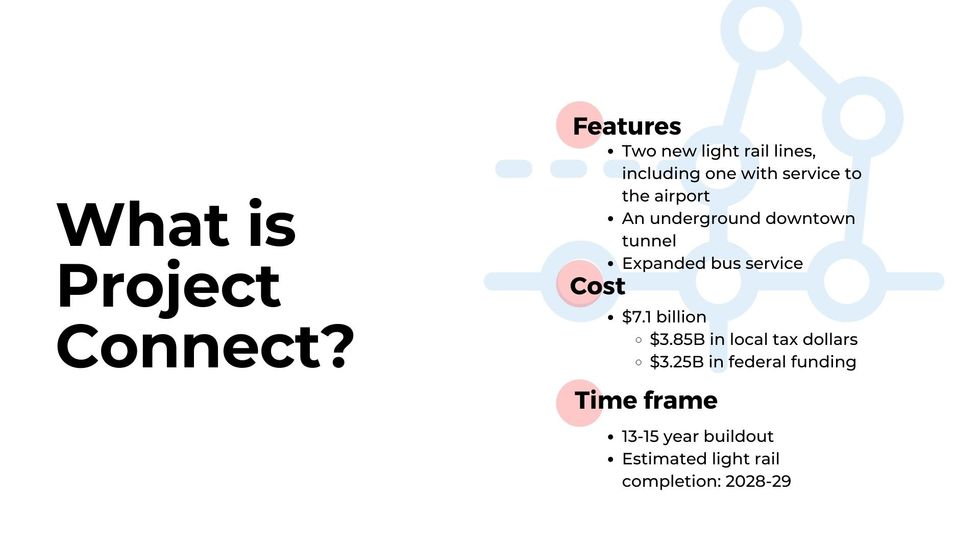 A step forward?

Transit for Austin—a coalition of community organizations and elected officials that includes all 11 members of City Council, has voiced support for the project.
The group argues that a city of Austin's size—and continual growth—is long overdue for a comprehensive transit system.
Building one through Project Connect, its members say, will make the city greener by reducing reliance on personal vehicles, more equitable by allocating $300 million to help prevent displacement and safer by getting people out of cars.
Can Project Connect Promote Equitable Access and Mobility Justice? Only an active, informed, and engaged… https://t.co/UqbeJ83nXq

— Austin Justice Coalition (@Austin Justice Coalition) 1600297740.0
Austin Mayor Steve Adler has been a vocal proponent of Project Connect for these reasons—and more.
"I think people want us to do this project because they want something done about traffic, they want something done about the environment; they want something to stop the fatalities and to actually address mobility equity for essential workers," he told Austonia.
In Adler's view, the broad scope of Project Connect is essential to its appeal.
"I don't think people want us to be nibbling around the edges and spending money on things that aren't actually going to be transformative," he said. "When something's big, obviously it's going to take time for it to be completed. But the public will start seeing this being handled immediately."
If voters approve the tax rate increase, Adler said they can expect to see the city purchase land for affordable housing along the proposed light rail lines and make updates to the bus rapid transit system in the short term.
For Austinites who don't plan to use transit now or in the future, Project Connect may still offer a tangible benefit.
"Even if I'm driving on the road and not trying to get on transit, I want everybody else to get off the road and get into transit," Adler said. "But in order for that to happen, people actually have to have choices that are good."
In July, a political action committee called Mobility for All filed paperwork signaling its intent to raise money in support of the tax rate increase, which will appear on the ballot as Proposition A.
While it has not yet filed a campaign finance report, the group lists its top donors on its website, including infrastructure design firm HNTB, Major League Soccer club Austin FC and Silicon Labs chairperson Nav Sooch.
A step back?
But there is also vocal opposition to the project, spearheaded by two groups: the Our Mobility Our Future PAC and advocacy group Voices of Austin.
Both argue that Project Connect is too expensive—the median homeowner will see a $317 increase to her tax bill this year, if it is approved—and that the city is overpromising to voters what it can realistically achieve.
Robert Falk, an analyst with OMOF and volunteer with the Travis County Taxpayers Union, said it is "insensitive and out of touch" for the city to ask voters to approve "the greatest debt and tax increase in Austin's history" given the pandemic and uncertainty of the future.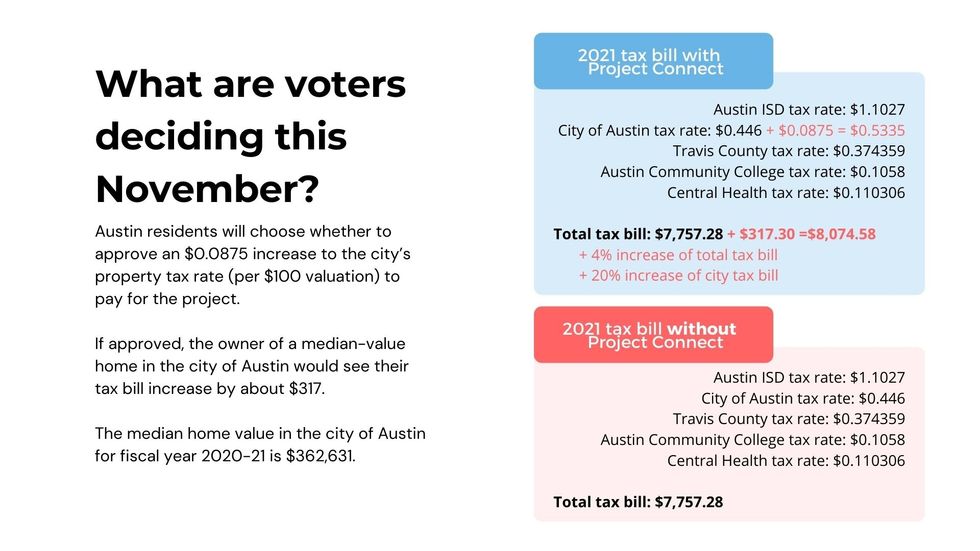 Sources: Austin Community College, Austin ISD, Central Health, city of Austin and Travis County.
The PAC also argues that Project Connect lacks the necessary engineering and federal funding commitment to ensure it adheres to the proposed budget, which could leave local taxpayers footing the bill.
"We're building our whole house on this sand foundation of this federal money," Falk said.
Some Austinites are invested in preventing Project Connect from being approved.
OMOF has raised nearly $100,000, according to its July 15 campaign finance report, with the majority coming from four donors: real estate investor John Lewis, Mercedes-Benz dealer Bryan Hardeman, Travis County Commissioner Gerald Daugherty and Aminex Therapeutics chairperson Jim Skaggs.
The group feels it needs to counterbalance the city's slick marketing and "propagandizing" of Project Connect using taxpayer dollars.
"Prop A reads like a sales brochure," Falk said.
Voices of Austin, which formed this summer to represent Austinites who feel their views are unheard at City Hall, similarly believes that the city is not being transparent about the full cost of the plan.
"In these dire economic times we do not need Project Con, especially using illegal and misleading ballot language," Executive Director Peck Young said in a statement.
Falk describes Project Connect as 20th-century technology that will only benefit those who live along the fixed-route system. As an alternative, OMOF supports investing in emerging technologies such as micromobility—like scooters—and the promise of vehicle-to-everything, or V2X technology, and autonomous vehicle fleets.
"The future of transit is distributed, on-demand, doorstep-to-destination convenience," he said.
Unlike a light rail system, which requires riders to come to it, these new technologies meet users where they are.
"Why would we go all in on a system that will be obsolete before it's complete?" Falk asked.
The next step
After more than seven years of development, Project Connect now faces voters, who will ultimately decide whether the plan becomes reality.
Despite the pandemic, turnout is projected to break records, and Adler is hopeful that voters make it down to the proposition portion of their ballots.
"There's probably no perfect time to hold an election," he said.
More on Project Connect:
Project Connect massive underground rail tunnel
The downtown transit tunnel would separate the light rail lines proposed under Project Connect—Capital Metro's 20-year, $7.1 billion overhaul of the city's t...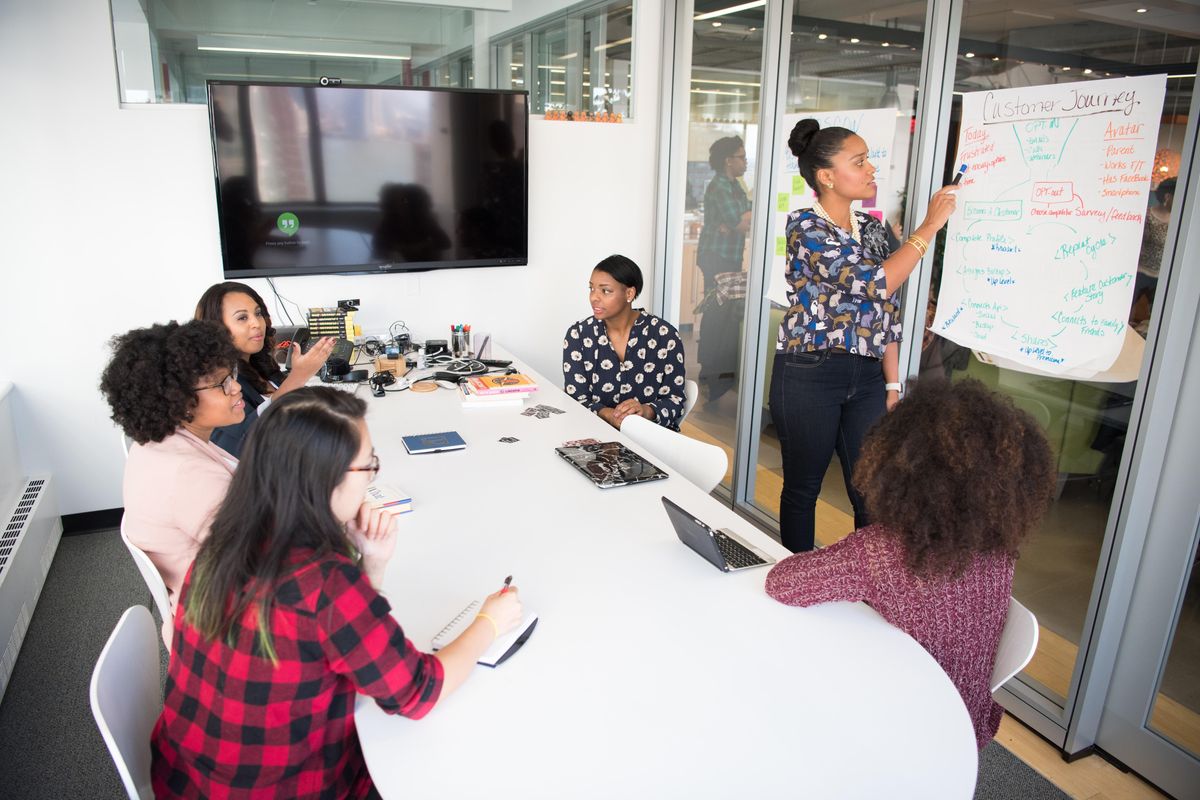 The 40-hour workweek has reigned since around the time of the Great Depression. But a new schedule gaining steam could lead some companies to throw out the practice of having employees clock in five days a week.
Promising results are coming out halfway into a six-month trial of four-day workweeks in the U.K. with 35 out of 41 companies responding to a recent survey saying they were "likely" or "very likely" to continue the reduced week after the pilot ends.
The trial, which began in June, is run by nonprofit 4 Day Week Global, think tank Autonomy, the 4 Day Week UK campaign and researchers at Cambridge University, Boston College and Oxford University. It involves 3,300 workers across 72 companies who are trying out one paid day off per week between Monday and Friday.
During the four-day week, 34% of companies reported that productivity "improved slightly" and 15% say it "improved significantly."
With the survey indicating that a four-day workweek could have some perks for companies and employees alike, will Austin join in on the trend?
On job searching tools like LinkedIn and Indeed, some jobs based in Central Texas are boasting a four-day work week. And Coltech Global, a recruiting firm based in London with a growing presence in Austin, began the four-day work week about a year ago.
Jessica Sutcliffe, a staffing consultant at Coltech, joined the company to help grow the U.S. market. She says due to the time difference between the U.S. team and the UK one, the company implemented a four-day week.
"I've found it very beneficial as it allows time to rest and complete life admin, whilst also enjoying life, travel and be able to come back to work rested/fulfilled outside of work, which ultimately helps focus inside of those core work hours," Sutcliffe said via email.
In an Instagram post, Coltech said that not only are employees feeling the benefits of being more refreshed in the mornings, having reduced illness and a less stressed atmosphere, but it's also improving their carbon footprint since there's less time spent traveling to the office and using energy.
Niki Jorgensen, director of service operations at human resources service provider Insperity, noted similar factors driving companies to make the change to a reduced work week.
"The most significant benefit for a company to adopt the four-day workweek is the improvement of employee morale," Jorgensen told Austonia via email. "Over the past two years, numerous studies have shown employees think a four-day workweek reduces stress and burnout. With reduced stress and burnout comes improved employee engagement."
And while Austin is already drawing in plenty of workers who are in their early careers, a four-day week may help companies stand out to that bracket's top talent even more.
"Companies can leverage this to make their company more appealing, especially to younger generations who strongly consider factors outside of compensation when choosing employment," Jorgensen said.
She went on to offer a few tips for making a smooth transition to a four-day week like setting expectations and staggering coverage so that it's still possible to see clients five days a week. Also, employers should be flexible. She says some employees may not be able to get 40 hours of work done in a shorter week due to responsibilities like childcare, so employers should consider how they can still accomplish their duties.
Before ditching the 40-hour workweek though, it can help to take a temperature check to see if an extra day off is the right fit for the workplace.
"Do not implement a flexible schedule such as the four-day workweek if business owners and managers cannot commit to the level of trust and flexibility needed to ensure the schedule's success," Jorgensen said.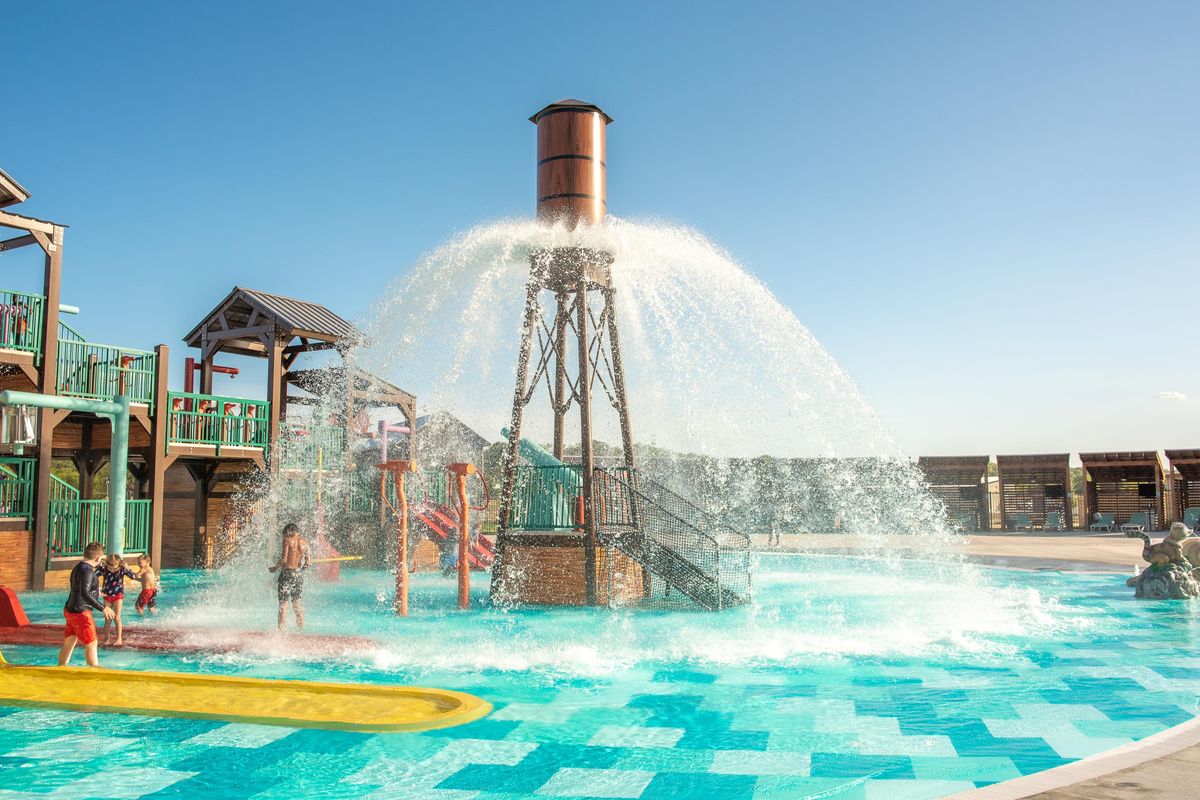 Camp Fimfo Waco
Camp Fimfo Waco, a brand new camping resort, is kicking off football and fall camping season in style! With top-notch amenities, premium accommodations, and 10 weekends of fall fun, there's no better place to have a fall camping getaway, especially if you're a Baylor football fan!
Fall promises to be a one-of-a-kind camping experience. From Sept. 16 to Nov. 24, weekends will be packed with fall-themed activities, including special Halloween weekends in October. Campers can enjoy activities like fall crafts, campground trick-or-treating, costume contests, site decorating, outdoor movie nights, and more!