Get connected with our daily update
(Capital Metro)
Austin voters will decide Nov. 3 whether to increase their tax rate to pay for a $7.1 billion, 15-year overhaul of the city's transit system.
---
If approved, Project Connect will expand Austin's rapid bus line system, add two new light rail lines—from North to South Austin and to the airport—and lead to the construction of a multi-block underground tunnel downtown.
A New Transit Plan for Austin | Project Connect by Capital Metro youtu.be
Austin City Council voted unanimously last month to add the measure to the upcoming ballot. Because of the coronavirus pandemic, the council scaled down an earlier version that would have cost $10 billion.
The new figure of $7.1 billion would come from two sources. The larger amount would come from a hike in property taxes. Additionally, Capital Metro, the city's transit agency, says it will ask the federal government for a grant of $3.25 billion.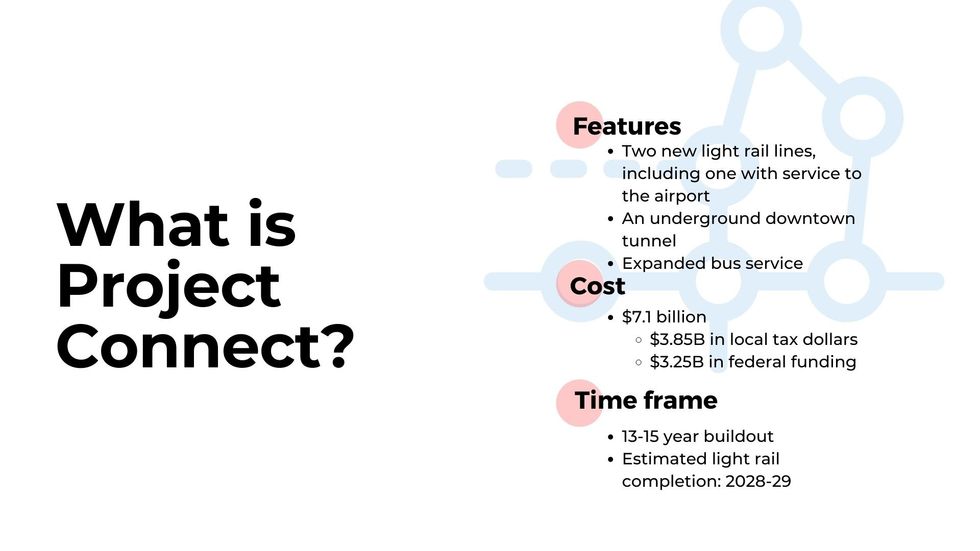 A step forward?

Transit for Austin—a coalition of community organizations and elected officials that includes all 11 members of City Council, has voiced support for the project.
The group argues that a city of Austin's size—and continual growth—is long overdue for a comprehensive transit system.
Building one through Project Connect, its members say, will make the city greener by reducing reliance on personal vehicles, more equitable by allocating $300 million to help prevent displacement and safer by getting people out of cars.
Can Project Connect Promote Equitable Access and Mobility Justice? Only an active, informed, and engaged… https://t.co/UqbeJ83nXq

— Austin Justice Coalition (@Austin Justice Coalition)1600297740.0
Austin Mayor Steve Adler has been a vocal proponent of Project Connect for these reasons—and more.
"I think people want us to do this project because they want something done about traffic, they want something done about the environment; they want something to stop the fatalities and to actually address mobility equity for essential workers," he told Austonia.
In Adler's view, the broad scope of Project Connect is essential to its appeal.
"I don't think people want us to be nibbling around the edges and spending money on things that aren't actually going to be transformative," he said. "When something's big, obviously it's going to take time for it to be completed. But the public will start seeing this being handled immediately."
If voters approve the tax rate increase, Adler said they can expect to see the city purchase land for affordable housing along the proposed light rail lines and make updates to the bus rapid transit system in the short term.
For Austinites who don't plan to use transit now or in the future, Project Connect may still offer a tangible benefit.
"Even if I'm driving on the road and not trying to get on transit, I want everybody else to get off the road and get into transit," Adler said. "But in order for that to happen, people actually have to have choices that are good."
In July, a political action committee called Mobility for All filed paperwork signaling its intent to raise money in support of the tax rate increase, which will appear on the ballot as Proposition A.
While it has not yet filed a campaign finance report, the group lists its top donors on its website, including infrastructure design firm HNTB, Major League Soccer club Austin FC and Silicon Labs chairperson Nav Sooch.
A step back?
But there is also vocal opposition to the project, spearheaded by two groups: the Our Mobility Our Future PAC and advocacy group Voices of Austin.
Both argue that Project Connect is too expensive—the median homeowner will see a $317 increase to her tax bill this year, if it is approved—and that the city is overpromising to voters what it can realistically achieve.
Robert Falk, an analyst with OMOF and volunteer with the Travis County Taxpayers Union, said it is "insensitive and out of touch" for the city to ask voters to approve "the greatest debt and tax increase in Austin's history" given the pandemic and uncertainty of the future.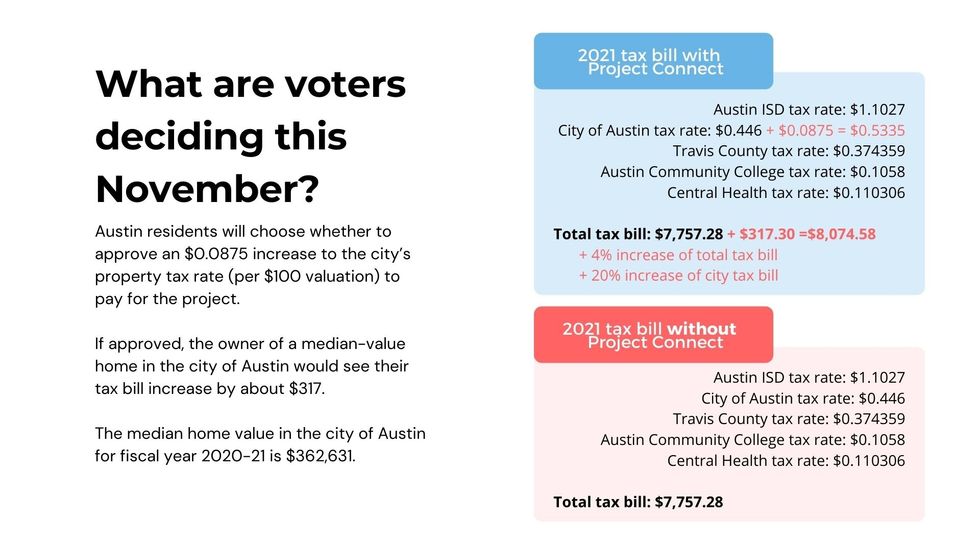 Sources: Austin Community College, Austin ISD, Central Health, city of Austin and Travis County.
The PAC also argues that Project Connect lacks the necessary engineering and federal funding commitment to ensure it adheres to the proposed budget, which could leave local taxpayers footing the bill.
"We're building our whole house on this sand foundation of this federal money," Falk said.
Some Austinites are invested in preventing Project Connect from being approved.
OMOF has raised nearly $100,000, according to its July 15 campaign finance report, with the majority coming from four donors: real estate investor John Lewis, Mercedes-Benz dealer Bryan Hardeman, Travis County Commissioner Gerald Daugherty and Aminex Therapeutics chairperson Jim Skaggs.
The group feels it needs to counterbalance the city's slick marketing and "propagandizing" of Project Connect using taxpayer dollars.
"Prop A reads like a sales brochure," Falk said.
Voices of Austin, which formed this summer to represent Austinites who feel their views are unheard at City Hall, similarly believes that the city is not being transparent about the full cost of the plan.
"In these dire economic times we do not need Project Con, especially using illegal and misleading ballot language," Executive Director Peck Young said in a statement.
Falk describes Project Connect as 20th-century technology that will only benefit those who live along the fixed-route system. As an alternative, OMOF supports investing in emerging technologies such as micromobility—like scooters—and the promise of vehicle-to-everything, or V2X technology, and autonomous vehicle fleets.
"The future of transit is distributed, on-demand, doorstep-to-destination convenience," he said.
Unlike a light rail system, which requires riders to come to it, these new technologies meet users where they are.
"Why would we go all in on a system that will be obsolete before it's complete?" Falk asked.
The next step
After more than seven years of development, Project Connect now faces voters, who will ultimately decide whether the plan becomes reality.
Despite the pandemic, turnout is projected to break records, and Adler is hopeful that voters make it down to the proposition portion of their ballots.
"There's probably no perfect time to hold an election," he said.
More on Project Connect:
Project Connect massive underground rail tunnel
The downtown transit tunnel would separate the light rail lines proposed under Project Connect—Capital Metro's 20-year, $7.1 billion overhaul of the city's t...
After months of speculation, a new report says political personality Beto O'Rourke is mulling a run for Texas governor that he will announce later this year.
Sources tell Axios the former congressman is preparing his campaign for the 2022 election, where he will likely vie for the position against incumbent Gov. Greg Abbott. The only other candidate that has announced he will take on Abbott for governor is former Texas GOP Chairman Allen West—no Democrats have announced they are running as of yet.
"No decision has been made," Axios reports David Wysong, O'Rourke's former House chief of staff and a longtime adviser, said. "He has been making and receiving calls with people from all over the state."
A new poll from The Dallas Morning News and University of Texas at Tyler shows O'Rourke is narrowing the gap between himself and Abbott's prospects for governor. In the poll, 37% said they'd vote for O'Rourke over Abbott, while 42% said they'd vote for Abbott.
Abbott has been in the hot seat due to his handling of COVID-19 and the signing of landmark legislation into law, including new abortion and voting rights laws; 54% of poll respondents voted they think the state is headed in the "wrong direction." Still, Texas hasn't had a Democrat as governor since the 90s.
O'Rourke's people-focused approach to the 2018 Senator race, which he lost to Sen. Ted Cruz, gave him a widespread following and many hoped he'd throw his hat into the ring since he said he was considering it earlier this year.
"We hope that he's going to run," Gilberto Hinojosa, the state chair of the Democratic Party, told Axios. "We think he'll be our strongest candidate. We think he can beat Abbott because he's vulnerable."
Austin rapper Jordi Esparza may not have won the 2021 Red Bull Batalla, the world's largest Spanish freestyle rap competition, but for a spirited two rounds, the 22-year old Mexican native looked like he had every right to.
On Saturday evening in Los Angeles, the event itself looked like Cobra Kai meets Star Search with graphics adding a very Batman Beyond aesthetic. Over a dozen rappers hoping to represent the U.S. in the international round of the competition took to the stage with in-your-face jabs at accents, sexual orientation and odors, among other things.
This was Esparza's second rodeo; he had placed third at the 2020 National Finals, automatically securing him a spot this year.
However, things were different this year. He was not nervous about the contest. Unlike in 2020, when he made his Red Bull Batalla debut, the anxiety of the event led him to "feeling so bad."
Affecting a casual calm, the locally-based landscaper said he just felt "so relaxed, so happy" and primarily wanted to "enjoy everything."
Choosing his first-round opponent, Esparza, whose stage name is Jordi, elected to go against LA-based Boss.
Esparza freestyled an attack on his opponent's weight and cholo style of dress.
Boss—bracketing his Latin freestyle with English appeals to the crowd—mocked Jordi's lack of education, made fun of how clean Jordi's shoes looked and suggested that Jordi just came back from a Footlocker.
That first round went to Jordi.
But his next opponent Eckonn would prove to be his undoing.
Eckonn compared Jordi to Hannah Montana, while Jordi soulfully explained that he had learned from the best.
Esparza's verbal dexterity is matched by a rattling rhythm and a game face that is as mawkish as it is mockish. The overall effect is that of an underdog with bite.
Eckonn beat Esparza in that round with the overall championship going to Palm Beach-based rapper Reverse.
However, Esparza was just happy to be there. He recently told Austonia going to the finals again was a dream come true—a pinnacle that he said he won't know how to top.
With his nimble jabs and sneaky prowess, honed from pop culture and the swagger of a young working man hungry to be more, Jordi Esparza is just getting started.