Get connected with our daily update
(Bob Daemmrich)
Decision time
You've seen and heard messaging from the city, transit opponents, and the big money PACs. You've probably read Emma Freer's in-depth, multi-part series, a fact-based exploration of Project Connect—and the tax rate election proposal, known as Proposition A, that would fund it—from multiple perspectives.
---
As Election Day approaches, here are what we think are five of the strongest arguments on both sides of the issue.
Reasons to support Proposition A:

1. Congestion has been Austin's #1 community issue
Ask any group of people in Austin "what is the biggest issue facing the city right now," and, pre-pandemic, many would say "congestion." Traffic-clogged highways reduce quality of life and limit economic growth. Building more highways is not practical in a city that's already been largely built. Adding toll lanes to major highways like MoPac has not had much impact, and does nothing to solve problems on feeder roads. Transportation experts largely agree that building new highways does not reduce congestion and instead brings more people onto the roads and encourages people to make longer commutes. Congestion is starting to reappear as more people resume their traditional routes to work and school.
2. We're a big city now, and this is how successful cities do transit
Austin is the 11th largest U.S. city right now. Of the 10 ahead of us, only one, our neighbor San Antonio, has no light rail. A rail system of some kind is part of the modern city's transportation mix. Whether it's a giant system like New York's—with almost 500 stations—or the more modest systems in Houston and Dallas, rail is a proven way of moving people in urban areas. Higher housing density around transit stations may help address the city's affordability crisis and create new, walkable areas with a higher quality of life.
3. An effective transit system addresses social and environmental issues
Austin was racially, economically and culturally partitioned by our highway system—I-35 and MoPac, in particular. A rail system could provide equal transit opportunity for all and help unify the city. And moving people via mass transit is more efficient than in individual vehicles, offering cleaner air, fewer carbon emissions and less fossil fuel usage. Think about the proposed line from downtown to the airport. How many car trips would be saved? And the message to visitors would be clear: We're a modern city, and we care about our environment.
4. The sooner we get started, the sooner we'll have it
Best case, financing and building new lines will take a decade, maybe more. Voters turned down rail transit projects in 2000 and 2014. If Austin turns down this opportunity, it could be years before there's another one. Some projects are hard to visualize, but when they're complete, they seem inevitable. Think of how essential our city icons are: Zilker Park, the hike-and-bike trail, Barton Springs, the Forty Acres. A city-wide rail system could be the same.
5. City leadership supports it
Mayor Adler and every member of the council supported putting Project Connect on the ballot this year. This is what our elected leadership thinks is best for the city. If approved, we should expect them to move quickly to start implementing, without resistance.
Reasons to oppose Proposition A:
1. The total costs are unknown, and not fully funded by the ballot prop
The $7.1 billion cost figure is an estimate—the exact costs are unknown and depend on timetable and operational issues. Boston's "Big Dig" was estimated at $2.5 billion and ended up costing more than $20 billion to build. And the Prop A tax increase, best case, will only pay for 55% of the plan. The hope is to get a federal transportation grant for the other 45%. But there are no guarantees. And with federal budget deficits at an all-time high, there's no assurance that the federal money will come. What if it doesn't? Will the project be shut down? Will there be another historic tax increase? There's no plan for this scenario.
2. There are no engineering studies with the proposal
The Project Connect proposal calls for running the downtown portion of the system underground and creating underground plazas for shopping and entertainment. But no engineering studies have been done. How feasible is it to locate rail lines and plazas underground in our karst limestone geology that's marked by underground passages into the aquifer? And how much will it cost to mitigate structural and environmental issues and work around existing downtown infrastructure? These costs and operational issues are not known.
3. It's a solo effort by the city that mostly lacks regional support
Transportation and traffic congestion are regional issues, as people regularly cross boundaries when choosing where to live and work. The city is growing more slowly than surrounding areas of our region, so the ideal solutions come from a shared regional vision, cooperation and cost-sharing. But Austin is alone in this effort. There is little cooperation with surrounding jurisdictions on Project Connect, except Leander. But that city has been close to pulling out of CapMetro for more than a year, and the result may be inevitable, given what leaders there view as inadequate rail transit ridership to and from Austin. Except for the red line in far north Austin, there's no rail service proposed west of Lamar Boulevard and no linkage to West Lake Hills and Lakeway.
4. This may not be the time for a big tax raise
People are hurting. While Austin real estate prices continue to climb and some companies are creating jobs, the pandemic-driven recession has closed or impaired large numbers of businesses, leading to layoffs, furloughs and stalled hiring. Entire industries are shut down. The live music capital has no live music. With so much financial pain, is this the time for a big tax increase? By committing so much money to the transit program, the city may not have the financial flexibility to address other big issues that may ultimately be more important.
5. COVID may change things in ways that we can't foresee
No one knows how long the pandemic will last, and, in what ways, if any, it will change our society in the long term. It's possible that everything will return to a pre-COVID normal at some point. But it's also possible that live-work patterns will see lasting change as more people work entirely or partially from home, reducing traffic congestion. Ride-sharing and autonomous vehicles may create technology disruption that makes big transit systems obsolete. It's also possible that social distancing will become part of our culture, and people will be reluctant to ride on public transport with groups of strangers. Why make a multi-decade, multi-billion dollar financial commitment without knowing precisely what our city is going to need post-pandemic?
More on the argument: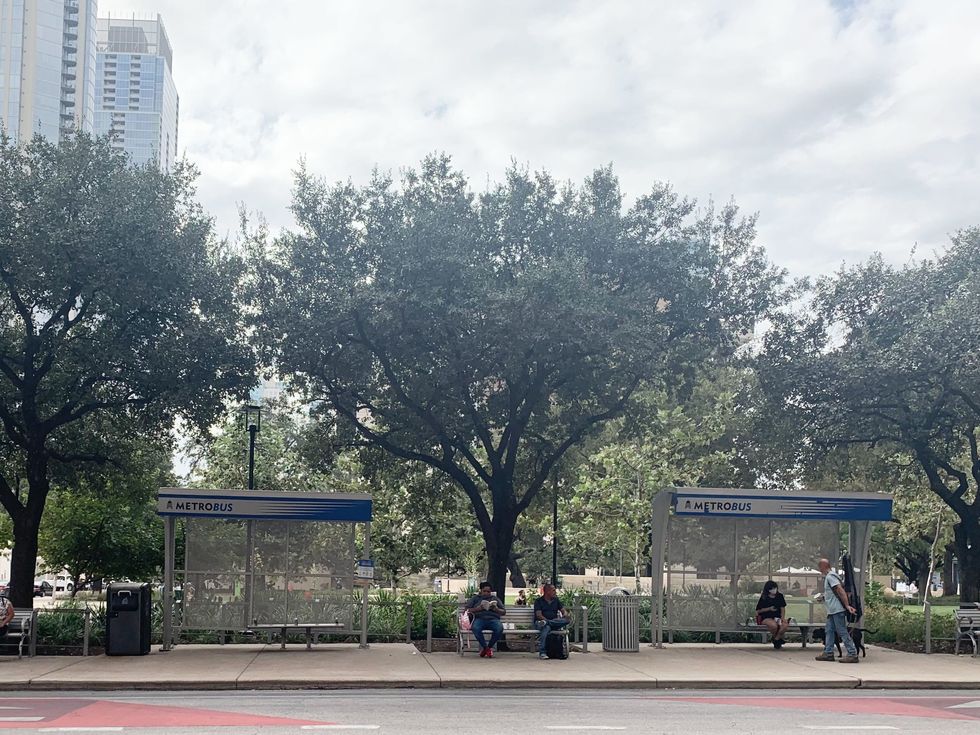 Proponents vs. opponents: How should Austin vote on Prop A?
The Texas French Bread Bakery, located on 2900 Rio Grande Street, has been completely destroyed after a fire erupted on Monday night.
The Austin Fire Department responded to the fire just before 11 p.m., where they arrived to see flames coming from the roof of the bakery. Firefighters fought the fire for about an hour before the roof collapsed.
While no one was injured in the fire, firefighters say the historic building was completely totaled.
AFD determined that the fire was accidental and caused by mechanical failure. AFD said the damages amounted to $1.6 million total: $1.1 million in structural damage and $500,000 in damage to the contents of the bakery.

This year, Texas French Bread will celebrate 40 years of business. Before the bakery occupied the building, it was the Rome Inn, a music venue that hosted 1970s artists like Stevie Ray Vaughan.
Austin's first major league team is ready to extend its reach with a new collaborative sports complex The Pitch, an Austin FC destination packed with local food, beverages and Verde fervor is set to open in Northeast Austin in February.
The Pitch, a collaboration between Austin FC and Karlin Real Estate, among other entities, will be located in the 50-acre Parmer Pond District, which already hosts the club's practice facility St. David's Performance Center.
Dubbed a "true destination" for both soccer fans and the community, The Pitch will consist of multilevel shipping containers designed by Mark Odom Studio that will carve out into a 1,200-seat stadium complete with a soccer pitch made of turf, food and beverage options and a five-acre "Parmer Pond" featuring jogging trails.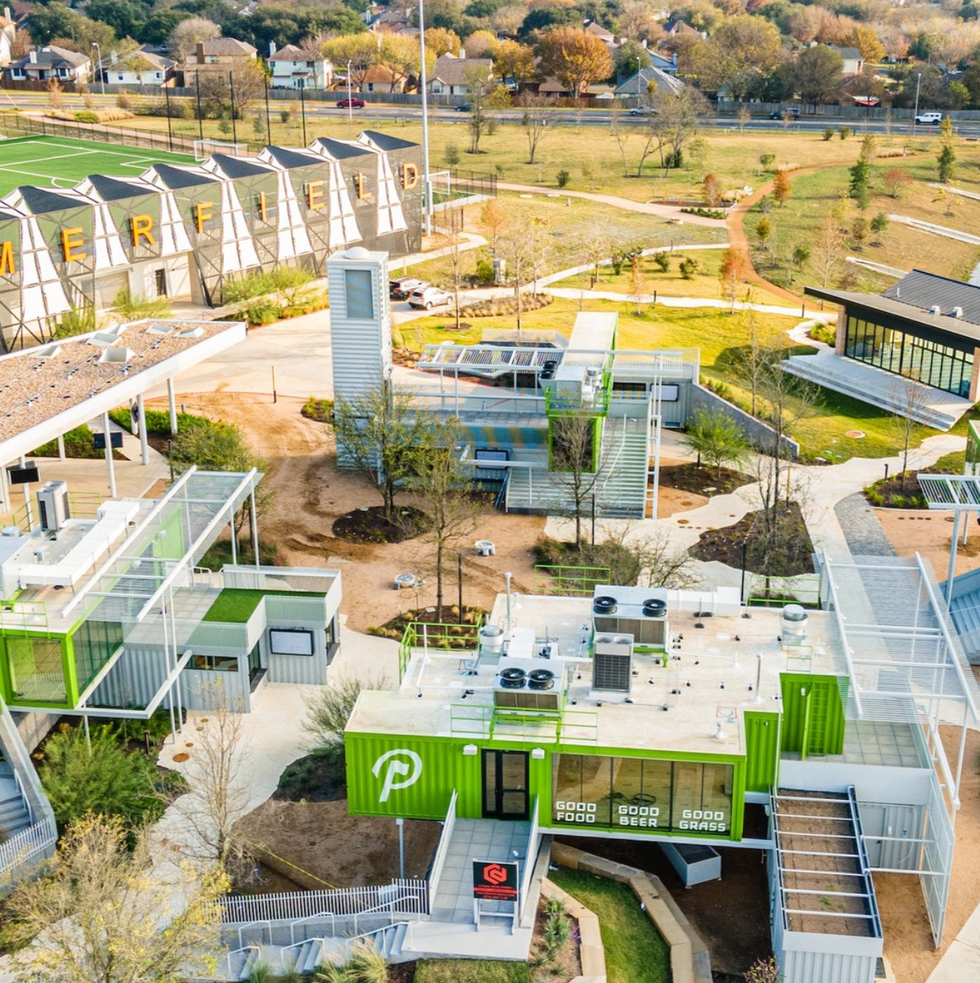 Made from multilevel shipping containers, The Pitch will include food and a 1,200-seat soccer pitch made from artificial turf. (The Pitch)
"The launch of Karlin's new food and entertainment experience will greatly enhance the Parmer development while perfectly complimenting St. David's Performance Center," Austin FC founder Anthony Precourt said. "The Pitch... will offer a strong variety of food options and gathering spaces for guests who will utilize St. David's Performance Center and Parmer Field for a variety of events."
The Pitch project lead Dave Greeley, who helped come up with the concept, is a former president of Austin FC parent company, Two Oak Ventures.
"The vision behind The Pitch at the Parmer Pond District is to be a first-of-its-kind sports, dining and entertainment destination," said Dave Greeley, The Pitch project lead and Team Orbis president. "This will be an unmatched experience for Parmer Austin tenants, Austin FC and club supporters, and the community."
With its proximity to the practice center, the venture hopes to contribute to the growing "soccer city" of Austin during Austin FC matches and youth games with the Austin FC Academy hosted at the St. David's Performance Center.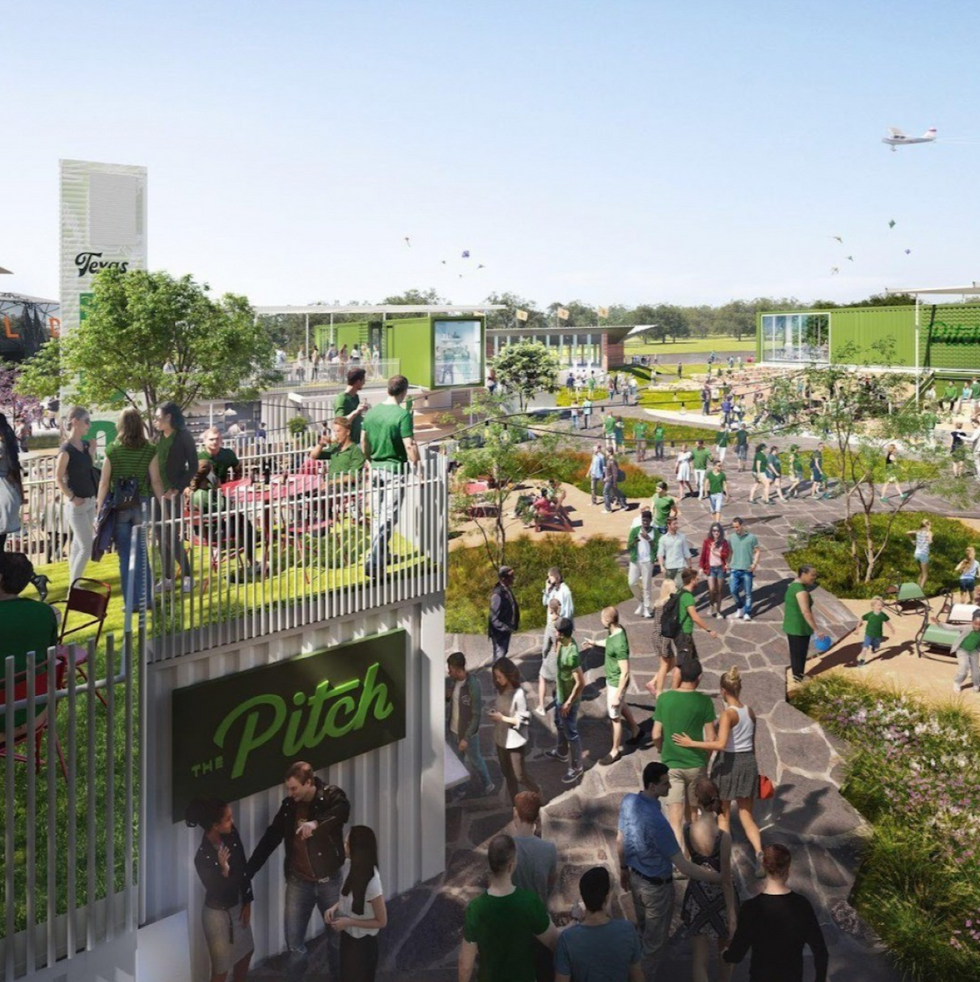 The Pitch hopes to converge both community and club interests with Austin FC. (The Pitch)
In addition to the soccer pitch, stadium and pond, The Pitch will provide a foody experience made by the creative team behind Austin staples like Fareground and Easy Tiger. The complex will offer local bites including:
Ranger Burger, which offers beers and burgers made from highly-coveted Wagyu beef direct from Ranger Cattle in East Austin
Ga Roti, which merges flavors from Northern Vietnam with the culinary techniques of France to create a unique rotisserie chicken joint
Taco Flats, a local taco chain serving Mexico City-style tacos, micheladas and more
Sand Bar, which fulfills its namesake with beauty cocktails, local beers and a sand volleyball court
Coffee Club, a coffee shop and bakery
Corner Kick Bar, the soccer-focused main bar of The Pitch complete with "tunes, TVs and (a) beer garden"
The Pitch will squeeze between St. David's Performance Center and Parmer Pond alongside the southern edge of Parmer Austin, a Karlin Real Estate venture that will eventually include multifamily housing, corporate office space and an aerospace and defense center.