Get connected with our daily update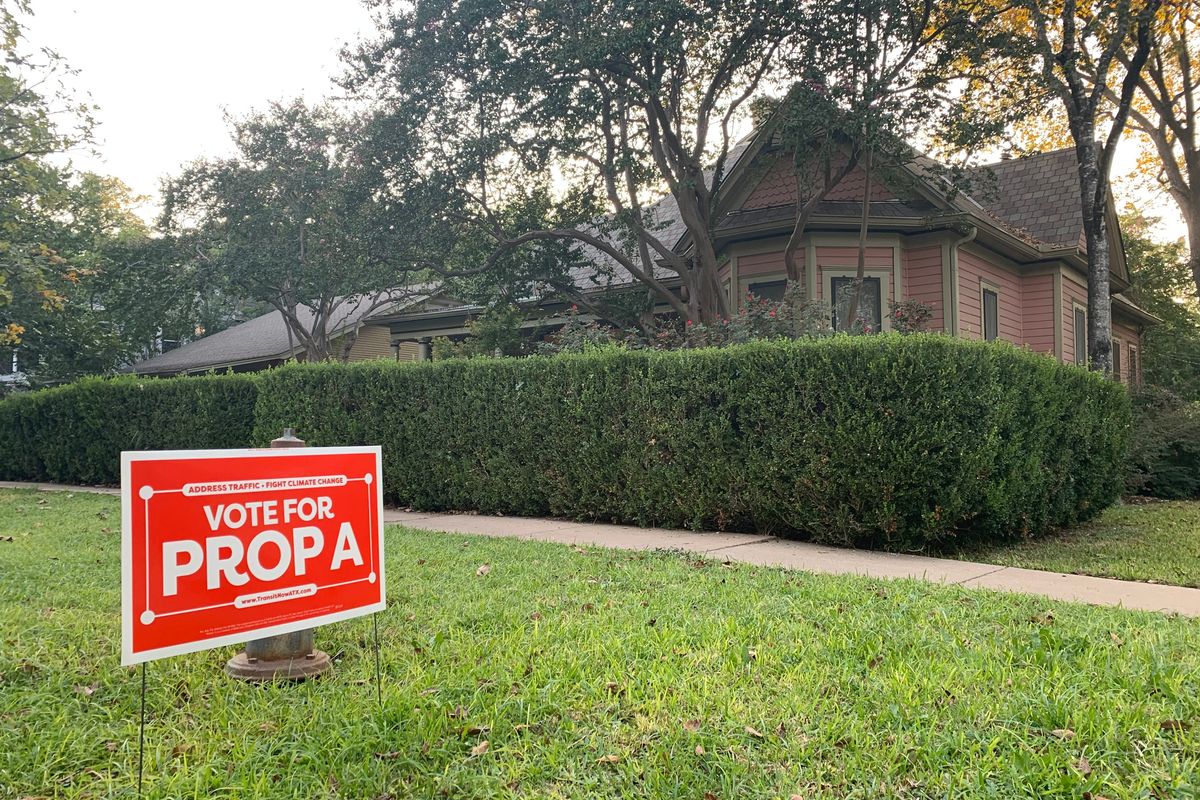 (Emma Freer/Austonia)
Austin voters will soon determine the fate of Project Connect, a 15-year, $7.1 billion overhaul of the city's transit system. Although it has been in development since 2013, the plan is still opaque to some residents, who have questions about what it might mean for their neighborhoods—and their wallets.
This week, Austonia will be answering some questions, ranging from the cost of the plan to the projected ridership. You can find the other installments here:
But the first question we're tackling is this: How much will Proposition A raise my taxes if approved?
---
If Austin voters approve Proposition A this Nov. 3, they will see a permanent 8.75-cent increase to the city's property tax rate. The revenue from this increase will fund the initial investment of Project Connect, the proposal for which includes two light rail lines, an underground downtown tunnel, a bus system expansion and new park and rides.
There have been conflicting reports, however, about how such an increase will impact taxpayers.
Two groups that oppose Project Connect—the political action committee Our Mobility Our Future and the nonprofit Voices of Austin—both have said it will amount to around a 25% increase. Voices of Austin recently debuted a calculator tool using this figure.
Meanwhile, Capital Metro says Proposition A would increase local property tax bills by 4%.

So which is it?
If approved, Proposition A would lead to a 20% increase to the city of Austin's property tax rate. It's important to note, however, that city property owners also pay property taxes to other entities, including Austin ISD, Travis County, Austin Community College and Central Health. If Proposition A is approved, city residents would see their overall property tax bill increase by around 4% because of Project Connect. Those who live outside the city limits will not be impacted.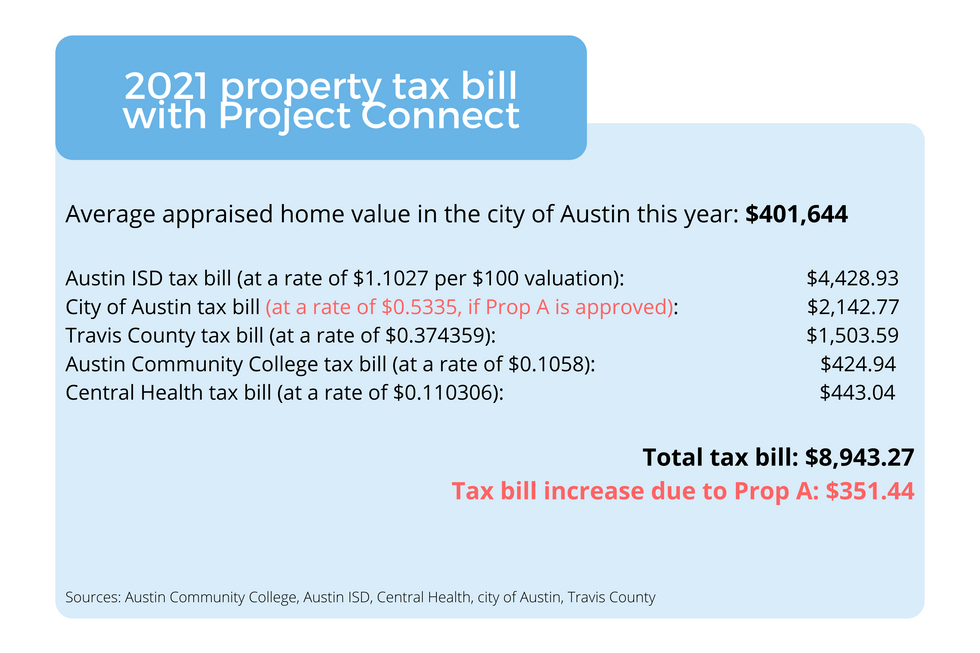 In terms of dollars, the owner of a $401,644 home—the average appraised value in the city of Austin this year—would see a tax bill increase of $351.44 if Project Connect is approved. The owner of a $1.5 million home would see an increase of $1,312.50.

How did the aforementioned groups arrive at 25%?
They included the property tax rate increase approved by Austin City Council for expenses unrelated to Project Connect.
Local governments in Texas can increase their property tax rate a certain amount—such that it would return 3.5% more revenue than the previous year—without voter approval. Austin City Council voted in August to increase the city property tax rate within that range for the upcoming fiscal year. The revenue that is collected under that rate will go toward the city's FY 2020-21 budget, which funds the police and fire departments, Austin Public Health and the library system, among other things.
Additionally, council members voted to order a tax rate election, which is required to increase the property tax rate beyond the 3.5% threshold. Proposition A asks voters to approve an additional 8.75-cent increase to the city's property tax rate to pay specifically for Project Connect.
When considered together, the city's approved FY 2021-22 property tax rate and Proposition A would lead to a 24.5% increase to the no-new-revenue tax rate, or the rate that would result in the same amount of property tax revenue as the city collected last year.
As property owners are aware, home values typically appreciate each year. The average appraised home value in the city of Austin increased more than 6% between 2018 and 2019. As home values increase, so too does the tax burden on their owners.
Notably the Travis Central Appraisal District is not reappraising homes this year due to a dispute with the Austin Board of Realtors. As a result, the appraised value of homes will remain unchanged from last year.
Jeffery Bowen has lived in Austin since 1989 and is a member of the Project Connect ambassador network, where he represents the Austin Neighborhood Council. If Proposition A is approved, it will lead to a $225 increase in his tax bill—not accounting for the other tax rate increases.
Bowen doesn't feel that Project Connect is worth the cost considering its limited reach to his neighborhood. "In the southwest part of town, I kid very seriously that we are nothing but a bunch of cash cows for feeding Capital Metro," he said.
(The Austin Neighborhood Council does not make endorsements on local propositions.)
Homeowners are not the only ones who will see a difference if Proposition A is approved. Commercial property owners, such as landlords, will owe more in property taxes, too, which will trickle down to their tenants.
Leslie Pearlman has lived in Austin for 10 years and rents a place in the Cherrywood neighborhood. She plans to vote yes on Proposition A because she believes Project Connect can address the city's major issues of traffic congestion, affordability and equity.
"When I pay rent, I am paying property taxes," she told Austonia. "To me, it is the same as if I owned a house, and I am willing to pay more."
This story has been updated to clarify the initial investment proposed under Project Connect.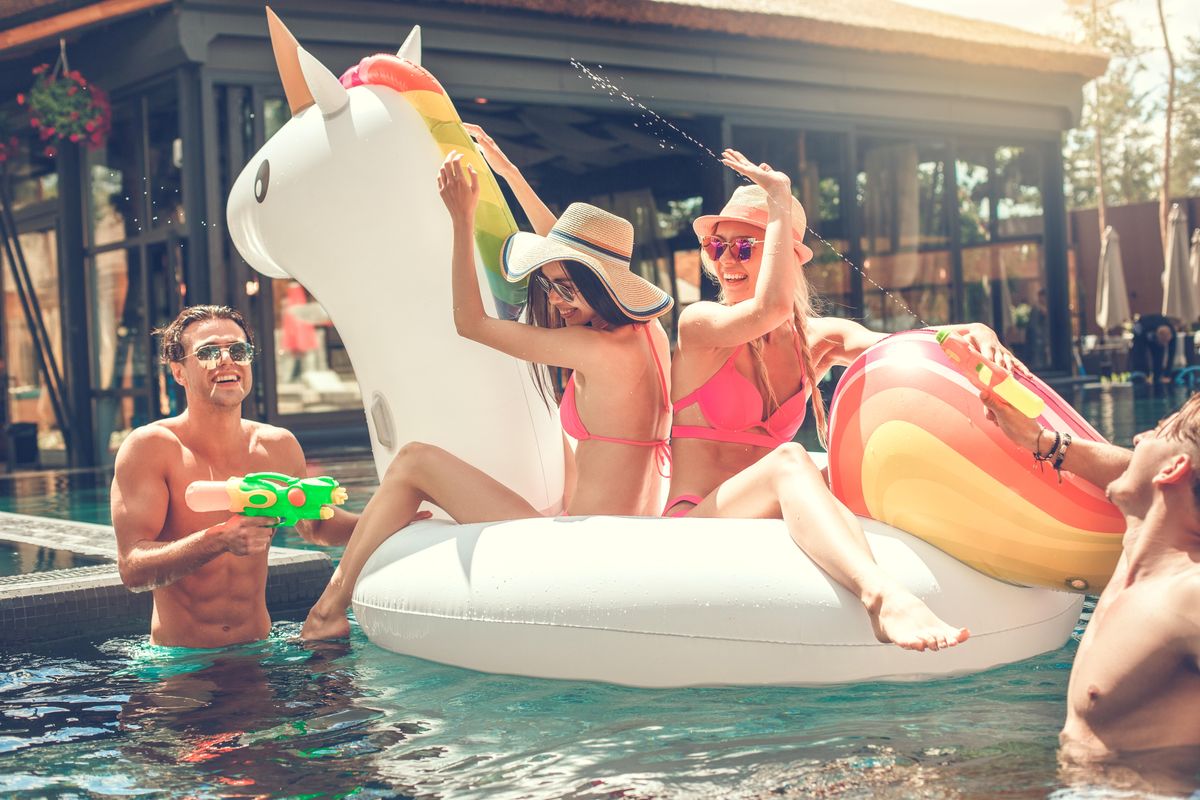 Airbnb is moving to make its COVID-induced ban on house parties permanent—but from the affordable housing shortage to
"Under 25" bans, the short-term rental service may be losing its shine in Austin.
In 2019, the company moved to prohibit "open-invite" parties that were advertised on social media and "chronic party houses." By 2020, its ban broadened to all parties and events "until further notice," which was officially coded into policy Tuesday.
From August 2020 to January 2022, Airbnb denied over 48,000 reservations in Texas from serial party offenders, and around 3,300 reservations were declined through the "Under 25" system in Austin.
For some Austinites, the party ban may be the last straw.
But Airbnb has already caught plenty of flack for its possible contributions to the nation's housing shortage.
In Austin, short-term rentals are required to be registered through the city. And while the city reports around 1,900 rental units in the rental registry, according to city demographer Lila Valencia, data collection site Inside Airbnb has tracked close to 12,000 in the area.
Inside Airbnb founder Murray Cox said that too many Airbnbs in Austin could shrink the available housing market.
"If the housing units (have) been taken off the market, that's displacing people, it's making housing more scarce. And it's probably driving the cost of housing up," Cox told Austonia.
Short-term rentals could also eat into new housing in Austin, from apartment buildings to accessory dwelling units on single-family properties.
"If new housing has been built, and it's being tied to Airbnb, that's also really just servicing the tourism industry as opposed to the housing needs of the city," Cox said.
Because a large portion of its customers are tourists, Airbnbs may also tend to crowd around desirable areas, such as downtown or South Congress. South Congress's average rent now rivals New York City, according to Austin Business Journal.
"When that happens, you're taking away housing units in an already densely-populated area where there is more of a shortage of housing," Valencia said. "And so then the people who historically once lived there are no longer able to afford to live there, and the unit itself isn't even going to somebody who could afford to rent it on a more permanent basis, but rather to people who are coming in and visiting for a weekend or two."
Despite the pandemic—and growing frustration among homeowners and renters—Airbnb saw a record year in 2021. But two of Airbnb's billionaire founders have quietly sold $1.2 billion in company stock in the last year, a possible premonition of what's to come.
And while some have created an Airbnb "empire"—one company owns 338 available listings in Austin—many priced-out Austinites are fed up with big investors' influence in the tight housing market.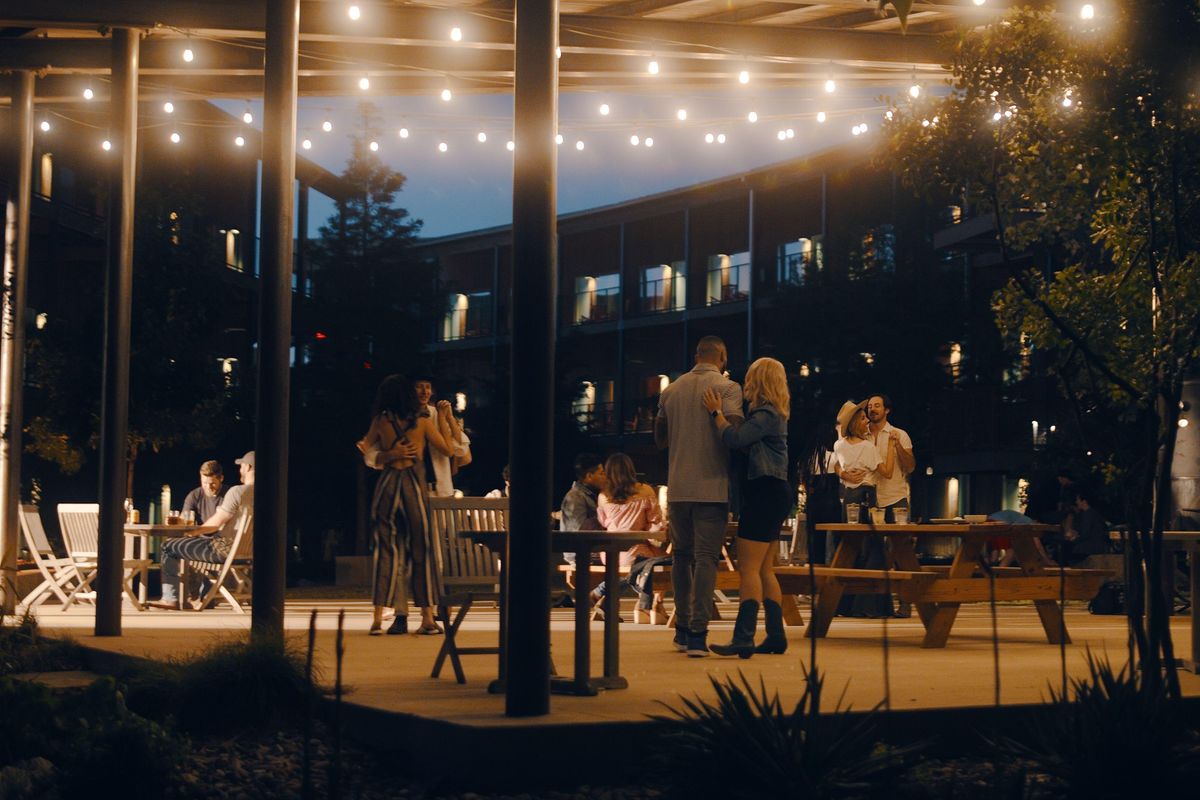 Live music and beer? Say no more. With a location in Austin, and others throughout Texas, the court hotels by the Valencia Hotel Group have a new offering for weekend stays: Live Music & Longnecks.
Enjoy live music all weekend long and check out the hotels' state-of-the-art amenities between sets. Make a splash in the pool, enjoy outdoor fire pits, or challenge your friends in a yard game while enjoying a weekend full of live music! Did we mention the package includes deluxe accommodations and a bucket of beer? Oh, and if you needed more convincing, this pet-friendly hotel means the whole family can join in on the fun.
The hotels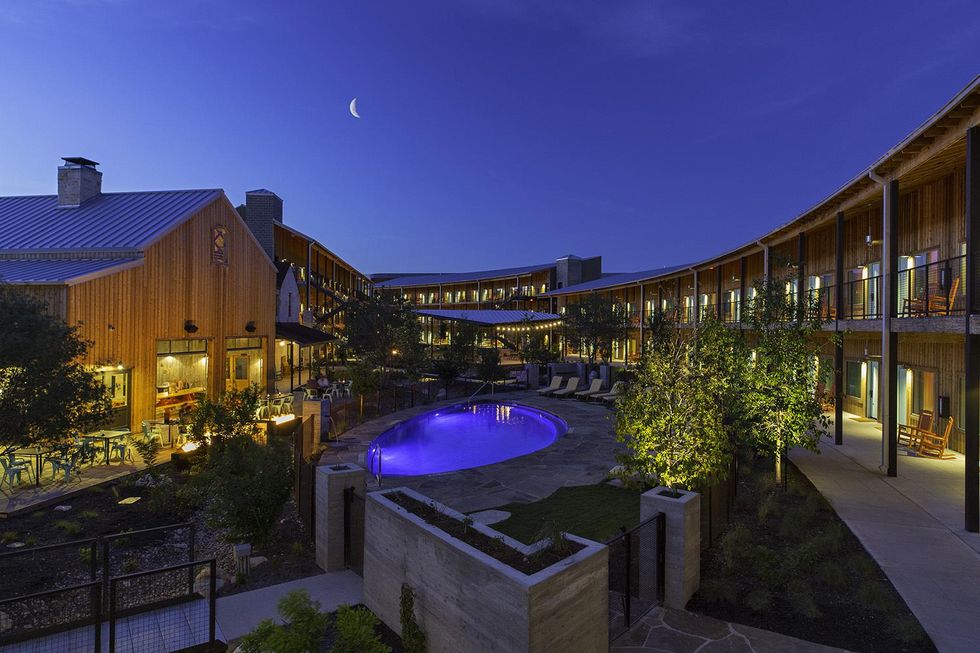 Explore any of the Court Hotels by Valencia Hotel Group for a memorable escape. Each property offers a unique experience remnant of yesteryear but with all of the modern amenities that make for a fun and comfortable stay. With acres of landscaped courtyards, relax and unwind in an outdoor environment perfect for doing everything or absolutely nothing at all. With locations in Austin, College Station, Irving, and Lubbock your urban retreat has never been so close.
The music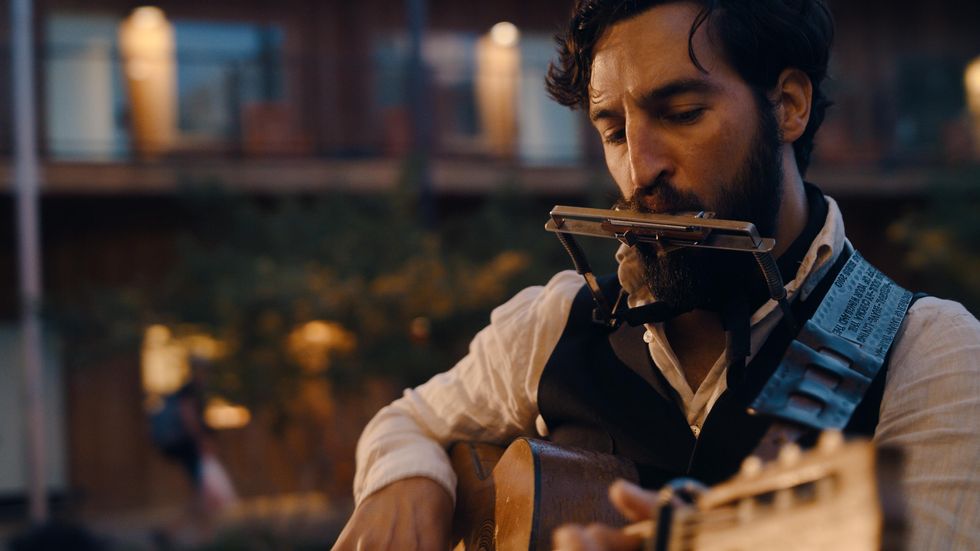 Locals and travelers alike are invited to enjoy the deep roots of Texas music all summer long with a robust lineup of live performances. From the banks of the San Antonio Riverwalk to Irving's manicured streets, Valencia's hotels are a place to gather and reconnect, offering uniquely Texan settings for the weekly performances.
"We're proud of the community we've fostered among Texas musicians and the many rising stars who perform at our properties," says Amy Trench, corporate director of brand marketing & PR for Valencia Hotel Group.
In Austin, you can catch good ol' fashioned Texas country by Drew Moreland and Clayton Gardner, bluegrass by Reagan Quinn, and much, much more.
With unique programming at each of Valencia's properties, there's something for everyone to enjoy all summer long.
The perks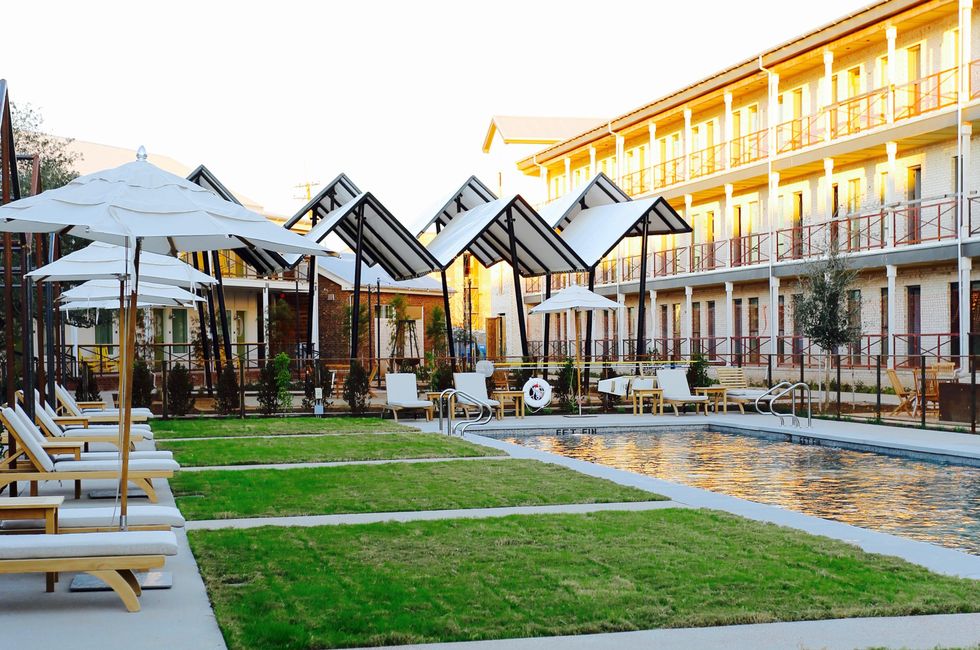 If you're a Valencia Hotel Group Rewards member, the perks are plentiful. Enjoy up to 10% off the Best Available Rate, and for a limited time, members can save up to 15% off a stay of 2 nights or more, for select stays in 2022.
But that's really just the beginning. At select locations, you can enjoy discounts on weeknight stays, a complimentary third night, or curated packages for a romantic getaway or a night of watching the Verde at Q2 Stadium. You'll also find special rates for AAA and AARP Members, educators, and front-line heroes including military, law enforcement, fire, and rescue workers.