Get connected with our daily update
(Emma Freer/Austonia)
Austin voters will soon determine the fate of Project Connect, a 15-year, $7.1 billion overhaul of the city's transit system. Although it has been in development since 2013, the plan is still opaque to some residents, who have questions about what it might mean for their neighborhoods—and their wallets.
This week, Austonia will be answering some questions, ranging from the cost of the plan to the projected ridership. You can find the other installments here:
But the first question we're tackling is this: How much will Proposition A raise my taxes if approved?
---
If Austin voters approve Proposition A this Nov. 3, they will see a permanent 8.75-cent increase to the city's property tax rate. The revenue from this increase will fund the initial investment of Project Connect, the proposal for which includes two light rail lines, an underground downtown tunnel, a bus system expansion and new park and rides.
There have been conflicting reports, however, about how such an increase will impact taxpayers.
Two groups that oppose Project Connect—the political action committee Our Mobility Our Future and the nonprofit Voices of Austin—both have said it will amount to around a 25% increase. Voices of Austin recently debuted a calculator tool using this figure.
Meanwhile, Capital Metro says Proposition A would increase local property tax bills by 4%.

So which is it?
If approved, Proposition A would lead to a 20% increase to the city of Austin's property tax rate. It's important to note, however, that city property owners also pay property taxes to other entities, including Austin ISD, Travis County, Austin Community College and Central Health. If Proposition A is approved, city residents would see their overall property tax bill increase by around 4% because of Project Connect. Those who live outside the city limits will not be impacted.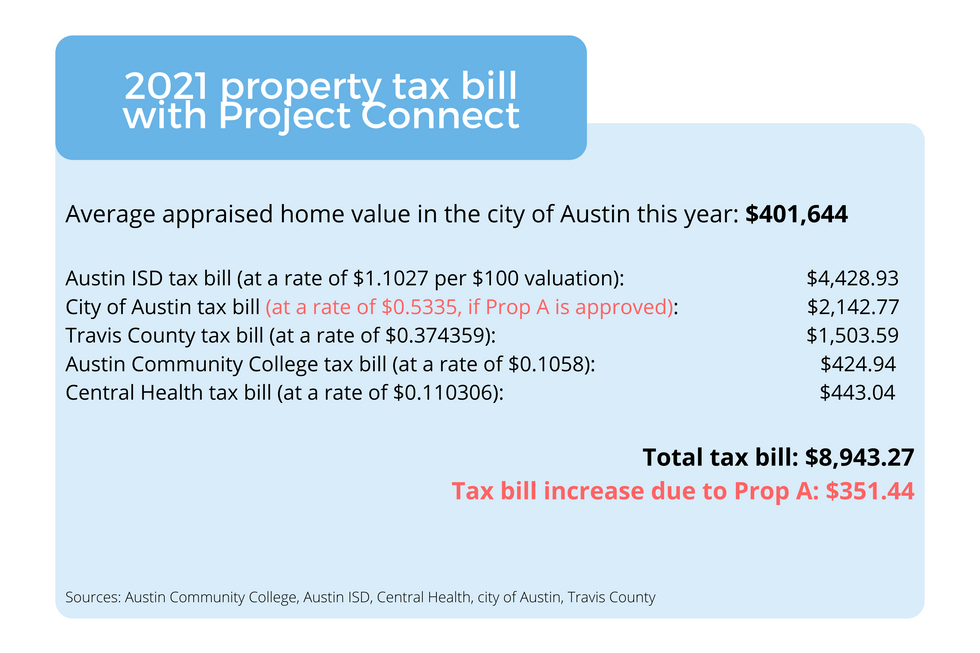 In terms of dollars, the owner of a $401,644 home—the average appraised value in the city of Austin this year—would see a tax bill increase of $351.44 if Project Connect is approved. The owner of a $1.5 million home would see an increase of $1,312.50.

How did the aforementioned groups arrive at 25%?
They included the property tax rate increase approved by Austin City Council for expenses unrelated to Project Connect.
Local governments in Texas can increase their property tax rate a certain amount—such that it would return 3.5% more revenue than the previous year—without voter approval. Austin City Council voted in August to increase the city property tax rate within that range for the upcoming fiscal year. The revenue that is collected under that rate will go toward the city's FY 2020-21 budget, which funds the police and fire departments, Austin Public Health and the library system, among other things.
Additionally, council members voted to order a tax rate election, which is required to increase the property tax rate beyond the 3.5% threshold. Proposition A asks voters to approve an additional 8.75-cent increase to the city's property tax rate to pay specifically for Project Connect.
When considered together, the city's approved FY 2021-22 property tax rate and Proposition A would lead to a 24.5% increase to the no-new-revenue tax rate, or the rate that would result in the same amount of property tax revenue as the city collected last year.
As property owners are aware, home values typically appreciate each year. The average appraised home value in the city of Austin increased more than 6% between 2018 and 2019. As home values increase, so too does the tax burden on their owners.
Notably the Travis Central Appraisal District is not reappraising homes this year due to a dispute with the Austin Board of Realtors. As a result, the appraised value of homes will remain unchanged from last year.
Jeffery Bowen has lived in Austin since 1989 and is a member of the Project Connect ambassador network, where he represents the Austin Neighborhood Council. If Proposition A is approved, it will lead to a $225 increase in his tax bill—not accounting for the other tax rate increases.
Bowen doesn't feel that Project Connect is worth the cost considering its limited reach to his neighborhood. "In the southwest part of town, I kid very seriously that we are nothing but a bunch of cash cows for feeding Capital Metro," he said.
(The Austin Neighborhood Council does not make endorsements on local propositions.)
Homeowners are not the only ones who will see a difference if Proposition A is approved. Commercial property owners, such as landlords, will owe more in property taxes, too, which will trickle down to their tenants.
Leslie Pearlman has lived in Austin for 10 years and rents a place in the Cherrywood neighborhood. She plans to vote yes on Proposition A because she believes Project Connect can address the city's major issues of traffic congestion, affordability and equity.
"When I pay rent, I am paying property taxes," she told Austonia. "To me, it is the same as if I owned a house, and I am willing to pay more."
This story has been updated to clarify the initial investment proposed under Project Connect.

After months of speculation, a new report says political personality Beto O'Rourke is mulling a run for Texas governor that he will announce later this year.
Sources tell Axios the former congressman is preparing his campaign for the 2022 election, where he will likely vie for the position against incumbent Gov. Greg Abbott. The only other candidate that has announced he will take on Abbott for governor is former Texas GOP Chairman Allen West—no Democrats have announced they are running as of yet.
"No decision has been made," Axios reports David Wysong, O'Rourke's former House chief of staff and a longtime adviser, said. "He has been making and receiving calls with people from all over the state."
A new poll from The Dallas Morning News and University of Texas at Tyler shows O'Rourke is narrowing the gap between himself and Abbott's prospects for governor. In the poll, 37% said they'd vote for O'Rourke over Abbott, while 42% said they'd vote for Abbott.
Abbott has been in the hot seat due to his handling of COVID-19 and the signing of landmark legislation into law, including new abortion and voting rights laws; 54% of poll respondents voted they think the state is headed in the "wrong direction." Still, Texas hasn't had a Democrat as governor since the 90s.
O'Rourke's people-focused approach to the 2018 Senator race, which he lost to Sen. Ted Cruz, gave him a widespread following and many hoped he'd throw his hat into the ring since he said he was considering it earlier this year.
"We hope that he's going to run," Gilberto Hinojosa, the state chair of the Democratic Party, told Axios. "We think he'll be our strongest candidate. We think he can beat Abbott because he's vulnerable."
Austin rapper Jordi Esparza may not have won the 2021 Red Bull Batalla, the world's largest Spanish freestyle rap competition, but for a spirited two rounds, the 22-year old Mexican native looked like he had every right to.
On Saturday evening in Los Angeles, the event itself looked like Cobra Kai meets Star Search with graphics adding a very Batman Beyond aesthetic. Over a dozen rappers hoping to represent the U.S. in the international round of the competition took to the stage with in-your-face jabs at accents, sexual orientation and odors, among other things.
This was Esparza's second rodeo; he had placed third at the 2020 National Finals, automatically securing him a spot this year.
However, things were different this year. He was not nervous about the contest. Unlike in 2020, when he made his Red Bull Batalla debut, the anxiety of the event led him to "feeling so bad."
Affecting a casual calm, the locally-based landscaper said he just felt "so relaxed, so happy" and primarily wanted to "enjoy everything."
Choosing his first-round opponent, Esparza, whose stage name is Jordi, elected to go against LA-based Boss.
Esparza freestyled an attack on his opponent's weight and cholo style of dress.
Boss—bracketing his Latin freestyle with English appeals to the crowd—mocked Jordi's lack of education, made fun of how clean Jordi's shoes looked and suggested that Jordi just came back from a Footlocker.
That first round went to Jordi.
But his next opponent Eckonn would prove to be his undoing.
Eckonn compared Jordi to Hannah Montana, while Jordi soulfully explained that he had learned from the best.
Esparza's verbal dexterity is matched by a rattling rhythm and a game face that is as mawkish as it is mockish. The overall effect is that of an underdog with bite.
Eckonn beat Esparza in that round with the overall championship going to Palm Beach-based rapper Reverse.
However, Esparza was just happy to be there. He recently told Austonia going to the finals again was a dream come true—a pinnacle that he said he won't know how to top.
With his nimble jabs and sneaky prowess, honed from pop culture and the swagger of a young working man hungry to be more, Jordi Esparza is just getting started.