Austonia AM
100% Austin news, info, and entertainment, straight to your inbox at 6 a.m. every morning.
In five minutes, you're fully informed and ready to start another great day in our city.
Get connected with our daily update
(Emma Freer/Austonia)
Austin voters will soon determine the fate of Project Connect, a 15-year, $7.1 billion overhaul of the city's transit system. Although it has been in development since 2013, the plan is still opaque to some residents, who have questions about what it might mean for their neighborhoods—and their wallets.
This week, Austonia will be answering some questions, ranging from the cost of the plan to the projected ridership. You can find the other installments here:
But the first question we're tackling is this: How much will Proposition A raise my taxes if approved?
---
If Austin voters approve Proposition A this Nov. 3, they will see a permanent 8.75-cent increase to the city's property tax rate. The revenue from this increase will fund the initial investment of Project Connect, the proposal for which includes two light rail lines, an underground downtown tunnel, a bus system expansion and new park and rides.
There have been conflicting reports, however, about how such an increase will impact taxpayers.
Two groups that oppose Project Connect—the political action committee Our Mobility Our Future and the nonprofit Voices of Austin—both have said it will amount to around a 25% increase. Voices of Austin recently debuted a calculator tool using this figure.
Meanwhile, Capital Metro says Proposition A would increase local property tax bills by 4%.

So which is it?
If approved, Proposition A would lead to a 20% increase to the city of Austin's property tax rate. It's important to note, however, that city property owners also pay property taxes to other entities, including Austin ISD, Travis County, Austin Community College and Central Health. If Proposition A is approved, city residents would see their overall property tax bill increase by around 4% because of Project Connect. Those who live outside the city limits will not be impacted.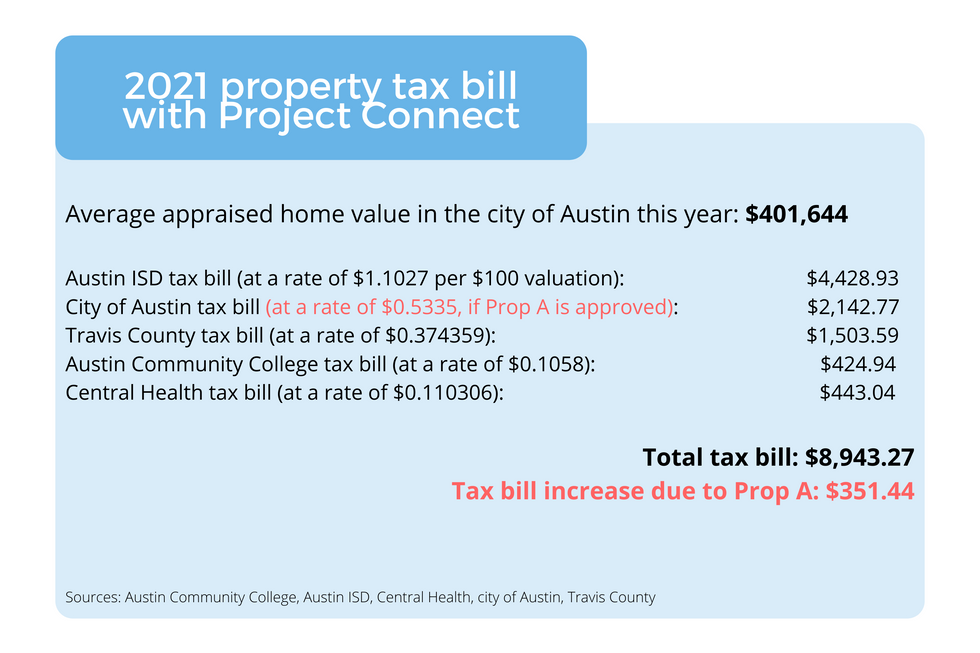 In terms of dollars, the owner of a $401,644 home—the average appraised value in the city of Austin this year—would see a tax bill increase of $351.44 if Project Connect is approved. The owner of a $1.5 million home would see an increase of $1,312.50.

How did the aforementioned groups arrive at 25%?
They included the property tax rate increase approved by Austin City Council for expenses unrelated to Project Connect.
Local governments in Texas can increase their property tax rate a certain amount—such that it would return 3.5% more revenue than the previous year—without voter approval. Austin City Council voted in August to increase the city property tax rate within that range for the upcoming fiscal year. The revenue that is collected under that rate will go toward the city's FY 2020-21 budget, which funds the police and fire departments, Austin Public Health and the library system, among other things.
Additionally, council members voted to order a tax rate election, which is required to increase the property tax rate beyond the 3.5% threshold. Proposition A asks voters to approve an additional 8.75-cent increase to the city's property tax rate to pay specifically for Project Connect.
When considered together, the city's approved FY 2021-22 property tax rate and Proposition A would lead to a 24.5% increase to the no-new-revenue tax rate, or the rate that would result in the same amount of property tax revenue as the city collected last year.
As property owners are aware, home values typically appreciate each year. The average appraised home value in the city of Austin increased more than 6% between 2018 and 2019. As home values increase, so too does the tax burden on their owners.
Notably the Travis Central Appraisal District is not reappraising homes this year due to a dispute with the Austin Board of Realtors. As a result, the appraised value of homes will remain unchanged from last year.
Jeffery Bowen has lived in Austin since 1989 and is a member of the Project Connect ambassador network, where he represents the Austin Neighborhood Council. If Proposition A is approved, it will lead to a $225 increase in his tax bill—not accounting for the other tax rate increases.
Bowen doesn't feel that Project Connect is worth the cost considering its limited reach to his neighborhood. "In the southwest part of town, I kid very seriously that we are nothing but a bunch of cash cows for feeding Capital Metro," he said.
(The Austin Neighborhood Council does not make endorsements on local propositions.)
Homeowners are not the only ones who will see a difference if Proposition A is approved. Commercial property owners, such as landlords, will owe more in property taxes, too, which will trickle down to their tenants.
Leslie Pearlman has lived in Austin for 10 years and rents a place in the Cherrywood neighborhood. She plans to vote yes on Proposition A because she believes Project Connect can address the city's major issues of traffic congestion, affordability and equity.
"When I pay rent, I am paying property taxes," she told Austonia. "To me, it is the same as if I owned a house, and I am willing to pay more."
This story has been updated to clarify the initial investment proposed under Project Connect.

Austonia file photo. (Christa McWhirter/Austonia)
Police have arrested one of two suspects involved in a mass shooting at Austin's Sixth Street in the early morning hours on Saturday, leaving 14 people injured and two in critical condition.
The arrest was made by the Austin Police Department and the Lone Star Fugitive Task Force. One suspect is still at large.
Police started receiving 911 phone calls at 1:24 a.m about a man that fired shots into a large crowd, and responded to a chaotic scene on the 400 block of East Sixth Street. Detectives are surveying video footage captured by bystanders and cameras on the scene to identify the suspect.

The Austin Police Department has narrowed down their search to two male suspects and believes there was "some type of disturbance" between the two parties.
No deaths have been reported. Fourteen victims are receiving treatment in a hospital in stable condition with one treated in an emergency room; two are in critical condition.
According to Interim Police Chief Joseph Chacon, "almost all" of the victims are innocent bystanders but police have not ruled anyone out at this time.
Shooting on 6th Street Austin Texas 6-12-2021 (Aftermath) youtu.be
The shooting occurred on the weekend of the Republic of Texas Motorcycle Rally. With lots of people downtown, police say it was difficult to get EMS in and out of the scene. Police arrived while the scene was still an "active threat," officers "immediately began lifesaving measures" and drove six victims to the hospital in their squad cars, said Chacon, and four were transported in ambulances.
Chacon said that the incident is believed to be isolated, and they optimistic they will be successful in getting the two suspects into custody. Multiple departments, including APD, the FBI, Texas DPS and the ATF, are involved in the investigation.
Austin police are also requesting state troopers for patrol assistance in the coming days. Chacon stressed staffing issues are increasingly making responding to emergency calls "very hard."
"Overall, we remain a safe city," Chacon said. "Also keep in mind when you come downtown, you need to be safety conscious. Be vigilant of your environment and your surroundings."
Today marks the five-year anniversary of the Pulse nightclub shooting in which 49 were killed and 53 wounded in Orlando, Florida. Anyone with information on the shooting is asked to call 911 or 512-472-TIPS.

This story was updated at 2:47 p.m. to include new information and will be updated as more details are revealed.
From Your Site Articles
Related Articles Around the Web
Austin police are investigating a homicide in North Austin where a woman was shot and killed, just hours after a mass shooting in Downtown Austin hospitalized 14 people.
APD is working a suspicious death near the 1900 block of W Rundberg Ln. PIO is en route and will update with media staging location. PIO6
— Austin Police Department (@Austin_Police) June 12, 2021
Police originally responded to Ironhorse Flats Apartments, 1900 block of W. Rundberg Lane, at 3:20 p.m. when they found the woman with multiple gunshot wounds. She was transported to a local hospital, where she was pronounced dead at 4:07 p.m.

No one is in custody as of yet but police are speaking with potential witnesses. Officials said they believe this was an isolated incident with no danger to the public but said possible relation to the downtown shooting has not been specifically ruled out.
Officers could not provide a suspect description and the relationship to the victim is still unknown.
This is a developing story that will be updated as details become available.