Get connected with our daily update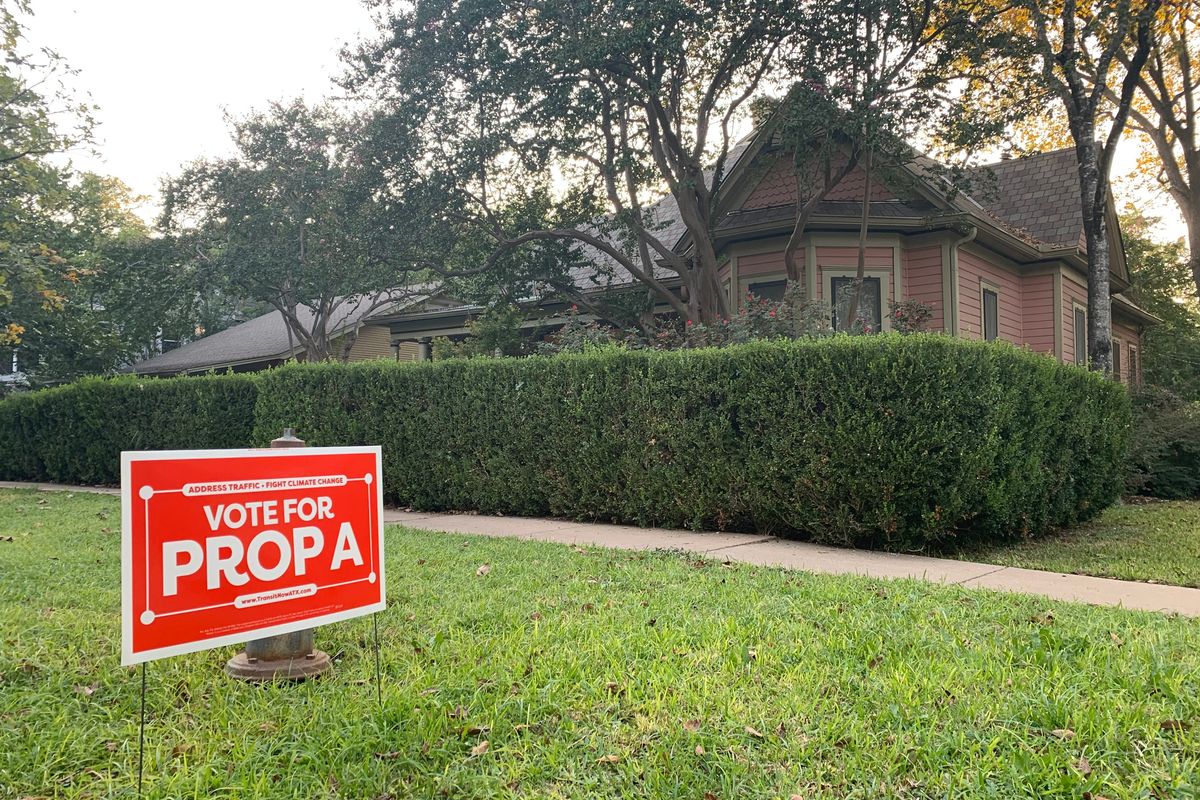 (Emma Freer/Austonia)
Austin voters will soon determine the fate of Project Connect, a 15-year, $7.1 billion overhaul of the city's transit system. Although it has been in development since 2013, the plan is still opaque to some residents, who have questions about what it might mean for their neighborhoods—and their wallets.
This week, Austonia will be answering some questions, ranging from the cost of the plan to the projected ridership. You can find the other installments here:
But the first question we're tackling is this: How much will Proposition A raise my taxes if approved?
---
If Austin voters approve Proposition A this Nov. 3, they will see a permanent 8.75-cent increase to the city's property tax rate. The revenue from this increase will fund the initial investment of Project Connect, the proposal for which includes two light rail lines, an underground downtown tunnel, a bus system expansion and new park and rides.
There have been conflicting reports, however, about how such an increase will impact taxpayers.
Two groups that oppose Project Connect—the political action committee Our Mobility Our Future and the nonprofit Voices of Austin—both have said it will amount to around a 25% increase. Voices of Austin recently debuted a calculator tool using this figure.
Meanwhile, Capital Metro says Proposition A would increase local property tax bills by 4%.

So which is it?
If approved, Proposition A would lead to a 20% increase to the city of Austin's property tax rate. It's important to note, however, that city property owners also pay property taxes to other entities, including Austin ISD, Travis County, Austin Community College and Central Health. If Proposition A is approved, city residents would see their overall property tax bill increase by around 4% because of Project Connect. Those who live outside the city limits will not be impacted.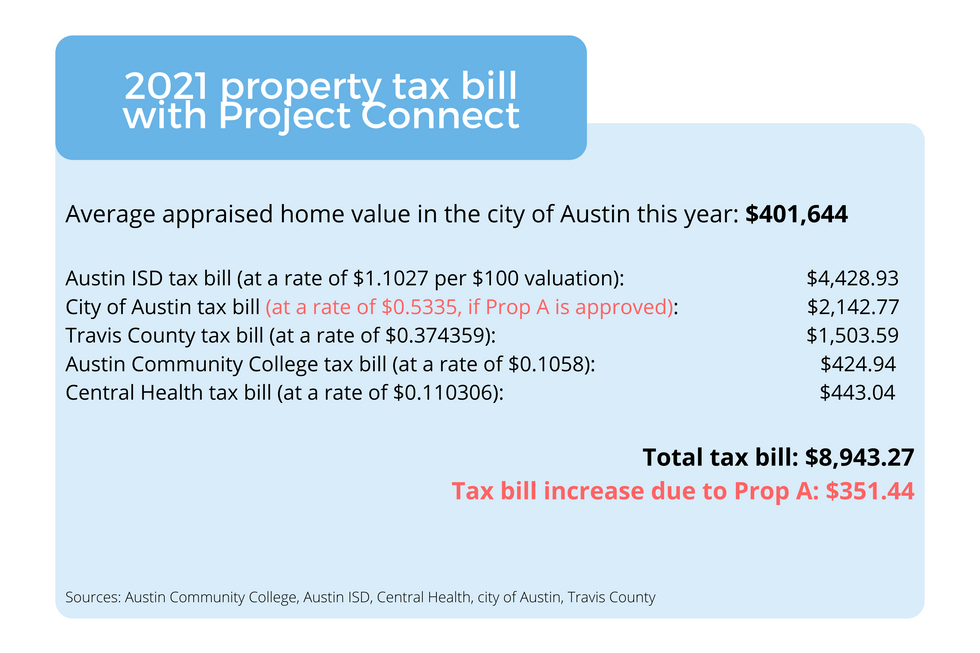 In terms of dollars, the owner of a $401,644 home—the average appraised value in the city of Austin this year—would see a tax bill increase of $351.44 if Project Connect is approved. The owner of a $1.5 million home would see an increase of $1,312.50.

How did the aforementioned groups arrive at 25%?
They included the property tax rate increase approved by Austin City Council for expenses unrelated to Project Connect.
Local governments in Texas can increase their property tax rate a certain amount—such that it would return 3.5% more revenue than the previous year—without voter approval. Austin City Council voted in August to increase the city property tax rate within that range for the upcoming fiscal year. The revenue that is collected under that rate will go toward the city's FY 2020-21 budget, which funds the police and fire departments, Austin Public Health and the library system, among other things.
Additionally, council members voted to order a tax rate election, which is required to increase the property tax rate beyond the 3.5% threshold. Proposition A asks voters to approve an additional 8.75-cent increase to the city's property tax rate to pay specifically for Project Connect.
When considered together, the city's approved FY 2021-22 property tax rate and Proposition A would lead to a 24.5% increase to the no-new-revenue tax rate, or the rate that would result in the same amount of property tax revenue as the city collected last year.
As property owners are aware, home values typically appreciate each year. The average appraised home value in the city of Austin increased more than 6% between 2018 and 2019. As home values increase, so too does the tax burden on their owners.
Notably the Travis Central Appraisal District is not reappraising homes this year due to a dispute with the Austin Board of Realtors. As a result, the appraised value of homes will remain unchanged from last year.
Jeffery Bowen has lived in Austin since 1989 and is a member of the Project Connect ambassador network, where he represents the Austin Neighborhood Council. If Proposition A is approved, it will lead to a $225 increase in his tax bill—not accounting for the other tax rate increases.
Bowen doesn't feel that Project Connect is worth the cost considering its limited reach to his neighborhood. "In the southwest part of town, I kid very seriously that we are nothing but a bunch of cash cows for feeding Capital Metro," he said.
(The Austin Neighborhood Council does not make endorsements on local propositions.)
Homeowners are not the only ones who will see a difference if Proposition A is approved. Commercial property owners, such as landlords, will owe more in property taxes, too, which will trickle down to their tenants.
Leslie Pearlman has lived in Austin for 10 years and rents a place in the Cherrywood neighborhood. She plans to vote yes on Proposition A because she believes Project Connect can address the city's major issues of traffic congestion, affordability and equity.
"When I pay rent, I am paying property taxes," she told Austonia. "To me, it is the same as if I owned a house, and I am willing to pay more."
This story has been updated to clarify the initial investment proposed under Project Connect.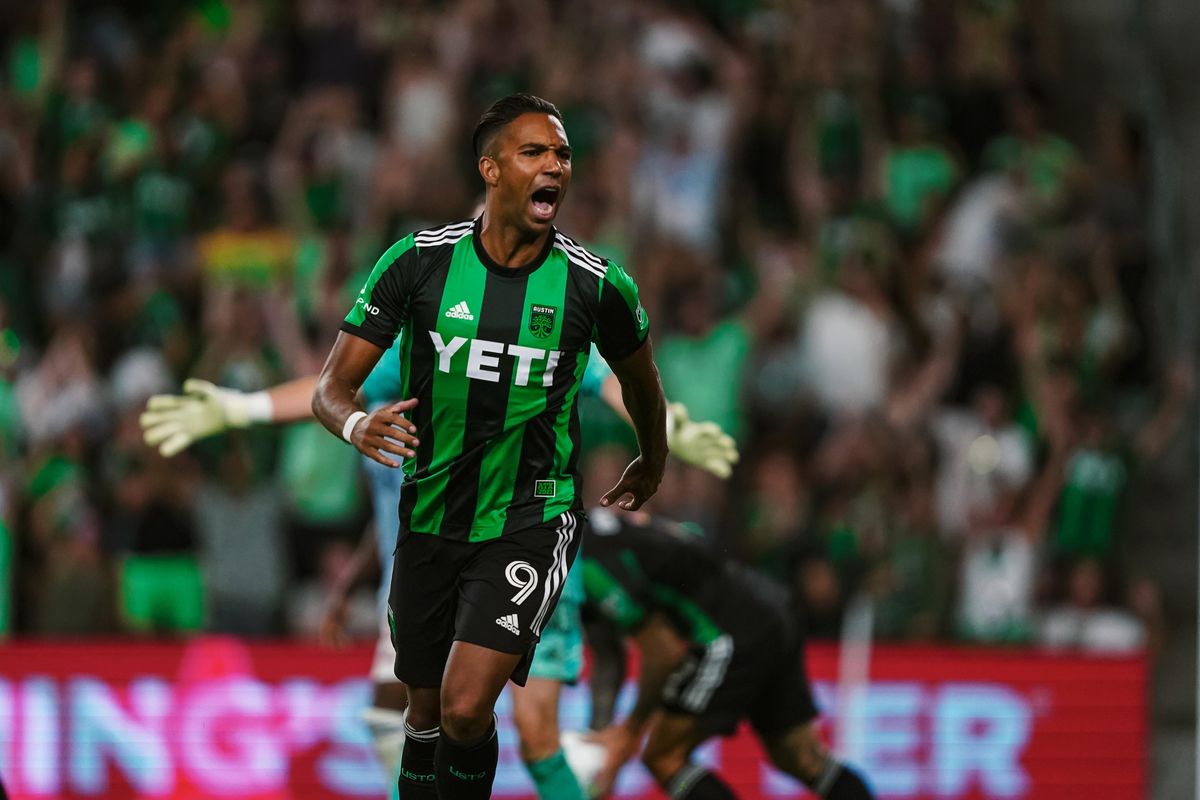 Despite a 2-0 deficit, there was a pot of gold for Austin FC after all as it celebrated its annual Pride Night with rainbows and a 2-2 comeback draw to FC Dallas Saturday night.
After three FC Dallas losses last season, the Dallas derby draw marks the first time Austin FC has tied against its Copa Texas rival. Austin continues to edge over FC Dallas as it sits at 3rd in the MLS West.
Here are the biggest takeaways from the match:
A somber start
¡Ya Basta! Enough! End Gun Violence. #uvaldestrong

📷 @arubiophotospic.twitter.com/3PiVdTPtik

— Los Verdes (@LosVerdesATX) June 26, 2022
Decked out in colorful hues for LBGTQ+ Pride, Verde fans started the match on a somber note as they held up banners to take a stand against gun violence before the match.
As the national anthem began, fans held up banners with the names of each child that was killed in the Uvalde school shooting and a plea to "end gun violence."
The supporters' section was also dotted with Pride flags and a "Bans off Our Bodies" banner in protest of the Supreme Court's decision to overturn Roe v. Wade.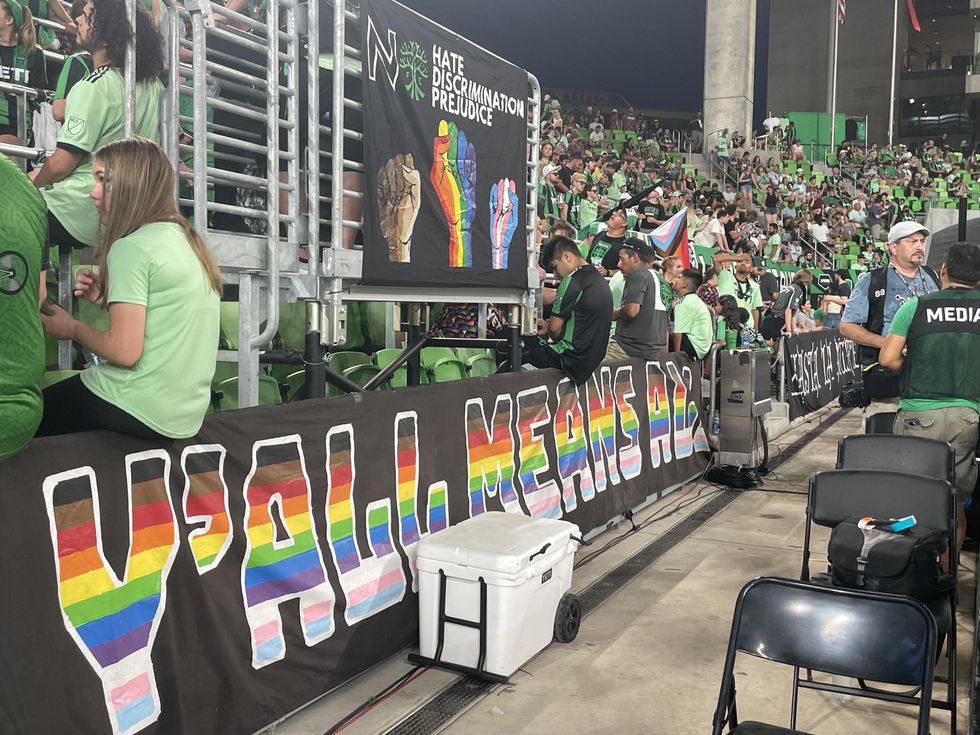 (Claire Partain/Austonia)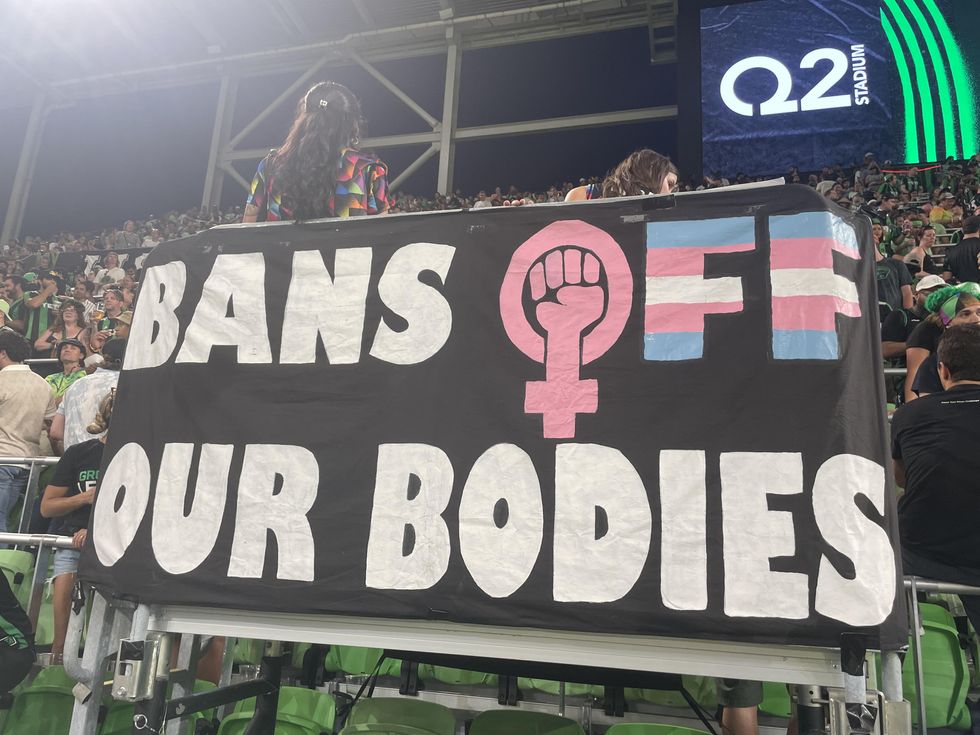 (Claire Partain/Austonia)
FC Dallas earns a 2-0 lead
Paul Arriola is there to put it away and put @FCDallas ahead! pic.twitter.com/Z4AMmM6lp3

— Major League Soccer (@MLS) June 26, 2022
That sober tone continued onto the pitch. With midfielder Daniel Pereira's absence due to a red card, the Verde and Black lost two goals to FC Dallas by the 70th minute of play.
FC Dallas played it sneaky for the first half of the match, giving Austin FC plenty of room to hold possession as it waited to strike on a Verde error. That mentality proved dangerous for Austin as Dallas' Paul Arriola took advantage of Brad Stuver's deflection to score the first goal of the night in the 57th minute of play.
Dallas struck once more as Brandon Servant pushed past the Verde line to score the second goal of the match.
Austin FC strikes back
Sebastián Driussi pulls one back!#AustinFC are still in this one. 👀 pic.twitter.com/Yoi0x768jb

— Major League Soccer (@MLS) June 26, 2022
But energy quickly returned to Austin's favor thanks to Designated Player Sebastian Driussi, who scooted past several FC Dallas defenders alongside Moussa Djitte to snag an unlikely first goal for Austin.
A full Verde comeback
Late drama in this Texas Derby!@AustinFC ties it up, Danny Hoesen with the diving header. 😱 pic.twitter.com/Jk2f4fIEXG

— Major League Soccer (@MLS) June 26, 2022
Austin's subs proved deadly as momentum returned to the home team toward the end of the match. A well-placed cross from Nick Lima—and a diving header from a fresh-legged Danny Hoesen—helped the team secure the draw with a second Verde goal in the 84th minute of play.
Hoesen, who was Austin's first starting striker last season, has now scored two goals with the team after a yearlong injury stuck him on the bench.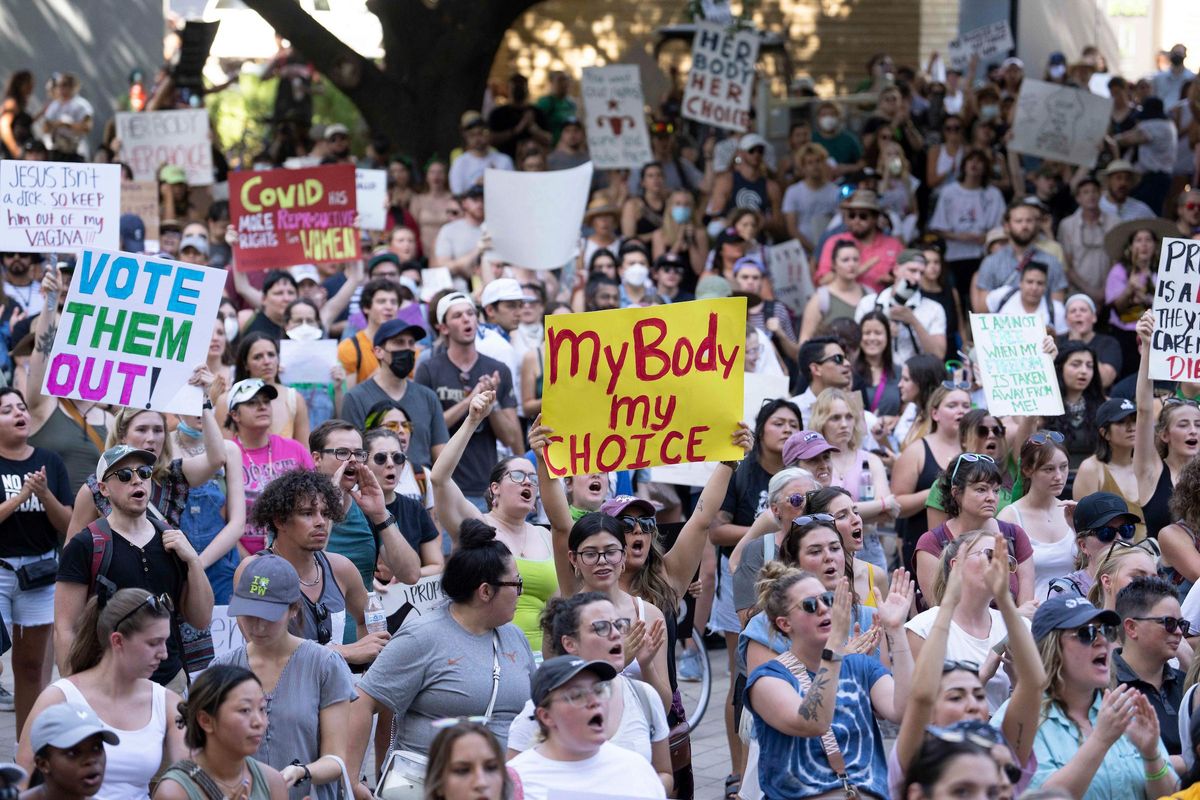 Hours following the U.S. Supreme Court's ruling to overturn Roe v. Wade, the landmark ruling that guaranteed a constitutional right to an abortion, on Friday, about 1,000 people gathered in Republic Square with signs calling for change.
The rally, organized by the group Rise Up 4 Abortion Rights Texas, started at the federal courthouse on Republic Square on Friday at 5 p.m. before the crowd marched to the Texas Capitol. More protests are expected to ensue over the weekend.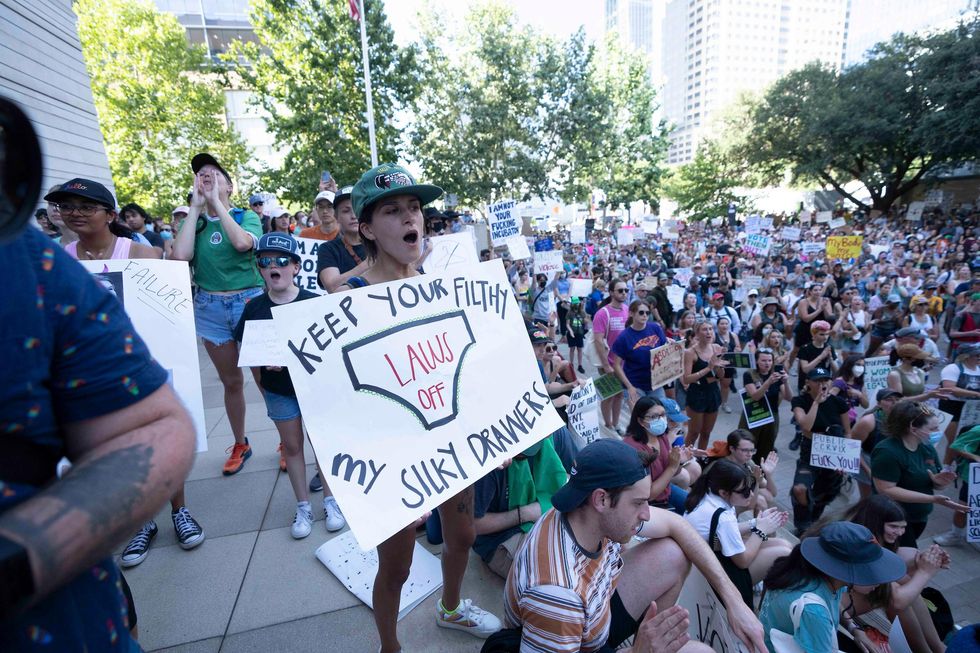 People showed up with all types of signs like Mindy Moffa holding up, "Keep your filthy laws off my silky drawers."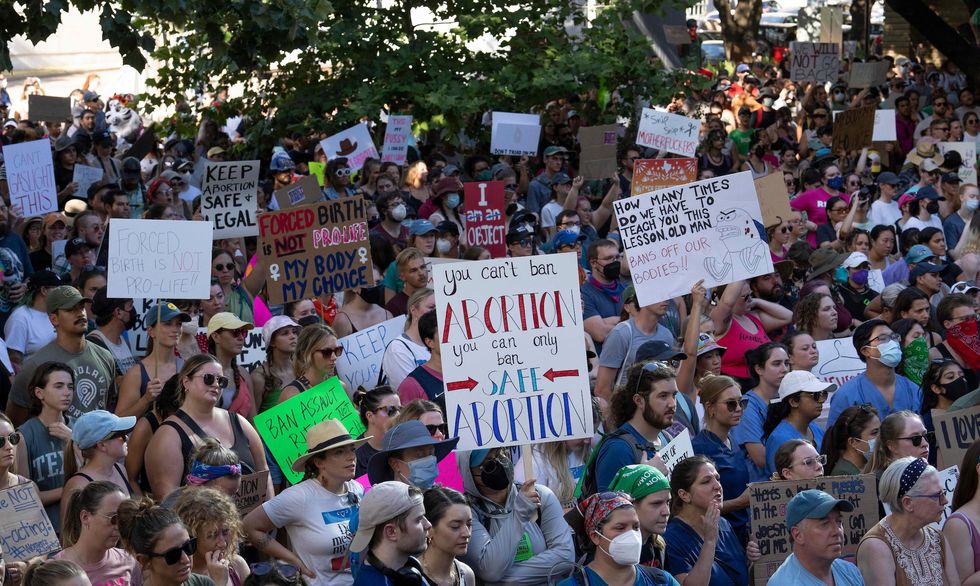 Austin joined cities across the country that saw protests for a women's right to an abortion after the ruling.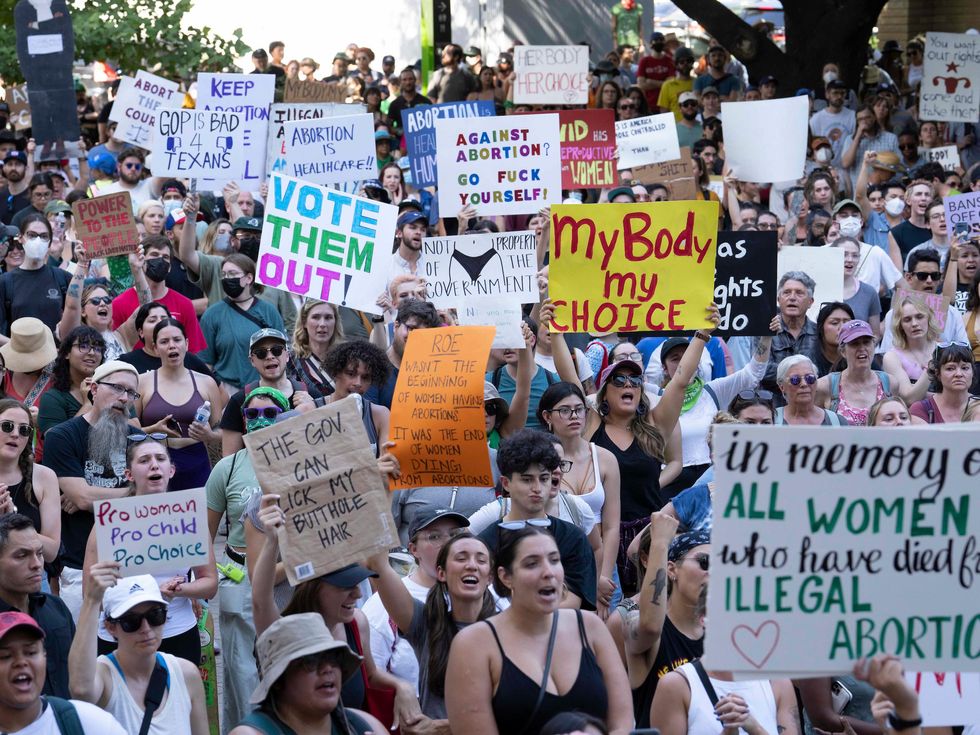 According to a recent UT poll, 78% of Texas voters support abortion access in most cases.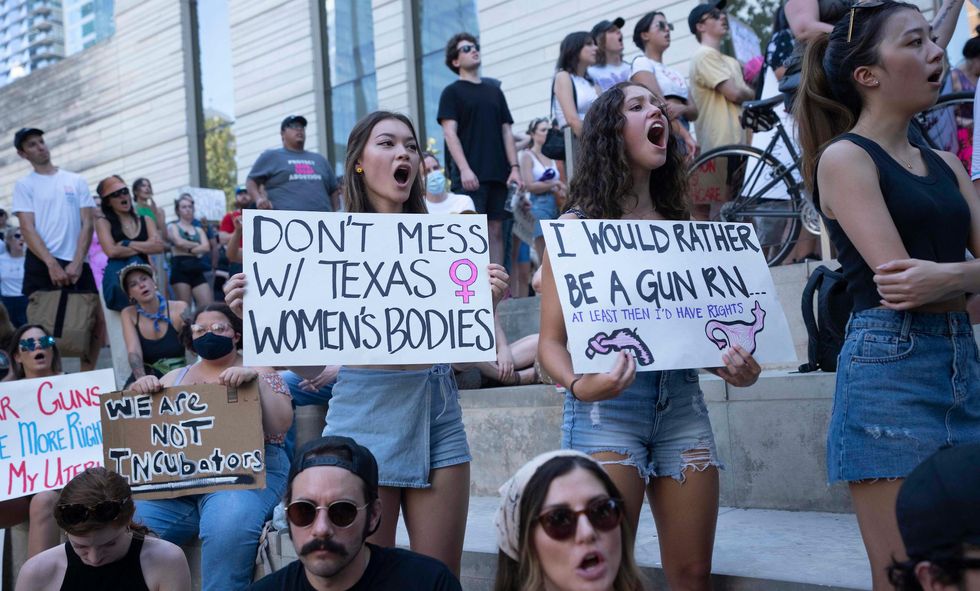 Sabrina Talghade and Sofia Pellegrini held up signs directed at Texas laws. A Texas trigger law will ban all abortions from the moment of fertilization, starting 30 days after the ruling. When state legislators passed the trigger law last summer, it also passed laws for more protection of firearms, including the right to open carry without a permit.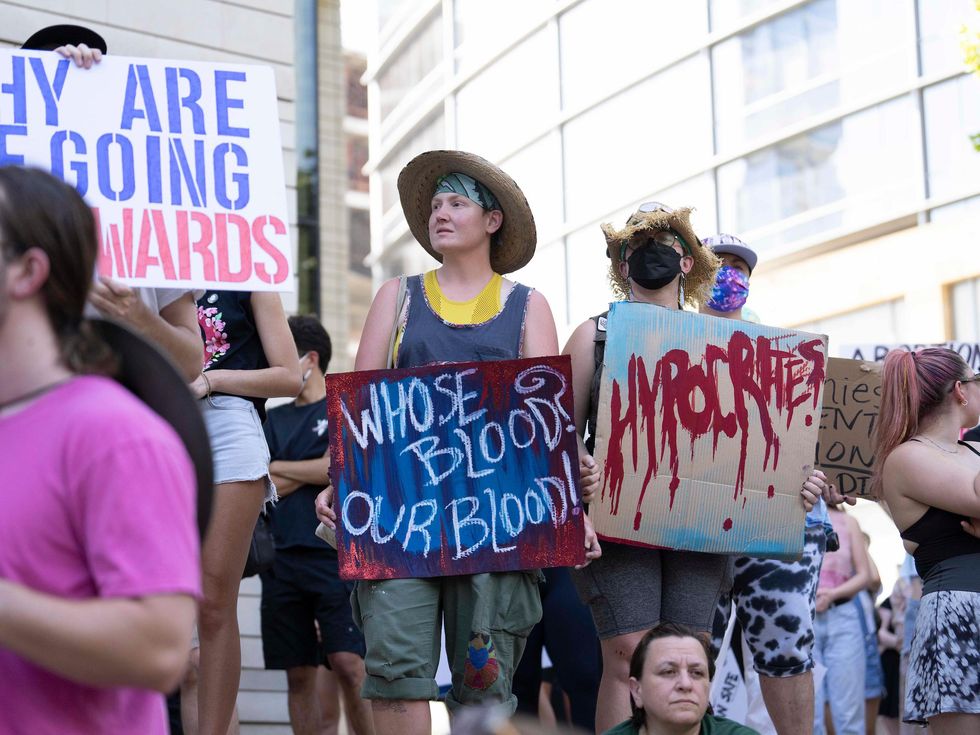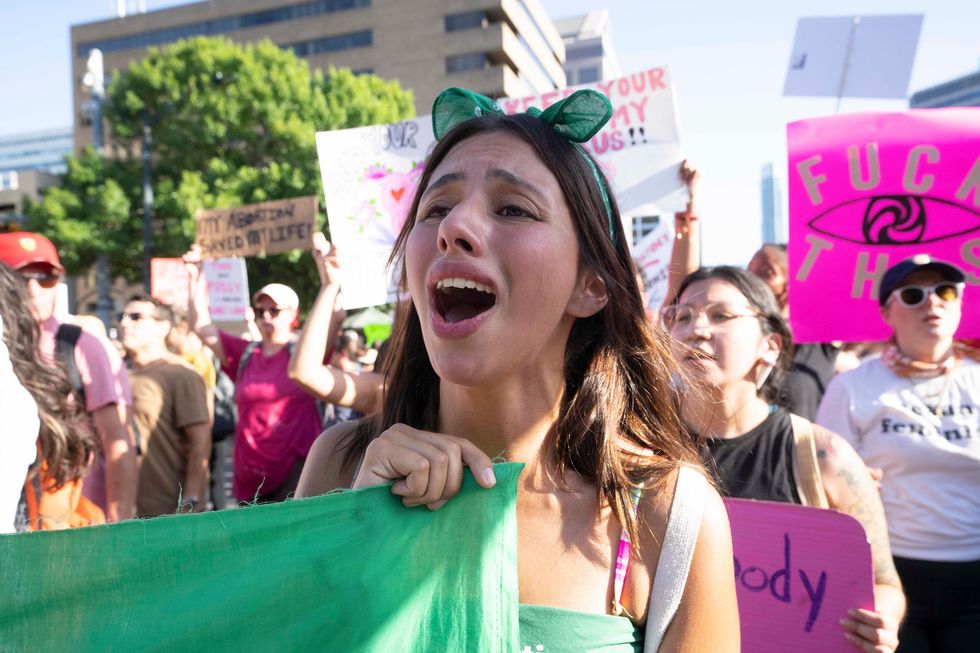 Lili Enthal of Austin yells as around 1,000 Texans marched to the Texas Capitol.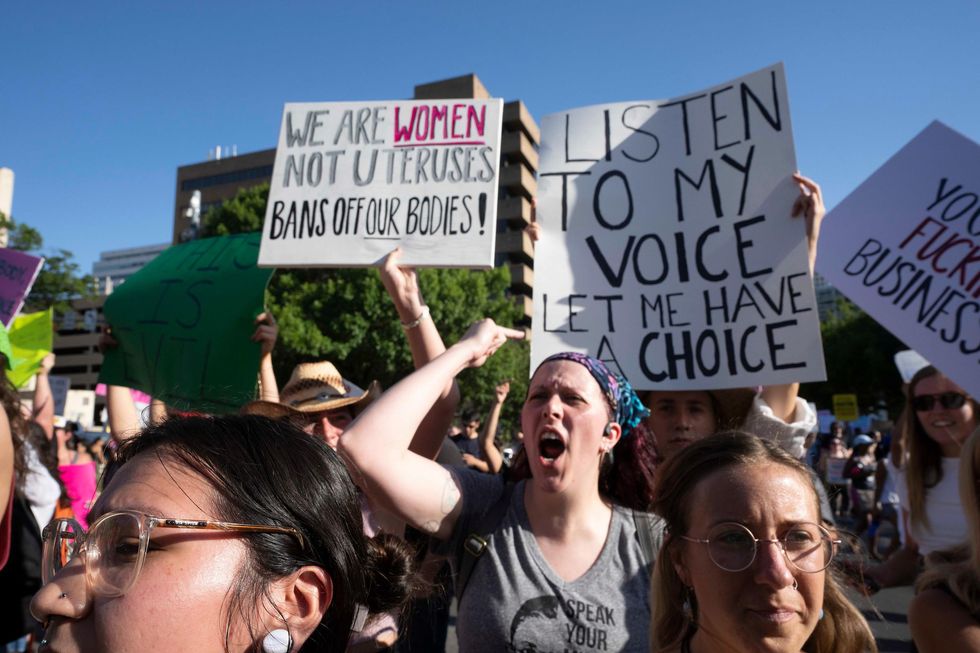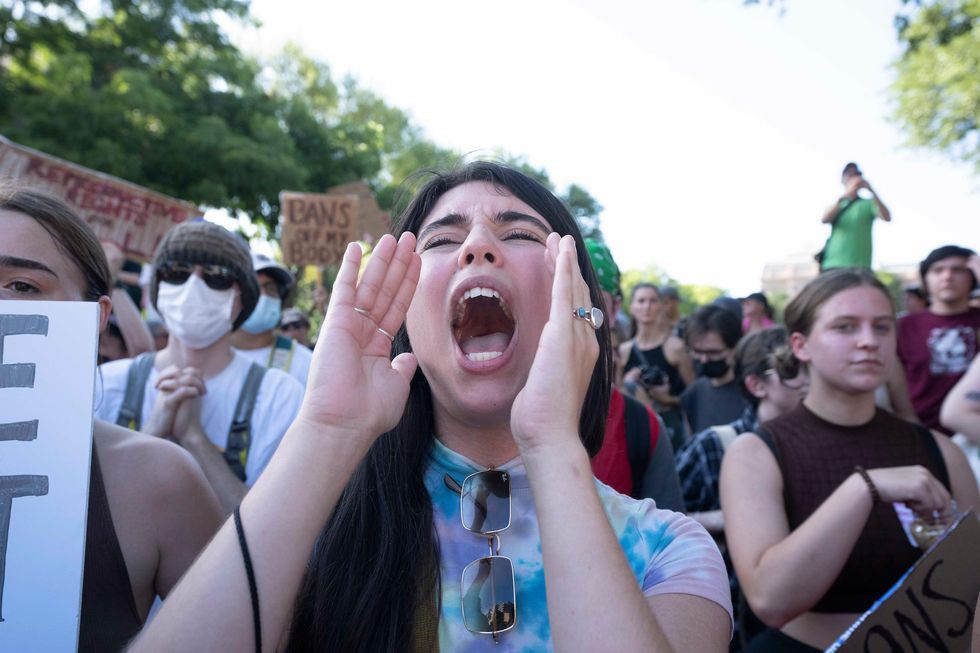 From the Texas Capitol, Zoe Webb lets her voice be heard against the Supreme Court ruling.