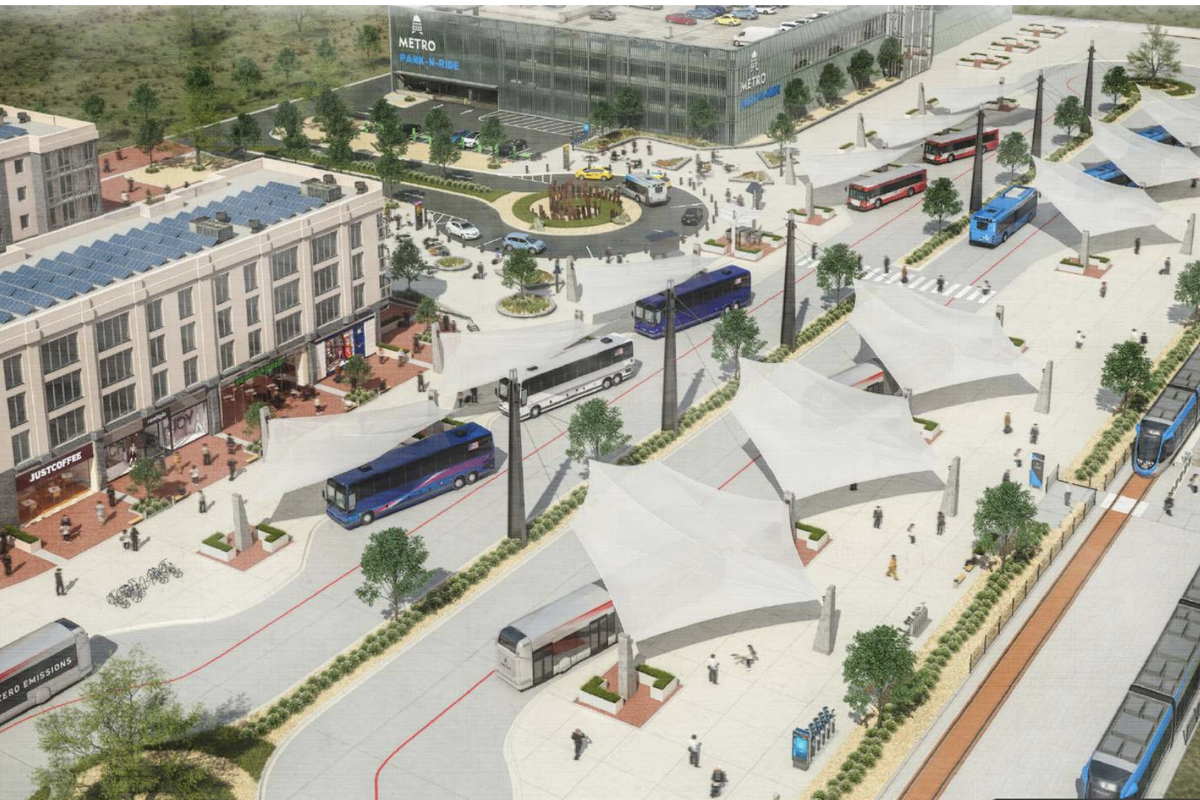 (Capital Metro)
This story was updated at 11:30 p.m. with the final election results.
Proposition A, which will permanently increase the city's property tax rate by 20% to help fund Project Connect, a 15-year, $7.1 billion overhaul of the local transit system, passed with over 58% of the 392,547 votes cast this election.
---
"This plan has resolved a 20-year conversation here in Austin," Capital Metro CEO Randy Clarke said at an 8:45. p.m. press conference. "It has been a long road, but we now have a data driven, community designed plan that voters are telling us they want us to build."

Gina Fiandaca, assistant city manager for mobility, elucidated on the next steps in a statement: "Our immediate next steps are to recruit and appoint the first (Austin Transportation Partnership) board, craft its first budget, and begin the environmental process for individual projects," she said.
Historic in scope, the transit plan includes two light rail lines—Austin's first ever—as well as an underground downtown tunnel and a $300 million fund for anti-displacement initiatives.
Proposition A projected to pass! (THREAD) I'm proud to live in a city that is looking to its future -- one not sati… https://t.co/8C3tHDlhQw

— Mayor Adler | 😷wear a mask. (@Mayor Adler | 😷wear a mask.) 1604458909.0
Although supporters came from backgrounds as varied as real estate, business, environmental groups and racial justice activism, Proposition A has faced an uphill battle.

Two previous light rail initiatives have failed at the ballot box in the last two decades, and multiple groups, including the political action committee Our Mobility Our Future and the nonprofit Voices of Austin, vehemently oppose the effort.
Supporters, including all 11 members of Austin City Council, tout Project Connect's ability to address traffic congestion, population growth and systemic inequities.
Although the pandemic has led to more people working from home than ever, it has also created an economic recession and financial hardship for many Austinites. Building out Project Connect over the next 10 to 13 years would require workers, and so its proponents also painted it as a vehicle for job creation.
The high cost of Project Connect is merited by its high payoff, they say, emphasizing the value of public transit to essential workers, students and low-income families.
"Prop A is our chance to put our money where our mouth is," Austin Justice Coalition Executive Director Chas Moore said at a press conference last week. "It's a direct investment in the quality of the life of Black people, or brown people, for everyone who's been marching because of their skin color or their bank account or what part of town they live in."
Mobility for All, a PAC that supported Project Connect, outraised opponents, collecting more than $1 million in donations, according to campaign finance reports. Its top donors were transportation engineering firms HNTB and HDR, developers Brandywine Operating Partnership and Endeavor Real Estate Group, and Major League Soccer group Austin FC.
But Proposition A supporters worried about the role of "secret money" and misinformation leading up to Election Day.
As a PAC, Our Mobility Our Future is required to disclose its funders, who include car dealers, Republicans and long-time opponents of transit investment. They helped the group raise nearly $540,000, according to campaign finance reports.
But Voices of Austin, a nonprofit, is not beholden to the same standards. Executive Director Peck Young told Austonia that its funding comes from locals and that the group is unaffiliated with police unions or the Koch brothers. But there are no public records to verify his claims.
"I think when people are putting up dollars to influence an election, they ought to stand up and say who they are so that people can understand who it is who is sponsoring the message," Austin Mayor Steve Adler said last week.
Mayor Pro Tem Delia Garza also raised concerns about "Republican tactics of disinformation."
Both Our Mobility Our Future and Voices of Austin claimed that Proposition A would raise property taxes by around 25%. In fact, it raises the city's property tax rate by about 20%. Because city property owners also pay taxes to Austin ISD, Austin Community College, Central Health and Travis County, however, the overall increase to property tax bills will only be around 4%.
Opponents of Project Connect say the city and Capital Metro did not do enough engineering studies to back up the plan, which could end up causing budget overruns—and an increased burden to taxpayers—in the future. They also criticize the plan's reliance on federal grants, which are not guaranteed and may be jeopardized by the economic recession occasioned by the pandemic.
"This is not a time for useless higher taxes, penalizing struggling businesses, homeowners, and renters," OMOF donor Jim Skaggs and analyst Roger Falk wrote in a recent opinion piece. "We need to reach a stable economic condition, with COVID-19 under control."
They also characterize light rail as old-fashioned and possibly made obsolete by COVID-19, which has seen many companies adopt long-term work-from-home policies. As an alternative to public transit, Our Mobility Our Future suggests new mobility technologies—from autonomous vehicles to electric scooters—will be widespread enough to serve Austin's growing population by the time Project Connect is built out.
Proposition B
Voters also approved another local mobility initiative, Proposition B, an active $460 active mobility bond that would increase the city's property tax rate by 2 cents over the next six years. Dollars will go toward sidewalks, urban trails, bikeways and Vision Zero, a campaign to eliminate traffic fatalities and serious injuries.
Of the 386,837 votes tallied, 67.39% were in support of the bond.
Austin City Council voted 9-1 to include Proposition B in this election, with District 6 Council Member Jimmy Flannigan opposing and District 10 Council Member Alison Alter abstaining.