Austonia AM
100% Austin news, info, and entertainment, straight to your inbox at 6 a.m. every morning.
In five minutes, you're fully informed and ready to start another great day in our city.
Get connected with our daily update
(Capital Metro)
This story was updated at 11:30 p.m. with the final election results.
Proposition A, which will permanently increase the city's property tax rate by 20% to help fund Project Connect, a 15-year, $7.1 billion overhaul of the local transit system, passed with over 58% of the 392,547 votes cast this election.
---
"This plan has resolved a 20-year conversation here in Austin," Capital Metro CEO Randy Clarke said at an 8:45. p.m. press conference. "It has been a long road, but we now have a data driven, community designed plan that voters are telling us they want us to build."

Gina Fiandaca, assistant city manager for mobility, elucidated on the next steps in a statement: "Our immediate next steps are to recruit and appoint the first (Austin Transportation Partnership) board, craft its first budget, and begin the environmental process for individual projects," she said.
Historic in scope, the transit plan includes two light rail lines—Austin's first ever—as well as an underground downtown tunnel and a $300 million fund for anti-displacement initiatives.
Proposition A projected to pass! (THREAD) I'm proud to live in a city that is looking to its future -- one not sati… https://t.co/8C3tHDlhQw

— Mayor Adler | 😷wear a mask. (@Mayor Adler | 😷wear a mask.)1604458909.0
Although supporters came from backgrounds as varied as real estate, business, environmental groups and racial justice activism, Proposition A has faced an uphill battle.

Two previous light rail initiatives have failed at the ballot box in the last two decades, and multiple groups, including the political action committee Our Mobility Our Future and the nonprofit Voices of Austin, vehemently oppose the effort.
Supporters, including all 11 members of Austin City Council, tout Project Connect's ability to address traffic congestion, population growth and systemic inequities.
Although the pandemic has led to more people working from home than ever, it has also created an economic recession and financial hardship for many Austinites. Building out Project Connect over the next 10 to 13 years would require workers, and so its proponents also painted it as a vehicle for job creation.
The high cost of Project Connect is merited by its high payoff, they say, emphasizing the value of public transit to essential workers, students and low-income families.
"Prop A is our chance to put our money where our mouth is," Austin Justice Coalition Executive Director Chas Moore said at a press conference last week. "It's a direct investment in the quality of the life of Black people, or brown people, for everyone who's been marching because of their skin color or their bank account or what part of town they live in."
Mobility for All, a PAC that supported Project Connect, outraised opponents, collecting more than $1 million in donations, according to campaign finance reports. Its top donors were transportation engineering firms HNTB and HDR, developers Brandywine Operating Partnership and Endeavor Real Estate Group, and Major League Soccer group Austin FC.
But Proposition A supporters worried about the role of "secret money" and misinformation leading up to Election Day.
As a PAC, Our Mobility Our Future is required to disclose its funders, who include car dealers, Republicans and long-time opponents of transit investment. They helped the group raise nearly $540,000, according to campaign finance reports.
But Voices of Austin, a nonprofit, is not beholden to the same standards. Executive Director Peck Young told Austonia that its funding comes from locals and that the group is unaffiliated with police unions or the Koch brothers. But there are no public records to verify his claims.
"I think when people are putting up dollars to influence an election, they ought to stand up and say who they are so that people can understand who it is who is sponsoring the message," Austin Mayor Steve Adler said last week.
Mayor Pro Tem Delia Garza also raised concerns about "Republican tactics of disinformation."
Both Our Mobility Our Future and Voices of Austin claimed that Proposition A would raise property taxes by around 25%. In fact, it raises the city's property tax rate by about 20%. Because city property owners also pay taxes to Austin ISD, Austin Community College, Central Health and Travis County, however, the overall increase to property tax bills will only be around 4%.
Opponents of Project Connect say the city and Capital Metro did not do enough engineering studies to back up the plan, which could end up causing budget overruns—and an increased burden to taxpayers—in the future. They also criticize the plan's reliance on federal grants, which are not guaranteed and may be jeopardized by the economic recession occasioned by the pandemic.
"This is not a time for useless higher taxes, penalizing struggling businesses, homeowners, and renters," OMOF donor Jim Skaggs and analyst Roger Falk wrote in a recent opinion piece. "We need to reach a stable economic condition, with COVID-19 under control."
They also characterize light rail as old-fashioned and possibly made obsolete by COVID-19, which has seen many companies adopt long-term work-from-home policies. As an alternative to public transit, Our Mobility Our Future suggests new mobility technologies—from autonomous vehicles to electric scooters—will be widespread enough to serve Austin's growing population by the time Project Connect is built out.
Proposition B
Voters also approved another local mobility initiative, Proposition B, an active $460 active mobility bond that would increase the city's property tax rate by 2 cents over the next six years. Dollars will go toward sidewalks, urban trails, bikeways and Vision Zero, a campaign to eliminate traffic fatalities and serious injuries.
Of the 386,837 votes tallied, 67.39% were in support of the bond.
Austin City Council voted 9-1 to include Proposition B in this election, with District 6 Council Member Jimmy Flannigan opposing and District 10 Council Member Alison Alter abstaining.
Tesla's new Gigafactory in Austin has done more than tack on national headlines: it's also reshaping Riverside and the rest of southeast Austin.
Michele Bryant, manager of Treehouse Apartments on Oltorf Street, said that "low availability (and) heavy demand" is ending previous specials and sales at the complex as Tesla employees take root in the area.
"We leased 13 units to Tesla employees in the last two months and many more are inquiring daily," Bryant said.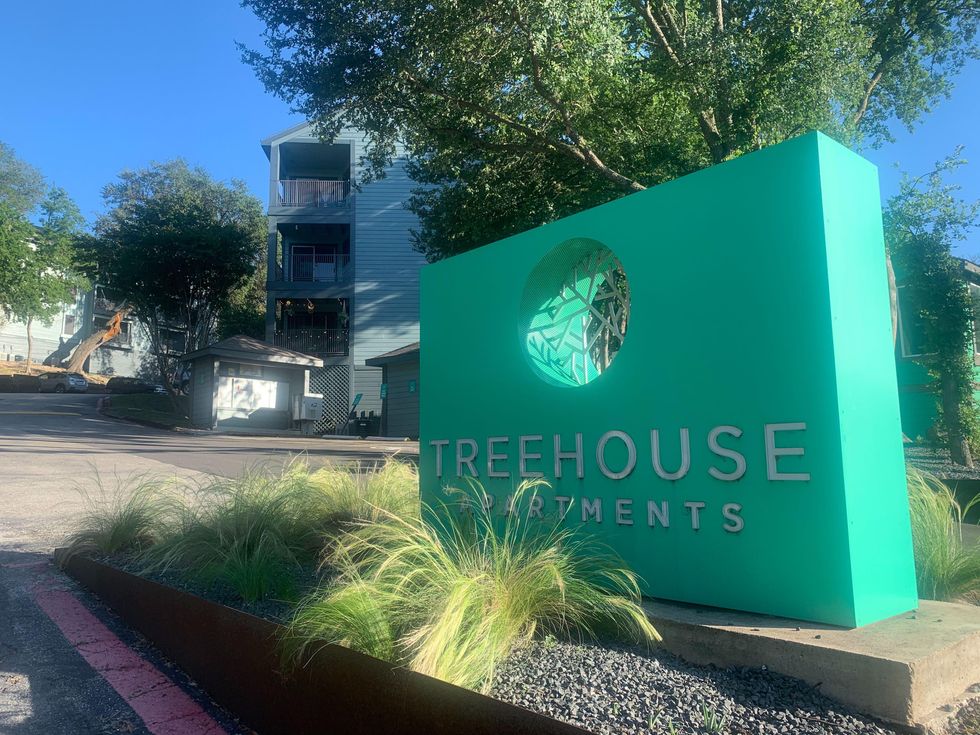 (Claire Partain/Austonia)
Tesla's Giga Texas is located 15 miles from Riverside's hub and sits near another southeast Austin feature, Austin-Bergstrom International Airport. Though the Gigafactory won't be complete until the end of the year, the company is hiring droves of new workers. In April, Tesla CEO and Austin resident Elon Musk tweeted, "Over 10,000 people are needed for Giga Texas just through 2022!"
Austin Board of Realtors President Susan Horton said that the influx of tech companies has affected where people choose to move within the Austin metro. "We are projected to have 35,000 new jobs here by the end of the year because of just the tech industry," Bryant said. "Tech is booming, and they want to be as close to those areas as they can."
The effects of the ongoing tech and California migration have already been felt throughout Austin, but areas with close proximity to the companies' headquarters, including Pflugerville and Riverside, are seeing the biggest changes to their communities.
when i moved to austin just 10 years ago the east side was where my community was, where i went to feel like i was home, even with the riverside college kids. but even then it was much smaller. now since the tech boom's gentrification east side is nearly lost -- https://t.co/ppbX0MQ8WX
— Kate Sánchez⁷ (@OhMyMithrandir) June 6, 2020
Road construction plagues much of Oltorf, the street parallel to the south of Riverside, and new apartments are constantly being reconstructed or remodeled to match increasing demand.

East Riverside-Oltorf has been known for slightly higher crime rates, but it's also an affordable oasis amid the sky-high Austin housing market. Young people starting their careers flock to the area, which has an average 1-bedroom rent at $150 cheaper than the rest of Austin and half the price of rent downtown, according to Zumper.
But a change in landscape means a change in price. At Treehouse, there's more interest than there is room, and Bryant said the complex ended a special because they simply don't need it to bring people in.
On Riverside and nearby Oltorf Street, new high rises catered to young people stand half-built, and existing properties are constantly undergoing remodels.
Bryant, who has worked at Treehouse Apartments for two years, has already noticed changes to the neighborhood.
"I have noticed more mid-rise properties being built," Bryant said. She added it is "most likely due to tech and Tesla housing needs."
The neighborhood that is dotted with taco trucks and Austin treasures, such as Emo's Austin and Buzz Mill, is now slated for a revamp that mirrors The Domain in North Austin.
The project, nicknamed "The Domain on Riverside," is a 10 million-square-foot project approved by Austin City Council in October of 2019. The behemoth, labeled River Park, would double the size of its North Austin counterpart. The project could take over two decades to build, with its first phase set to be complete in 2023.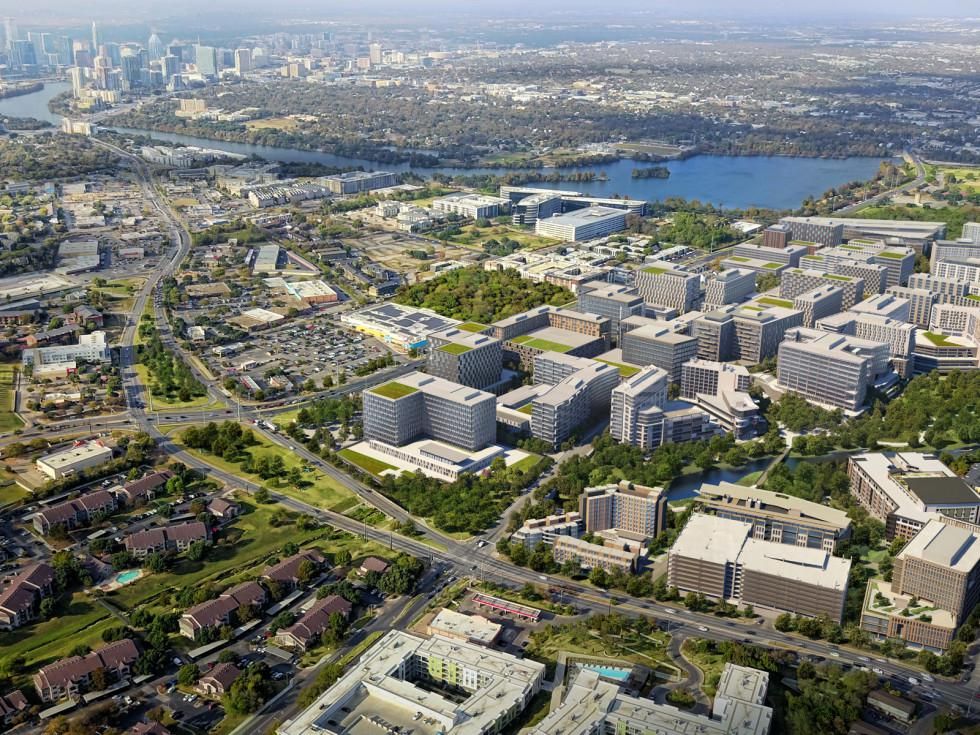 Rendering of River Park.
While some, including the project's developers, say the development will help add affordable housing and bring business into the area, others such as Save Our Hoodz, a local organization bringing attention to displacement, say the project contributes to gentrification.
The development is part of a bigger-scale operation adopted by the city in 2010. The East Riverside Corridor Master plan intends to bring more green space and walkability to the area, but it's also led to increased interest from cash-happy investors.
With Oracle bordering Riverside to the north and Tesla to the east, a change in landscape has already begun, and a transformation of the area seems almost guaranteed.
Is it just us, or is the current Austin mask situation confusing? Are we supposed to wear a mask or not, and where? And should we wear one anyway, even if not requested or required?
Austin health orders requiring masks expire Tuesday. What then?
Take our three-question quiz, and tell us what you're thinking.
Matthew McConaughey is reportedly weighing a run for Texas governor in 2022.
The Austin resident and Oscar winner has been "quietly making calls to influential people in Texas political circles, including a deep-pocketed moderate Republican and energy CEO" as he decides whether to run, according to Politico.
McConaughey said a gubernatorial run is "a true consideration" while on a March episode of Houston's "The Balanced Voice" podcast.
Although most political strategists doubt McConaughey's commitment and viability as a candidate, some are still intrigued by the possibility.
"I find it improbable, but it's not out of the question," Karl Rove, a top Republican strategist with a long history in Austin, told the political news site. He added that the big question is whether McConaughey would run as a Republican, a Democrat or an independent.
Brendan Steinhauser, an Austin-based GOP strategist, told Politico he's surprised McConaughey isn't being taken more seriously. "Celebrity in this country counts for a lot," he said. "It's not like some C-list actor no one likes. He has an appeal."

Texas Gov. Greg Abbott plans to run for a third term and remains popular among Republican voters, 77% of whom approve of his performance as of April, according to the Texas Politics Project.
Some strategists believe an independent McConaughey run would benefit Abbott. But a recent poll from The Dallas Morning News and the University of Texas at Tyler found that McConaughey would beat Abbott, 45% to 33%, with 22% opting for someone else.
Mimi Swartz, an executive editor at Texas Monthly, mulled a McConaughey run in a recent opinion essay from the New York Times. "Texas may not be ready for a philosopher king as a candidate, much less governor," she wrote. "May the best man win, man."