Get connected with our daily update
A coalition of more than 80 local organizations launched a campaign Thursday to defeat the Save Austin Now-backed Proposition A, which calls for adding hundreds of city police officers and other measures to the Austin Police Department.
---
At a gathering at the entrance to Barton Springs, speakers included two members of City Council, Vanessa Fuentes and Alison Alter, and Carol Guthrie, business manager of the American Federation of State, County, Municipal Employees, Local 1624, a union representing the city of Austin and Travis County employees.
Proposition A, put on the ballot after gaining petition signatures, seeks to:
Require minimum staffing of two officers per 1,000 residents
Require a minimum standard of 35% community response time
Add 40 hours of training
Require city council members, Mayor Steve Adler and other city staff to enroll in the Citizens Police Academy
Facilitate minority officer hiring through foreign language proficiency metrics
The proposition comes just more than a year after Austin City Council voted to cut its police budget by a third in the wake of protests against police brutality after the murder of George Floyd by Minneapolis police and killing of Michael Ramos in Austin.
"Prop A is a total reversal of the shift that Austin went through during and after the protests of the summer of 2020," said Chas Moore, founder of the Austin Justice Coalition. "We need every Austinite who posted a black square last summer, every Austinite who marched with us down Congress Avenue, every resident who called into council… to vote no way on Prop A."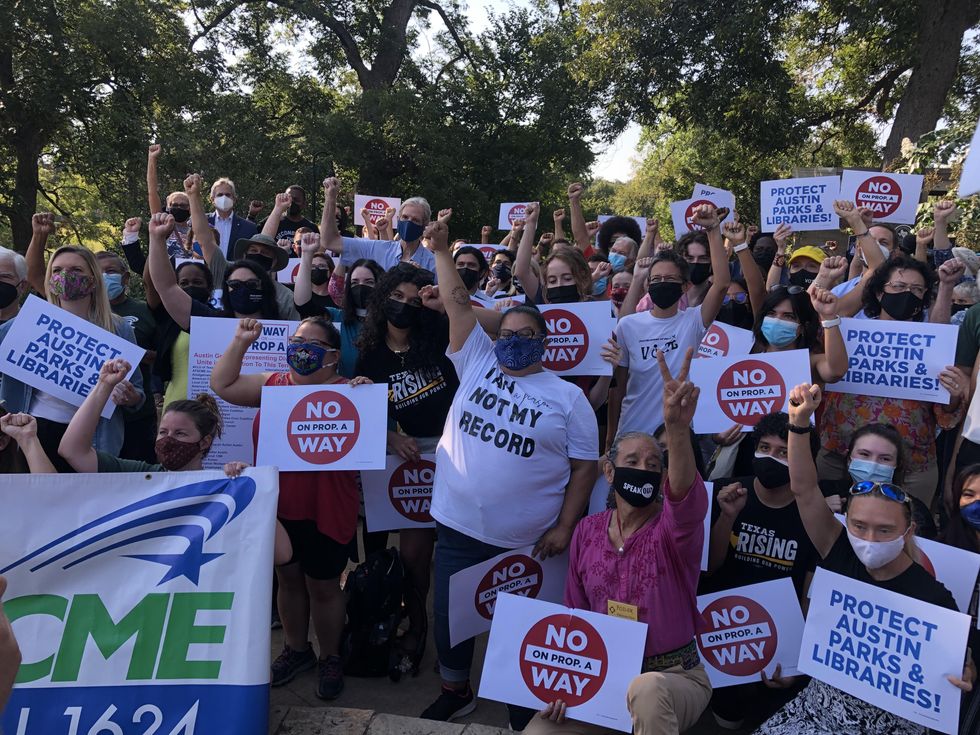 Members of the coalition to defeat Prop A raise their fists. (Abe Asher/Austonia)
They are facing a strong political organization. Save Austin Now launched the proposition following their successful spring campaign to criminalize houseless camping in the city, which overwhelmingly. This proposition would install minimum police staffing levels for APD and add training requirements for officers among other initiatives.
"Our city can afford the same number of police officers that the city authorized just two years ago. City Hall may not support law enforcement, but city residents do," Save Austin Now co-founders Matt Mackowiak and Cleo Petricek said in a statement.
If passed, the city's budget office has estimated that it could cost as much as $120 million each year for the next five years.
Barring a tax increase, that money might come out of other areas of the city's budget, mentioned by attendees. The Barton Springs setting was no coincidence. Some held signs that read "PROTECT AUSTIN PARKS & LIBRARIES!"
"If Prop A passes, all of these services will be on the chopping block," City Council Member Vanessa Fuentes, who represents southeast Austin, said. "We're talking about neighborhood public libraries, neighborhood swimming pools, mental health services, and many other services that would no longer be accessible."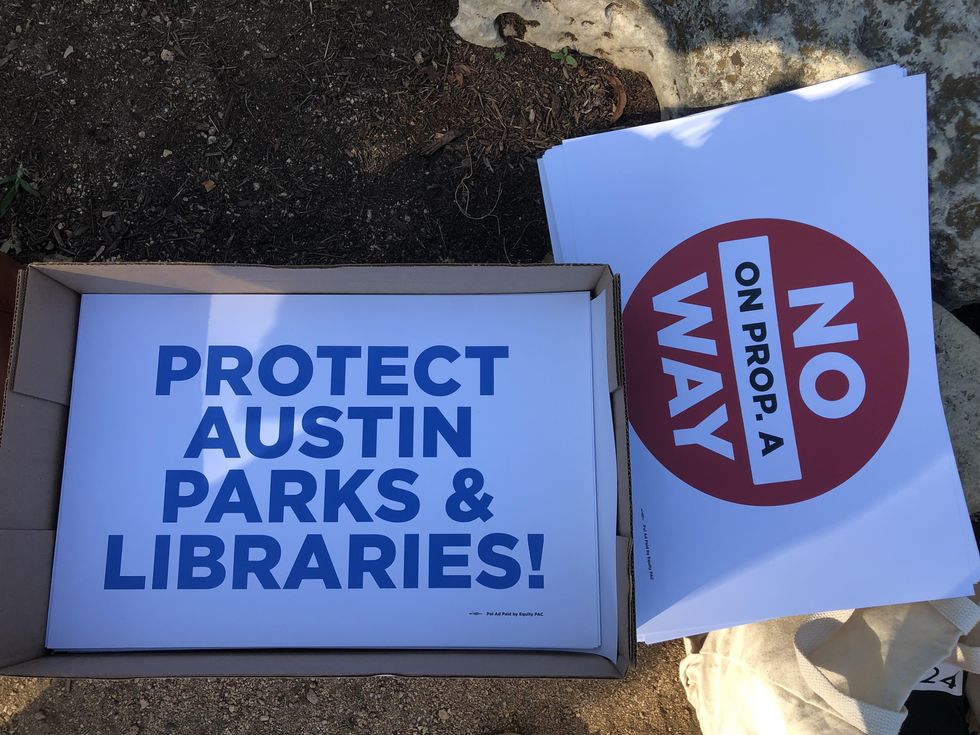 Anti-Prop A signs were distributed at the event. (Abe Asher/Austonia)
Democrats in the area are overwhelmingly opposed to the plan. Katie Naranjo, chair of the Travis County Democratic Party, painted Save Austin Now as deceptive in a message similar to one propagated by Adler last month.

"They call themselves by another name," Naranjo said of Save Austin Now. "They're a wolf in sheep's clothing. If you signed the Republican Party's petition and you're a Democrat, you're not a bad person. You were lied to."
Save Austin Now has bipartisan leadership, though members of its board are affiliated with the Travis County Republican Party and Austin Police Association.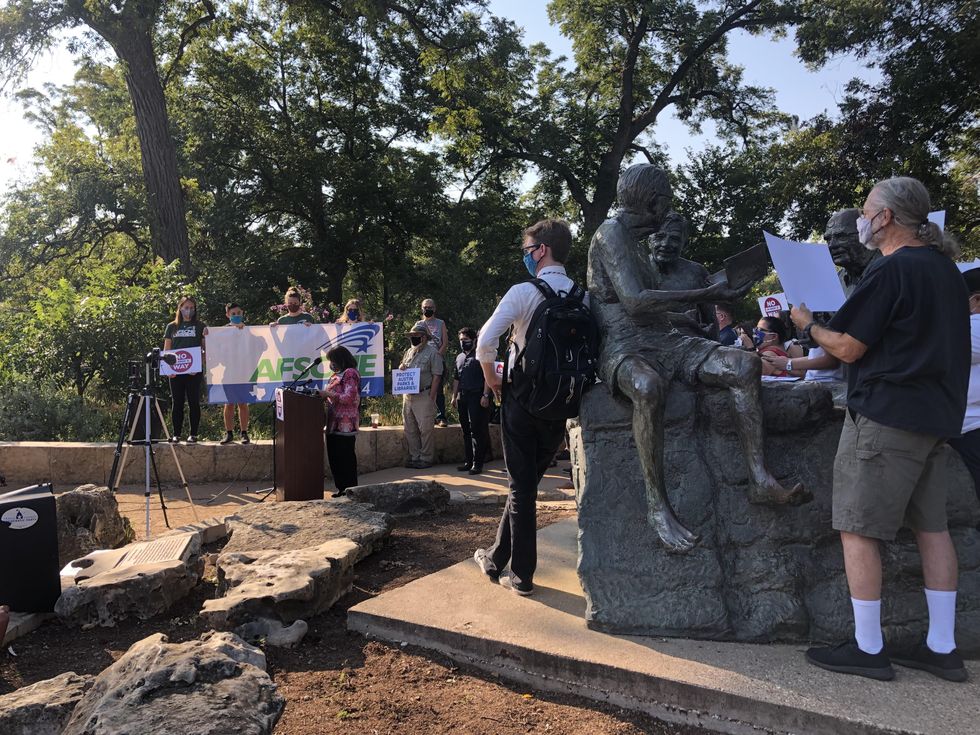 Attendees listen to AFSCME Local 1624's Carol Guthrie address the event. (Abe Asher/Austonia)
Prop A backers argue that increased crime in Austin since the outbreak of the pandemic means that the city needs to employ more police officers. Austin has seen a spike in murders in 2021 in line with a national increase, even as the rate of violent crime nationally has remained steady.
"This is a straight attack on Black, Brown and Indigenous folks that have been saying for years that we need to change the way we do things," Moore said. "The way we do policing now does not make us feel safe. We don't need more cops, we need more resources."
Early voting begins on Oct. 19.
East Austin restaurant la Barbecue has been robbed a third time in less than three months, according to a post on the restaurant's Instagram.
In the post, the restaurant included photos of what appeared to be a man exiting a minivan from surveillance footage.
"This guy pulled up in a car full of stuff… he ripped our gate open and stole a couple empty kegs," the post said. "The ring system scared him off so he did not venture back into the area. PLEASE EVERYONE ON THE EAST SIDE BE CAREFUL!!! This guy goes back into his car to grab something before he goes in. I am hoping he won't be back!!"
The robbery comes as many restaurant and food truck owners have been on guard from recent break-ins. East Austin cheesesteak truck R&B's Steak and Fries has also been robbed three times in around three months, according to owner Kris Elliott. Elliot said the truck was last robbed around a month and a half ago.
"When the weather gets cold, it seems like these things start to happen more often," Elliott said. "We're just happy no one got hurt."
Additionally, he said all 5 of the food trucks in their lot have experienced burglaries. The landlord of the space is taking action by investing in alarm and camera systems. "Been very tough dealing with this problem as us small business owners are just trying to survive during the pandemic," Elliott said.
And it's not just in East Austin. North Austin restaurants Eldorado Cafe and Chez Zee Bistro were both broken into and robbed on the weekend of Jan. 8, while over a dozen food truck robberies and break-ins were reported in the latter half of 2021.
Some, like Chez Zee's Deborah Velasco, wonder if the understaffed Austin Police Department's decision to no longer respond to non-emergency calls is part of the problem. Xose Velasco, owner of East Austin's Discada, said owners are keeping their guard up in the wake of the robberies as he was robbed twice within a month of reopening in November 2021.
"We try to keep the lights on," Velasco said. "We're a little bit more careful."
After 12 months, the long-anticipated massive Tesla factory in Southeast Travis County is up and operating and everyone wants a look inside.
Phase 1 of Giga Texas appears to be tied up as production of the Model Y Tesla is underway, the electric car company revealed on Wednesday in its fourth-quarter earnings call. The factory, located on the former Harold Green-turned Tesla Road, sits on more than 2,000 acres of land in southeast Travis County.
Here's a glimpse inside the factory.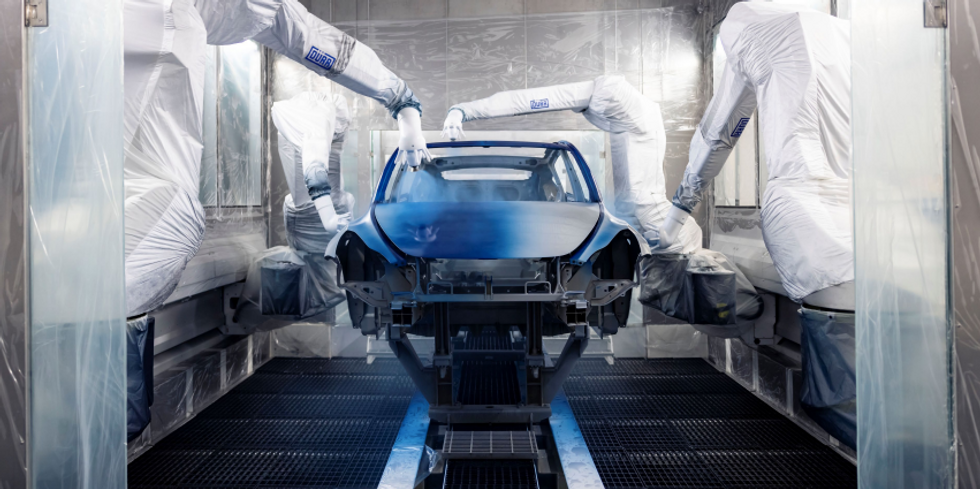 (Tesla)
Model Ys will be the first Teslas to come out of Giga Texas with an estimated delivery of August. The wait estimate comes after Tesla noted supply chain issues have affected their factories, which have been running below capacity for several quarters. A deep blue metallic like this goes for $1,000 more than a white or silver Model Y, totaling $61,990.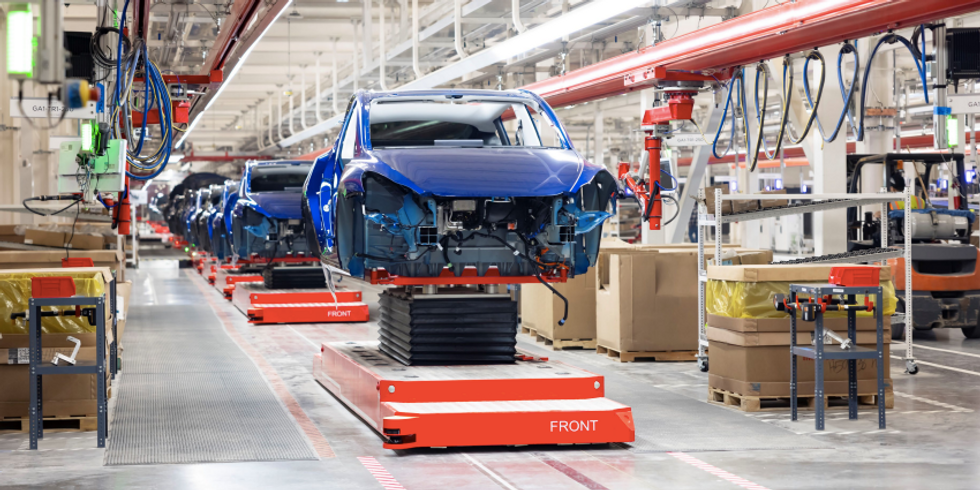 Model Ys began being produced at Giga Texas at the end of 2020. In general assembly at the factory, the Teslas get their major interior components to finish the vehicle.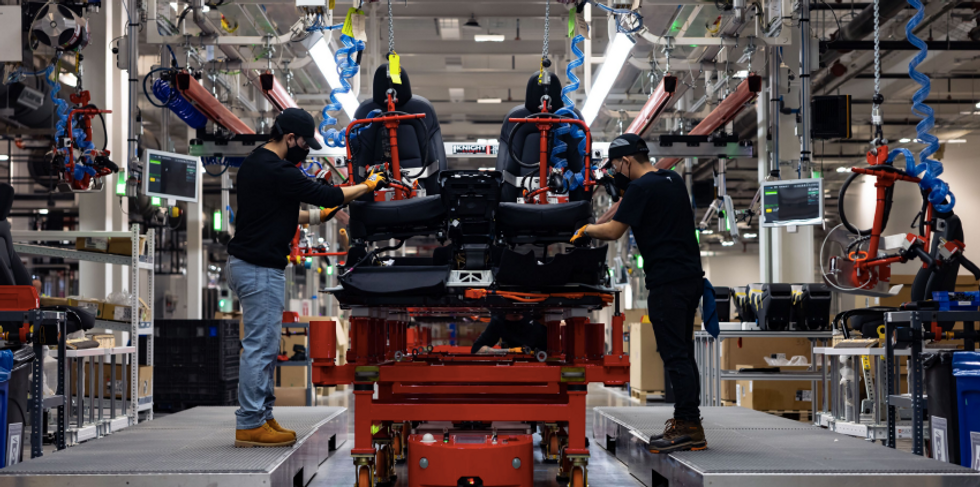 (Tesla)
Workers at Austin's Gigafactory are attaching seats to a structural battery pack. It's been described by some as the biggest difference between Texas-made Model Y's and the current version at the Fremont, California factory. It shouldn't have a major impact on the owner's experience, but Tesla has updated instructions for the jacking procedure, as the lift points are different.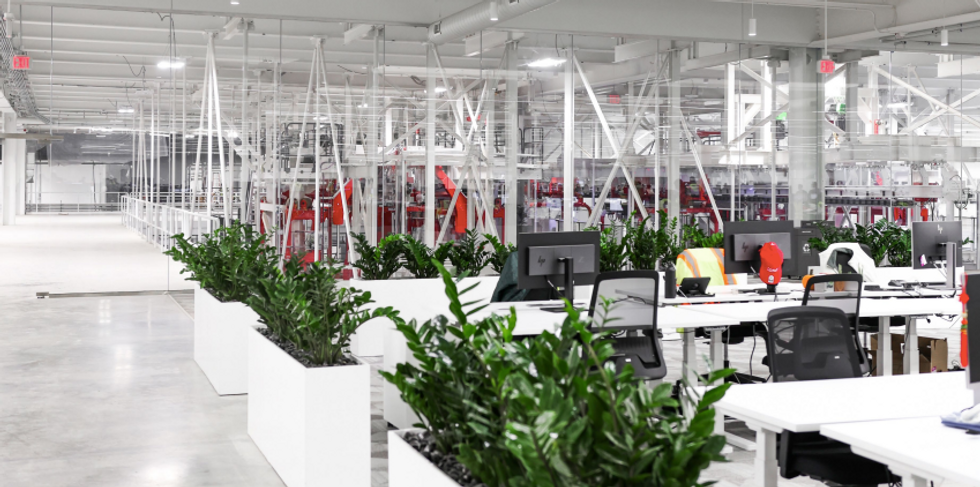 With a sleek, open office setup, workers can take in a view of the factory from their seats. It's a component CEO Elon Musk wanted for what is now the headquarters of Tesla.
On the Austin, Texas public location Snapchat, a photo of inside Giga Texas has appeared. On the left you can see a sneak peek of a Model Y body.pic.twitter.com/N7zliZ5vkL

— Sawyer Merritt (@Sawyer Merritt) 1643081462
With Snapchat's maps, anyone can look at everyday activity happening at the factory. To view these geographically-linked stories, click the bottom left "map" icon and search "Tesla Giga Texas." Once you've found it, you can view the Snapchat story of those in and around the facility. While most stories stay up for only 24 hours, Giga Texas is a designated place on Snapchat, allowing users to view a collection of photos and videos from the inside.
Following Model Ys, Texas-made Teslas will include the Cybertruck, Semi and Model 3. But it might be a while before those other models arrive. EV makers have been hit hard by the chip shortage, and it's thought that changing features are contributing to Cybertruck delays as Tesla works to compete in the electric pickup market.
Joe Rogan paid a visit to buddy Elon Musk this week. The two have been seen around town since both moving to Texas. Naturally, Rogan was impressed with the prototype.
If you're dying to get a closer look at this factory, you just might get to. In December, Musk said the factory would have tours available to the community early this year.