Get connected with our daily update
A coalition of more than 80 local organizations launched a campaign Thursday to defeat the Save Austin Now-backed Proposition A, which calls for adding hundreds of city police officers and other measures to the Austin Police Department.
---
At a gathering at the entrance to Barton Springs, speakers included two members of City Council, Vanessa Fuentes and Alison Alter, and Carol Guthrie, business manager of the American Federation of State, County, Municipal Employees, Local 1624, a union representing the city of Austin and Travis County employees.
Proposition A, put on the ballot after gaining petition signatures, seeks to:
Require minimum staffing of two officers per 1,000 residents
Require a minimum standard of 35% community response time
Add 40 hours of training
Require city council members, Mayor Steve Adler and other city staff to enroll in the Citizens Police Academy
Facilitate minority officer hiring through foreign language proficiency metrics
The proposition comes just more than a year after Austin City Council voted to cut its police budget by a third in the wake of protests against police brutality after the murder of George Floyd by Minneapolis police and killing of Michael Ramos in Austin.
"Prop A is a total reversal of the shift that Austin went through during and after the protests of the summer of 2020," said Chas Moore, founder of the Austin Justice Coalition. "We need every Austinite who posted a black square last summer, every Austinite who marched with us down Congress Avenue, every resident who called into council… to vote no way on Prop A."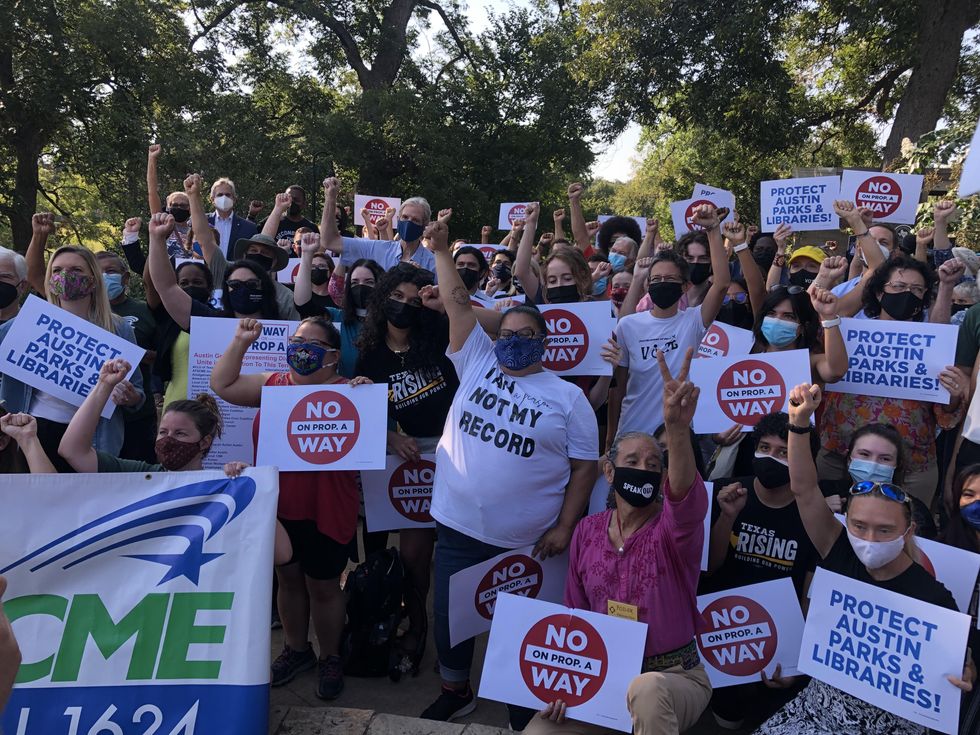 Members of the coalition to defeat Prop A raise their fists. (Abe Asher/Austonia)
They are facing a strong political organization. Save Austin Now launched the proposition following their successful spring campaign to criminalize houseless camping in the city, which overwhelmingly. This proposition would install minimum police staffing levels for APD and add training requirements for officers among other initiatives.
"Our city can afford the same number of police officers that the city authorized just two years ago. City Hall may not support law enforcement, but city residents do," Save Austin Now co-founders Matt Mackowiak and Cleo Petricek said in a statement.
If passed, the city's budget office has estimated that it could cost as much as $120 million each year for the next five years.
Barring a tax increase, that money might come out of other areas of the city's budget, mentioned by attendees. The Barton Springs setting was no coincidence. Some held signs that read "PROTECT AUSTIN PARKS & LIBRARIES!"
"If Prop A passes, all of these services will be on the chopping block," City Council Member Vanessa Fuentes, who represents southeast Austin, said. "We're talking about neighborhood public libraries, neighborhood swimming pools, mental health services, and many other services that would no longer be accessible."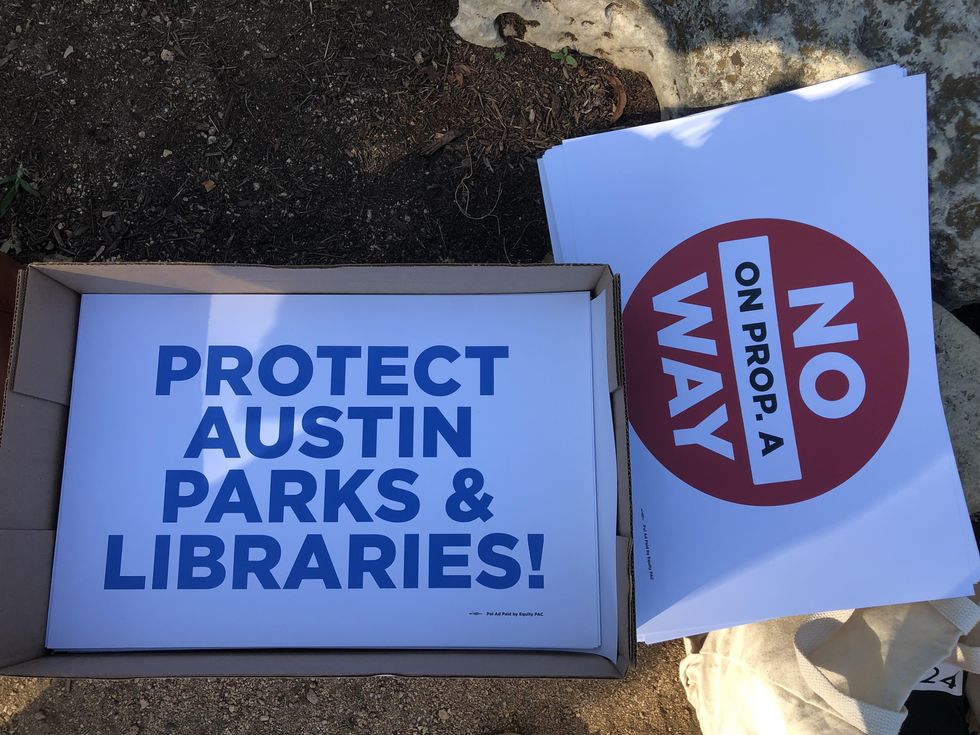 Anti-Prop A signs were distributed at the event. (Abe Asher/Austonia)
Democrats in the area are overwhelmingly opposed to the plan. Katie Naranjo, chair of the Travis County Democratic Party, painted Save Austin Now as deceptive in a message similar to one propagated by Adler last month.

"They call themselves by another name," Naranjo said of Save Austin Now. "They're a wolf in sheep's clothing. If you signed the Republican Party's petition and you're a Democrat, you're not a bad person. You were lied to."
Save Austin Now has bipartisan leadership, though members of its board are affiliated with the Travis County Republican Party and Austin Police Association.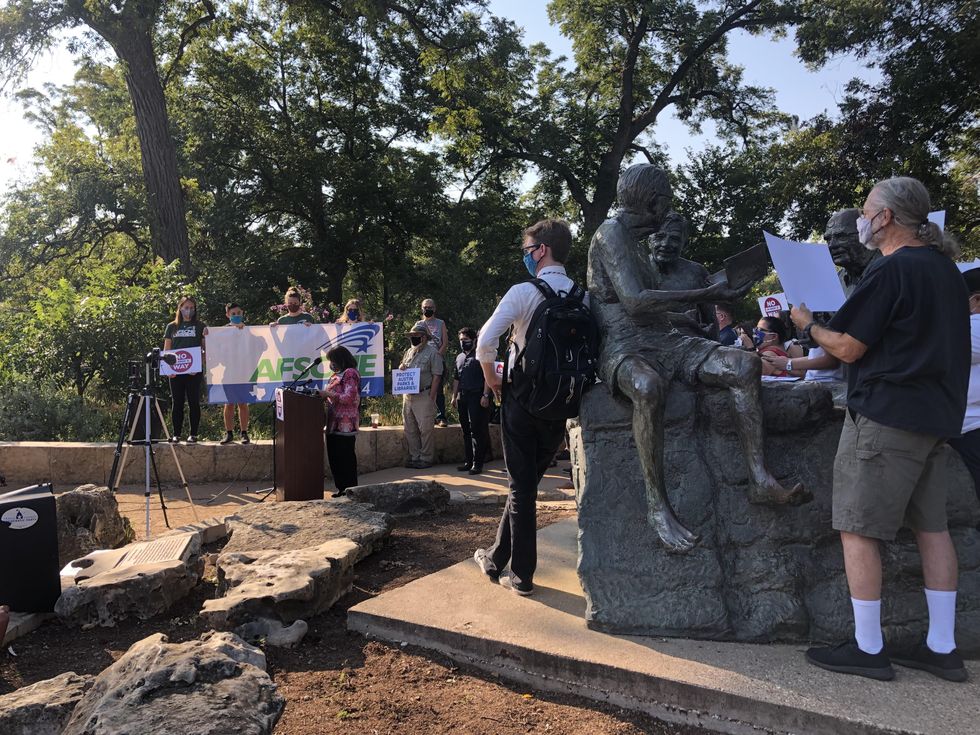 Attendees listen to AFSCME Local 1624's Carol Guthrie address the event. (Abe Asher/Austonia)
Prop A backers argue that increased crime in Austin since the outbreak of the pandemic means that the city needs to employ more police officers. Austin has seen a spike in murders in 2021 in line with a national increase, even as the rate of violent crime nationally has remained steady.
"This is a straight attack on Black, Brown and Indigenous folks that have been saying for years that we need to change the way we do things," Moore said. "The way we do policing now does not make us feel safe. We don't need more cops, we need more resources."
Early voting begins on Oct. 19.
After months of speculation, a new report says political personality Beto O'Rourke is mulling a run for Texas governor that he will announce later this year.
Sources tell Axios the former congressman is preparing his campaign for the 2022 election, where he will likely vie for the position against incumbent Gov. Greg Abbott. The only other candidate that has announced he will take on Abbott for governor is former Texas GOP Chairman Allen West—no Democrats have announced they are running as of yet.
"No decision has been made," Axios reports David Wysong, O'Rourke's former House chief of staff and a longtime adviser, said. "He has been making and receiving calls with people from all over the state."
A new poll from The Dallas Morning News and University of Texas at Tyler shows O'Rourke is narrowing the gap between himself and Abbott's prospects for governor. In the poll, 37% said they'd vote for O'Rourke over Abbott, while 42% said they'd vote for Abbott.
Abbott has been in the hot seat due to his handling of COVID-19 and the signing of landmark legislation into law, including new abortion and voting rights laws; 54% of poll respondents voted they think the state is headed in the "wrong direction." Still, Texas hasn't had a Democrat as governor since the 90s.
O'Rourke's people-focused approach to the 2018 Senator race, which he lost to Sen. Ted Cruz, gave him a widespread following and many hoped he'd throw his hat into the ring since he said he was considering it earlier this year.
"We hope that he's going to run," Gilberto Hinojosa, the state chair of the Democratic Party, told Axios. "We think he'll be our strongest candidate. We think he can beat Abbott because he's vulnerable."
Austin rapper Jordi Esparza may not have won the 2021 Red Bull Batalla, the world's largest Spanish freestyle rap competition, but for a spirited two rounds, the 22-year old Mexican native looked like he had every right to.
On Saturday evening in Los Angeles, the event itself looked like Cobra Kai meets Star Search with graphics adding a very Batman Beyond aesthetic. Over a dozen rappers hoping to represent the U.S. in the international round of the competition took to the stage with in-your-face jabs at accents, sexual orientation and odors, among other things.
This was Esparza's second rodeo; he had placed third at the 2020 National Finals, automatically securing him a spot this year.
However, things were different this year. He was not nervous about the contest. Unlike in 2020, when he made his Red Bull Batalla debut, the anxiety of the event led him to "feeling so bad."
Affecting a casual calm, the locally-based landscaper said he just felt "so relaxed, so happy" and primarily wanted to "enjoy everything."
Choosing his first-round opponent, Esparza, whose stage name is Jordi, elected to go against LA-based Boss.
Esparza freestyled an attack on his opponent's weight and cholo style of dress.
Boss—bracketing his Latin freestyle with English appeals to the crowd—mocked Jordi's lack of education, made fun of how clean Jordi's shoes looked and suggested that Jordi just came back from a Footlocker.
That first round went to Jordi.
But his next opponent Eckonn would prove to be his undoing.
Eckonn compared Jordi to Hannah Montana, while Jordi soulfully explained that he had learned from the best.
Esparza's verbal dexterity is matched by a rattling rhythm and a game face that is as mawkish as it is mockish. The overall effect is that of an underdog with bite.
Eckonn beat Esparza in that round with the overall championship going to Palm Beach-based rapper Reverse.
However, Esparza was just happy to be there. He recently told Austonia going to the finals again was a dream come true—a pinnacle that he said he won't know how to top.
With his nimble jabs and sneaky prowess, honed from pop culture and the swagger of a young working man hungry to be more, Jordi Esparza is just getting started.