Get connected with our daily update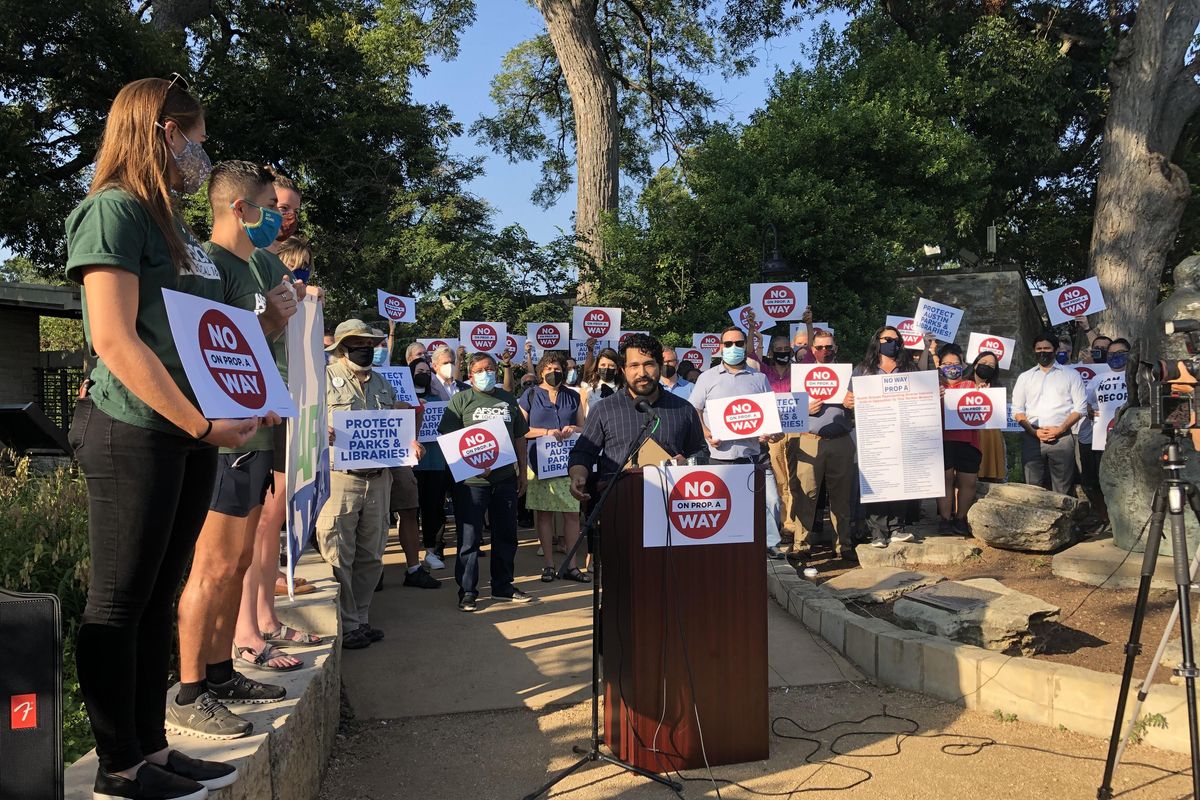 A coalition of more than 80 local organizations launched a campaign Thursday to defeat the Save Austin Now-backed Proposition A, which calls for adding hundreds of city police officers and other measures to the Austin Police Department.
---
At a gathering at the entrance to Barton Springs, speakers included two members of City Council, Vanessa Fuentes and Alison Alter, and Carol Guthrie, business manager of the American Federation of State, County, Municipal Employees, Local 1624, a union representing the city of Austin and Travis County employees.
Proposition A, put on the ballot after gaining petition signatures, seeks to:
Require minimum staffing of two officers per 1,000 residents
Require a minimum standard of 35% community response time
Add 40 hours of training
Require city council members, Mayor Steve Adler and other city staff to enroll in the Citizens Police Academy
Facilitate minority officer hiring through foreign language proficiency metrics
The proposition comes just more than a year after Austin City Council voted to cut its police budget by a third in the wake of protests against police brutality after the murder of George Floyd by Minneapolis police and killing of Michael Ramos in Austin.
"Prop A is a total reversal of the shift that Austin went through during and after the protests of the summer of 2020," said Chas Moore, founder of the Austin Justice Coalition. "We need every Austinite who posted a black square last summer, every Austinite who marched with us down Congress Avenue, every resident who called into council… to vote no way on Prop A."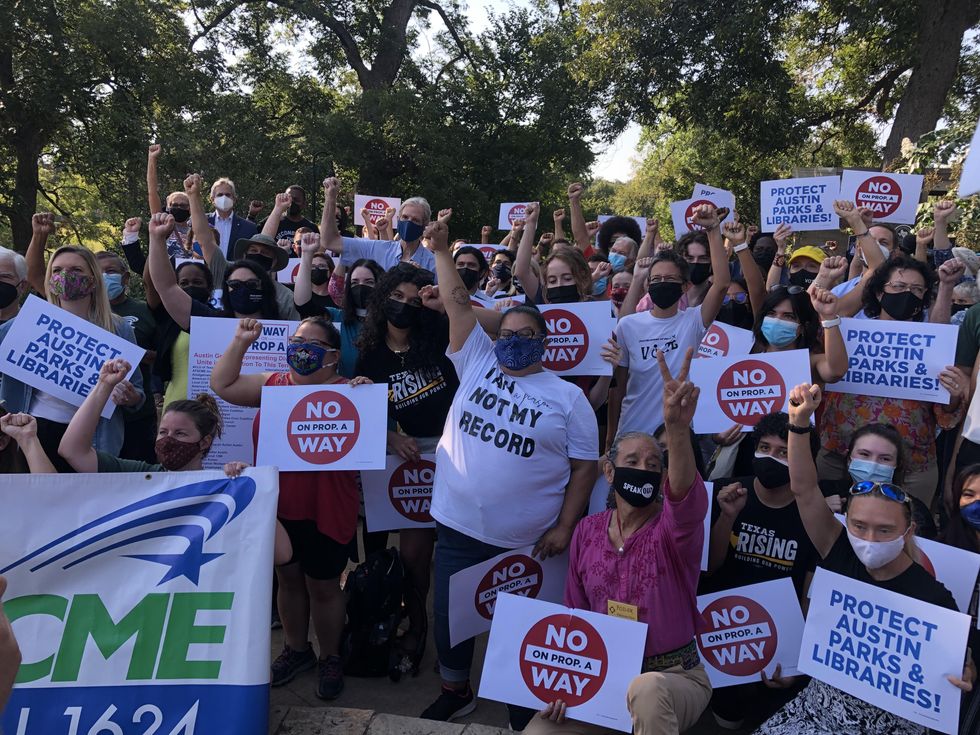 Members of the coalition to defeat Prop A raise their fists. (Abe Asher/Austonia)
They are facing a strong political organization. Save Austin Now launched the proposition following their successful spring campaign to criminalize houseless camping in the city, which overwhelmingly. This proposition would install minimum police staffing levels for APD and add training requirements for officers among other initiatives.
"Our city can afford the same number of police officers that the city authorized just two years ago. City Hall may not support law enforcement, but city residents do," Save Austin Now co-founders Matt Mackowiak and Cleo Petricek said in a statement.
If passed, the city's budget office has estimated that it could cost as much as $120 million each year for the next five years.
Barring a tax increase, that money might come out of other areas of the city's budget, mentioned by attendees. The Barton Springs setting was no coincidence. Some held signs that read "PROTECT AUSTIN PARKS & LIBRARIES!"
"If Prop A passes, all of these services will be on the chopping block," City Council Member Vanessa Fuentes, who represents southeast Austin, said. "We're talking about neighborhood public libraries, neighborhood swimming pools, mental health services, and many other services that would no longer be accessible."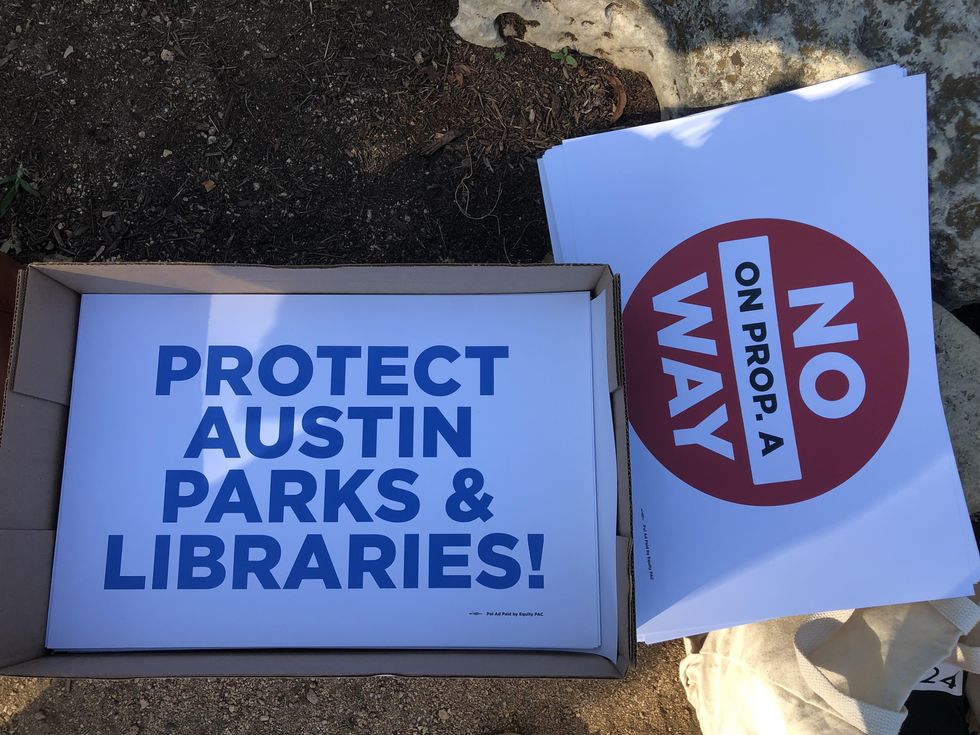 Anti-Prop A signs were distributed at the event. (Abe Asher/Austonia)
Democrats in the area are overwhelmingly opposed to the plan. Katie Naranjo, chair of the Travis County Democratic Party, painted Save Austin Now as deceptive in a message similar to one propagated by Adler last month.

"They call themselves by another name," Naranjo said of Save Austin Now. "They're a wolf in sheep's clothing. If you signed the Republican Party's petition and you're a Democrat, you're not a bad person. You were lied to."
Save Austin Now has bipartisan leadership, though members of its board are affiliated with the Travis County Republican Party and Austin Police Association.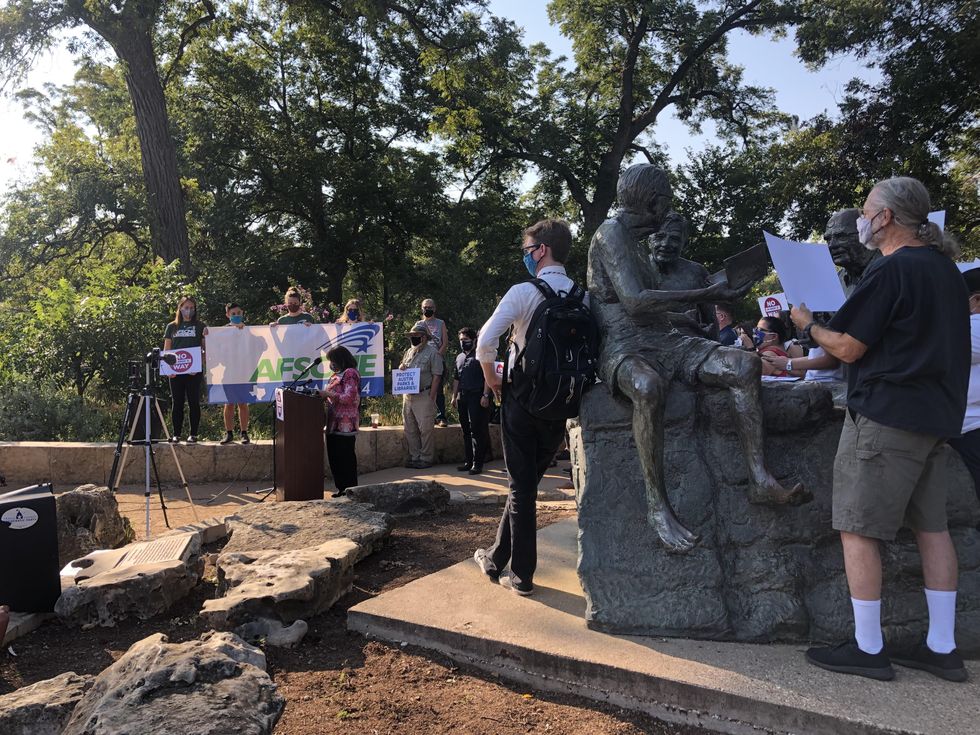 Attendees listen to AFSCME Local 1624's Carol Guthrie address the event. (Abe Asher/Austonia)
Prop A backers argue that increased crime in Austin since the outbreak of the pandemic means that the city needs to employ more police officers. Austin has seen a spike in murders in 2021 in line with a national increase, even as the rate of violent crime nationally has remained steady.
"This is a straight attack on Black, Brown and Indigenous folks that have been saying for years that we need to change the way we do things," Moore said. "The way we do policing now does not make us feel safe. We don't need more cops, we need more resources."
Early voting begins on Oct. 19.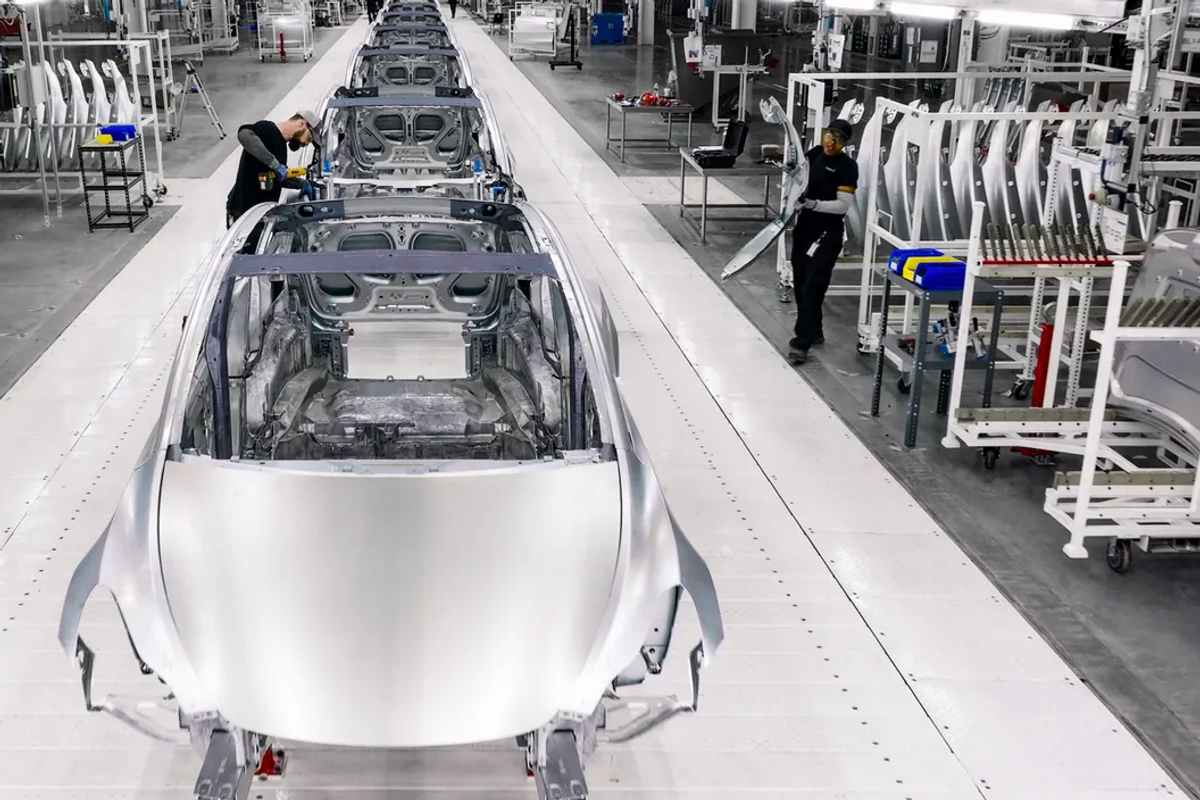 Giga Texas, the massive Tesla factory in southeast Travis County is getting even bigger.
The company filed with the city of Austin this week to expand its headquarters with a new 500,000-square-foot building. The permit application notes "GA 2 and 3 expansion," which indicates the company will make two general assembly lines in the building.
More details about the plans for the building are unclear. The gigafactory has been focused on Model Y production since it opened in April, but the company is also aiming for Cybertruck production to kick off in mid-2023.
While there is room for expansion on the 3.3 square miles of land Tesla has, this move comes after CEO Elon Musk's recent comments about the state of the economy and its impact on Tesla.
In a May interview with Tesla Owners Silicon Valley, Musk said the gigafactories in Berlin and Austin are "gigantic money furnaces" and said Giga Texas had manufactured only a small number of cars.
And in June, Musk sent a company wide email saying Tesla will be reducing salaried headcount by 10%, then later tweeted salaried headcount should be fairly flat.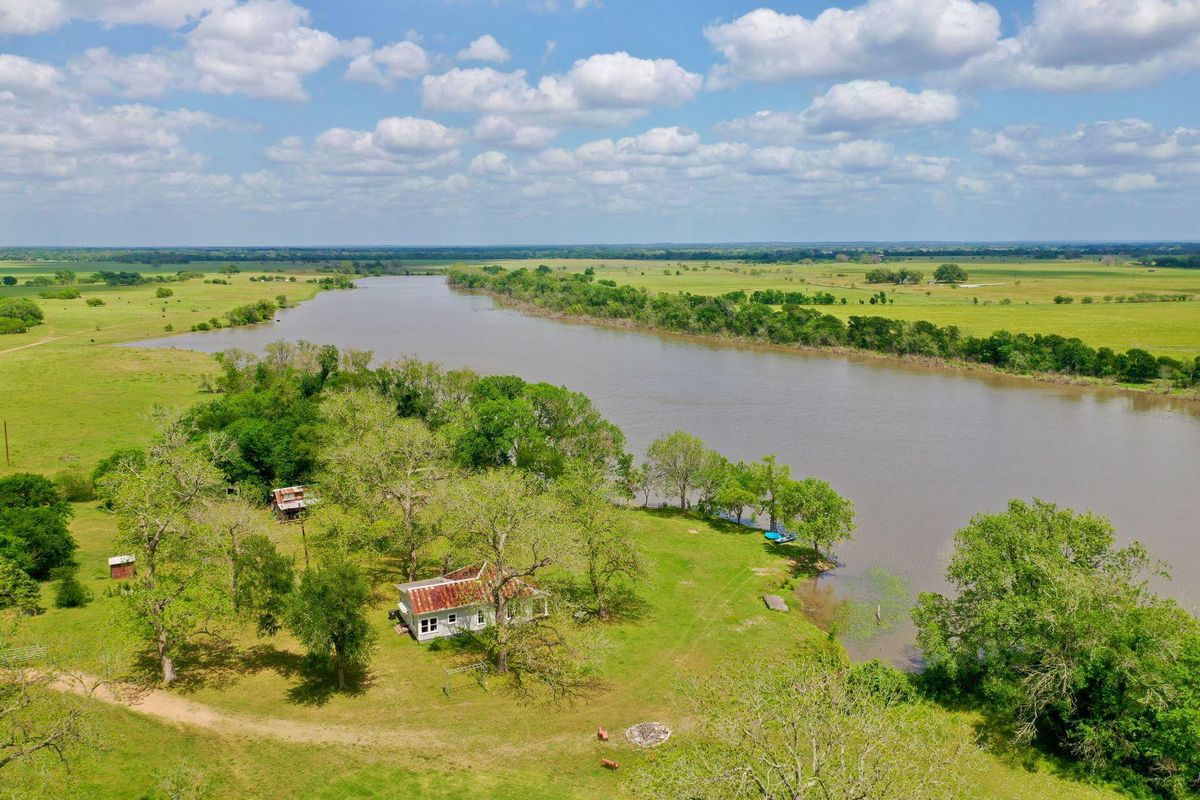 It's been a record-breaking hot summer already and Austin still has a few months of heat to weather. But the heat doesn't have to be so bad if you've got a swimming hole in your backyard, like these three ranches.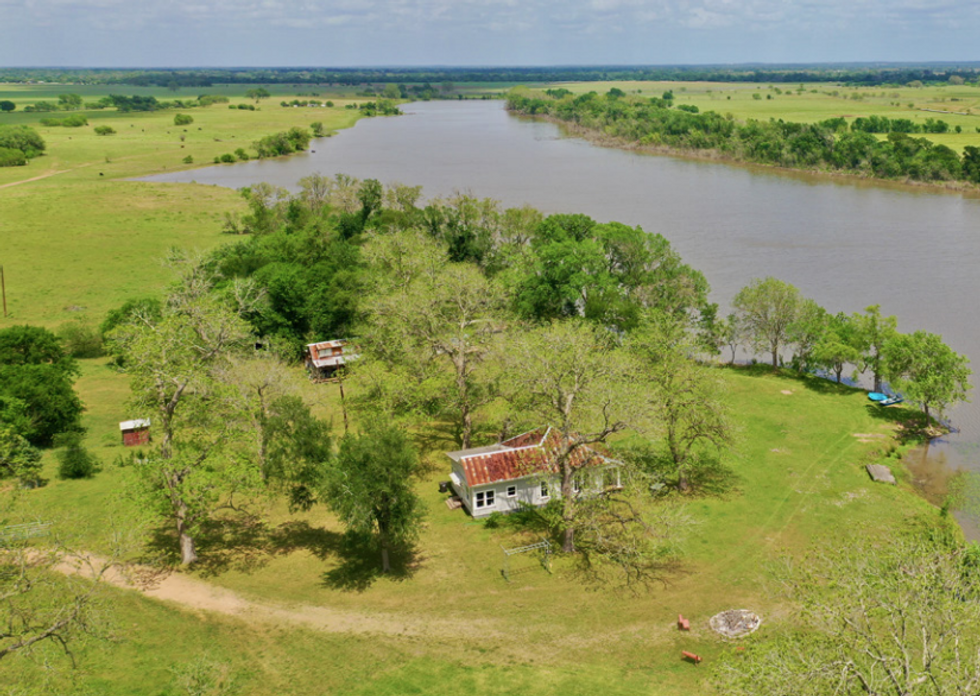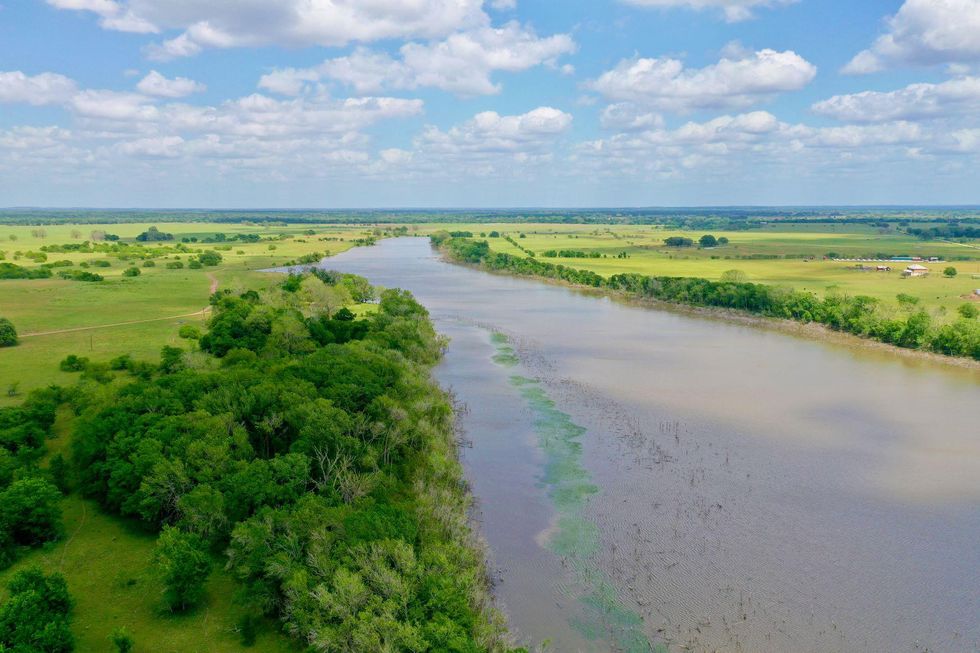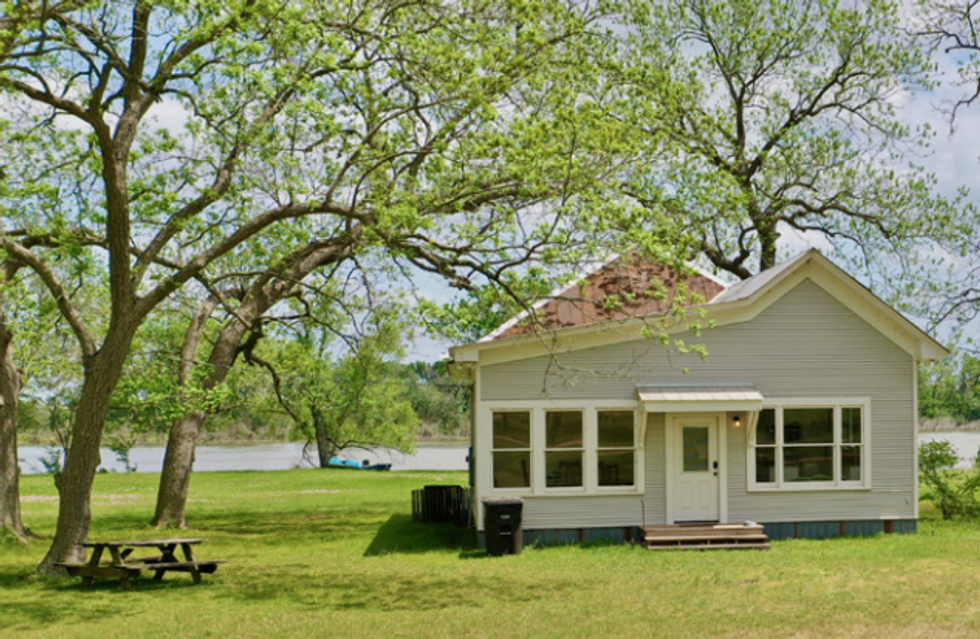 You'll have to leave city limits if you're looking for a proper ranch property like 417 Acres Shipp Lake Ranch, aptly named for its acreage. The property comes built out with three farmhouses, one of which has bedrooms and two bathrooms and two of which have two bedrooms and one bathroom. The nearly untouched property, which surrounds the 100-plus-acre Shipp Lake, has remained in the same family since the early 1900s and gives you picturesque views for the making of a dream home. In fact, the previous owners ran a water ski camp on the property.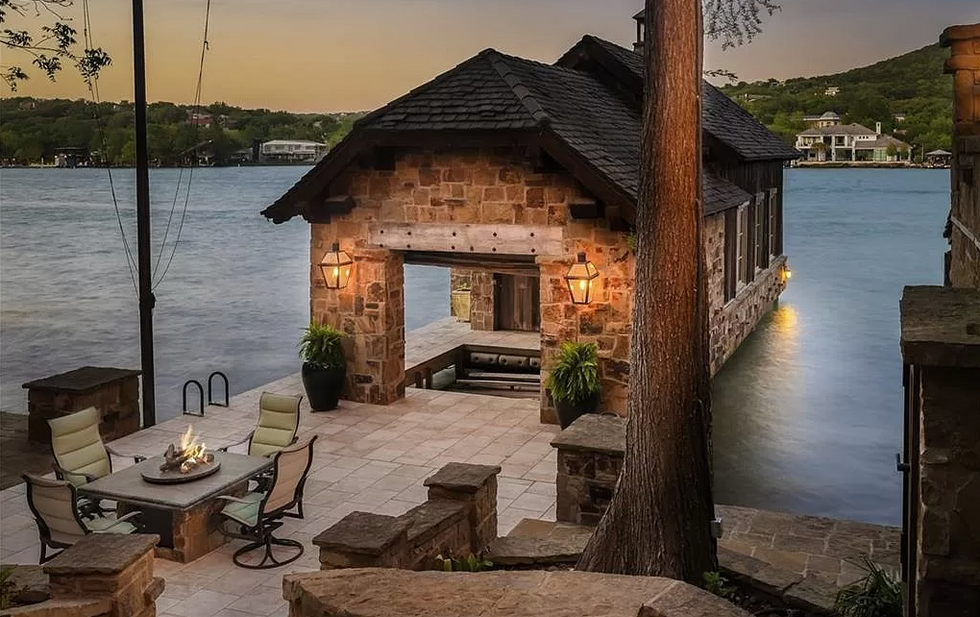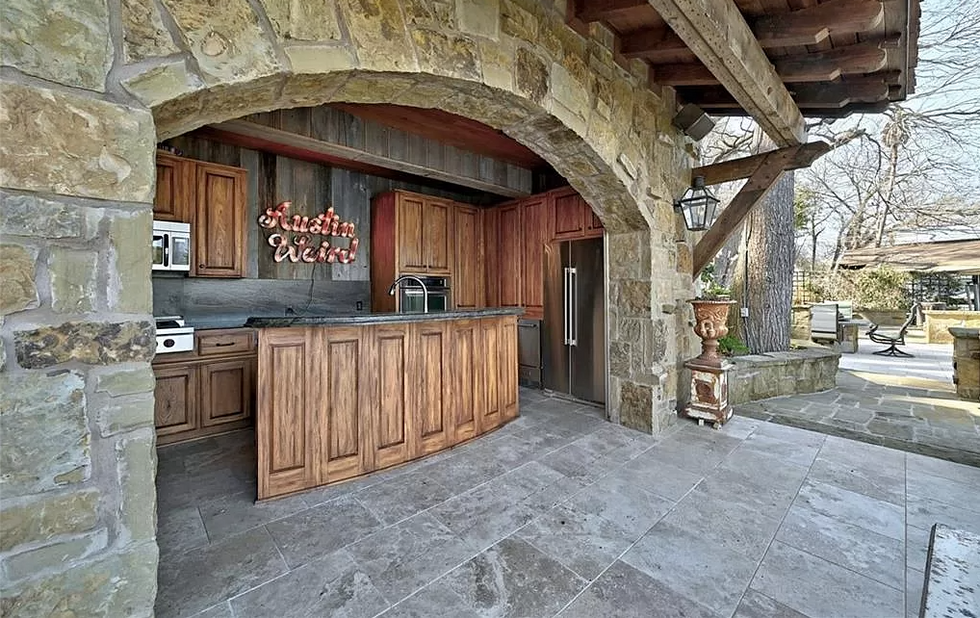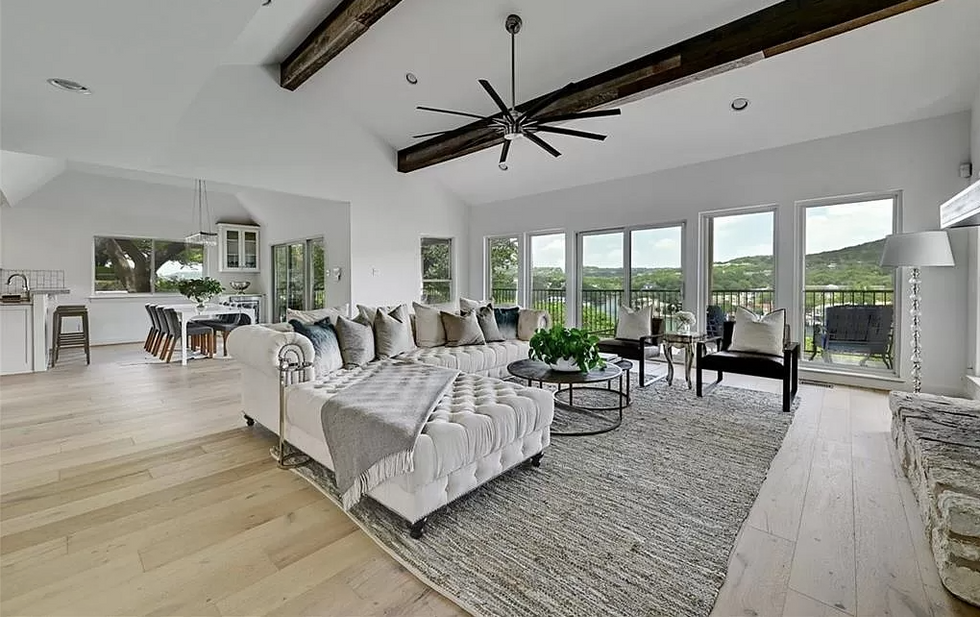 Sitting waterside on Lake Austin, this home gives you the unique opportunity to own a piece of the lush Hill Country with views of Mount Bonnell. The 2,750-square foot, three-bedroom, four-bathroom house allows you to integrate indoor and outdoor life with large windows opening to an outdoor living area. The crown jewel is the .76-acre parcel of land that tapers off to your own lakeside resort, featuring an covered outdoor kitchen, fire pit, stone boat house to store your water sports supplies and veranda sitting at the mouth of the water, perfect for an entertainer.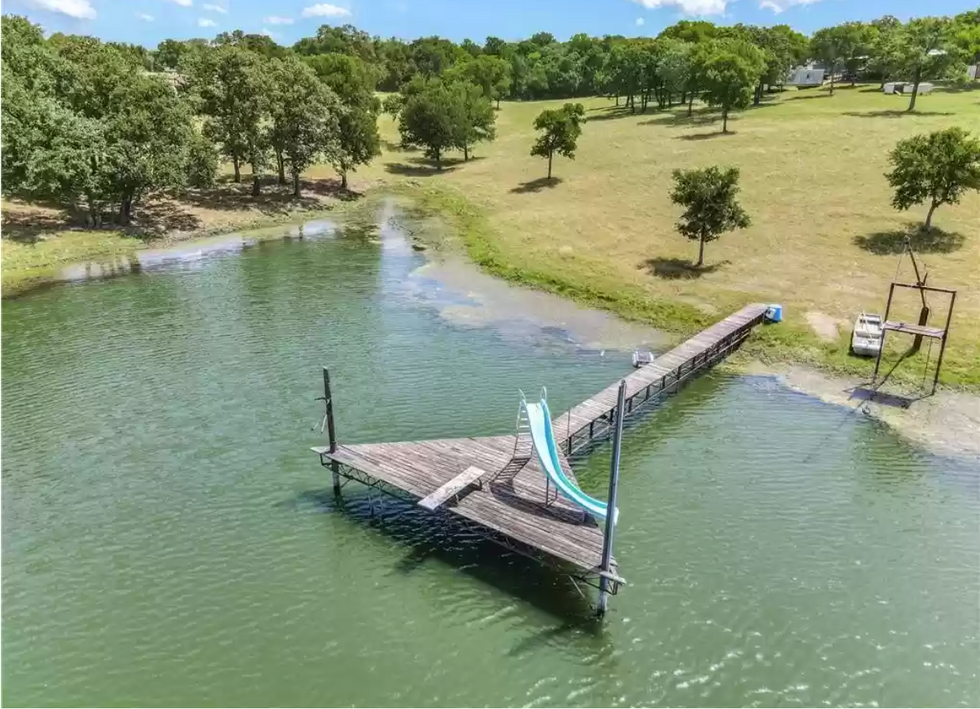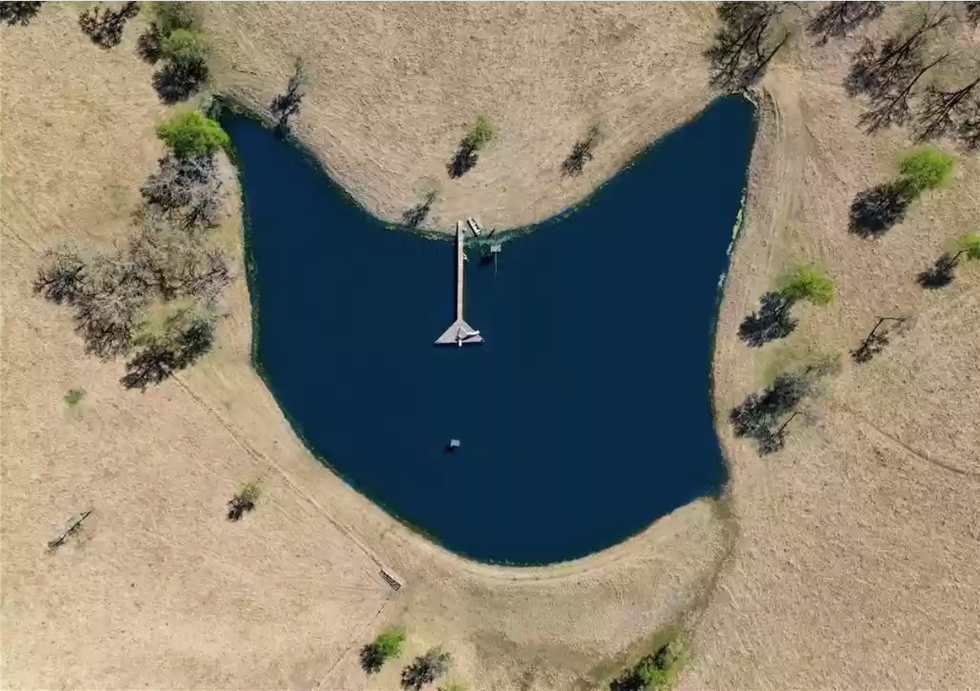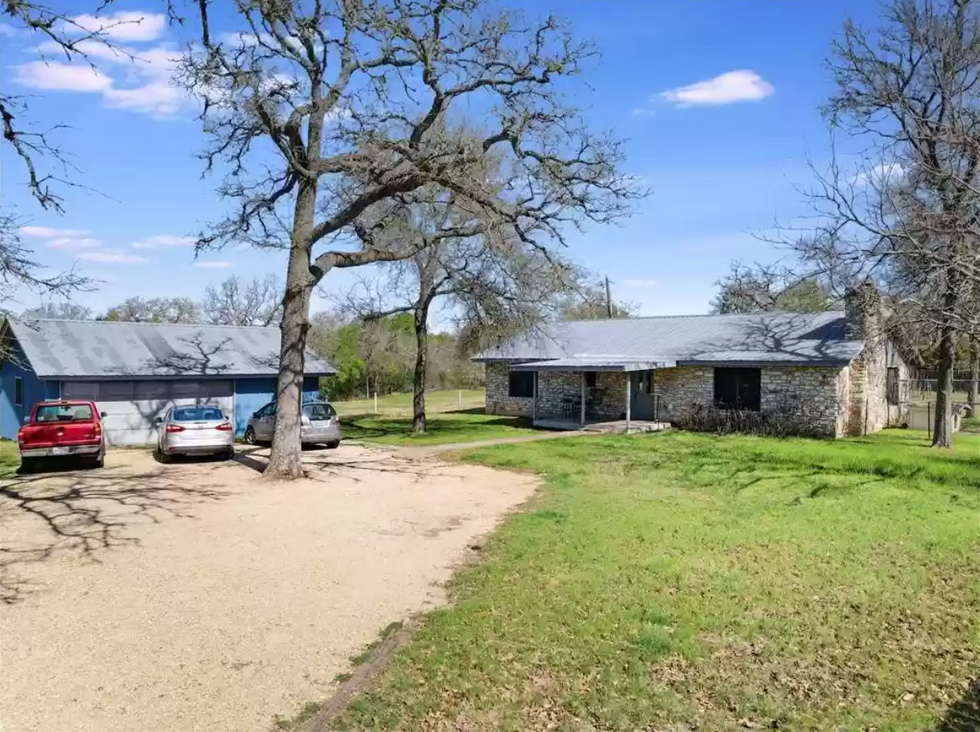 Got dreams of becoming a real Texas rancher? 7814 Brown Cemetery Rd. is the perfect place to start with 40 rolling acres of land and its very own swimming hole. Just east of Austin in Manor, the modest-on-the-outside home clocks at 4,412 square feet with five bedrooms and five-and-a-half bathrooms, but there are an additional two living structures on the property. The horseshoe-shaped pond sits in the heart of the property and comes equipped with a water slide, diving board and a fishing dock.