Get connected with our daily update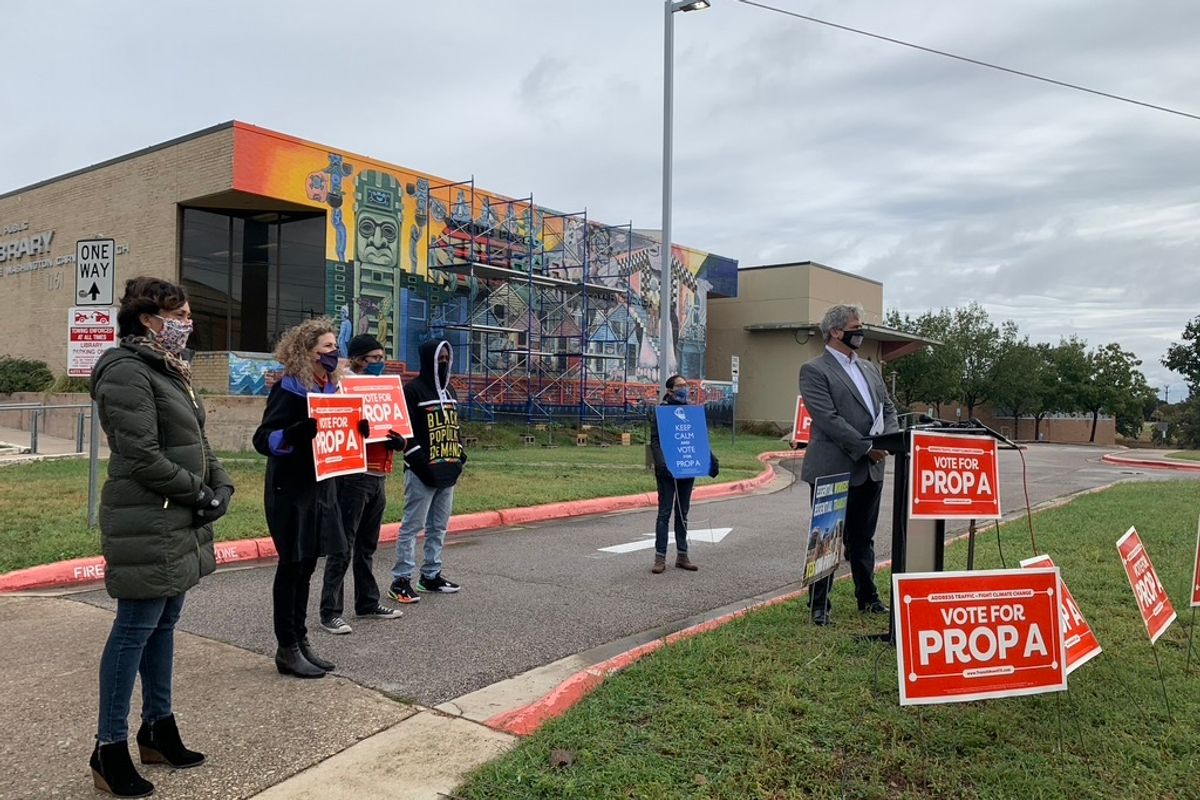 (Emma Freer)
With three more days left to vote and amid concerns about misinformation, local leaders convened Wednesday to encourage Austinites to support Proposition A, which would raise the city's property tax rate to help pay for Project Connect, a $7.1 billion plan to overhaul public transportation.
---
Mayor Steve Adler touted the benefits of Project Connect, which he said will create new jobs, provide environmental benefits, and make Austin a safer and more equitable city. He also mentioned the broad coalition of supporters, which includes business and real estate groups as well as environmental and social justice advocates.
"We must pass Proposition A so that we are not stuck in traffic, stuck in our homes and stuck in the past," he said.
Adler also cited the demographic projection that two million people will move to the metro in the next 20 years.
"If we don't do a better job of moving people around our city … then we're in trouble," he said.
Mayor Pro Tem Delia Garza, who represents District 2 on City Council, emphasized Prop A's progressive bona fides.
"It embodies our desire to be about 'we' and not 'me,'" she said.
Garza also criticized opponents of Proposition A, which include the political action committee Our Mobility Our Future and the nonprofit Voices of Austin.
"The opposition offers no solutions," she said, and has taken up "Republican tactics of disinformation."
Both groups claim that Proposition A will raise property taxes by around 25%. In fact, if approved, it will raise the city's property tax rate by about 20%. However, because city property owners also pay taxes to Austin ISD, Austin Community College, Central Health and Travis County, the overall increase in their property tax bill will be around 4%.
"I am concerned about the lies circulating this election," Adler said. "I am concerned when people might be making decisions based on signs about what this costs that are six times higher than what this will cost."
Chas Moore, the founder and executive director of the Austin Justice Coalition, also spoke in support of the proposed tax rate increase.
"Prop A is our chance to put our money where our mouth is," he said. "It's a direct investment in the quality of the life of Black people, of brown people, for everyone who's been marching because of their skin color or their bank account or what part of town they live in."
Adler pointed to the historic $300 million fund for anti-displacement initiatives included in the Project Connect budget.
"This is the project that is required to achieve mobility equity in our city," he said.
The group also addressed some of the criticisms leveled against Project Connect, including the financial hardships caused by the pandemic.
Garza said now is the time for this election given record-breaking turnout. "Why would we want to wait?" she asked.
Finally, Adler raised concerns about the role of "secret money" in the election.
As a PAC, Our Mobility Our Future is required to disclose its funders, who include car dealers, Republicans and long-time opponents of transit investment.
Voices of Austin, however, is a nonprofit and is not beholden to the same standards. Executive Director Peck Young has told Austonia that its funding comes from locals and that the group is unaffiliated with police unions or the Koch brothers. But there are no public records to verify his claims.
"I think when people are putting up dollars to influence an election, they ought to stand up and say who they are so that people can understand who it is who is sponsoring the message," Adler said.
Early voting ends on Friday, Oct. 30. Travis County residents can find early voting polling places here, where they are registered to vote here, voter identification requirements in Texas here and view their personal ballots here.
Election Day is Tuesday, Nov. 3.
More on Prop A: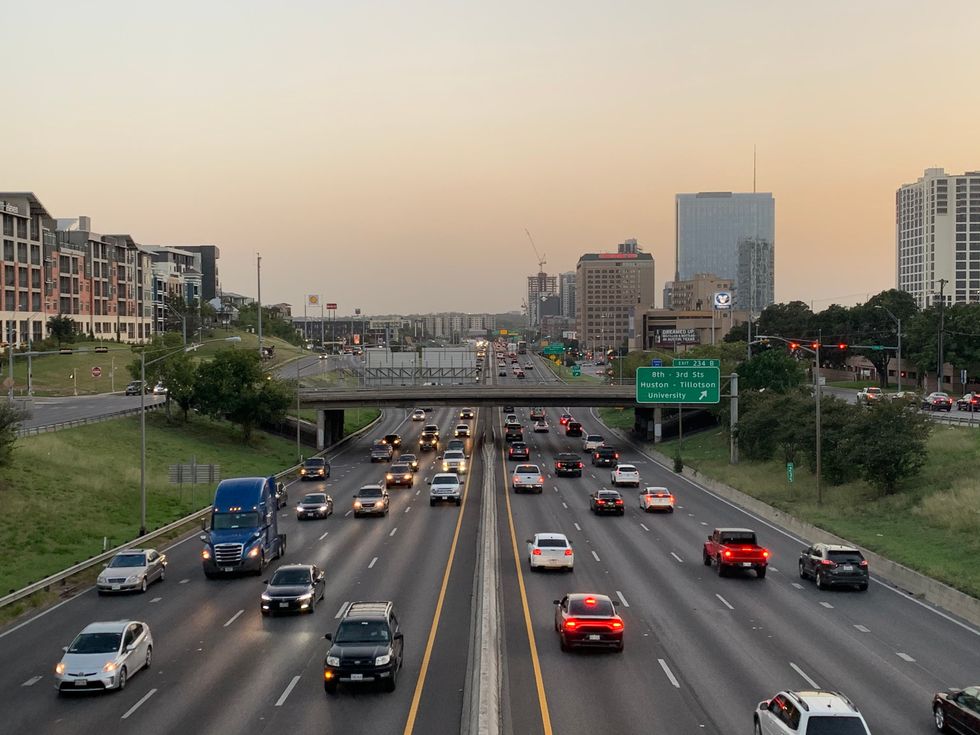 Project Connect includes a historic anti-displacement fund. Is $300 million enough?(Emma Freer/Austonia)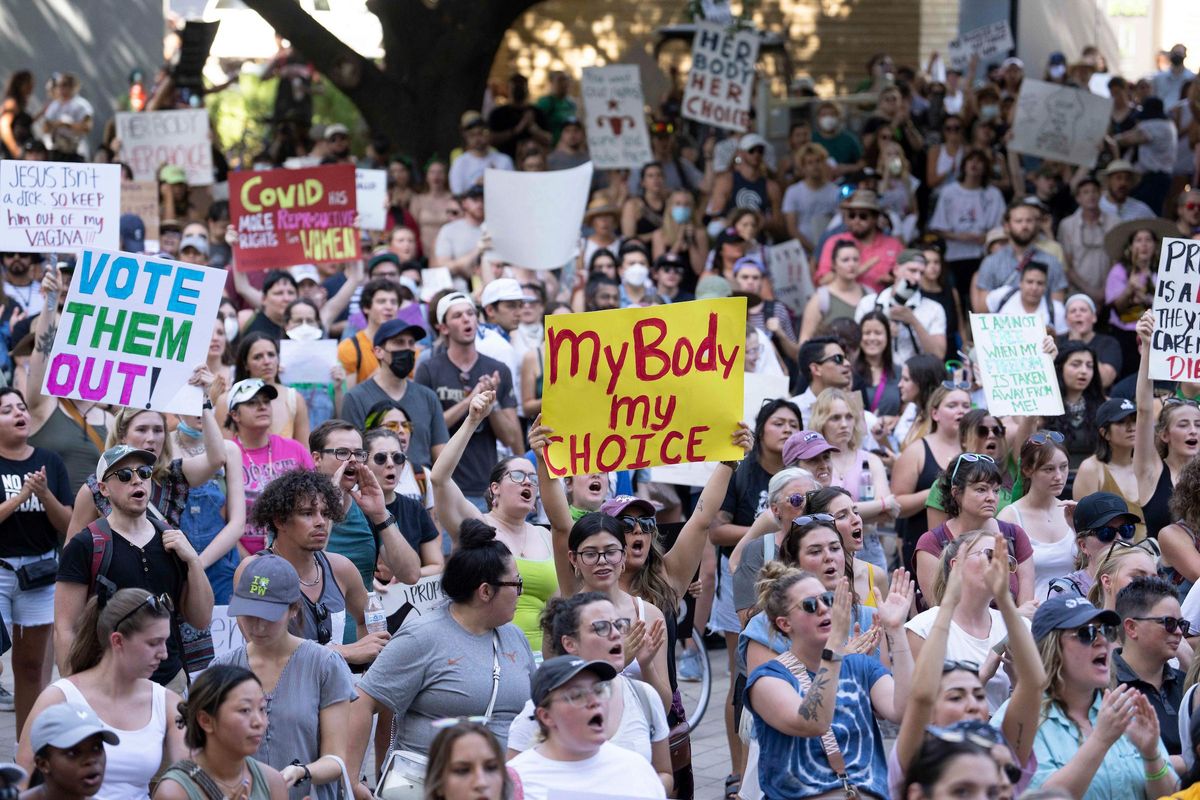 Hours following the U.S. Supreme Court's ruling to overturn Roe v. Wade, the landmark ruling that guaranteed a constitutional right to an abortion, on Friday, about 1,000 people gathered in Republic Square with signs calling for change.
The rally, organized by the group Rise Up 4 Abortion Rights Texas, started at the federal courthouse on Republic Square on Friday at 5 p.m. before the crowd marched to the Texas Capitol. More protests are expected to ensue over the weekend.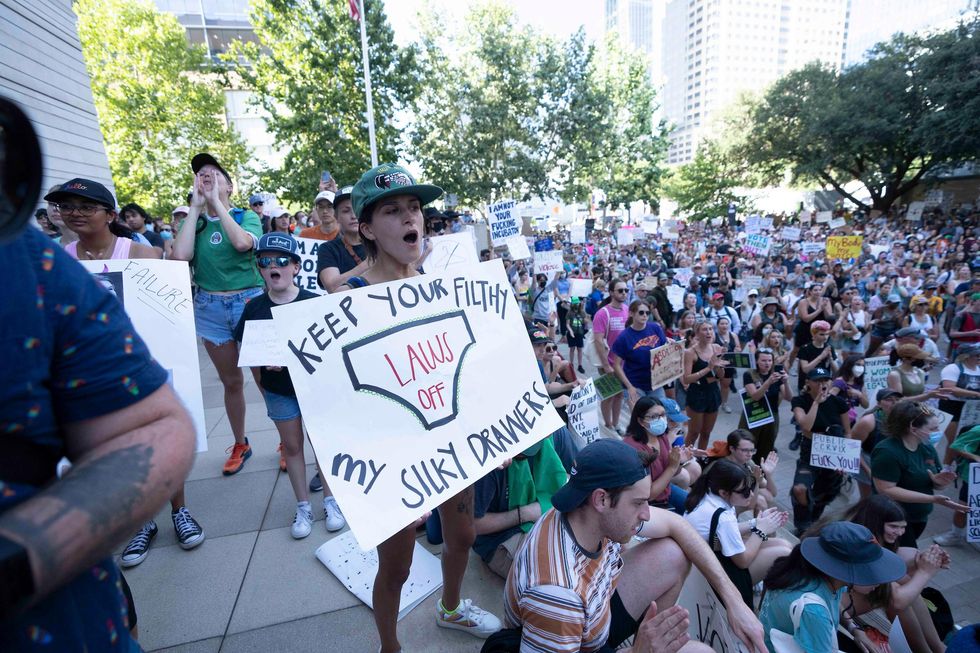 People showed up with all types of signs like Mindy Moffa holding up, "Keep your filthy laws off my silky drawers."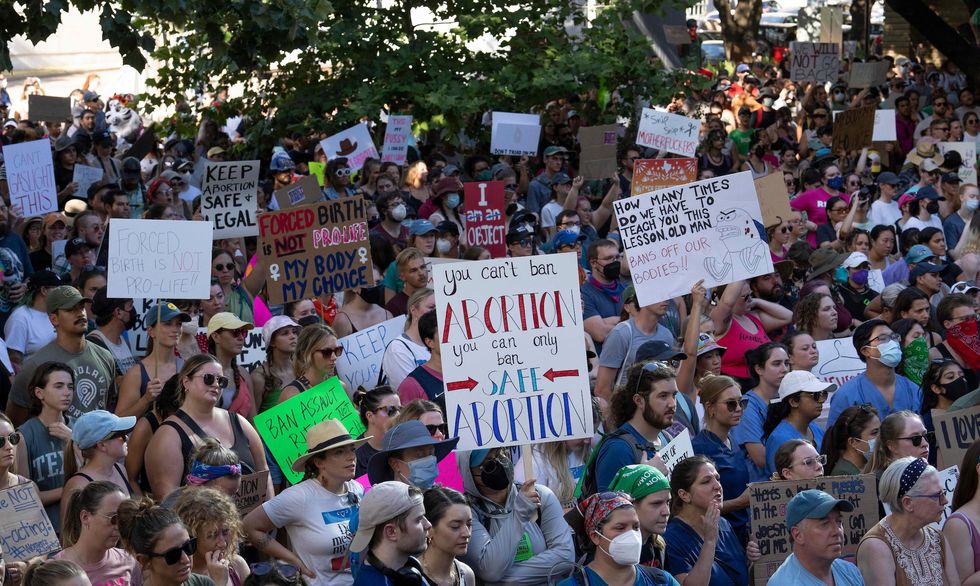 Austin joined cities across the country that saw protests for a women's right to an abortion after the ruling.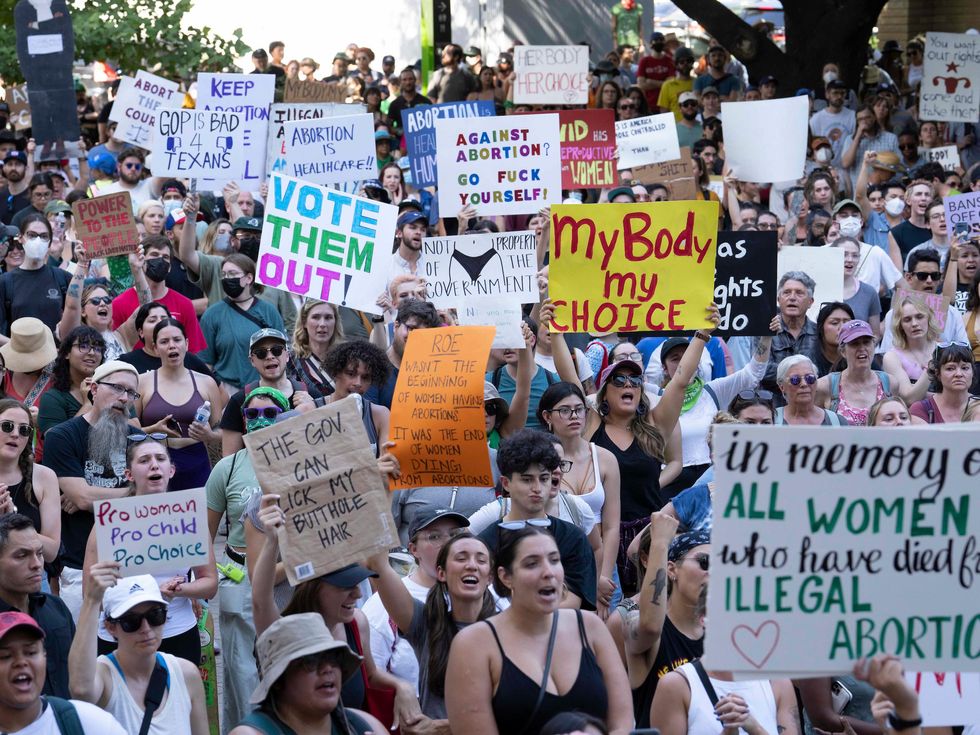 According to a recent UT poll, 78% of Texas voters support abortion access in most cases.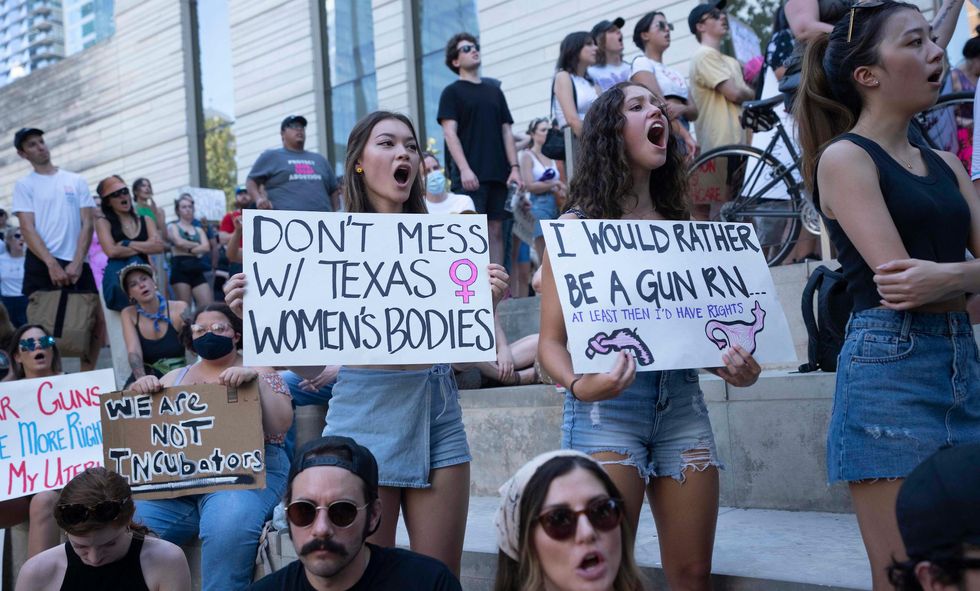 Sabrina Talghade and Sofia Pellegrini held up signs directed at Texas laws. A Texas trigger law will ban all abortions from the moment of fertilization, starting 30 days after the ruling. When state legislators passed the trigger law last summer, it also passed laws for more protection of firearms, including the right to open carry without a permit.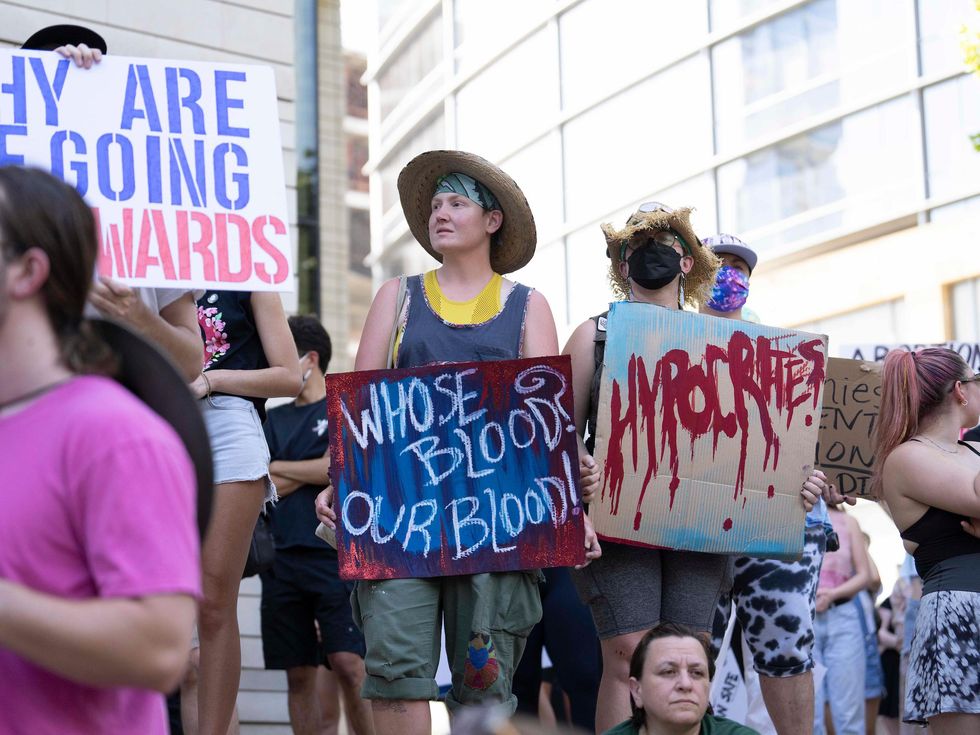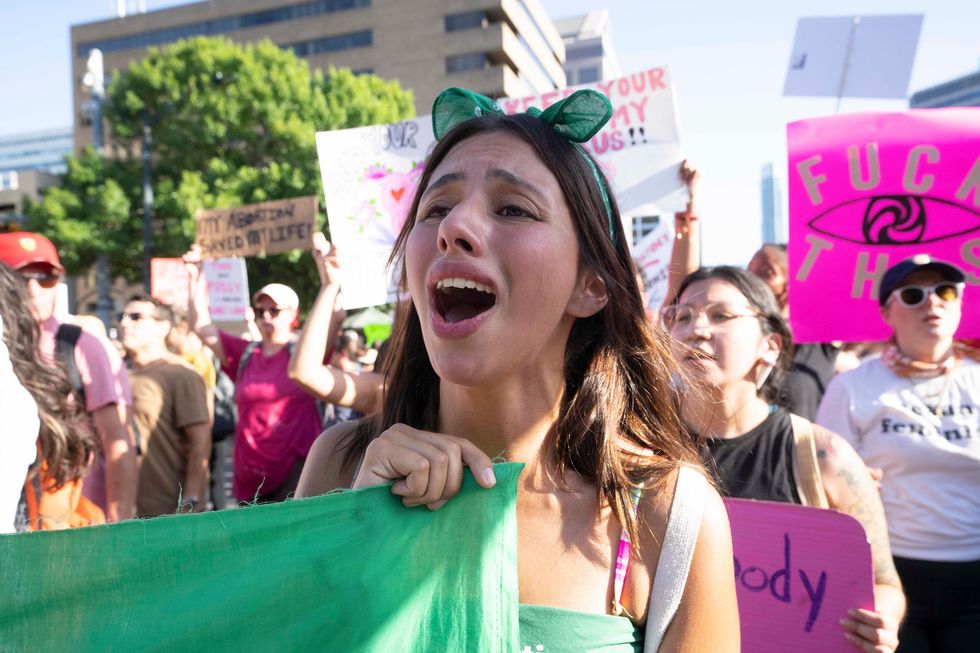 Lili Enthal of Austin yells as around 1,000 Texans marched to the Texas Capitol.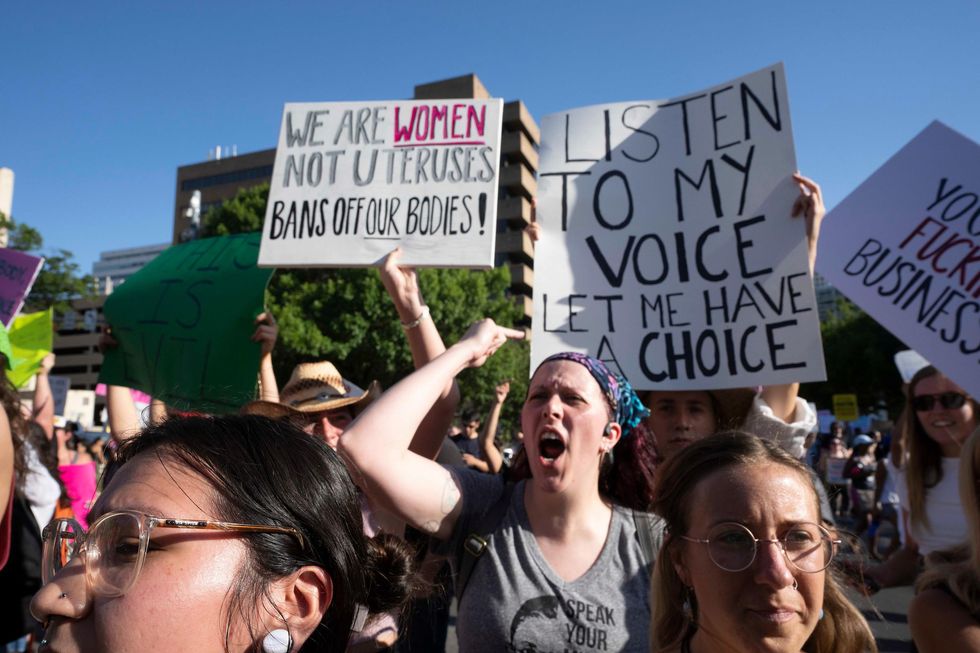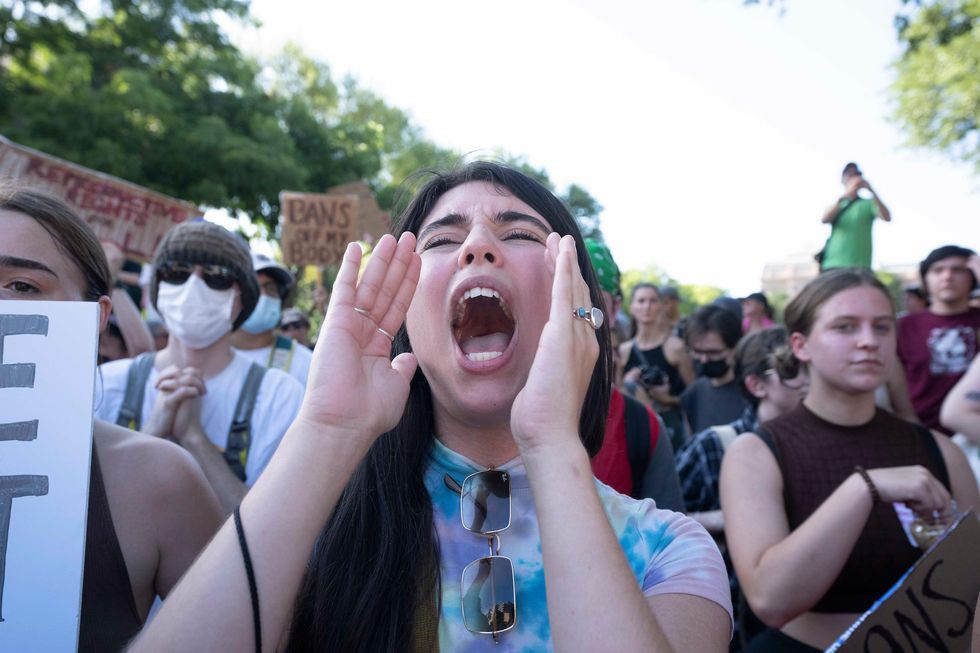 From the Texas Capitol, Zoe Webb lets her voice be heard against the Supreme Court ruling.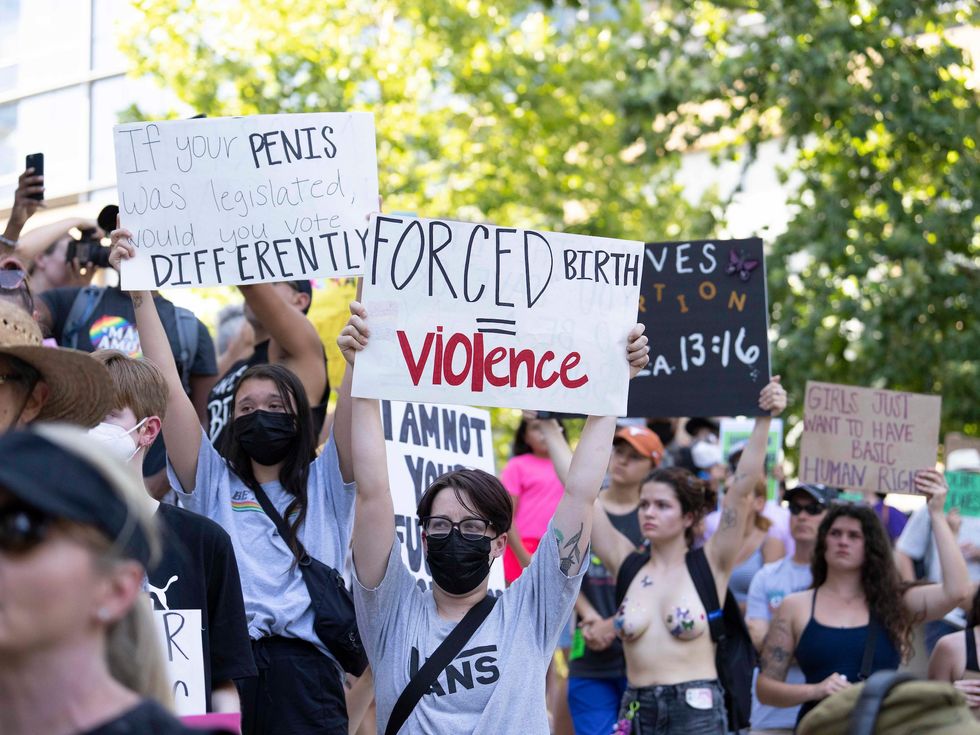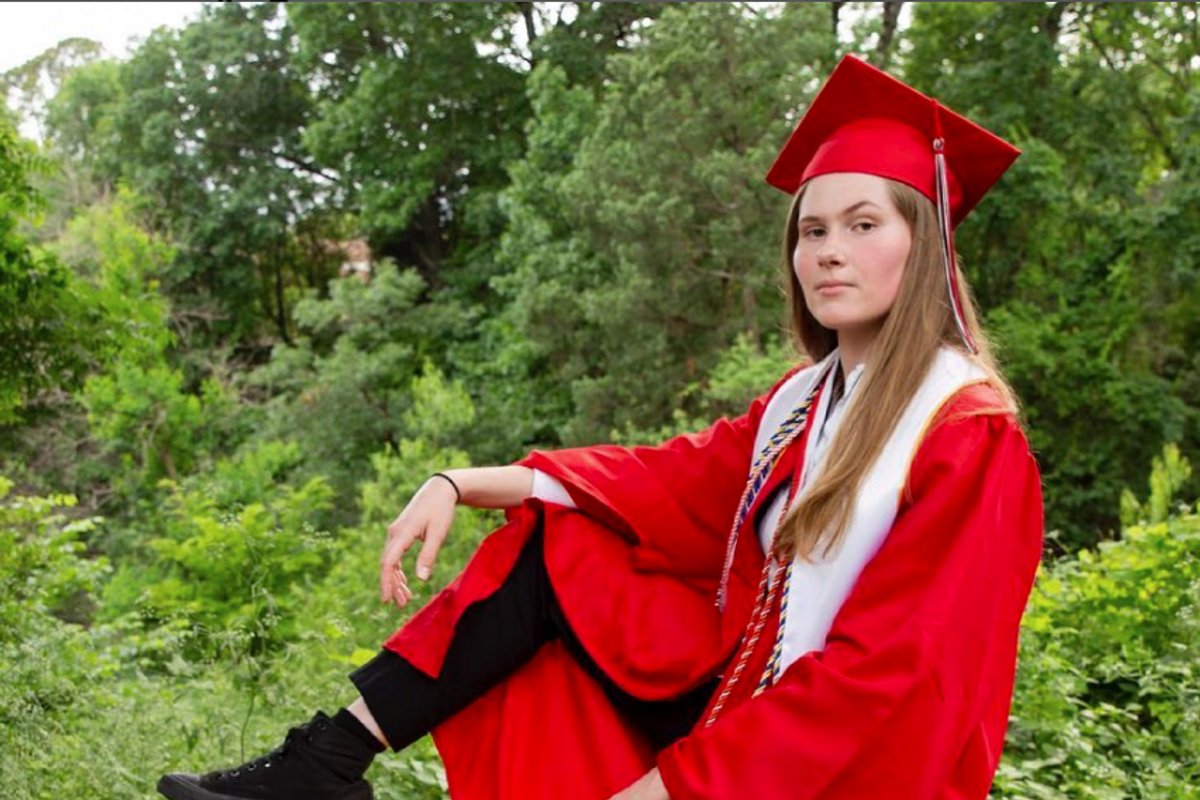 Paxton Smith's 2021 valedictory speech at Lake Highlands High School in Dallas wasn't the same speech she had previously shared with school administrators. She dropped the approved speech and made a case for women's reproductive rights after lawmakers passed the Texas "Heartbeat Bill."
Her advocacy made news on NPR, YouTubeTV and in The Guardian. Just over a year later, the "war on (women's) rights" she forewarned has come to a head as the U.S. Supreme Court voted Friday morning to overturn Roe v. Wade, ending constitutional protection for abortion access.
"It is up to the people to show up and show the courts and the politicians that we won't sit back and let this happen," Smith told Austonia Friday morning. "We will show up, we will fight back. Before, we were scared of them, now they should be scared of us."
Now a University of Texas sophomore and abortion rights activist, 19-year-old Smith said she wanted to give the same speech in the "the most public way possible" to reach "as many people as possible who don't agree that I deserve this right."
However, she says the response was "actually overwhelmingly positive" and supportive of her cause. According to a recent UT poll, 78% of Texas voters support abortion access in most cases.
The speech opened up further opportunities for activism: she advocated for reproductive rights at the International Forum on Human Rights in Geneva, interviewed with Variety magazine and spoke to tens of thousands at Austin's Bans Off Our Bodies protest at the Texas Capitol in May.
Smith also serves on the board of directors for the Women's Reproductive Rights Assistance Project, a national nonprofit organization that helps fund abortions or medication abortion—like Plan C pills—in all 50 states. Most recently, Smith has been attending protests in Washington, D.C. leading up to the ruling.
"This is land of the free. This is where you get to choose how you live your life," Smith said. "Overturning Roe v. Wade violates everything that we have come to believe about what it means to live in this country. I think a lot of people aren't willing to accept that this is a human right that is most likely just going to be gone for over half of the country within the next couple of weeks."
Bracing for the next steps, Smith gave some tips for supporters:
Find a protest to attend.

"I would say invite somebody to go to those protests with you, invite a couple of friends, invite people into the movement," Smith said.

Talk about the issue on social media—use the platform you have.

"Have these kinds of conversations where people can just talk about their fears and then find ways to go and advocate for yourself," Smith said.

Volunteer at a nonprofit near you.
"I feel like a lot of the reason things have gotten as bad as they have within the abortion rights world is that people are not making a scene, not protesting, not putting the effort into ensuring that the government doesn't take away this right," Smith said. "I want to emphasize that if you're not doing anything, don't expect the best scenario, expect the worst because that's the direction that we're going in."