Austonia AM
100% Austin news, info, and entertainment, straight to your inbox at 6 a.m. every morning.
In five minutes, you're fully informed and ready to start another great day in our city.
Get connected with our daily update
The 144th police cadet class kicked off Monday, with 100 members and a reimagined curriculum after Austin City Council raised concerns about the training academy's paramilitary culture and high attrition rates. It's also the most diverse class ever.

"That is what we were striving for," Interim Police Chief Joseph Chacon said during a press conference Wednesday. "We were actively recruiting minorities because we need for our department to reflect the community that it serves."
So does this class reflect Austin's population? Here's how it stacks up across race, ethnic and gender lines.
Today we welcome our 144th @Austin_Police Academy, which is the most diverse class in APD history. This class will be the shining example of training in line with community expectations. Can't wait to get these eager young men and women out on the streets to serve our citizens! pic.twitter.com/qqCP3O89At
— Joseph Chacon 👮🏻♂️ (@Chief_Chacon) June 7, 2021
This police cadet class is majority-minority, with 57% identifying as non-white. The city of Austin is also majority-minority, with 48.3% of its population identifying as white (non-Hispanic), according to the U.S. Census Bureau.
Thirty-eight percent of the cadets are Hispanic, which outpaces the share of Hispanic or Latino residents which is around one-third, and 17% are African American, more than double the share of Black of African-American residents, who make up 7.8% of the city population.

Eighteen percent of the cadets are women. This is a higher share than is typical, said Sergeant Kevin De La Rue, who oversees recruiting, but far short of the overall population. Women make up 49.2% of city residents.
The pilot class will graduate in January, and Chacon is hopeful each member will make it through the end given the department's staffing challenges. "I can't graduate these cadets soon enough," he said.
The training academy has come under fire in recent years for its "fear-based approach to training, discriminatory recruiting practices and attrition rates. After thousands of Austinites marched in protest of police violence last summer, City Manager Spencer Cronk delayed the July 2020 cadet class. Council then voted unanimously in August to cancel funding for three planned cadet classes. With a new curriculum and community oversight measures in place, members approved the pilot class last month.
Council will receive periodic updates on the pilot class and determine whether a second cadet class can proceed early next year. Chacon, who is among the applicants for the department's permanent chief position, is hopeful. "I feel like we are going to have a better police officer that is going to graduate than we've ever had before," he said.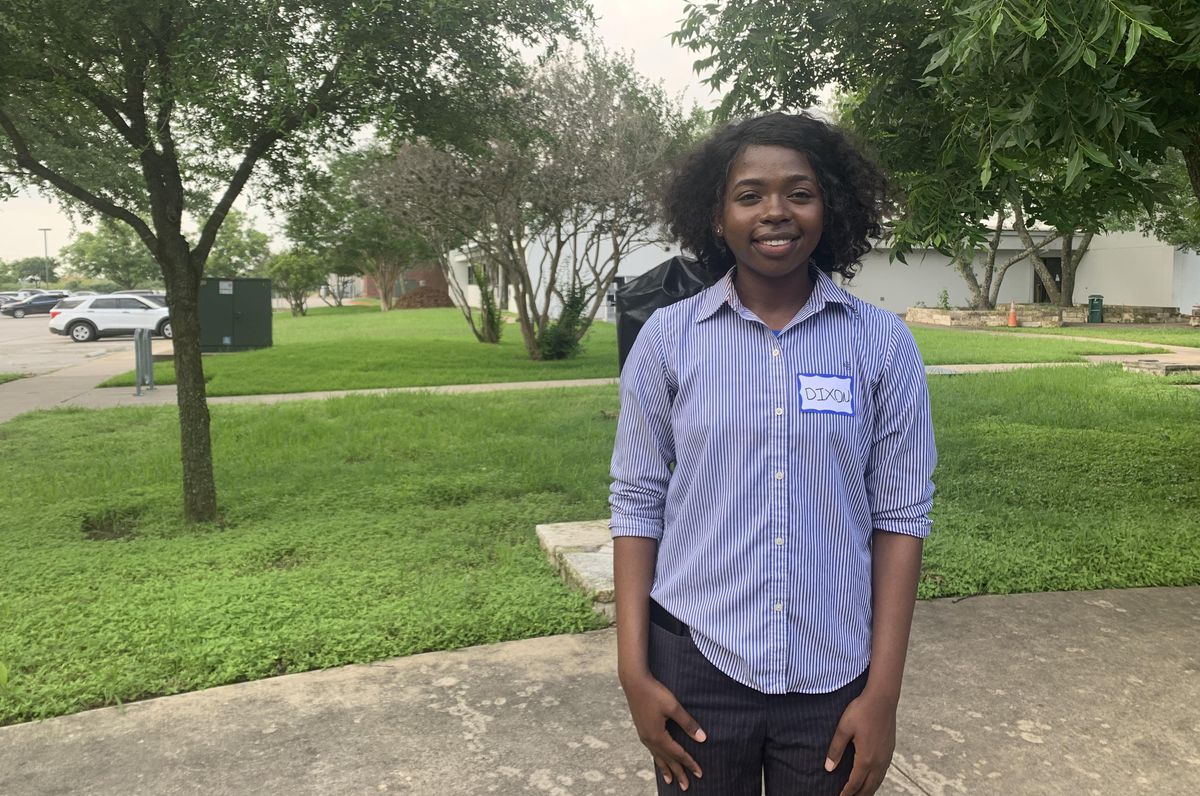 Jodean Dixon, 21, is one of the cadets in this pilot class. (Emma Freer/Austonia)
Jodean Dixon, 21, is among the cadets. Born and raised in Jamaica, she moved to West Palm Beach, Florida, when she was 13. She was drawn to APD because of its community policing programs—such as Operation Blue Santa, which provides toys for children in need, and Coffee with a Cop—and the ongoing reimagine effort. "It shows that there is a future in changing the world's perception of what policing is," she told Austoniia. "We want to make a difference, the new cadet class."
First-time gun owners, women and Californians are driving high gun sales in Austin and Texas, according to local gun shop owners.

Gun sales are almost as high as last year, when they spiked, driven by lockdowns, mass protests, police reform and the presidential election.
FBI background checks, which serve as a proxy for gun sales, increased 56% between 2019 and 2020 in Texas. There were 915,296 background checks in Texas between January and May, which is about on par with the number during the same period in 2020 and about one-third more than during the same period in 2019.
"We've been busy," General Manager of McBride's Guns on North Lamar Joe McBride said before jumping off the phone to attend to his store. A Girl and A Gun, a women's shooting league based in Cedar Park, has also seen steady demand for memberships, Executive Director Robyn Sandoval wrote in an email to Austonia. The league welcomed 701 new members, a record-high, in March and 429 last month.

Behind the sales
Michael Cargill, owner of Central Texas Gun Works in South Austin, said demand started to level off in March and April after a crazy 2020. "Lines out the door," he said. "We had about 10,000 students cross our doors to take a class."
Although demand isn't quite as high as it was at its peak last year, it remains strong and is accompanied by better supply now that certain pandemic-related supply chains have been resolved, Cargill said. He declined to share more specific numbers.

First-time gun owners are driving this demand in Austin and around the country. A survey by the National Shooting Sports Foundation, a firearm trade association and lobbying group, found that first-time gun buyers made up around 40% of customers between January and April 2020.
Cargill has noticed this at Central Texas Gun Works. Another new customer base? California transplants. "New residents are coming in with paper licenses, fresh in from California," he said.
Women are also a driving force, buying guns at unprecedented rates. The same NSSF survey found that women made up around 40% of first-time gun buyers between January and April 2020. A Girl and A Gun surveyed more than 6,000 members last summer and found that personal protection was the primary reason women were not only purchasing guns but also seeking out training for how to use them.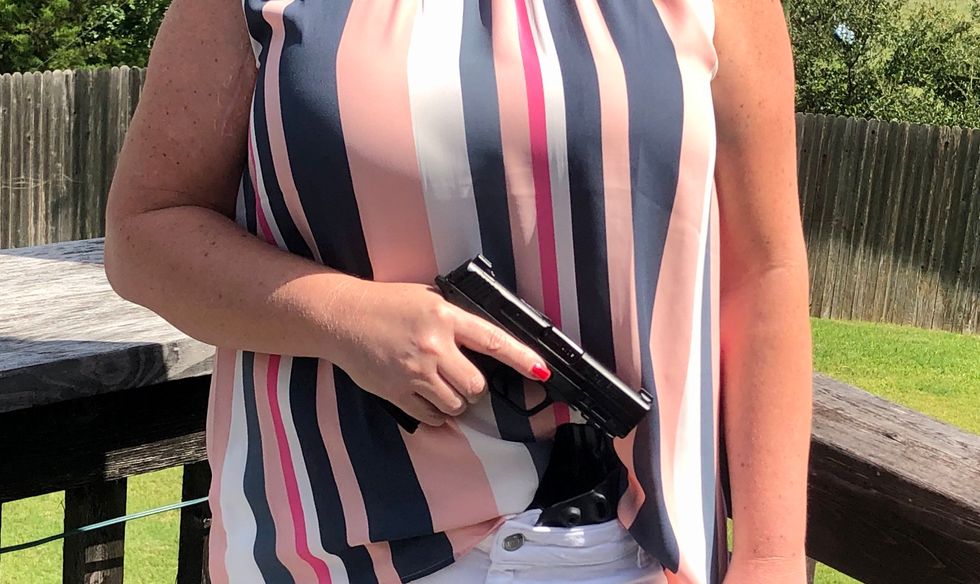 The pandemic inspired Austin-area resident Dawn Holmes to get a license to carry a concealed weapon last July. (Dawn Holmes)
Ongoing concerns

Cargill listed a series of events that could send gun sales shooting up even further. When a 20-hour manhunt ensued for a former Travis County sheriff's deputy that shot and killed three people in mid-April, it may have sent Austinites to gun stores. "Whenever they see something like that on the news, people tend to go to stores and say, 'Hey, I need to think about protecting my family,'" Cargill said.
Rising violent crime may have a similar effect. There have been 33 homicides in Austin so far this year, nearly double the number that had occurred by this time last year and closer to triple the number in 2019.
There's also legislation. Texas Gov. Greg Abbott will likely sign a bill allowing permitless carry, although Cargill doesn't anticipate this will impact gun sales. But federal gun control measures would, he said. After a mass shooting in San Jose, California, last month—the 244th in the U.S. this year—President Joe Biden called on Congress to pass a ban on assault weapons and high-capacity magazines.
"When you get gun rights, that doesn't drive sales," Cargill said. "When you lose gun rights, that drives sales."
The 87th Texas Legislature's regular session—which Gov. Greg Abbott called "one of the most conservative legislative sessions our state has ever seen"—ended Monday. State lawmakers passed bills allowing the permitless carry of handguns, restricting abortion and limiting the teaching of "critical race theory" in public schools, overriding opposition from Democrats. They also passed bills drafted in response to local policy, including one that financially punishes large cities that cut their police budgets and another that bans homeless encampments.
But lawmakers will have to return to the Capitol later this year for a special session after failing to pass a number of Abbott's priority items, including a voting bill that would tighten state election laws. "We will be back—when, I don't know, but we will be back," House Speaker Dade Phelan, R-Beaumont, told members Monday. "There's a lot of work to be done, but I look forward to doing it with every single one of you."
Here are seven pieces of legislation you should know about at the close of the regular legislative session:
1. Homeless camping ban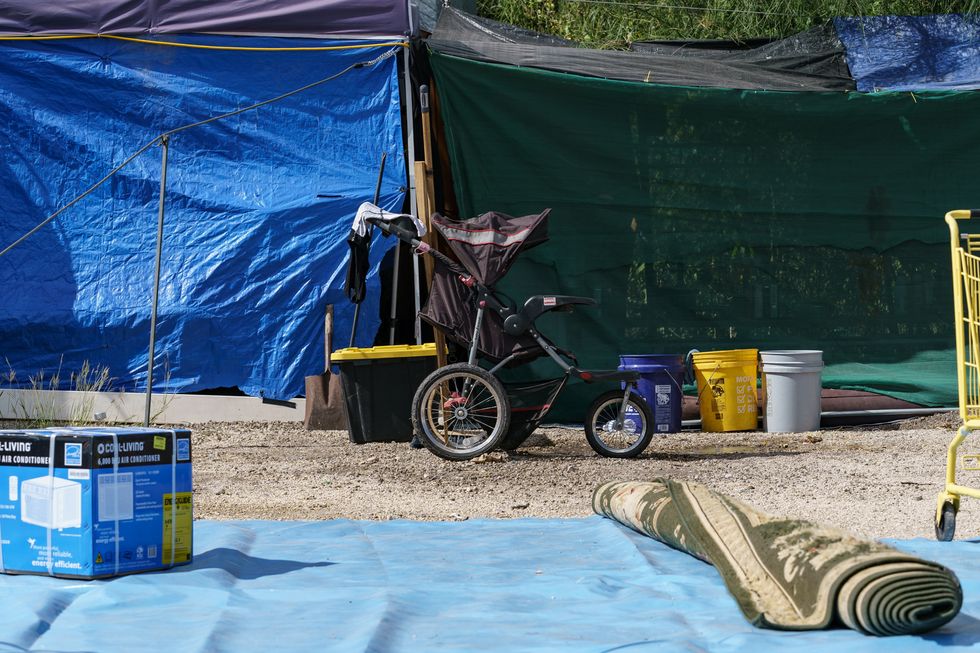 (Jordan Vonderhaar)
State lawmakers sent House Bill 1925, which would ban camping in public spaces and require local governments to seek state approval when designating campsites on public land, to Abbott's desk on Wednesday. The governor has said he would sign the bill, which was filed in response to homeless camps in Austin.
Austin voters chose to reinstate a citywide ban on public camping during the May 1 election, after City Council lifted it in 2019. Local elected officials are now in the process of trying to designate sanctioned campsites, which has prompted pushback on the dais and from constituents.
City staff presented a list of 45 possible campsites last month, many of which were on public parkland. If signed into law, HB 1925 would ban cities from using public parks without first gaining approval from the state, compounding the challenges of establishing such sites.
2. Police defunding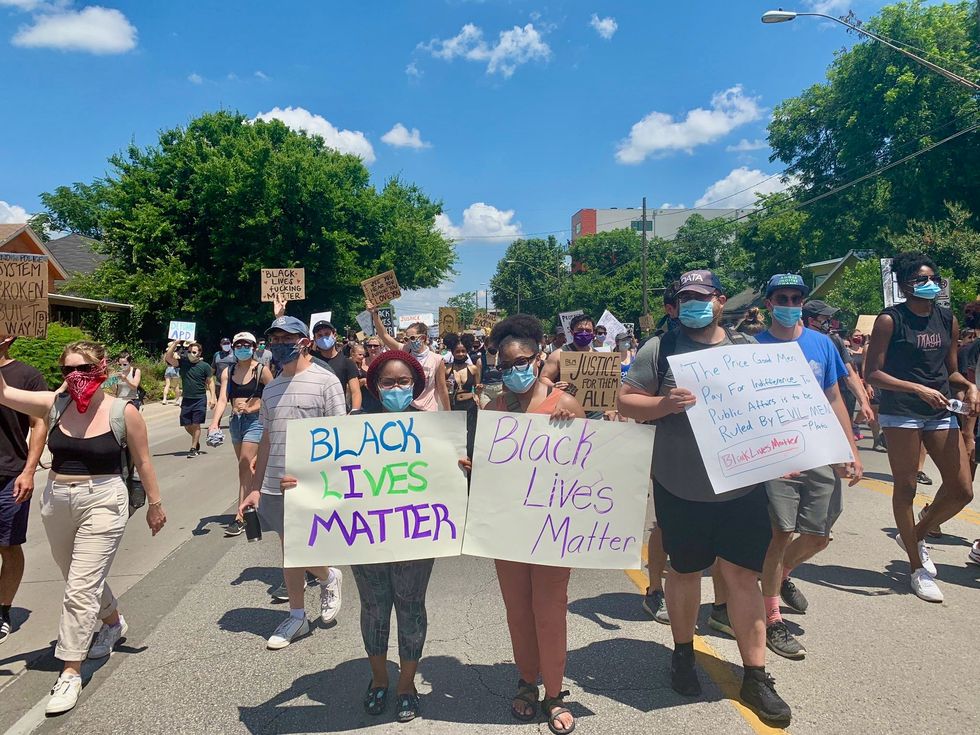 (Emma Freer)
After Austin City Council voted unanimously to cut the Austin Police Department budget by around 5% last August, along with a series of other reforms, Abbott began seeking out legislative penalties.
On Friday, just over a year after George Floyd's murder and nearly a year since thousands of Austinites protested police violence, state lawmakers approved House Bill 1900, which applies to cities with a population of more than 250,000 and would restrict their ability to raise property tax revenue, among other financial penalties, if they reduce their police budgets. Abbott has said he will sign the bill into law.
APD Interim Chief Joseph Chacon spoke in opposition to HB 1900, which he called a legislative "overstep," during a March committee hearing: "These decisions must be made at the local level by our community when and to the degree needed to help build and maintain trust," he said.
3. Winter storm response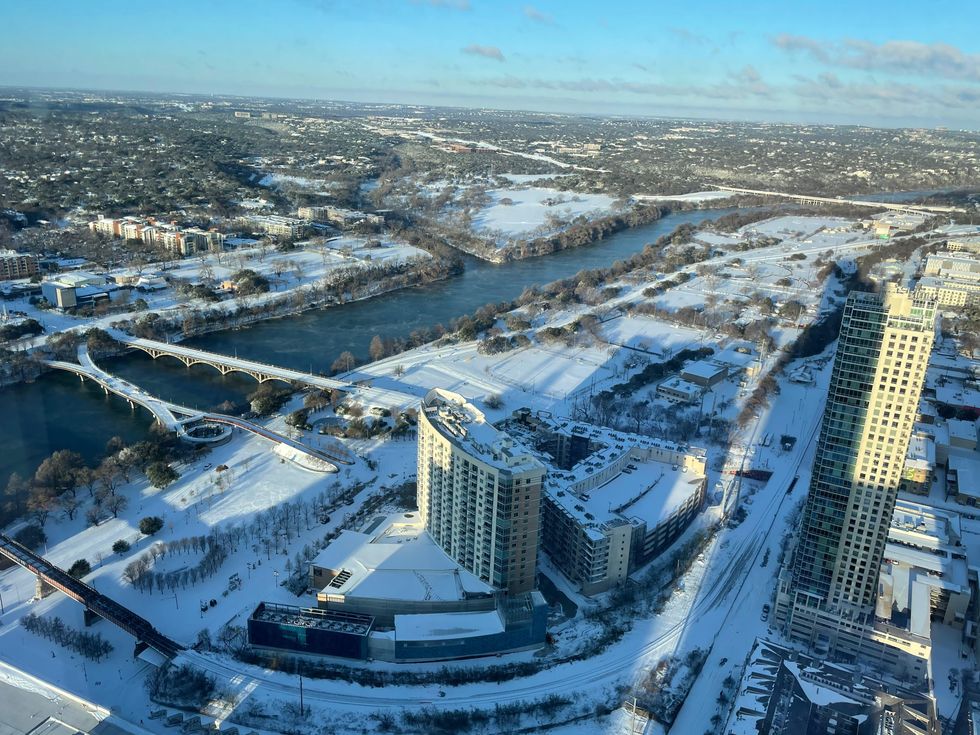 (Kyndel Bennett)
After the February winter storm, which left more than 200,000 Austin Energy customers without power and caused at least 12 deaths in Travis County, there were loud demands for an overhaul of the state power grid. State lawmakers approved sweeping legislation to address some—but not all—of the issues that contributed to the catastrophe.
Senate Bill 2 would change the makeup of the Electric Reliability Council of Texas, which maintains around 90% of the state grid. If signed into law, it would shrink ERCOT's board of directors from 16 to 11 members and increase the influence of the state's top politicians in the selection of those members.
SB 3 would require some natural gas generators to weatherize. During the winter storm, ERCOT projected the state would lean heavily on natural gas, but wells froze up and icy roads made it impossible to transport it, leading to days-long blackouts and the possibility of a total grid collapse.
4. Permitless carry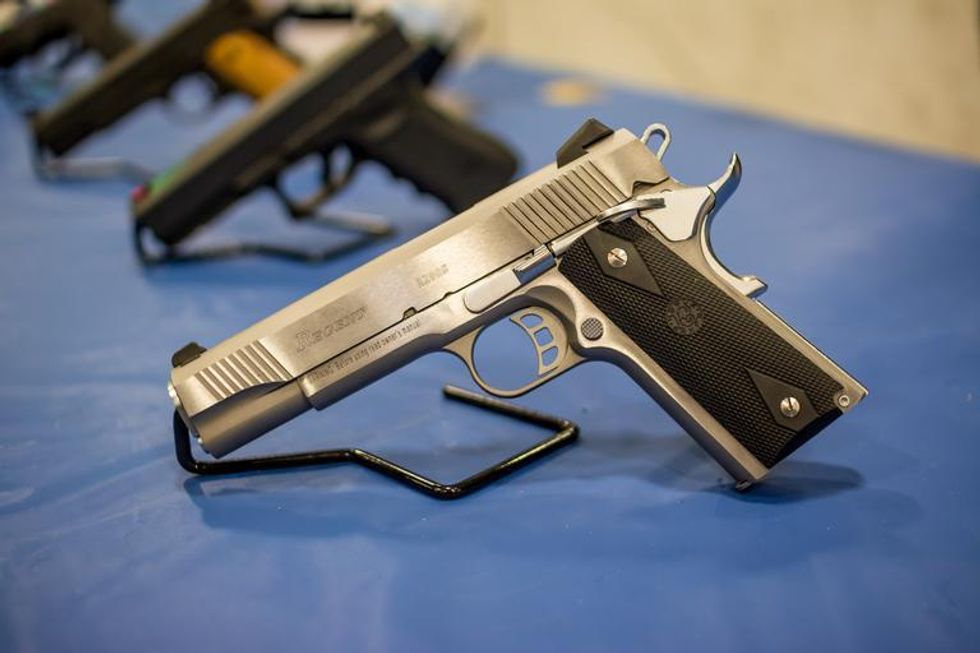 (CC)
House Bill 1927, which would see Texas join 19 other states that don't require a permit to carry holstered handguns, has the governor's support and is celebrated by "constitutional carry" proponents. But some law enforcement agencies and other public officials worry about the risk permitless carry poses to public safety amid already-rising violent crimes rates.
APD Interim Police Chief Joseph Chacon joined other police chiefs in speaking out against the bill, which he said would lift training and safety requirements currently in place, during an April 29 press conference. He also pointed to an increase in gun violence locally.
Although not all violent crime involves guns, gun violence is increasing and may involve stolen guns or illegally manufactured "ghost" guns. "I'm just very concerned about the number of illegally possessed firearms and how we can curb that," Chacon said during an April 15 press conference, where he announced a new gun crime prevention program in partnership with the Travis County District Attorney's Office.
5. Abortion restrictions
We're proud to be rallying for abortion access in #Texas today! #TexasDeservesBetter #AbortionIsHealthcare #txlege pic.twitter.com/UsU2Qaxr96

— Jane's Due Process (@JanesDueProcess) May 29, 2021
Abbott signed Senate Bill 8—one of the strictest abortion measures in the country—into law on May 19, which would ban abortions after a fetal heartbeat can be detected, which supporters say can be as early as six weeks, before some people know they're pregnant. It does not include exceptions for pregnancies that result from rape or incest.
The bill, which takes effect in September, leaves enforcement up to private citizens, whom it allows to sue abortion providers or anyone who helps someone get an abortion after a fetal heartbeat has been detected, according to The Texas Tribune. This is intended to make the law harder to challenge legally because the state plays no role in enforcing it.
State lawmakers also approved House Bill 1280, which would ban abortion in Texas if the U.S. Supreme Court overturns Roe v. Wade.
6. Critical race theory in public schools 
Today I killed HB 3979—the bill that attempted to teach our students a whitewashed version of American history—with a Point of Order.

If kids are old enough to experience racism, then they're old enough to learn about it. #txlege pic.twitter.com/Xg5vmm4Bvh

— James Talarico (@jamestalarico) May 28, 2021
House Bill 3979, which would limit how current events and the country's history of racism can be taught, is awaiting Abbott's signature after a contentious approval process and significant opposition from Democrats, educators and education advocacy groups.
After State Rep. James Talarico, D-Round Rock, raised a procedural violation on Friday, the bill appeared to be dead. But lawmakers removed the amended language that prompted Talarico's concern and ultimately passed a stripped-down version. If signed into law, the bill would ban the teaching of The New York Times' 1619 Project, which argues that the country began when enslaved people first arrived.
Supporters of the bill, which is one of many similar efforts at state legislatures across the country, say it will help prevent personal biases from entering the classroom, according to the Texas Tribune.
7. Voting rights (and a special session)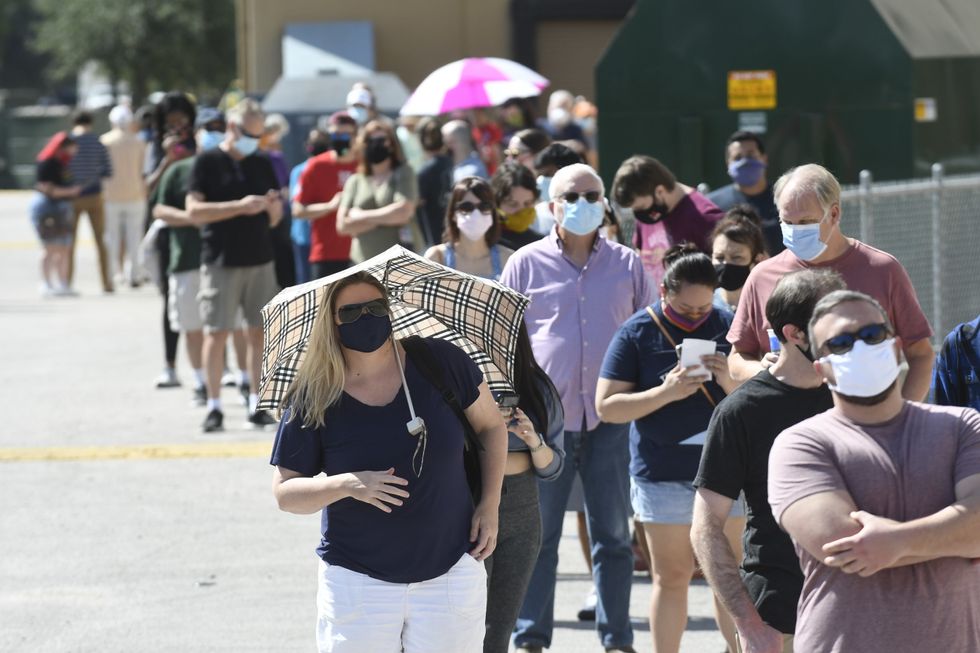 (Bob Daemmrich)
An hour before the midnight deadline, House Democrats left the floor, blocking a bill that would upend Texas voting laws and prompting Abbott to call a special session.
The bill would add restrictions to early and mail-in voting as well as prohibit drive-thru and other after-hours options. Republican supporters say the bill would improve "election integrity" and prevent voter fraud, despite virtually no evidence that such fraud has occurred. Democratic opponents say the bill is tantamount to voter suppression.
Abbott had declared the bill an emergency priority, along with bail reform. After state lawmakers failed to pass either, he called for a special 30-day session later this year and vowed to defund the state Legislature, threatening salaries, as a penalty. State Rep. Donna Howard, D- Austin, tweeted in response: "This would eliminate the branch of government that represents the people and basically create a monarchy."
It isn't yet clear when the special session will occur. Lawmakers are expected to reconvene this fall to redraw the state's political maps after the 2020 census.
Just under 2,000 Austin residents are still without power as Austin Energy continues to fix outages after Friday's storm, and some power may not be restored until Monday.
Austin Energy said that tree trimming is continuing as fallen limbs and other storm damages caused 30,000 residents to be without power at its peak on Friday evening.
As of Sunday at 1 p.m., 239 outages persist and 1,820 residents are still without power.
In response to widespread outages, Austin Emergency Management has opened two cooling stations for residents looking to keep out of the heat. The first, located at the South Austin Recreation Center on 1100 Cumberland Rd, opened at 10:30 a.m. on Sunday and is pet friendly. The second, available from 1 p.m.-8 p.m. Sunday, is a Cap Metro bus located at 1012 W Anderson Ln.
While most major circuits have been addressed. Austin Energy still has plenty of limbs to clear before they can safely restore power for the remaining 239 outages.