Get connected with our daily update
Interim Austin Police Department Chief Joseph Chacon said Monday that several factors are driving Austin's record high number of homicides this year and that "we need to do everything we can as a community... to stop that number from growing."
Austin saw its 60th homicide over the weekend at a nightclub on North Lamar Boulevard, breaking a record set in 1984 when 59 people were murdered in the city. Murders are up 74% over last year in the city as of the end of August—for which Chacon blamed the number of guns circulating in the city, as well as the release from prison of people previously convicted of violent crimes.
Chacon said that 49 of the city's murders have been solved and that the department has "very solid leads" on several of the eleven homicides that remain unsolved. APD has increased the size of its homicide unit from 12 to 14 detectives in response to the gun violence, and Chacon said that the department may continue to shift personnel to meet its policing needs.
In general, Chacon, who is a finalist for the permanent police chief job, wants to see more police officers on the streets. But the department's staffing issues predate the pandemic and were further affected when police cadet classes were halted last year (resuming in June this year) and as officers are out after contracting COVID.
In November, Austin voters will vote on a proposition to add hundreds of officers to the department—a measure that opponents say doesn't address the root causes of crime.
But the increase in murders is not specific to cities that cut their police budgets last summer, rather, it is part of a nationwide pattern that experts have linked to the economic fallout of the COVID-19 pandemic.
"This really is a national phenomenon," Chacon said. "It is something that is being seen by big cities all across the country. We are collaborating as cities to determine what the driving factors are for why that's happening, but it is not something that is unique to Austin."
A coalition of more than 80 local organizations launched a campaign Thursday to defeat the Save Austin Now-backed Proposition A, which calls for adding hundreds of city police officers and other measures to the Austin Police Department.
At a gathering at the entrance to Barton Springs, speakers included two members of City Council, Vanessa Fuentes and Alison Alter, and Carol Guthrie, business manager of the American Federation of State, County, Municipal Employees, Local 1624, a union representing the city of Austin and Travis County employees.
Proposition A, put on the ballot after gaining petition signatures, seeks to:
Require minimum staffing of two officers per 1,000 residents
Require a minimum standard of 35% community response time
Add 40 hours of training
Require city council members, Mayor Steve Adler and other city staff to enroll in the Citizens Police Academy
Facilitate minority officer hiring through foreign language proficiency metrics
The proposition comes just more than a year after Austin City Council voted to cut its police budget by a third in the wake of protests against police brutality after the murder of George Floyd by Minneapolis police and killing of Michael Ramos in Austin.
"Prop A is a total reversal of the shift that Austin went through during and after the protests of the summer of 2020," said Chas Moore, founder of the Austin Justice Coalition. "We need every Austinite who posted a black square last summer, every Austinite who marched with us down Congress Avenue, every resident who called into council… to vote no way on Prop A."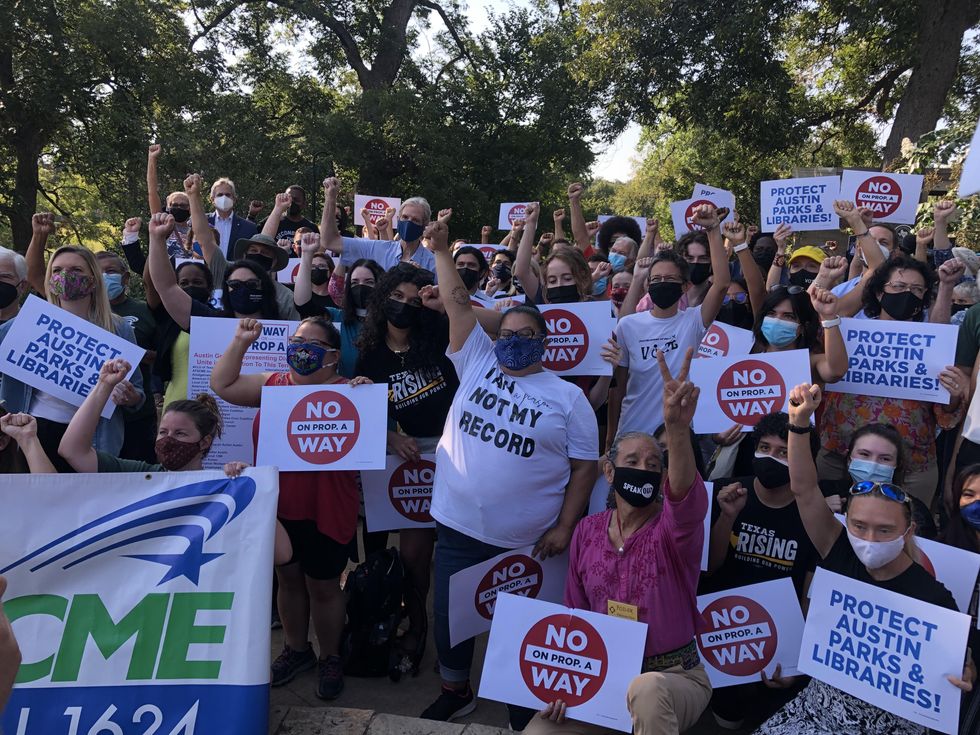 Members of the coalition to defeat Prop A raise their fists. (Abe Asher/Austonia)
They are facing a strong political organization. Save Austin Now launched the proposition following their successful spring campaign to criminalize houseless camping in the city, which overwhelmingly. This proposition would install minimum police staffing levels for APD and add training requirements for officers among other initiatives.
"Our city can afford the same number of police officers that the city authorized just two years ago. City Hall may not support law enforcement, but city residents do," Save Austin Now co-founders Matt Mackowiak and Cleo Petricek said in a statement.
If passed, the city's budget office has estimated that it could cost as much as $120 million each year for the next five years.
Barring a tax increase, that money might come out of other areas of the city's budget, mentioned by attendees. The Barton Springs setting was no coincidence. Some held signs that read "PROTECT AUSTIN PARKS & LIBRARIES!"
"If Prop A passes, all of these services will be on the chopping block," City Council Member Vanessa Fuentes, who represents southeast Austin, said. "We're talking about neighborhood public libraries, neighborhood swimming pools, mental health services, and many other services that would no longer be accessible."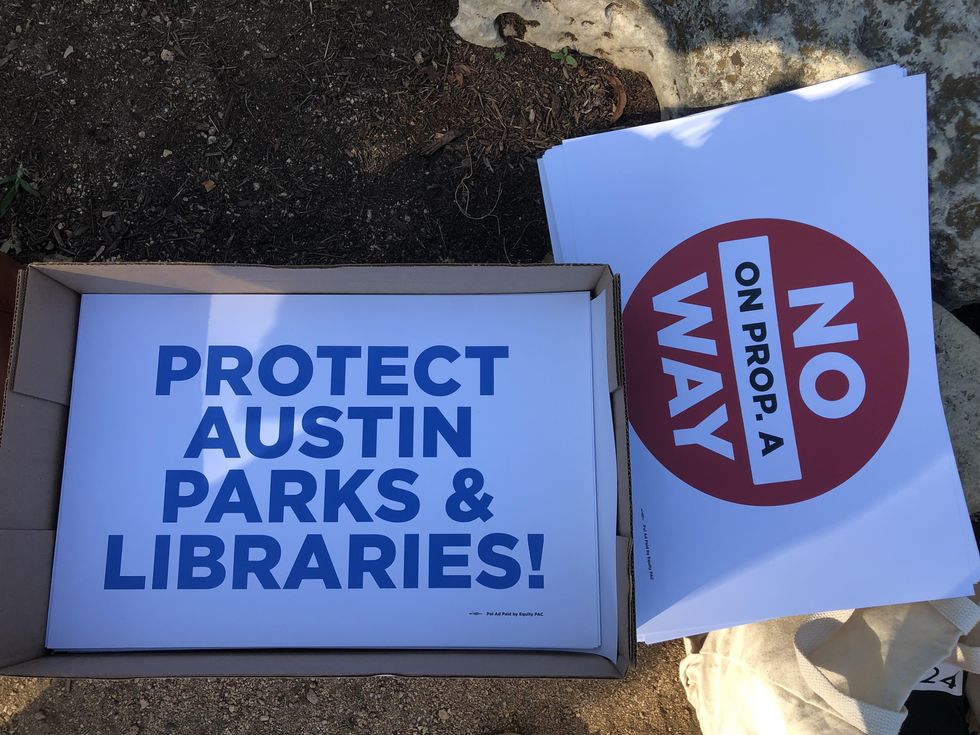 Anti-Prop A signs were distributed at the event. (Abe Asher/Austonia)
Democrats in the area are overwhelmingly opposed to the plan. Katie Naranjo, chair of the Travis County Democratic Party, painted Save Austin Now as deceptive in a message similar to one propagated by Adler last month.

"They call themselves by another name," Naranjo said of Save Austin Now. "They're a wolf in sheep's clothing. If you signed the Republican Party's petition and you're a Democrat, you're not a bad person. You were lied to."
Save Austin Now has bipartisan leadership, though members of its board are affiliated with the Travis County Republican Party and Austin Police Association.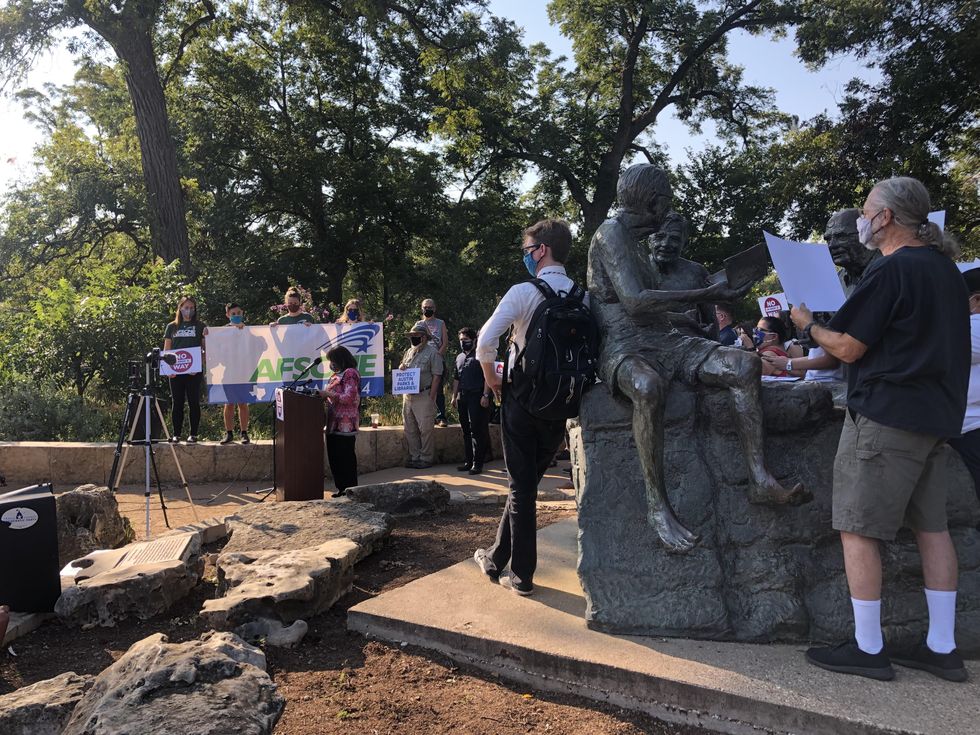 Attendees listen to AFSCME Local 1624's Carol Guthrie address the event. (Abe Asher/Austonia)
Prop A backers argue that increased crime in Austin since the outbreak of the pandemic means that the city needs to employ more police officers. Austin has seen a spike in murders in 2021 in line with a national increase, even as the rate of violent crime nationally has remained steady.
"This is a straight attack on Black, Brown and Indigenous folks that have been saying for years that we need to change the way we do things," Moore said. "The way we do policing now does not make us feel safe. We don't need more cops, we need more resources."
Early voting begins on Oct. 19.
You've heard of Delta and P.1 but a new COVID-19 variant has landed in Texas: Mu, the newest variant that has made its way to four dozen countries and 49 states.
Mu was discovered in Colombia back in January, making its way to even the U.S.'s far-reaching states like Alaska and Hawaii. The only state that remains Mu-free so far is Nebraska.
According to health officials, Mu is believed to be more transmissible and vaccine-resistant than the Delta variant. So far, the highest number of Mu cases have been detected in California, 384, with 167 landing in Los Angeles County.
According to Austin Public Health officials, no cases of Mu have been detected yet in Austin, though as tests go through the Texas Department of Health and Human Services, the variant results could be on a delay. At least 50 cases of the Mu variant have been detected in Houston.
"APH will continue to monitor the development of new variants, however, Delta remains the dominant strain," an APH spokesperson told Austonia on Tuesday. "Regardless of the strain though, we know that vaccination and masking are the most effective tools in combating COVID-19."
Mu has yet to be labeled as a "variant of concern" for the U.S. by the Centers for Disease Control and Prevention, though any variation poses cause for concern that the strain will be resistant to vaccination. Mu was labeled a "variant of interest" by the CDC on Aug. 30.
"We have seen, though, even with Delta, the vaccine remains effective in preventing severe disease and illness that requires hospitalization," APH said. "Unvaccinated individuals, regardless of the variant, will always have a significant risk of contracting COVID-19 and having more severe symptoms than vaccinated individuals, especially as Delta remains the dominant strain."
Delta remains the biggest variant of concern across the U.S., Texas and Austin, contributing to this summer's deadly spike in cases.
APH is continuing to ask people to get vaccinated to protect yourself from any of the virus' variants, wear masks, avoid large gatherings and stay home if you feel sick.
Austin's homicide count jumped up to 55 for the year, with three homicides under investigation from this week alone, putting 2021 as the highest year for murder cases in almost 40 years.
After an already record-breaking year of homicides in 2020—48 cases total—this year's murder count so far is only topped if you go back to 1985, which had 52 homicides for the whole year.
The Austin Police Department most recently responded to a shooting on Saturday afternoon at the 12000 block of the Interstate 35 northbound service road. The victim, a woman who was not identified, had already suffered what appeared to be a gunshot wound when they arrived and was pronounced dead on scene according to officer Matthew Bullock.

APD officers are currently investigating a homicide in the 12000 Block of S IH 35 SVRD SB. Media please stage at Walnut Park Crossing and Park Thirty Five Circle. PIO is en route. - PIO8
— Austin Police Department (@Austin_Police) September 4, 2021
Police are currently working leads and believe it could have been a result of road rage, though there is no other information. Police believe it was an isolated incident with no danger to the public but there is no suspect in custody as of yet.

APD responded to two unrelated shootings on Wednesday, for a total of three homicides this week.
The first occurred on the 2100 block of Burton Drive around midnight—officers responded to find a 34-year-old Terry Ray Fisher with gunshot wounds and injuries from being run over by a car, police said in a statement. Fisher was pronounced deceased despite life-saving measures.
The second shooting occurred an hour later on East Riverside Drive and South Pleasant Valley Road, where a 67-year-old man was found dead in a tent. Police did not release any other details.
Editors note: The headline for this story was changed on Sept. 5 at noon to reflect the story accurately.