Never miss a story
Sign up for our free daily morning email...
...and afternoon text update
Get connected with our daily update
Welcome to Austonia, a new, locally owned news company reporting on news, business, and politics in Austin. Like what you see? Sign up for our daily newsletter to get our latest stories in your inbox.
(If you have additional information about this story please get in touch with us at editor@austonia.com.)
A California judge is set to decide in June whether prosecutors have enough evidence to bring an Austin financial advisor to trial on sexual assault charges after an ill-fated luxury golf trip last year.
---
The legal troubles of David Walter Osborne began in early May 2019 during a stay with two friends the Monterey Sheriff's Department described as "high-profile" at Pebble Beach Resorts, which hosted the U.S. Open a month later.
Monterey County authorities say Osborne, whose financial advisory firm describes its clients as "families, entrepreneurs, and sports professionals," and his friends flew on a private jet and shared rooms at The Lodge at Pebble Beach, where accommodations start at close to $1,000 and top $7,000 per night.
Monterey County prosecutors believe that on or around May 7, 2019, Osborne sexually assaulted a woman at his hotel in an incident that prompted four felony charges.
The charges are false imprisonment by violence, attempted forcible rape, assault with intent to commit a felony, and sexual penetration by a foreign object. All are felonies, punishable by three to eight years in prison, respectively.

Osborne was jailed in Austin on May 21, 2019 after Monterey County Sheriff's deputies flew to Texas to arrest him at his downtown Austin office. He posted bail the next day. He was 48 at the time.
Authorities won't identify the two golf pals, who they'll only describe as "high profile," and prosecutors have declined to say if they—or a second woman initially described as a victim but later dropped from the complaint—will be called as witnesses.
Neither prosecutors nor police will discuss details of the case. It is unclear whether the two women referred to in the initial report flew in with Osborne or if he met them while in California.
Osborne is the only suspect in the case, said Monterey County Deputy District Attorney Lana Nassoura, and he is set to appear for a preliminary hearing on June 4 in Monterey County Superior Court.
"We believe the charges are baseless and should be dismissed outright," said San Francisco attorney Lyn Agre, who is representing him in California. "He has pleaded not guilty and will defend himself in court to the fullest extent of the law."
The case stalled when California closed its courts in response to pandemic concerns, but jury trials and hearings in Monterey County are set to resume June 1 with social distancing restrictions, court officials said.
If the hearing, which has been postponed twice, goes on as scheduled, a judge will determine if prosecutors have enough evidence to move on to a trial.
Prosecutors and sheriff's officials in Monterey County declined to release more details about the accusations, saying that information is not considered public in open cases in California.
The initial police report said Osborne had attacked two women, but after further analysis of the case, prosecutors believed only one of them was the victim of a crime, Nassoura said. She declined to elaborate, citing case confidentiality.
Asked whether the second woman would be treated as a witness, Nassoura said that had not yet been decided.
She declined to say whether the two friends who accompanied Osborne on the trip and stayed with him at the lodge would be treated as witnesses.
"Since that's fact specific, I can't answer that question," she said in an email to Austonia.
Osborne is the only person being charged in connection with the incident, she said.
Nassoura said she believes Osborne is waiting out the case in Texas, but he is required to return to California for the preliminary hearing, she said. She declined to discuss any more specifics about the case.
Osborne is not currently registered as an active broker or investment advisor, according to FINRA, the nonprofit watchdog arm of the U.S. Securities and Exchange Commission. A FINRA representative said that, according to their records, he was no longer registered as of July 2019.
His wealth management firm, Osborne Advisors, has offices in Dallas and Austin but Osborne, listed as the company president and its sole principal, is on a leave of absence, according to an employee who answered the phone at his Austin office on Monday.
The charges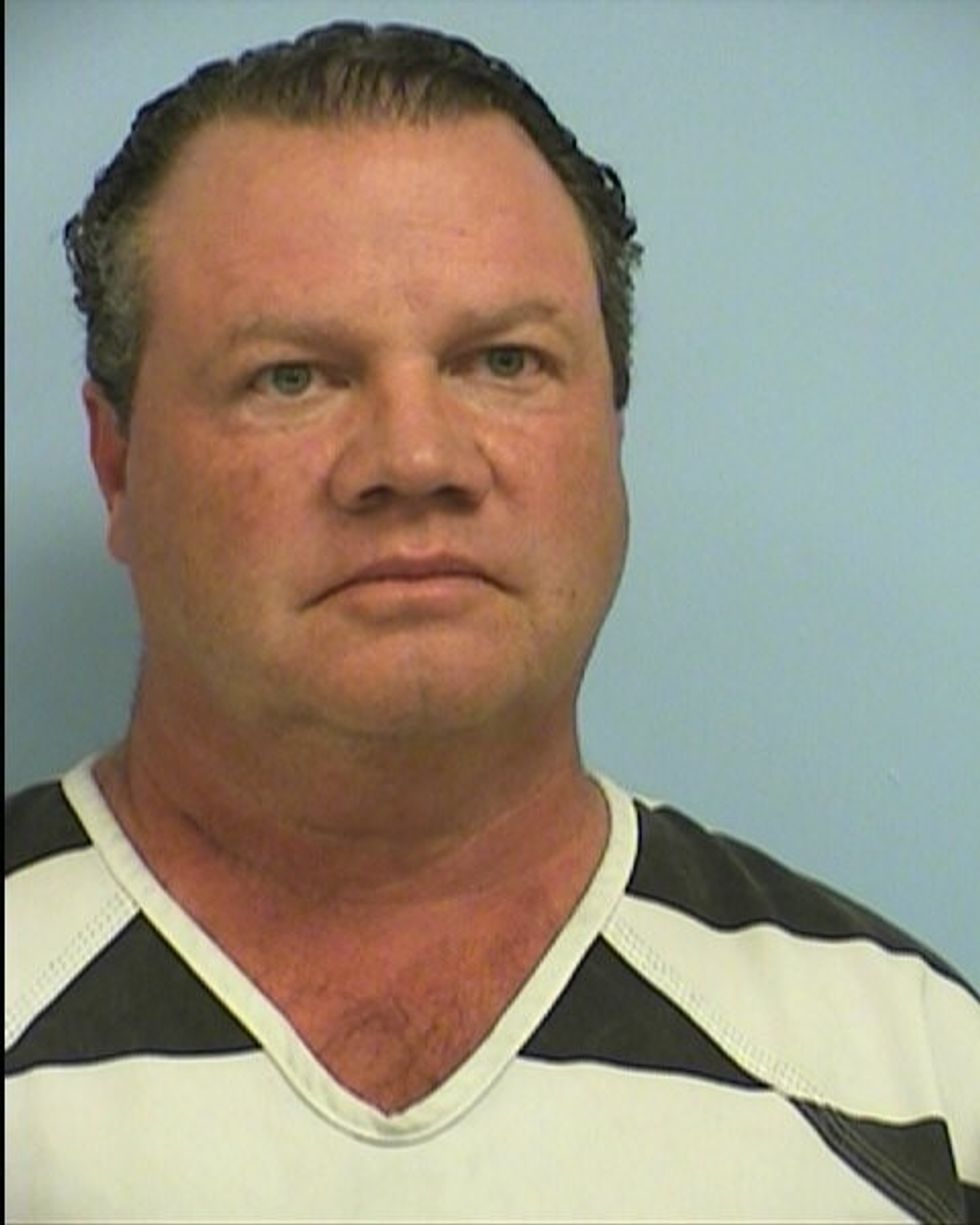 David Osborne (Austin Police Department)
Because police reports and arrest affidavits on active court cases are not considered public record in California, few details have been released about the allegations or the evidence. Formal charges were filed on May 17, 2019.
The following Tuesday, May 21, Osborne was booked into the Travis County Jail at 2:39 p.m. He posted bond in lieu of $100,000 bail and was released at 4:24 p.m. the next day.
The Monterey County Sheriff's Office posted the news about his arrest on its Facebook page and thanked Austin police for their help.
Austin police declined to immediately release documents related to the arrest, claiming they fall under public records laws in California.
Osborne was arraigned on the charges in Monterey County and entered a plea of not guilty on June 28.
That same day, the judge approved a restraining order banning him from any contact with the victim.
On Dec. 12, a judge postponed a preliminary hearing over the objections of prosecutors. It was reset for March 19, 2020.
At that point, proceedings became tangled in pandemic-related shutdowns and the hearing was moved to June 4.
The firm
Osborne Advisors say on their website that they manage some $200 million in assets for their clients.
The firm operated in Dallas for 10 years before expanding into Austin in 2012, specializing in managing money for former professional athletes, according to a news release published on Business Wire.
(Austin Police Department/Twitter)
Austin police lifted the shelter in place order after searching the area around 9600 block of Great Hills Trail near the Arboretum for a 41-year-old man named Stephen Broderick, who they believe is responsible for shooting and ultimately killing three people in Northwest Austin
As of 5 p.m., the suspect is still at large and considered to be armed and dangerous, though police do not believe he is actively targeting anyone else. During a press briefing at 4:45 on Sunday, APD Interim police Chief Joseph Chacon said they are switching the search from the immediate area to a fugitive search as they have exhausted all the leads they currently have.
Chacon confirmed during the briefing that Broderick was a former Travis County Sheriff's Office deputy. Chacon said they will remain on the scene for "several hours" and there were 75 FBI agents on the scene as of the briefing.
Police believe the victims, who have been identified as two Hispanic women and one Black man, knew their assailant. Chacon said a child was involved but is now safely in police custody. Broderick was described as 5 foot, 7 inches with a medium build and was last seen wearing a gray hoodie, sunglasses and a baseball cap.
"We're very sorry that obviously that this has happened and we continue to try and locate this individual, we are transitioning from a search in this area to a fugitive search and those efforts will continue until this person is located," Chacon said. "I don't want anyone to think that we're packing up and going home. We're going to continue to look for this individual because he continues to pose a threat to this community."
At a 2:30 p.m. press briefing, Chacon said APD responded to a "shoot, stab, hot shot" call on Great Hills Trail and Rain Creek Parkway at 11:46 a.m. to find the three victims with gunshot wounds. APD was joined by the Austin Fire Department. ATCEMS, the local chapter of the FBI, the U.S. Marshals, Department of Public Safety, and the Round Rock Police Department for support.
Though Austin Travis-County EMS originally reported it as an active shooter situation, police now believe the incident was an isolated domestic event.
"This is still an ongoing and active investigation and we do not have this individual in custody yet," Chacon said during the first press briefing. "We would ask if you have your neighbors, phone numbers, call or text them check on them and make sure that they're okay. We are concerned that he might possibly take a hostage and be himself sheltered somewhere waiting for us to leave."
Three helicopters and SWAT teams were sent to the area, as well as 18 ATCEMS response assets. According to Austin Police, the incident occurred at an apartment complex near Great Hills Trail and Rain Creek Parkway.

APD announced at 1:02 p.m. that Loop 360 will be shut down in both directions from Spicewood Springs to 183 due to the incident. The roads will remain closed until law enforcement is able to wrap up the crime scene and units demobilize.
This is a developing story.

(Hard Rock Stadium)
Formula 1 is returning to Florida for the first time since 1959, announcing that the brand-new Miami Grand Prix will join the calendar in 2022 and Austin will no longer be the only F1 race in the U.S.
Held at the Hard Rock Stadium complex in Miami Gardens, this will be the first race in the Sunshine State in 62 years. With a new track setup, F1 will loop the stadium, home of the NFL's Miami Dolphins.
The new 3.36 mile circuit has 19 corners, three straights and potential for three DRS zones, with expected top speeds of 198 mph.

Now with two races in the U.S., F1 President Stefano Domenicali said they will avoid having back-to-back events by keeping the Miami Grand Prix separate from the U.S. Grand Prix, which is held at Austin's Circuit of the Americas.
The date of the race has yet to be confirmed, though Domenicali said he expects the first race in a 10-year deal to take place in the second quarter of 2022. Austin's race will take place on Oct. 24 this year.
"The USA is a key growth market for us, and we are greatly encouraged by our growing reach in the U.S. which will be further supported by this exciting second race," Domenicali said.
Miami will mark the 11th race location in the U.S. since the Championship began in 1950: Circuit of The Americas in Austin; Dallas, Texas; Indianapolis, Indiana; Sebring, Florida; Riverside, California; Watkins Glen, New York; Long Beach, California; Las Vegas, Nevada; Detroit, Michigan and Phoenix, Arizona. COTA was first opened in 2012.
Domenicali said F1 will be working with the FIA and the Hard Rock Stadium to leave a lasting impact on the community: discounted tickets for residents, a program to support local businesses and a STEM education program through F1 in schools.