Austonia AM
100% Austin news, info, and entertainment, straight to your inbox at 6 a.m. every morning.
In five minutes, you're fully informed and ready to start another great day in our city.
Get connected with our daily update
Welcome to Austonia, a new, locally owned news company reporting on news, business, and politics in Austin. Like what you see? Sign up for our daily newsletter to get our latest stories in your inbox.
(If you have additional information about this story please get in touch with us at editor@austonia.com.)
A California judge is set to decide in June whether prosecutors have enough evidence to bring an Austin financial advisor to trial on sexual assault charges after an ill-fated luxury golf trip last year.
---
The legal troubles of David Walter Osborne began in early May 2019 during a stay with two friends the Monterey Sheriff's Department described as "high-profile" at Pebble Beach Resorts, which hosted the U.S. Open a month later.
Monterey County authorities say Osborne, whose financial advisory firm describes its clients as "families, entrepreneurs, and sports professionals," and his friends flew on a private jet and shared rooms at The Lodge at Pebble Beach, where accommodations start at close to $1,000 and top $7,000 per night.
Monterey County prosecutors believe that on or around May 7, 2019, Osborne sexually assaulted a woman at his hotel in an incident that prompted four felony charges.
The charges are false imprisonment by violence, attempted forcible rape, assault with intent to commit a felony, and sexual penetration by a foreign object. All are felonies, punishable by three to eight years in prison, respectively.

Osborne was jailed in Austin on May 21, 2019 after Monterey County Sheriff's deputies flew to Texas to arrest him at his downtown Austin office. He posted bail the next day. He was 48 at the time.
Authorities won't identify the two golf pals, who they'll only describe as "high profile," and prosecutors have declined to say if they—or a second woman initially described as a victim but later dropped from the complaint—will be called as witnesses.
Neither prosecutors nor police will discuss details of the case. It is unclear whether the two women referred to in the initial report flew in with Osborne or if he met them while in California.
Osborne is the only suspect in the case, said Monterey County Deputy District Attorney Lana Nassoura, and he is set to appear for a preliminary hearing on June 4 in Monterey County Superior Court.
"We believe the charges are baseless and should be dismissed outright," said San Francisco attorney Lyn Agre, who is representing him in California. "He has pleaded not guilty and will defend himself in court to the fullest extent of the law."
The case stalled when California closed its courts in response to pandemic concerns, but jury trials and hearings in Monterey County are set to resume June 1 with social distancing restrictions, court officials said.
If the hearing, which has been postponed twice, goes on as scheduled, a judge will determine if prosecutors have enough evidence to move on to a trial.
Prosecutors and sheriff's officials in Monterey County declined to release more details about the accusations, saying that information is not considered public in open cases in California.
The initial police report said Osborne had attacked two women, but after further analysis of the case, prosecutors believed only one of them was the victim of a crime, Nassoura said. She declined to elaborate, citing case confidentiality.
Asked whether the second woman would be treated as a witness, Nassoura said that had not yet been decided.
She declined to say whether the two friends who accompanied Osborne on the trip and stayed with him at the lodge would be treated as witnesses.
"Since that's fact specific, I can't answer that question," she said in an email to Austonia.
Osborne is the only person being charged in connection with the incident, she said.
Nassoura said she believes Osborne is waiting out the case in Texas, but he is required to return to California for the preliminary hearing, she said. She declined to discuss any more specifics about the case.
Osborne is not currently registered as an active broker or investment advisor, according to FINRA, the nonprofit watchdog arm of the U.S. Securities and Exchange Commission. A FINRA representative said that, according to their records, he was no longer registered as of July 2019.
His wealth management firm, Osborne Advisors, has offices in Dallas and Austin but Osborne, listed as the company president and its sole principal, is on a leave of absence, according to an employee who answered the phone at his Austin office on Monday.
The charges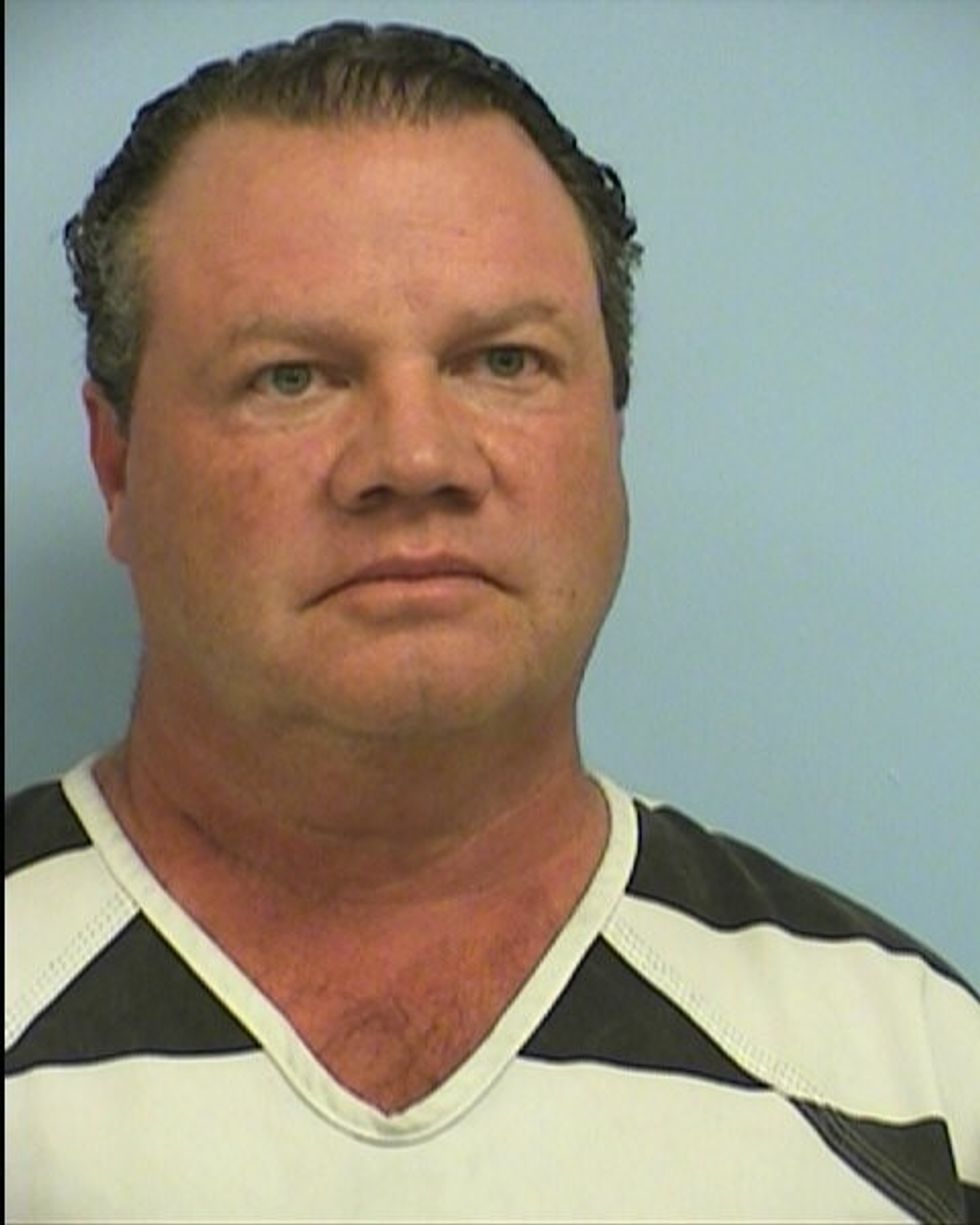 David Osborne (Austin Police Department)
Because police reports and arrest affidavits on active court cases are not considered public record in California, few details have been released about the allegations or the evidence. Formal charges were filed on May 17, 2019.
The following Tuesday, May 21, Osborne was booked into the Travis County Jail at 2:39 p.m. He posted bond in lieu of $100,000 bail and was released at 4:24 p.m. the next day.
The Monterey County Sheriff's Office posted the news about his arrest on its Facebook page and thanked Austin police for their help.
Austin police declined to immediately release documents related to the arrest, claiming they fall under public records laws in California.
Osborne was arraigned on the charges in Monterey County and entered a plea of not guilty on June 28.
That same day, the judge approved a restraining order banning him from any contact with the victim.
On Dec. 12, a judge postponed a preliminary hearing over the objections of prosecutors. It was reset for March 19, 2020.
At that point, proceedings became tangled in pandemic-related shutdowns and the hearing was moved to June 4.
The firm
Osborne Advisors say on their website that they manage some $200 million in assets for their clients.
The firm operated in Dallas for 10 years before expanding into Austin in 2012, specializing in managing money for former professional athletes, according to a news release published on Business Wire.
Ingredients:
1 1/12 oz sweet pepper-infused Tito's Handmade Vodka
3 oz soda water
1 oz grapefruit juice
1/2 oz lime juice
1/4 oz simple syrup
Directions: Add all ingredients, except soda water, to a shaker with ice. Shake and strain into a glass over fresh ice. Top with soda water and garnish with a mint sprig.
Something about Q2 Stadium brings the best out of goalkeepers.
Much like Austin FC's Brad Stuver has done throughout the season, U.S. men's national team keeper Matt Turner kept his team alive in a 1-0 victory over Qatar. The match proved to be a battle of stamina as USMNT's Gyasi Zardes netted a last-minute goal to push Team USA to the CONCACAF Gold Cup final.
Turner, who has conceded just one goal throughout the tournament, continually tipped off shots by an offensively-minded Qatar and put up three saves. Turner now has 18 saves in the Cup.
The USMNT stumbled through the first half, falling to a 10-shot deficit in the first 45 minutes. Qatar, which gained quick acclaim as the 2019 Asian Cup winners, has not gone scoreless throughout the tournament and has tallied the most goals in the Gold Cup so far.
Qatar saw their biggest shot to topple the U.S. team in the 61st minute after they were awarded a penalty kick. Turner never had to make a save, however, as Hassan Al Haydos missed the crucial shot.
Team USA regrouped and took the reins of the second half, but it was two substitutions by USMNT Head Coach Gregg Berhalter that advanced the team to the continental final.
The two second-half subs, Gyasi Zardes and Nicholas Gioacchini, proved to be the perfect mix for Team USA. As the final whistle loomed, Gioacchini set Zardes up for the first goal of the game in the 86th minute of play.
But Zardes wouldn't take credit for the game-changing goal.
"It's not just me, it's a whole team effort," Zardes told FS1. "It was a tight game, they're a great team, but our starters did a phenomenal job at wearing them out... and trying to create opportunities to where when the subs came in, we were able to make a difference."
An outmatched Qatar wasn't able to gain ground as the final tally went 1-0 to the U.S. in Q2 Stadium.
While some were concerned at stadium turnout before the match began, the stadium slowly swelled to near capacity as usual in Austin. Berhalter, whose son Sebastian Berhalter is a midfielder at Austin FC, has previously shown admiration for the MLS' newest stadium.
This was the second national team match held in Austin in under a month after the women's national team christened the pitch in June.
Next up, Team USA will play the winners of the Mexico vs. Canada semifinal, which takes place at 9 p.m. Thursday, in the Gold Cup final. The final round of the continent's biggest tournament will take place at 7:30 p.m. on Saturday in Las Vegas.
The Biden administration is asking cities and states to use pandemic relief funds to pay residents $100 to get vaccinated. Meanwhile, Texas Gov. Greg Abbott reaffirmed prohibitions on pandemic protocols in a new executive order issued on Thursday.
The order emphasizes that "the path forward relies on personal responsibility rather than government mandates," according to a press release. It outlaws government entities from requiring employees to be vaccinated or individuals to provide proof of vaccination and upholds previous orders restricting government entities' ability to impose pandemic protocols.
Local public health and elected officials have asked all Austinites to wear masks indoors, regardless of vaccination status, and unvaccinated individuals to avoid nonessential trips last week given the rising number of local confirmed cases and related hospitalizations in recent weeks. But it is not enforceable under Abbott's order.
The seven-day moving average of new hospital admissions in the five-county Austin metro has more than quintupled since the beginning of July and is now 47.4. The threshold for Stage 5 is 50, according to Austin Public Health's risk-based guidelines.
Despite these trends, Abbott stands firm in his commitment to avoid new statewide mandates and to prohibit local government entities from issuing any of their own.

"Texans have mastered the safe practices that help to prevent and avoid the spread of COVID-19," he said in a statement. "They have the individual right and responsibility to decide for themselves and their children whether they will wear masks, open their businesses and engage in leisure activities."
Public health officials have attributed the current spike to the more contagious Delta variant and unmitigated spread among unvaccinated individuals. Abbott encouraged Texans to get vaccinated if they haven't already but affirmed that it would never be required by the state in his statement.
An increasing number of Austin-area employers—including Ascension Seton, Baylor Scott & White Health, Facebook and the Department of Veterans Affairs—have announced new vaccine requirements in recent days. Austin Mayor Steve Adler asked the city manager to enact a similar requirement on Wednesday, but the city is unable to do so due to an executive order issued by Abbott in April.