Get connected with our daily update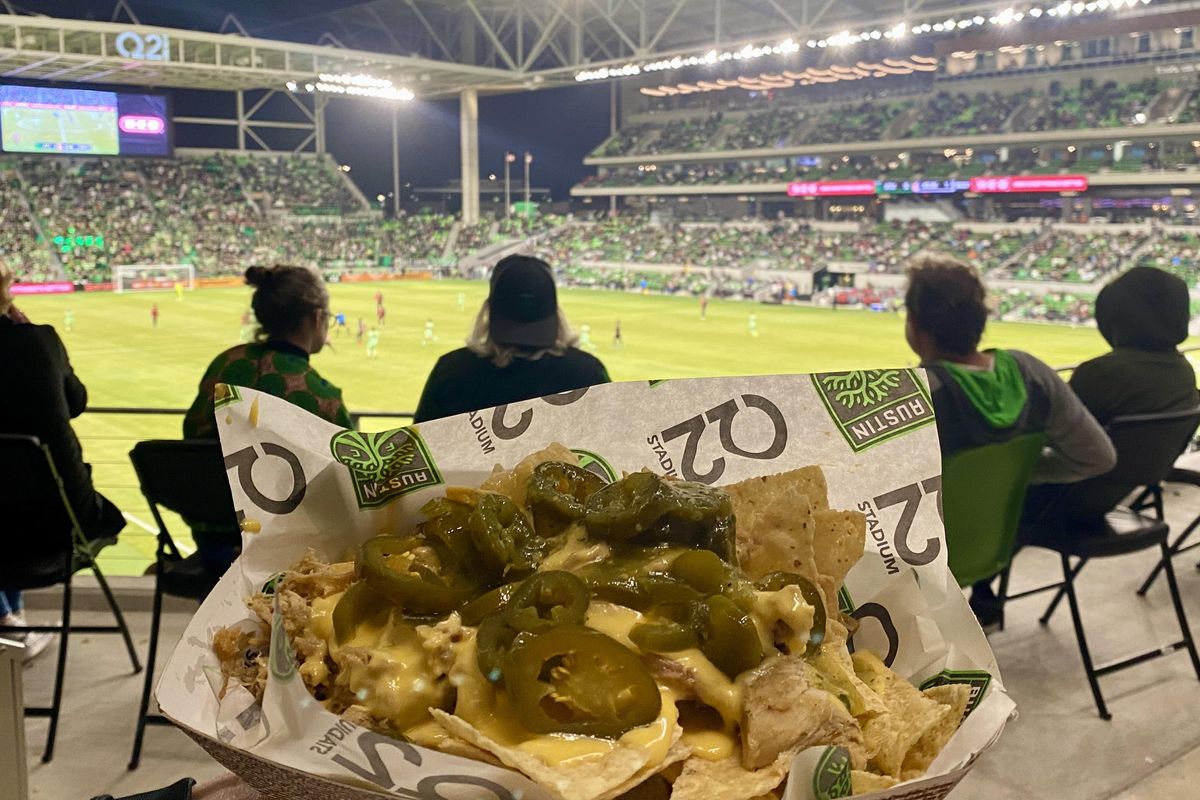 Austin's favorite professional sports team is back for its second season, so grab your Verde gear and get ready to eat all the local grub your heart desires.
---
You don't have to be a soccer fan to enjoy yourself at Q2 Stadium with plenty of food options. Austin FC worked to represent Austin by partnering with 512 Food Co. and loading the stadium up with as many local eats as possible.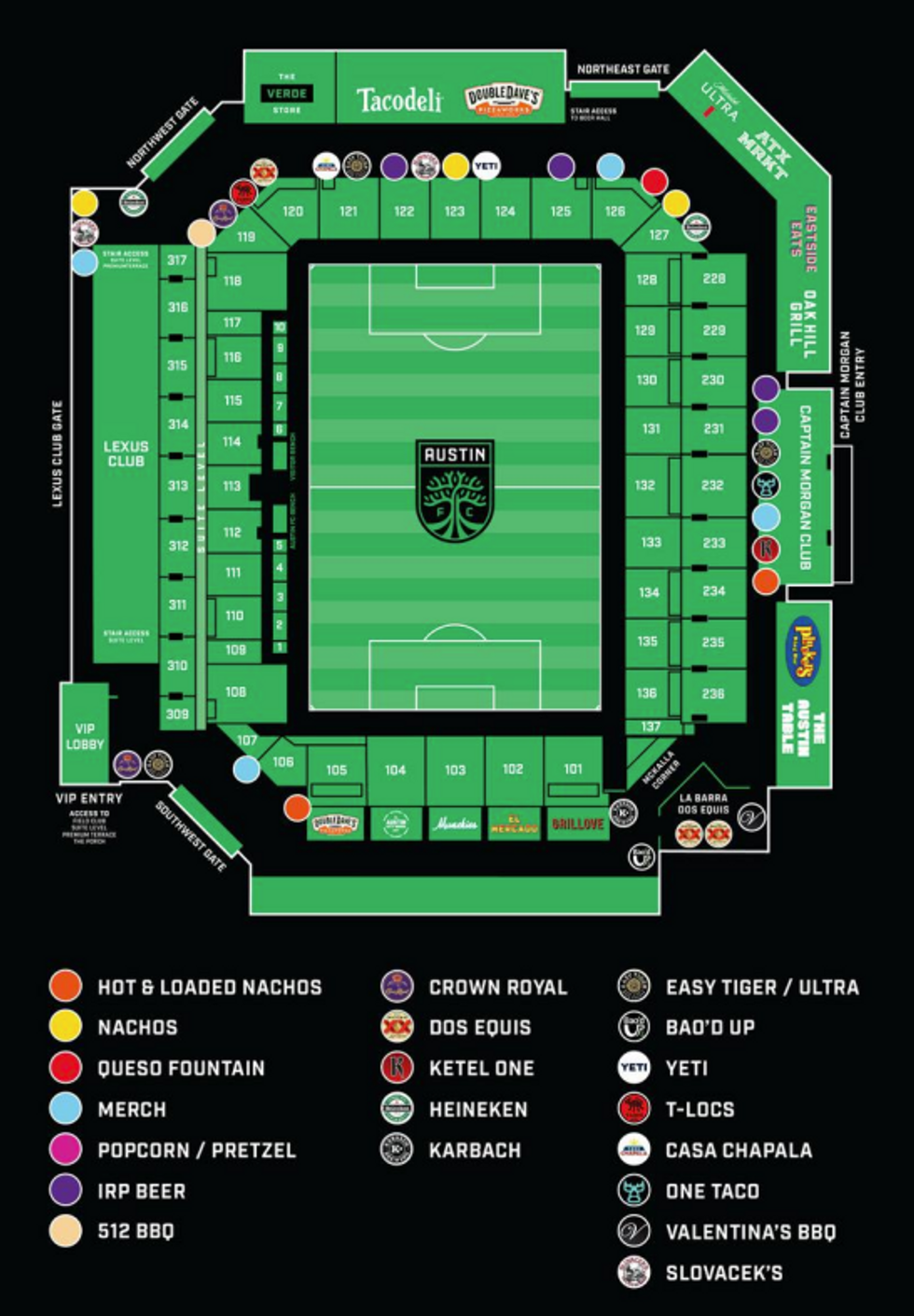 Quick tips:
Kiosks are cashless so bring some other method of payment.
You can skip the line and order ahead of time through the Austin FC app.
Attendees can bring a sealed 20-ounce water bottle along to refill for free. A bottle of Dasani water runs $5.49 a pop!
Lines are longest before kickoff and at halftime, keep that in mind when you decide to grab a bite.
​ATX MRKT | Section 127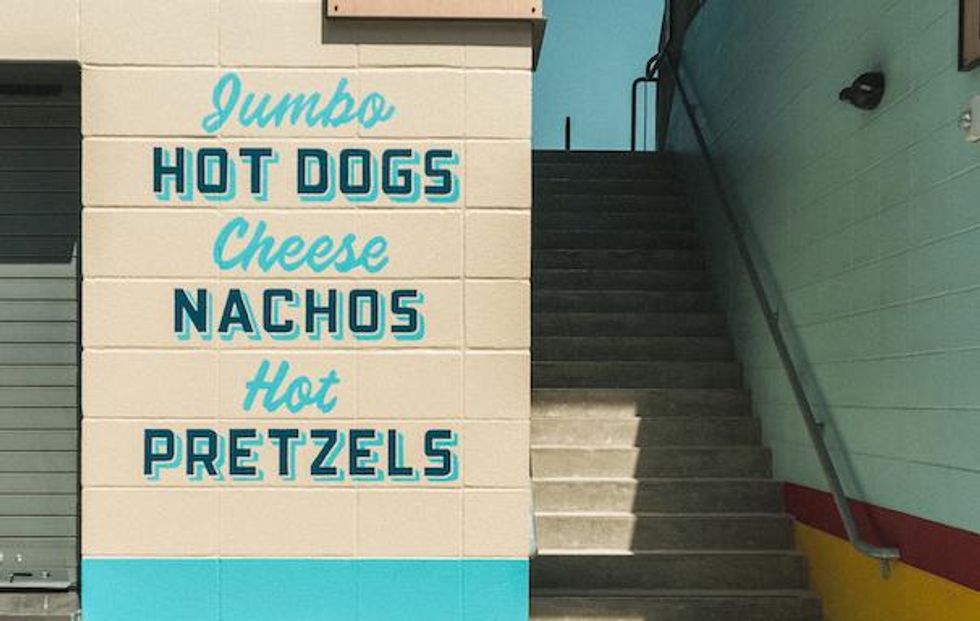 Directly to the left when you walk in through the northeast entrance, ATX MRKT is a quick market to grab select beers, ice cream or light snacks.

​The Austin Table | Section 136
This rotating stand features a new guest chef or restaurant for every game, keeping you on your toes.

​Bao'd Up | Corner of section 101 and 137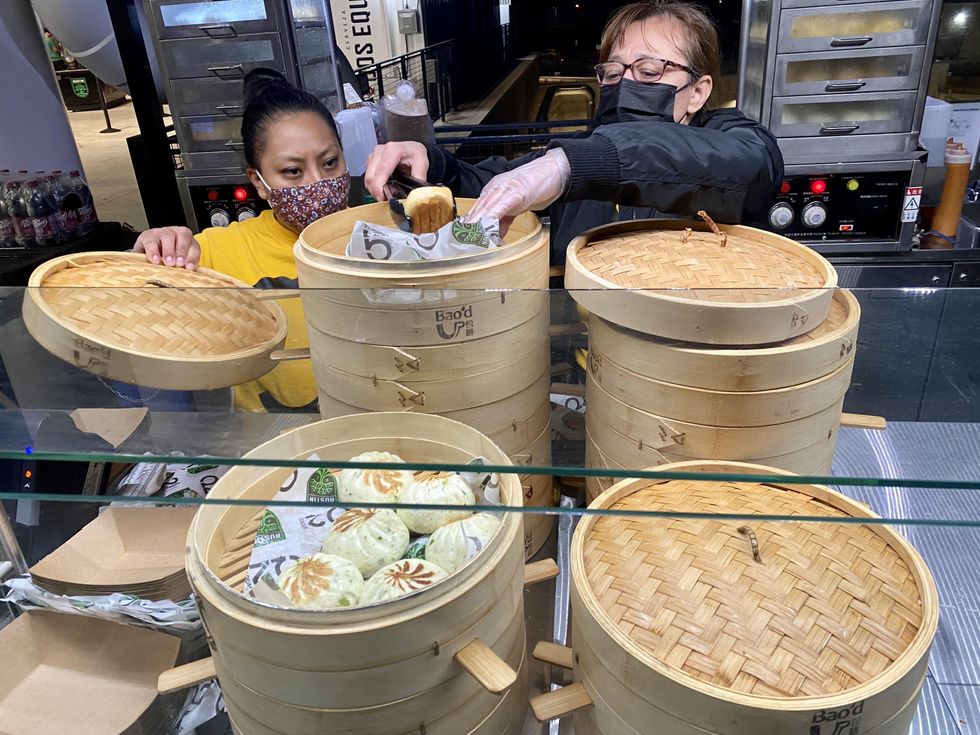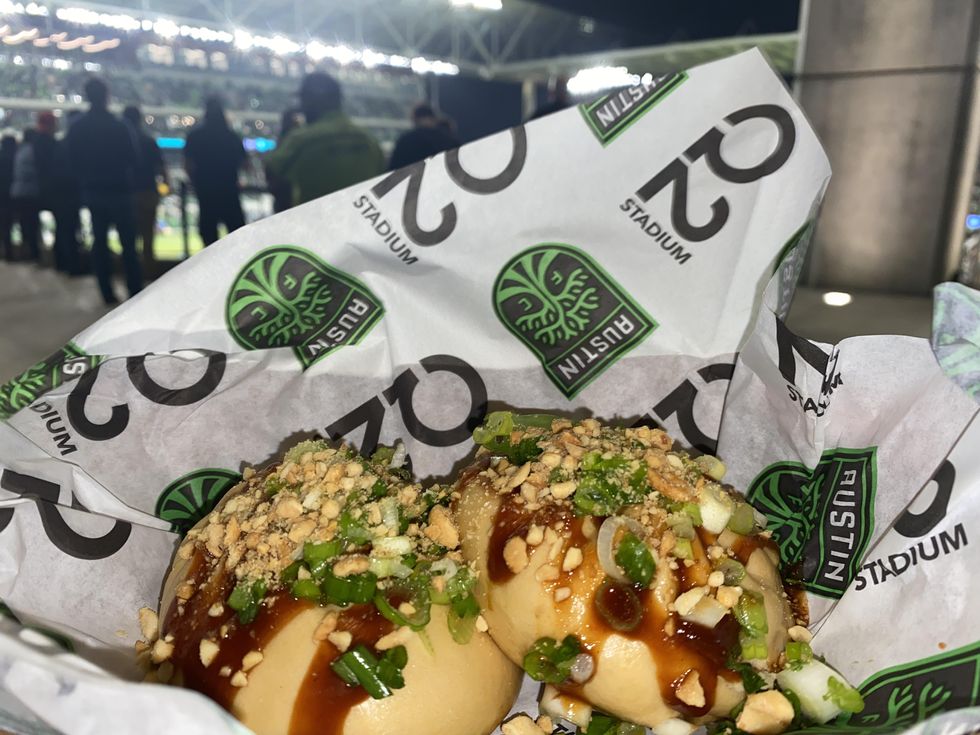 Compact, mobile and filling, a bao is the perfect food item for spectators in the bouncy supporter's section. Attendees have the choice of four styles: Teriyaki chicken, spicy brisket, juicy pork and creamy veggie. Plus, at just $5.49 for two buns, Bao'd Up is one of the cheapest options in the stadium.
​Casa Chapala | Section 121
Known for its strong, tequila-based drinks, Casa Chapala is where you can grab a beef or chicken torta or some Chapala nachos.

​DoubleDave's Pizzaworks | Sections 105 and 124
For a quick and easy choice, head to Double Dave's. The pizza joint only has three options on the menu, cheese, pepperoni and pizza rolls. And as the biggest vendor space in the stadium, long lines go quickly. The local chain is so nice it's in the stadium twice!

​Easy Tiger | Sections 108, 121 and 131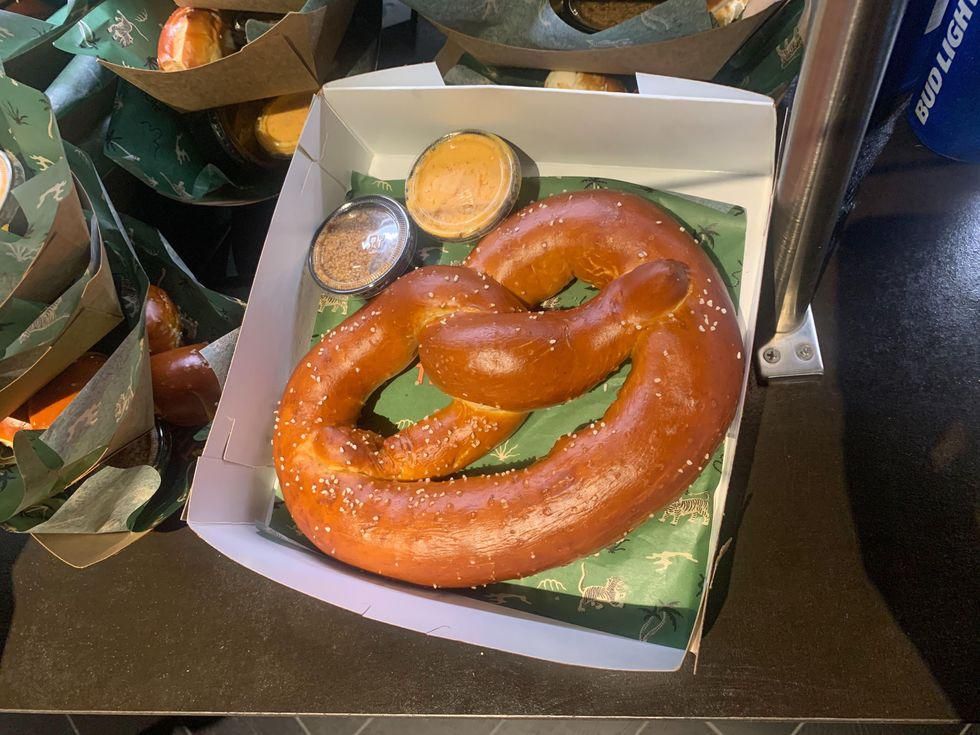 With three locations around the stadium, Easy Tiger is an obvious and simple game day choice. Currently, you can only get one item: The gigantic pretzel, which comes with beer cheese and whole grain mustard.
​El Mercado and Munchies | Section 102 and 103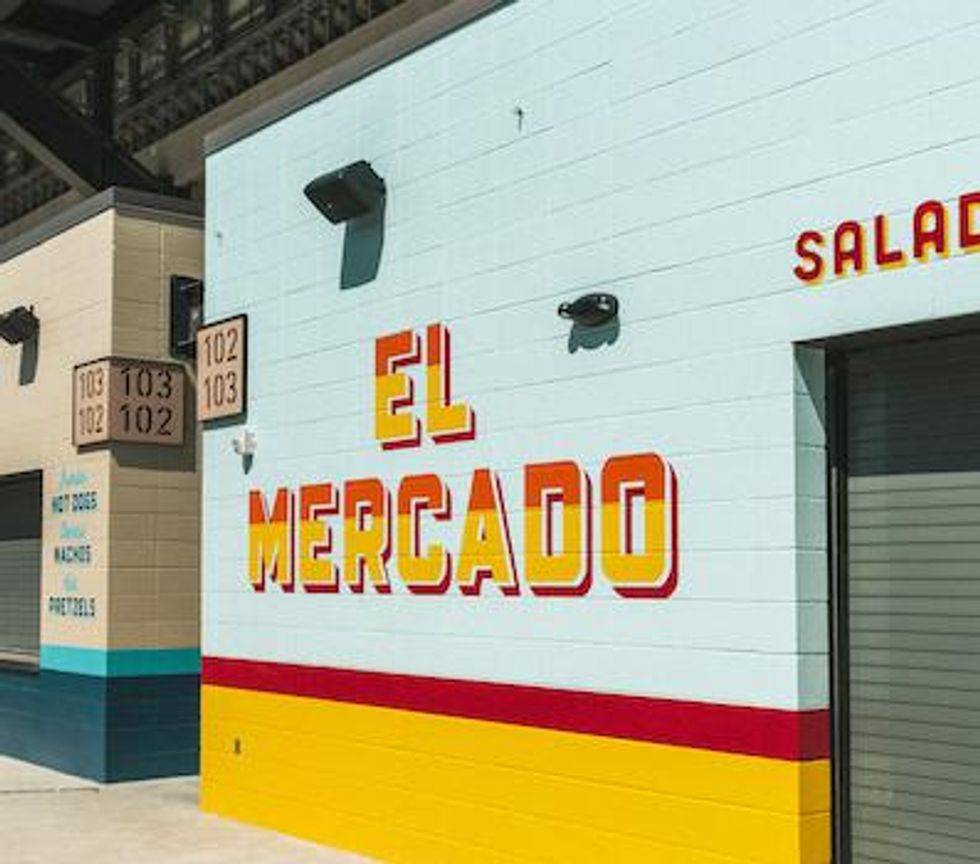 This grab-and-go market carries a bunch of local options that you can get quick:

Black bean and goat cheese, or poblano and cheese empanadas from Mmmpanadas
Beef, chicken or veggie tamales from Tamale Addiction
Slovacek's sausages
Candy and snack foods
​Grill Love and Oak Hill Grill | Section 101 and 129
In need of a classic cheese burger or some chicken tenders? Grill Love or Oak Hill Grill, located at section 129, has fair food options that extend to jumbo hot dogs and crispy french fries.

​One Taco | Section 132
For lovers of a quality corn tortilla, One Taco is for you. The "Diners, Drive-ins, and Dives" alum carries a tightened menu with a choice of tacos al pastor, carne asada, nachos extremos, the rotating taco del dia and frozen margaritas.

​Pluckers Wing Bar | Section 135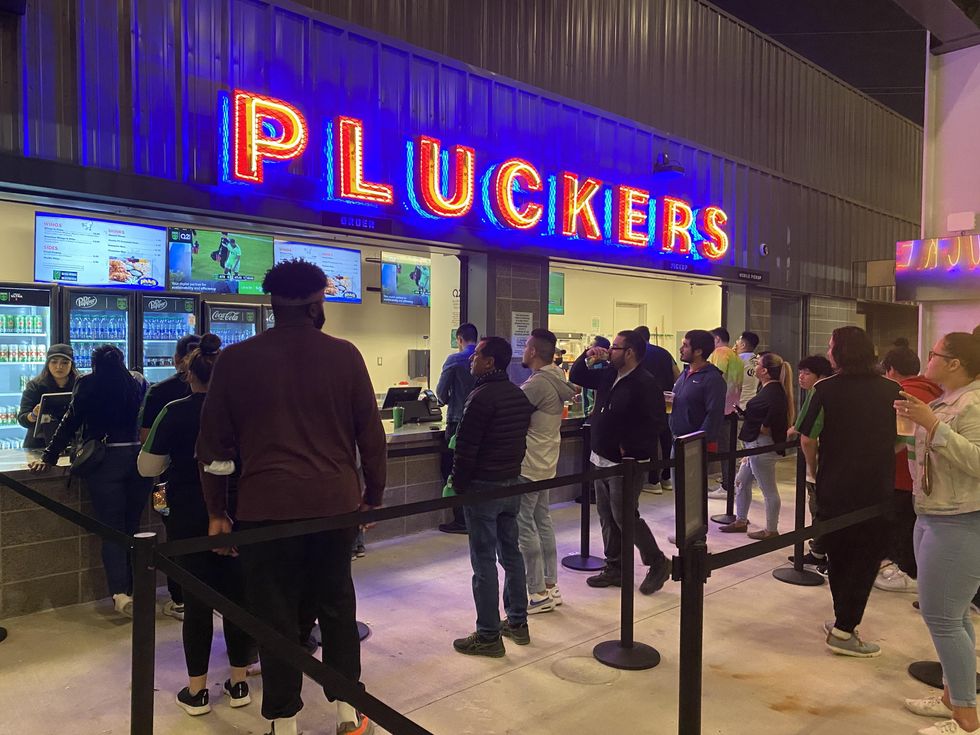 (Sonia Garcia/Austonia)
An Austin-based favorite for 26 years, Plucker's has all your wing needs covered at Q2. The meager menu only offers wings, boneless and otherwise, and waffle fries, but all the classic sauces like Goldrush barbecue and hot buffalo are on deck.

​Queso Fountain | Section 127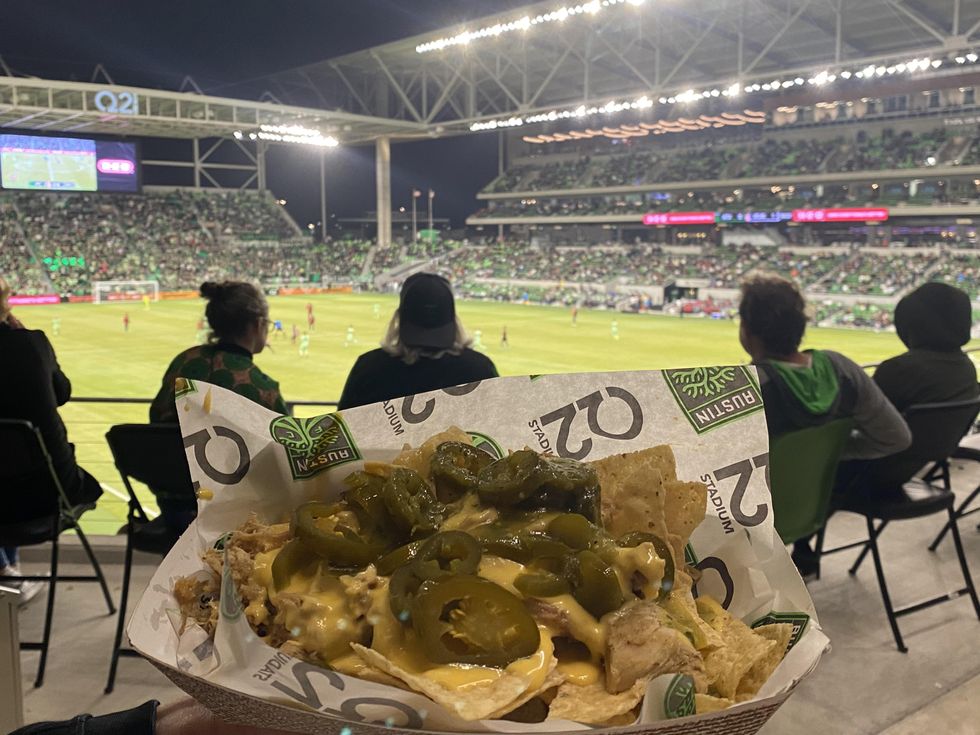 Nachos are a must when it comes to sports food, which is probably why there are six places throughout the stadium where you can get some form of queso. Whether you want loaded nachos, queso from a fountain, spicy nachos or margaritas, you'll be able to find it at one of these kiosks. Plan on ordering these earlier than later, lest you end up with stale or broken chips (we experienced this first hand).

​Slovacek's | Sections 118 and 123, and inside Munchie's
Famously known for its kolaches, Slovacek's is conveniently located all across the stadium and has two different sausages available for the Q2 crowd: A chili cheese sausage, and a green chili and gouda sausage.

​Tacodeli | Section 122
One of Austin's favorite taco joints, Tacodeli is best ordered during the game to avoid long lines. The menu will be a bit more sparse than a typical location, but you can still get TacoDeli's signature chips and queso or Salsa Doña, Frontera Fundido chicken or sirloin taco, or a simple bean and cheese taco.
​T-Loc's Sonoran Hot Dogs | Section 119
For the thoroughly Instagrammable Verde hot dog, you'll want to head to T-Loc's Sonoran Hot Dogs before it sells out. The bacon-wrapped dogs, which originated in Sonora, Mexico, are nestled in an authentic bolillo bun with a variety of toppings. You'll want to grab one with a green bun for likability.

Valentina's Tex Mex BBQ | Section 137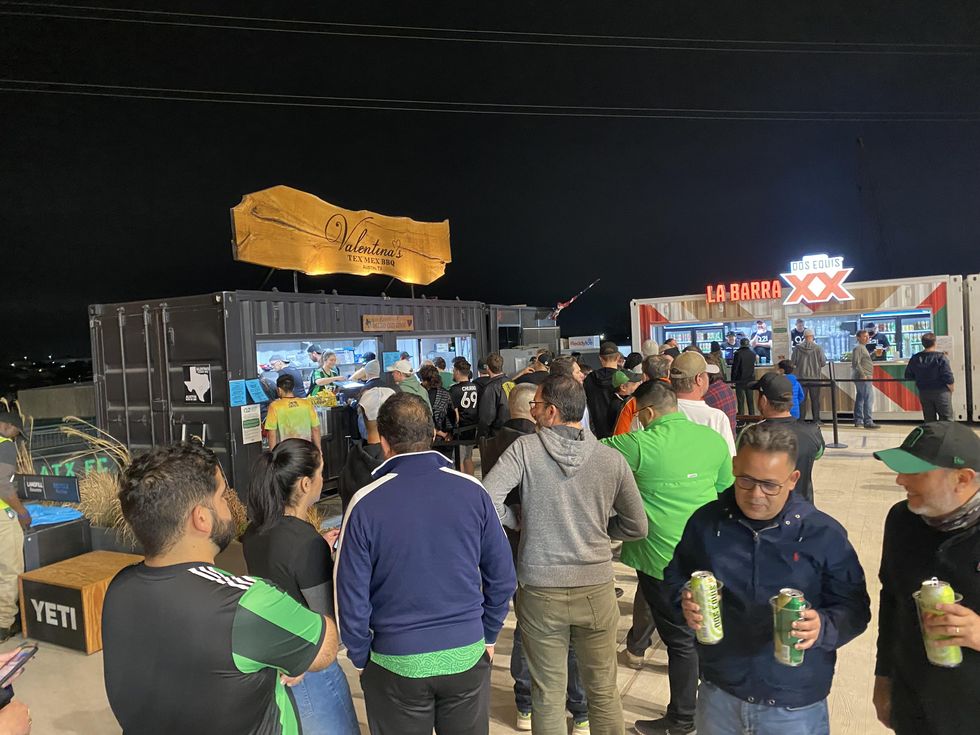 Valentina's gets busy just seconds after halftime begins. (Laura Figi/Austonia)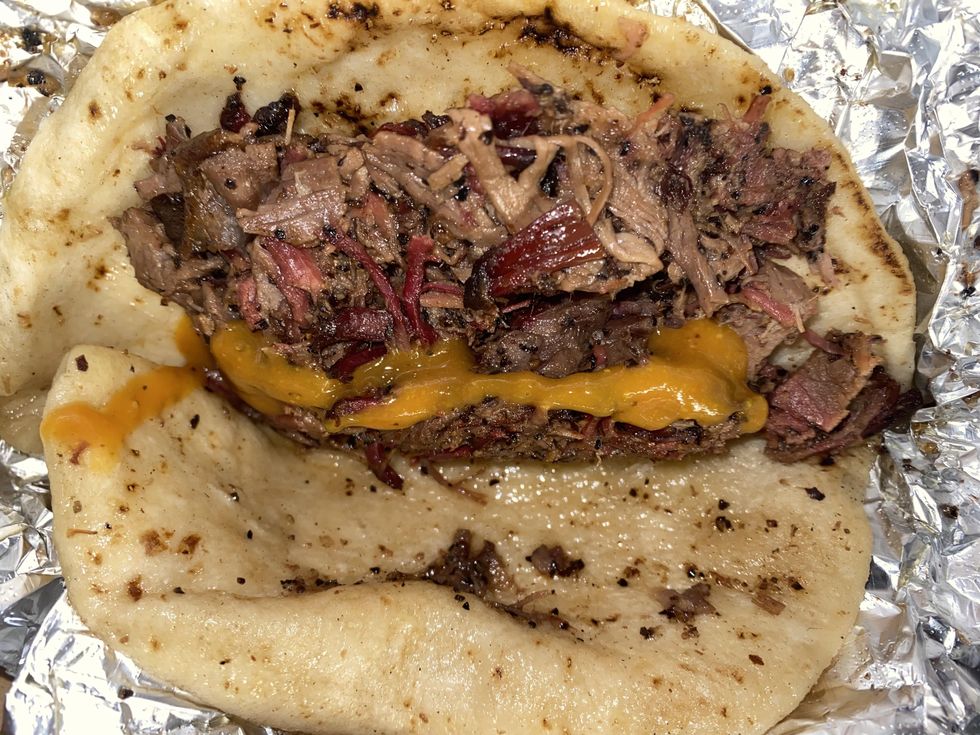 Long line alert! Just seconds after halftime began, Valentina's Tex Mex BBQ truck had people lining up all the way to Plucker's. The tacos are worth it but stock up on brisket tacos, pulled pork sandwiches, baby back ribs (if you're early enough!) and beer once you get to the front of the line—this is a one-stop-shop. Don't forget to ask for the habanero BBQ sauce—it's perfection!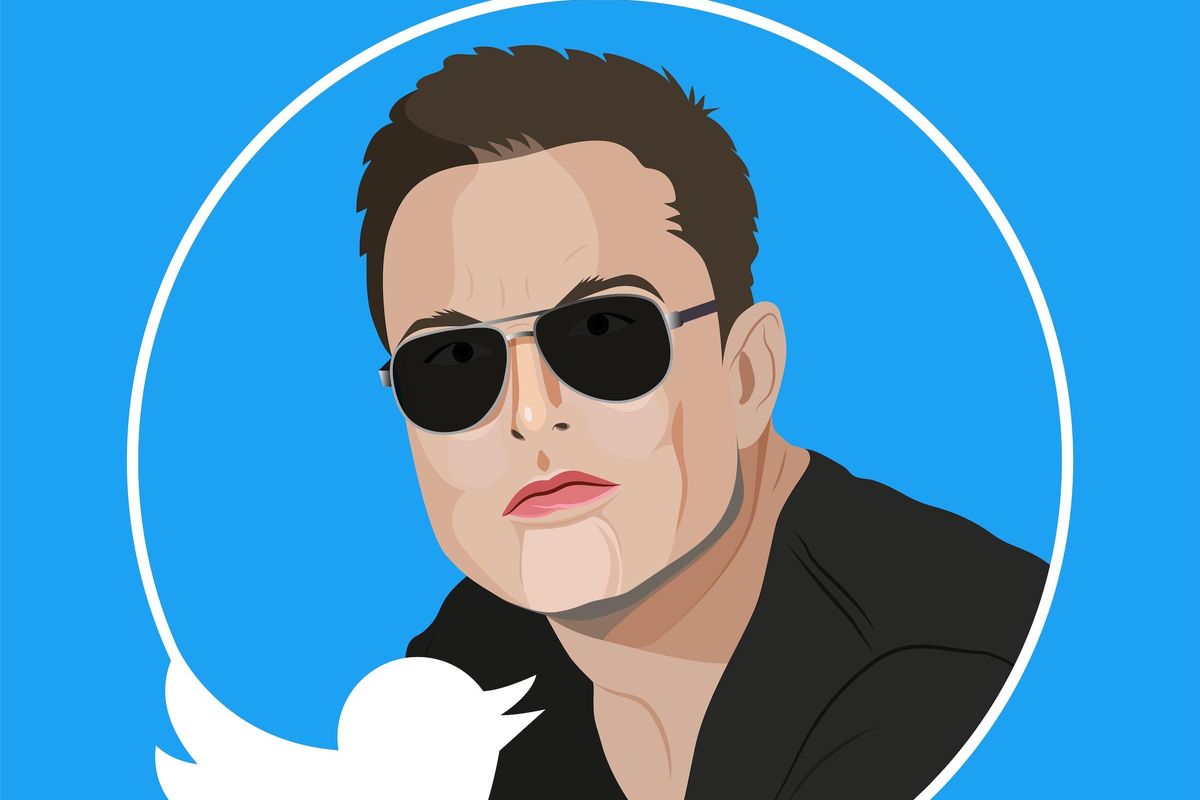 Shutterstock
Elon Musk has proposed once again to buy Twitter for $54.20 a share.
The news that Musk is offering to carry on with the $44 billion buyout was first reported by Bloomberg. Now, a filing with the Securities and Exchange Commission shows Musk made the proposal in a letter to the tech giant on Monday.
The New York Stock Exchange temporarily halted trading in Twitter stock twice Tuesday, first because of a big price move and the second time for a news event, presumably the announcement of Musk's renewed offer.
While the per share offer price on this latest proposal remains the same as the original offer, it's unclear if Musk has made other term changes or if Twitter would reject it. According to other reports, a deal could be reached this week.
The stock closed at $52.00/share Tuesday, indicating market uncertainty around the $54.20 offer.
After Musk informed Twitter of plans to terminate the original agreement in July, Twitter sued. A trial has been expected in Delaware Chancery Court on Oct. 17.
With the proposition of a buyout on the table again, it revives the question of whether Musk might move Twitter from San Francisco to Central Texas.
He's done so with some of his other companies. Tesla's headquarters in southeast Travis County had its grand opening earlier this year and tunneling business The Boring Company moved to Pflugerville. At least two other Musk companies, SpaceX and Neuralink, have a Central Texas presence without being headquartered here.
Technology journalist Nilay Patel this afternoon voiced concerns that owning Twitter and Tesla together could be problematic for Musk, as his Tesla manufacturing facilities in Germany and China are both in countries that have disputes with Twitter over content moderation and censorship.
Telsa shares fell after the Twitter news became public, before rallying to close up, at $249.44.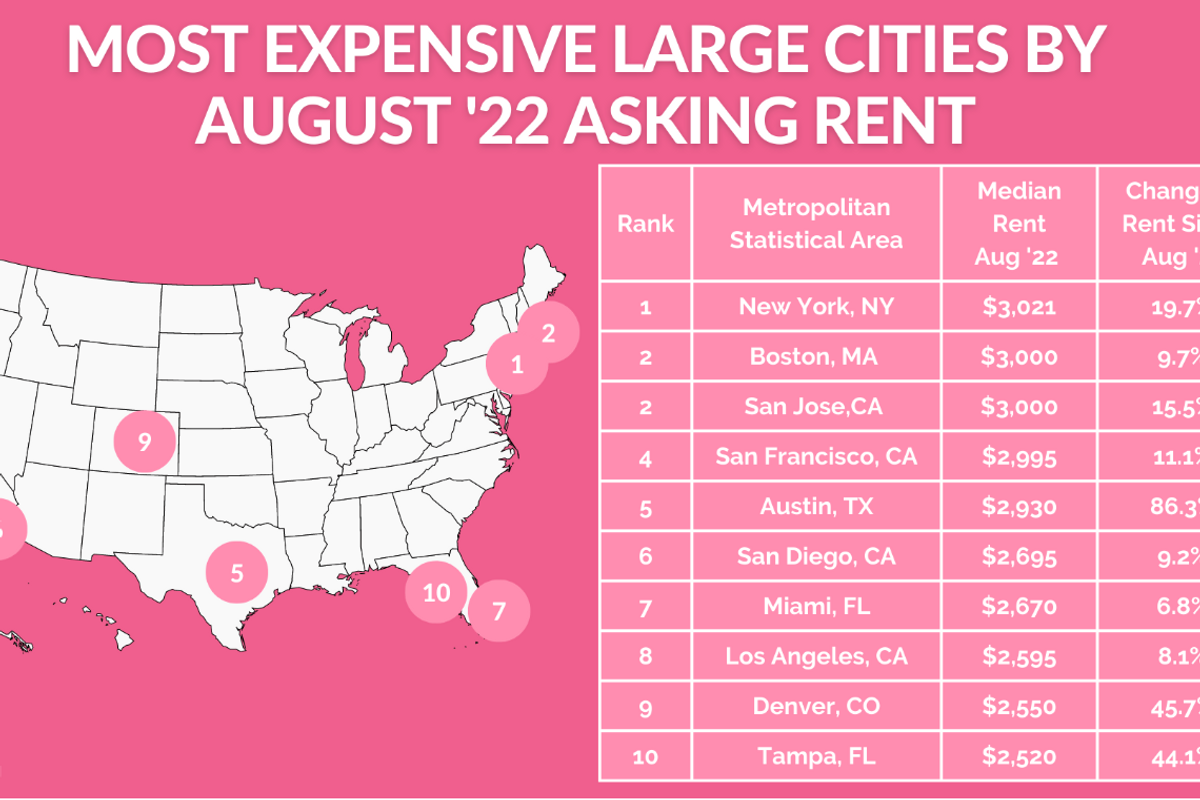 Dwellsy
While searching for a place to live, Austin renters will face monthly rates of nearly $3,000, a recent guide from rental marketplace Dwellsy shows.
The median rent in August this year was $2,930, a more than 86% increase since August 2021. That's $820 more than the nationwide median asking rent in August and puts Austin just below the Bay Area, Boston and New York for large cities with the most expensive asking rent.
"Within this group, Austin, TX stands out for the highest increases in asking rent, which has nearly doubled since this time last year," the study notes.
Outside of those large cities, however, others are seeing even higher rent spikes. Metro areas that ranked above Austin in one-year increases include those like Kansas City, MO with a 112% change in rent since last August and Tucson, AZ with a 124% change.
The data reflects large apartment communities, single-family homes and 2-6 unit buildings.