Get connected with our daily update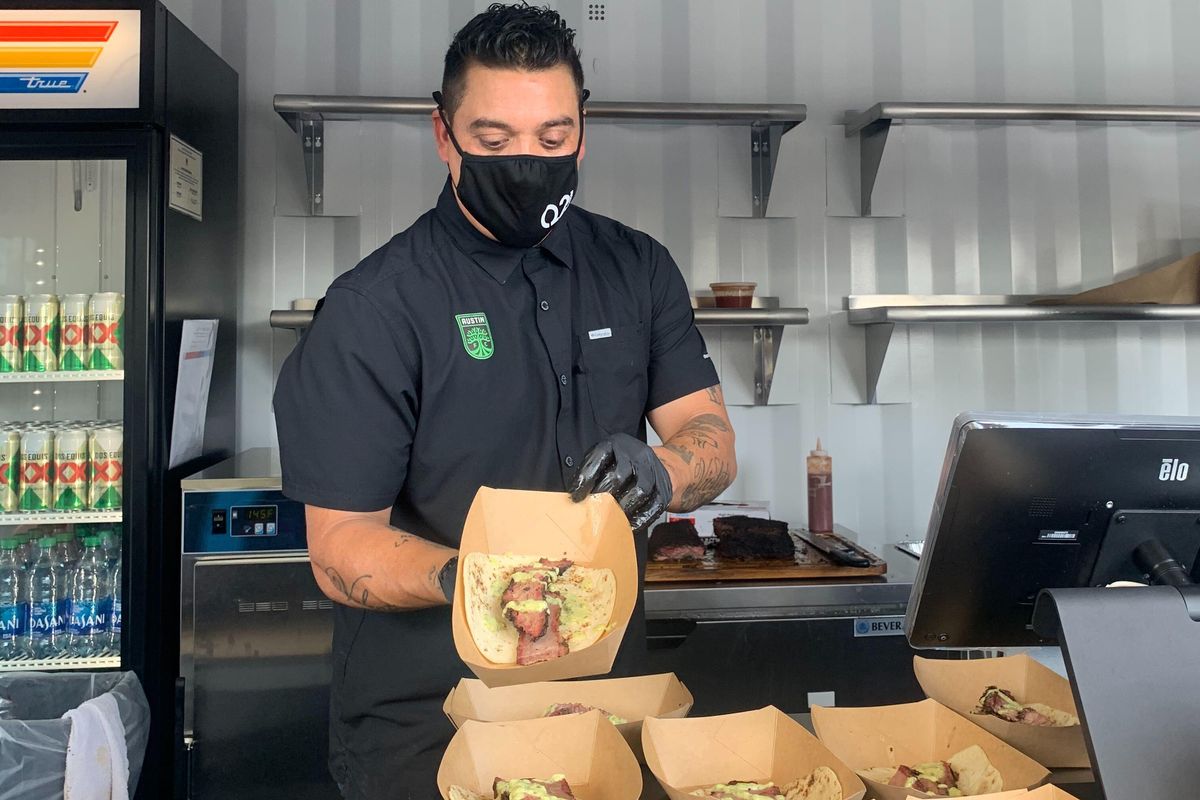 Austin FC's home opener is just over a week away, and the chefs behind all of the local eats at Q2 Stadium are ready to showcase their cuisine.
---
From dumplings at Bao'd up to Austin FC's signature Verde Queso, Austin FC chef Sam Boisjoly said that the goal is to make anyone feel ready to grab a plate at the stadium. "If I had a friend that had a layover for three hours at Austin... if he came here, he would be able to see Austin," Boisjoly said.
Austonia's Claire Partain got a sneak peek at all the spicy, sweet and savory options soon to be offered at the stadium.
Here's what she thought:
Verde Queso: 8.5/10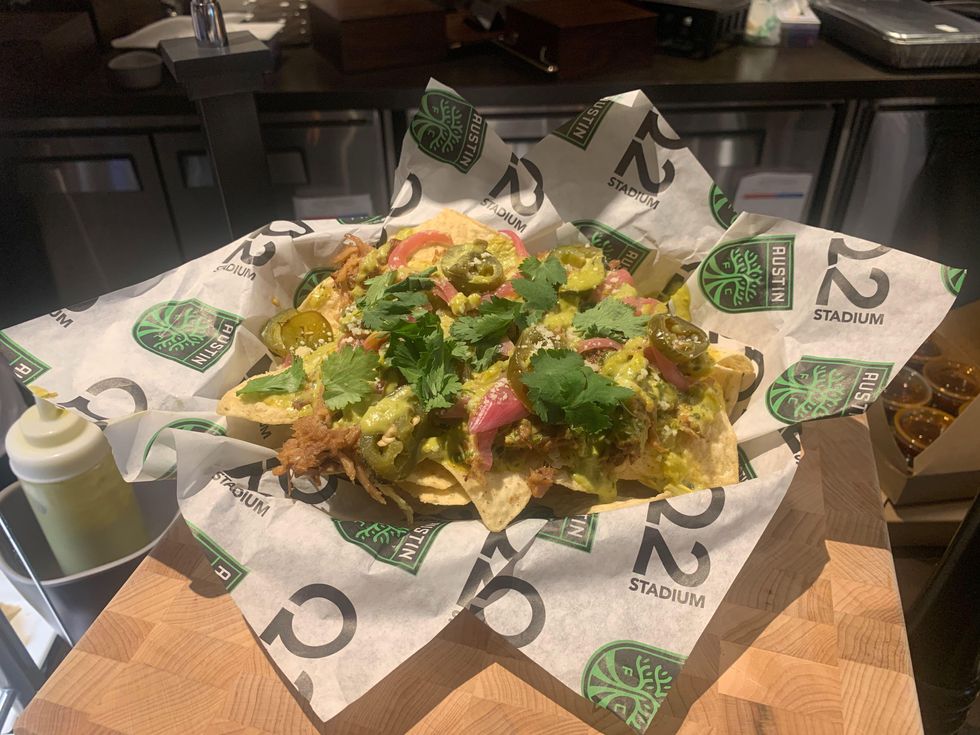 (Claire Partain/Austonia)
Austin FC's signature Verde Queso was the winner of the club's queso contest, which featured dozens of entries from homemade cooks across the city. It'll be featured at the club's soon-to-be-famous Queso Fountain alongside a classic queso and fuego queso. The queso and salsa verde combine into a lovely Tex-Mex flavor with a kick. Topped with pickled onions and chopped pork, this is a far cry from regular stadium nachos. Prepare to come to Q2 hungry for this one.
Bao'd Up veggie bao: 9/10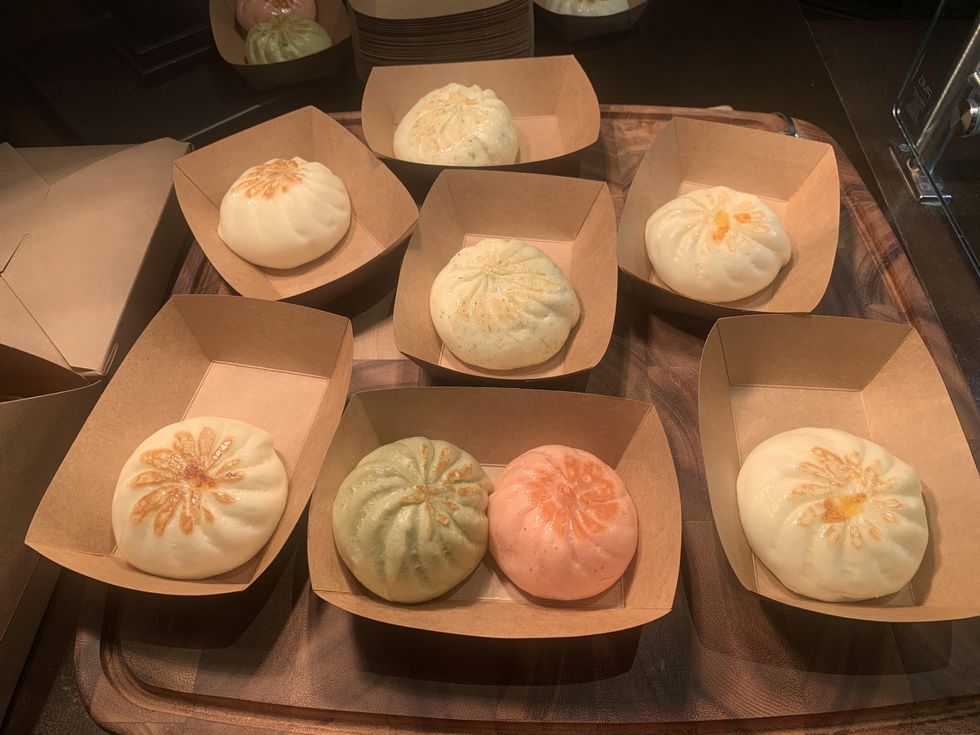 I've never had bao before, so I was least prepared for what was inside these lovely, aesthetically-pleasing dough rolls. The trendy restaurant stuffs bao with anything from buffalo chicken to cheesecake, but I chose the veggie flavor to see what vegetarians may be able to try at Q2. Boisjoly said that people with any diet would enjoy food at the stadium, and he didn't disappoint: the veggie bao featured a lovely cream inside wrapped in a warm, doughy crust. Definitely a must-try for any attendee.
Valentina's Tex-Mex: 8/10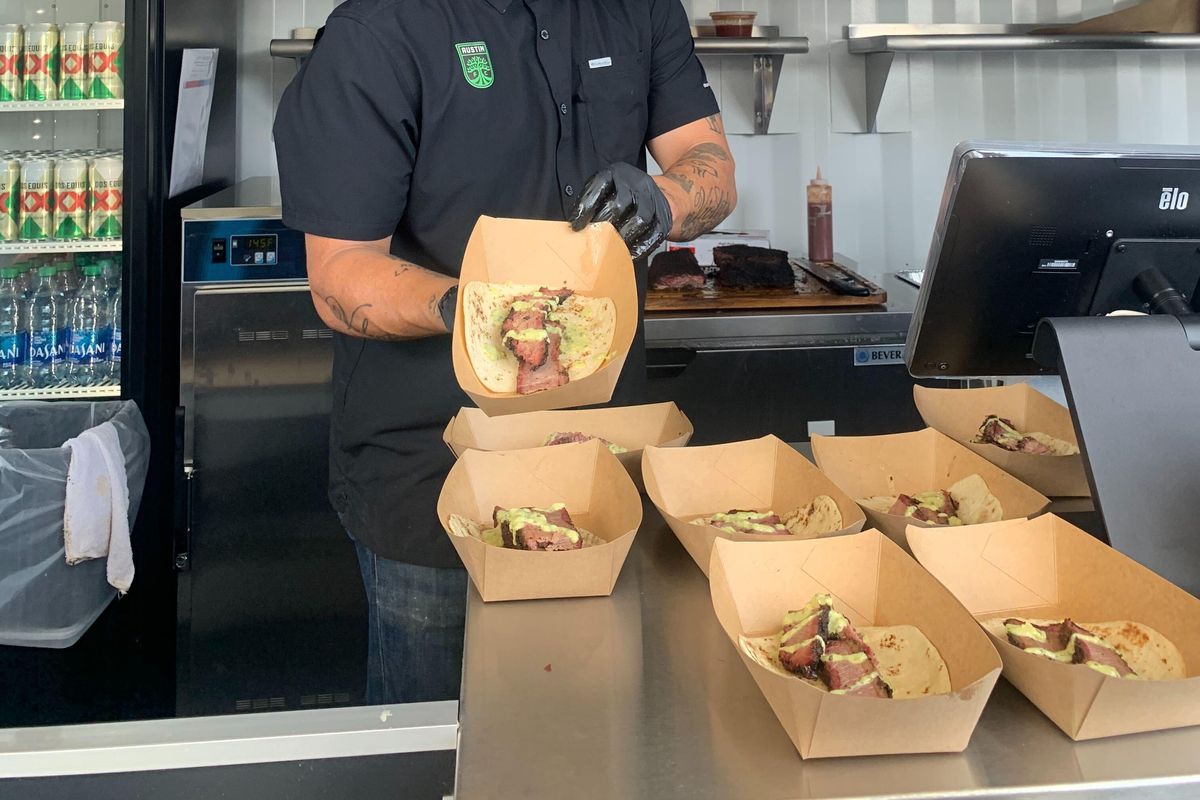 (Claire Partain)
The only reason this gets below a 9.5 is because they ran out of ribs before I could try it. I survived to tell the tale, and Valentina's other selection, a sliced brisket taco, did not disappoint. Featuring thick slabs of meat covered in a green sauce and wrapped in a fresh tortilla, Valentina's provides two Texas favorites—Tex-Mex and BBQ—into a joyfully delicious taco. The supporters' section will also have easy access to the truck, which is located nearby alongside a well-placed Dos XX booth.
Easy Tiger: 8/10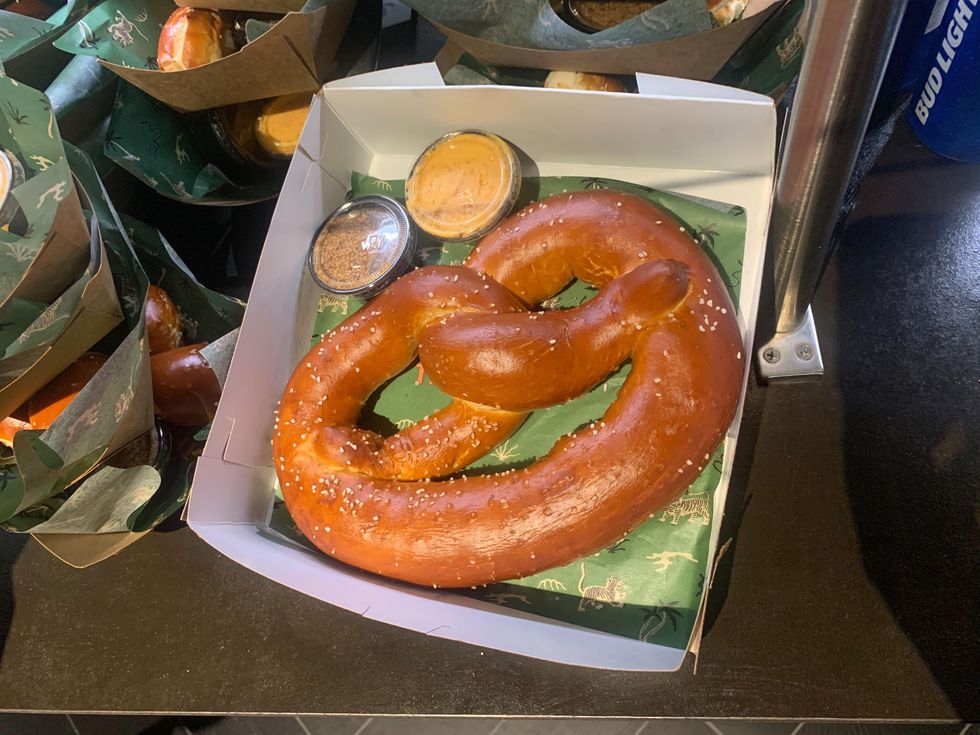 (Claire Partain)
Easy Tiger was given the task of providing Austin FC with a classic stadium pretzel, and they fulfilled expectations. The massive pretzels are just soft and salty enough to satisfy, and they're paired with equally yummy cheddar cheese sauce. The only drawback was the horseradish sauce, but that may just come down to personal preference.
T'Locs Sonora Dogs: 7.5/10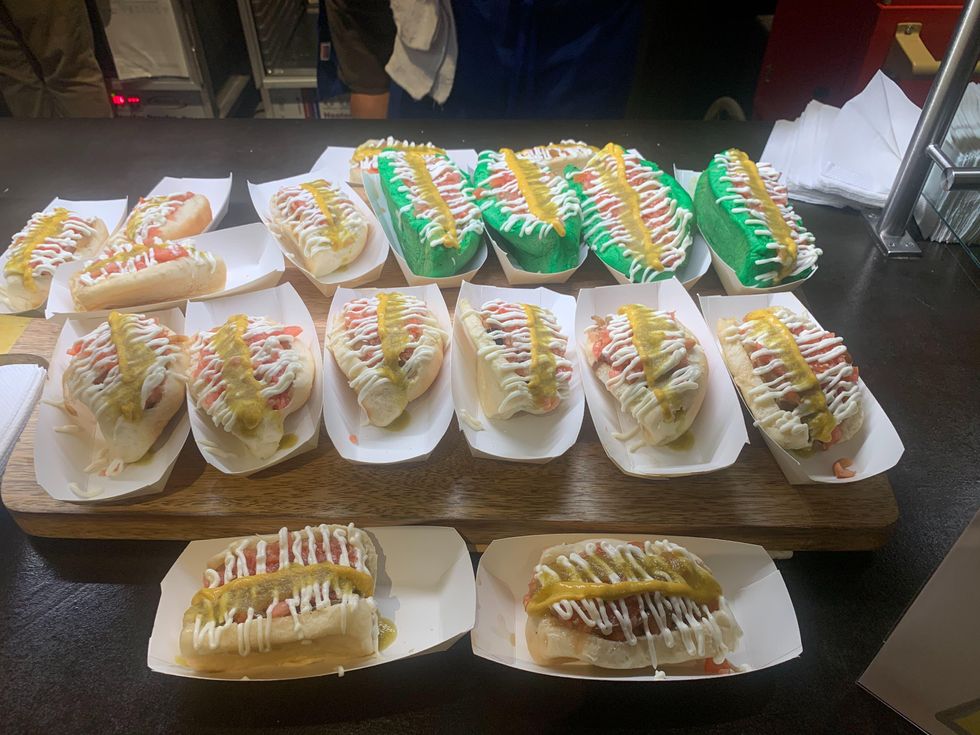 (Claire Partain)
What a combo: T'Locs Sonoran Hot Dogs combine savory, sweet, sour and spicy to form a truly excellent ballpark dog. Covered in multiple sauces, the meat is tender and juicy, but the true star of the show is their authentic Sonoran buns shipped in from Arizona.
DoubleDave's Pizza Rolls: 7/10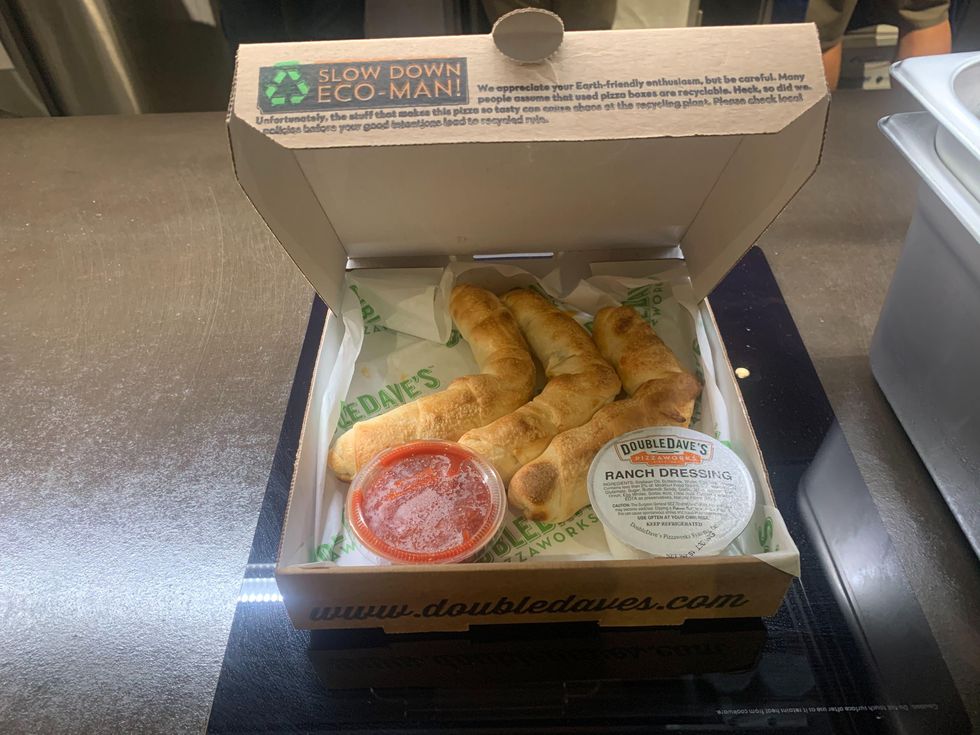 (Claire Partain)
DoubleDave's is featured on both ends of Q2 Stadium, and it's no surprise that stadium officials double booked Austin's signature pizza chain. As a frequent DoubleDave's customer, I was less starstruck by the rolls than other dishes, which is why it only receives a seven out of 10. Still, anyone looking for cheesy, pepperoni goodness should grab a pizza roll before any Austin FC match.
TacoDeli- 7/10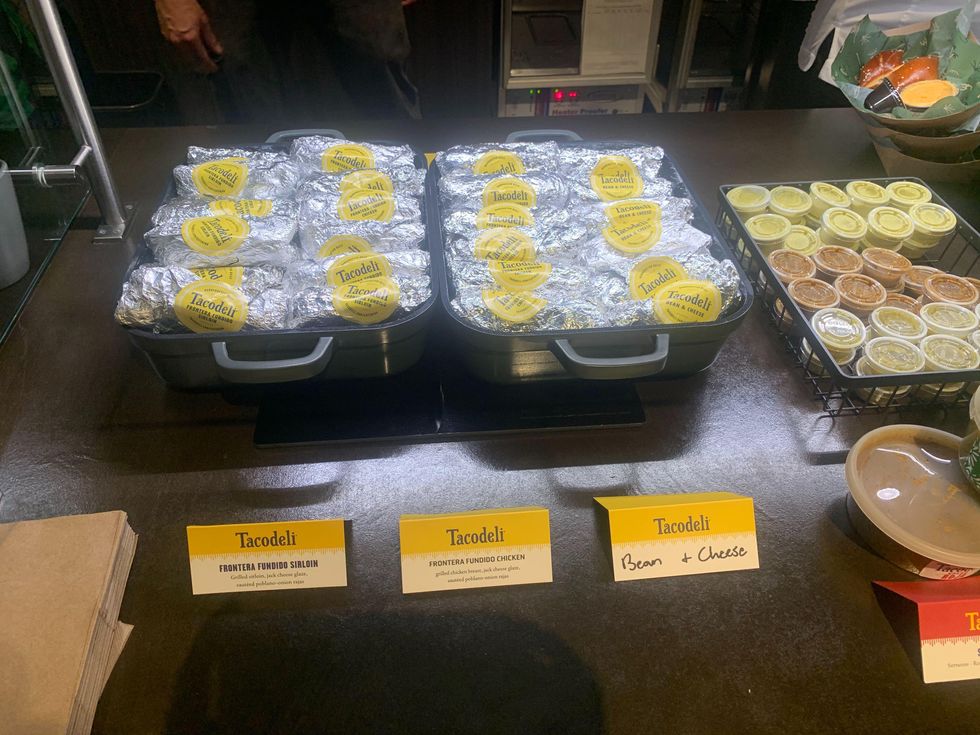 Tacodeli's frontera fundido sirloin taco was unfortunately the last I tried, which means I was only able to muscle down a bit. Still, the tender beef topped with signature salsa will be a satisfying and portable option for anyone at Q2 come game time.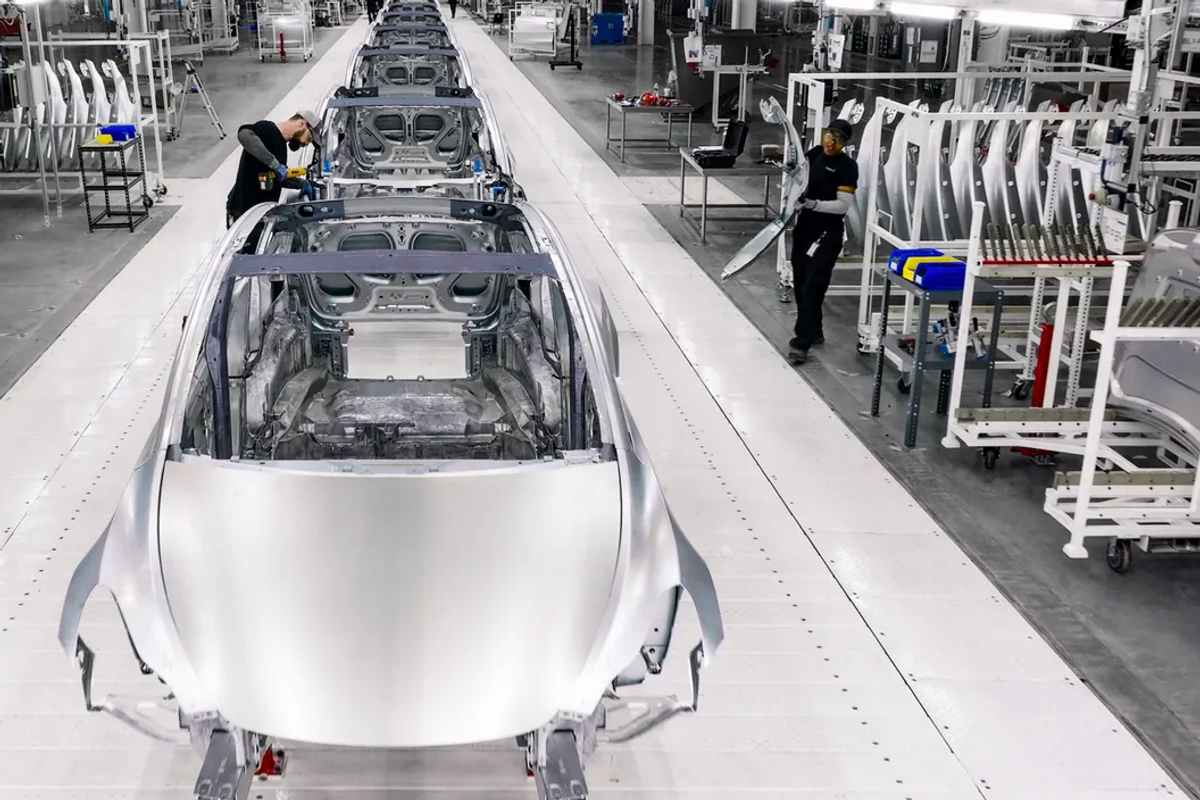 Giga Texas, the massive Tesla factory in southeast Travis County is getting even bigger.
The company filed with the city of Austin this week to expand its headquarters with a new 500,000-square-foot building. The permit application notes "GA 2 and 3 expansion," which indicates the company will make two general assembly lines in the building.
More details about the plans for the building are unclear. The gigafactory has been focused on Model Y production since it opened in April, but the company is also aiming for Cybertruck production to kick off in mid-2023.
While there is room for expansion on the 3.3 square miles of land Tesla has, this move comes after CEO Elon Musk's recent comments about the state of the economy and its impact on Tesla.
In a May interview with Tesla Owners Silicon Valley, Musk said the gigafactories in Berlin and Austin are "gigantic money furnaces" and said Giga Texas had manufactured only a small number of cars.
And in June, Musk sent a company wide email saying Tesla will be reducing salaried headcount by 10%, then later tweeted salaried headcount should be fairly flat.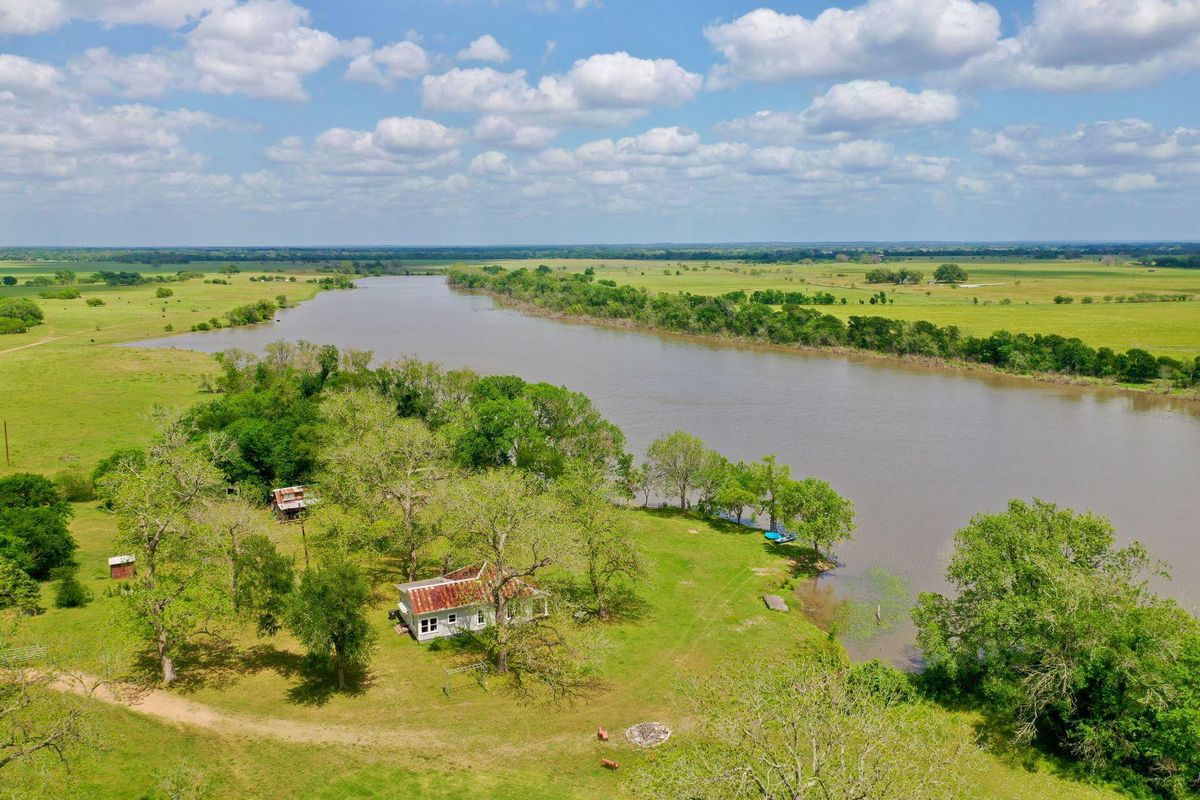 It's been a record-breaking hot summer already and Austin still has a few months of heat to weather. But the heat doesn't have to be so bad if you've got a swimming hole in your backyard, like these three ranches.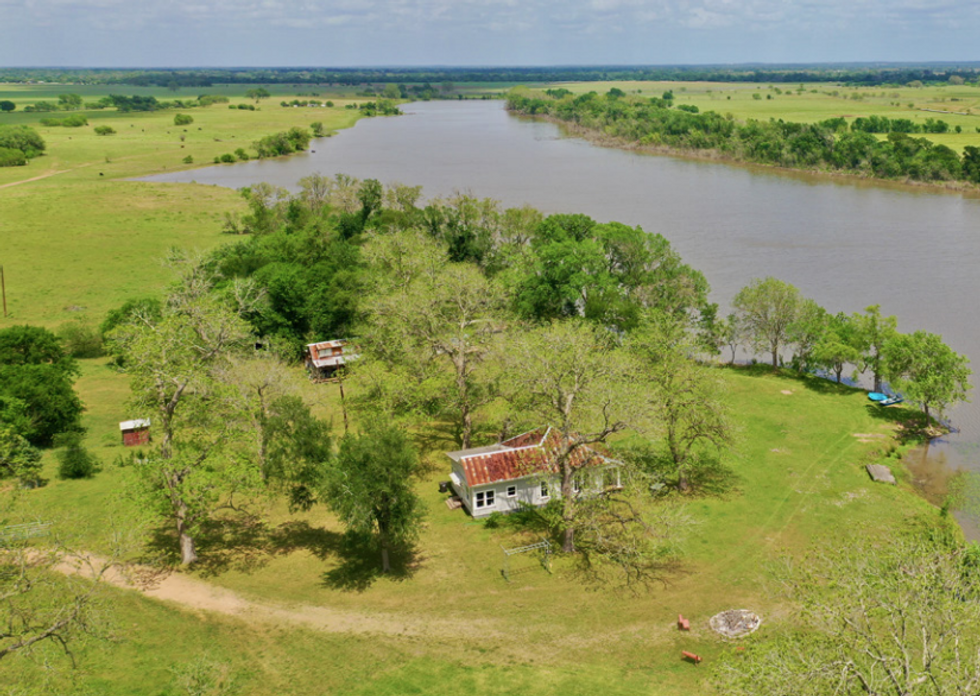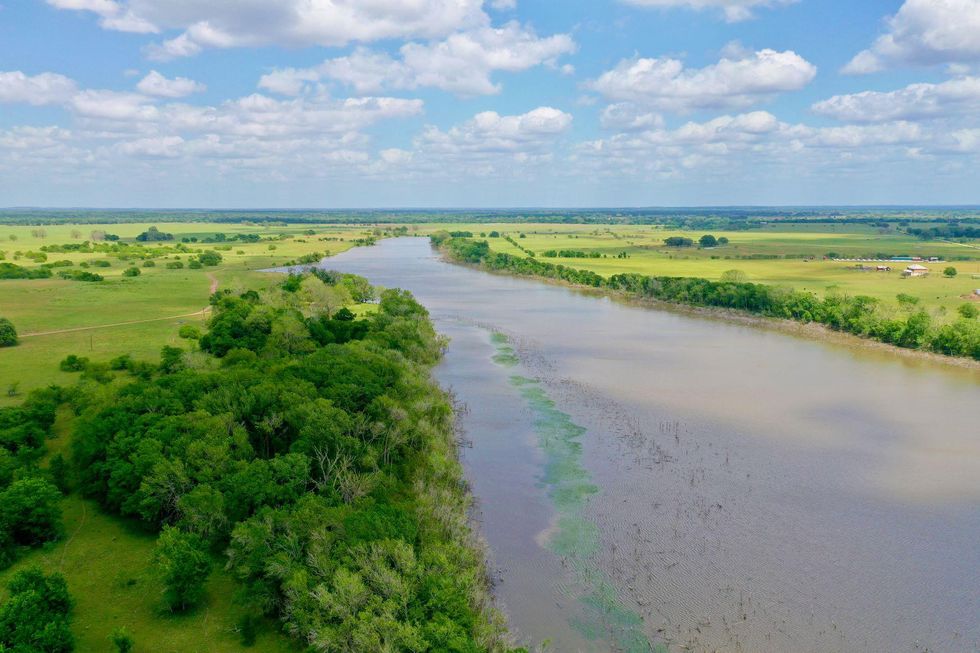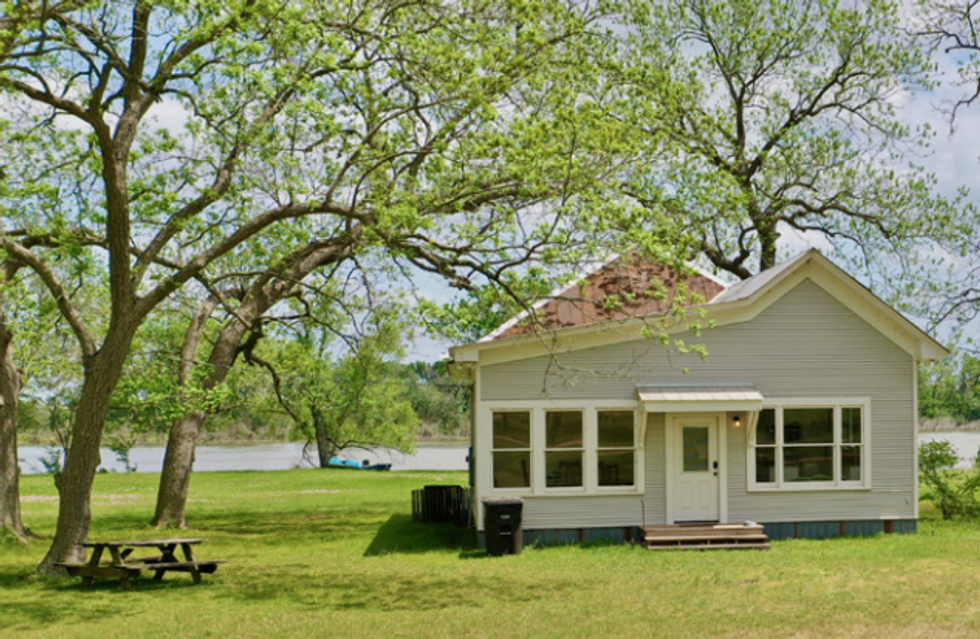 You'll have to leave city limits if you're looking for a proper ranch property like 417 Acres Shipp Lake Ranch, aptly named for its acreage. The property comes built out with three farmhouses, one of which has bedrooms and two bathrooms and two of which have two bedrooms and one bathroom. The nearly untouched property, which surrounds the 100-plus-acre Shipp Lake, has remained in the same family since the early 1900s and gives you picturesque views for the making of a dream home. In fact, the previous owners ran a water ski camp on the property.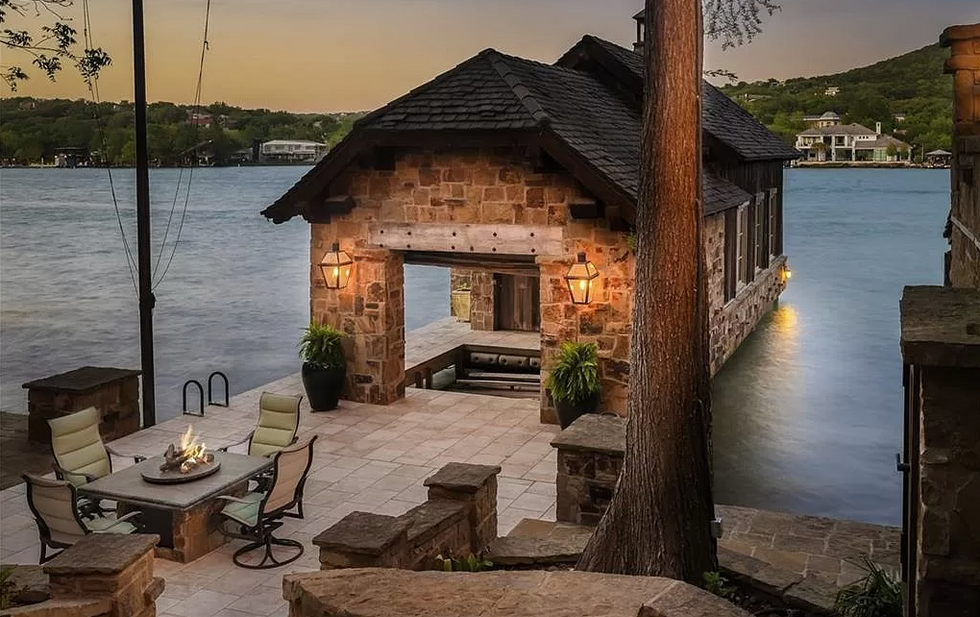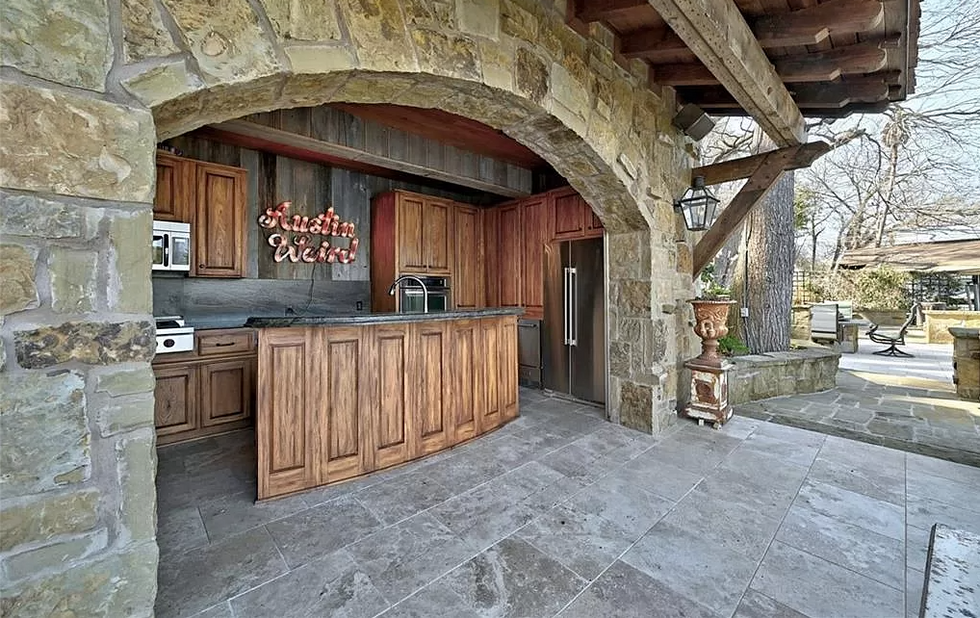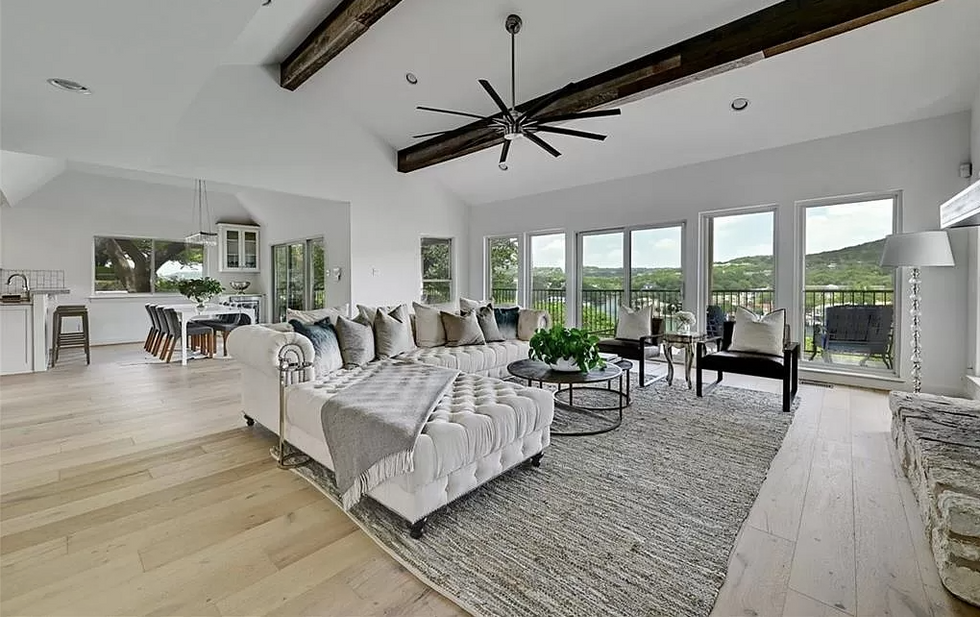 Sitting waterside on Lake Austin, this home gives you the unique opportunity to own a piece of the lush Hill Country with views of Mount Bonnell. The 2,750-square foot, three-bedroom, four-bathroom house allows you to integrate indoor and outdoor life with large windows opening to an outdoor living area. The crown jewel is the .76-acre parcel of land that tapers off to your own lakeside resort, featuring an covered outdoor kitchen, fire pit, stone boat house to store your water sports supplies and veranda sitting at the mouth of the water, perfect for an entertainer.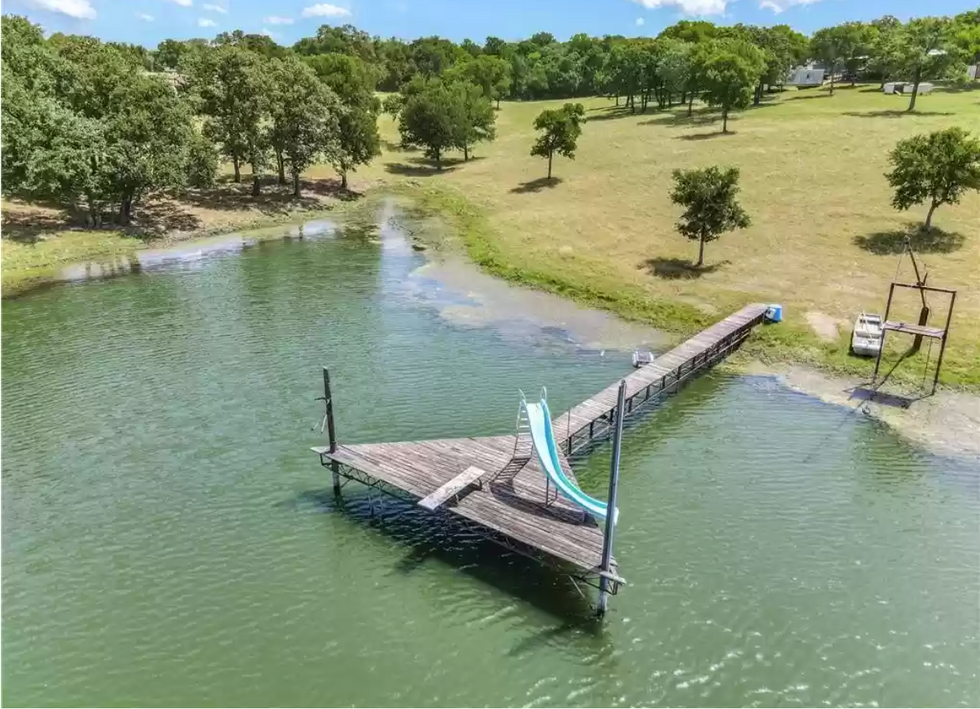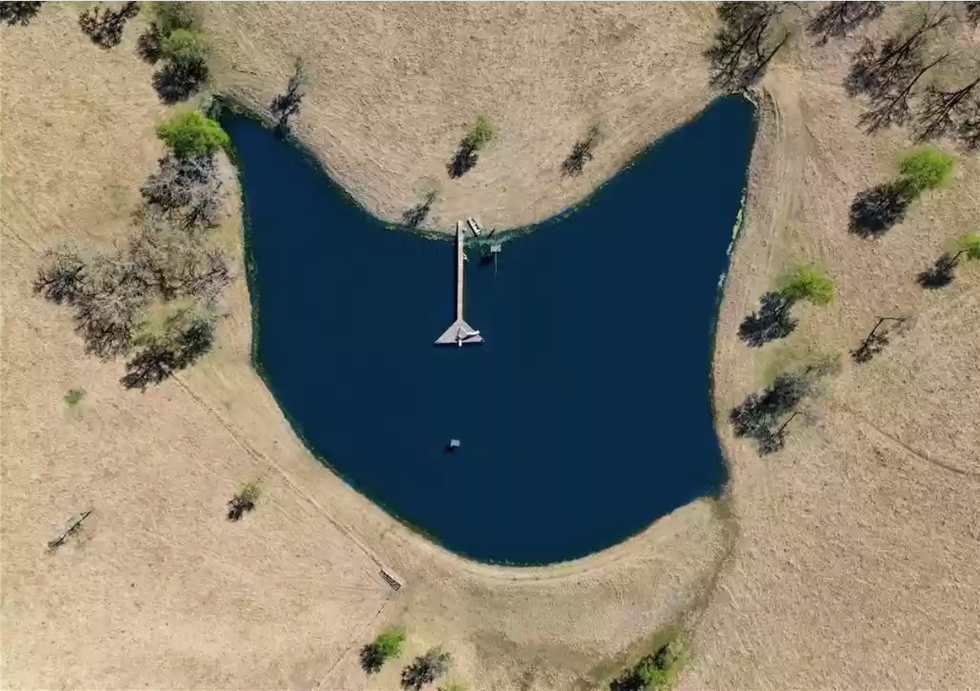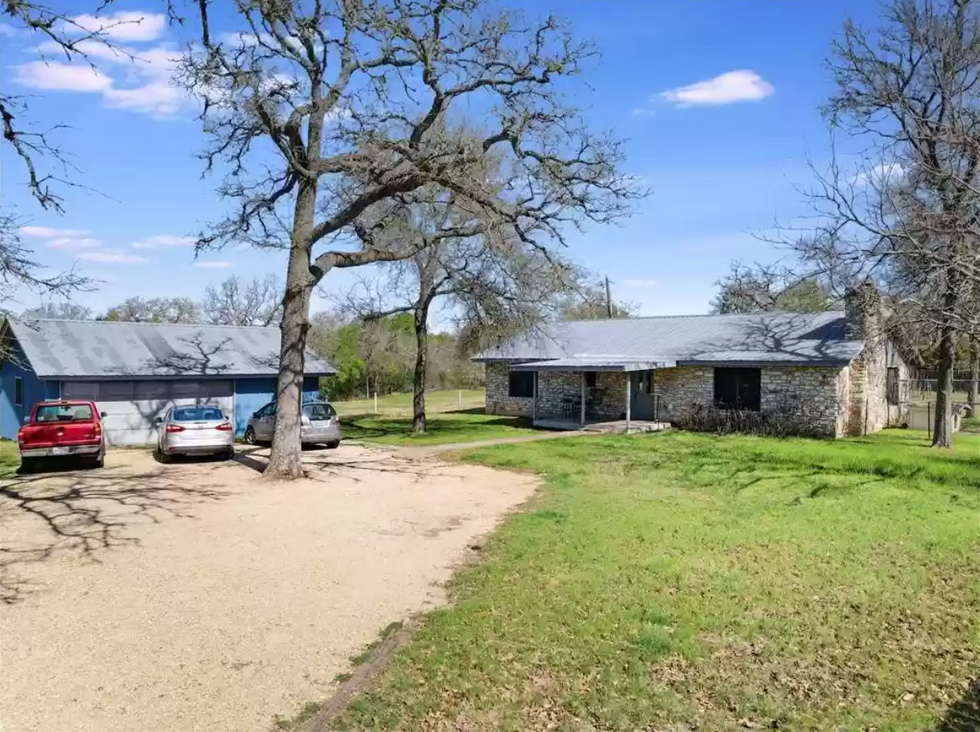 Got dreams of becoming a real Texas rancher? 7814 Brown Cemetery Rd. is the perfect place to start with 40 rolling acres of land and its very own swimming hole. Just east of Austin in Manor, the modest-on-the-outside home clocks at 4,412 square feet with five bedrooms and five-and-a-half bathrooms, but there are an additional two living structures on the property. The horseshoe-shaped pond sits in the heart of the property and comes equipped with a water slide, diving board and a fishing dock.