Austonia AM
100% Austin news, info, and entertainment, straight to your inbox at 6 a.m. every morning.
In five minutes, you're fully informed and ready to start another great day in our city.
Get connected with our daily update
Q2 Stadium will seat more than Verde fans for its inaugural season. The 20,500 stadium will also host national teams from around the globe as one of 11 hosts for the 2021 Concacaf Gold Cup in July and August.
---
"It is an honor for Q2 Stadium, in its first year of operations, to be designated as one of the 2021 Concacaf Gold Cup venues," Austin FC President Andy Loughnan said. "Austin FC and the greater Austin region look forward welcoming Concacaf and qualifying national teams to the world-class Q2 Stadium."
The Cup will feature 16 national teams, including the formidable Mexican Men's National Team, which are eight-time Gold Cup champions, and six-time champions U.S Men's National team.
While 12 teams from the Concacaf Nations League will join the cup, the final slots will be filled by Qatar, winner of the 2019 AFC Asian Cup and host of the 2022 FIFA World Cup. The cup will also hold three more teams that will be decided during the 2021 Concacaf Gold Cup Prelims on July 2-6.
Here are the preset group stage groups, which will kick off play July 10: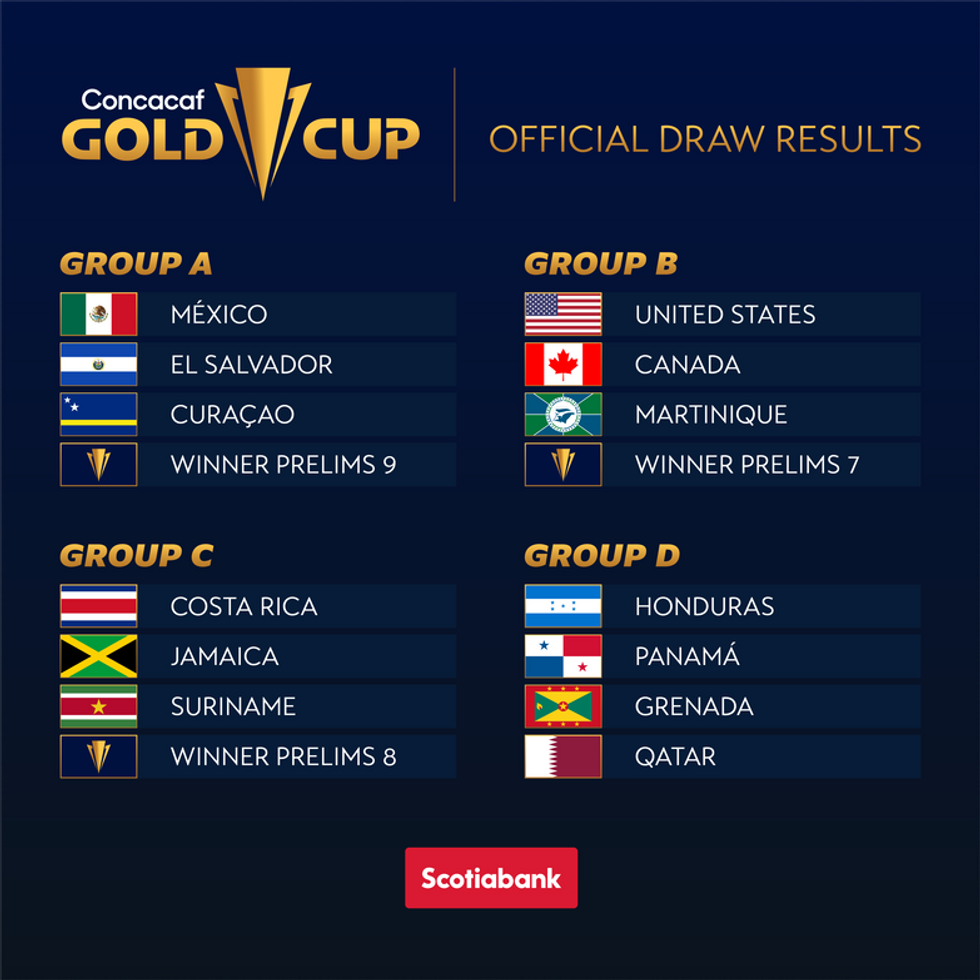 The Concacaf group stage was drawn in September of 2020. (Concacaf)
The top two teams in each group will advance to a knockout stage, which will occur as follows:
Quarterfinal #1: Winner Group D vs Second Place Group A
Quarterfinal #4: Winner Group B vs Second Place Group C
Quarterfinal #2: Winner Group A vs Second Place Group D
Quarterfinal #3: Winner Group C vs Second Place Group B
Semifinal #1: Winner Quarterfinal #1 vs Winner Quarterfinal #4
Semifinal #2: Winner Quarterfinal #2 vs Winner Quarterfinal #3
Final: Winner Semifinal #1 vs Winner Semifinal #2
The best in the Concacaf region will battle it out in Las Vegas for the first time on August 1. Prelims will be held at the DRV PNK Stadium in Fort Lauderdale, Florida and will kick off July 2.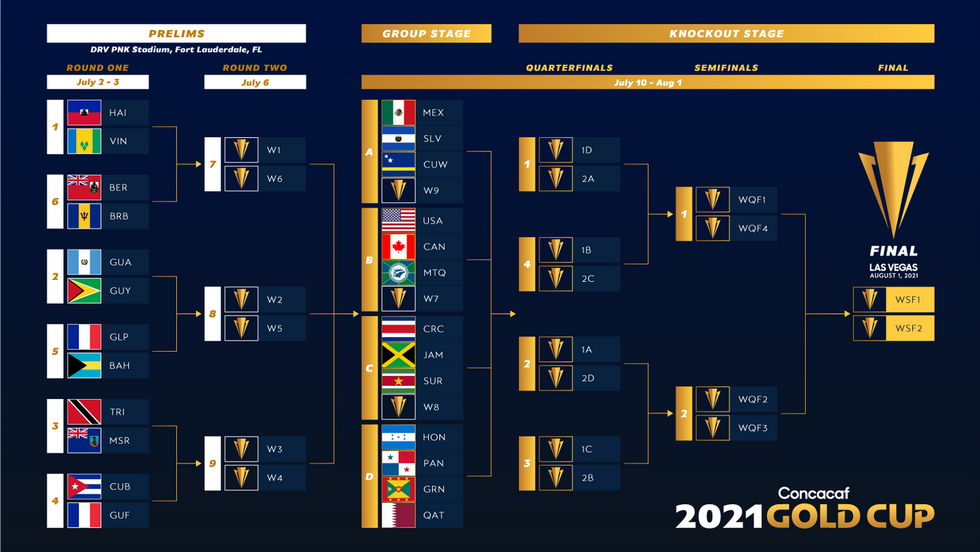 The Concacaf Gold Cup will conclude on August 1 in Las Vegas for the first time in history. (Concacaf)
Austin will be one of 11 hosts for the cup. As the city's first-ever major league soccer stadium, the event will mark history as the first Concacaf match in Austin.
"To host a competition of this caliber is a great honor," said Drew Hays, director of the Austin Sports Commission. "Austin is an event city, and the Concacaf Gold Cup further elevates our offerings. We are thrilled to welcome fans from North & Central America and to showcase the city during this bi-annual competition."
More information including matchups, ticketing and exact locations will be released in the coming weeks. The cup will be played in a "hub" format to ensure safe travel and lessen the risk of COVID transmission. To sign up for updates regarding the 2021 Concacaf Gold Cup, click here.
Ingredients:
1 1/2 oz of hibiscus-infused Tito's Handmade Vodka
2 oz sparkling water
1 oz fresh lime juice
3/4 oz simple syrup
1 tsp allspice dram
Directions: Add infused Tito's Handmade Vodka, lime juice, and simple syrup to a shaker with ice. Shake and strain into a glass over fresh ice. Top with sparkling water, and garnish with a lime slice. Enjoy!
A week after Texas added two congressional seats and California lost one, state officials reported a population decline in 2020 for the first time in the Golden State's history.
California fell by over 182,000 people from January 2020 to January 2021, dropping almost 0.5% to cap out at around 39.5 million people. It is still the nation's most populous state.
For over thirty years, California has seen more people leave than move in from other states, state officials said, with 6.1 million people moving out and 4.9 million coming in last year. Immigration and births kept California growing, but the state saw a shrink in international migration in 2020 due to COVID and the White House's hold on visas.
Of the steady flow of ex-Californians moving to other states, more are moving to Texas than any other state. Many are relocating to Austin, which has been labeled a "little California" by billionaire resident Elon Musk and continues to grow astronomically.
Meanwhile, California cities including Los Angeles, San Diego, San Jose and San Francisco saw a population decline.
With immigration and state migration on the decline, the Golden State was also hit with a spike in deaths- 51,000 people died from COVID in 2020, and all but seven of the state's counties saw death rates higher than the three-year average.
Still, the California Department of Finance said a "slightly positive annual growth" can be expected next year as the state recovers from COVID deaths and political repercussions.