Get connected with our daily update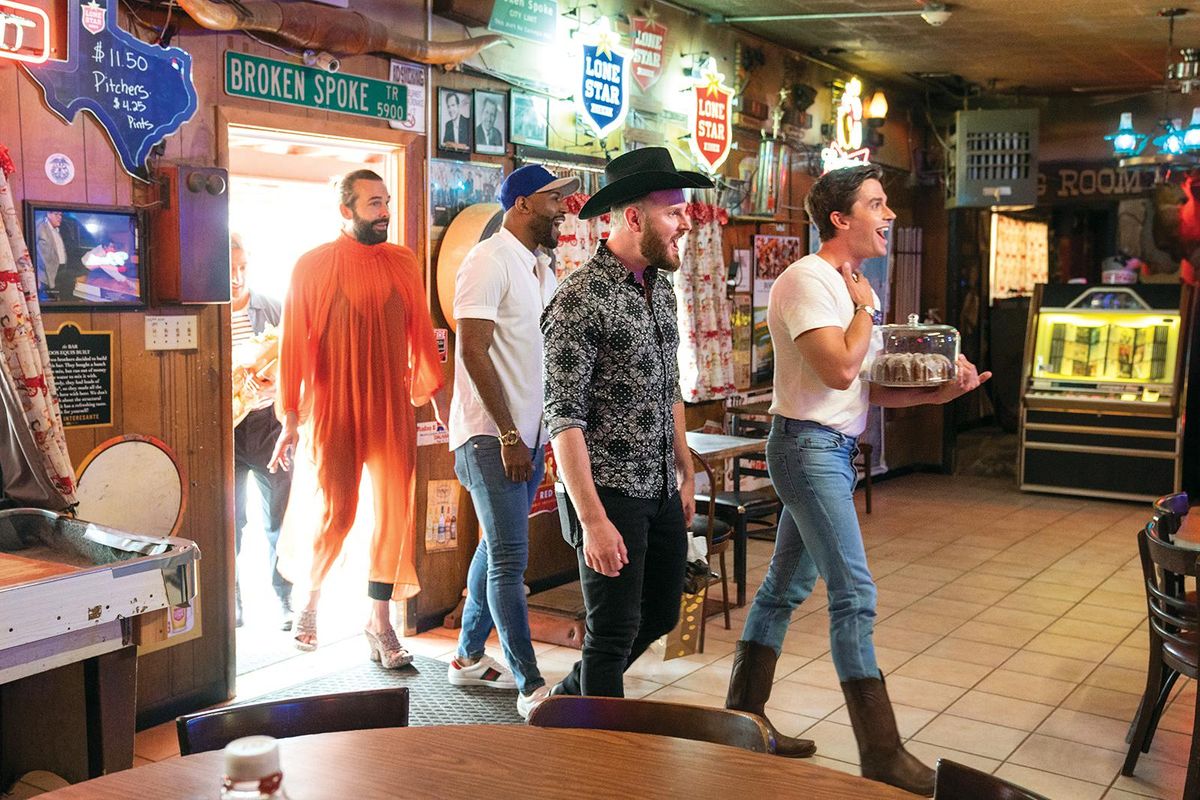 It's been over a year and a half since the Fab Five teased Instagram feeds, cheekily posing in front of Austin's famous El Arroyo sign, announcing they would film season six of Queer Eye in the capital city.
---
Though the onset of the pandemic put just over a year pause on production, the season finally made its Netflix debut on Friday to close out 2021.
The show follows beauty expert Jonathan Van Ness, stylist Tan France, foodie Antoni Porowski, designer Bobby Berk and lifestyle coach Karamo Brown as they work together to transform the image of fashionably challenged people.
The team got a bit more of Austin than they bargained for—while three of the famed cast members spent part of their quarantine in Austin, hair stylist Van Ness moved his New York home to the Hill Country while filming was postponed.

Get ready for a season of southern goodness—the Fab Five went all out in Texas, even collaborating for the new song "Y'all Means All" with Texas-born Miranda Lambert for the premiere. The group promises it will be the most fabulous thing in Texas since chaps and have the Austinites in the room going like…
Who are the heroes?
The Fab Five's subjects are called "heroes"—the everyday people who are in search of a life change. This season, the Fab Five will focus on people of all shapes and sizes, while touching on the unique qualities that make Austin special.
​Terri White, Broken Spoke dancing queen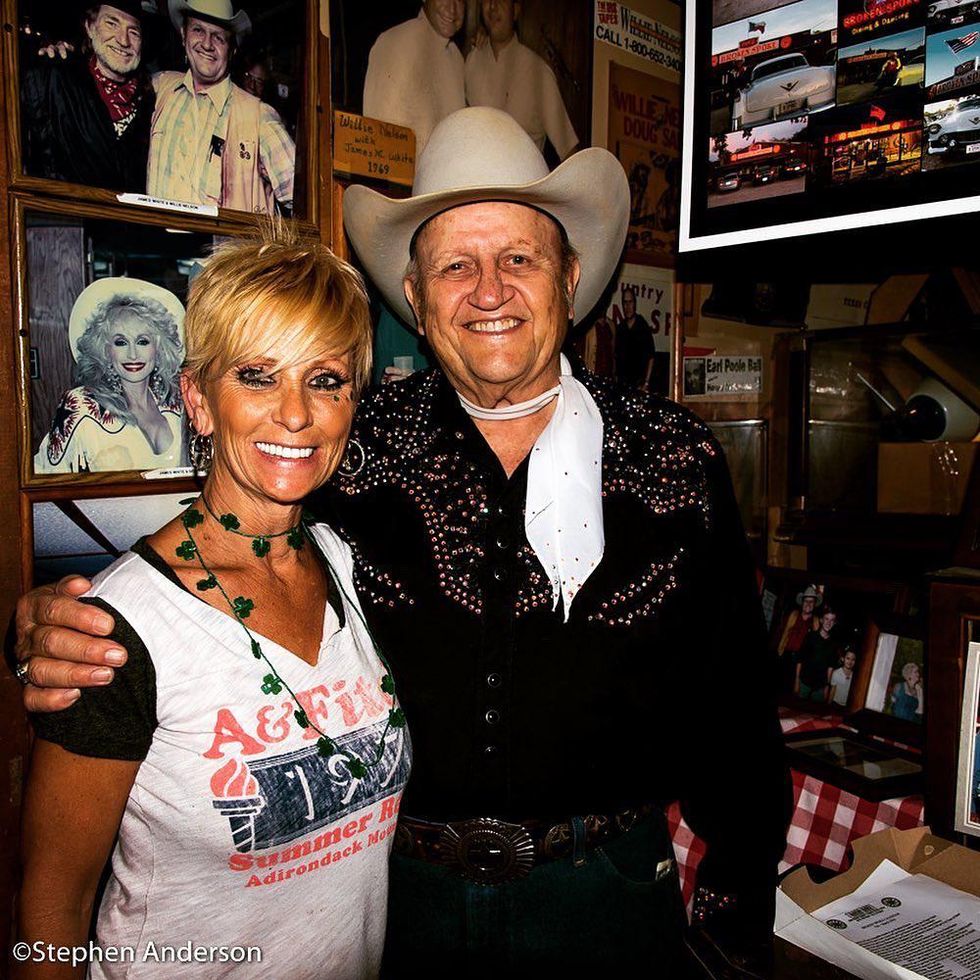 Terri and James ran the Broken Spoke together. (Broken Spoke/Facebook)
The daughter of James White, former owner of the Broken Spoke, opens the show with a display of honky-tonk hospitality. White is a self-professed "older woman," who isn't afraid to show a little cleavage and loves to carry on her late father's dancehall. White brings out a little southern charm from the Fab Five and makes sure they leave doing the two-step. Catch White in "Showdown at the Broken Spoke."

​Angel Flores, Olympic weightlifting coach
A University of Texas alumna and trans athlete in Austin, Angel Flores recently began transitioning and has struggled with her self image. The Fab Five help revive Flores in the episode "Angel Gets Her Wings."
​The prom committee, Navarro Early College High School
We could not be more excited to announce that Navarro ECHS and our Class of 2021 students will be featured on season 6 of Queer Eye.

Thank you again to each of the guys and @netflix for all their love and support! @AustinISDhttps://t.co/LCNTf6foxI

— Navarro ECHS (@navarro_vikings) December 27, 2021
Though the group only has a week to help bring prom to life at Navarro High School in North Austin due to COVID, Van ness was shown in the preview hyping students up about how they're going to "slay this prom so hard." Catch the party on "Navarro High Prom."

Josh, cowboy and aspiring DJ
Josh, who is a father and a classic Texas cowboy, is featured in "No More Bull," where the Fab Five strive to help him stop smelling "like a ranch."
​Chris Baker, executive director of Austin nonprofit The Other Ones Foundation
It wouldn't be a trip to Austin without touching on some of the more serious issues that trouble the city. The group sits down with Chris Baker, who is in need of a little TLC of his own after helping people cope with homelessness. Catch the "potty-mouthed humanitarian" in the episode "Gimme Shelter."

​Todd, restaurateur
The group will work some magic in the episode "Craw-Zaddy," which focuses on Todd, who is supposed to be retired but is still running his restaurant.

​Jamie Wallace-Griner, SAFE in Austin
Being called the "Snow White of Central Texas" is no accident, as Jamie Wallace-Griner has spent her life caring for special needs or neglected animals at her nonprofit, SAFE in Austin. After being "needed at all times," for so long, Wallace-Griner is ready to focus on herself.

​Dr. Jereka Thomas, Central Texas Allied Health Institute
Dr. Jereka Thomas has been moving non-stop since she founded a COVID testing center for underserved communities. On top of that, Thomas leads the Central Texas Allied Health Institute, the only black-led medical learning institution in Central Texas. It's safe to say Thomas is ready for a break in "Community Allied."
​Sarah Lim, OMG Squee owner
Showing the severity of the impact COVID-19 had on small businesses, the Fab Five met Sarah Lim, owner of gluten-free Asian-inspired bakery OMG Squee. Lim is ready for a makeover since pandemic strain led her to focus more on her business, less on herself, in "A Legend in the Baking."

​Reggie DeVore, musician
Another pandemic-based struggle, musician Reggie DeVore said he's starting to lose his drive and passion for art in the episode "The Mis-Inspiration of Reggie DeVore."

Other locales to look out for
The trailer opens with the cast strutting in some cowboy boots, western garb and teasing skyline views. In addition to the many Texas businesses that make up the season, you'll also be able to spot the scenes of The Long Center and Eastside Pedal Pushers Bike Shop.
Both Fab Five member Van Ness and Porowski also adopted dogs from Austin Pets Alive!, so the furry friends are sure to make some cameos.

Season six is streaming now on Netflix.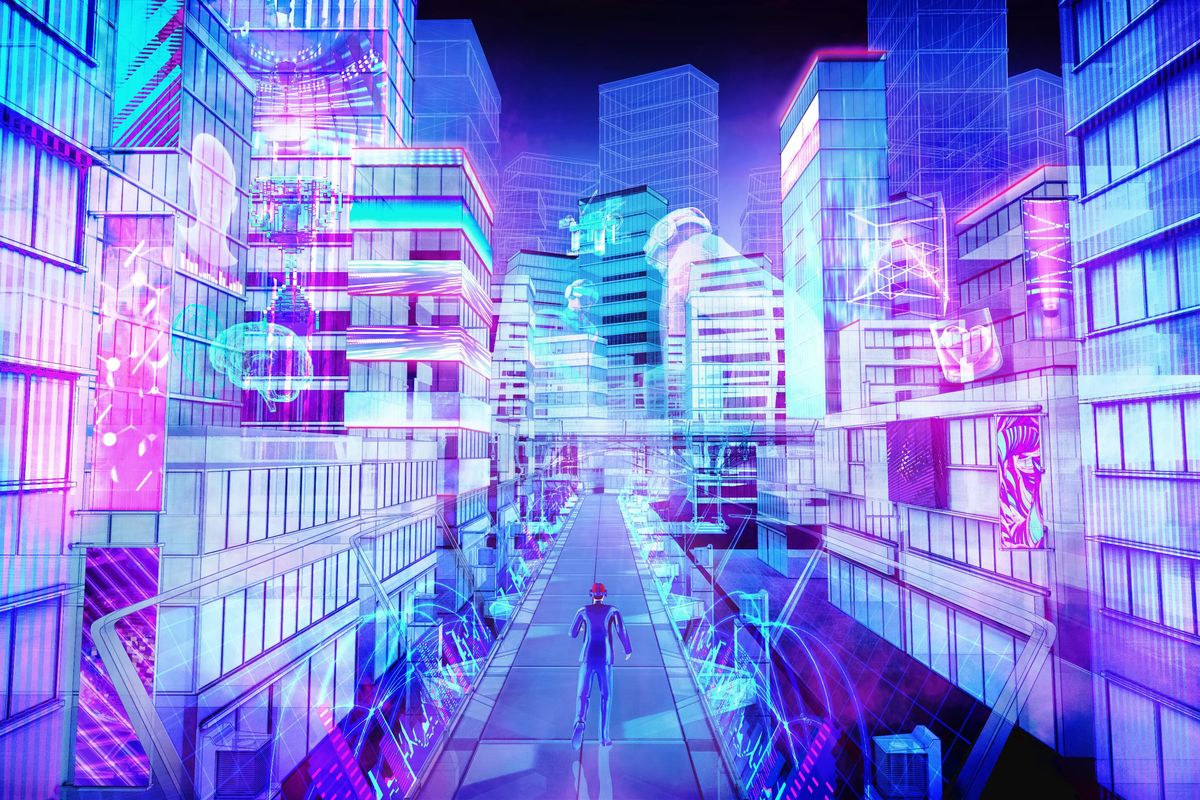 If the idea of the metaverse makes you feel more scared than excited, you're not alone.
In a recent poll on the metaverse, a third of respondents leaned toward feeling more scared about it. It's a response fitting for a tool that's in its infancy stages, where it's not uncommon for some to find it elusive or irrelevant, or require a virtual reality headset.
Amber Allen, founder of metaverse company Double A, has noticed these concerns. Now with the Austin-based company, she's working on advancements in the metaverse, which may see progress in business use before it becomes mainstream in the general public. But getting to that point involves demystifying misconceptions over it, like that we'll all put a headset on and avoid real life.
"A lot of people are talking about the metaverse and like what it could be in 10 or 30 years. And they're not talking a lot about what it is right now. And I think that's what scares people and confuses them," Allen told Austonia. "I'm just very passionate about what is the metaverse now. It's the next wave of the internet. No, you don't need to wear a VR headset."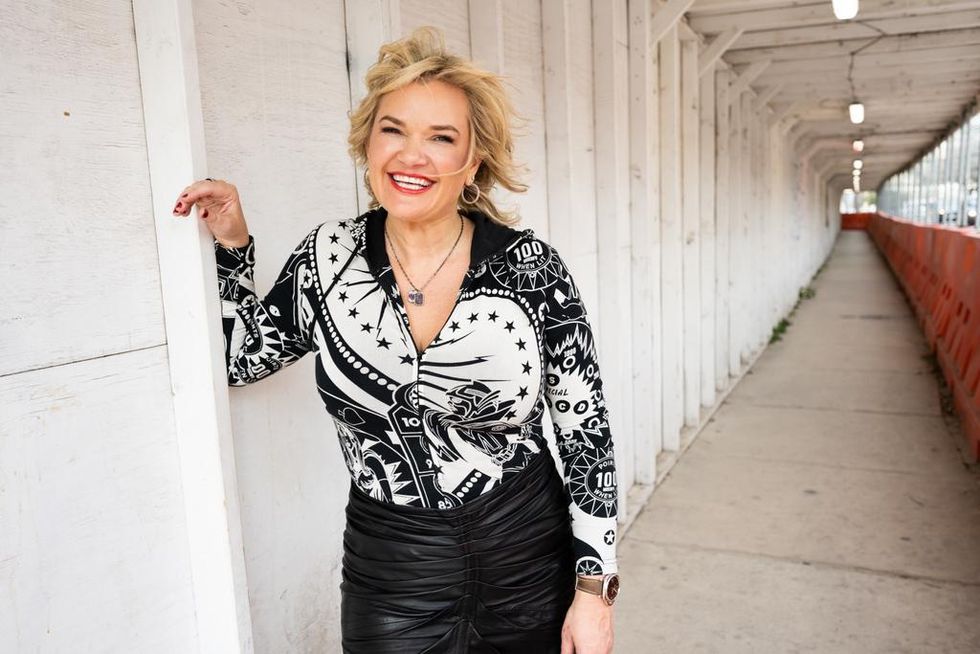 (Amber Allen/Twitter)
She broke this down last week in Forbes, writing about what is hype versus what's actually happening with this phase of the internet.
Allen sees how eventually, the metaverse could become a part of how we play and interact. But before the Metaverse extends to the average consumer, many predict that it will be popular in business first.

It's why some think Microsoft may have an edge over Facebook turned Meta in the industry. And why Allen has designed for work that's 3D, interactive and business to business, garnering interest from companies like General Mills, Dell and Chanel.
She points to how many workers now prefer a hybrid work environment, but says the business tools are not there right now. It's not just within the workplace, however. Double A also offers tools for boosting sales and generating brand engagement through activities like watch parties and meet and greets.
With companies like Allen's, corporate metaverse use could see wider adoption. Double A has hired 13 people this year, adding to the ranks of nearly 30 employees plus dozens of contractors. Some are remote workers outside of Texas while others use the office in East Austin with graffiti art that includes popular gaming figures like Zelda and the Mario Brothers.
Allen takes great pride in working in her home state, saying that she'd like to be a great ambassador for Austin. She said she wants people new to the city to feel welcome. She has meet ups from time to time so that new people who have moved in can get face time with others who have been in Austin for a while.
Still, her work is bound to extend outside of Austin as she aims to create products that will have global reach.
"I want to change the world," Allen said. "You got to think localized. If I'm creating something, how does this work for Europe? How would this work for Asia? How can they build on things?"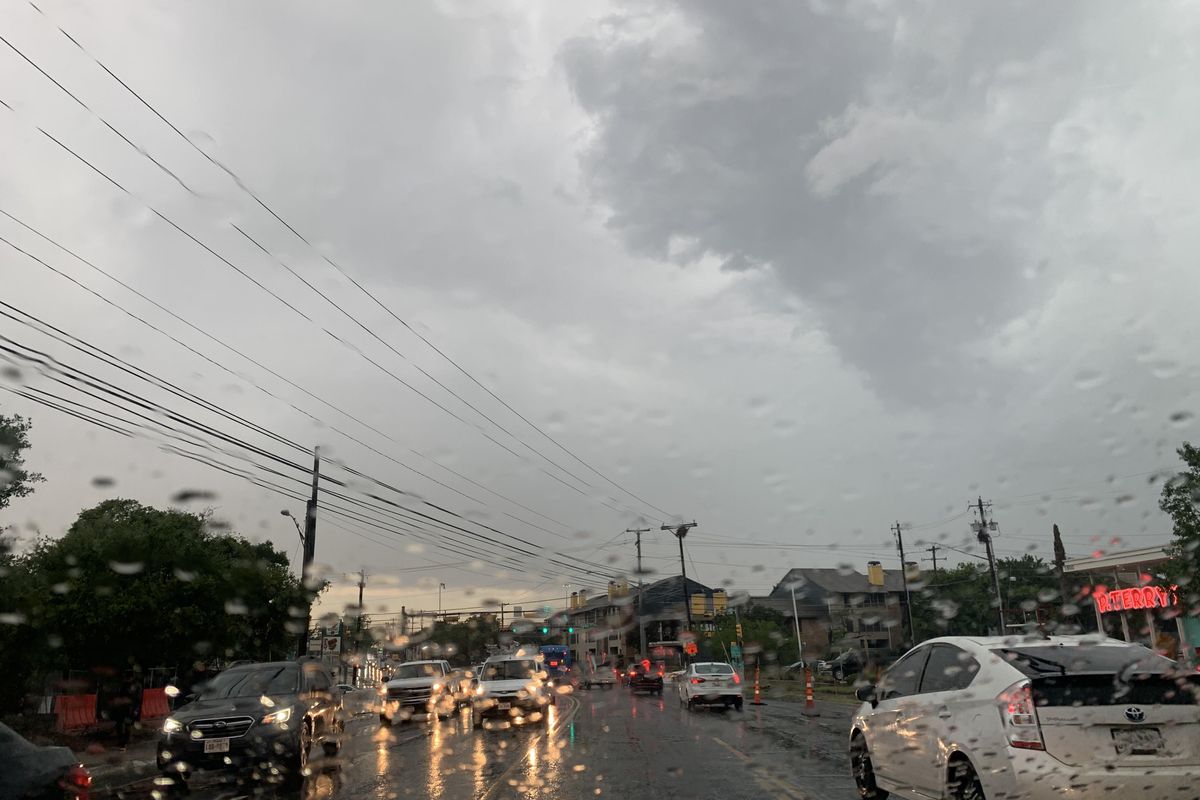 The record-breaking heat seen last week is officially coming to a halt as some much-needed rain is expected in Austin from Monday through Wednesday.
The National Weather Service has issued a Hazardous Weather Outlook for Central Texas as thunderstorms headed this way could be strong to severe.
Thunderstorms are forecast to begin in the west around 6 p.m. Monday, bringing about a half-inch of rain through the night. Then Tuesday, thunderstorms will likely begin after 1 p.m. lasting through the night. Temperatures on Monday and Tuesday will be in the mid-80s before dropping to the mid-70s on Wednesday. Wednesday will also bring rain and thunderstorms in the morning before clearing out.
Rainfall chances will increase today beginning in the west before spreading east. Rain chances remain elevated through tonight and then again tomorrow and tomorrow night. Strong to severe storms and locally heavy rain will be possible from the stronger activity. pic.twitter.com/f8OpN50dkX
— NWS Austin/San Antonio (@NWSSanAntonio) May 23, 2022
The rain comes after a dry spring that has pushed drought conditions from moderate to severe, according to the U.S. Drought Monitor. Lake Travis has dropped to its lowest level in almost 4 years as a result.