Get connected with our daily update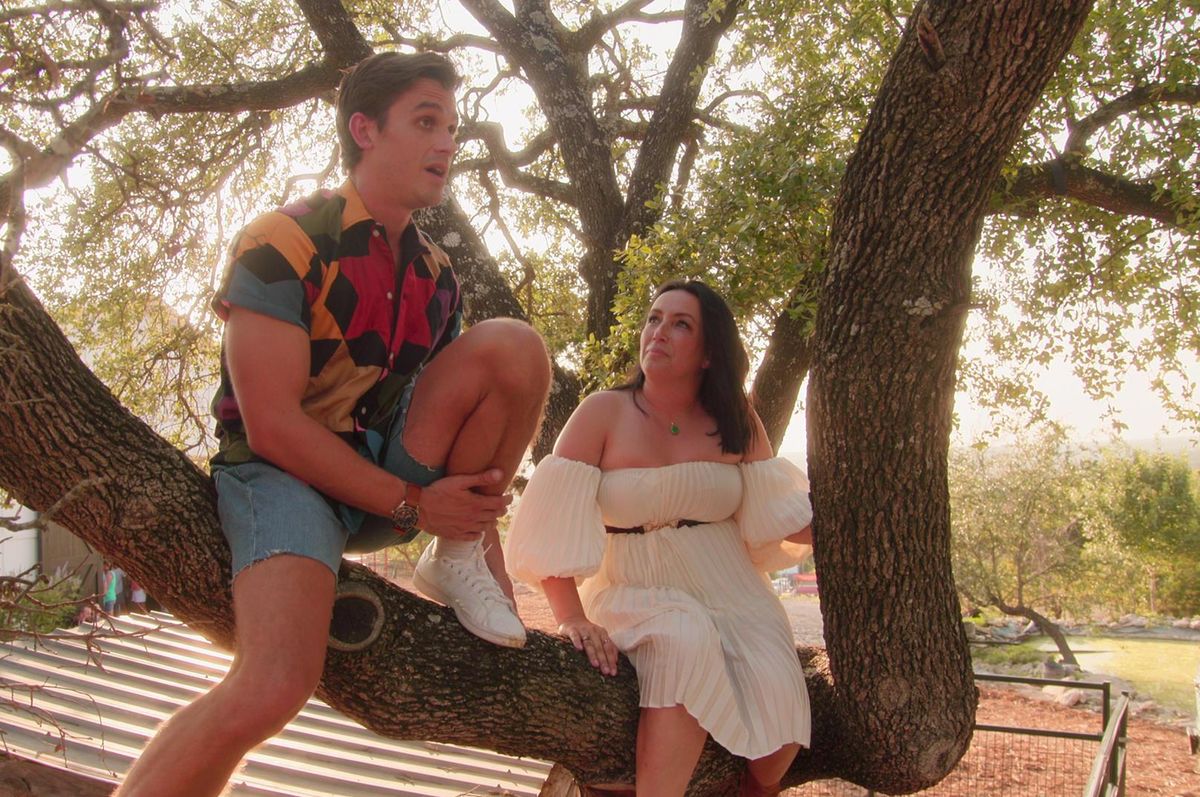 Jamie Wallace-Griner made thousands of people cry all across the world.
---
The founder of nonprofit Safe in Austin, which has a mission of rescuing animals who in turn help heal children who have special needs or have come from hard places, Wallace-Griner and her story were featured in Season 6 of "Queer Eye." Almost as soon as the season was released on Dec. 31, 2021, Safe in Austin began hearing from people around the globe who were inspired—and in tears—because her selfless dedication and unyielding passion for animals, many of whom who, without her, would end up dead.
"An out-of-body experience is the best way to describe it at the moment," said Wallace-Griner, adding that the nonprofit's Instagram, which had 12,000 followers before "Queer Eye," has now surpassed 100,000. "I am unbelievably grateful. I'm just trying to juggle making sure everyone knows how grateful I am and not letting this whole thing go by without realizing the magnitude of it. Sometimes I feel like I'm living a dream."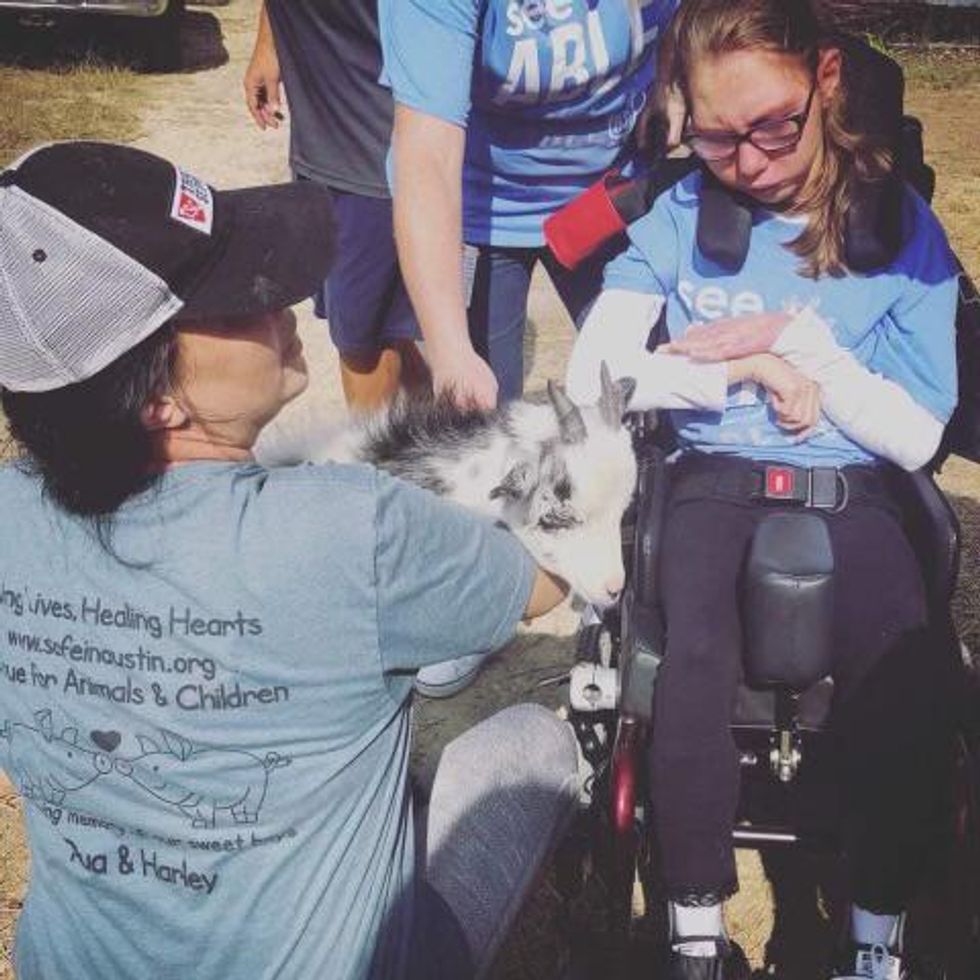 Jamie Wallace-Griner runs Safe in Austin, where she saves animals and helps children with special needs. (Jamie Wallace-Griner)
A self-described "special-needs mama that likes animals," Wallace-Griner founded Safe in Austin after witnessing the incredible bond between her son, Jackson, who has autism, and his service dog, Angel. These days, Safe in Austin, which is set on the family's 10-acre property in Leander, serves as a permanent home to more than 200 rescue animals including pigs, cows, horses, turkeys, ducks, dogs and cats.
On any given day, to walk the property is to witness magic in the making. In addition to frequent public days, Safe in Austin also hosts private Healing Hearts tours that pair children who may have special needs or a history of abuse or neglect with animals that have experienced the same traumas. Safe in Austin also hosts children's birthday parties and, should turnout ever be low, has a list of on-call kids who will eagerly show up.
"These (on-call) kids have been through a lot and may have significant extra needs themselves, but they're able to say, 'Yes, I'm coming, I'm going to be a friend to this kid,' even when they might not have very many of their own friends," she said. "They feel special for helping this person, that person feels so much love from them doing that and they all get to share the animals they're helping with. It's like you could burst if you think about all the different areas of joy that it brings in."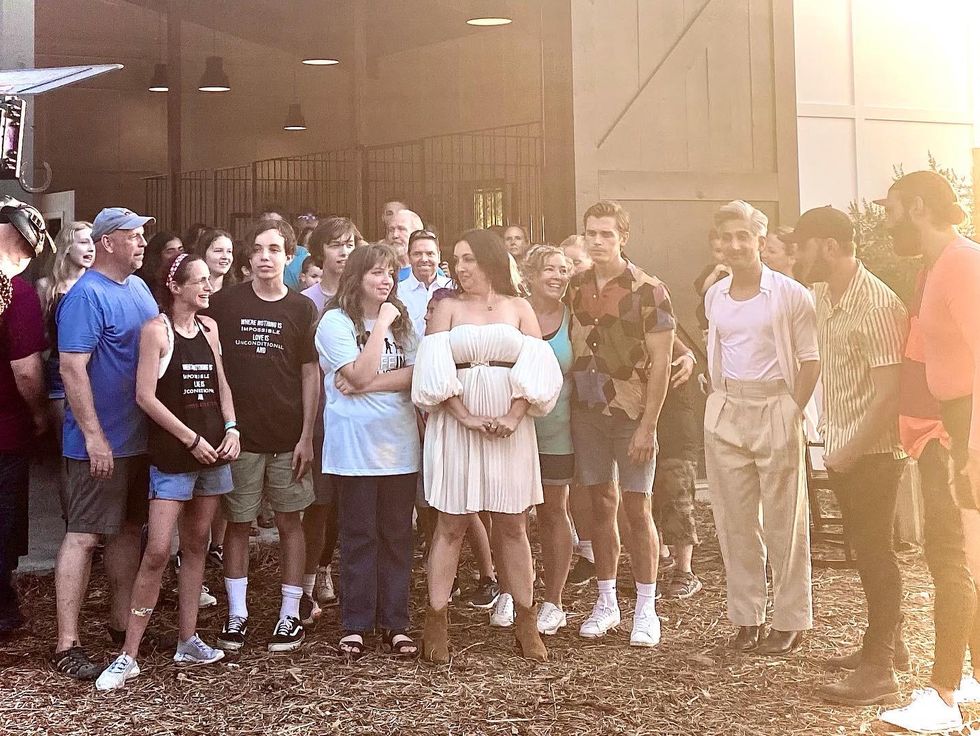 The Fab Five surprised Jamie Wallace-Griner with a much-needed barn. (Queer Eye)
Shot over five days in June 2021, the Safe in Austin "Queer Eye" episode spotlights Wallace-Griner's undying passion for animals and children while also focusing on her need for self-care.
"All five guys are exactly as they seem; there's nothing fake about what they're doing," said Wallace-Griner, a longtime fan of the show. "They're just genuinely those people that you love on the screen, even when the cameras aren't going. That was a real gift to find out."
The admiration was mutual.
"I've really never met anybody like you, and I felt that the moment that I came here," "Queer Eye" cast member Antoni Porowski said in the episode. "Every single person that I speak to tells me you gave them purpose, and that is the most unbelievable thing that you can do for somebody else, just by being you and by creating a safe environment where they can feel loved and protected and taken care of."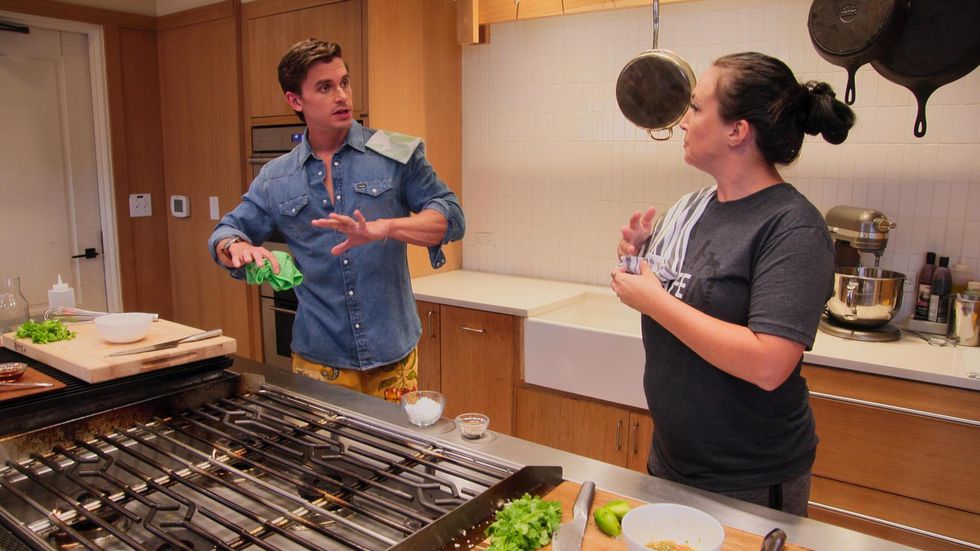 Antoni Porowski, food expert, helped Wallace-Griner find her confidence in the kitchen on the show. (Queer Eye)
Wallace-Griner said she's still in touch with several of the "Queer Eye" cast members, including Porowski, Bobby Berk and Jonathan Van Ness, who met an orphaned puppy during filming at Safe in Austin and ended up adopting it. In addition to the lessons on self-care and self-love Wallace-Griner received from the Fab Five, there was also a tangible gift—"Queer Eye" built her a barn she so desperately needed for the animals.
"We've done so much in the last six months because we have that space. It's really incredible," she said, adding that the barn is now "dramatically different than what the world saw. We had to take what they gave us, which was amazing and wonderful, but kind of tweak it into what works for us, specifically for special-needs animals and special-needs children that come out."
Wallace-Griner would also like to clarify that while she cried a lot during the episode, she really is doing well.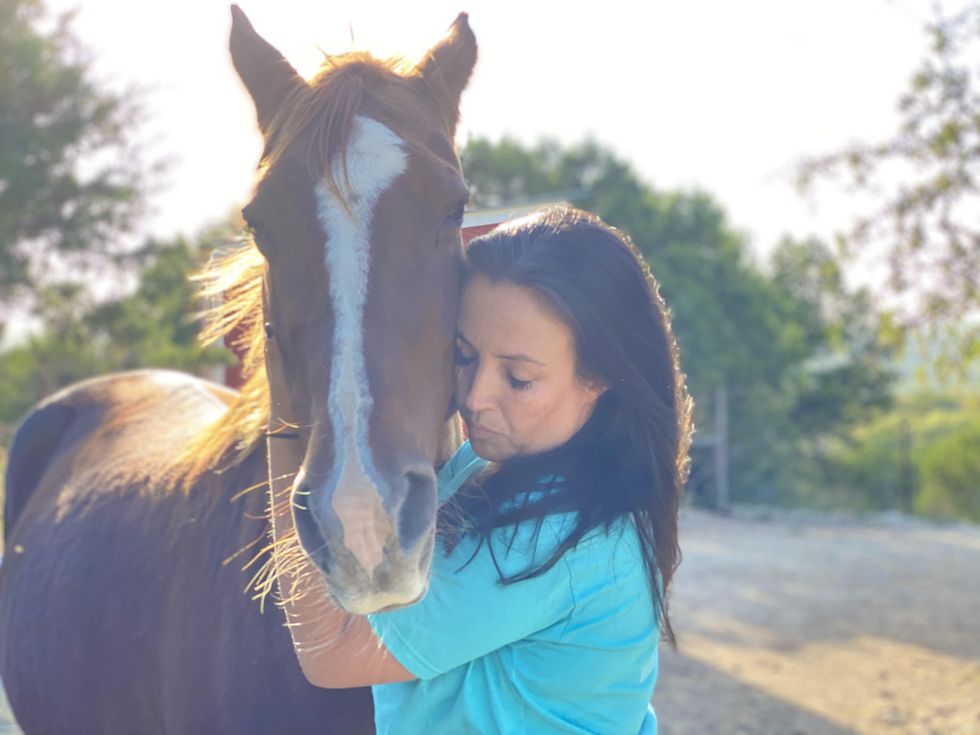 Jamie Wallace-Griner cried during the Queer Eye episode but said she is is OK and understands the stress she is under. (Jamie Wallace-Griner)
"There's been a lot of concern for my mental health, I guess because I just cried the whole time (in the episode)," she said. "I'm a little bit insane, obviously. You can't do what I do without being an open-hearted and little-bit-crazy person. But I understand the stress I'm under, I understand when I hit an emotional peak, or like our kids say, when our sensory cup is filled completely. I'm OK. I swear. I just cry a lot."

In addition to the increase of followers on social media, Safe in Austin has seen more traffic on days that they're open to the public—Wallace-Griner estimates that 90% of the people visiting in recent weeks learned about them from "Queer Eye."
"I still speak to every single person that comes on the property first. This is an important thing to me. I want them to share my heart and where we're at," she said. "Never before 'Queer Eye' did they applaud after my speech, but they keep doing that now, which is super weird. People ask to take pictures with me now, too, which they didn't before."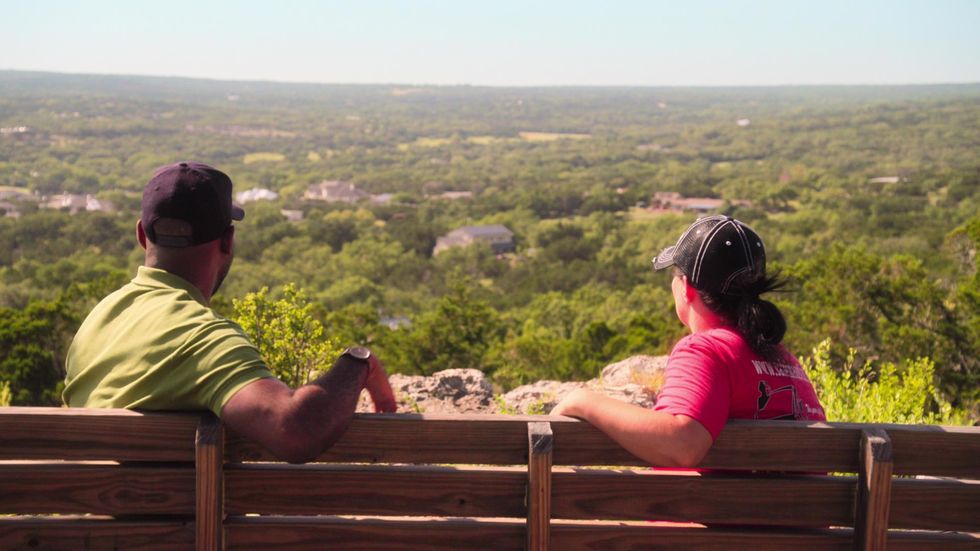 Karamo Brown speaks to Jamie Wallace-Griner on the show about taking time for herself. (Queer Eye)
Of all the ways "Queer Eye" has positively impacted Wallace-Griner's life, she said the most important is the platform it gave her to inspire others to get involved with special-needs animals and children.

"So many people are saying that they've always wanted to do this concept and that I'm inspiring them to follow their dreams," she said. "I love that aspect because there just can't be too many people helping animals and children in the world. There's no such thing as that. So that might be one of the best parts of the whole thing—inspiring that connection."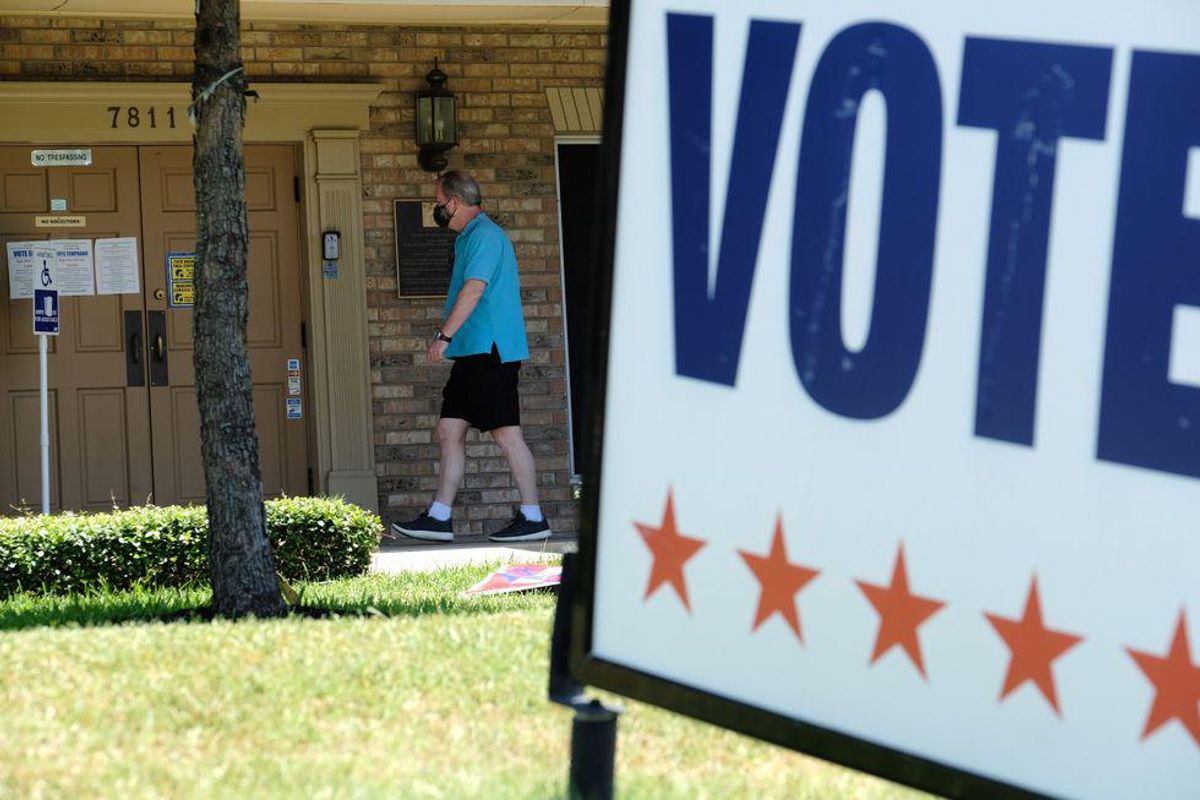 May's second election is here, in which voters will decide on the candidates to represent their party in the November general election after the winner in some March primary races was unclear.
Just like the March primaries, voters will choose which party they choose to vote in. Then based on location, each ballot will show which races are in a runoff.
In Texas, candidates must win at least 50% of the vote to be elected. In the races where the top candidate only received a plurality of votes, a runoff is being held.
Here's everything you need to know before heading to the polls.
Know before you go
Early voting for the Texas primary runoff election begins Monday and will last through May 20; Election Day is May 24.
The registration period for this election has passed; check if you're registered to vote here.
The polls are open from 7 a.m. to 7 p.m. daily. As long as you're in line by 7 p.m., you can vote.
You'll need a valid photo ID to present once you're at a polling location.
Here are the early voting locations in Travis County.
View wait times at polling locations here.
Races to watch in Travis County:
Statewide
Lieutenant Governor
Republican: Incumbent Lt. Gov. Dan Patrick won his primary in March.
Democratic: Mike Collier and Michelle Beckley are vying to be the Democrat candidate on the ballot.
Attorney General
Republican: Incumbent AG Ken Paxton is fighting for his seat against George P. Bush.
Democratic: Rochelle Garza and Joe Jaworski will face off to be the Democratic candidate in this race.
View all the statewide races on the ballot here.
U.S. House of Representatives

View the district you live in here.
District 21
Republican: Incumbent Chip Roy won his primary in March.
Democratic: Claudia Andreana Zapata and Ricardo Villarreal are hoping to secure this vote.
District 35
Republican: Dan McQueen and Michael Rodriguez are going head to head to be the Republican candidate in this race.
Democratic: Former Austin council member Greg Casar won this race in March.
Texas House
District 19
Republican: Ellen Troxclair and Justin Berry are vying to be the Republican candidate in this race.
Democratic: Pam Baggett won her primary in March.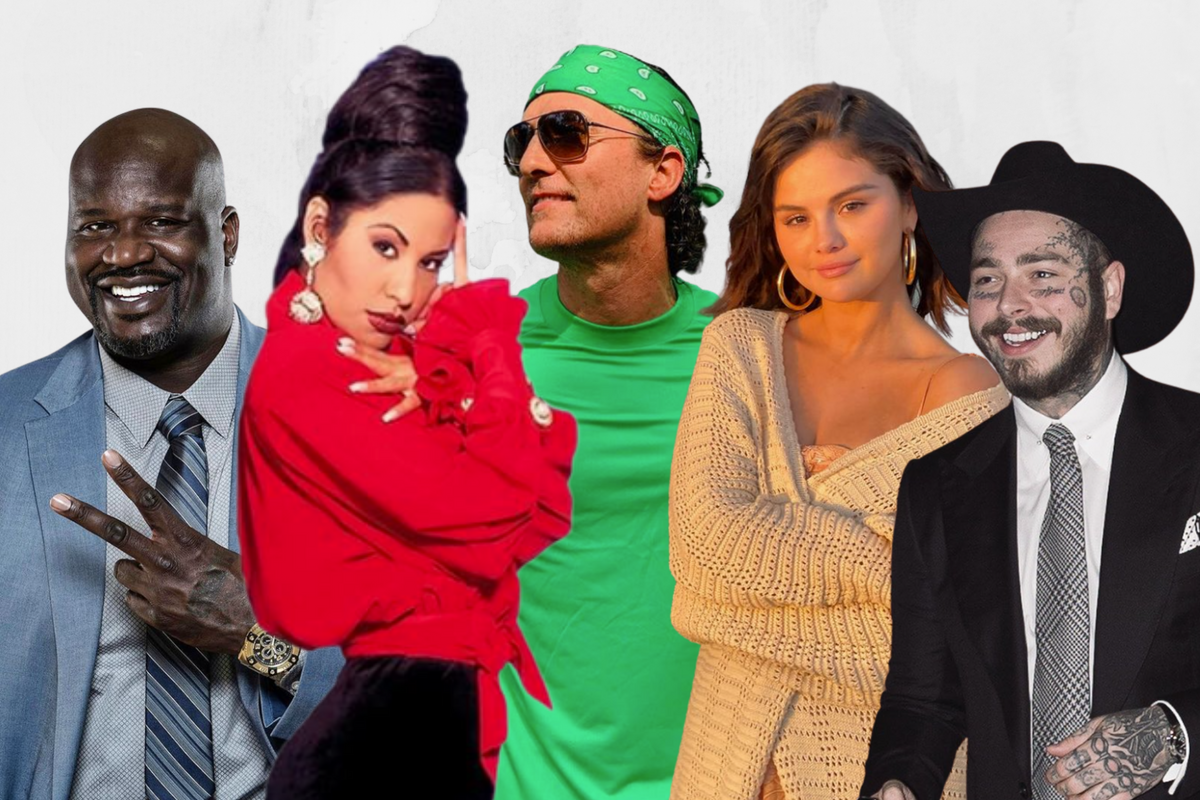 Texas has been home to some of the country's biggest celebrities of all time—think Amarillo resident Georgia O'Keeffe, Lubbock's Buddy Holly and Corpus Christi's famous singer Selena.
The Pudding's People Map of the U.S., which shows each city's "most Wikipedia'ed" resident, placed celebrities from all walks of life on the Texas map. As for Central Texas celebrities, there are some interesting (and not so surprising) names on deck.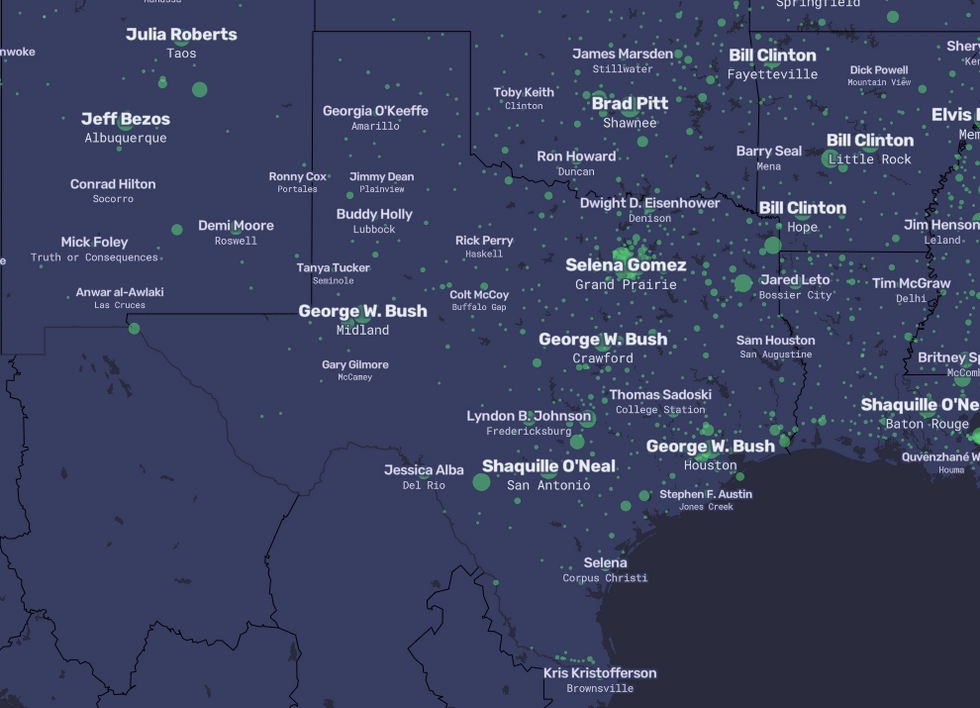 (The Pudding)
Proving that Austin is "alright, alright, alright," Minister of Culture Matthew McConaughey is both Austin's and Uvalde's top Wikipedia'ed resident. McConaughey, who was born in San Antonio adjacent Uvalde, has deeply ingrained himself in Austin by studying Radio-Television-Film at UT Austin, starring in the Austin-filmed movie "Dazed and Confused" and investing in Austin FC.
Heading down just a few miles south, San Marcos claimed former president Lyndon Baines Johnson as Texas State University's most famous alumni, who graduated in 1930, and was also named in Fredericksburg. LBJ wasn't the only ex-president on the map—George W. Bush was listed as the top resident in Dallas, Midland, Houston and Crawford.
You'll see some other names with ties to Austin strewn around the state: Janis Joplin in Beaumont and Port Arthur; Stone Cold Steve Austin in Victoria and Edna; Dan Rather in his hometown of Wharton; and Waylon Jennings in Littlefield.
Venturing outside of the central areas, there are big celebrities who call Texas Home. Actress and artist Selena Gomez dominated search traffic in her hometown of Grand Prairie, musical artist Post Malone was most "Wikipedia'ed" in Grapevine, and Shaquille O'Neal was named in the city where he went to high school, San Antonio.
Plus, Thomas Haden Church, Angela Kinsey, Jessica Simpson, Chuck Norris, Roy Orbison, Ron White, Jessica Alba, Colt McCoy, Jimmy Dean and Johnny Manziel all had at least one city covered on the list.
Where's Texas' newest resident, Elon Musk? You'll find him still in Los Angeles, as his foray into Texas living has just begun.
Click here
to view the full map.