Never miss a story
Sign up for our free daily morning email...
...and afternoon text update
Get connected with our daily update
(Shutterstock)
Two new reports detail racial inequities at the Austin Police Department and raise concerns about the department's "paramilitary" approach to training cadets, including allegations of hazing.
---
The reports were conducted by separate independent consultant groups with guidance from the city's equity office and built on findings of past investigations into allegations of racism within the department, such as the Tatum report, and misconduct at the training academy, which has come under fire in recent years for its "fear-based" approach, discriminatory recruiting practices and attrition rates.
The reports
The Peace Mill report evaluated the department for equity and found "significant racial and gender disparities" in the standards and practices of APD's training and recruiting divisions. These include:

Only one Black employee out of the division's 57 employees
Black male cadets graduated from the training academy at a rate of 48.5%, compared to 81.6% for white male cadets
Black cadets were also more likely to leave the academy or sustain an injury than any other racial group
Academy culture "prioritizes physical aggressive above all else"
Cadets reported that training staff "refused water to dehydrated cadets," told cadets to target homeless individuals for various citations when "'having a slow day'" and employed training tactics "described … as 'worse than anything I went through in (US military training])"
Peace Mill, which is led by public policy researcher and LBJ School of Public Affairs graduate student Raymon Weyandt, recommended that the city suspend all future cadet classes until APD's training division can be reformed and rebuilt.
The academy is currently on hold after Austin City Council voted unanimously to cancel funding for three planned cadet classes in August as part of a broader set of police reforms enacted in response to mass protests in support of the Black Lives Matter movement. Council members cited concerns about the training academy's curriculum, among other factors.
Last month, however, Austin Mayor Steve Adler expressed hope that certain reforms could be implemented in time for a future cadet class in the short term. "I still think there's a critical role for police in our community, even reimagined," he said during a Dec. 9 work session. "I, for one, would like the process to move quickly so as to allow for a cadet class in a spring."
The second report, by Round Rock-based group Joyce James Consulting, identified:
A last of trust in APD leadership to handle issues related to race, gender and sexual orientation
Widening racial disparities in stops, citations, arrests, searches and use-of-force incidents
A "paramilitary format" at the police academy and weaknesses in its "structure, culture, curriculum, and teaching effectiveness"
"There have been so many studies already done that we felt it would be important for us to do a comprehensive review of all of those reports," President and CEO Joyce James told the city's public safety commission Monday. "What we found in those reports, they all pretty much have the same theme.
The response
APD responded to the reports in a statement shared with Austonia, which read in part: "We strive to be an organization that promotes diversity, inclusion and equity for all populations. The Department will continue efforts to make improvements to policies, practices, and training that allow everyone in Austin to feel safe and protected."
Austin Police Association Ken Casaday told KXAN that the reports don't acknowledge the improvements made to the APD training academy in the last few years and said cadets need to be put in "high-stress situations" so as to be prepared for the job.
APA has been critical of the council's decision to cut APD funding and suspend the training academy.
The first of the canceled classes would have been APD's first with a majority of minority candidates, according to the union. "We are so proud of the great work our recruiting unit did to produce these numbers," APA wrote in an Aug. 14 Facebook post. "Unfortunately, this city council has destroyed the hard work done by (the) recruiting (division)."
Criminal justice reform advocates argue that the reports add to the serious concerns already raised about the training academy and police department.
Scott Hensen, executive director of the criminal justice reform nonprofit Just Liberty and author of the Grits for Breakfast blog, wrote on Saturday that the Peace Mill report "should put an end to discussions of restarting the police academy any time soon." He added: "We're only beginning to understand the depths of problems at the academy, which start with agency leadership. They won't be fixed overnight."
The city's equity office will follow up with APD leadership later this month and next to address the reports' findings.
Meanwhile, APD remains under scrutiny.
A community is reviewing training videos used by the training academy and is scheduled to submit its findings to the city later this month. Council members also approved a contract with another independent consulting firm in November to investigate APD following an anonymous complaint alleging that an assistant chief used racist language. Findings are expected by the end of this year.
The Texas Legislative Council has also drafted language for a proposed law that would transfer control of APD to the state, a move that Gov. Greg Abbott has said he supports.
First score made by LAFC. (Sonia Garcia/Austonia)
Austin FC couldn't find the stamina to fight off a 2-0 loss against LAFC for their inaugural match on Saturday.
The match, which saw No. 21 Austin FC go head-to-head with No. 2 LAFC in Los Angeles, was broadcast nationally on FOX and FOX Deportes.
Eleven players took the stage as Austin FC players for the first time, with five starters making their MLS debut. "Ringleader" Alex Ring took the captain's armband and wore it well. The defensive midfielder could be seen leading his teammates through their first ever match, but it wasn't enough to stage an Austin takeover in LA.
As Austin FC took the stage for their first-ever match, they appeared more experienced than their track record. The club held LAFC to a scoreless first half, keeping about equal possession of the ball.
In the signature style of Head Coach Josh Wolff, the team played with quickness and intensity, nearly connecting on several fast breaks.
The club was given some generous breaks from No. 2 LAFC, who had one or both of their star DPs out for the half. While forward Diego Rossi is out for the entire match due to a hamstring injury, Carlos Vela was accidentally pulled too soon on what turned out to be a miscommunication.
"He gave us the sign that he needed to come off," LAFC Head Coach Bob Bradley said on broadcast. "I can't say more than maybe it's my fault."
LA pulled some dramatics and slowly gained more possession throughout the half, but ATXFC's defense wasn't initially as shaky as it seemed in preseason. Jhohan Romana has pulled his weight in getting the ball out of goal, and a 34-year old Matt Besler held his own in center back.
As the second half commenced, however, it became clear that LAFC had the advantage over Austin's first major league team.
Goalkeeper Brad Stuver had his work cut out for him, fending off 24 shot attempts, 11 of which were on goal.
LAFC finally connected in the 61st minute of play as Corey Baird shot one into the bottom right corner. The team capitalized off their momentum and put one past Stuver a second time, drawing roars of approval from the LAFC crowd.
While some last-minute attempts from Jon Gallagher and others were made, Austin FC didn't have the endurance to bring a tie. After seven additional minutes of stoppage time, the club lost their first match 2-0.
It's matchday! Austin FC—Austin's first major league sport team—kicks off its debut season in Los Angeles today after years in the making. We know how much this means to our beloved city and are taking you along with us as we journey to LA!
Austin FC writer Claire Partain and I are excited to bring you game-day coverage straight from the City of Angels. Check back here for updates, and visit our socials: @austonianews for the latest.
5 p.m: Kickoff!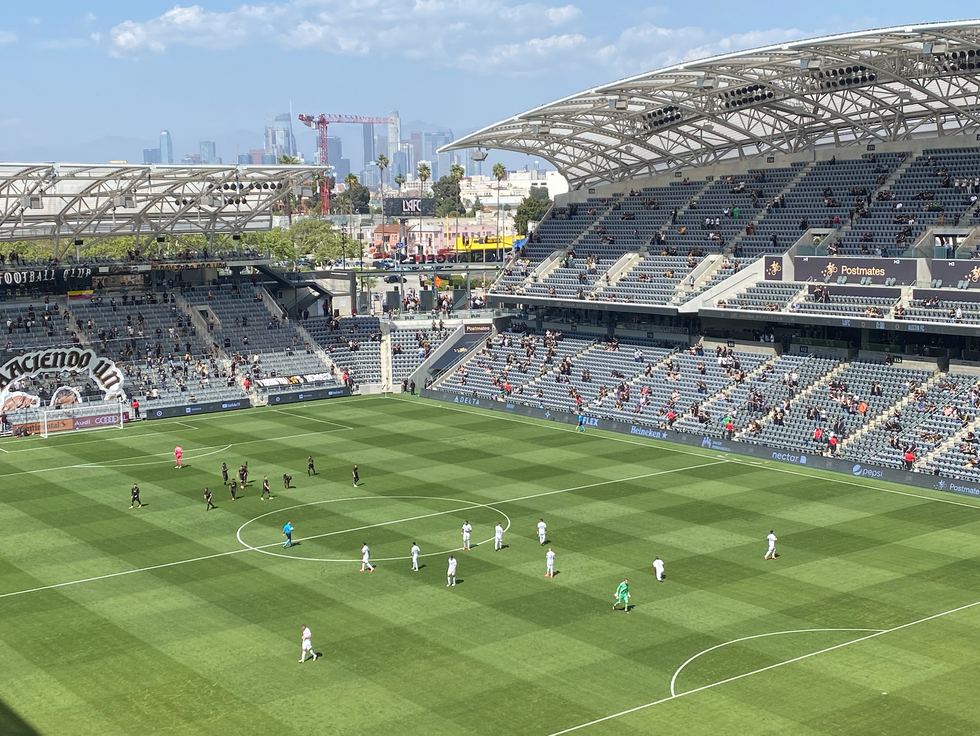 It's finally here! Claire will be updating Austonia's Twitter account live. And we'll post her game recap after the game. Best of luck Verdes!
4:40 p.m: Excitement radiates back home
Watch parties are in plenty supply back home. Austonia's Laura Figi visited Circle Brewing Co. and found a crowd of excited supporters.
4:20 p.m: Austin FC supporters are in the stadium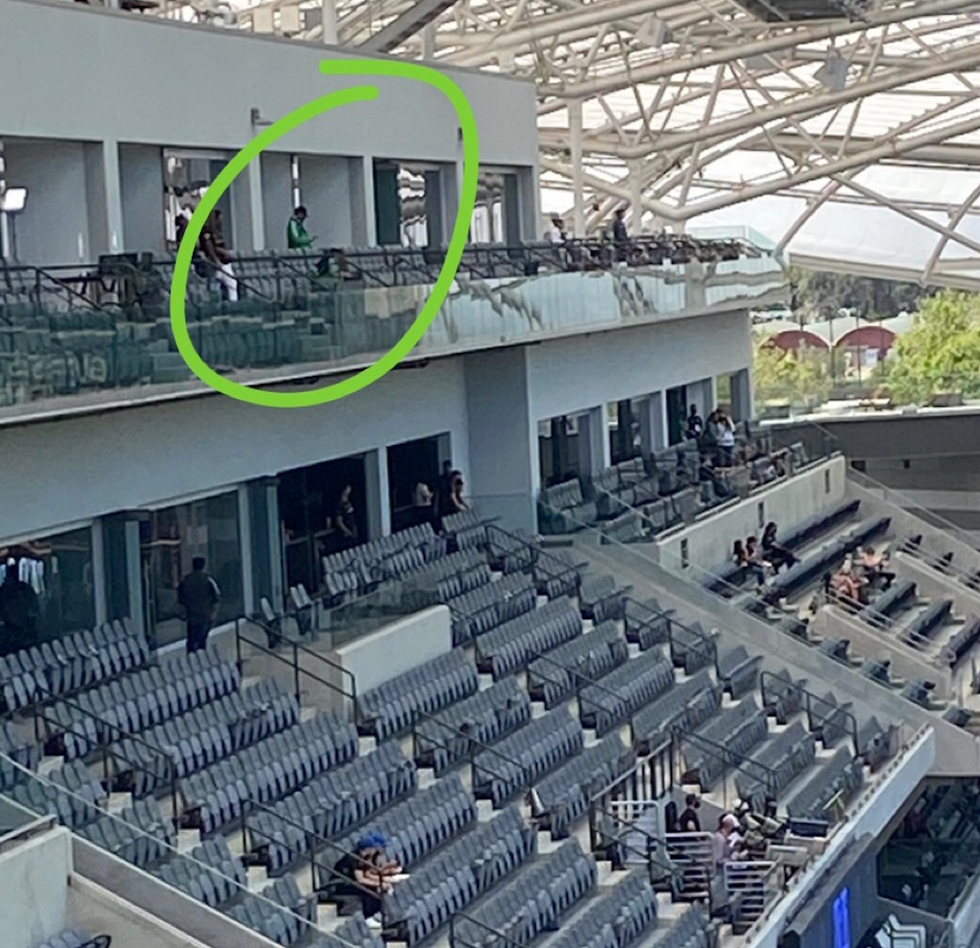 Although the Banc of California Stadium is hosting the match at limited capacity, we see some green in the stands ahead of kickoff. Just moments away from the Austin FC's debut!
~3:20 p.m: Austin FC's team bus enters the stadium grounds
With a warm welcome from Los Verdes, Austin FC players were welcomed into the Banc of California Stadium.
~1 p.m: Los Verdes in LA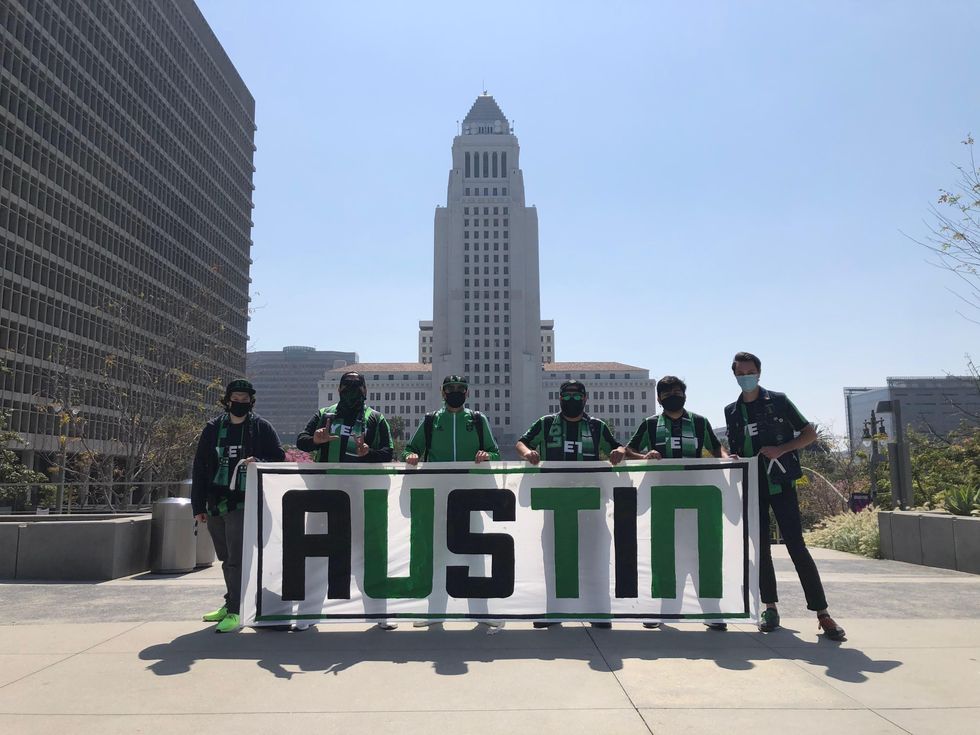 (Rigo Rodriguez/Los Verdes)
Austin FC supporters are making their presence known in LA, including the Los Verdes group.
Los Verdes members started having match-day fun around the area this morning with brunch. We'll be joining them about an hour before the game outside the stadium to share some of their excitement. We'll post immediately to Austonia's Instagram.
11:45 a.m: We landed!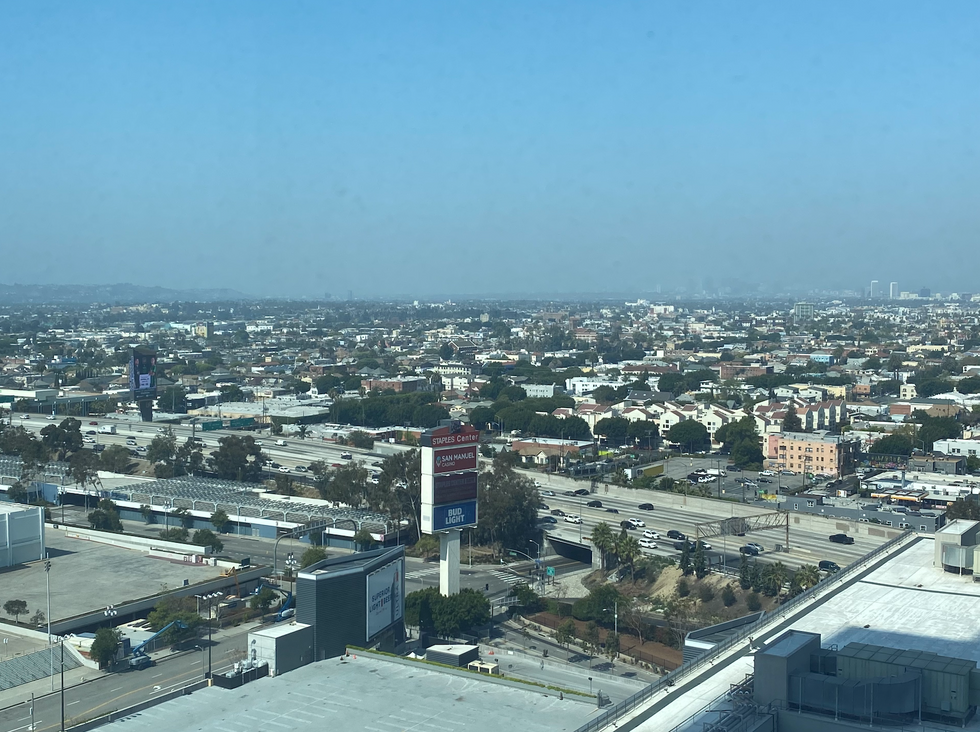 View from hotel room where we're staying; the stadium digital sign can be seen in the right corner. (Sonia Garcia/Austonia)
Switching over to pacific time, we're here and it's almost like no time went by. It's 9:45 a.m. here.
We've been in contact with Los Verdes, an Austin FC supporter group, who is also here in LA counting down to kickoff.
8:20 a.m: LA bound
Like many of you, we've been looking forward to this moment for, let's just say, a very long time. Today, we woke up bright and early, headed to Austin-Bergstrom International Airport and hopped on a flight to LA.
A gloomy day in Austin with a very quiet airport, we're headed to sunny skies in California.
As we wait for the game to start at 4:30 p.m., check out Claire's preview of the game with a predicted lineup and timeline of the long journey to get here.