Get connected with our daily update
(Radiant Plumbing and Air Conditioning)
While the last thing some people want to see is another political ad, a local plumbing company is adding some laughter to the political (and plumbing) discourse with its latest commercial.
---
Radiant Plumbing and Air Conditioning released a new "Napoleon Dynamite" inspired commercial about the 2020 election. The ad states that a vote for radiant is a vote for toilets that flush and endless hot water for all.
The 30-second clip features five Radiant employees portraying the roles of Napoleon Dynamite, Pedro, Uncle Rico, Deb and Kip. There's also a guest appearance from an inflatable llama playing the iconic role of Tina.
2020, Gosh! www.youtube.com
This is one of 27 non-traditional commercials by the plumbing and air conditioning company. Founder and co-owner Brad Casebier said that Radiant aims to make a comedic commercial every month, completely in-house.
Spray painted props, bad accents and employees in costumes are an 'integral' part of company culture, he said. Marketing Director Odalis Suarez says that employees are usually happy to volunteer their time.
"We try to give everyone on our team the opportunity to be in a commercial if they want to," Suarez said. "People are always thrilled when we ask if they want to be part of (it)."
From the inflatable llama to the customized "Vote for Radiant" t-shirt, prop collection was the most time-consuming part of the commercial creation. All in all, the ad was executed in less than a month, a timeframe that's considerably shorter than most, Suarez said.
The last commercial by Radiant was based on 80s blockbuster "The Terminator." It gained the most traction of any of their commercials so far with over 100,000 views in one month.
Radiant has been providing air conditioning, heating and drain cleaning services in the greater Austin area for over 20 years. Despite the online attention the creative commercials get, Casebier thinks the commercials drum up little to no additional business. He says that's not the point—the goal of the monthly ads isn't to highlight the company.
"Nobody really wants to hear about plumbing and air conditioning," he said. "We made the decision a long time ago that no one actually cares, so our goal is to just entertain people and hope that they remember us when they actually need us."
Their latest commercial will run on local television until the beginning of November when it will be replaced by another Radiant ad currently in the works.
"We enjoy our part in keeping Austin a little bit weird," Casebier said. "That's our contribution right there–we embrace our place in Austin weirdness."
From Your Site Articles
Related Articles Around the Web
The Texas French Bread Bakery, located on 2900 Rio Grande Street, has been completely destroyed after a fire erupted on Monday night.
The Austin Fire Department responded to the fire just before 11 p.m., where they arrived to see flames coming from the roof of the bakery. Firefighters fought the fire for about an hour before the roof collapsed.
While no one was injured in the fire, firefighters say the historic building was completely totaled.
AFD determined that the fire was accidental and caused by mechanical failure. AFD said the damages amounted to $1.6 million total: $1.1 million in structural damage and $500,000 in damage to the contents of the bakery.

This year, Texas French Bread will celebrate 40 years of business. Before the bakery occupied the building, it was the Rome Inn, a music venue that hosted 1970s artists like Stevie Ray Vaughan.
Austin's first major league team is ready to extend its reach with a new collaborative sports complex The Pitch, an Austin FC destination packed with local food, beverages and Verde fervor is set to open in Northeast Austin in February.
The Pitch, a collaboration between Austin FC and Karlin Real Estate, among other entities, will be located in the 50-acre Parmer Pond District, which already hosts the club's practice facility St. David's Performance Center.
Dubbed a "true destination" for both soccer fans and the community, The Pitch will consist of multilevel shipping containers designed by Mark Odom Studio that will carve out into a 1,200-seat stadium complete with a soccer pitch made of turf, food and beverage options and a five-acre "Parmer Pond" featuring jogging trails.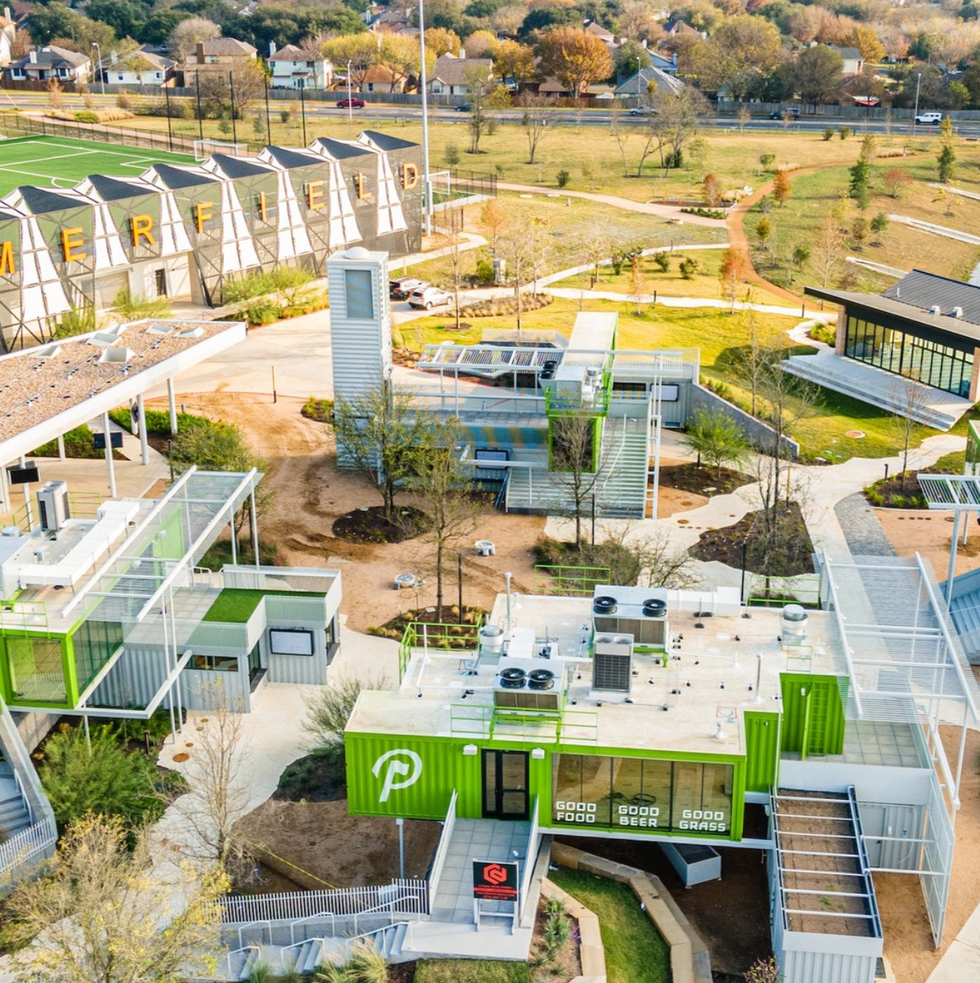 Made from multilevel shipping containers, The Pitch will include food and a 1,200-seat soccer pitch made from artificial turf. (The Pitch)
"The launch of Karlin's new food and entertainment experience will greatly enhance the Parmer development while perfectly complimenting St. David's Performance Center," Austin FC founder Anthony Precourt said. "The Pitch... will offer a strong variety of food options and gathering spaces for guests who will utilize St. David's Performance Center and Parmer Field for a variety of events."
The Pitch project lead Dave Greeley, who helped come up with the concept, is a former president of Austin FC parent company, Two Oak Ventures.
"The vision behind The Pitch at the Parmer Pond District is to be a first-of-its-kind sports, dining and entertainment destination," said Dave Greeley, The Pitch project lead and Team Orbis president. "This will be an unmatched experience for Parmer Austin tenants, Austin FC and club supporters, and the community."
With its proximity to the practice center, the venture hopes to contribute to the growing "soccer city" of Austin during Austin FC matches and youth games with the Austin FC Academy hosted at the St. David's Performance Center.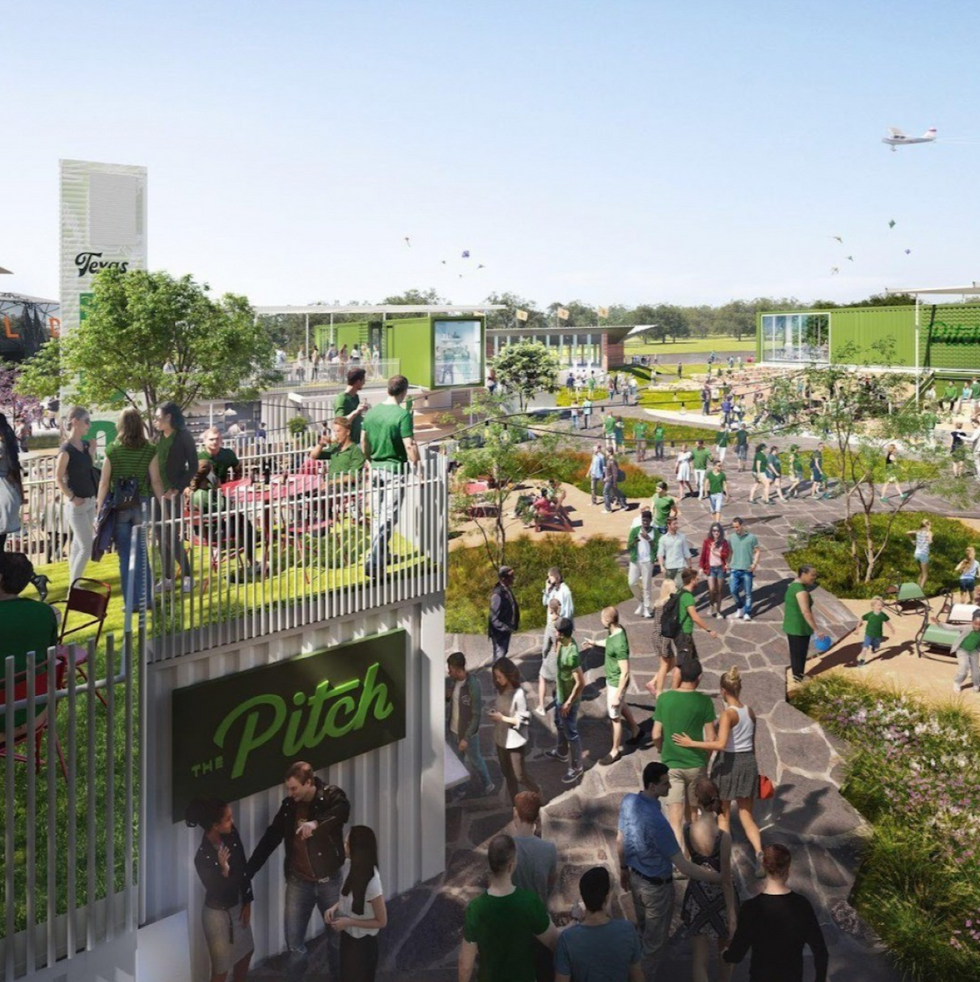 The Pitch hopes to converge both community and club interests with Austin FC. (The Pitch)
In addition to the soccer pitch, stadium and pond, The Pitch will provide a foody experience made by the creative team behind Austin staples like Fareground and Easy Tiger. The complex will offer local bites including:
Ranger Burger, which offers beers and burgers made from highly-coveted Wagyu beef direct from Ranger Cattle in East Austin
Ga Roti, which merges flavors from Northern Vietnam with the culinary techniques of France to create a unique rotisserie chicken joint
Taco Flats, a local taco chain serving Mexico City-style tacos, micheladas and more
Sand Bar, which fulfills its namesake with beauty cocktails, local beers and a sand volleyball court
Coffee Club, a coffee shop and bakery
Corner Kick Bar, the soccer-focused main bar of The Pitch complete with "tunes, TVs and (a) beer garden"
The Pitch will squeeze between St. David's Performance Center and Parmer Pond alongside the southern edge of Parmer Austin, a Karlin Real Estate venture that will eventually include multifamily housing, corporate office space and an aerospace and defense center.