Get connected with our daily update
Half a mile long, lined with more than 20 bars, Rainey Street's entertainment district bustles as a large part of Austin's nightlife scene every weekend. With themed bars, a food truck park and an excitable atmosphere, it's no wonder why.
In 1885, Rainey Street sprung up as a quaint residential neighborhood with many of its turn-of-the-century homes still standing today. Over 130 years later, Rainey Street is reliably busy every weekend and one of the booziest streets in the city.
Whether you're looking for a fruity frozen cocktail, a full meal or an ice-cold beer, you can find it all on Rainey Street.
---
Best overall drinks: Half Step, 75 1/2 Rainey Street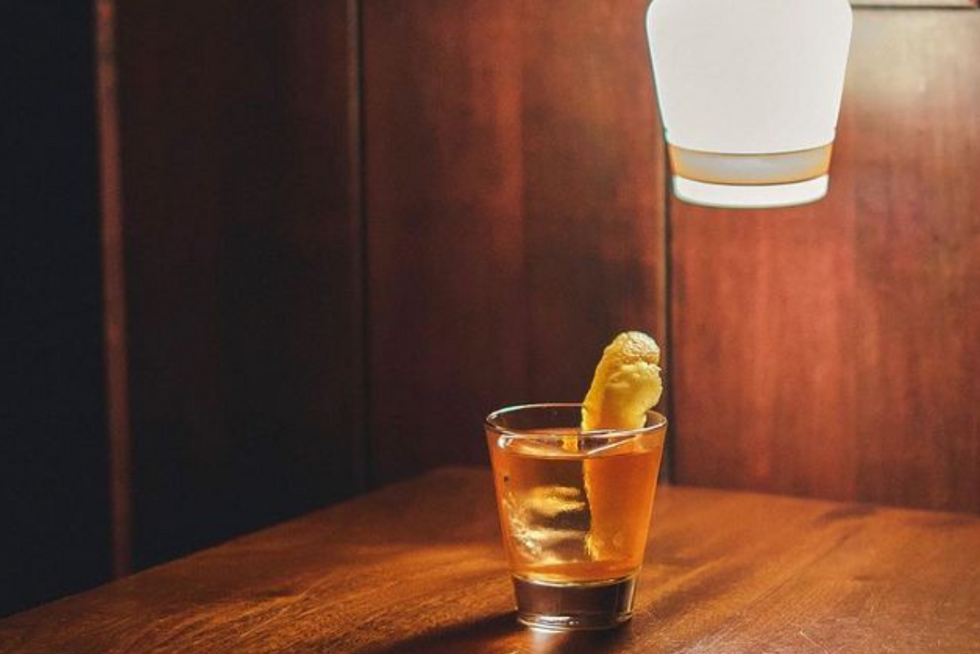 Half Step's old fashioned cocktail is celebrated among visitors. (Half Step/Instagram)
​This tiny bar has a huge patio to sprawl out on and it is serving up high-quality cocktails that are made with love. Choose from elevated classics like the draft Paloma and old-fashioned or a tantalizing take on yacht club punch made with absinthe. There will probably be live music playing when you get there and you can get a snack at Little Lucy's Mini Donuts, parked right nearby.
Most elaborate drinks: The Tipsy Alchemist, 70 Rainey Street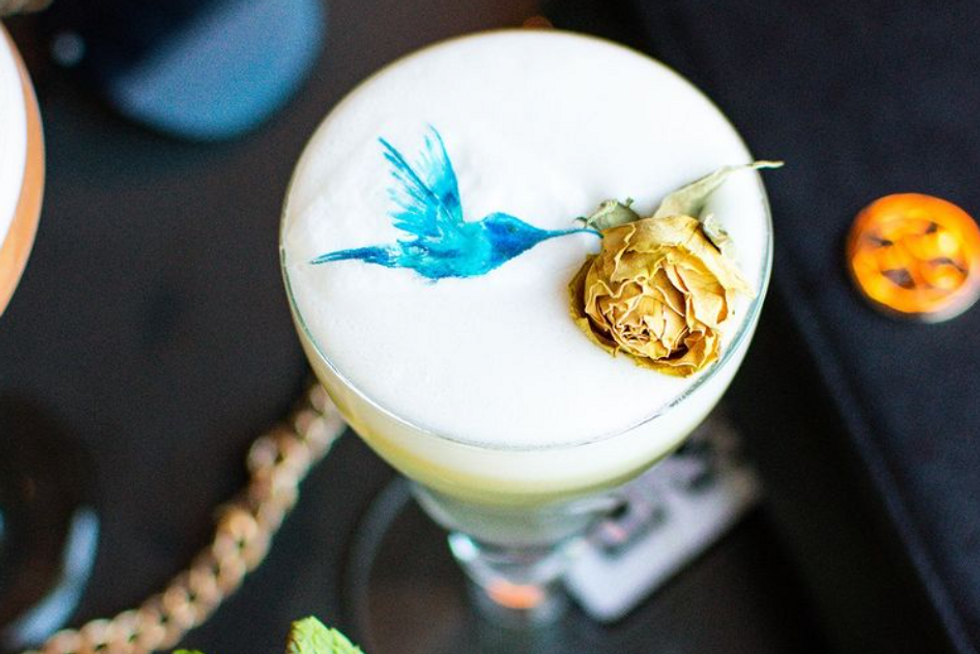 The Strawberry Tea Fizz is made with lemon, strawberry reduction, gin and topped with a rose. (Tipsy Alchemist/Instagram)
This elevated cocktail bar makes drinks with science while you observe Rainey Street from above. With an upscale yet wacky atmosphere, The Tipsy Alchemist serves different drinks that push the boundaries of physics, travel through a tube across the entire bar, are made with liquid nitrogen and come in a coconut.
Most "Austin" atmosphere: Javelina, 69 Rainey Street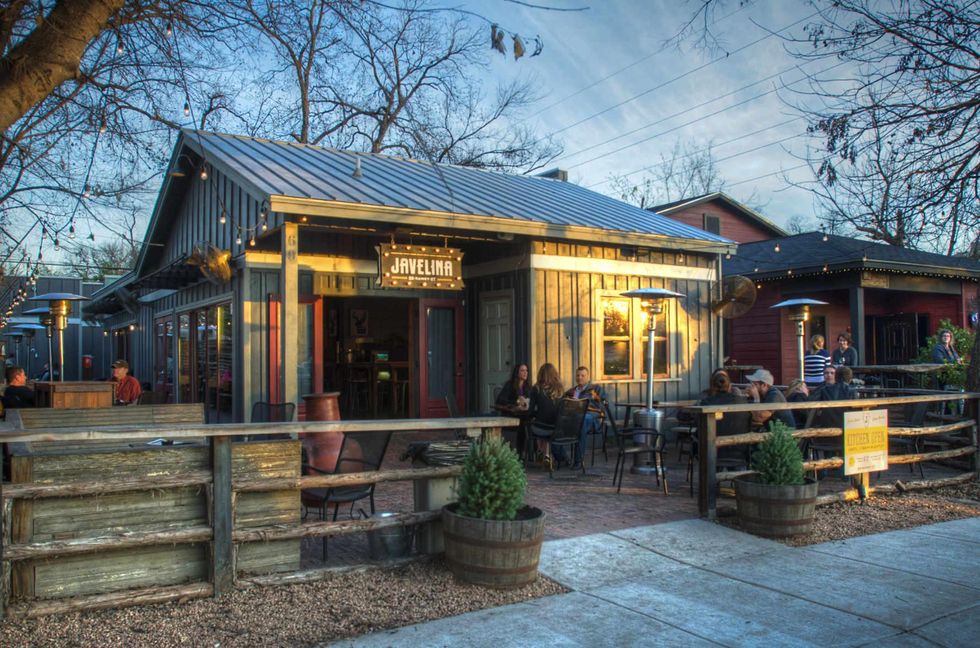 Javelina was started by four Austinites who wanted to create an ice house, dance hall and beer joint. (Javelina)
This bar's unique fare is something the four local founders call "Hill Country Soul," so suffice to say the menu is savory and hearty. Just about anyone would feel more like a local after dining on some green chile pork fries or a cornflake-crusted chicken sandwich paired with a Hill Country lemonade. You can also get a meal until 1:30 a.m. here, later than any other kitchen on the street. Keep an eye out for the live music, drag queen brunches and burger specials that keep this bar weird.
Best overall atmosphere: G'Raj Mahal, 73 Rainey Street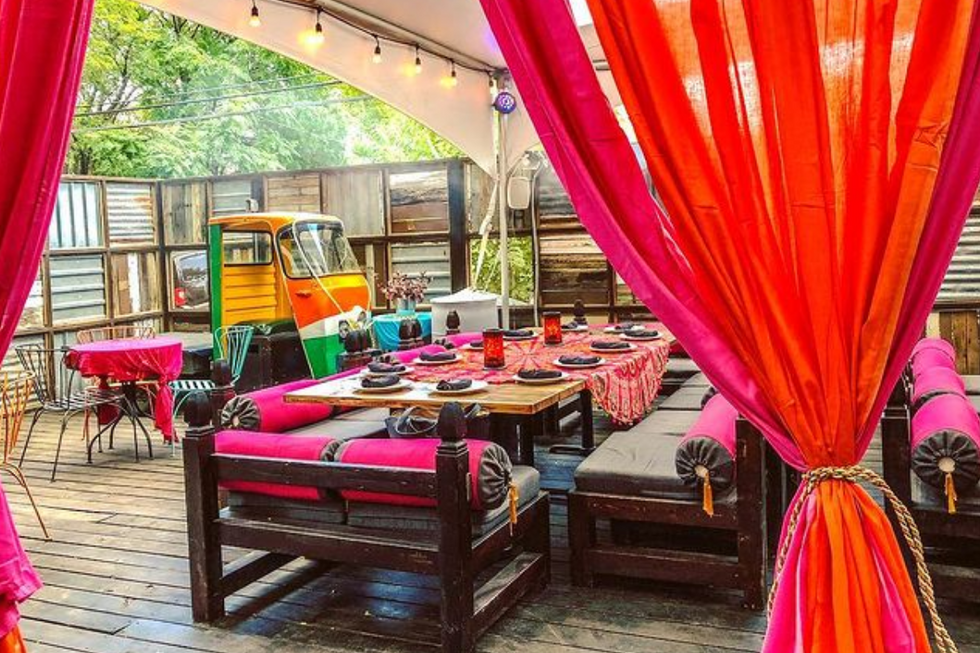 G'Raj Mahal imports many of their furnishings directly from India. (G'Raj Mahal/Instagram)
​This warm, colorful atmosphere will make you want to stay all night. Though the restaurant serves upscale Austin-inspired authentic Indian, and specifically Goan, food, Texas' signature Southern hospitality is not lost. Either outdoors or on the spacious patio, you can enjoy a traditional saag paneer or nutty korma made with free-range and grass-fed proteins while you people-watch or enjoy the full bar menu. As the restaurant says, they welcome you to "Sit and Namaste a While."
Best food truck: Little Lucy's Mini Donuts, 75 1/2 Rainey St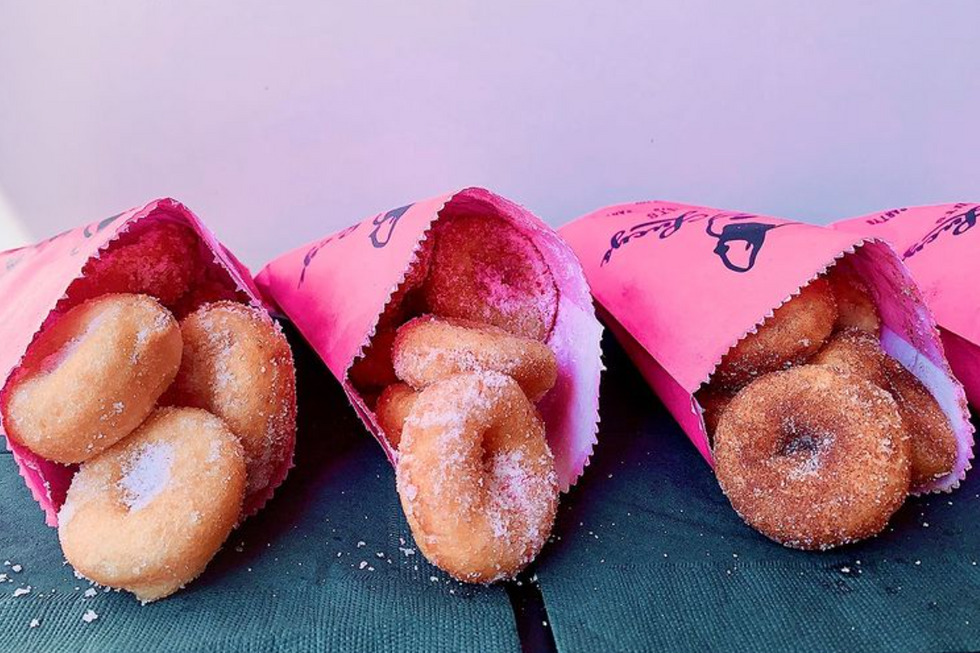 Try the "Poodle," "Schnauzer" or " Maltese" flavors. (Little Lucy's/Instagram)
You've had donuts before, maybe even ones with creative names and fancy ingredients, but they don't compare to the donuts you get when you go to Little Lucy's. These mini donuts—just a little larger than a golf ball—are fried then doused in a luxuriously-flavored flavored sugar while still hot and fresh. We recommend the "Schnauzer," which are pistachio, lavender and vanilla flavored, or the "Maltese" Italian cream cake. I can already smell the donuts cooking 🤤
Best lunch and dinner: Emmer & Rye, 51 Rainey Street inside SkyHouse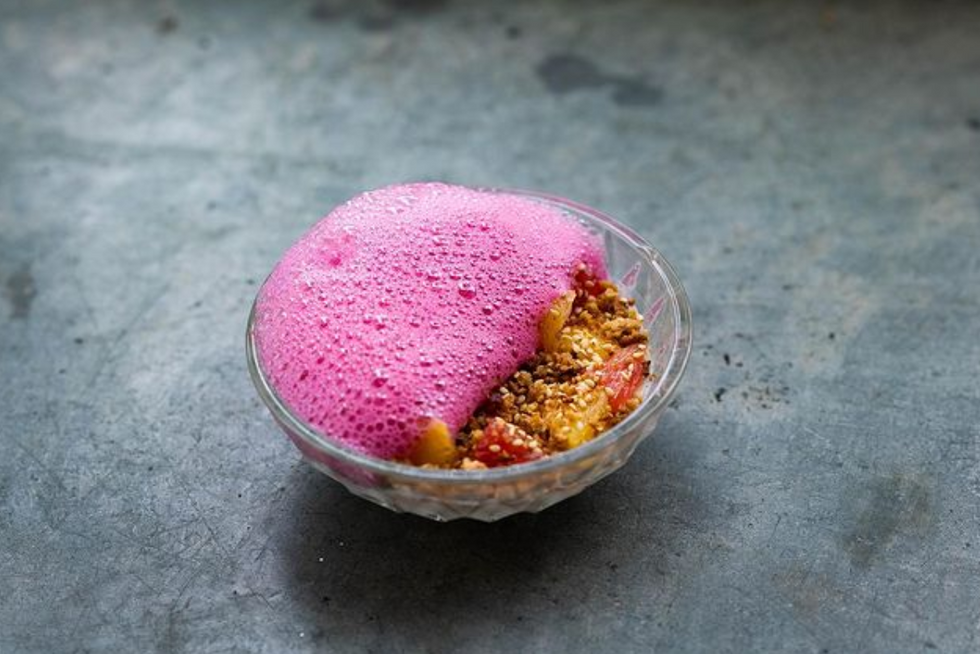 The blackened grapefruit panna cotta is topped with beet bubbles and benne seed shoyu streusel. (Emmer & Rye/Instagram)
While this restaurant is some of the very best on Rainey Street, this is not the place to go to end your night. This menu changes with the season and the famer's harvest, meaning you're likely to try something new each time you visit. You have two options when you dine in at Emmer & Rye, stick to the menu or forget it and get the off the menu option, which comes out with a variety of dishes meant to be shared. You can also order specials off carts that travel around the dining room during the meal. Be prepared to shell out but enjoy it when you do!
Best tap beer selection: Banger's Sausage House and Beer Garden, 79 Rainey Street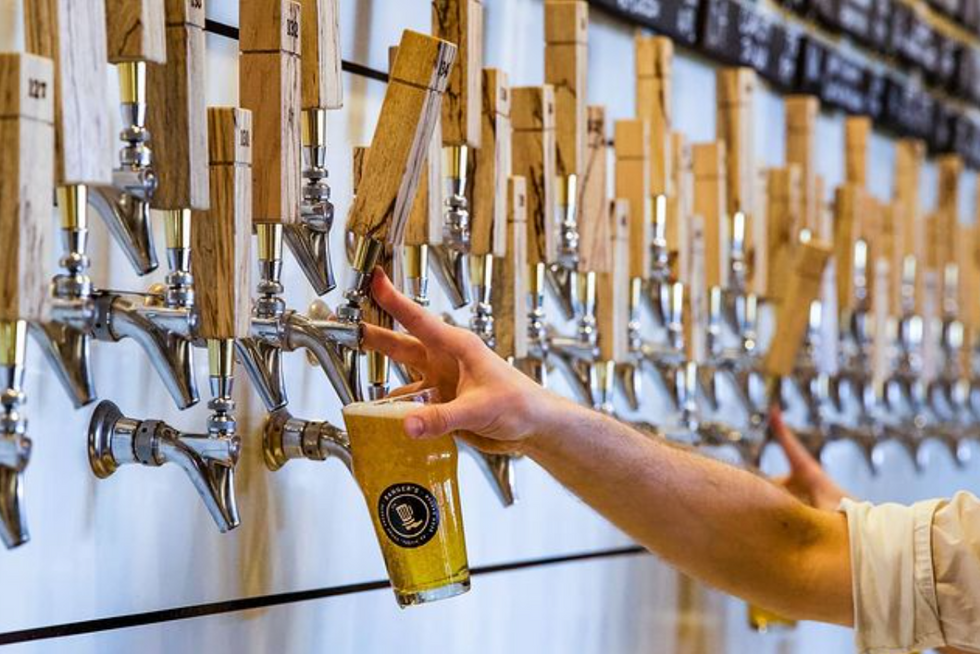 Banger's has an ever-rotating selection of brews on tap. (Banger's Sausage House and Beer Garden)
You're going to be hard-pressed to find anything but beer at Banger's Sausage House but you will find more than 80 types on draft. In addition to the vast lineup of beers from all over the country, plus a few domestic choices, dozens of brews come straight from the capital of Texas. If that's not enough, the bar also has a pretty expansive food menu.
Best specials: Idle Hands, 85 Rainey Street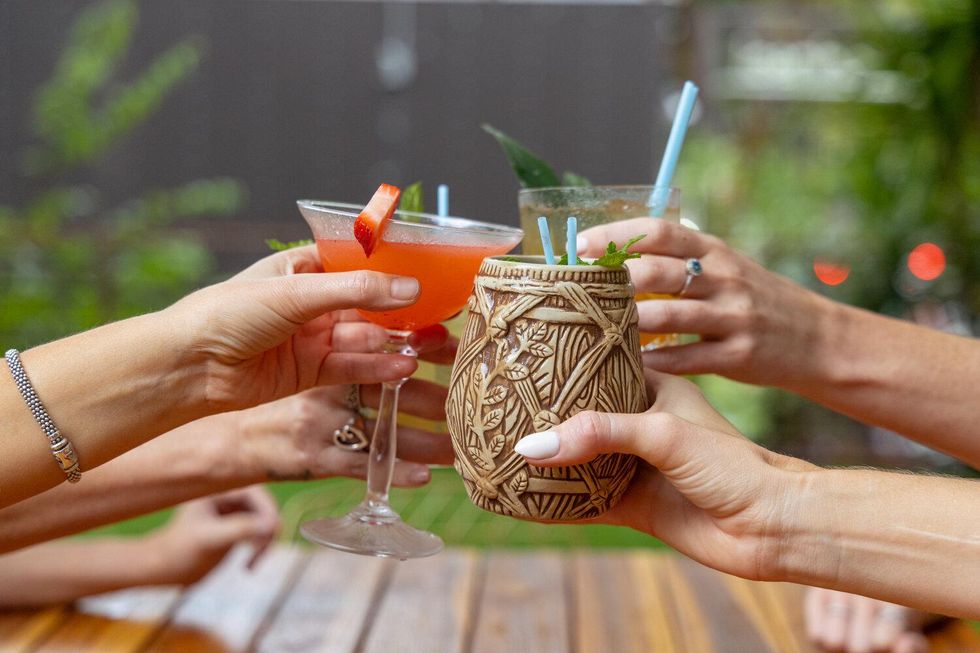 Idle Hands has tropical drinks on deck, plus a healthy selection of beer and wine. (Idle Hands)
In addition to the fruity cocktails, full menu and tropical atmosphere, Idle Hands offers a new special Monday-Thursday. Time your visit right and you can get $10 draft cocktails, 50% off a Cubano sandwich or a $4 slice of cheesecake while you relax on one of the bar's swinging wicker chairs. If those specials don't tickle you, keep an eye on the bar's Instagram, where it announces specials like Paella Night or free oysters for early guests.
Best brunch: Anthem, 91 Rainey Street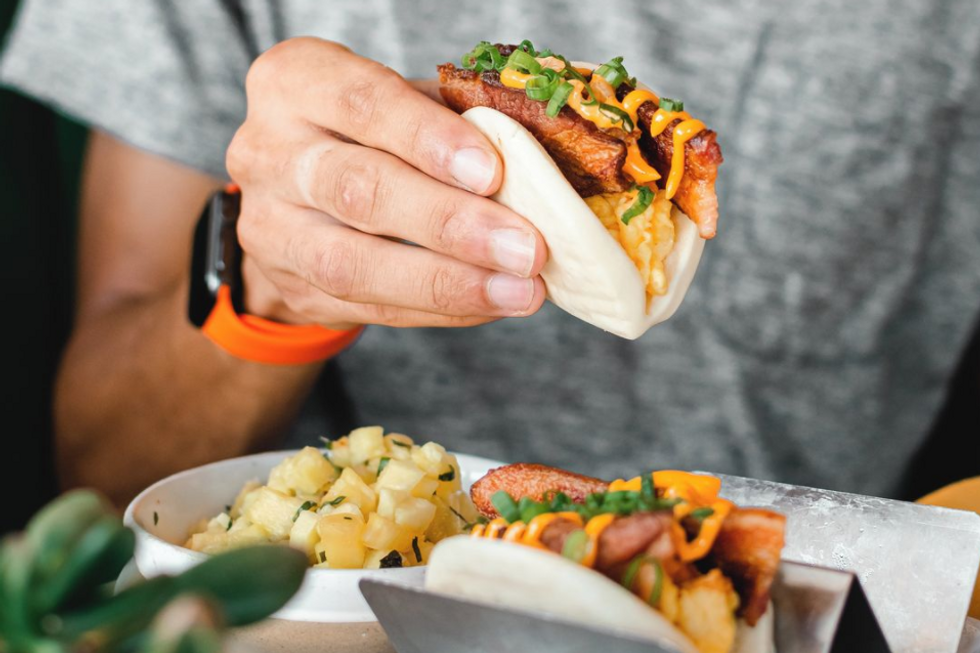 With Asian barbecue brisket and curry potatoes are the stars of the brisket breakfast tacos. (Anthem/Instagram)
If you're looking for a break from the classic eggs benedict and pancakes, Anthem has you covered with it's umami-filled brunch menu. Branch out with Thai doughnuts topped with yuzu icing, basil and black sesame seeds or a more traditional JFC biscuits & gravy with sriracha hot honey and shoyu gravy. The main menu is filled with plenty of Asian-inspired bites, so there's reason to visit anytime. You can still get your mimosa or Michelada but brunch is only served on Saturday & Sunday, 11 a.m. - 3 p.m.
Best place to dance: Augustine, 86 Rainey Street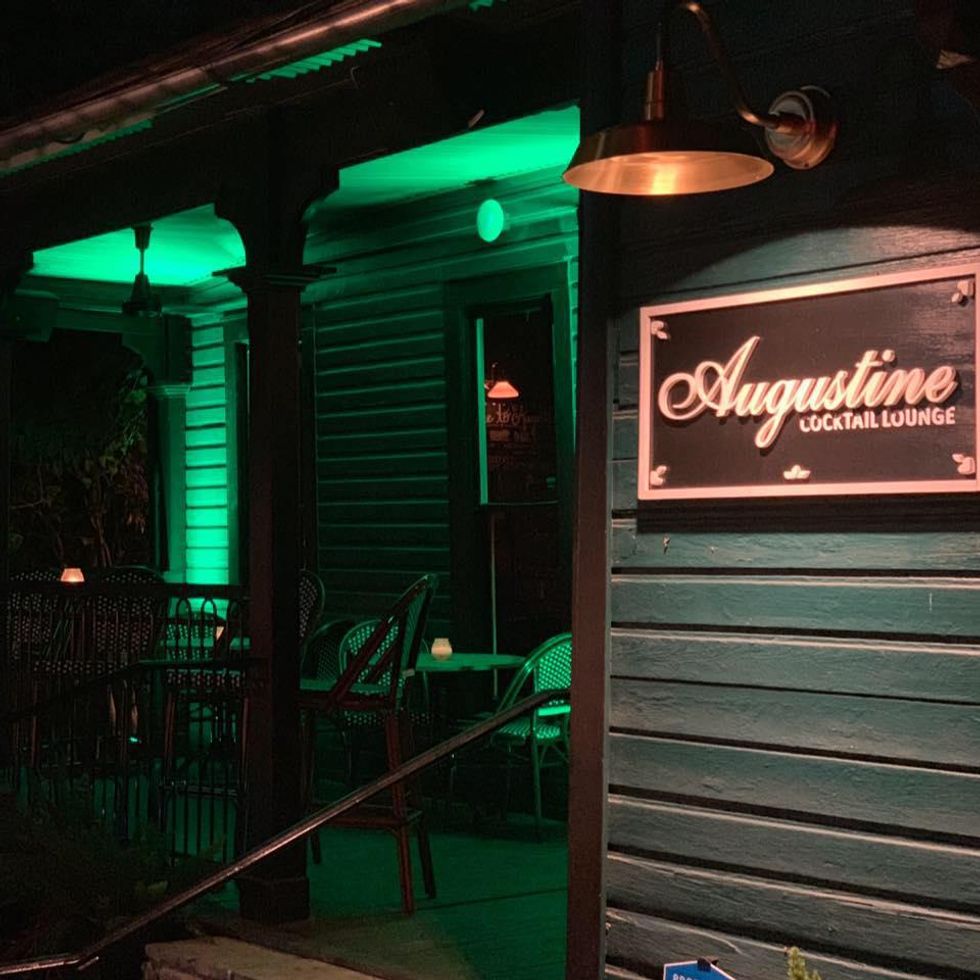 (Augustine)
​With a spacious front patio, indoor space and plenty of room in the backyard, Augustine is "a little classy, a whole lot of groovy," with plenty of room to get down. With a colorful cocktail menu, great photo ops and a glowing green sign, it's impossible to miss this bar.
Where to park: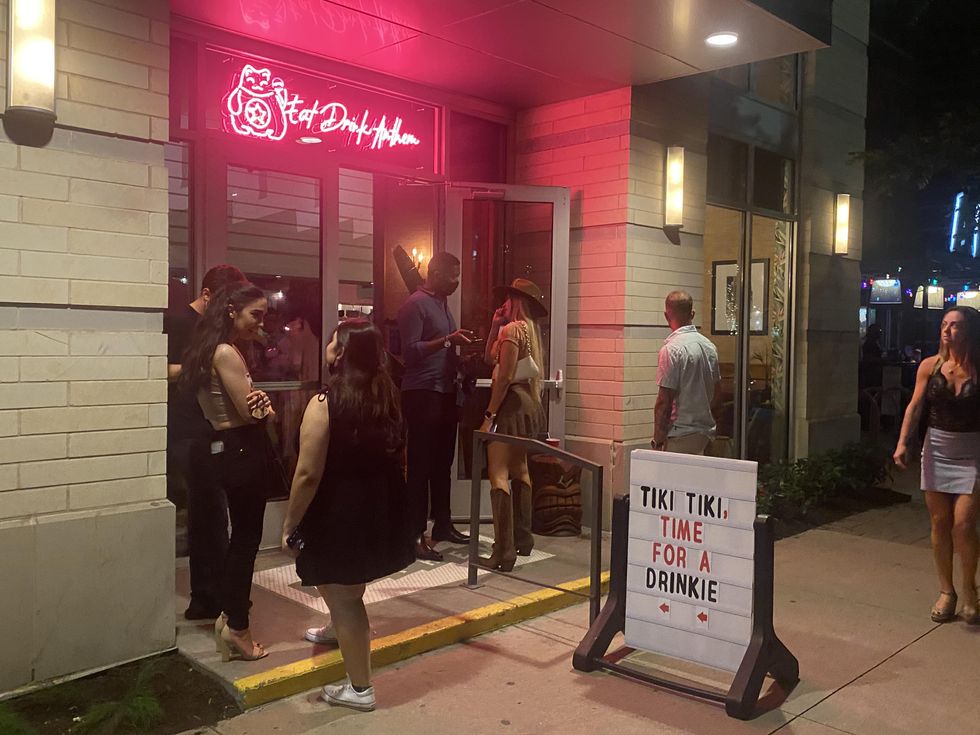 (Laura Figi/Austonia)
You might be able to find street parking if you visit Rainey Street between Monday-Wednesday, but don't count on it. Rainey Street does have an attached gravel parking lot but costs tend to be expensive, like $10-20 per hour type expensive, so the best option is to walk, Uber or branch out to one of the many options that will be cheaper to park.
Free
You can try your luck with the many street parking options around Austin or get free parking at...
742 Interstate 35 Frontage Road
Triangle Park and Ride, 4600 Guadalupe Street
Mexican American Cultural Center, 600 River Street (only free on Sundays)
You might just have to do a little walking!
$5 or less
Finding parking for a small fee is very doable if you're willing to do some scouting.
Hyatt Regency Austin, 208 Barton Springs Road ($4)
N Interstate 35 Frontage Road / E. 6th St ($5)
801 Trinity Street ($5)
1501 E. 6th St ($5)
$10 or less
This category gives you the most options while still saving a little bit of cash for Rainey.
604 Driskill St. ($10)
314 East Cesar Chavez St. ($8)
One Texas Center, 505 Barton Springs Road ($8)
707 East 7th St. ($10)
AMLI Downtown Garage, 201 Lavaca St. ($6)
419 East 7th St. ($10)
313 East 7th St. ($10)
717 Red River St. ($6)
108 West Gibson St. ($6)
Where to stay: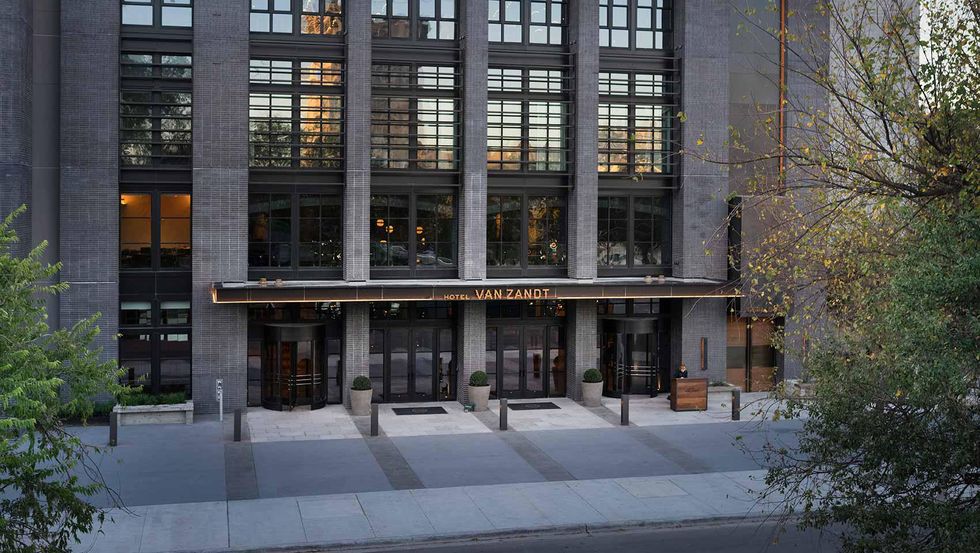 (Hotel Van Zandt)
If you're trying to stay walking distance from Rainey Street, you have options across the board.
In the two-star range, Rainey is home to some eclectic hostels. The Heirloom Lounge and Rusty Railway Hostel is a colorful homage to old Austin, not just another "hipster hostel," offers $3 breakfast buffets and regular movie nights. With a cafe and bar onsite, Native Hostel is an upscale hostel tucked away inside an 1890s railroader hotel. Though you'll be sharing a room with four to six people, the luxurious furnishings will make you feel cozy and you might even make some new friends.
For a guaranteed private room, you'll need to move to the three star range. Homewood Suites has rooms from around $140-$200 and sits along I-35, right behind Rainey Street, so you won't even have to Uber. Just a little further away is the Holiday Inn, sitting further South on IH-35, but is still a very comfortable walk to Rainey Street. You can stay there for cheaper too: around $90-$175.
If you can swing it, Austin has some luxurious hotels to lay your head for the night. Four-star hotel Locale Austin offers fully-furnished apartments to stay in, so you'll feel right at home, and comes complete with expansive views of the city. Hotel Van Zandt has been named "#1 Hotel in Texas" by Condé Nast and you can enjoy the downstairs restaurant Geraldine's for a fancy meal, or have them bring it to you as part of the 24/7 room service. Both hotels are just a stone's throw away, sitting right beside Rainey.
Whether you became a home chef when the pandemic began or have always enjoyed crafting delicious meals, it's undeniable that no home is complete without a cozy kitchen.
Not only do these luxurious homes have enviable amenities like natural light, sky-high ceilings and land to grow into, they also boast extraordinary kitchens. These are not your mom's kitchens—we're talking wine fridges, Miele appliances and wet bars.
Take a peek at these five gems on the market now.
In the South Austin Parten community, this castle-like four-bedroom, three-and-a-half bathroom stunner puts you just minutes from Austin, Dripping Springs and other nearby communities. Stark white and black contrasting features give the interiors a clean look, while a large curving staircase serves as a centerpiece for the ground floor. The chef's kitchen is spacious, facing the living room and multiple windows, and immediately draws the eye. Upstairs you'll find a spa-style bathroom, game room with a wet bar and Hill Country Views.
This listing is held by
Adam Zell.
This hyper-modern, 3,300-square-foot Scandinavian-styled home is a paradise for natural light in Hyde Park. With four bedrooms and three-and-a-half bathrooms spread across one story, the home rests on concrete columns to protect from extreme climate conditions. Inside, you'll find crisp, clean trim in the open-plan kitchen with built-in luxury appliances and a walk-in pantry. Lofty 12-foot ceilings and gigantic windows set the tone, with a wet bar and second living room for entertaining. When you retire to the master bedroom, enjoy a warm bath in the soaking tub or enjoy the multi-output shower.
This listing is held by Austin Stowell.
In the heart of Westlake, this stacked three-story new build is a sprawling 4,483 square feet with five bedrooms and four-and-a-half bathrooms. The home is centrally located and full of natural light, especially on the open concept first floor, which includes the kitchen, casual dining space and living area. The third floor has a bedroom and loft, perfect for the at-home worker.
This listing is held by Jen Templeton.
This 3,539 square foot, three-bedroom, three-and-a-half bathroom Tarrytown townhouse is newly remodeled but still holds on to its vintage charm. Bright white cabinets, a green accented island and quartzite countertops in the kitchen give the space a cheery feeling. Entering on the second floor, you'll have to walk downstairs to get to the bedrooms, which include ensuite baths and walk-in showers. The third level bonus room is the perfect place for an at-home office.
This listing is held by
Cindy Fowler
.
​Just outside Austin in the sleepy town of Wimberley, the Backbone Ridge Ranch is one of the city's most "iconic and pristine" properties. On nearly 50 acres of land, the house takes you into nature without getting too far from nearby cities. With 4,369 square feet, six bedrooms and six-and-a-half bathrooms, floor-to-ceiling windows effortlessly light the entire space. You'll feel like a celebrity chef while cooking in the kitchen, even more so entertaining from the outdoor kitchen and living space. The 33,000-gallon quarried limestone pool is perfect for those hot Hill Country summers!
This listing is held by
Nicole Kessler.
Sample some spirits
When: 11:30 a.m. Friday, Saturday and Sunday
Where: Desert Door, 211 Darden Hill Rd. Driftwood
What: Attend Desert Door Distillery's first Explorer Series of 2022. Guests will be able to sample Caliber on its own or in a delicious cocktail.

Eat some chili
When: 12 p.m. Saturday
Where: Sagebrush, 5500 S. Congress Ave.
What: Enjoy great chili and great music at the 14th Annual Chili Cold Blood Chili Cook-Off. All proceeds will be donated to Health Alliance for Austin Musicians in memory of Nick Curran.

Enjoy some local art
When: 4 p.m. Saturday
Where: Neill-Cochran House Museum, 2310 San Gabriel St.
What: The Neil-Cochran House Museum will host a multi-media art exhibition by Austin artist Nell Gottlieb, titled "Land as Persona: An Artist's Journey." Gottlieb works in multiple media to reexamine her coming of age, white and female in the Jim Crow South.

Catch some improv comedy
When: 7 p.m. Sunday
Where: GameOn! ATX, 1515 Dungan Ln.
What: ColdTowne ThrowDowne is an improv comedy tournament between troupes that will take place in front of a live studio audience and streamed live to the world on Twitch.

Catch a Johnny Cash-style show
When: 7:30 p.m. Sunday
Where: Georgetown Palace Theatre, 810 S. Austin Ave.
What: Experience music history with a unique musical about love and faith, struggle and success, rowdiness and redemption, and the healing power of home and family set to the tune of the legendary Johnny Cash.