Get connected with our daily update
Half a mile long, lined with more than 20 bars, Rainey Street's entertainment district bustles as a large part of Austin's nightlife scene every weekend. With themed bars, a food truck park and an excitable atmosphere, it's no wonder why.
In 1885, Rainey Street sprung up as a quaint residential neighborhood with many of its turn-of-the-century homes still standing today. Over 130 years later, Rainey Street is reliably busy every weekend and one of the booziest streets in the city.
Whether you're looking for a fruity frozen cocktail, a full meal or an ice-cold beer, you can find it all on Rainey Street.
---
Best overall drinks: Half Step, 75 1/2 Rainey Street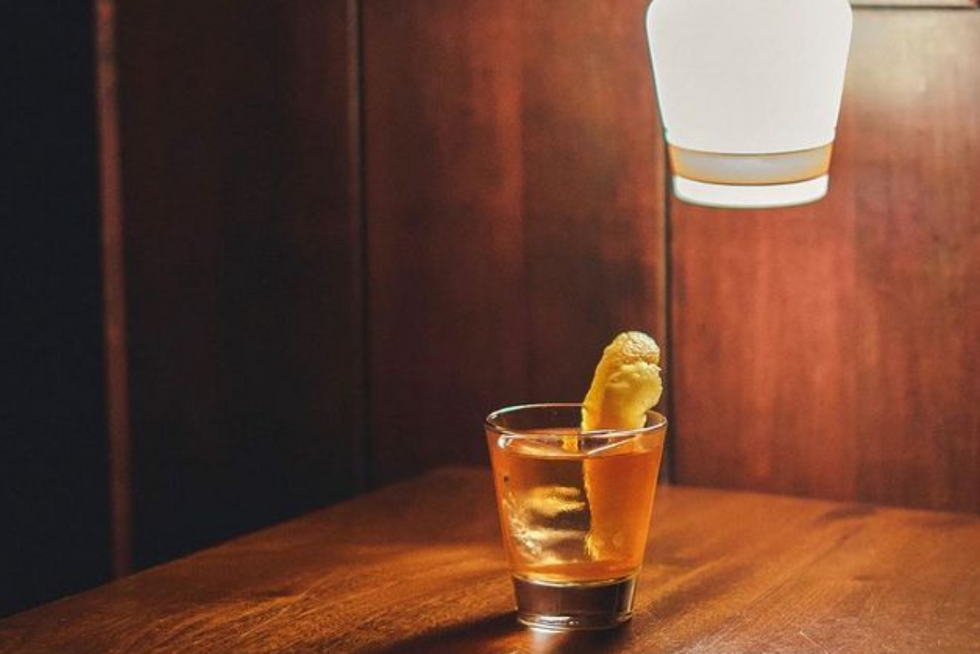 Half Step's old fashioned cocktail is celebrated among visitors. (Half Step/Instagram)
​This tiny bar has a huge patio to sprawl out on and it is serving up high-quality cocktails that are made with love. Choose from elevated classics like the draft Paloma and old-fashioned or a tantalizing take on yacht club punch made with absinthe. There will probably be live music playing when you get there and you can get a snack at Little Lucy's Mini Donuts, parked right nearby.
Most elaborate drinks: The Tipsy Alchemist, 70 Rainey Street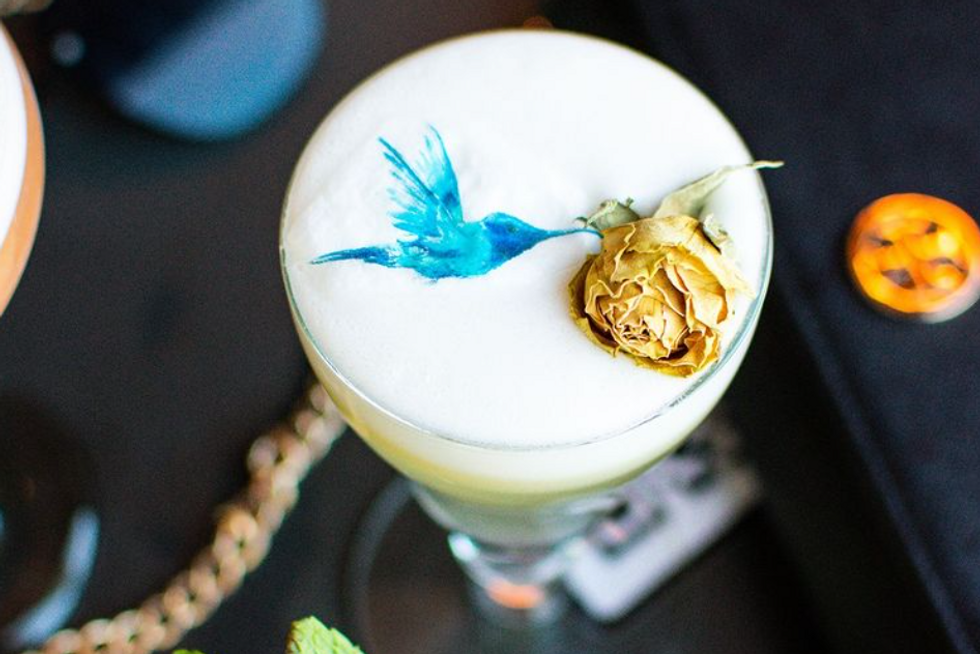 The Strawberry Tea Fizz is made with lemon, strawberry reduction, gin and topped with a rose. (Tipsy Alchemist/Instagram)
This elevated cocktail bar makes drinks with science while you observe Rainey Street from above. With an upscale yet wacky atmosphere, The Tipsy Alchemist serves different drinks that push the boundaries of physics, travel through a tube across the entire bar, are made with liquid nitrogen and come in a coconut.
Most "Austin" atmosphere: Javelina, 69 Rainey Street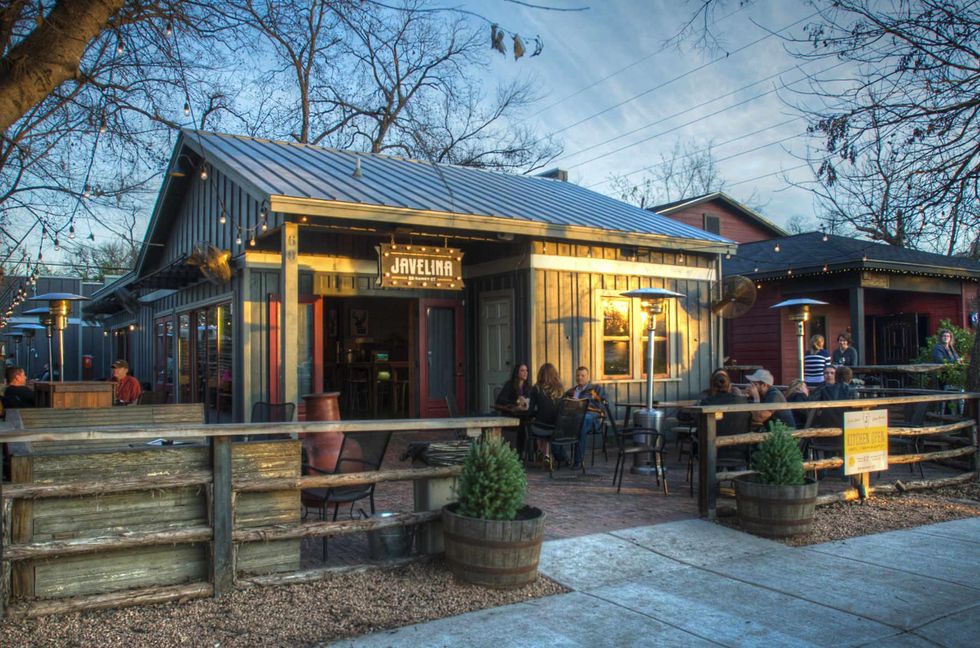 Javelina was started by four Austinites who wanted to create an ice house, dance hall and beer joint. (Javelina)
This bar's unique fare is something the four local founders call "Hill Country Soul," so suffice to say the menu is savory and hearty. Just about anyone would feel more like a local after dining on some green chile pork fries or a cornflake-crusted chicken sandwich paired with a Hill Country lemonade. You can also get a meal until 1:30 a.m. here, later than any other kitchen on the street. Keep an eye out for the live music, drag queen brunches and burger specials that keep this bar weird.
Best overall atmosphere: G'Raj Mahal, 73 Rainey Street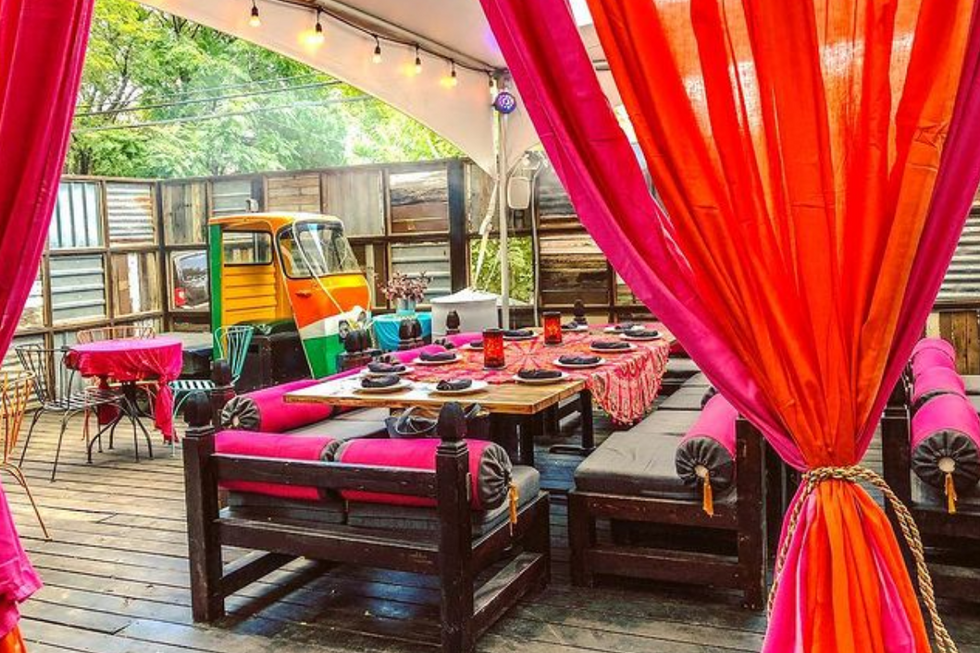 G'Raj Mahal imports many of their furnishings directly from India. (G'Raj Mahal/Instagram)
​This warm, colorful atmosphere will make you want to stay all night. Though the restaurant serves upscale Austin-inspired authentic Indian, and specifically Goan, food, Texas' signature Southern hospitality is not lost. Either outdoors or on the spacious patio, you can enjoy a traditional saag paneer or nutty korma made with free-range and grass-fed proteins while you people-watch or enjoy the full bar menu. As the restaurant says, they welcome you to "Sit and Namaste a While."
Best food truck: Little Lucy's Mini Donuts, 75 1/2 Rainey St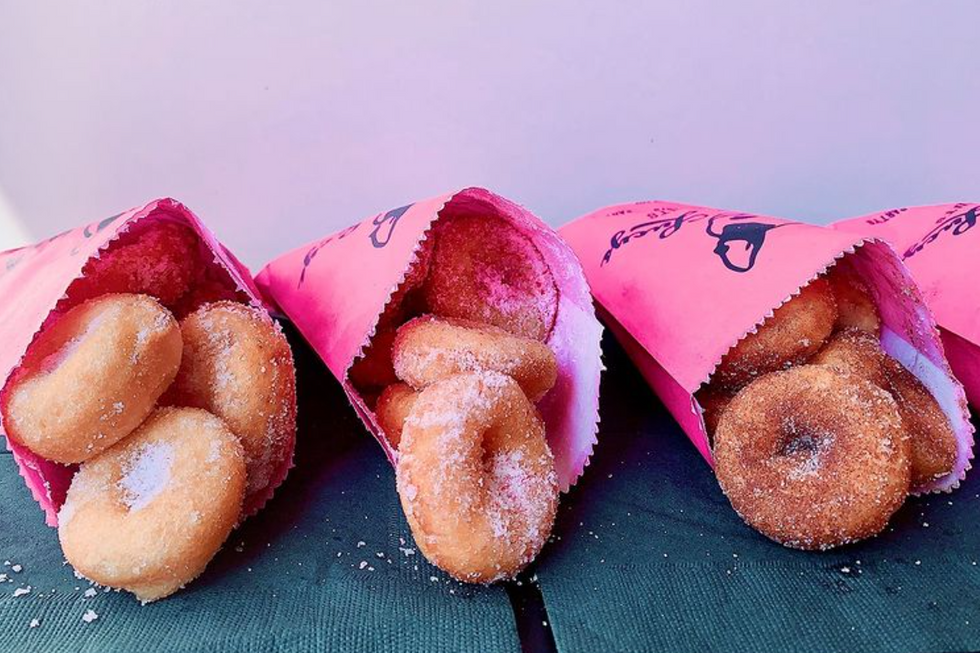 Try the "Poodle," "Schnauzer" or " Maltese" flavors. (Little Lucy's/Instagram)
You've had donuts before, maybe even ones with creative names and fancy ingredients, but they don't compare to the donuts you get when you go to Little Lucy's. These mini donuts—just a little larger than a golf ball—are fried then doused in a luxuriously-flavored flavored sugar while still hot and fresh. We recommend the "Schnauzer," which are pistachio, lavender and vanilla flavored, or the "Maltese" Italian cream cake. I can already smell the donuts cooking 🤤
Best lunch and dinner: Emmer & Rye, 51 Rainey Street inside SkyHouse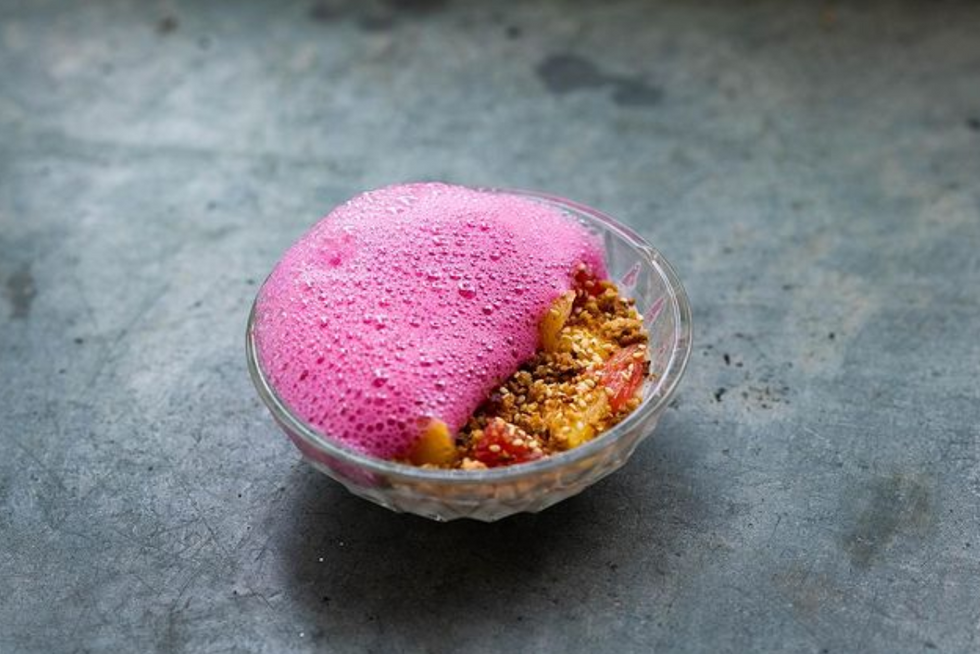 The blackened grapefruit panna cotta is topped with beet bubbles and benne seed shoyu streusel. (Emmer & Rye/Instagram)
While this restaurant is some of the very best on Rainey Street, this is not the place to go to end your night. This menu changes with the season and the famer's harvest, meaning you're likely to try something new each time you visit. You have two options when you dine in at Emmer & Rye, stick to the menu or forget it and get the off the menu option, which comes out with a variety of dishes meant to be shared. You can also order specials off carts that travel around the dining room during the meal. Be prepared to shell out but enjoy it when you do!
Best tap beer selection: Banger's Sausage House and Beer Garden, 79 Rainey Street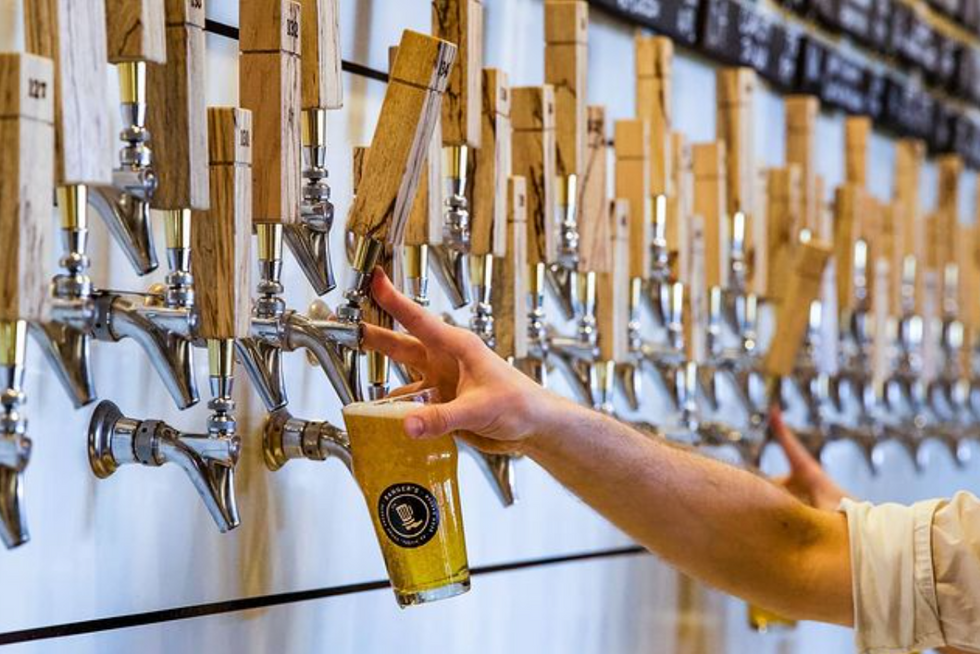 Banger's has an ever-rotating selection of brews on tap. (Banger's Sausage House and Beer Garden)
You're going to be hard-pressed to find anything but beer at Banger's Sausage House but you will find more than 80 types on draft. In addition to the vast lineup of beers from all over the country, plus a few domestic choices, dozens of brews come straight from the capital of Texas. If that's not enough, the bar also has a pretty expansive food menu.
Best specials: Idle Hands, 85 Rainey Street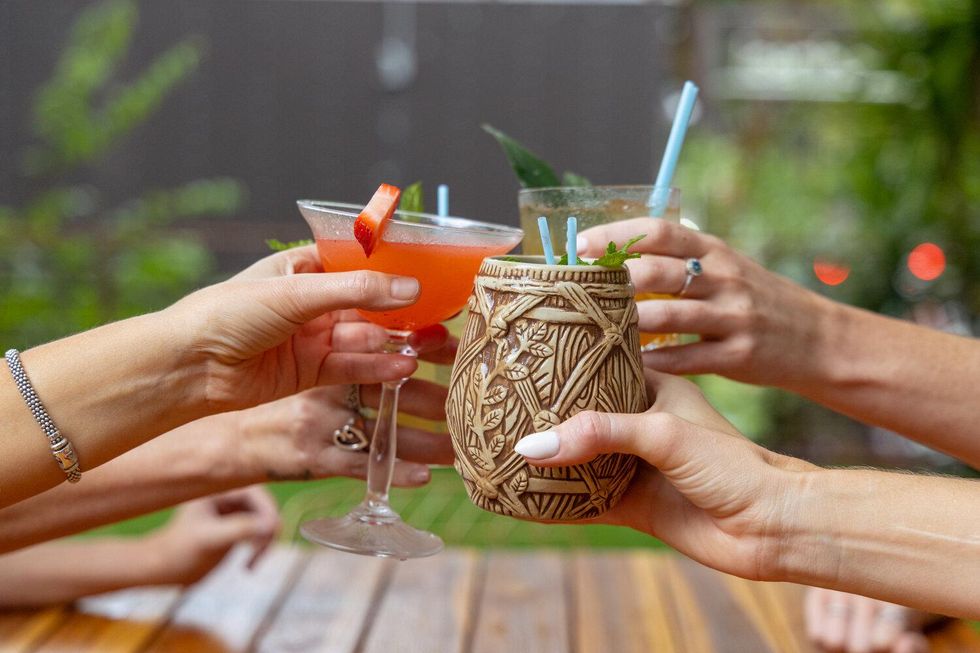 Idle Hands has tropical drinks on deck, plus a healthy selection of beer and wine. (Idle Hands)
In addition to the fruity cocktails, full menu and tropical atmosphere, Idle Hands offers a new special Monday-Thursday. Time your visit right and you can get $10 draft cocktails, 50% off a Cubano sandwich or a $4 slice of cheesecake while you relax on one of the bar's swinging wicker chairs. If those specials don't tickle you, keep an eye on the bar's Instagram, where it announces specials like Paella Night or free oysters for early guests.
Best brunch: Anthem, 91 Rainey Street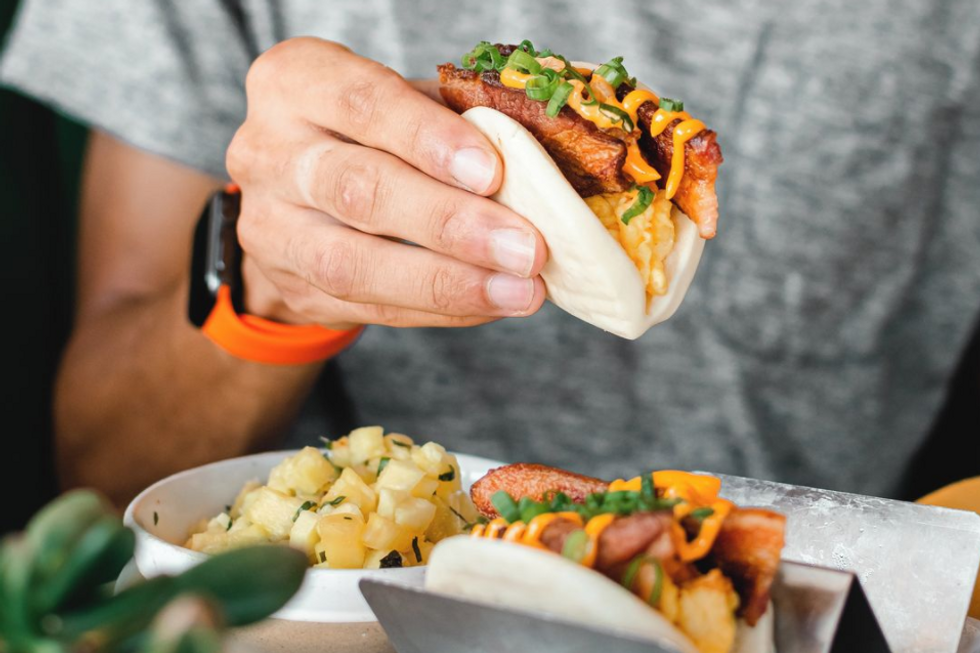 With Asian barbecue brisket and curry potatoes are the stars of the brisket breakfast tacos. (Anthem/Instagram)
If you're looking for a break from the classic eggs benedict and pancakes, Anthem has you covered with it's umami-filled brunch menu. Branch out with Thai doughnuts topped with yuzu icing, basil and black sesame seeds or a more traditional JFC biscuits & gravy with sriracha hot honey and shoyu gravy. The main menu is filled with plenty of Asian-inspired bites, so there's reason to visit anytime. You can still get your mimosa or Michelada but brunch is only served on Saturday & Sunday, 11 a.m. - 3 p.m.
Best place to dance: Augustine, 86 Rainey Street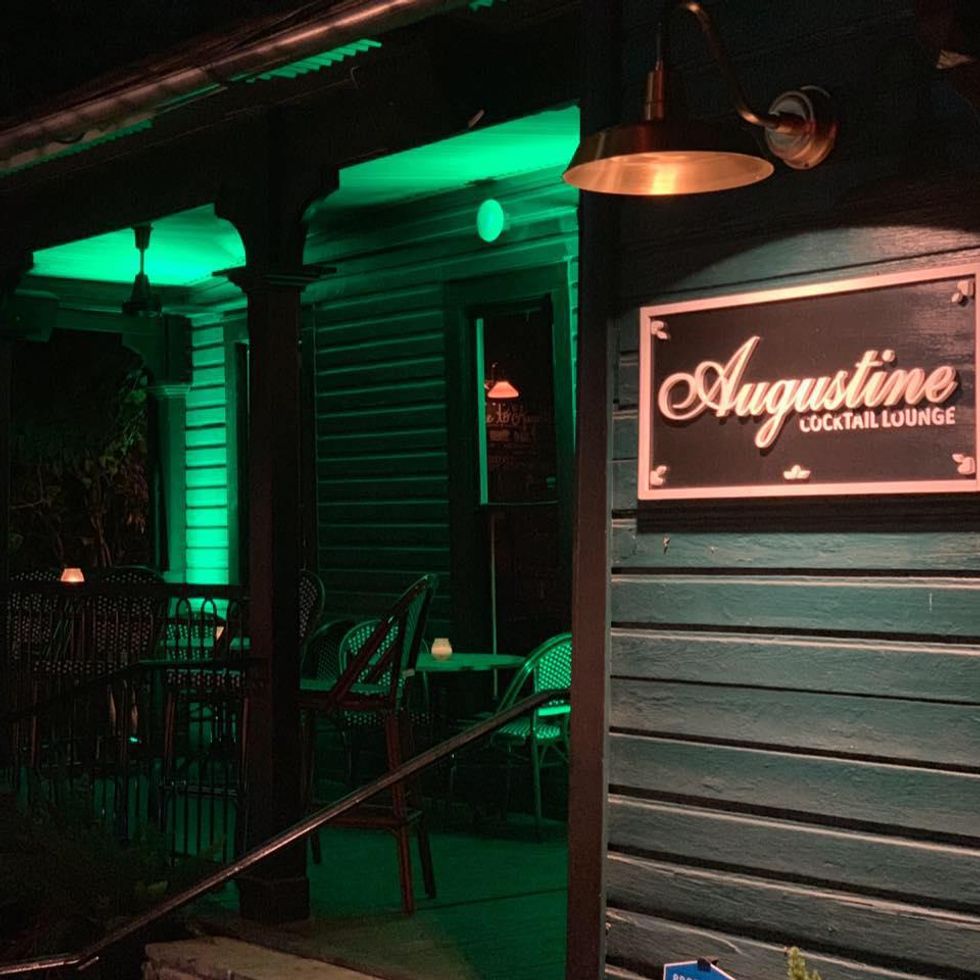 (Augustine)
​With a spacious front patio, indoor space and plenty of room in the backyard, Augustine is "a little classy, a whole lot of groovy," with plenty of room to get down. With a colorful cocktail menu, great photo ops and a glowing green sign, it's impossible to miss this bar.
Where to park: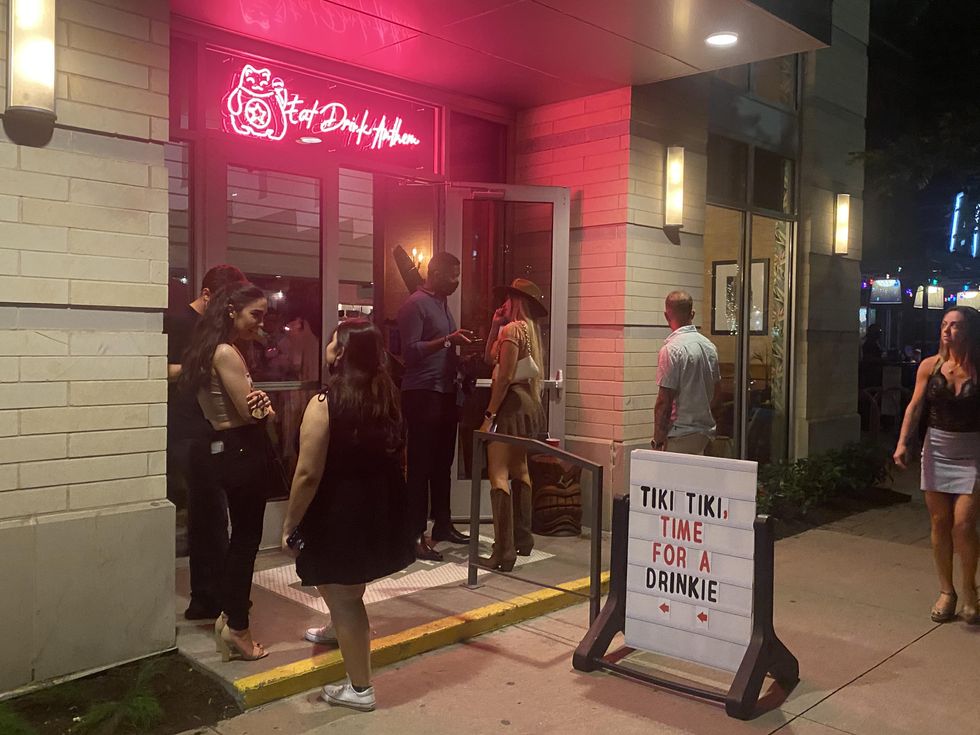 (Laura Figi/Austonia)
You might be able to find street parking if you visit Rainey Street between Monday-Wednesday, but don't count on it. Rainey Street does have an attached gravel parking lot but costs tend to be expensive, like $10-20 per hour type expensive, so the best option is to walk, Uber or branch out to one of the many options that will be cheaper to park.
Free
You can try your luck with the many street parking options around Austin or get free parking at...
742 Interstate 35 Frontage Road
Triangle Park and Ride, 4600 Guadalupe Street
Mexican American Cultural Center, 600 River Street (only free on Sundays)
You might just have to do a little walking!
$5 or less
Finding parking for a small fee is very doable if you're willing to do some scouting.
Hyatt Regency Austin, 208 Barton Springs Road ($4)
N Interstate 35 Frontage Road / E. 6th St ($5)
801 Trinity Street ($5)
1501 E. 6th St ($5)
$10 or less
This category gives you the most options while still saving a little bit of cash for Rainey.
604 Driskill St. ($10)
314 East Cesar Chavez St. ($8)
One Texas Center, 505 Barton Springs Road ($8)
707 East 7th St. ($10)
AMLI Downtown Garage, 201 Lavaca St. ($6)
419 East 7th St. ($10)
313 East 7th St. ($10)
717 Red River St. ($6)
108 West Gibson St. ($6)
Where to stay: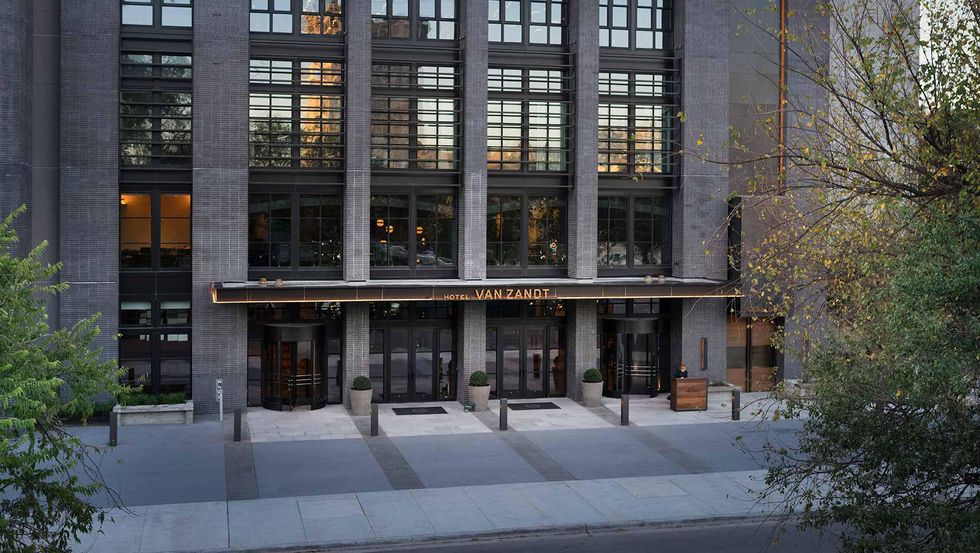 (Hotel Van Zandt)
If you're trying to stay walking distance from Rainey Street, you have options across the board.
In the two-star range, Rainey is home to some eclectic hostels. The Heirloom Lounge and Rusty Railway Hostel is a colorful homage to old Austin, not just another "hipster hostel," offers $3 breakfast buffets and regular movie nights. With a cafe and bar onsite, Native Hostel is an upscale hostel tucked away inside an 1890s railroader hotel. Though you'll be sharing a room with four to six people, the luxurious furnishings will make you feel cozy and you might even make some new friends.
For a guaranteed private room, you'll need to move to the three star range. Homewood Suites has rooms from around $140-$200 and sits along I-35, right behind Rainey Street, so you won't even have to Uber. Just a little further away is the Holiday Inn, sitting further South on IH-35, but is still a very comfortable walk to Rainey Street. You can stay there for cheaper too: around $90-$175.
If you can swing it, Austin has some luxurious hotels to lay your head for the night. Four-star hotel Locale Austin offers fully-furnished apartments to stay in, so you'll feel right at home, and comes complete with expansive views of the city. Hotel Van Zandt has been named "#1 Hotel in Texas" by Condé Nast and you can enjoy the downstairs restaurant Geraldine's for a fancy meal, or have them bring it to you as part of the 24/7 room service. Both hotels are just a stone's throw away, sitting right beside Rainey.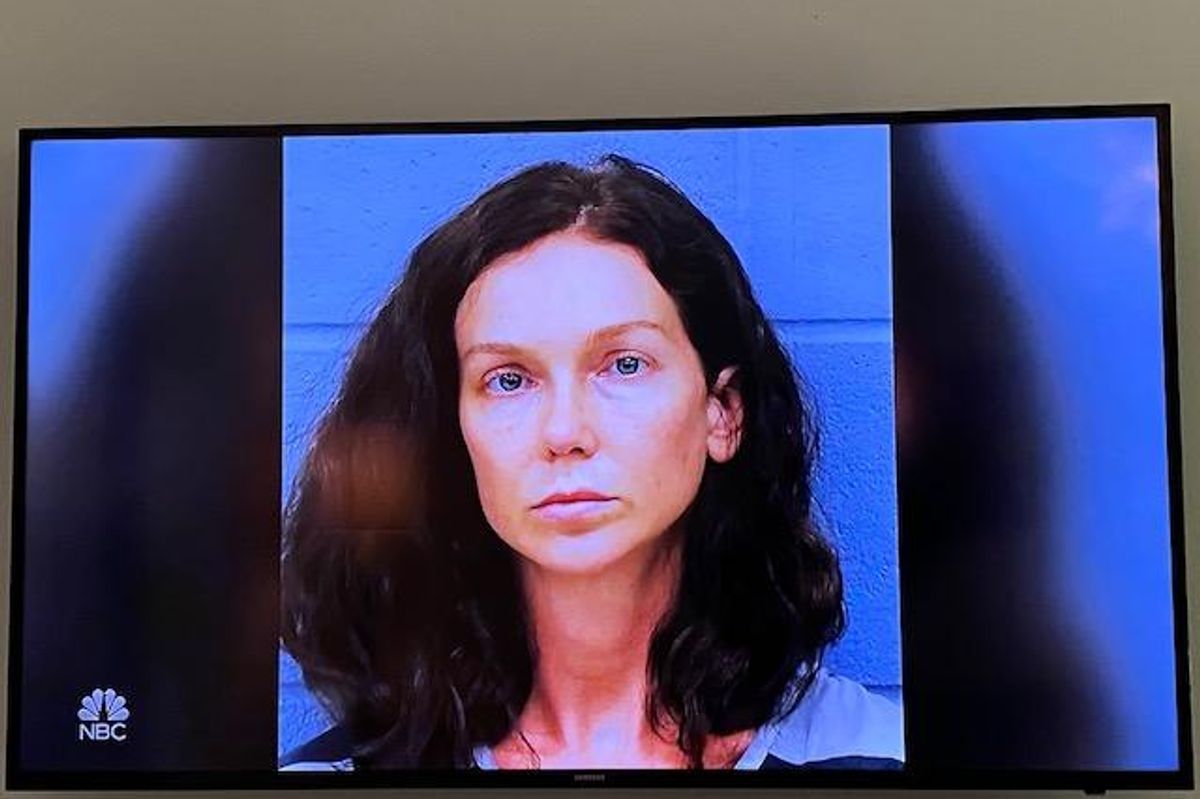 Austin's Kaitlin Armstrong after capture in Costa Rica.
(Editor's note: this is part two of a two part Austonia series tracking the Dateline NBC investigation of Moriah Wilson's murder. Read part one here.)
After pro gravel biker Moriah "Mo" Wilson is gunned down in South Austin on May 11, police investigators develop a "person of interest," Austin's Kaitlin Armstrong, 34, a real estate agent, yoga teacher, amateur cyclist, and longtime girlfriend of Austin cyclist Colin Strickland.
Originally from Michigan, where a childhood friend described her as "fun loving" and "smart," Armstrong finished college and traveled the world studying yoga, in places like Iceland, Bali, and Mexico. She ended up in Austin where she met Colin Strickland. The two were business partners in a vintage trailer business, along with her own venture flipping houses. "Business partners and life partners," NBC said.
According to NBC's evaluation of a police report, a friend of Wilson's, who remains anonymous, said that despite Strickland's relationship with Kaitlin Armstrong, Mo Wilson and Strickland had been seeing each other since their "fling" in Austin months before. NBC reports this friend told police that before she died, Wilson had received a number of calls from Kaitlin Armstrong warning her to stay away from Armstrong's boyfriend, Colin Strickland.
A second tipster claimed to have been present when Armstrong first learned that Wilson and Strickland had been seeing each other. The tipster said Armstrong became "enraged" and threatened to kill Moriah Wilson.
Police found an outstanding warrant for Armstrong for an unpaid botox bill, and brought her in for questioning. She was largely unresponsive to their inquiries. Then police discovered a typo in the warrant and were forced to release her.

Six days after Wilson's death, a police ballistics analysis pointed toward a 9mm weapon owned by Kaitlin Armstrong. In his police interview, Strickland had told police he had previously purchased two 9mm handguns, one for him and one for Armstrong.
Police obtained a warrant to arrest Kaitlin Armstrong for first degree murder, but when they went to arrest her, she was gone.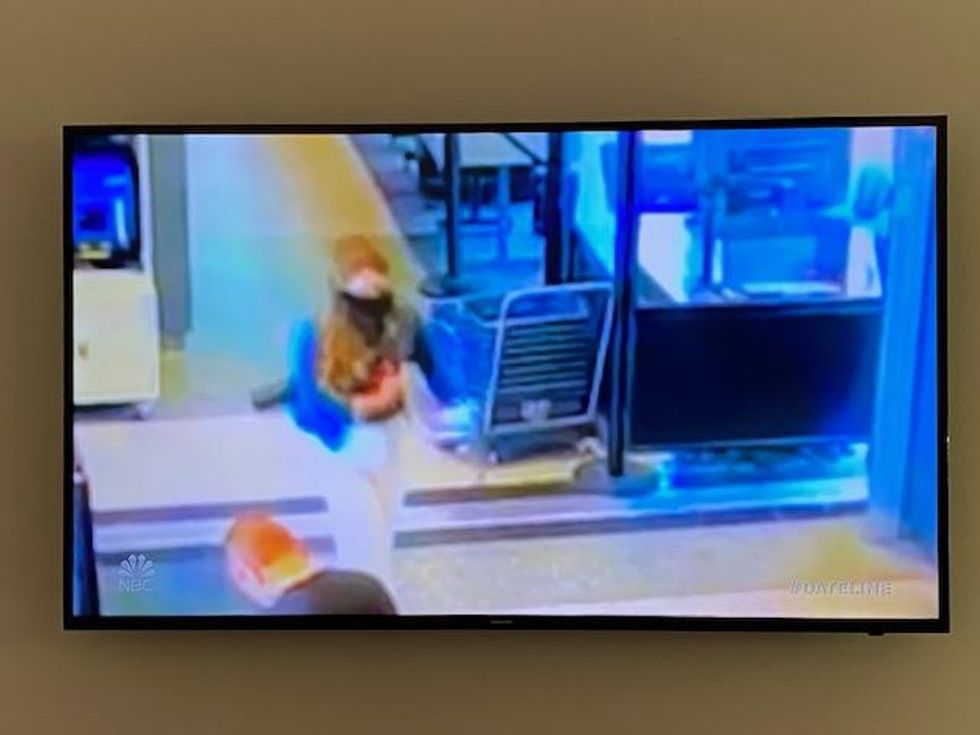 (Dateline NBC)
Disappearance
Austin police asked the U.S. Marshals to find her. The Marshals believed Armstrong was hiding in Austin, until 14 days after the murder when they discovered video from ABIA showing Armstrong, masked and carrying a yoga mat, about to board a plane 3 days after the murder. From Austin, Armstrong had flown to Houston and on to New York's LaGuardia, where the trail went cold.
The Marshals posted a reward, $5,000, asking the public for help. Help came with a tip that Armstrong had been seen in upstate New York a few days after arriving at LaGuardia. Investigators knew that Kaitlin's sister lived there, and went to investigate, but did not find any trace of Armstrong.
Another tip came that Kaitlin had been seen next at Newark International Airport on May 18. But, as before, there was no trail to follow.
But how could she travel without using her identification documents? And how could she survive without using her credit cards and bank account?
Back in Austin, police found her Jeep at a CarMax dealership, where she had sold it weeks before for $12,200.
Costa Rica
Meanwhile, in the small, end-of-the-road surfing town of Santa Teresa, Costa Rica, Kaitlin Armstrong had quietly arrived in town and was working for a local hostel, Don Jon's, checking in guests and teaching yoga.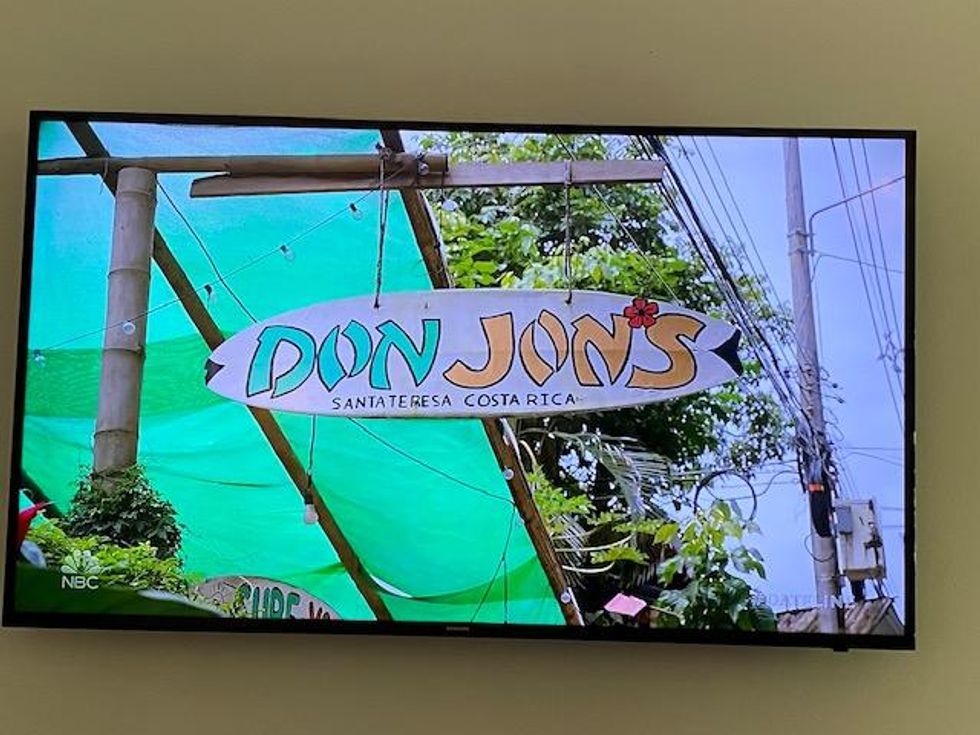 Dateline NBC
(Dateline NBC)
She befriended a local man who described Santa Teresa to NBC as "a really good place to hide out....it's the land of the unwanted, and the 'wanted.'"
At night, Armstrong became a regular at the town's one bar. She called herself "Ari," but didn't say much about past.
She dyed her hair dark and cut it shorter. She traveled to the capital, San Jose, where she may have had plastic surgery to change the appearance of her nose. Armstrong was later identified by an employee of the surgical center, but if that was her, she used a different name to register for the procedure.
Armstrong told people in Santa Teresa that she had had a surfing accident and needed treatment.
Capture
Summing it all up, Austin American-Statesman reporter Ryan Autullo said she "lacked the discipline, frankly, to not get caught." She did some things to conceal herself, but she also wanted to "have fun and live it up at the beach."
Around this time, working off the yoga mat clue, U.S. investigators were contacting police in "yoga destinations" around the world and circulating Armstrong's description. An officer in Costa Rica made inquiries, and was told about a "new yogi" in Santa Teresa.
43 days after Armstrong disappeared, police walked into Don Jon's and arrested her.
In the aftermath, a customer discovered Armstrong's documents, which he photographed before turning over to police. They included her sister's passport, and Armstrong's own passport, American Express Platinum Card, and her social security card.
Armstrong was extradited to the United States, returned to Austin, indicted for murder, and placed in jail with a $3.5 million dollar bail.
She pleaded not guilty, hiring Austin criminal attorney Rick Cofer to defend her.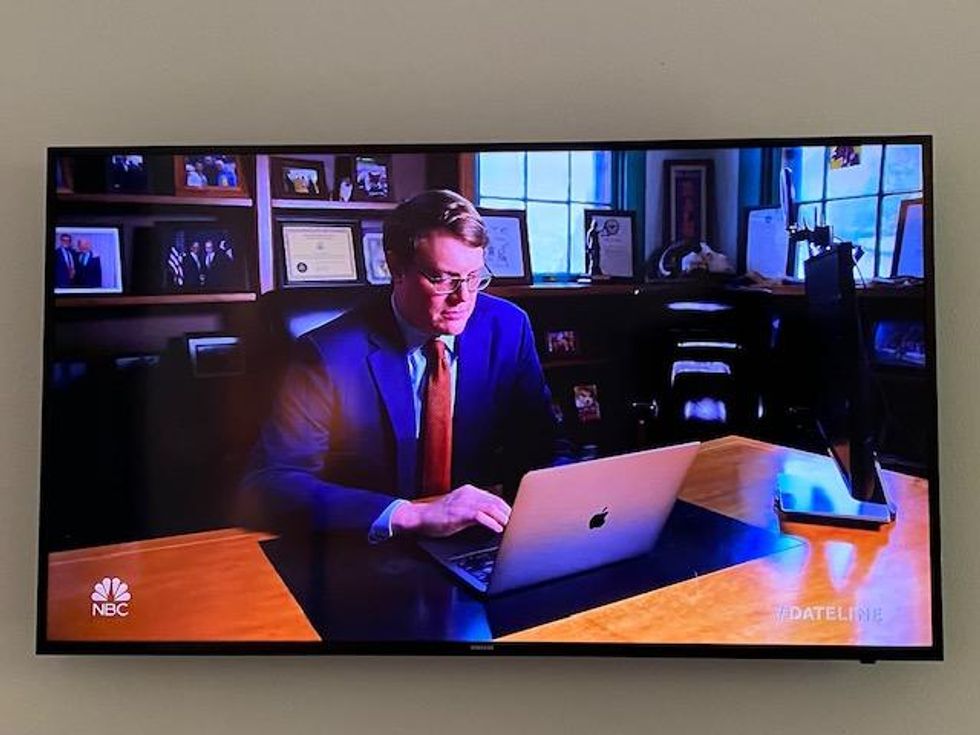 (Dateline NBC)
Cofer, a former prosecutor, was interviewed by NBC. He explained away every point of Armstrong's disappearance and apparent flight to a skeptical interviewer.
He identifies what he says are some weak points in the prosecution's case. Then he perhaps implies that he knows something prosecutors don't. "Kaitlin Armstrong is not guilty, Cofer said. "Evidence will come out that Kaitlin Armstrong was nowhere near the scene of Miss Wilson's murder."
A trial date was set for October 19, but a Travis County judge said in a ruling that an October trial is "highly unlikely."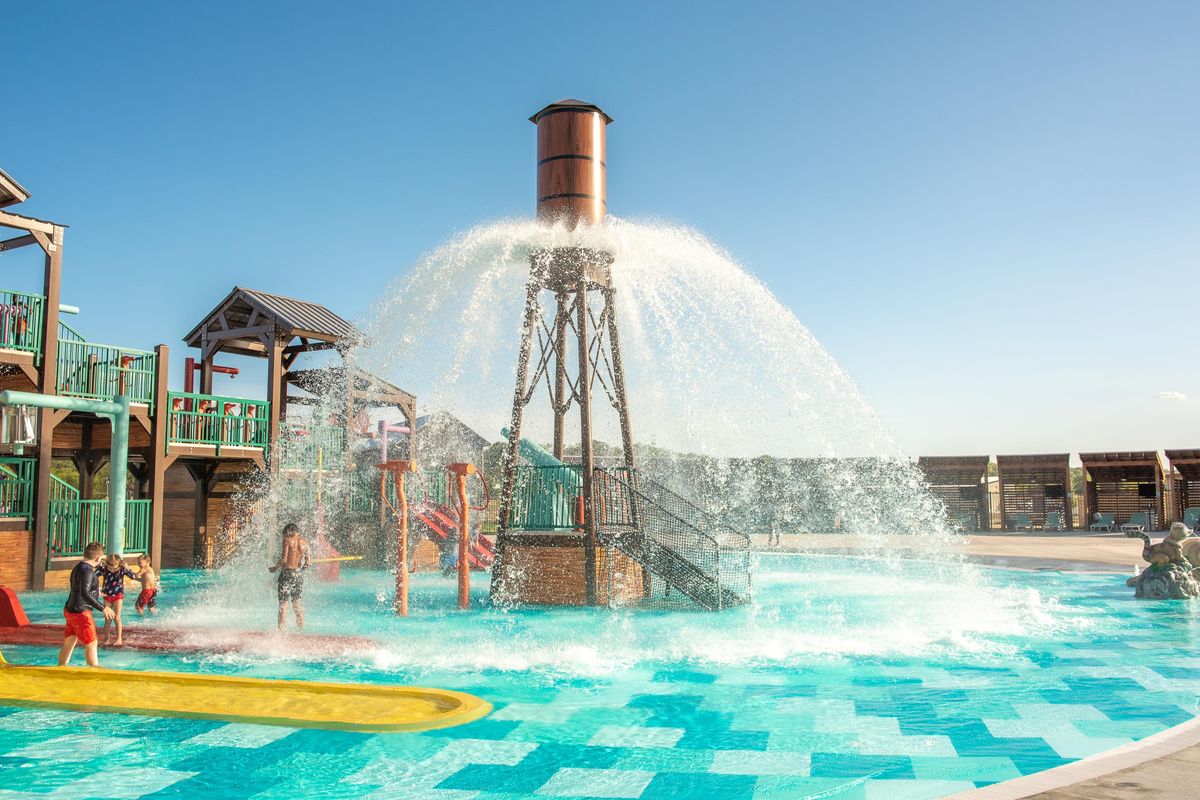 Camp Fimfo Waco
Camp Fimfo Waco, a brand new camping resort, is kicking off football and fall camping season in style! With top-notch amenities, premium accommodations, and 10 weekends of fall fun, there's no better place to have a fall camping getaway, especially if you're a Baylor football fan!
Fall promises to be a one-of-a-kind camping experience. From Sept. 16 to Nov. 24, weekends will be packed with fall-themed activities, including special Halloween weekends in October. Campers can enjoy activities like fall crafts, campground trick-or-treating, costume contests, site decorating, outdoor movie nights, and more!