Get connected with our daily update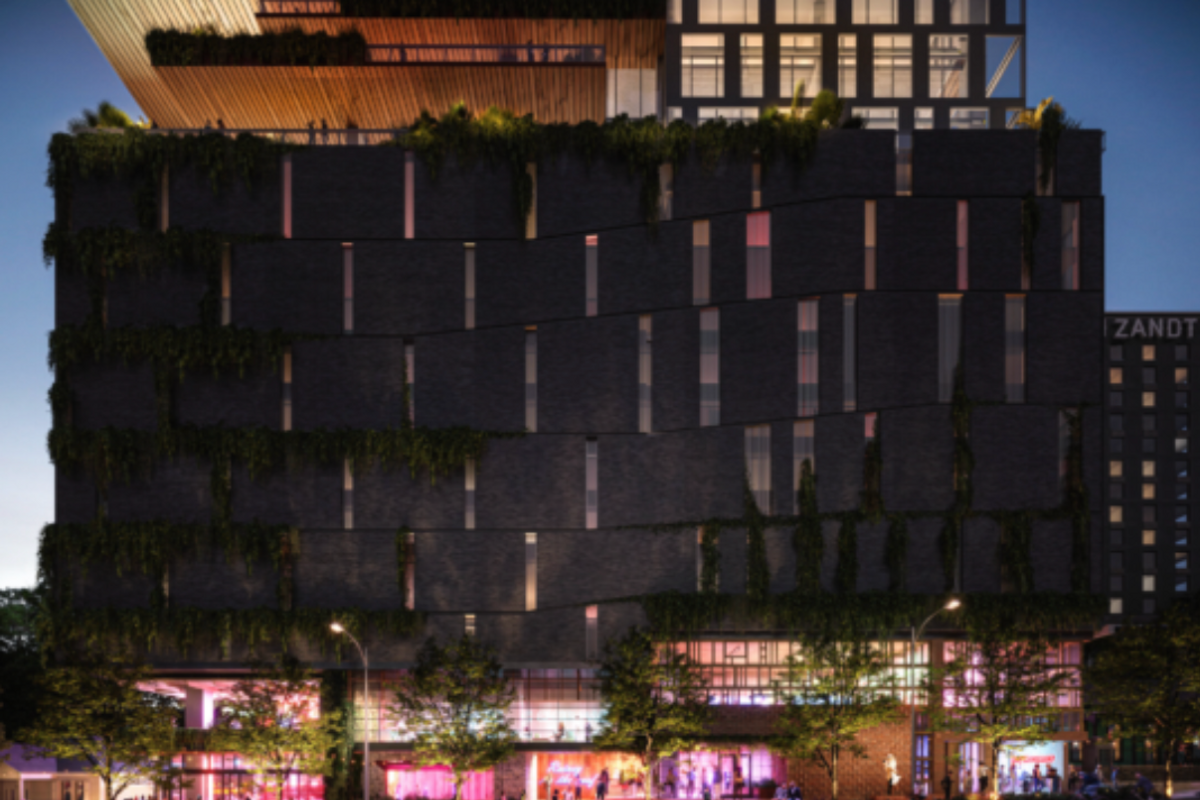 By Jonathan Lee
The Planning Commission has recommended increased density for 80 Rainey, a 550-foot-tall, 644-unit residential tower by developer Lincoln Ventures at 80 Rainey St.
---
The commission voted 11-0-1 on Feb. 22 to recommend increasing the floor area ratio (a measure of density) on the site from 15:1 to 20:1 with Commissioner Solveij Rosa Praxis abstaining. The 49-story project now heads to City Council for final approval.
Other commissions in recent months have also recommended the tower move forward. The Design Commission certified the project's compliance with Urban Design Guidelines in December, and in January the Historic Landmark Commission approved moving one of the bungalows on-site just to the south, behind Reina, another bungalow bar.
In addition to the bungalow bars, the tower will add to Rainey's nightlife scene with an 11th-floor rooftop bar, a basement speakeasy, a coffee and cocktail lounge, and multiple restaurant spaces. Construction is planned to start this summer and end in 2025. Approximately 20 units will be affordable on-site, as required by the Downtown Density Bonus Program.
The Planning Commission also approved the removal of one heritage tree; three out of four heritage trees on-site will be preserved.
Though the project sailed through multiple city commissions, some neighbors objected to adding more density in the area. A resident of the Shore Condominiums and the property's general manager both wrote to oppose the FAR increase, arguing that 80 Rainey's garage placement would bring more congestion to an alley needed for vehicle access.
"This alley is barely passable as it is with many garbage dumpsters and trucks unloading materials," Nolan Kagetsu, who lives in the Shore, said. "The entire Rainey Street area … is becoming increasingly dense with no apparent upgrades to the streets and sidewalks to accommodate the increase in both vehicular and pedestrian traffic."
One neighbor who wrote in support of the tower was skeptical of the alley argument. "Such objections are a thinly veiled excuse to stop any future development from occurring in the neighborhood," Andrew Gray said. "If the developers of 80 Rainey Street chose a different layout for the entrance of their parking garage, objections to this development would undoubtedly continue."
Some Rainey residents, as well as Council Member Kathie Tovo, have opposed increased density for new towers in the past due to concerns about infrastructure. Tovo, who represents the neighborhood, voted against FAR increases for three Rainey towers last year.
Despite objections from some residents, continued change in Rainey looks inevitable. In the coming years, the area will be further transformed as several more skyscrapers – including the tallest tower in Texas – are planned in the neighborhood.
The Austin Monitor is a nonprofit, nonpartisan media organization with a mission to strengthen our shared information space and democracy.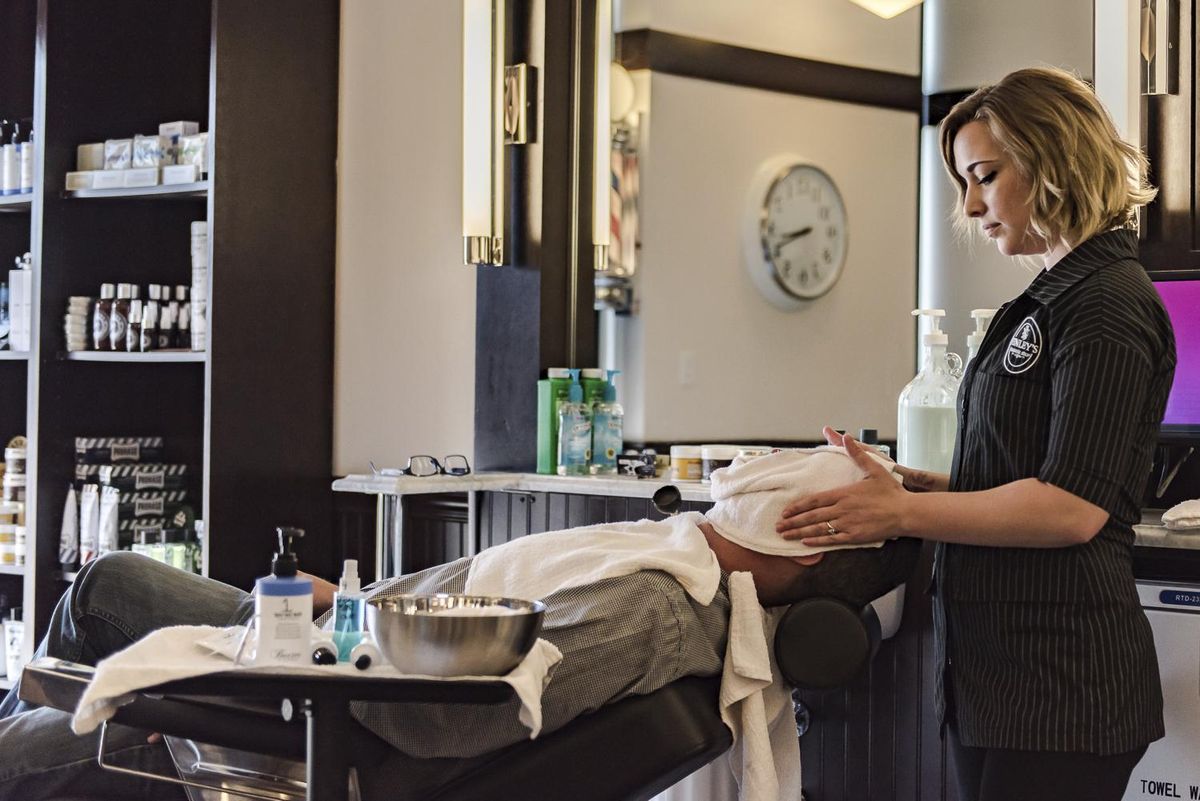 Old Austin may be gone but "the finest hotel in the South" is still offering residents a shave, cut and style from yesteryear.
The Driskill Hotel, 604 Brazos St., will host Finley's Pop-up Barber Shop, featuring old-timey grooming services, from May 19-29 as part of the hotel's initiative to "reimagine" its past historic events.
The hotel previously revived its afternoon tea time and self-guided art tour in its pursuit of celebrating the building's history.
Finley's is meant to emulate The Driskill Barbershop, director of events Ashley Famalette told Austin, the hotel's immensely popular men's barbershop that opened in 1909 but closed shortly after due to changes at the hotel.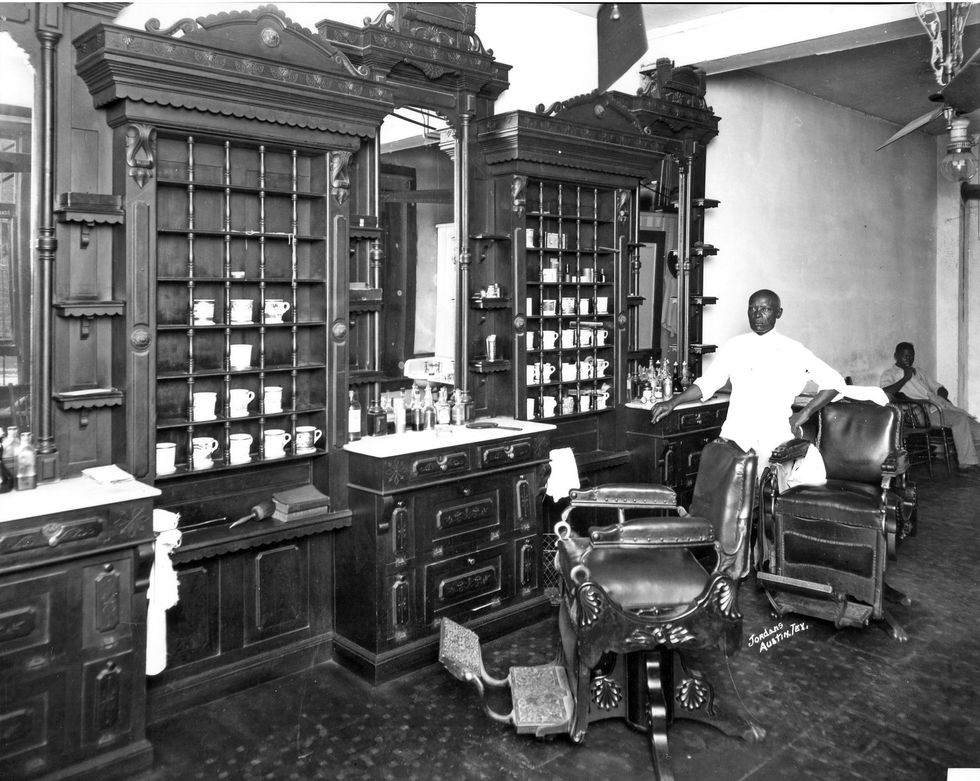 The barbershop opened in 1909 and was extremely popular among businessmen and politicians. (The Driskill)
"Really, The Driskill was the spot to stay if you were coming to Austin for politics or business," Famalette said. "So (The Driskill Barbershop) was very, very popular because of its location in The Driskill."
The concept of Finley's was created by friends Darren Peterson and Scott Finley, who wanted to bring back luxurious vintage grooming.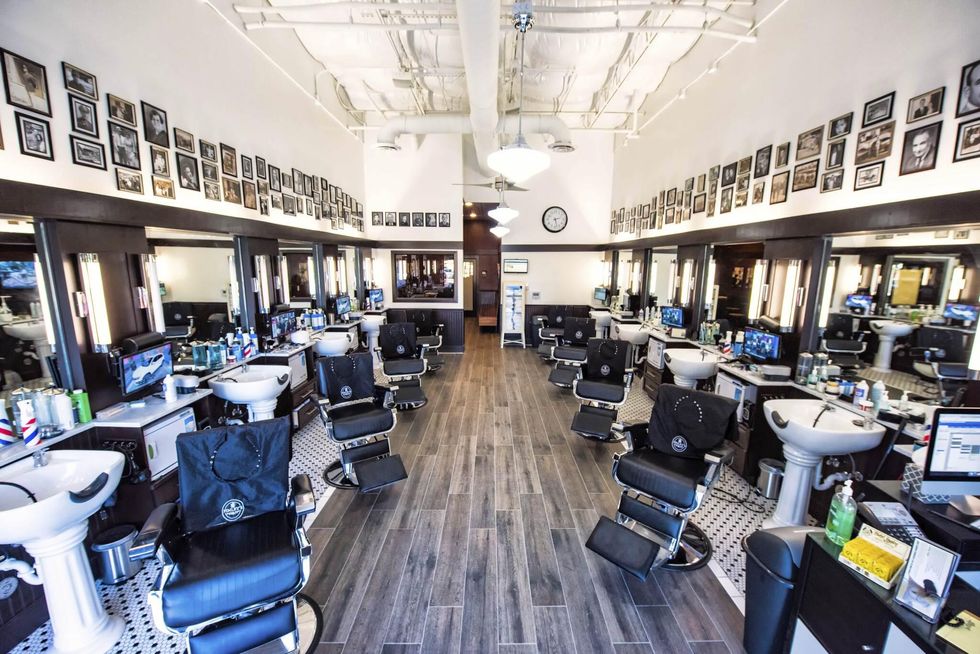 From the hotel's Chisholm Trail Room, Finley's will offer six different services that are geared toward men but welcome all:
The Driskill Haircut, $50, with a hot lather neck trim and shoulder massage.
The Driskill Beard and Mustache Trim, $25
The Driskill Clean Head, $50, with a straight razor, oils and moisterizers.
The Driskill Clean Shave, $60, with cold and hot towels, essential oils and a facial moisterizer.
The Driskill Electric Fade, $60, a skin taper fade cut with all the same treatments as a haircut.
The Driskill Razor Fade, $65, a "military reg" with all the same treatments as a haircut.
Finley's will only be at The Driskill for 10 days but you can visit one of its many locations in Austin, Houston, Dallas or Denver, Colorado.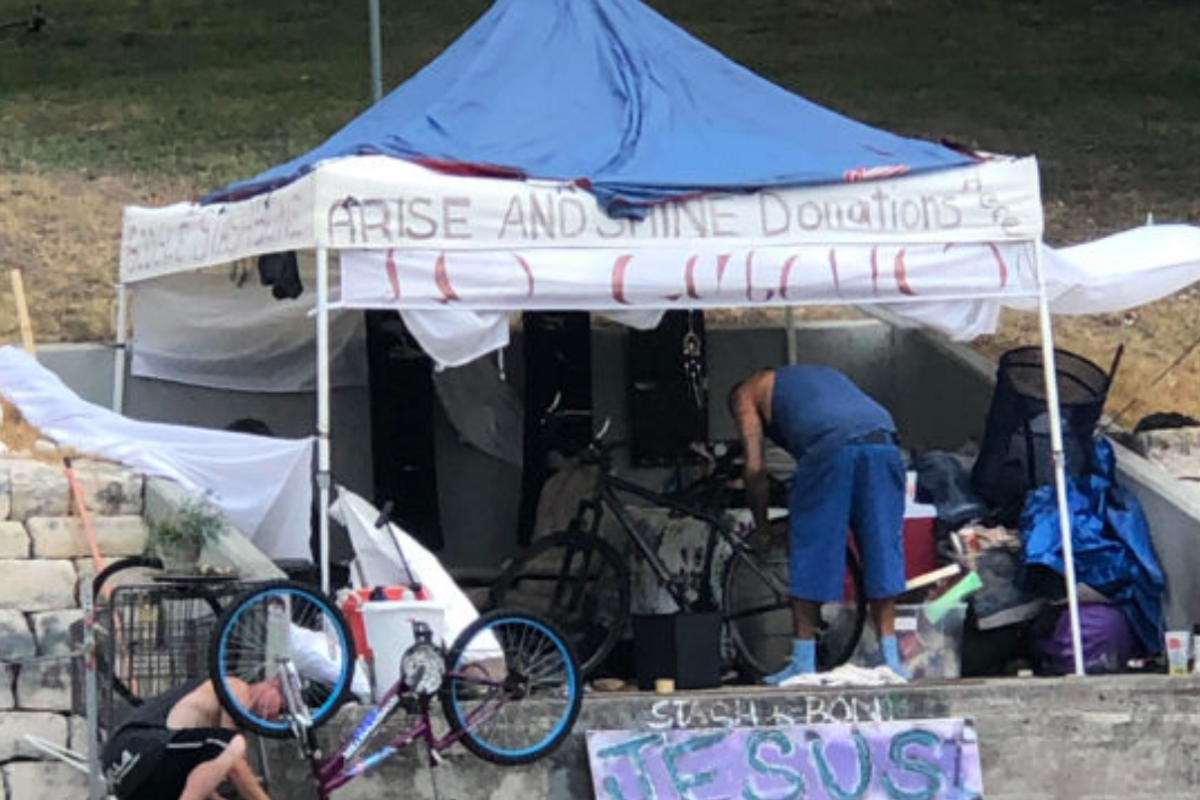 By Chad Swiatecki
City staffers are making a series of changes to the management of homeless encampments, with a centralized response and assessment system in the works that is expected to become operational later this summer.
City Council's Public Health Committee received a presentation Wednesday detailing the current state of work to break up and manage the homeless communities that have continued to sprout up around the city since the public vote last year to reinstate a ban on sitting and camping in public.
Eighteen city departments, including Austin Fire, Transportation and Public Works, are involved in the clearing and care of encampment sites, with requests for services far exceeding the capacities of those groups. On average, Austin Resource Recovery, Public Works and the Watershed Protection Department tend to 68 sites per month, with the encampments collectively generating 138 tons of trash per month.
To improve coordination, produce better results with cleanups and address the needs of homeless individuals, staffers are working to create a central response structure that uses some of the components of the Housing-Focused Encampment Assistance Link, or HEAL. The improvement plan would also establish a framework for prioritizing what resources are used and when, create protocols around biohazard cleanup and leftover property, and implement a system for tracking the various camps to prioritize responses.
The basic guidelines of the central response structure have been established, with full activation expected after the prioritization tool is complete. That tool will begin testing this month, with full activation in July.
Council members were receptive to the update, which looks to find a way to keep encampments from repopulating when their inhabitants can't be placed in temporary bridge shelter units quickly as was envisioned when the HEAL initiative was launched.
Committee Chair Kathie Tovo asked Dianna Grey, the city's homeless strategy officer, if current contracts related to the cleanup of encampment sites will need to be updated with more funds. Tovo referenced the fire that occurred following the recent clearing of an encampment along Bouldin Creek because the contractor charged with cleaning the site took several weeks to perform the work.
"We will see a need for some additional resources in some of those contracts, but departments are looking at their resource array to see what they can draw from other places to support the work," Grey said. "The other piece that has been challenging is Public Works, Watershed and Austin Resource Recovery, depending on the funding source, can use those contracts or staff only in particular places. That resource coordination is something we're hoping to improve, looking at the crews we can use in a particular location and seeing if we can alleviate situations like (Bouldin Creek)."
Council Member Ann Kitchen, who spearheaded the HEAL initiative, expressed frustration with the lack of cleanup and "placemaking" at cleared sites.
"I need to know who to work with to make sure that happens. What I'm not hearing is a systematic approach and my idea is that HEAL would be available for all of these locations," she said.
Mayor Steve Adler said he appreciated the work improving the process, but pushed Grey and other staff to come forward soon with a timeline for when additional permanent supportive housing units would be completed.
"For the community we need to recognize that there will be no answer to this, no disappearing of encampments, no thorough and exhaustive placement of people in homes until we have places for people to be. We could have been doing this work years and years ago to build out the infrastructure so that we had it in place, but we don't and now we're trying to catch up. We need a presentation on the arc and time frame for having units available," he said.
"There is a dramatic increase in the number of units that are going to be coming online in the next three years relative to anything we've done before and the community needs to both see that it's going to happen but also see it doesn't happen overnight."