Austonia AM
100% Austin news, info, and entertainment, straight to your inbox at 6 a.m. every morning.
In five minutes, you're fully informed and ready to start another great day in our city.
Get connected with our daily update
(Pexels)
When the University of Texas at Austin hosted its first home football game of the season, administrators required student attendees to be tested for COVID-19 before entering the Darrell K Royal-Texas Memorial Stadium.
Of the 1,198 students who were tested that day, 95 returned positive results, according to a university spokesperson. But none of these cases were logged on the Austin-Travis County COVID-19 dashboard or counted toward official totals.
Why?
---
Because the tests used at the game were rapid antigen tests. Like the genetic, or polymerase chain reaction, tests offered by Austin Public Health and other providers, these tests detect active COVID infections. They also provide results in 15 minutes, bypassing the need for processing at clinical labs, which can lead to wait times of up to two weeks.
The Centers for Disease Control and Prevention recommend that positive rapid antigen test results be considered "probable" rather than "confirmed" because they are marginally less sensitive than genetic tests.
As a result, the Texas Department of State Health Services and Austin Public Health do not count positive rapid antigen test results toward their official "confirmed" caseload or consider them when calculating the local positivity rate.
Austin Public Health did not respond to multiple inquiries about how many rapid antigen tests have been conducted locally. Austonia has filed a public records request for more information.
State data indicates that rapid antigen tests make up a small portion of the tests administered in Texas.
DSHS began reporting the number of antigen tests administered on Aug. 6; since then, just over 71,000 tests have been conducted. In that same time period, DSHS reports around 1.7 million genetic tests and more than 128,000 antibody, or serology, tests have been administered.
Some private testing sites, however, only offer rapid antigen tests or report more demand for them compared to other kinds of tests because of the convenience they offer.
Tarrytown Pharmacy has offered rapid antigen tests since mid-July, Pharmacist-In-Charge Rannon Ching said, and demand has remained steady, despite the deflated surge.
UT students whose parents were concerned about case clusters on campus have sought out testing, as have Austinites who want assurance they can see parents and grandparents for the first time since the pandemic and aren't putting them at risk, Ching said. The local business, which has two locations, has also coordinated with companies and restaurants that seek testing for their employees.
"I would say demand is up," Ching said.
Other private testing sites have seen similar trends.
At Total Men's Primary Care, which has 16 locations in and around Austin, demand for genetic tests is down because of the long turnaround times, CEO Robert Sek told Austonia last month.
Similarly, Texas MedClinic COO David Gude has said rapid antigen tests are the clear favorite among patients at its 19 Central Texas locations. Genetic test results, which may be required for patients traveling abroad or awaiting surgery, tend only to be requested when an agency or entity is requiring them, he added.
This summer, Austin-Travis County Interim Health Authority Dr. Mark Escott floated the idea of offering rapid antigen tests at public testing sites.
At the time, slow turnaround times for genetic tests were interfering with containment efforts. Residents were waiting up to two weeks to get results at the height of the local surge; by the time they learned they were positive, some had already recovered—and missed the chance to avoid infecting others.
"It's not quite as accurate as the regular (genetic) testing that we send off to labs, but it's probably good enough," he told Travis County Commissioners on July 28. "So we can get a whole lot better control over this for future outbreaks than sending off tests that are going to take three or four or 10 days."
APH has not added rapid antigen tests to its repertoire in the time since.
But Escott has hinted at the possibility of more rapid antigen testing data in the short term.
"I expect that we may see some changes in how the state and federal government want to treat those cases (indicated by rapid antigen test results)," he said during a press conference on Sept. 18. "But for now, we're looking at options to display both the probable and the confirmed (cases)."
More on COVID: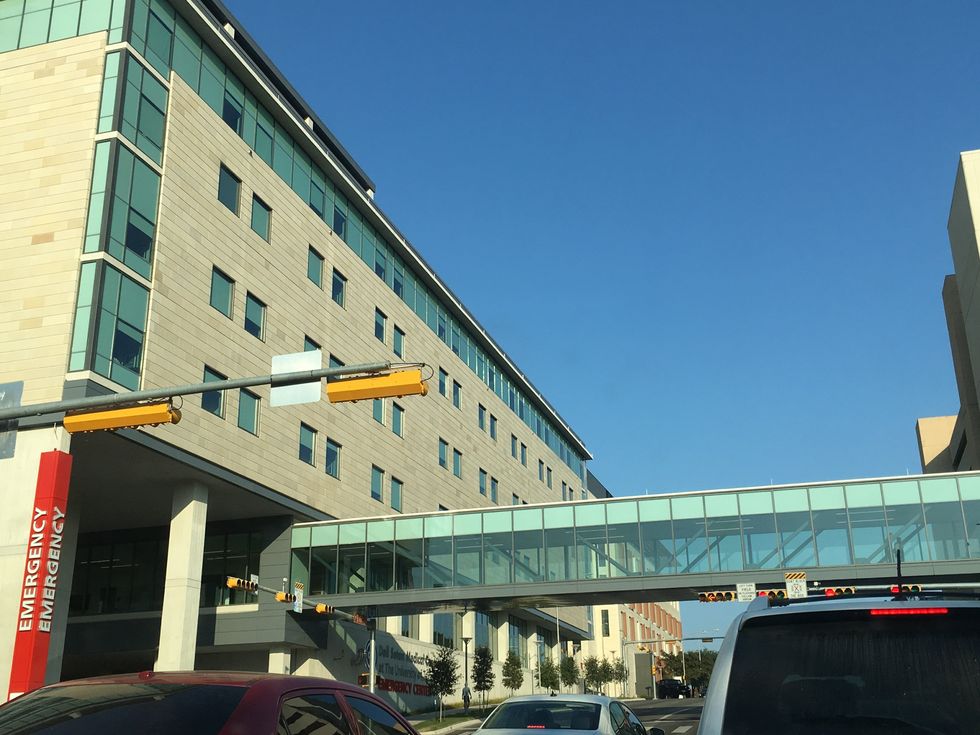 Everything we know about COVID-19 in Austin right now: new cases, schools, testing
After reaching Stage 4 last week of Austin Public Health's risk-based guidelines, Austin-Travis County is now at the Stage 5 threshold with a seven-day average of 50 hospitalizations and dwindling ICU capacity.
While unenforceable under Gov. Greg's Abbott order against local mandates, vaccinated individuals are asked to choose drive-through and curbside options, outdoor activities, social interactions with limited group sizes, as well as social distance and wearing masks indoors. Partially or unvaccinated individuals are asked to avoid gatherings, travel, dining and shopping, choose curbside and delivery options, as well as wear a mask on essential trips.
Flashing back to early-pandemic times, hospitals are at critical capacity—the 11 county Trauma Service Region of 2.3 million people is fluctuating at 16 staffed beds, according to APH.
In a statement on behalf of Ascension Seton, Baylor Scott & White Health and St. David's Healthcare, a spokesperson said that hospitals are asking residents to "help us and each other" by getting vaccinated and continuing to utilize safety practices to slow the spread of the virus.
According to the statement, a "longstanding" nurse staffing challenge combined with the recent COVID-19 spike is putting "extraordinary pressure" on hospital systems.
Along with the unmitigated spread of the virus in unvaccinated, the more contagious Delta variant is also to blame for the spike in cases. The seven-day moving average of COVID hospitalizations in the Austin area reached the Stage 5 threshold of 50 on Friday, triggering local health officials to ask residents to take action.
Local hospitals have a "surge plan" that includes utilization of "all available patient care space and employees within our hospitals and in other settings" that will go into effect when capacity is hit, according to the statement.
The hospitals are working on sourcing supplemental staff and emphasized that emergency care will still be available but it may involve patient transfers "in order to provide the most appropriate care."
Healthcare systems have hit this threshold previously during the pandemic: the city held an alternate care site at the Austin Convention Center from January to March of this year.
"Our responsibility during this pandemic continues to be balancing our readiness to care for patients with COVID-19, while making sure patients who depend on our hospitals receive needed and timely care," the statement said. "We do not want to see necessary non-COVID care delayed as it was during the early stages of the pandemic."
This story has been updated to after publication to include that Austin has reached the Stage 5 threshold.
Ingredients:
1 1/12 oz sweet pepper-infused Tito's Handmade Vodka
3 oz soda water
1 oz grapefruit juice
1/2 oz lime juice
1/4 oz simple syrup
Directions: Add all ingredients, except soda water, to a shaker with ice. Shake and strain into a glass over fresh ice. Top with soda water and garnish with a mint sprig.
Austin legend Willie Nelson will perform at the Texas Capitol today, his first large performance since the pandemic began, closing out a four-day long march across Central Texas to build support for federal voting protections.
Organized by The Poor People's Campaign, the march began in Georgetown on Wednesday and will end with a 10 a.m. rally at the Capitol featuring appearances from former U.S. Congressman Beto O'Rourke and Rev. Dr. William Barber.
Willie Nelson (with Charlie Sexton & friends) will play a free concert at the Poor People's Campaign march for democracy & justice in Austin this Saturday! https://t.co/zZSA0BpbWA

Sign up to join us and see Willie at 10am Saturday: https://t.co/KrDPIFIvST
— Beto O'Rourke (@BetoORourke) July 29, 2021
The rally calls on Congress to "stop attacks on democracy" by ending the filibuster, pass all provisions of the For the People Act, restore the 1965 Voting Rights Act, raise the federal minimum wage to $15 per hour and pass permanent protections for all 11 million undocumented immigrants.

Nelson denounced election law proposals gaining traction in red states, such as Senate Bill 1 and House Bill 3 in Texas, which 55 House Democrats foiled by fleeing to Washington, D.C., on July 12.
The bills would require additional ID verifications for mail-in ballots, allow partisan poll watchers "free movement" and prohibit elections officials from sending absentee ballot applications to voters who didn't request one.
"Laws making it more difficult for people to vote are unAmerican and are intended to punish people of color, the elderly and disabled," Nelson said. "If you can't win by playing the rules, then it's you and your platform–not everyone else's ability to vote."
The march is in the spirit of the Selma to Montgomery March of 1965, led by Dr. Martin Luther King Jr., which protested the blocking of Black Americans' right to vote by Jim Crow laws.