Get connected with our daily update
Make $145,000 or more in Austin?
Your bank statement may pale in comparison to fellow Austinites Elon Musk or billionaire Robert F. Smith, but anyone with that or more on their yearly salary checks can now classify themselves as wealthy alongside the elite, according to a recent study by finance media site Banking Rates.
The study classified those in the top 20% of income as rich across 50 cities in the U.S. Austin, which saw the highest rates of any Texas city, found that it takes at least a $145,000 yearly statement to fit into that category.
But an average person in that high brow category shoots even higher: the average income among those 20 percenters was $267,777. The study, which used data from the U.S. Census and American Community Survey, also found the average income of the top 5% to be over $485,000.
Austin's average incomes came in eighth highest on the list and higher than Texas cities including Fort Worth (22), Arlington (23), Houston (25), Dallas (28) and El Paso (45). Starting incomes in the top 20% ranged from $116,807 in Arlington to $94,422 in El Paso.
Labeled a "little California" by the aforementioned Musk and thousands of Californians moving to Austin to avoid their home state's higher cost of living, it's no surprise that Austin sat just below West Coast cities San Francisco (1), San Jose (2), Seattle (4), Oakland (5) and San Diego (7). San Francisco's top 20% starts at nearly $240,000, the highest on the list, while Washington, D.C. (3) and Boston (6) rounded out the list's top eight.
And while average income falls well below the $145,000 mark and significantly lower than West Coast hubs, Austin's median household income increased by 30% from 2014 to 2019, where it reached just over $71,500. But the high-demand local economy is starting to sag under the weight of new move-ins—including big-name tech companies and startups—and Austin's former low cost of living is predicted to be the highest in a country outside of California by the end of the year.
Despite high incomes when compared to other Texas counterparts, Austin is encountering an affordability crisis, with studies showing that the city is among the most unfriendly in the U.S. for minimum wage workers—even if the bar was raised to $15 an hour.
But the formerly flaming hot housing market is beginning to slow, and as a 2020 CNBC budgeting article shows, those making $145k aren't likely to have many budgeting issues anytime soon. And for homeowners, many former West Coasters, techies and anyone who made the "rich" list, the city is still among the best relocation markets in the world as it continues to solidify its "boomtown" status.
H-E-B's South Congress location, its longest-running store in Austin, will be demolished and reconstructed into a three-story megastore starting in February 2022, according to a report released by the Texas grocery chain on Thursday.
The current store has been standing for 60 years and will be wiped out in February 2022 to make way for a new three-story building, complete with two levels for shopping and dining and one with over 600 above-ground parking spaces.
Originally a 25,000 square-foot store opened in 1957, the new store will dwarf its original structure at over 145,000 square feet. The revamp was first planned to start in March 2020 and include underground parking, a beer garden, a food hall and live music stage but was halted due to the pandemic.
Though not coming with all of those original trappings, the new store will still plan on being a one-stop-shop complete with affordable shopping, top-rated barbecue and a stage fit for the live music capital. The location plans to include an in-house True Texas BBQ restaurant, which was named best barbecue chain in Texas by Texas Monthly, complete with indoor and outdoor seating and an outdoor stage.
Expect all the usual fixins at the beloved chain's new store as well, including curbside and home delivery services, a bakery (complete with their signature handmade tortillas), pharmacy, flower bar and Meal Simple selection complete with meals and a sushi bar made in-store. The prime location will also come with some added perks, including an expanded beer and wine selection, live demonstrations and samplings through Cooking Connection and environmental upgrades including solar panels and abundant natural lighting.
And honoring its location in the middle of music- and art-loving South Congress, the location will include local art that showcases what makes Austin, Austin.
Worried about shopping in the meantime? Though the full project is expected to take around two years, a temporary store will pick up the slack at the nearby Twin Oaks Shopping Center starting around a week before construction starts. It'll include home delivery and Pharmacy services but won't have curbside options, which are available at the nearby Riverside location.
The home of the former CEO of beloved taco chain Torchy's Tacos, GJ Hart, has hit the market for a cool $7.5 million. Just like its mascot Torchy says, this house is "Damn Good," and even has a room dedicated to the restaurant.
Known as the "Bridge Home," 5221 Musket Cove is serenely located in the exclusive, gated Spanish Oaks neighborhood in West Austin. With five bedrooms, seven bathrooms and two half-baths, the massive home clocks in at 8,896 sprawling square feet.
Built in 2008, the home was designed by luxury firm Seaux-Piece Architecture over a three-year period but still looks like the pinnacle of modernity.
Entering through the three-car garage will bring you into the open-plan living room with sky-high ceilings and access to a separated indoor-outdoor lounge that connects to the pool. Floor-to-ceiling windows surround the living area on both sides for beautiful views of the outdoor waterfall and lots of natural light.
The kitchen is filled with luxury appliances from a Miele coffee maker, Viking Professional Series range with a warming drawer, three Gaggenau ovens, and five (count 'em) Sub-Zero refrigerators. That's not all—just off the kitchen is a walk-in wine cellar that stores 1,200 bottles of wine.
The elite master bath has two complete walls of glass so you can survey your kingdom of pools, multiple water features from a private well tapping into the Trinity Aquifer and an isolated private hot tub. Plus, the "owner's wing" is practically designed with independent closets, showers and toilets.
Just like the Taco of the Month, the biggest surprises are on the inside. One bedroom, perfect for a Disney-loving little one, has murals of Ariel and Elsa on the walls, and another is dedicated to Torchy's, painted in bright colors and featuring the "Damn Good" slogan on the wall. The Torchy's room is 1,200 square feet, and complete with a full bath, can be converted into a one-to-two bedroom apartment.
Before heading to work, make sure to stop by the at-home gym, complete with a steam shower and beverage nook, to work off those tacos. If you prefer to work out by hitting the green, you could also head over to the golf simulator room for a quick round.
Of course, this home is perfect for entertaining and too good not to share—envision nighttime gatherings by the outdoor fire pit on 1.3 acres of land or at the private movie theater. You also won't have to worry about party crashers since the home comes with 24/7 security.
Hart retired, effective immediately, in early November after four years as CEO of Torchy's. Under Hart's leadership, Torchy's expanded from 45 locations to 96 in 10 states. Founder Mike Rypka will step up as interim CEO in the meantime.
This listing is held by Compass' Monica Fabbio.
Enjoying Austonia? Signup for our newsletter to get daily Austin news, straight to your morning inbox!
Austin's hot housing market is cooling down with the weather, but it's still on track for a record-breaking year according to the Austin Board of Realtors October 2021 Central Texas Housing Report, which has shown that home sales across the metropolitan statistical area have dropped by 12.1% since this time last year.
Last month was a slow one for the real estate market across the Austin-Round Rock metro area, with 3,250 closed sales compared to 3,780 in October 2020. On the flip side, the metro's median home sales price grew by 24.7% year-over-year to $455,000, setting a record for the month.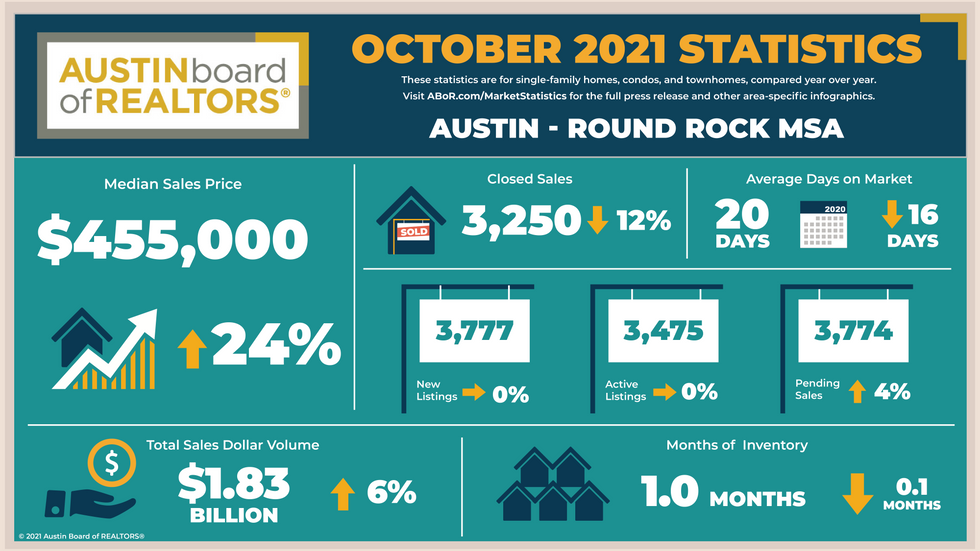 (ABoR)
Of course, if you want to live close to the city center, it's going to cost you more: in just the Austin city proper, the median home price is up by 21.1% year-over-year from $441,250 to a whopping $536,000.
ABoR 2021 president Susan Horton said with more new listings continuing to pop up, prospective buyers have more options to pursue.
"We are beginning to see a glimpse into what buyers and sellers can expect in our housing market moving forward," Horton said. "With the market remaining stable — but still on track for a record year — it is an exciting time for realtors who continue to be the best advisers to both buyers and sellers when it comes to navigating one of the most desirable housing markets in the country."
Although the median home price is up from this time last year, the Austin metro area hit its pricing peak in July 2021 at $478,000. According to a study done by the Texas A&M Texas Real Estate Research Center, the pandemic accelerated home sales in an already depleted market, causing prices to jump. However, the study indicates that Texas' "housing frenzy" could be over as both price growth and sales have already peaked.
New listings are up by 0.9%, from 3,747 to 3,777 new listings to browse, however, active listings are 0.5% down year-over-year to 3,475 from 3,501 in 2020, which was already down by 50%.
Inventory remains stable with about a month available, only dipping by .1 months since last year. You have less time to shop around though, as homes spent about 20 days on the market in 2021, down from 35 days in October 2020.
Enjoying Austonia? Signup for our newsletter to get daily Austin news, straight to your morning inbox!