Get connected with our daily update
(Moreland Properties)
Welcome to austonia.com, a new local news site for Austin. We're an authentically local company—Austin stories, Austin people, Austin advertisers. News, trends, media, topics, people. No paywalls. We cover the changes that are reshaping our city. To get connected, sign up for our free daily AM newsletter update.
When businesses closed their doors in March, Austin realtor Cord Shiflet did not think he would sell another house this year.

To his surprise, this has been the busiest month he has ever seen for well-funded buyers moving to Austin.
"In my 23 years of doing this, the last month has been the craziest, most active market I've ever seen, with big buyers moving into Austin," said Shiflet, who works for Moreland Properties. "COVID has set our market on fire."
Austin realtors say business is booming in luxury real estate, which is a pleasant surprise after expecting sales to plummet due to coronavirus.
The majority of his big buyers have usually come from California, Shiflet said, but now he is seeing a drastic increase in New York executives and business owners who want to move to Austin.
After months of stay-home orders and working remotely, people from both coasts seem to be reevaluating where they live.
"We've just been seeing New Yorkers coming out here in droves," Shiflet said. "They can work from really anywhere in the world, and these people don't want to live in the tight spaces that they're currently in."
Texas has long appealed to people living in more regulated states due to a business-friendly climate and lack of state income tax. Shiflet said realtors are struggling to keep up with the increased demand from new buyers, many of whom are shocked to see how much further their money can go in Texas.
"We're going through our Rolodexes and knocking on doors, trying to find the quality product that these people want," Shiflet said. "They have a hard time believing they can have so much house and so much space and land around them as opposed to the apartments they're coming out of in New York."
Michelle Dolch, a realtor from Austin Luxury Group, said she has experienced the same thing—she even has a few buyers who are looking in the range of $20 million and above.
"We don't really have a lot of real estate in that market," Dolch said. "Our inventory is really stressed."
In addition to those from California and New York, Dolch has seen an increase in buyers coming from Seattle and Chicago, citing complaints about coronavirus and taxes.
"It just seems that a lot of people that have been considering moving here over the years are now coming here all at once," Dolch said. "A lot of people have always considered Austin as a place they'd like to live in. They're not considering it anymore—they're moving forward with it."
Want to read more stories like this one? Start every day with a quick look at what's happening in Austin. Sign up for Austonia.com's free daily morning email.
Capital Metro has been awarded $750,000 from the Federal Transit Administration to go toward Project Connect's Orange Line, documents show.
The FTA announced the funding round on Thursday, which dispersed $11 million across 12 states and 20 projects. The money is meant to connect communities to affordable transit and housing through the FTA Pilot Program for Transit-Oriented Development planning.
CapMetro said the funds will go toward projects at eight stations spanning 6.5 miles on the South end of the Orange Line, which has a total of 22 stations. The full project stretches across the 20 miles from Southpark Meadows to Tech Ridge.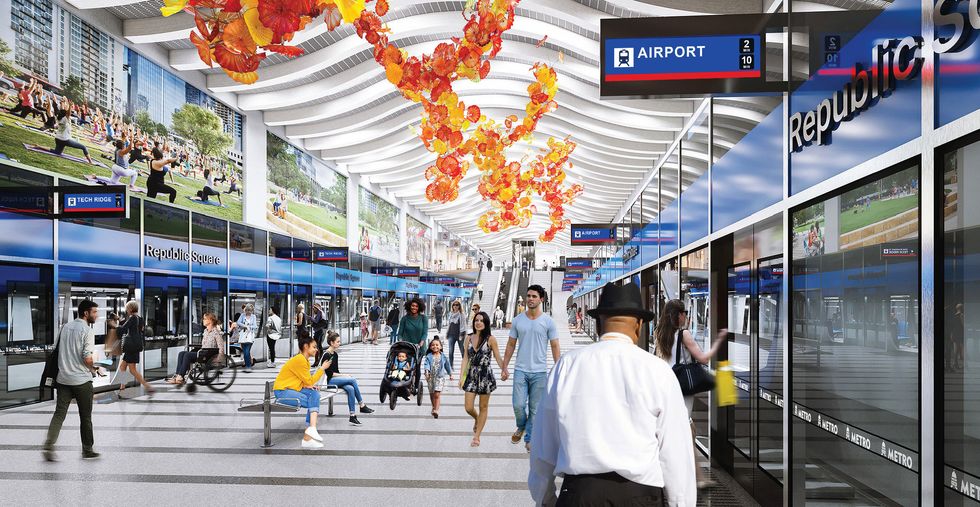 Republic Square station is along the Orange Line. (Project Connect rendering)
Once it's complete, which officials estimate will be in 2028, the Orange Line will reach the following stations:
Tech Ridge (Park & Ride)
North Lamar International District
Crestview
The Triangle
UT campus
Republic Square
Auditorium Shores
South Congress
Southpark Meadows (Park & Ride)
A $500 million mixed-use development spanning 1,400 acres is coming to Southeast Austin, near Tesla's headquarters at Giga Texas.
Plans for the development by Houston-based real estate firm Hines include 2,500 houses along with multi-family and townhomes, and commercial land. Hines is partnering with Trez Capital, Sumitomo Forestry and Texas-based Caravel Ventures.
The development, which is known as Mirador, will be located off the 130 Toll and Highway 71, which the developers say provides easy access to the Circuit of the Americas Formula 1 racetrack and other Austin attractions like restaurants, parks and live music venues.
Hines also boasts amenities like a 60-acre lake, over 600 acres of greenbelt, community parks, trails and a swimming pool.
"As Austin continues to grow into the tech epicenter of Texas, coupled with a supply-constrained market, the demand for new housing is at its highest," Dustin Davidson, managing director at Hines, said. "Mirador will be critical in providing more options for Austin's growing population and we are excited to work alongside our partners given they each provide a unique and valued perspective in single-family development."
The local housing market has been hot in recent years, with home sales accelerating earlier in the pandemic. In July 2021, the Austin metro area hit its pricing peak at $478,000. As Austonia previously reported, the area has been expected to see the Tesla effect, with the new workforce driving up demand for housing and other services.
The single-family houses are expected to be developed over the course of six years, in phases. Construction on the homes is expected to start this year and home sales will begin in 2023.